No Makeup Home Tour — Spring 2018
Last Updated on August 25, 2023
I don't know about you, but when I scroll through Instagram, I sometimes think to myself, ugh, my house is so gross…these rooms are so beautiful with their fanciness…why can't my house look more like this? It's not really the green monster of jealousy, but ya, sometimes it bums me out. Then I meet amazing people with bonkers style, and they tell me, "I wish my house was as pretty as yours." Wait, wut???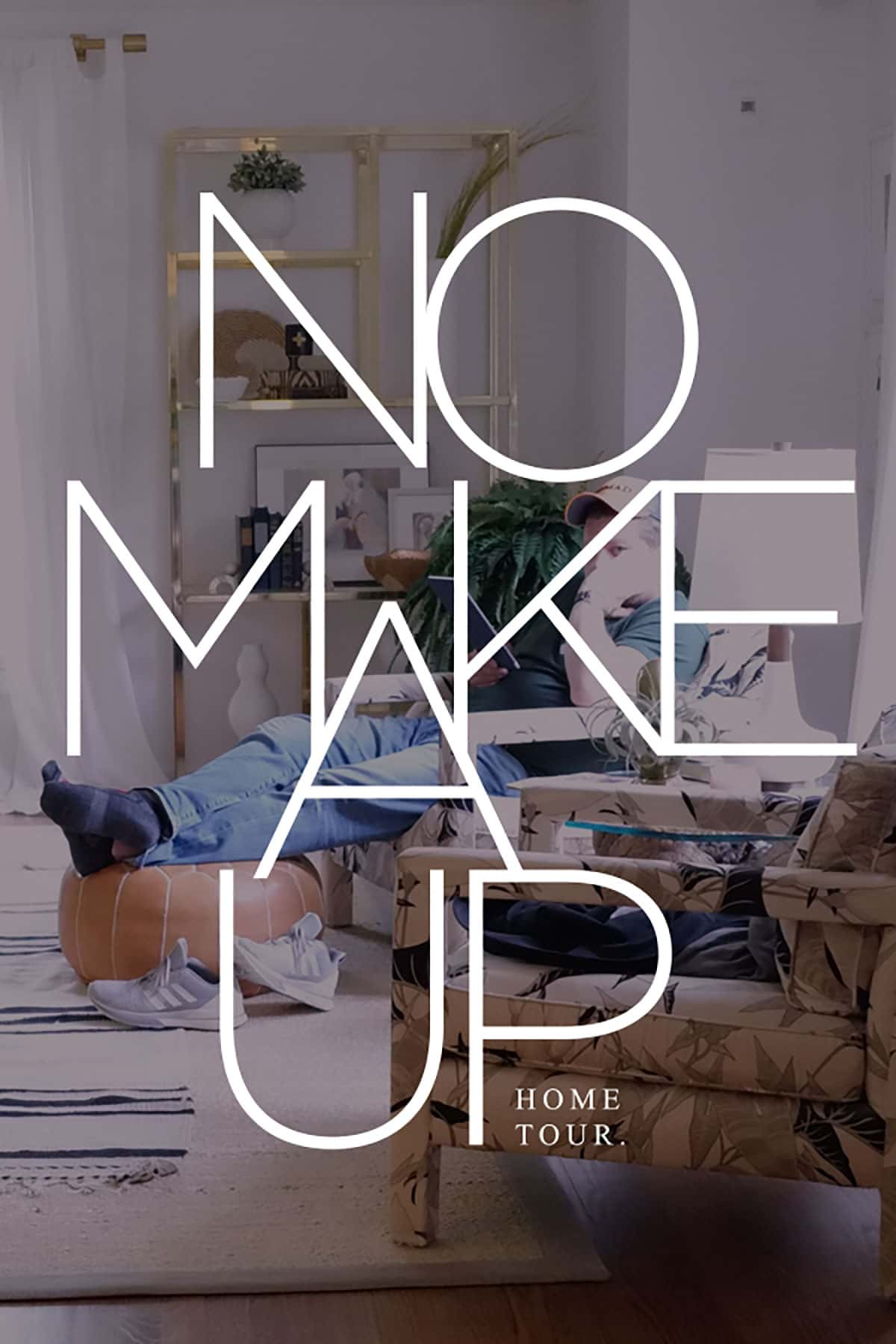 This my friend is why I created the No Makeup Home Tour. It draws back the curtain, and gives you a real-life look at the design blogger's home…well, in this case, 16 design bloggers' homes…yep…you read that right…16! The list is below, and I highly suggest you boogie on over to check them all out…screw work…the spreadsheets can wait. This is hella more important.
Some rooms will be drop-dead gorgeous…and other rooms will be hotter than a hawt mess. Last Fall we saw toys, high chairs, crazy workspaces, and let's not forget the one blogger who barricades her sofa with dining chairs to keep the pets off…not judging…it's actually quite brilliant. Let's get into it and let the hilarity begin, shall we?
The Spring No Makeup Home Tour has started off just like last Fall's tour…with my son barfing. Side note…we have a superstition theory that every time someone walks through the house with outdoor shoes on, puking ensues. Guess who walked in the house yesterday with an armful of McDonald's because she was too lazy to cook and didn't take her shoes off…yup, yours truly.
Last year, I started the tour off with my dining room. The first room I completed in the new house and to date, still my favorite. But you've seen this space so many times…so this year, Imma shake things up and bit and start off with the unseen. My children's rooms. Designing a kid's room is a bit outta my realm, so Zozo and Cooper's rooms have been a struggle to envision. After putting off designing both spaces for two years, the time has come to buckle down on these spaces and make them shine. These spaces are being added to the punch list.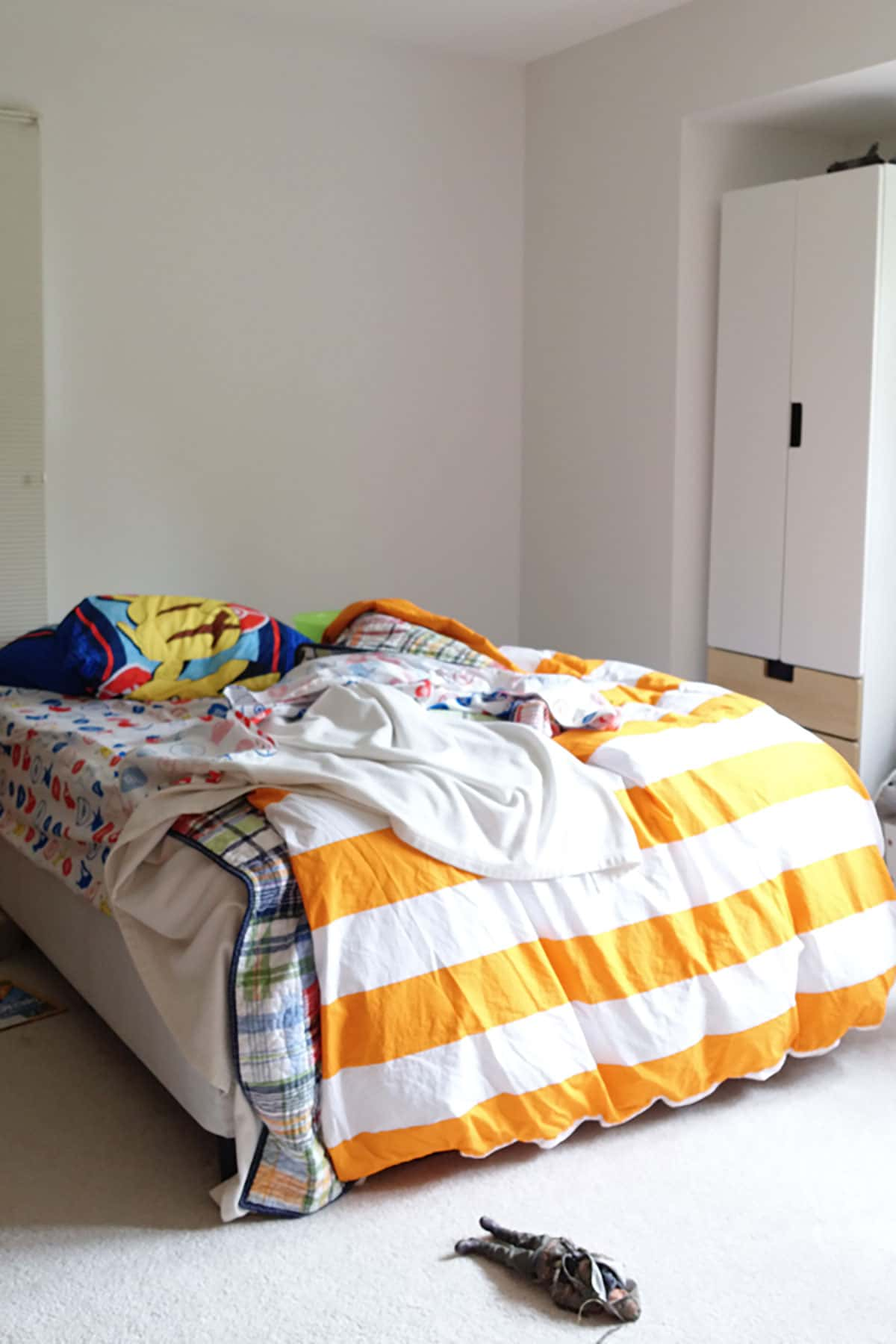 Even G.I. Joe is sad and doesn't want to sleep in here. Don't look at me, I'm hideous!

The children's rooms have mood boards happening (boy bedroom and girl bedroom). But right now they are boring, bare, white walls are no longer cutting it.

Staying upstairs, you'll see the guest room got a new duvet, and I swapped the black and white portrait out for a new piece that had been in the living room. Oh, and the mid-century modern nightstands from our master were moved in here…that's how I threw out my back for 3-4 months. Ever since I've been grounded from moving furniture on my own. Oopsies.

The faux shagreen dresser from Meg Made was also recently moved into this space, and I think this is its final home…"think" is the keyword. Nothing is ever near completion. The punch list is: adding a mirror, filling in the empty corner, removing the globe floor lamp…probably selling…and general styling is needed.

The guest bathroom is in dire need of help, but until it's gutted, you'll only see this space in the No Makeup Home Tour.

This bathroom is a total pig with such potential…think freestanding tub with one of those amazing roman tub faucets, white plantation shutters, and removing that wallpaper. Does anybody have tips on growing a money tree?
Our master bedroom is on this year's punch list…but with other projects taking precedence, I just don't see anything happening here in the immediate future…an incomplete mess it shall stay. I do know the hand-painted floral screen needs to find a new home…or possibly listed for sale in my Chairish shop, and that painting is too small above the bed. My vintage besties helped me style it out, but I need to follow through with the plan and add the sketches that are presently buried in my office. Also, those chess piece lamps may get relisted on Chairish as well. I'm thinking of something more modern??? Or maybe more elegant? Oh, I don't know.

All I know is, the elements are here for a killer room, but something is missing. Color? Duvet? Rug? One of these days it'll all click. I just need to sit down and work on it.

I also need to have The Boy lower this estate sale find painting. I had the black and white Gino Hollander here, but it moved back downstairs…my mistake was using the same nail. One thing I'm super anal about is how the artwork is hung…57″ from the center…and this is definitely too high. 57″ from the center is the perfect height each and every time.

The sitting room outside the master remains the same. This is where I sit while the little ones are in the shower…waiting to blow dry their hair. I also tend to hide sit in here when I need some quiet time.

I'd love to say my office looks like this all day erry day…but truth be told, it tends to be a dumping ground for vintage pieces to be sold.


Every weekend a new pile of treasures appears here.

This is where I shoot all the new items for my Chairish shop. Some of you will be scrolling past this next photo thinking man Kyla, you live in a messy ass home…but if you're smart, you'll look very closely…it's a sneak peek of what just went live in the shop and what's to come…the face planter I'm keeping though…it's just too cool.
Yes, you do spy a boatload of Pepto Bisol on that brass shelf. No, I do not have massive tummy issues. You can see why here.

My desk is always a complete and utter disaster. Buried in work…much like myself. I'm trying my best to find organization in self-employment, but I'll tell ya, it's not easy. However, The Boy is pretty impressed with business momma. This German man is bound and determined to help me figure out this whole clean desk thang. Maybe by next Fall's No Makeup Home Tour, it'll sink in? Ya, probably not.

Let's do a hop skip and a jump down the stairs, shall we? Oh, but before we do, here is a space that has never changed.

The nook on the landing of the stairs. I still love this chair and artwork as much as I ever did…and though many disagree…a disco ball makes everything a bit happier.
Last month, I picked up a new rug, and it legit transformed the dining room. The before and after deets are here, but in a nutshell, I moved the hutch, added some killer black and white artwork along with the rug, and voila! I'm tickled pink.


When we purchased the house, the built-ins gave me all the feels. Every night I would dream about styling them…until it came time to actually style them.

This room is not right…a new sofa has just been ordered from Jonathan Louis (the Hudson), and a new rug from Mohawk Home is on its way. The heavy brown brick fireplace will have the top potion painted white, and fingers crossed those three changes will make the space airier.

As soon as the new sofa and rug arrive, the club chairs will get some new upholstery. Oh, and did you see I left Nicholas Cage? If you have no idea what I'm talking about, The Boy is a total and complete jokester, and he taped pictures of Nick to all my artwork while I was in LA. Then he sat back and waited for me to find him. It still makes me laugh, so Nicky stays.

The kitchen renovation is on the punch list as a Summer / Fall project, and The Boy is dreading this reno, but I'm trying my best to put his mind at ease. New countertops, a few appliances replaced and tiling the backsplash with something less busy. Parlayed into this reno are the existing wet bar and laundry room. All in all, yes it's gonna be a beast of a project…but shhhhh, please don't tell my husband.

Before I give you a peek at the pretty rooms and nooks that rarely change, here's a list of all the talented bloggers on the No Makeup Home Tour. Go visit them. See the crazy things they do behind the scenes. Get a good laugh and know you're not alone in the home decor game of musical chairs. And most importantly, if you dig their style, give them a follow. They're incredibly talented people who I'm beyond thrilled to call Bloggery Friends.

Okay, NOW let's revisit the other rooms that only slightly change…

The artwork from Lani Lee recently made a comeback. These three dudes needed a break when we moved from the old house, but I'm thrilled they have returned.

Yup, there's old Nicholas Cage again. It's like playing Where's Waldo.



This is when he starred in Con Air? There's no specific reason why The Boy chose to torment me with Nick…it's just, he did it the first time and he stuck.

The entryway is probably due for a change, but for now, I'm still diggin' this Dorothy Draper dresser and artwork collab with Josh Young Design House.

If you're new here today, meet Potty Paradise. The tiniest jewelry box of a bathroom…along with the basement bathroom. They never change and probably never will.

You made it…ooooofph! Were you a long hauler? Cuz if you were congrats! You made it to the end of my No Makeup Home Tour. Now scroll back up cuz there are 15 more that are even better than mine. I know what I'll be doing for the rest of the day.
Oh! And before I forget…wanna join in the fun? I'd love to see your IRL home. Post it to Instagram, tag me, and/or use the hashtag #nomakeuphometour Can't wait to see your home!
More Affordable Home Decor And Budget-Friendly Ideas
Have you seen those artificial flower arrangements in resin – you know, the clear vase that looks like water, but it's not? This easy tutorial teaches you exactly how to make your own for a fraction of the price.
If you're headed into a home renovation, you definitely need my Free Budget Checklist Download
Looking for modern decor that won't break the bank? Check out this round-up of Home Decor Under $100
Here is the final reveal of the Modern Kitchen Makeover On A Budget that I created with Cambria!
I've rounded up my favorite Amazon home decor deals and Smart Gadget Must-Haves
Shop these Amazon Prime Day deals you must have.
Sharing my 5 Ways To Cut The Cost Of Wallpaper with these clever ideas!
Check out this affordable summer table decor – you won't believe where I got it!
If you're looking for Home Decor On A Budget shop these Affordable Decorating Ideas
If you wanna know how to make your home look expensive but decorate on a budget, check out both of those posts! There's some seriously good advice in both.
If you're looking for organizing tips, check out this round-up of the best storage bins and Organization Ideas and then be sure to hop over and then download this declutter your home checklist.
Discover More Modern Decor Ideas
Have you noticed that mushroom decor is trending? Here's what I'm eyeing.
Want to add a little magic to your room? Try adding some disco ball decor with these sparkly ideas.
Add some texture to your room with this rattan and cane lighting round-up.
Wait, skinny jeans are out of style? Yup, and here are the trending jeans I would wear instead.
Do you have a rug that is too small or too big? Not sure? Here's how to choose the best size rug for a living room.
Cane furniture is trending, and so is rattan and cane lighting. If cane isn't your jam but you want more lighting ideas, check out this round-up of boob lighting alternatives.
I've been playing around with some living room design concepts. Check out the latest mood board I came up with.
Wait, skinny jeans are out of style? Yup, and here are the trending jeans I would wear instead.
Nothing elevates a ceiling light like a ceiling medallion. Check out that round-up to shop for the best of the best, and be sure to check out my how to install a ceiling medallion tutorial for some secret tips!
Storage bins and other organization ideas to keep your home clutter-free. From the pantry to the kitchen to the bathroom to drawers, I've got you covered! And check out the decorative boxes post if you're looking for ways to corral your remotes on your coffee table.
Pairing pendant lighting for the kitchen can be a tough design decision. Here are my favorites.
Love the Primrose mirror but hate the price tag? I got you! Here's a full round-up of affordable Anthropologie mirror dupes.
Spruce up your backyard with this outdoor patio furniture and decor round-up.
12 cute, stylish backpacks that fit a laptop and are perfect for work, travel, and back to school!
My brutally honest review on applying for membership at the Biltmore Country Club in Barrington, IL
My best Thrift Store Shopping Tips for newbies and pros!