Reviewing My Sofa From Jonathan Louis
Last Updated on August 25, 2023
Today I have a before and after furniture reveal that is mind-blowing. A while back, I wrote about a quest for the perfect TV watching sofa. When we first moved into the house, I had purchased a vintage sofa with the thought process — it was preowned, it already has dents and dings, and I won't be sad when my kids wreck it. That thought process lasted for exactly four months.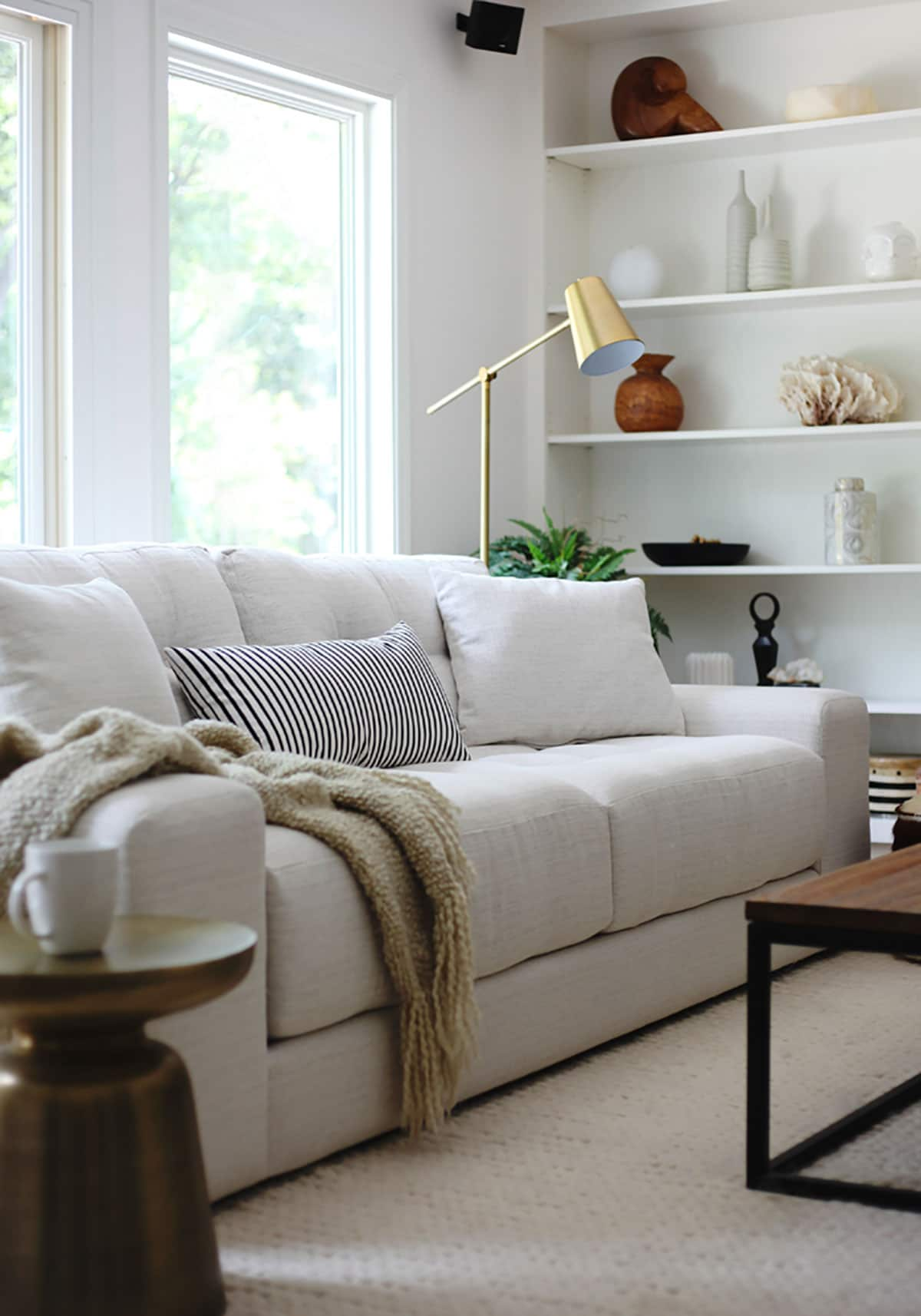 After daily use, there were three new holes in the beautifully patinaed leather, and my son had used his fingernail to scratch words into the backside of the leather. It was also sat through and incredibly uncomfortable with its shlumpy cushions. I had made a design disaster decision, and we needed a new sofa…badly.
Reviewing My Jonathan Louis Hudson Sofa
Right before leaving for High Point, Jonathan Louis reached out. They saw my post and asked if I'd like to visit their showroom while visiting High Point Market. Ummmm, srsly?!?!?! Yes, please! *raising that emoji hand high*
Before the trip, I studied their website to scope out the sofa designs I wanted to test drive…errrr, sit my booty in. Because yes, I'll admit, it's hard to buy a new sofa off the internet. With my love of Mid-Century Modern, I was immediately drawn to the Kelsey and Pia collections. I loved the wood and brass-capped legs…both had a very timeless look about them. BTDubs, they have a dealer locator here so you too can test drive.
Because my schedule was so tightly packed on the Design Bloggers Tour, Jonathan Louis was my last stop before leaving High Point. Three days into the tour, my mind was spinning with new makeover ideas. By this time, I was not only itching to find a new sofa but also to makeover the entire living room. Giddy with excitement, I walked over to the showroom.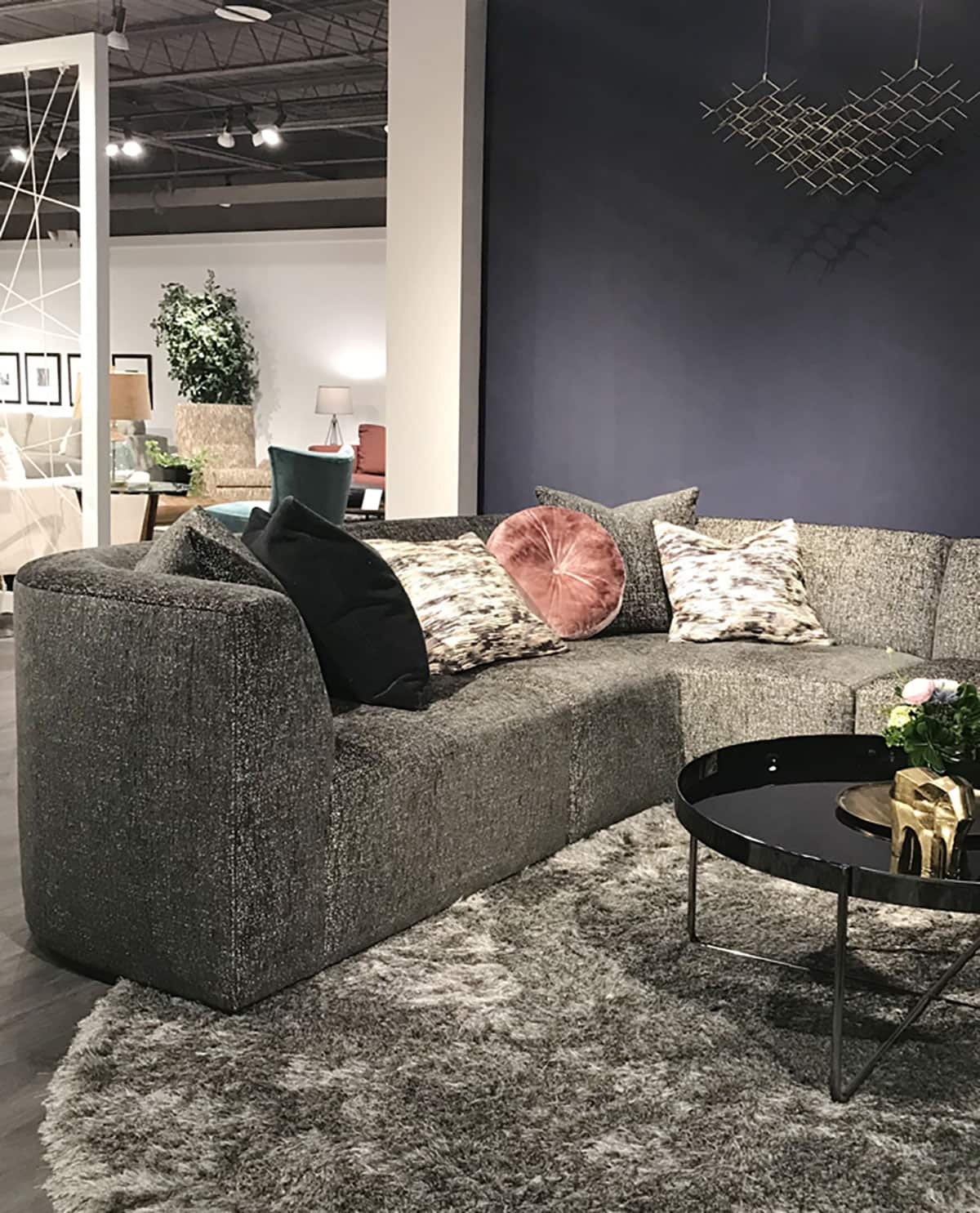 Holy schmoly…smacking me in the face, in the showroom window, was this glam, curvy sectional that was the epitome of a sexy sofa. Charcoal gray with velvet pillows. They also had it in this white teddy bear nubby-type fabric that was trending everywhere at High Point.

Unbeknownst to me, I had just entered sofa heaven. While walking back to meet my contact, my head was on a swivel. Oooh, I like that one…and that one…and that one…oh, and that velvet one too! The choices were pretty much endless.

We started the tour of the showroom in front of a new sofa design called Hudson. And boy, was she a looker. Low profile arms, modern, and chunky in the best way possible.

She looked nothing like the Mid-Century Modern sofa I had originally chosen on the Jonathan Louis site, but the tufted cushions and clean lines still made her look sleek. Momma likey. Being overly polite, I asked if I could sit it in…"LOL, of course you can!" she giggled at me.

Only Buy A White Couch With High-Performance Fabric
The cushions were plush and hugged me in all the right spots. The seating was nice and deep…yep, I could pretty much sit here forever and be happy. Had I instantly found the perfect TV-watching sofa? After walking the showroom and test-driving countless sofas, I came back to the Hudson and started talking about fabric. If there was one thing I was hit over the head with at High Point, it was the high-performance fabric — durable, stain-resistant, and soap cleanable.

Even though my living room catches a lot of light from the sliding glass doors, the brown brick around the fireplace, plus the hardwood, can make the space feel heavy. In my quest for a new sofa, I wanted something light…ivory, white, or cream. Living with two 4′ monsters that return from summer camp like dirty little piggies, I knew I needed a fabric that could take a beating. Jonathan Louis was up for the challenge with not only woven texture options but also cotton/canvas and high-performance velvet.

When I returned home, The Boy and I reviewed pictures, notes, and fabric swatches. We kept coming back to Hudson in Dover Natural. I swear, it was love at first sight. By the time we ordered up the new sofa, the shlumpy vintage beast had been hauled out to the curb. We were a little excited for Hudson to come live with us.

Once it arrived, I knew we needed a new rug. Between it and the new sofa, a huge transformation had taken place. The living room no longer felt as heavy. In fact, it was light and airy.

The full makeover has a ways to go. To me, it still feels dark on the right side, so I'm starting to look for lighter fabric to reupholster the Mid-Century Modern wood loungers. Also, I'm on the fence to paint the brick fireplace and possibly replace the coffee table with something more round? Maybe in a lighter color or possibly a metal? I'm not sure yet.

There is one thing I do know…this sofa was the best design decision I could have ever made for this room. It's comfy. We all fit on it. And most importantly, since its arrival, we've been spending more time together as a family watching old 80's movies before bedtime. Last Sunday was Karate Kid, and up next is Honey, I Shrunk The Kids.
For this post, I received a sofa to review from Jonathan Louis. All opinions are my own and always will be. Thanks for supporting the content that keeps House Of Hipsters going.


More Affordable Home Decor And Budget-Friendly Ideas
Have you seen those artificial flower arrangements in resin – you know, the clear vase that looks like water, but it's not? This easy tutorial teaches you exactly how to make your own for a fraction of the price.
If you're headed into a home renovation, you definitely need my Free Budget Checklist Download
Looking for modern decor that won't break the bank? Check out this round-up of Home Decor Under $100
Here is the final reveal of the Modern Kitchen Makeover On A Budget that I created with Cambria!
I've rounded up my favorite Amazon home decor deals and Smart Gadget Must-Haves
Shop these Amazon Prime Day deals you must have.
Sharing my 5 Ways To Cut The Cost Of Wallpaper with these clever ideas!
Check out this affordable summer table decor – you won't believe where I got it!
If you're looking for Home Decor On A Budget shop these Affordable Decorating Ideas
If you wanna know how to make your home look expensive but decorate on a budget, check out both of those posts! There's some seriously good advice in both.
If you're looking for organizing tips, check out this round-up of the best storage bins and Organization Ideas and then be sure to hop over and then download this declutter your home checklist.
Discover More Modern Decor Ideas
Have you noticed that mushroom decor is trending? Here's what I'm eyeing.
Want to add a little magic to your room? Try adding some disco ball decor with these sparkly ideas.
Add some texture to your room with this rattan and cane lighting round-up.
Wait, skinny jeans are out of style? Yup, and here are the trending jeans I would wear instead.
Do you have a rug that is too small or too big? Not sure? Here's how to choose the best size rug for a living room.
Cane furniture is trending, and so is rattan and cane lighting. If cane isn't your jam but you want more lighting ideas, check out this round-up of boob lighting alternatives.
I've been playing around with some living room design concepts. Check out the latest mood board I came up with.
Wait, skinny jeans are out of style? Yup, and here are the trending jeans I would wear instead.
Nothing elevates a ceiling light like a ceiling medallion. Check out that round-up to shop for the best of the best, and be sure to check out my how to install a ceiling medallion tutorial for some secret tips!
Storage bins and other organization ideas to keep your home clutter-free. From the pantry to the kitchen to the bathroom to drawers, I've got you covered! And check out the decorative boxes post if you're looking for ways to corral your remotes on your coffee table.
Pairing pendant lighting for the kitchen can be a tough design decision. Here are my favorites.
Love the Primrose mirror but hate the price tag? I got you! Here's a full round-up of affordable Anthropologie mirror dupes.
Spruce up your backyard with this outdoor patio furniture and decor round-up.
12 cute, stylish backpacks that fit a laptop and are perfect for work, travel, and back to school!