Beautiful Distractions No. 10
Last Updated on June 16, 2023
Can you believe it's already back to school? The days have gotten a bit shorter, and I'm starting to accept that it's fall. Things are ramping up here, and I've been finding inspo everywhere. Here are a few beautiful things that have been distracting me.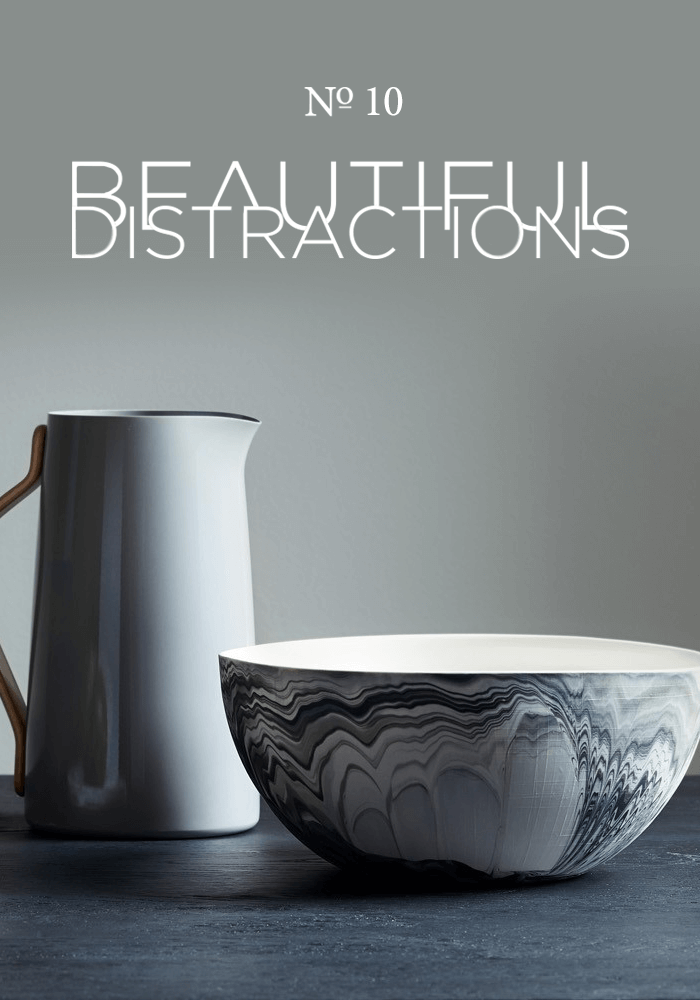 I picked up a couple of new interior design books. Barefoot Luxury by Sandra Espinet has me dreaming of patio makeovers, while Donna Garlough's new book, Your Home Your Style, has me reimaging every room in the house. Uh-oh. Ch-ch-ch-changes.
RELATED: Check out this round up of my favorite home decor books that I return to time and time again.
I'm a sucker for 80's music, so of course, I'm diggin' this mixtape art by Floyd P. Stanley. If I had to pick one, it would probably be Jessie's Girl, but Rock You Like A Hurricane would be a close second. Which is your favorite?
While we're on the topic of music, The Boy took me to see Yacht Rock Revue last weekend at House of Blues. Three hours of singing at the top of my lungs to smooth, soft rock. Don't know what Yacht Rock is? Well, basically it's dentist office music. The songs you seem to know every word to yet have no idea why. Kenny Loggins, Ambrosia, Toto…I came home one-eyed drunk and happy as a clam. I've been singing, "I blessed the rains down in Africa" ever since.
I just picked up a new candle from Otherland. It's presently burning right now and smells like fresh, juicy peaches. I think I now need to pick up Chandelier.
The latest Unison catalog arrived in my mailbox, and I'm head over heels for this black flatware. It's bonkers good.
Last week, I shared my living room makeover progress and received a lot of inquiries about this lamp. It scored it at Target for a song, and it's presently on sale right now!
I recently picked up a linen tablecloth from this Etsy shop, and now I'm eyeing the bedding. I'm still searching for that Pinterest-perfect rumpled look that works with the brown leather headboard. I'm thinking this throw (no longer available) and possibly some ticking stripes get me closer to my inspo. This duvet is not a true ticking stripe, but I'm still drawn to its crisp black lines (no longer available).
Just listened to the Your Home Story podcast about buying vintage online and was stunned when my name was mentioned! Ashley and Suzannah dole out some crazy good tips on this episode, so don't miss it.
HGTV has a fun little quiz to learn which design style suits you. According to my choices, my style is modern…I'm sleek and streamlined with a focus on luxe materials and cutting-edge finishes. But they didn't take into effect that I chose every room without color, so I'm not in total agreement. You can take the quiz yourself, just report back and tell me what your style is.
Speaking of quizzes, Buzzfeed will tell you which Crazy Rich Asian lady you are. I got Rachel and yes, I'm obsessed with these books. I am almost done with the third and final in the trilogy.
Crazy Rich Asians might be the hottest movie in theaters, but if you're looking to stay in, try Netflix's new rom-com To All The Boys I've Loved Before. I watched it last night, and I'm smitten with Peter Kavinsky. (The book was Primed last night.) I've also demanded The Boy refer to me as his, "sexy Rubik's cube" from now on.
Before I sign off, I'm leaving you with a doozy. THIS LAMP COMPANY!!!!! I have no idea how much they cost, but I stumbled upon them during a Pinterest binge the other night. They're these modern, organic, sculptural wonders. You can check out their site here and Insta here.


Discover More Beautiful Distractions
From The new House of Gucci movie to a feel good Tiktok check out Beautiful Distractions No. 32
Monsoon Pottery has got it going on over on Beautiful Distractions No. 28
Check out the ultimate guide to the best faux olive trees, according to an expert interior designer. And don't miss the round up of faux fiddle leaf fig trees too!
My new favorite wide leg jeans are over on Beautiful Distractions No. 26. BTDubs if you' want to know what to 've been wondering if are skinny jeans out, yes, yes they are. Here is what to wear instead.
This tweet from the National Cowboy Museum has me cackling. See what else is happing on Beautiful Distractions No. 22
OMG Thirtysomething is getting a reboot. See what else is trending on Beautiful Distractions No. 18
A contemporary funeral home? Yes, that and more over on Beautiful Distractions No. 17
My favorite childhood movies and more over on Beautiful Distractions No. 6