19 Best Interior Design Books
Finding design inspiration isn't easy unless you know where to look. I get frustrated with Pinterest searches, so I turn to tangible items like interior design books (see my always up-to-date Amazon list of favorites here) and home decor magazines. Reverting back to paper is comforting and familiar – added bonus – my time is spent device-free. Queue the fall weather, curling up on the sofa with a cozy blanket, and flipping through a beautiful decor book…sounds like my kinda afternoon.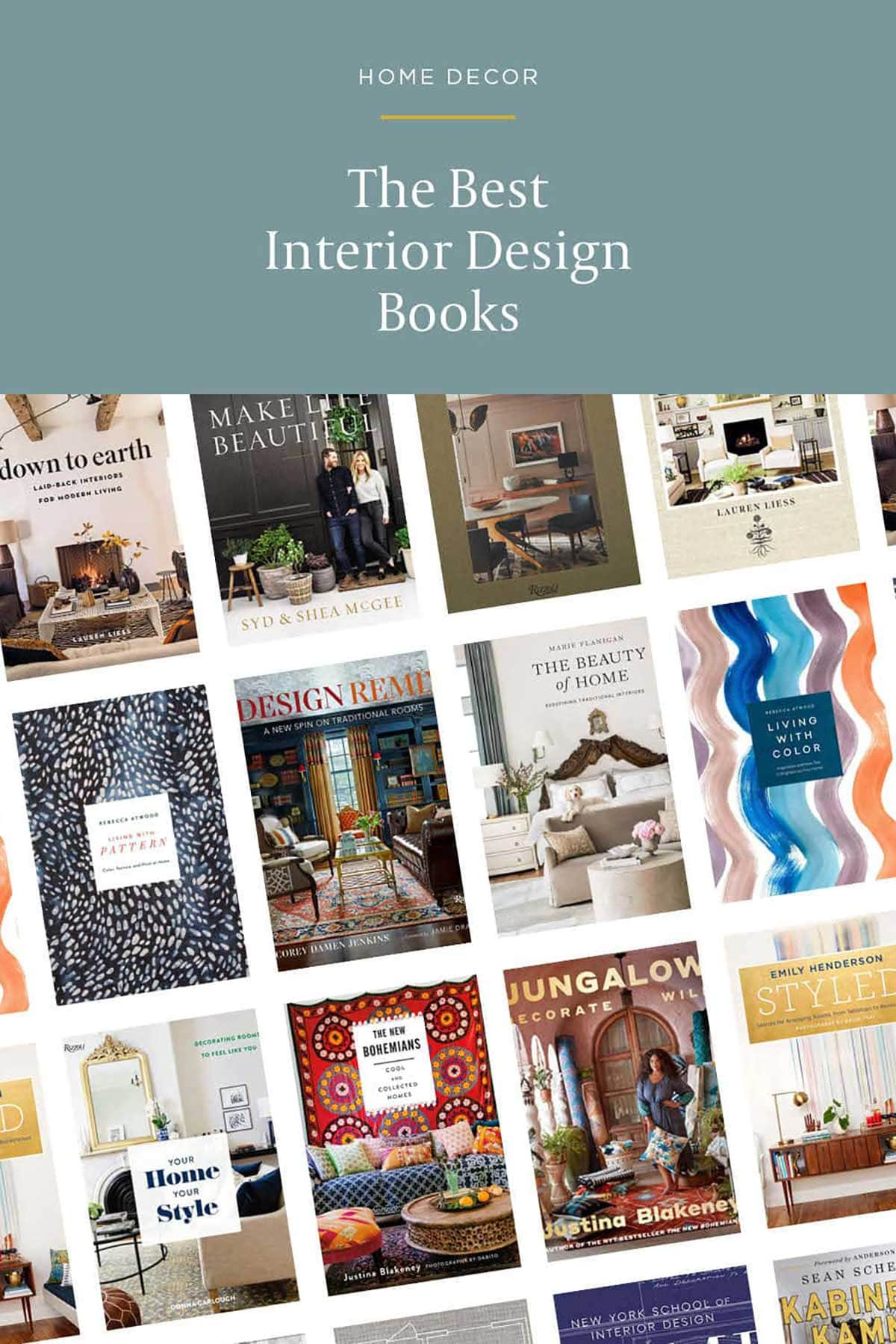 Now that I've set the mood, here are my favorite interior design books that I tend to read over and over again…plus 1 that is soon to be released and on my wishlist. These design books are more than just pretty coffee table books. They will help you find what resonates with your personal aesthetic and teach you how to decorate a room like a pro.
Best Interior Design Books — Quick Links
Home With Rue: Style For Everyone coming April 2022 — jump to read new releases
The Interior Design Handbook: Furnish, Design, and Decorate Your Space

—

jump to design books for beginners
New York School Of Interior Design: Home: The Foundations Of Enduring Spaces

—

jump to design books for beginners
The Home Edit Life: The Complete Guide To Organizing Absolutely Everything at Work And Home

—

jump to organizing ideas
Read on for a brief explanation of each title and why they're a favorite interior design book. 
Newly Released Interior Design Books
As a devoted follower of Studio McGee, I jumped for joy when Make Life Beautiful was released. You'll learn exactly how Syd and Shea McGee went from flat broke to design superstars. In this book, they teach you how to prioritize values, define goals, and put your dreams into action too!
DISC Interiors: Portraits of Home was recently released, and I might have been first in line to purchase it. This design book walks the line of coffee table books. What I mean by that is, you're not going to learn the secret sauce of putting a room together, but you will be inspired by earthy color palettes, beautiful flooring, vintage furniture, and one-of-a-kind rooms that are both contemporary and traditional. Will you learn? Yes. But it is not a step-by-step guide.
Home With Rue: Style For Everyone by Kelli Lamb is available for pre-order but won't ship until April 2022. As a long-time fan of Rue, this design book is on my must-purchase list. (Side note, the living room makeover was featured on Rue.) Rumor has it that this book will be filled with beautiful homes lived in by real people and will feature advice, how-to information, and decorating resources — oh and the foreword is by Nate Berkus.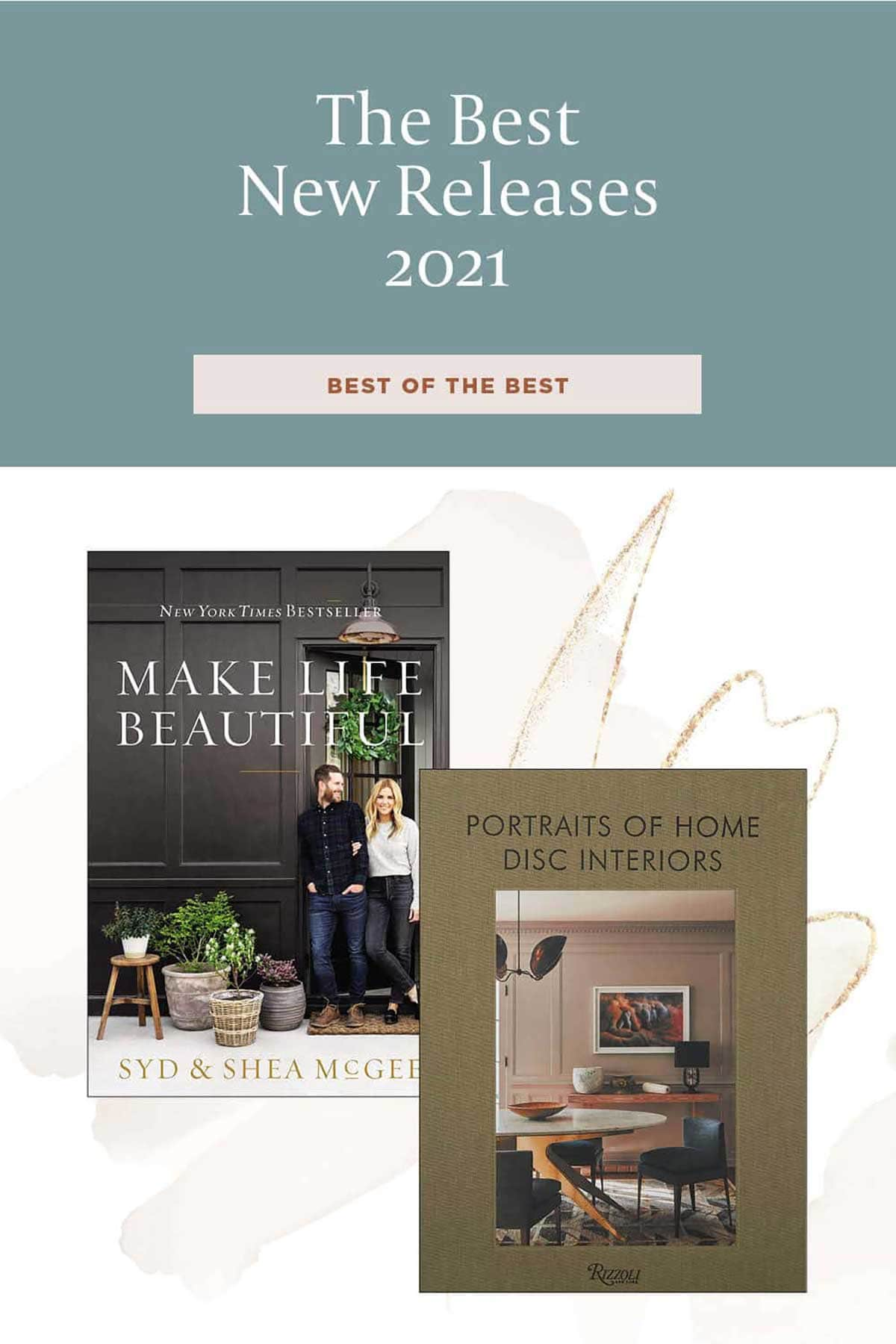 Inspiring Interior Design Books
Habitat: The Field Guide To Decorating by Laura Liess
Laura Liess is one of my favorite home decor bloggers, and she has written 2 of the best interior design books. Habitat encourages you to bring nature inside by mixing foraged items with eclectic collections of modern and quirky vintage decor. You'll learn the fundamental elements of interior design, how to create a mood, and how to tackle decor challenges.
Down To Earth: Laidback Interiors For Modern Living by Laura Liess
Laura's second book, Down to Earth, focuses on creating a lifestyle that inspires creativity and functionality. She walks you through the decorating process step-by-step and shares her design aesthetic so you can create a home that is creative and functional.
UPDATE: Laura just released her third book Feels Like Home: Relaxed Interiors for a Meaningful Life. I have yet to pick it up, but if it's anything like her first two books above, it's gonna be a home run! If you're looking for the perfect gift for the decor lover in your life who has everything – look no further.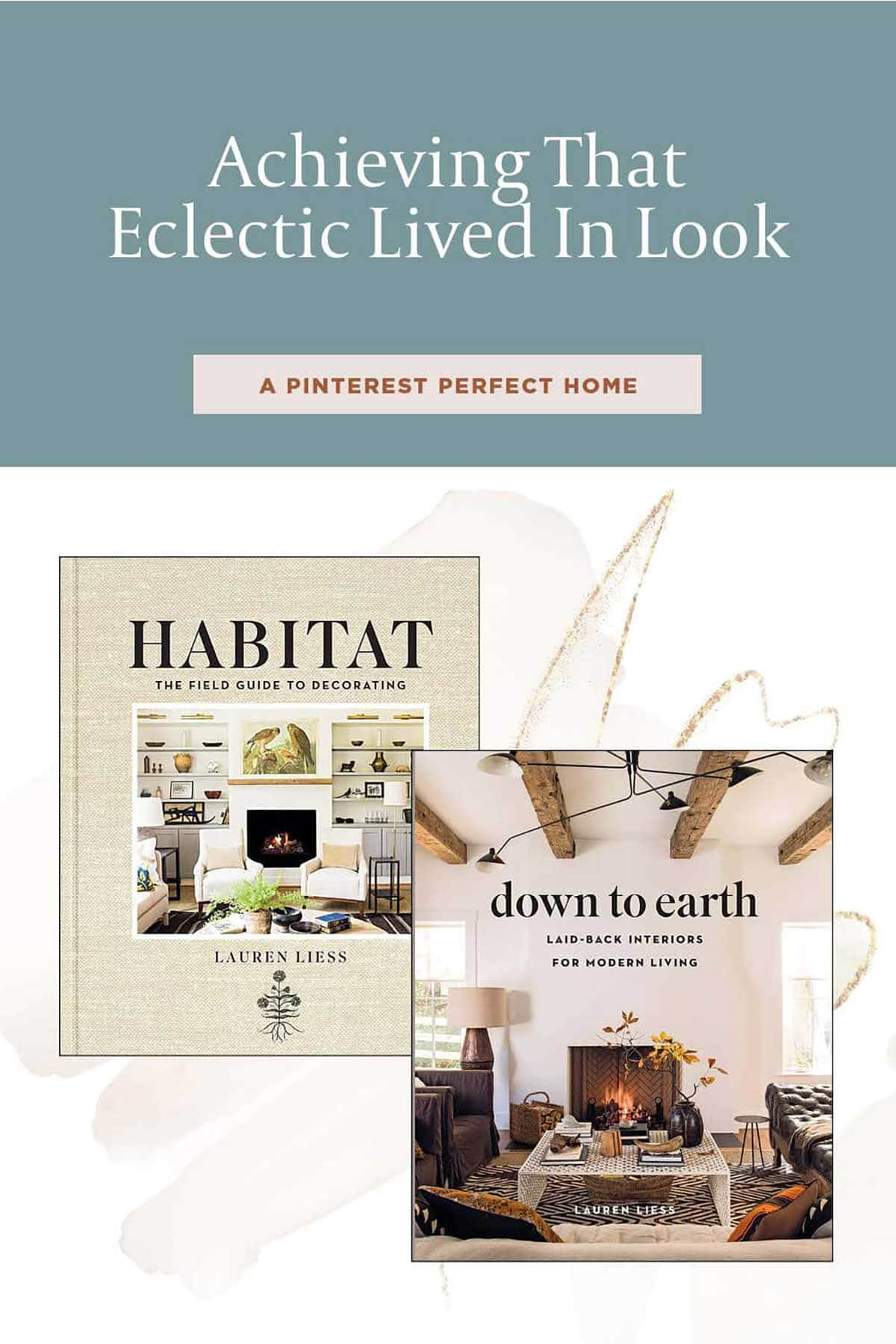 Design Remix: A New Spin On Traditional Design by Corey Damen Jenkins
If you love bold colors, chinoiserie prints, Hollywood Regency, or crazy maximalist decor, this book may not appeal to you. Try this interior design book instead. Design Remix is filled with unexpected mixes of old and new. I recently purchased this interior design book and love how Corey demystifies his approach to color and pattern and fearlessly breaks the rules. This ditty is also a perfect holiday gift-giving book for the decor lover in your life.

The Beauty Of Home: Redefining Traditional Interiors by Marie Flanigan
This design book was sold out for a good portion of 2021, so when I finally got my hands on The Beauty of Home I about hugged the UPS man. Marie's style is classic, soulful, and timeless with every room being better than the last. She gives you a peek behind the curtain and shares her creative process and the elements needed to recreate her signature look. It might just be the best interior design book of 2021.

BTDubs, Marie also designed one of my favorite kitchens. Shazam it's gorgeous.

Best Interior Design Books For Designing With Color And Pattern
Textile designer, Rebecca Atwood, has written 2 fabulous interior design books that are absolute gold when it comes to home decor. The first, Living With Color: Inspiration and How-Tos to Brighten Up Your Home breaks down the right combinations of hues and helps you personalize a color palette. This is the best interior design book on teaching you how to transform your home decor from ordinary to magical.
The second is a best seller and also Rebecca's first design book, and it demystifies decorating with both color and pattern — an interior design concept that stumped me for the longest time. Living With Pattern: Color Texture and Print at Home is my go-to book when I'm having trouble injecting a punch of color into my home decor. She breaks the process down and teaches you how to seamlessly mix and layer prints and color perfectly.

Best Interior Design Books For The Home Decor Lover
When I find myself in a decor pickle, my go-to interior design books happen to be written by my two favorite home decor bloggers. These next few books are must-haves in your library and are also the perfect interior design books for beginners.
Although my home decor is nothing like Justina's coined Jungalow look, I love the knowledge she drops in The New Bohemians: Cool and Collected Homes — which in my opinion is the best design book for aspiring interior designers because she's relatable and easy to understand. Unless you're a hardcore traditional design lover, there's something for everyone in this book. She shares 20 homes with incredibly unique styles along with interior styling and shopping tips.
The adopt-an-idea section that wraps up each chapter in a neat bow is chocked full of ideas and crafts that spark ideas and creativity. BTDubs, this powerhouse designer just released a new interior design book, Jungalow: Decorate Wild. It's been declared Justina's biggest, boldest, and most beautiful home decor book yet.

Styled: Secrets for Arranging Rooms, from Tabletops to Bookcases by Emily Henderson
Now let's talk about the gal that really inspired me to decorate and share my home online – Emily Henderson. When I first discovered the HGTV show, Secrets From A Stylist, I snoopy danced. Emily's sense of quirky, mid-century modern decor was my jam. Her book Styled is written from the perspective of a stylist versus an interior designer. Meaning, she teaches you how to create that lived-in, cozy look that is uniquely you.

Although this design book was released over 5 years old, I declare it the best interior design book of all time because her teaching method is relatable and easy to understand. My copy of Styled is a book that I return to project after project. I also love the style quiz. In the book, she asks many questions and expertly tells you you're design style.
Interior Design Books That Teach
Your Home, Your Style: How To Find Your Look & Create Rooms You Love by Donna Garlough
The interior design book Your Home, Your Style is a hidden gem written by a friend of mine, Donna Garlough. She'll guide you to understanding your style strengths and identifying and overcoming decorating weaknesses. Learn the basics of styling a bookshelf like a pro and how to create a cohesive gallery wall.

Best Interior Design Books For Beginners
If you don't know the rules then how do break them? Learn the basics of interior design with The Interior Design Handbook: Furnish, Design, and Decorate Your Space. The author teaches you how to design a room rather than focusing on what you decorate with. You'll also learn the golden ratio, golden spiral, how to size a coffee table in proportion to a sofa, how high to hang a light fixture, how to create a mood board, and more. Basically, this interior design book is the bible of decorating.
When Alexa Hampton writes the forward, you know it's got to be good. New York School Of Interior Design: Home: The Foundations Of Enduring Spaces is basically design school in a book — a comprehensive education on home design and decor, from color theory to choosing furniture for a room. It's an essential book for both design students and decor enthusiasts.

Best Interior Design Book For Decorating With Vintage
My love of decorating with vintage and antique decor runs deep, so when I heard Sean Scherer wrote a beautiful interior design book filled with curated vintage collections, I immediately had to purchase it. Kabinett & Kammer – Creating Authentic Interiors teaches you how to best display your collections, beautifully layer vignettes, and decorate in a way that is authentically you. Every page is filled with interesting ways to curate your collections of whimsy and wonder.

Interior Design Books For An Organized Home
After binging Get Organized on Netflix, I was motivated to pare down, edit, and purge all the things. Never in a million would I think my ADHD brain would be buying storage and organizing bins, but these, how to organize your home, books have helped me greatly.
Think of The Home Edit Life: The No-Guilt Guide to Owning What You Want and Organizing Everything book as the how-to organize bible. Learn the basics along with tips and tricks on mastering home organization like a pro. And no, you do not have to live like a minimalist or purge every single thing you own. Contain the chaos and apply these genius ideas to every room in your home without having to Marie Kondo.
If you're looking for a gift-giving idea, Beautifully Organized: A Guide To Function And Style In Your Home is the interior design book for you. The author shares her 5 steps to organizing your home like a pro. Assess, declutter, clean, organize, and beautify. A step-by-step guide that covers every room in the house from cupboards to the powder room. A must-have book for those wanting an organized space that is also peaceful and beautiful.

Side note: Don't miss my Organization Tips For Home blog post!
Even More Inspiring Design Books
My updated list of favorite home decor books can always be found online. Since these favorites are difficult to narrow down and always updated, here are a few that have dropped off the top 11 best interior design books but are still incredibly inspiring. Before I sign off, leave me a comment if you have a favorite interior design book not listed above would like to share with me.
The Remodelista book is a classic as is Joseph Dirand's drool-worthy book of residential interior design work in Paris. Both organizing books by The Home Edit girls are great, but since one was already on the list, I didn't deem it necessary to include A Guide To Organizing and Realizing Your House Goals as well.
Another design book full of vintage decor inspiration is Steven Gambrel: Time And Place. His designs have a fresh approach to color and composition, and he's a genius when it comes to mixing modern and traditional decor. Although it's a notable design book, it's more of an inspiring coffee table book versus one that teaches.
Travel Home: Design with a Global Spirit is an interior design book written by Caitlyn Flemming and her mother. Together they share a laidback California Cool design that focuses heavily on neutral home decor. If you love Nate Berkus' decor aesthetic, this book belongs in your library…oh, and Nate and Jeremiah's home is featured here as well.
Discover More Home Decorating Inspiration
DIY Faux Floral Arrangements In Vase With Resin
Cane furniture is trending right now. Check out my favorites.
Going on vacation? Check out my Best Books To Read In 2022