Best Interior Design Books 2023
As an interior designer or home decor enthusiast, it's important to stay up-to-date on the latest design trends and techniques. Curling up on the sofa under a cozy blanket and flipping through a good interior design book sounds like my kinda afternoon. In this blog post, I'll share some of the best interior design books, from must-read favorites to design books for beginners, and discuss how to use them to find decor inspiration for your home.
27 Best Interior Design Books for Interior Designers And Decor Lovers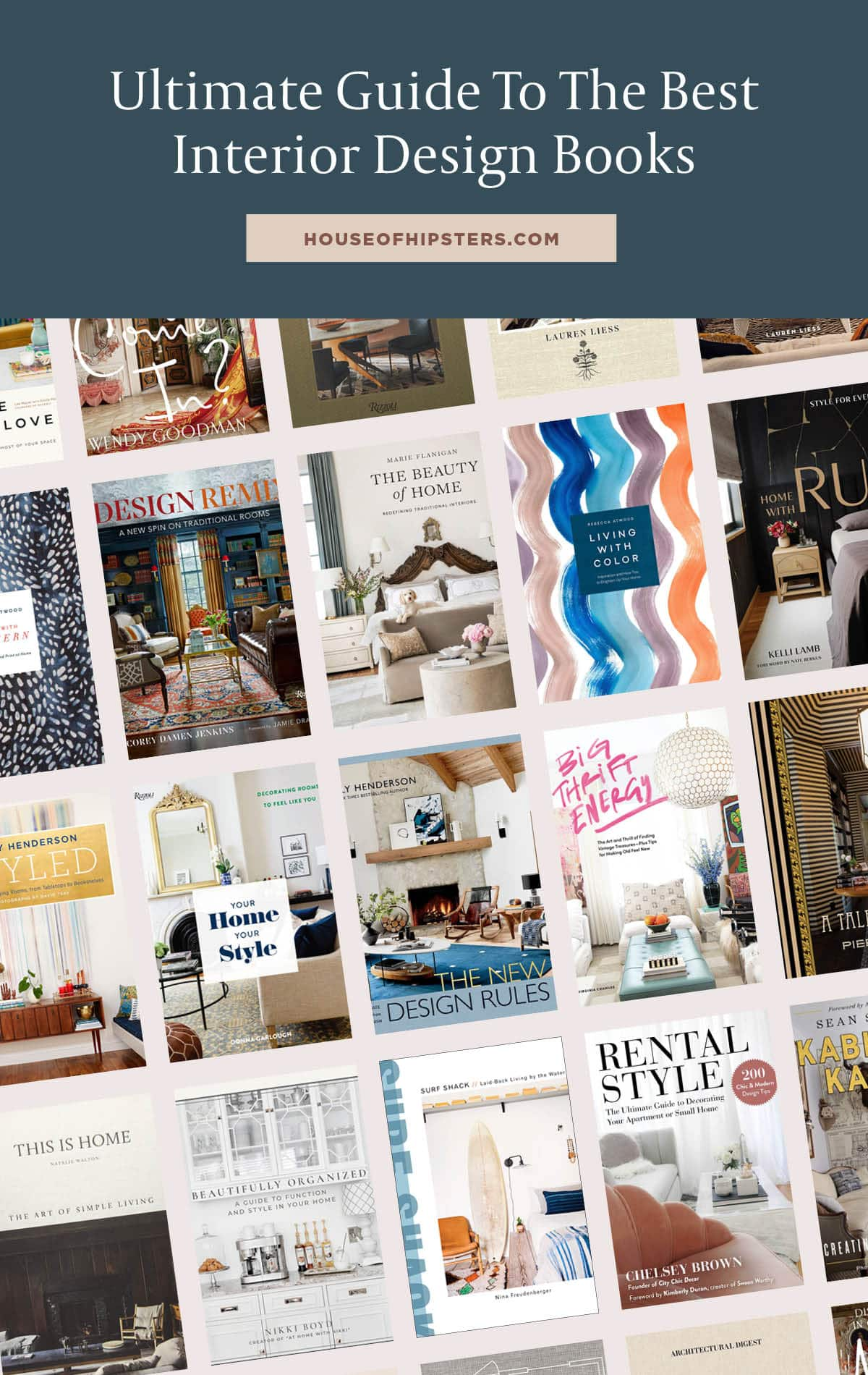 Now that I've set the mood, here are the best interior design books that I tend to read over and over again. These decorating books are more than just pretty coffee table books. They will help you find what resonates with your personal aesthetic and teach you how to decorate a room like a pro.
Also, don't miss my latest roundup of must-read coffee table books to decorate your bookshelves and small vignettes around your home. Let's get into it! Here are my go-to decor books.
Looking For New Design Inspiration? Check Out These Interior Design Books That Are Hot Off The Press
Quick update of a few new home decor book releases! Jean Stoffer's debut book Establishing Home, and I also have my eye on Veranda At Home In The South and Parisian By Design.
What Are The Best Interior Design Books For Beginners?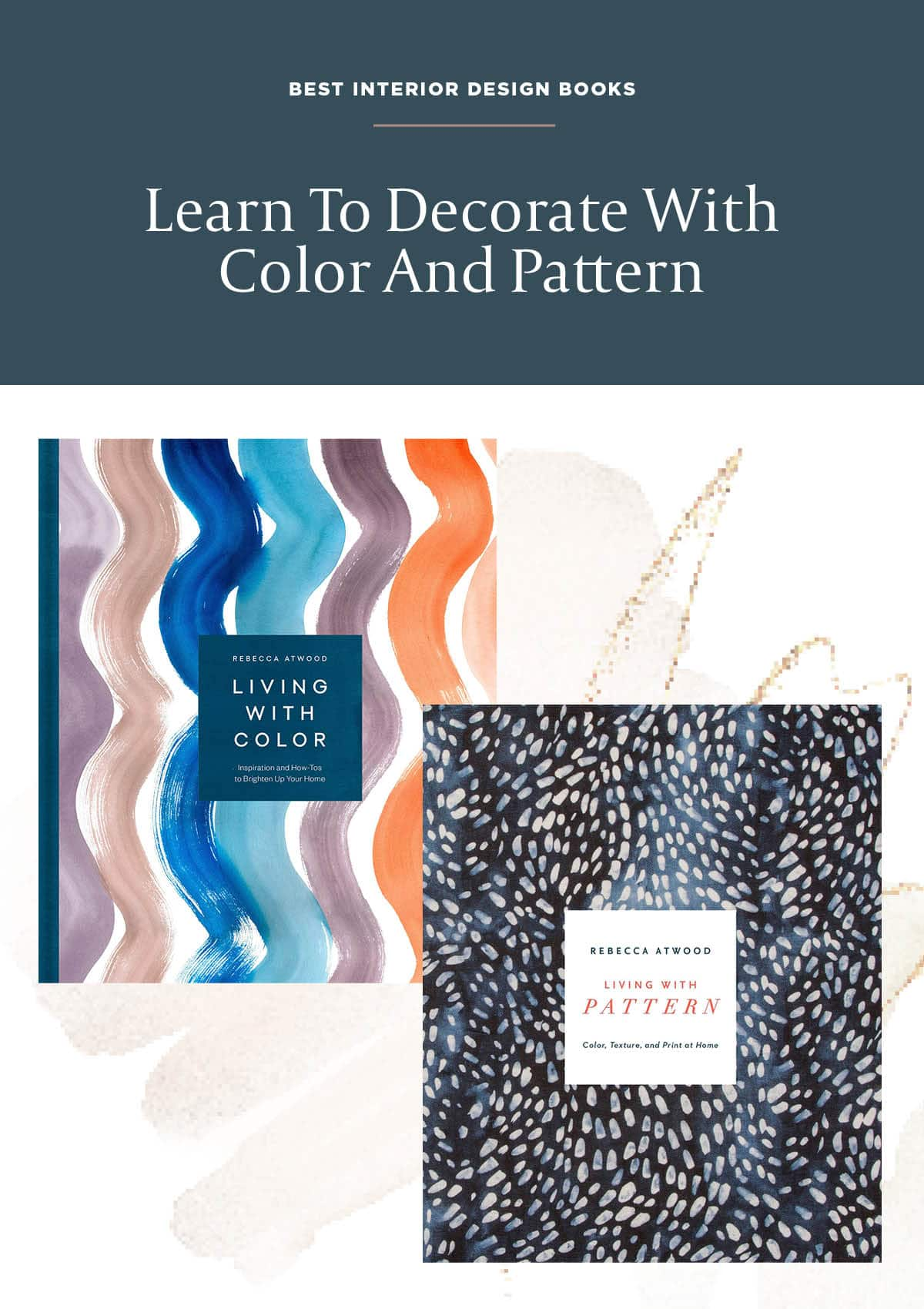 BTDubs, Laura Liess also wrote Down to Earth: Laid Back Interiors for Modern Living, which focuses on creating a lifestyle that inspires creativity and functionality. She walks you through the decorating process step-by-step and shares her design aesthetic so you can create a home that is creative and functional.



Best Interior Design Books to Help The DIY Lover Create the Home of Their Dreams
When I find myself in a decor pickle, my go-to decor books happen to be written by a couple of my favorite home decor bloggers turned decor powerhouses. These next few interior design books are must-haves in your library and are also perfect for anyone wanting to learn how to DIY their home decor easily.

Although this design book was released over five years old, I declare it the best interior design book of all time because her teaching method is relatable and easy to understand. My copy is a decorating book that I return to project after project. I also love the style quiz. In the book, she asks many questions and expertly tells you you're design style.



Best Interior Design Books For Decorating With Vintage Collections
Big Thrift Energy by Virginia Chamlee: If you're dipping your toes into vintage decor or want to learn how to find the best vintage deals, this interior design book is for you. I have followed Virginia on Instagram for years, and it was such a thrill to receive her book in the mail! She shares the best tips for shopping for vintage decor online, in thrift shops, and in antique malls. You'll also learn how to repurpose and upcycle the decor in your home. Do not sleep on this book.
Kabinett & Kammer – Creating Authentic Interiors: My love of decorating with vintage and antique decor runs deep, so when I heard Sean Scherer wrote a beautiful interior design book filled with curated vintage collections, I immediately had to purchase it. He teaches you how to display your collections rather than spilling from your shelves, design and style vignettes, and decorate in a way that is authentically you. Every page has interesting ways to curate your collections of whimsy and wonder.



The Essential Interior Design Books
A Tale Of Interiors by Louisa Pierce and Emily Ward I love Pierce and Ward's work and have followed them on Instagram for years; however, their decorating style is not easily obtainable. The wallpaper costs thousands per roll, and the furniture is custom designed, but it's included in this list because this inspiration is off the chain! This book is filled with eclectic decor and is a feast for the eyes. If you want to get your creative juices flowing, this book is for you.
Live Beautiful by Athena Calderone – oh, how I debated over including this book. I love Athena's style, and yes, it's on the best-seller list, but she shows modern design more than she teaches design fundamentals. Also, this book is not for the traditional home decor lover or the lover of maximalism. So when I updated this list, I decided to add a category dedicated to modern style. The book itself is beautiful and aesthetically pleasing on a coffee table, but it's more or less one of those decorating books you occasionally flip through for inspiration.
Home With Rue: Style For Everyone by Kelli Lamb is filled with homes that celebrate personaility. As a long-time fan of Rue, this design book was on my must-purchase immediately list. (Side note, the living room makeover was featured on Rue.) It takes you inside the homes of real people and features advice, how-to information, decorating resources, and practicality — oh, and the foreword is by Nate Berkus, so if he approves, of course, I do too.


Best Interior Design Books For Teaching Fundamentals
If you don't know the design rules, then how do you break the design rules? Enter two must read interior design bibles…these are design books every decor enthusiast should read even if you're not a professional interior designer.

The Interior Design Handbook: Furnish, Design, and Decorate Your Space. The author teaches you how to design a room rather than focusing on what you decorate with. You'll also learn the many lessons of golden ratio and golden spiral, how to size a coffee table proportional to a sofa, how high to hang a light fixture, how to create a mood board and more. This is one of the best interior design books for creating a cohesive space with a good flow, and one I refer back to over and over again.
When Alexa Hampton writes the forward, you know it's got to be good. New York School Of Interior Design: Home: The Foundations Of Enduring Spaces takes readers on a journey through the foundation of interior design — a comprehensive education on home design and decor, from color theory to choosing furniture for a room. It's essentially the best book on interior design for both design students and decor enthusiasts alike.


Best Interior Design Books To Inspire Your Next Home Project

Design Remix: A New Spin On Traditional Design by Corey Damen Jenkins orey is a designer known for using bold colors, chinoiserie prints, Hollywood Regency, and crazy maximalist decor. Design Remix is filled with unexpected mixes of old and new and bursting with color. I recently purchased this interior design book and love how Corey demystifies his creative ways to approaching color, pattern, and how he fearlessly breaks the rules. This classic home decor book is also the perfect holiday gift for the design lover in your life.
The Beauty Of Home: Redefining Traditional Interiors by Marie Flanigan This interior design book was sold out for the longest time, and for good reason. When I finally got my hands on The Beauty of Home, I about hugged the UPS man. Marie's signature style is classic, soulful, and timeless, with every room being better than the last. She gives you a peek behind-the-scenes and shares her creative process and the elements needed to recreate her signature look. This book is full of inspiration, remarkable residences, and one that I come back to again and again.
BTDubs, Marie also designed one of my favorite kitchens. Shazam, it's gorgeous.



Artful Decorating Books — Favorite Coffee Table Books on Interior Design


Best Interior Design Books That Organizing Experts Always Reference
After binging Get Organized on Netflix, I was motivated to pare down, edit, and purge all the things. Never in a million would I think my ADHD brain would be buying storage and organizing bins, but these, how to organize your home, books have helped me greatly.
The Home Edit Life: The No-Guilt Guide to Owning What You Want and Organizing Everything book is the how-to-organize bible. Learn the basics along with tips and tricks on mastering home organization like a pro. And no, you do not have to live like a minimalist or purge everything you own. Contain the chaos and apply these genius ideas to every room in your home without having to Marie Kondo.
Beautifully Organized: A Guide To Function And Style In Your Home is a must read if you're looking for a gift-giving idea for the person who labels everything. This book features five steps to organizing and encourages readers to organizing their home like a pro. Assess, declutter, clean, organize, and beautify. A step-by-step guide that covers every room in the house, from cupboards to the powder room. This a must-have book for those wanting an organized space that is also peaceful and beautiful.



RELATED: Be sure to check out my organization tips for home post.
These are just a few of the many interior design books available that can provide inspiration and guidance for creating stylish and functional interiors. Whether you're a beginner or an experienced designer, there is a book out there for you. Take some time to browse my running list of favorite interior design books on Amazon, and don't be afraid to experiment with different design styles to find what works best for you.
More Must-Have Interior Design Books For Decor Lovers
Elevate Your Interior Styling With These Beautiful Coffee Table Books
RELATED: Check out this round up of the best coffee table books for decorating.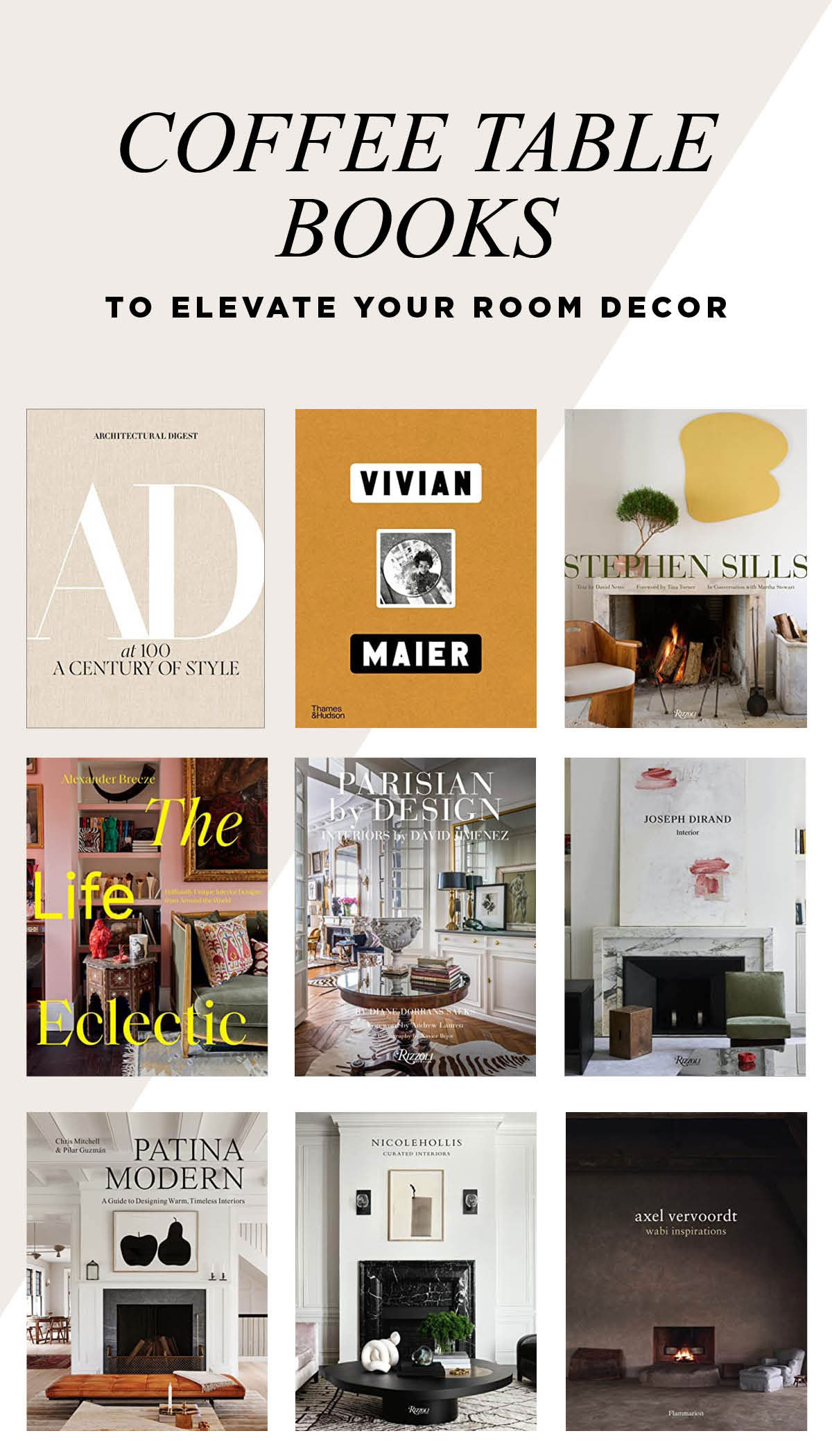 Discover More Home Decor Ideas
I've been playing around with some living room design concepts. Check out the latest mood board I came up with.
We adopted a dog about a year ago and have since found the glory of affordable washable rugs.
Learn to layer lighting like a pro with this guide to the best bedroom lighting.
Love plants as decor but have a black thumb? No worries! I have a rounds ups of the best faux olive trees, my favorite faux fiddle leaf fig trees, and a huge round-up of faux plants that look real.
Want to add a little magic to your room? Try adding some disco ball decor with these sparkly ideas.
Love the Primrose mirror but hate the price tag? I got you! Here's a full round-up of affordable Anthropologie mirror dupes.
Do you have a rug that is too small or too big? Not sure? Here's how to choose the best size rug for a living room.
Cozy up your windows with these affordable velvet curtains – oh, and they're all available online.
If you love wallpaper, but have a fear of commitment, check out this round-up of best peel and stick wallpaper – it even includes a couple of wall murals.
Cane furniture is trending, and so is rattan and cane lighting. If cane isn't your jam but you want more lighting ideas, check out this round-up of boob lighting alternatives.
Thinking about joining a country club? Before doing so, read my review of the Biltmore Country Club. You may rethink that decision.
Learn how to make your own Artificial Flower Arrangements With Resin that looks like water. Such an easy DIY and more affordable than buying retail.
Well, I'm over the brick fireplace and gearing up for a fireplace makeover in the living room. We chose a custom limestone facade, and it's getting delivered!
Storage bins and other organization ideas to keep your home clutter-free. From the pantry to the kitchen to the bathroom to drawers, I've got you covered! And check out the decorative boxes post if you're looking for ways to corral your remotes on your coffee table.
Last Updated on January 27, 2023 by Kyla Herbes