After posting the viral wallpapered closet, I received a few emails asking for recommendations for the best removable wallpaper. Great question! Peel and stick wallpaper has come a long way, and if you're living in a rental, apartment, or college dorm, removable wallpaper is the perfect option to give your space a punch of personality. Each featured wallpaper in this round-up will peel off as easily as they stick on, so buckle up and let's jump in!
Best Removable Wallpaper Shopping Quick Links
Continue for wallpaper imagery and descriptions
Best Removable Wallpaper For A Kitchen Apartment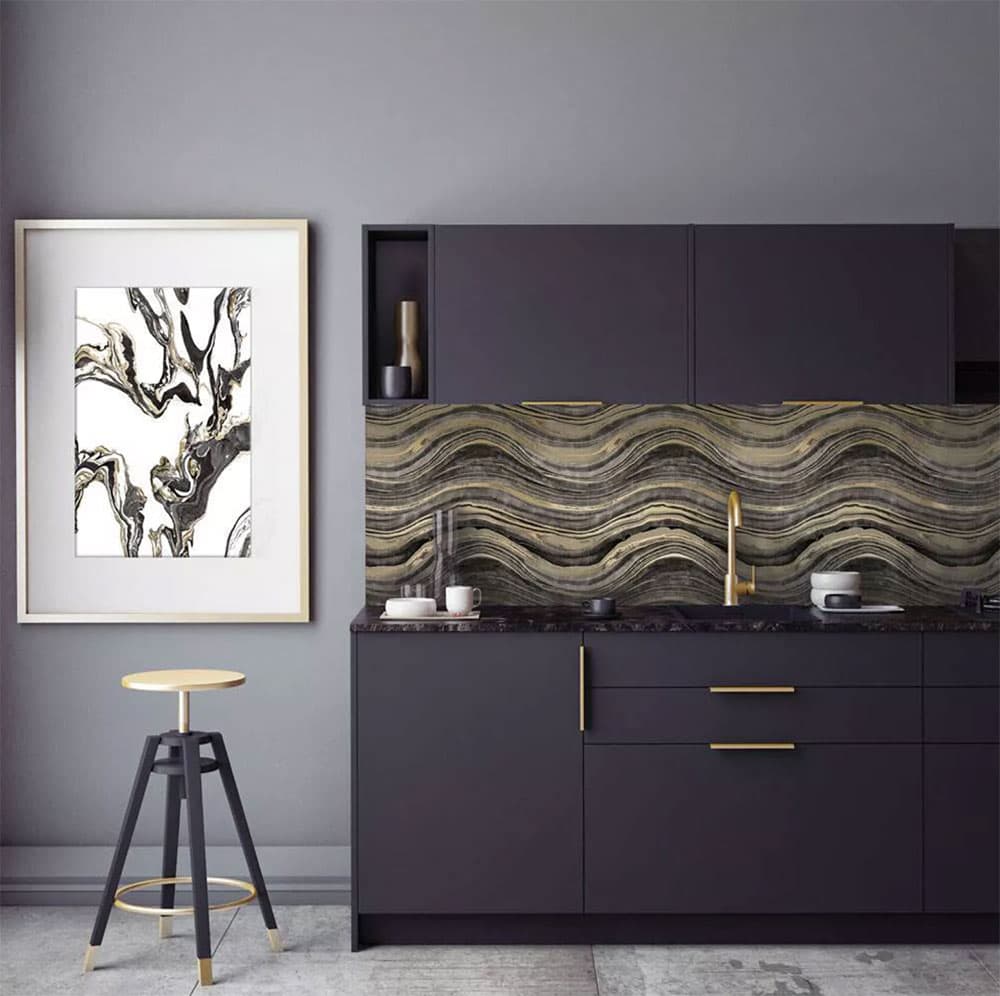 Well, this affordable quartz wallpaper looks just like the quartz I chose for my kitchen island but without the commitment and cost of quartz. I love how it is installed above as a backsplash. What a perfect way to elevate a kitchen for apartment living!
Best Removable Wallpaper With Texture
If are looking for texture, this black removable wallpaper from Home Depot with a crocodile texture is not only hawt AF, but it's also a great peel and stick option. The pattern is subtle and the raised texture is everything. I Gotta thank my vintage besties Marianne de Ley (check this paper in her rental) and Alison aka CasaSuperfine (who used it in her powder room) brought this removable wallpaper to my attention, and it's available in black, gold, green, and blue.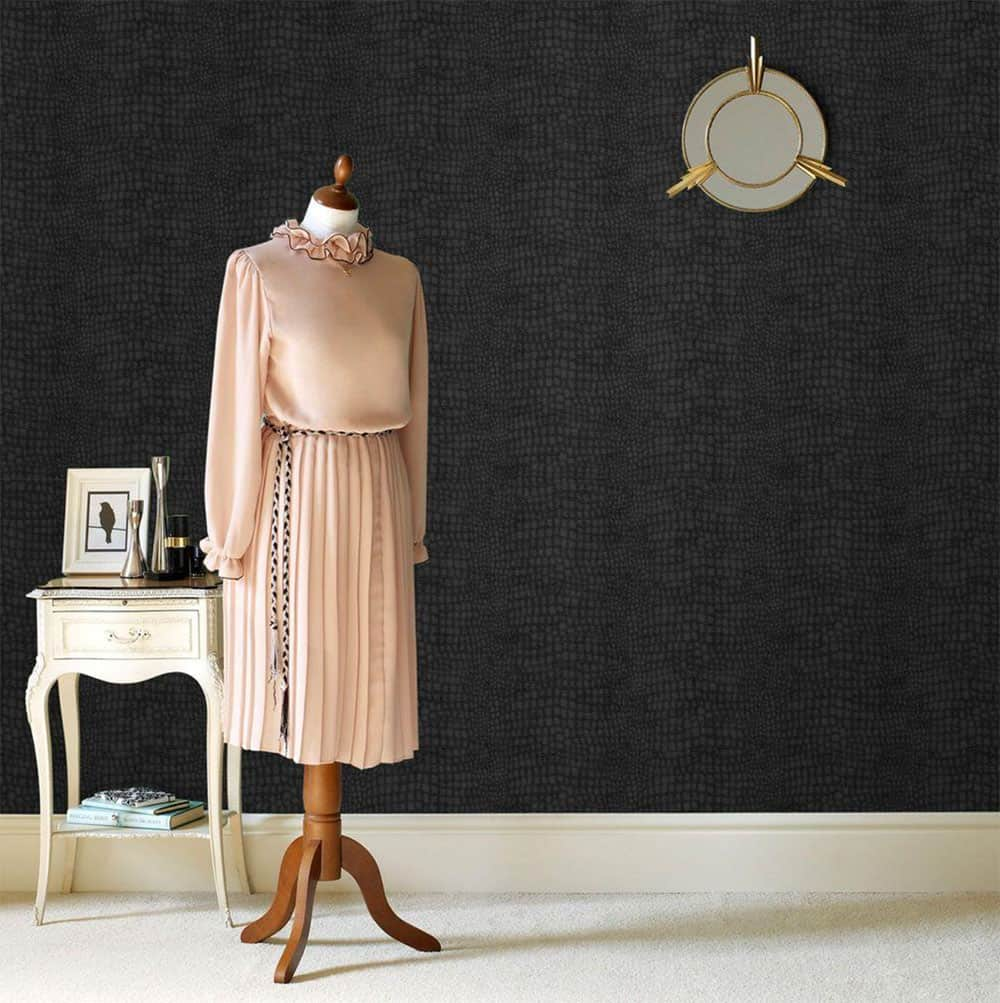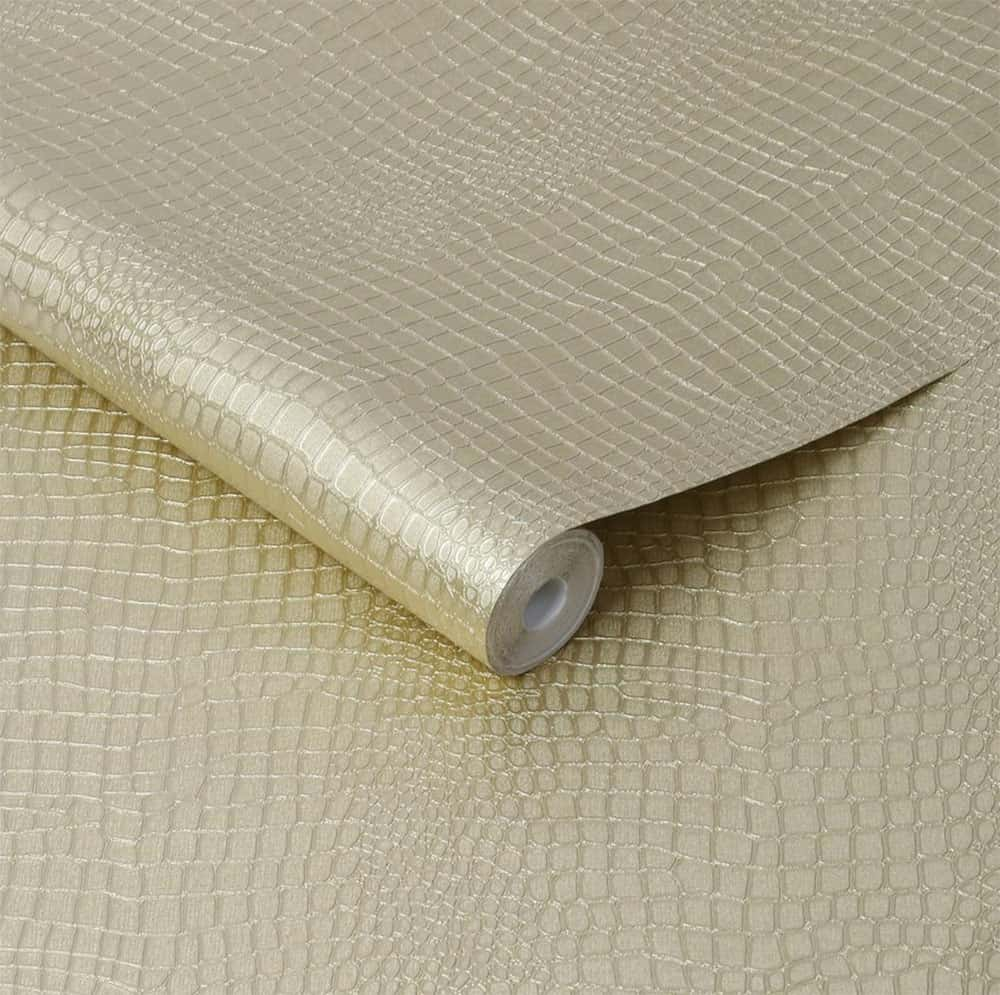 Removable wallpaper used to be frowned upon, but they've come a long way baby! In fact, I'll bet you never knew the black and white palm frond print in my basement bathroom was removable wallpaper! But then again, I don't think the dude who hung it knew that it was peel-and-stick wallpaper either. Wow, he made a mess of things. But because it was temporary, everything turned out a-okay.
Removable Wallpaper In The Bathroom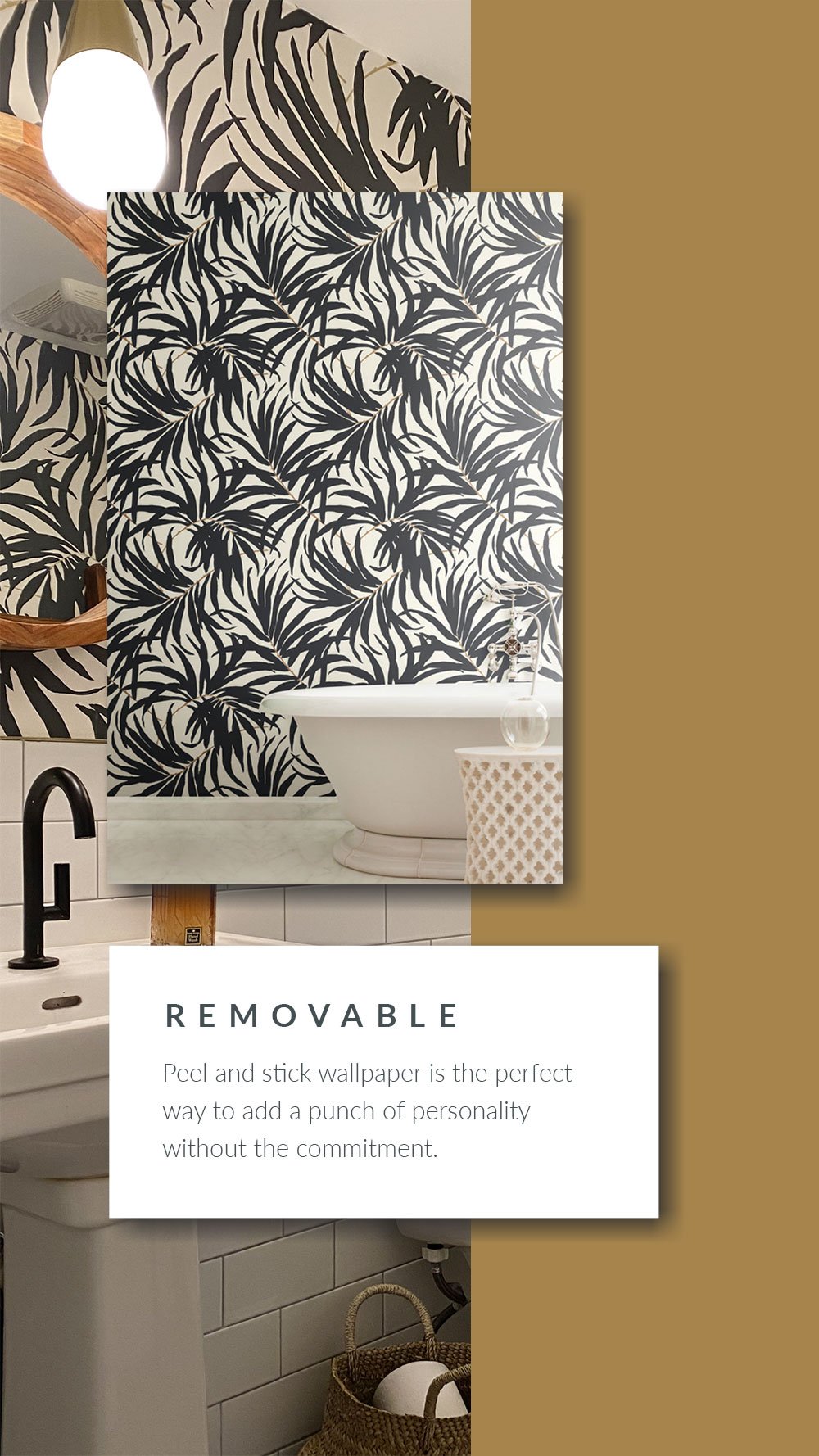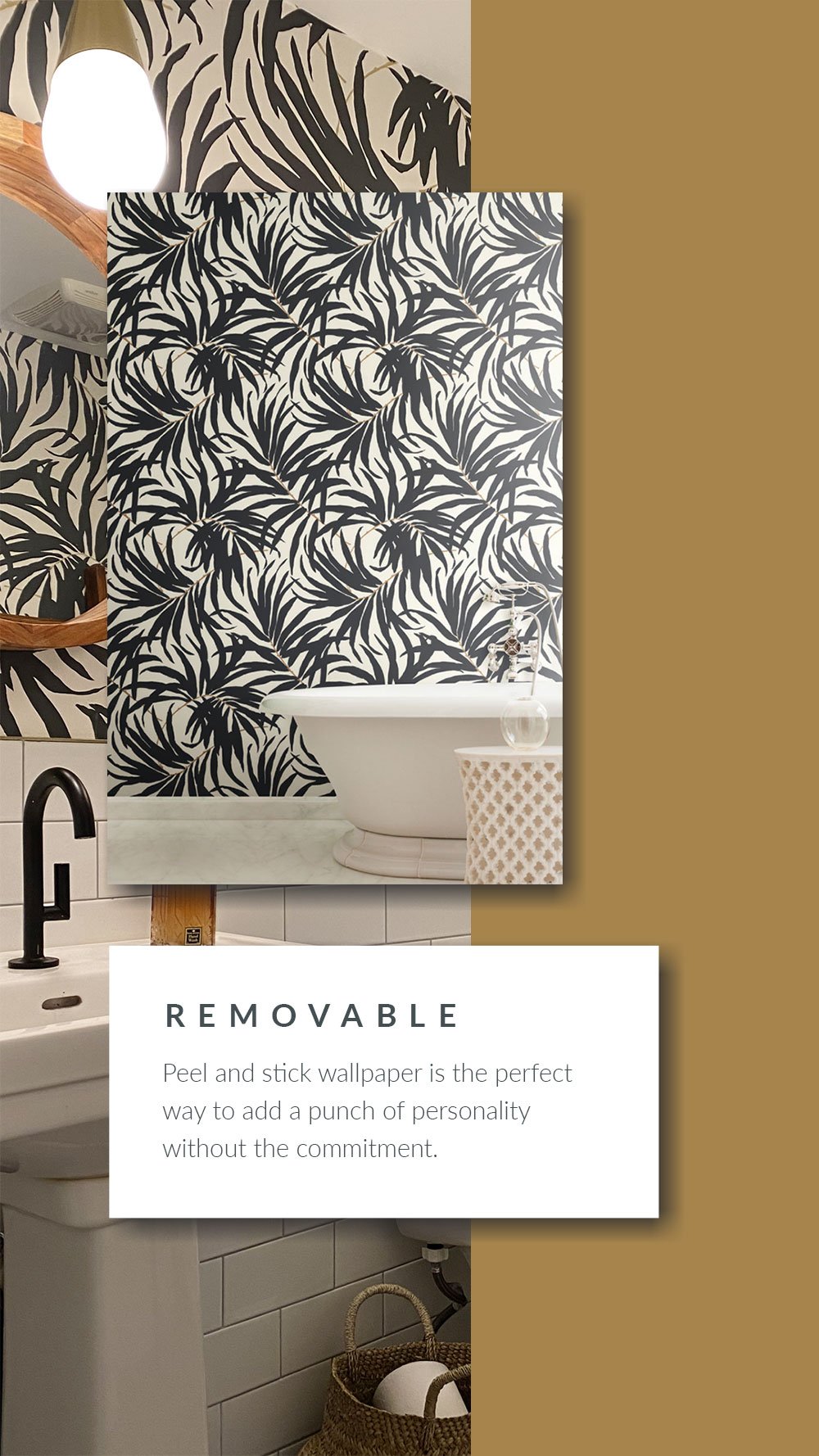 And that's the best thing about removable wallpaper is if at first, you don't succeed, try and try again.
Removable Wallpaper Full Wall Murals
I'm dying to use this peel and stick mural in my home. It would be perfect for the home gym.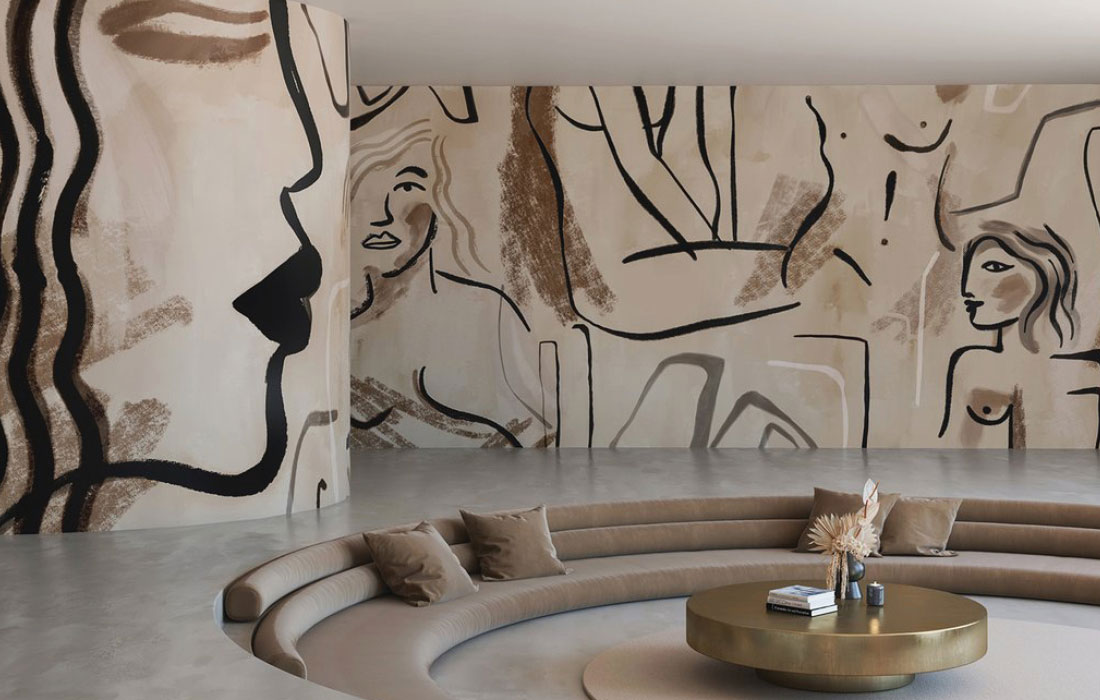 If you've been looking for a Gucci swan wallpaper dupe, this pink flamingo option is the perfect removable wallpaper from Target. It's fun, whimsical, budget-friendly, and costs less than $30 a roll.
Graphic Removable Wallpaper

This Art Deco inspired arch print removable wallpaper caught my eye over on Etsy, and be sure to check out the seller's full shop. They also have this rose and peony print removable wallpaper option that is a great alternation to Ellie Cashman's pricy peony wallcovering that is not peel-and-stick. The one from Etsy is around $60/roll versus Ellie's at over $600/roll. Yes, I know there is a quality difference, but when you're talking removable wallpaper, this affordable Etsy option is perfection.

How fun is this Graphic Pink Raceway wallpaper? I'm here for all the Art Deco vibes with this chic and sophisticated peel and stick. Yes, it's removable. I first heard of Drop It MODERN, and peel and stick wallpaper, from my friend Anne Sage. I love how she uses wallpaper on the 5th wall – yes, the ceiling.
I first spied Bathing Beauties on Pinterest and thought clutch the pearls this print is perfect for the bathroom! Happy ladies lounging around in their birthday suits just make me giggle. I mean, could you love it anymore? Ummmm, yes, yes you could when it's removable wallpaper.

Yes, Even More, Removable Peel and Stick Wallpaper Ideas

How fun is this bold black and white graphic print designed by Bobby Berke? No one ever has to know it's peel-and-stick wallpaper!

This Kelly Wearstler Graffito dupe called Urban Chalk is an affordable wallpaper option at under $40 a roll and a great way to jazz up your rental walls if you're apartment living. P.S. it also comes in additional colorways.
The last peel and stick wallpaper pick is by designer extraordinaire Genevieve Gorder (remember this adorable Minnesotan from Trading Spaces?) is Brass Belly. It's part of her beautiful removable wallpaper collection at Tempaper. I mean even the name is perfection!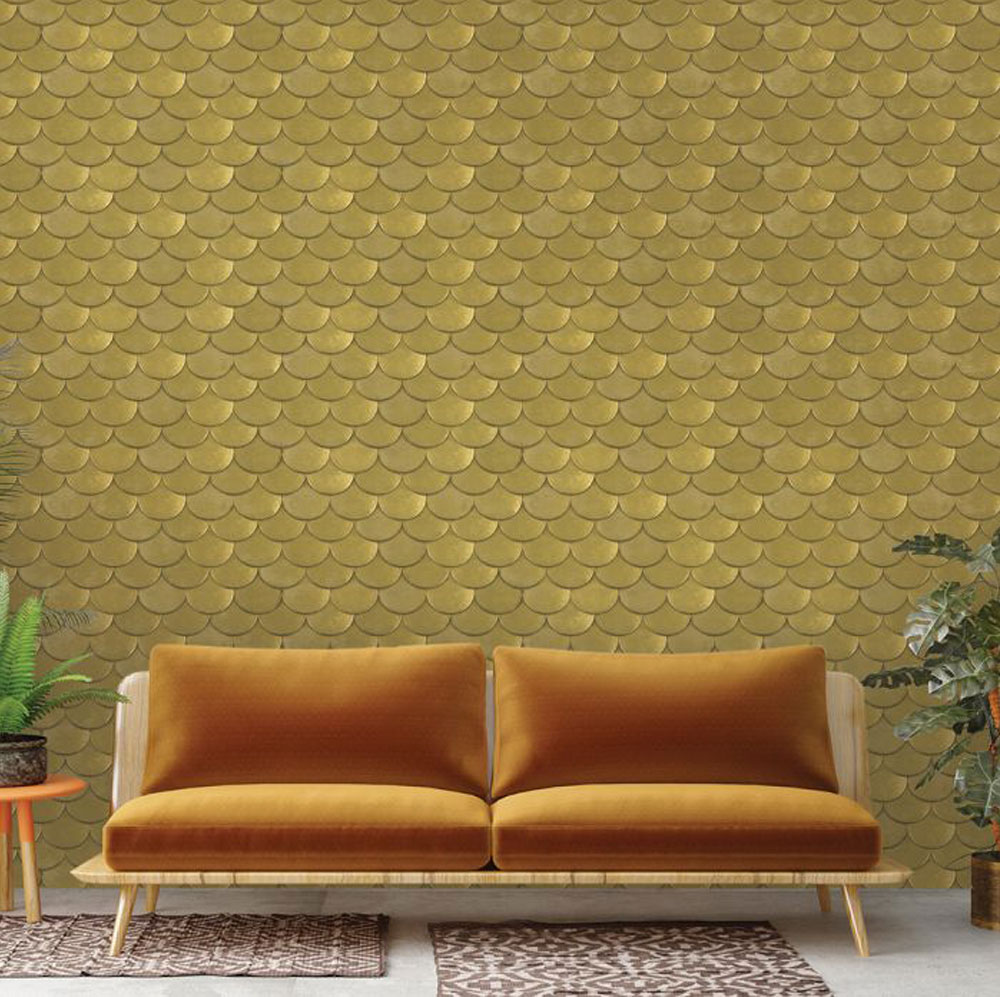 More Wallpaper Inspiration For Your Home
The Bathroom Makeover – Potty Paradise
Black Textured Wallpaper In The Bedroom
Basement Bathroom Design Update – Wallpaper
Wallpaper — Are You Brave Enough?
5 Clever Ways To Cut The Cost Of Wallpaper