Black And White Modern Bathroom Makeover
Last Updated on October 11, 2023
Meet the tiniest room in my house that has been my biggest design challenge to date. An update on our modern bathroom makeover has been long overdue. Like waaaaaaay long overdue. Here's a quick walk down memory lane. Remember when the basement flooded, and we decided since we were forced to renovate, why not gut the bathroom? Well, everything came to a screeching halt when it came to one particular detail…the mirror. I know, right? It all happened while finishing up Potty Paradise, but I didn't think it would hold me up this badly. But it just goes to show you that design takes time. Don't rush it…which apparently also goes for naming this space.
RELATED: Check out the complete before and after black and white bathroom makeover here.
That's right. No one in the house has been able to come up with a good name for this space. We talked about Black Beauty, but that seems basic compared to Potty Paradise. Maybe you'll have suggestions by the time you get to the end of this post?
Modern Bathroom Makeover Renovation Update
When we started in on this bathroom, I knew I wanted it to be completely different than upstairs in Potty Paradise. That space was glam, shazam, all up in your face. But the basement bathroom makeover was to have a more classic black and white look and feel. I mean, yes, I'd give it my signature eclectic twist, but this time more subtle.
I chose white subways tile for the bottom half of the wall and black penny tile for the floor. Both from Clé Tile. Gerry, our contractor, put in painstakingly long hours making sure everything was just right. Perfectly level. Perfectly straight. You'd think since this was such a small space it would be easy, right? I mean literally, it's so small it could fit in a Smurf's house.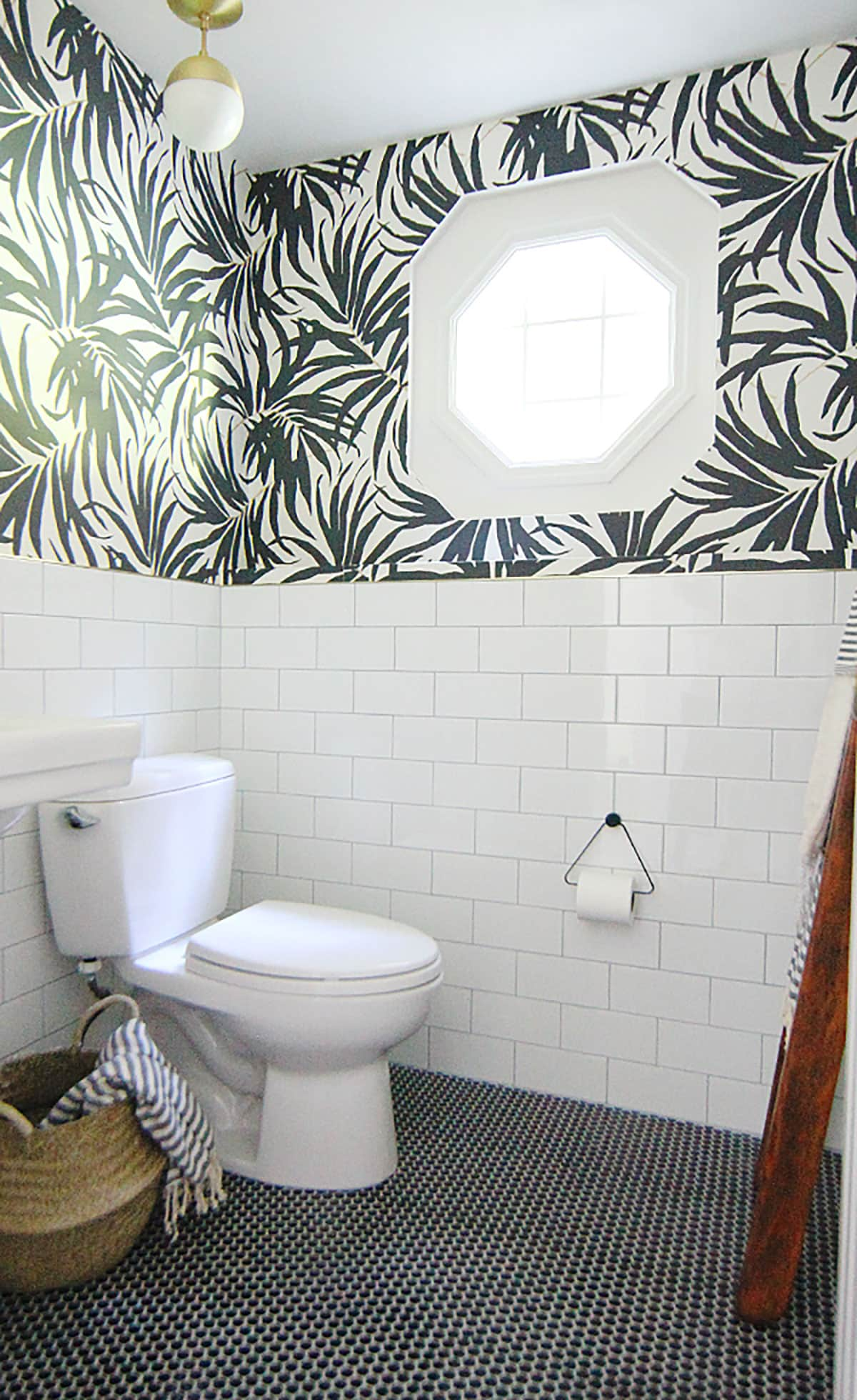 Anyhoo, this bathroom makeover design came together pretty quickly. The black and white palm frond wallpaper worked perfectly as my bold, eclectic twist, and the brass edging on the tile really set off the brass stems in the wallpaper and the lighting. I even found the most perfect modern toilet paper holder.
Back to the matter at hand…the two thorns in my side were sourcing a black faucet and the mirror. The faucet was one of the biggest expenses in this particular space. I found many I loved, but they were all a bit more expensive than I thought they would be. Google, Google, Google some more! I hesitated and thought about taking the easy way out…reverting back to a brass faucet like Potty Paradise, but I'm a stubborn old gal. The heart wants what the heart wants. Finally, this little number here landed in my lap.
Gerry was relieved he could finally install the pedestal sink…that is until he saw that the perfect black matte faucet that took months to source was for some odd reason electric. Ummmm, Kyla, what kinda fancy pants faucet did you buy!?! Oh boy, I honestly hadn't a clue. Why was it electric? Neither of us knew the answer. Gerry thought maybe it changed colors. Oh god no! Please don't do that pretty faucet! Don't be a disco faucet.
Turned out it's for a safety feature so you don't burn yourself. There is a small light that changes from blue to purple to red as the water gets hotter. Once Gerry solved the mystery, he was excited to show me the new toy.
Black And White Modern Bathroom Makeover

Now let's talk about that dang mirror. Ooooph. Okay, so I was fairly certain I wanted a modern look mirror. I didn't want brass because of the faucet. I didn't want black because of the lighting. I didn't want rectangular because of the hexagon window. I wasn't even sure how a round mirror would look. That conundrum basically left me with a wood frame that was maybe circular? Oh, and it couldn't be too big…yet too small would look weird. It had to be just right. It was like home decorating with Goldie Locks.
Hmmm, maybe just revert to vintage. Something ornate to really shake up the uber black and white modern look I had going on with this bathroom makeover. I think I tried hundreds of old and new. Okay, maybe not hundreds…but there was a copious amount of mirrors that came in and out of the house. None of them worked. That is until I found this one (hip, hip!)

The most perfect little wooden round mirror. It helps pull the look of the vintage wood ladder into the modern mix, and the wood warms up the space, don't you think?
Now to find some artwork, possibly something to go over the potty, and most importantly, a new doorknob. That's right, folks, we're not done yet! Stay tuned.



Find More On House Of Hipsters Interior Design Blog
See how I used Clé Tile Cubicon In The Bathroom makeover we now call Potty Paradise.
If you want to see how this bathroom came together, check out the Basement Powder Room Progress Report post.
Yup, as if one was not enough! We're gearing up for another Bathroom Renovation?
She's a jewel box! One Room Challenge Reveal – Potty Paradise
I get a lot of questions about the wallpaper in the bathroom we now call Potty Paradise.
Let's get into it! Check out the One Room Challenge Mood Boards and Demo Day