Bathroom Makeover – One Room Challenge – Week 2
Last Updated on September 19, 2023
Ooof! How has a week passed? Can you riddle me that? When you're knee-deep in the One Room Challenge time flies when your swinging sledgehammers. Gerry and his team are hard at work and so am I…finally picked a tile for the bathroom makeover, and lemme tell you, it wasn't an easy choice. Wanna get into it? Let's roll!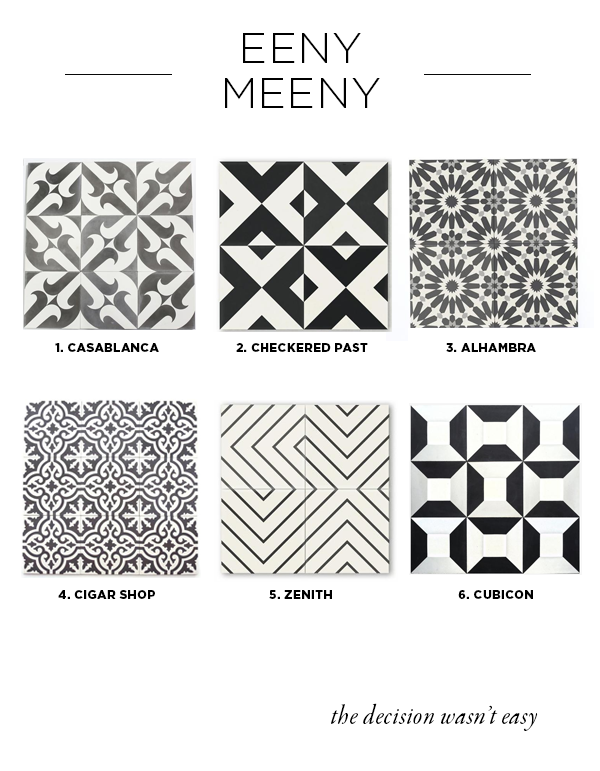 First and foremost, I'm so glad you're as excited about the tile as I am! It was fun to read all the comments…everyone was all over the board with favorites, and it surprised me there were no major favorites or clear-cut direction. Ultimately, I decided on Cubicon by Clé Tiles. The room itself is super small, and my hope is that the geometric pattern will give the space more depth. Now that a decision had been made on the floor tile, the rest would (hopefully) fall into place. My Pinterest game face was on and a mood board started to come together. Ready for the inspo???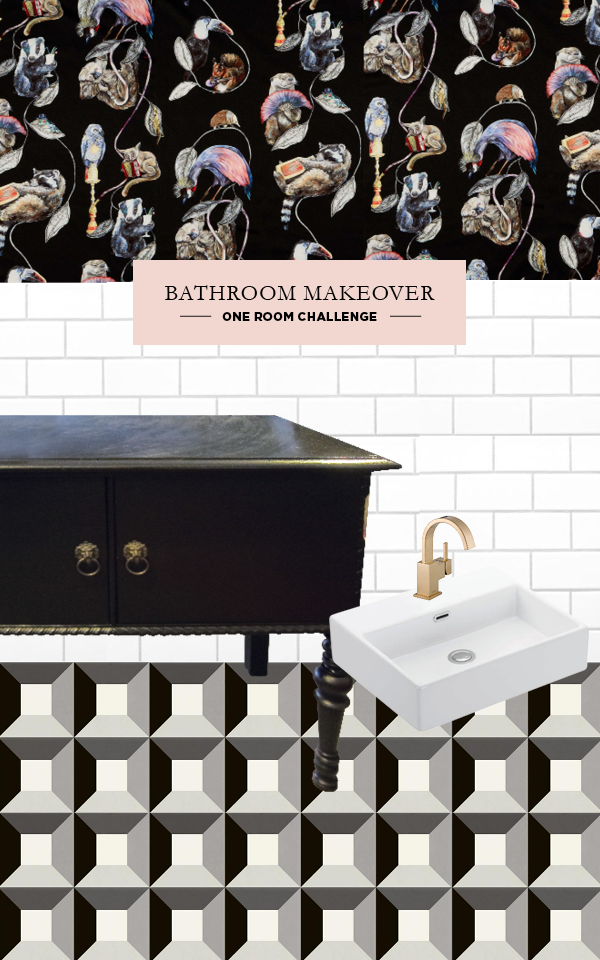 Since this is the ORC, my bathroom makeover motto for the next month is going to be, "Go big or go home." For me, this competition is all about that wow factor. Being bold and standing out in a sea of other mind-blowing rooms is not an easy task. After checking out my competition last week, I channeled my inner Beyoncé and thought, "We gon' slay." I am bound and determined to have the inside of this room look like a jewelry box. Like when you open this door…you're gonna forget you have to pee.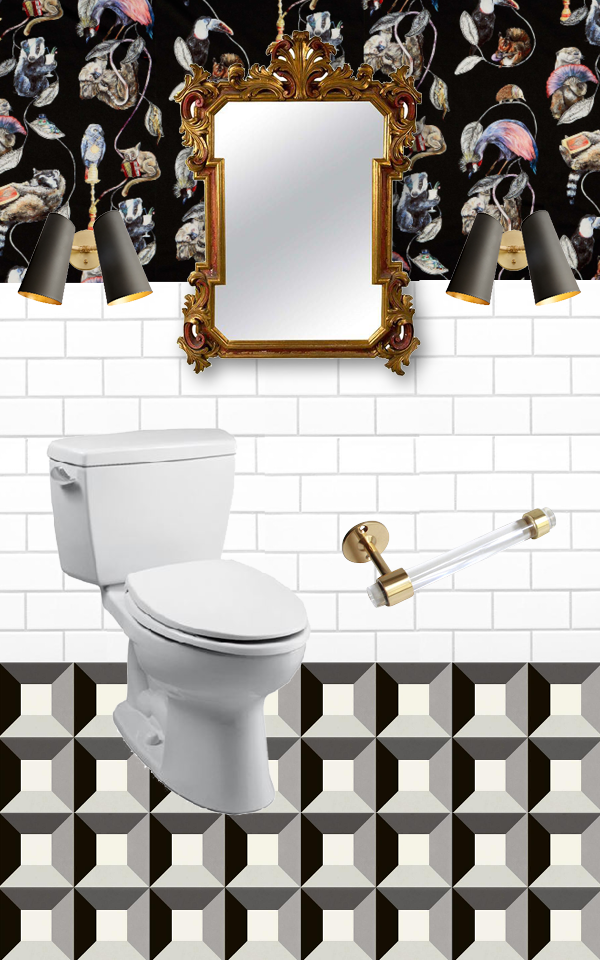 subway tile // floor tile // wallpaper // sink
faucet // sconces // toilet // toilet paper holder
Gerry gutted the room licketty split only to find out the old toilet had a slow leak and the subfloor was wet. Whomp. Whomp. So much for slaying anything huh? But he could still work on other things in this 30 sq. ft. room while the floor dried.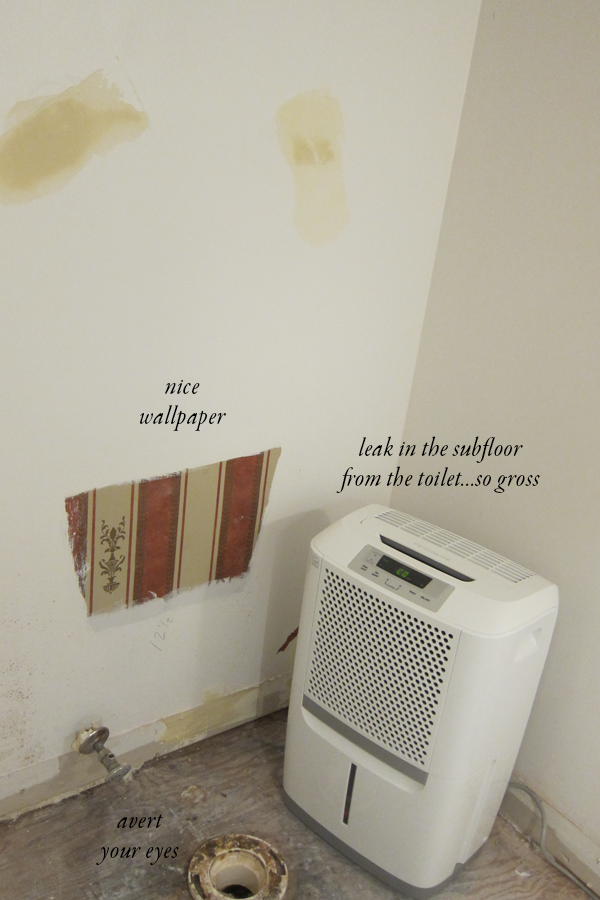 I of course, decided I wanted to switch around the electrical. Never take the easy way out, and never take no for an answer. There were two spotlights over the toilet. I told The Boy ummmm, ya, we gon change that up. Rather than feeling interrogated on the toilet, how about an incredible vintage lucite chandelier?Thanks The Savoy Flea!!!
A special thanks to Gerry for figuring out a plan to get that lighting over the potty. And on a side note, he's pretty much the bomb dot com. Having to deal with me can be nightmarish. It's custom everything. I apparently like to take the most difficult road possible. If it's hard, let's make it brutal. I'm going to buy wallpaper from England, and the glue needs to be imported, and the measurements are metric. Nothing can be bought at a normal store. Gerry is taking my crazy in stride though, so let's all give him a virtual high five!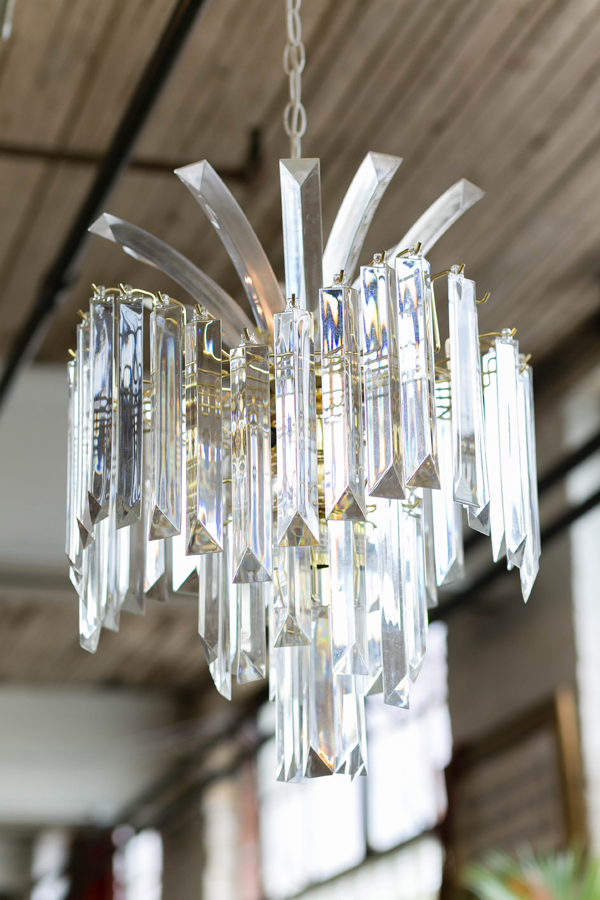 Photo by Emilia Jane Photography
I went round and round on wallpaper. Originally I planned to have a blush marble pattern, but then I got a peek at the Light Lab bathroom. Awe man! Pink marble on fleek. Bathroom makeover motto – go big or go home – we gon slay. So, WWBD? (what would Beyoncé do?) She'd take a flight on her chopper and get herself some badass wallpaper that's what she'd do! I almost picked Artemis, but I ultimately chose the sloth smoking a hookah…I mean seriously, IT'S A SLOTH SMOKING A HOOKAH!
My only fear with the wallpaper was my children. This is a heavily used bathroom because it's the only one on the main floor. Kids come home after school…wash your hands. Kids finish eating…wash your hands. All of a sudden they look at you in a panic and run away yelling, "I gotta go potty!" Wash your hands. And my son doesn't always have the best aim…wash your hands! The last bathroom had water streaks running down the wall near the sink and towel bar. Wallpaper and water don't mix. I headed back to Clé Tile to check out the subway tile. A perfect way to neutralize the crazy wallpaper and bold floor tile.
Progress is quickly being made folks. Here are a few more pictures of the gut process. Gerry and his crew are killin' it! The soffit about the sink has been removed. The fan is being moved to make room for the chandie. The electrical is being rewired.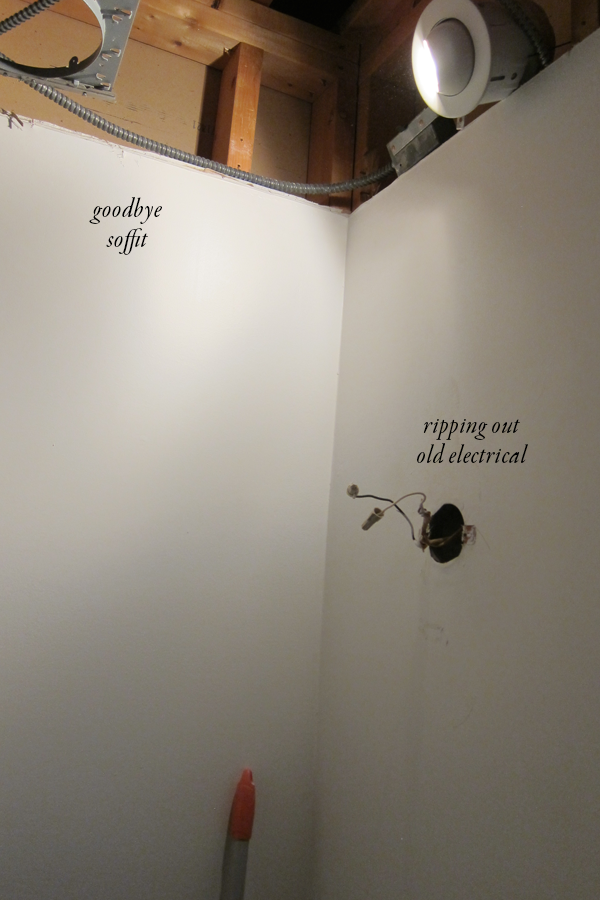 The ugly, old, hunky, chunky vanity has made a disappearing act. Now I just need the floor to dry.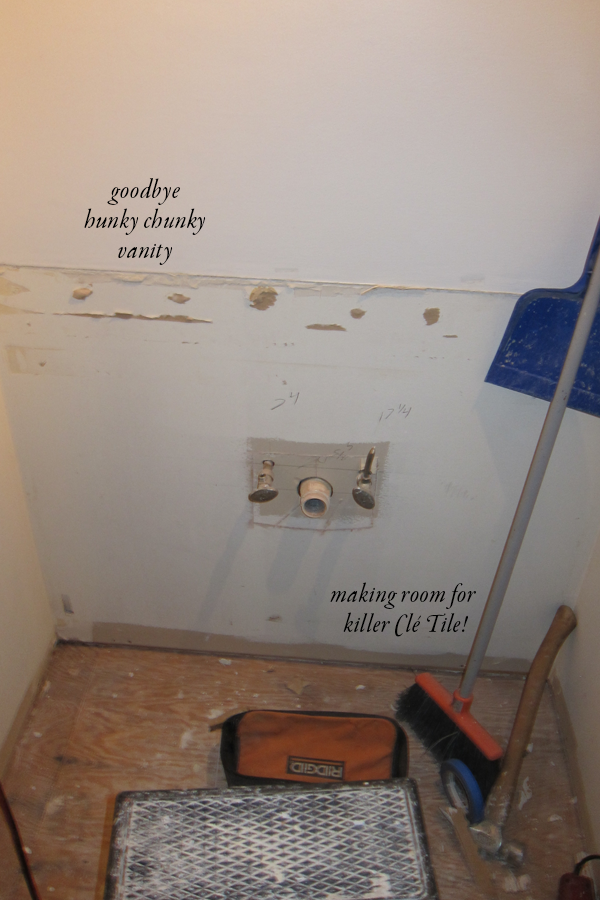 Tune in next week for more updates.



Discover More On House Of Hipsters Interior Design Blog
Check out the final reveal of the Bathroom Makeover — which my son has named Potty Paradise.
Check out this list of Amazon Must Haves that I own, love, and can't live without — want more, check out all my Amazon Finds here.
If you have an awkward living room layout with a fireplace, try these 5 floor plan options out today.
Find affordable velvet curtains to cozy up your space and soften your windows.
Love plants as decor but have a black thumb? No worries! I have a rounds ups of the best faux olive trees and my favorite faux fiddle leaf fig trees.
Here are seven genius ways to hang a picture, including hanging art with two hooks, hanging a gallery wall with no tools, and hanging a picture without damaging wallpaper.