Pinterest White Dots — Are They A Copyright Infringement?
Last Updated on October 4, 2023
Well, Wednesday's post seemed to have rattled some cages over the Pinterest white dots and questioned whether or not Pinterest pins are copyright infringement because late that night I received an email from Silvia Oviedo, the Head of Creator and International Growth at Pinterest. I'd like to share that email with my response here.
Email Response From Pinterest Regarding The Open Letter To Ben And Evan
Let's break down the Pinterest white dots dilemma paragraph by paragraph. Silvia's words are in bold italics.
"Hi Kyla — Thank you for taking the time to share your feedback, and for being a Pinner all these years."
Hi Silvia! Thanks so much for reaching out. I'm assuming you are referring to my Open Letter To Pinterest. It seems to have made quite a kerfluffle in the content creator world. And yes, started pinning on Pinterest as a beta user. The platform is near and dear to my heart.
"We hear you that you'd rather not see visual search dots on your Pins, and we'd be happy to turn these off for your domain — just let us know, and we'll put that into effect immediately."
Wow! That's amazing considering I have asked the Pinterest Help Center on multiple occasions to do just that…as have quite a few of my blogger friends. In case you were unaware, I requested that the Pinterest white dots that auto-tag products be turned off in a message sent around November 15, 2019. If you're curious, you can read the full email thread here between me and Zach from the Pinterest For Business help center.
It's shocking how nimble the Pinterest engineers have become. On December 4, 2019, Zach informed me it would take a team of engineers 8 weeks for the issue to be fixed (see the last page of the PDF). But granted I put in the request for the Pinterest white dots to be turned off 2 years ago. Technology sure moves fast over there at Pinterest.
While I appreciate the offer you proposed to remove the Pinterest white dots shopping feature from the images of my home, I can't accept immediate removal because at this point I feel like I am representing the content creator community as a whole. I'd need that opt-out opportunity to be given to every single user who pins on Pinterest…along with reasoning as to why they should or should not want the Pinterest white dots shopping feature on their pins. But then again, we're not sure if the opt-out would even be enough.
RELATED: Here is a tutorial on how to remove the Pinterest white dots from images linked to your claimed domain. I also share a step-by-step tutorial on how to add affiliate links and tag your pinned products. Take back control of your imagery.
As I'm sure you know, many bloggers, content creators, and online influencers have shared the Pinterest Problems open letter blog post on Facebook, Twitter, and LinkedIn. To remove the white dots for just me and walk away from the content creator community rallying around this Pinterest Problem would be yet another slap in the face. They are not supporting me. They are supporting all of us, one voice, for a solution to the Pinterest white dots product tagging feature.
"We appreciate you saying creators are the foundation of Pinterest; we couldn't agree more."
Not only did I say that, Ben Silbermann the Founder and CEO of Pinterest says that in this heartwarming speech at Altitude Summit (blogger conference). If you've never watched it, you really should. I'll pop it here just in case.
Ben seems like such an endearing, humble man for how successful he has become over the years. It must be such a joy to work for him. When he says, "My favorite companies are companies that inspire people to get in touch with the things they care about every day. It's really exciting to see people who use Pinterest use it for the things that they're most passionate about." It's no wonder Ben connected so deeply with bloggers. We share our personal lives, highs, lows, and passions online every single day.
Pinterest White Dots Shopping Feature – Are They A Copyright Infringement?
"We want to make it easy for people to find great creators like you and your content. As part of our service, we also want to make Pins actionable."
Hmmmm, maybe I'm misunderstanding the Pinterest white dots shopping feature? Can you explain more?
"We've heard from Pinners that when they see a Pin they like, they want to know where to buy the items or how to make it come to life."
Okay, that makes total sense. Let's break down what you're explaining by examining one of my pins. When it initially loads, it looks like this.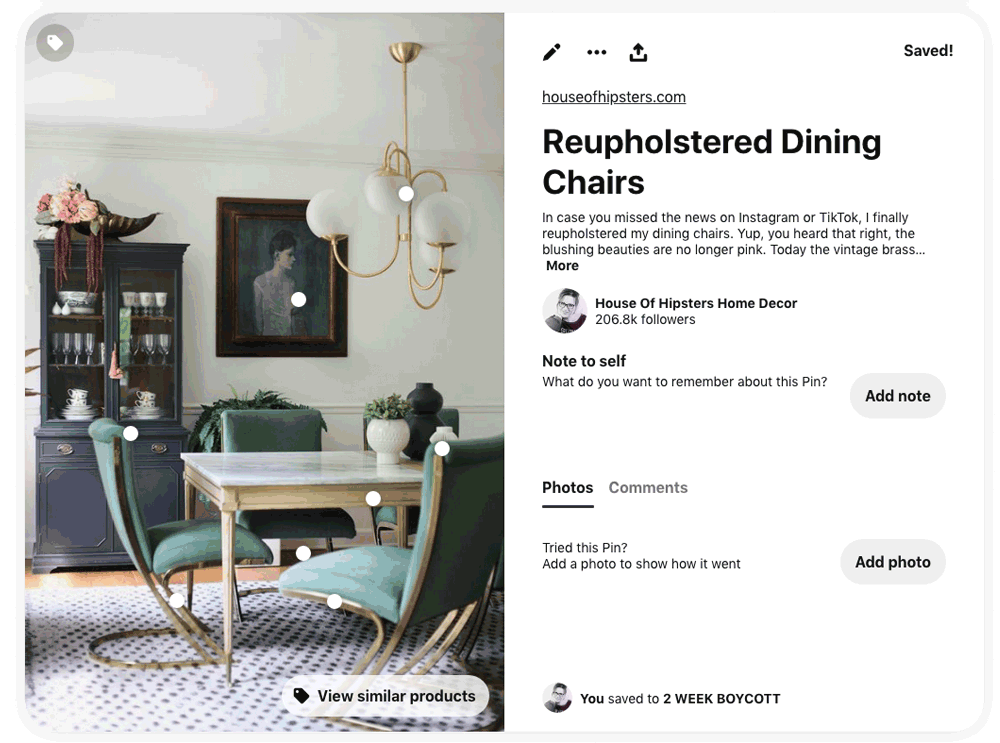 Pinterest is pulling in the title from my blog post: Reupholstered Dining Chairs.
And the description copy is the first few lines of the blog post: "In case you missed the news on Instagram or TikTok, I finally reupholstered my dining chairs. blah blah blah" (this description copy is unclickable).
The image itself is not clickable — except for the Pinterest white dots shopping tags. From a usability perspective, this looks and feels like a dead link.
Let's examine the imagery with the Pinterest white dot shopping tags by clicking on the highlight copy dining chairs. Now, you'll notice that there is no reference to this image being a pin owned by House Of Hipsters. It says View Products, is this page a shopping catalog of brand partners? Is this a feature or benefit from advertising or rather promoting pins with The Studio? How are these products tagged? Is it crystal clear that a brand has uploaded its product catalog database to Pinterest to tag and sell its chairs using the image of my home that I took with my camera? No. Who is taking ownership of this full-screen ad?
As a former website designer, I always took UX UI (User Experience and User Interface) into consideration. Functionality overrules the design online. Also, people prefer to look at images over text. The user's experience should go as follows:
OPEN PIN > PRETTY PHOTO > CLICK ON PINTEREST'S WHITE DOT SHOPPING FEATURE TAGS
If the user were to ignore the tags for some reason and click on the photo, where do you think the user would click? My guess, the center or center upper left away from the tags.
But remember when I wrote that from a usability perspective, the image acts as a dead link? Nothing happens. I would have to be stubborn enough to click on the lower-left corner where it says houseofhipsters.com. What are the percentage of people that hover and click-through? Now, can I really complain? Am I paying to be a member on Pinterest? No. Does Pinterest owe me something? No. I personally uploaded this image myself. (There are many other gray area scenarios in my last post, but I'm not going to recap here.)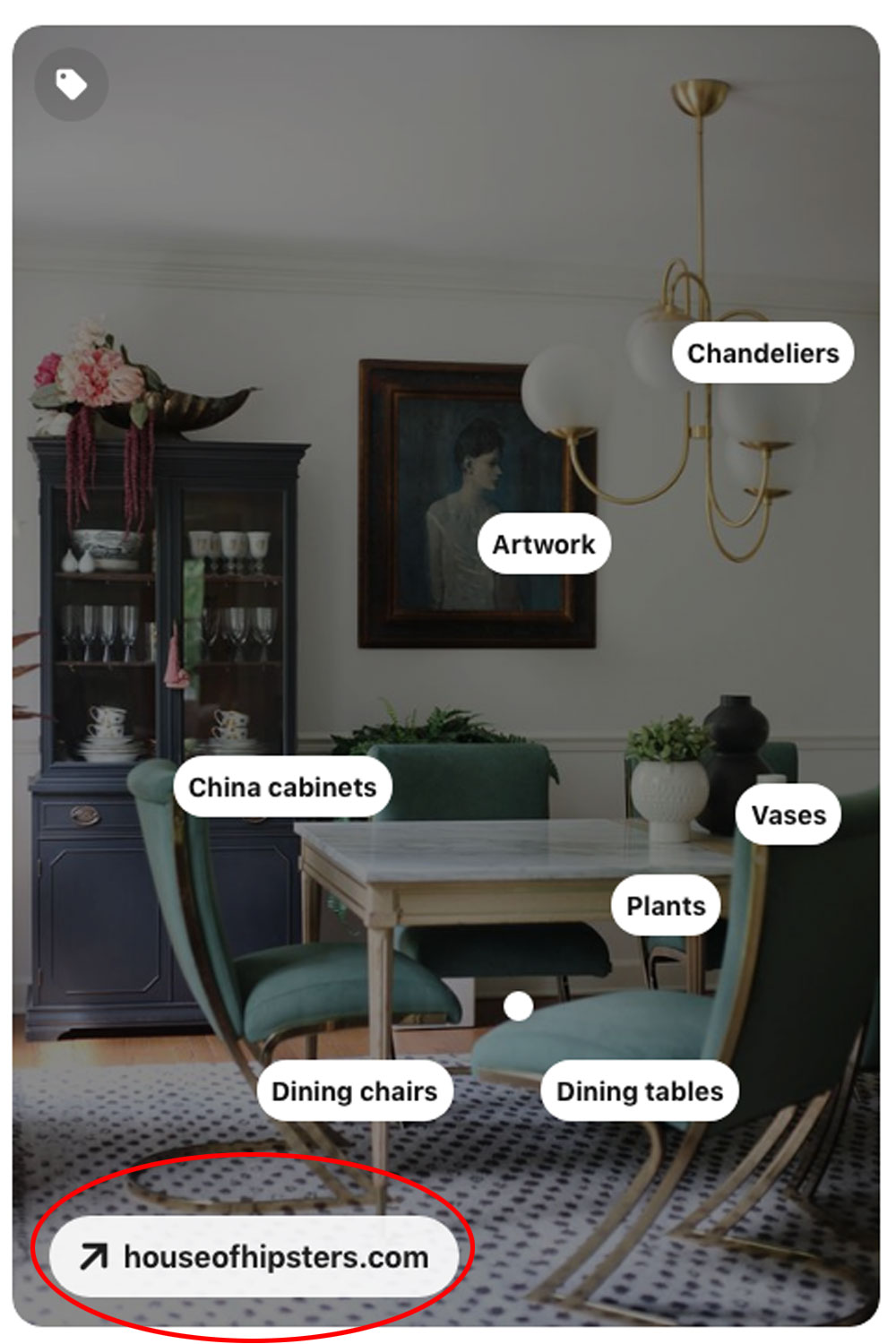 "And that's where our search technology comes in, including the ability to tap on category labels or dots to see similar items as search results."
Let's go back to know the usability flow.
OPEN PIN > PRETTY PHOTO > CLICK ON PINTEREST'S WHITE DOT SHOPPING FEATURE TAGS
The first shoppable pin I see is for a Promoted Pin from Crate and Barrel but it is a black chair made of wood. Maybe you're having a glitch in your search technology? The chairs in my dining room are green, brass, and vintage.
In my blog post, I share where the chandelier can be purchased (and that it is on sale), where they can source the fabric, the upholstery process, the local upholsterer I used, and where a similar bar cart can be found (on sale as well). Also explained is why you should reupholster dining chairs with high-performance fabric.
My sourcing seems like a more reliable and actionable pin than the Pinterest white dots with the black wooden chair, this out-of-stock chair from Wayfair (another promoted pin), this wood chair with green fabric (not promoted), or this green chair (not promoted).
And hold the phone, the non-promoted pins that lead directly to the shopping pin, you don't show Shop The Look pins from competing brands! Everything here is from Target. Pinteresting.

Maybe it's because these brands are Verified Merchants? I see the little blue checkmark. A blogger like myself cannot become a Verified Merchant.
Silvia, I'd love for you to explain how Promoted Pins appear in the Shop The Look section after clicking on the Pinterest white dot shopping feature. Brands are obviously paying to be seen. It says promoted. Again, I have a theory to share, but good things come to those who read on.

Examining An Ad Campaign URL On Pinterest
Let's examine the Wayfair pin URL. Thanks to Carly Cbell's Facebook Live today (she's a Pinterest genius), I learned a bit of sleuth work. When I click on the Wayfair pin, this is the full URL:
https://www.wayfair.com/Gold-Flamingo--Guillemette-Velvet-Upholstered-Side-Chair-X113885485-L168-K~W002774374.html?refid=PINSHOP-w002774374_2135012213&costid=PINSHOP&pin_campaign=626740698772&pin_adgroup=2680063876170&pin_productgroup=4260607568709&device=desktop
A normal URL for a website would be what I have in red. Anything after that is tracking information. All that code helps the brand track whether or not the promoted (PAID) pin is performing. Wayfair can track how many clicks are coming in and compares it to the sales. At the end of the month, the marketing department at Wayfair will determine if the ROI (return on investment) was worth it.
LOOK AT WHAT IS IN THAT URL: PINSHOP, pin_campaign, pin_adgroup. This is important and part of my hypothesis on why Pinterest's Q4 revenue surged 76%. And why The Motley Fool says Pinterest is one of the best growth stocks in the digital sector and could exceed $150 billion in market capitalization within the next several years. The business growth is superior to Facebook and the S&P shows Pinterest outgrowing Facebook over the next two and three-year periods.
Shoppable Pins And Pinterest's Internal Ad Agency
Pinterest lists 2 types of shoppable ads on their website: single image ads and personalized collection ads. In addition, a brand can use dynamic retargeting. If I visit a brand's site, Pinterest allows the brand the option to put the items I viewed into the feed. A nice little way of saying, hey remember me? Shiny pretty green chair here! Buy me! This practice is pretty much everywhere on the internet…nothing earth-shattering.
Is There A Copyright Violation? Shades Of Gray
"Pinterest does not take a cut from sales of items on the platform."
I do not think Pinterest is taking a commission from the sales. They don't have to because they are baking something bigger behind the curtain. I might be the ONLY blogger on the planet who worked at the Pin Factory. In fact, Pinterest doesn't even call it that anymore. Pinterest changed the name to The Studio. Many employees at Pinterest have never heard of Pin Factory, and unless you know what to search for, it's tough to find its existence on the web.
When I wrote my post yesterday, I did not realize that digital creators were unaware that most brands do not create their promoted pins. I thought this was common knowledge knowing Pinterest creates them. I'm going to make this really loud here and shout.
Brands that work with The Studio do not create their pins. Pinterest pitches, writes, designs, and researches the keywords for the brands. I do not know who actually uploads the finished pin, but Pinterest will take an existing ad campaign or create one from scratch all for one flat fee.

"Their entirely in-house team enables them to work quickly and efficiently whilst retaining an exceptionally high quality of work. (The Studio's) long-standing relationship with the Pinterest Creative Strategy Team means they know how to fully optimize for every sector.
Your project will be overseen by a Creative Director, and you will be allocated a dedicated Project Manager as your single point of contact. The Online Studio team is really proud of their relationship with Pinterest and the work they create and hope to work with you soon!"
This article in Fortune about Pinterest ad formats dates back to 2015, about 4 months before Pinterest and I started talking about a freelancing gig. Pinterest was trying to prove its worth and struggling to get brands to hop onto the promoted pins bus. At the time, "Pinterest was looking for $30 to $40 CPMs, or cost per thousand impressions ("cost per mille")."
Here is a larger quote from the article
"Brands such as Gap, Target, Old Navy, Kraft, General Mills, and Expedia all flocked to the platform to evaluate whether it could deliver on a different, presumably improved kind of ad engagement with consumers.
"We're in love with Pinterest's potential," says Forrester Research's analyst Nate Elliot. But, he explains, Pinterest may have rolled out its advertising products too early because the company still didn't have advanced targeting capabilities.
With the addition of an in-house creative agency, and new, more in-depth, ad targeting, it's clear Pinterest no longer wants to be a mere experiment in brands' social advertising budgets."
Fortune goes on to talk about my boss at Pinterest back in 2015, Kevin Knight
"Two years ago, Pinterest recruited head of ad and brand strategy Kevin Knight from Facebook's New York City office. There, he was part of Facebook's Creative Shop, which employs a massive team of marketers to help with advertising campaigns. At Pinterest, Knight works with big brand advertisers to help maximize user engagement with their Pins and create successful campaigns through workshops held so far with more than a dozen brands and agencies."
Elliot was quoted back in 2015 saying, "The magic of what Pinterest can do is in its data."
Again, this is another long-hauler post, but unraveling all the name changes and twists and turns Ben has made over the last 10 years is quite a tangled mess. But without further adieu allow me to take you behind the curtain and give you a tour of Pinterest's in-house creative agency.
How Does Pinterest Make Money?
What started out as a way to give brands a leg up when it came to advertising on Pinterest…help was the initial thought process behind Kevin Knight's Pin Factory…turned into a money-making machine. I'm going to tippy-toe around what I know because I have no idea if I've signed an NDA, I can't locate my old contracts, but let's see what I can do here without getting Pinterest's lawyers involved.
As I stated earlier the Pin Factory is now known as The Studio. This in-house ad agency charges a flat fee for its creative services. Back in 2015, those services started out as pitching mini-pin campaign ideas, writing copy, and designing the pin itself (that was my job).
I present to you the extremely difficult-to-find and barebones website for The Online Studio. "With over 40 in-house talented creators working across multiple platforms, we're a favorite amongst global brands, agencies, and small businesses alike as we reliably produce sophisticated creative, quickly and on time." I was re-contracted as a freelancer when things got really busy at The Studio and reported to Faye Taylor.
This super slick video also resides on The Online Studio's website.
The mini-pin campaigns from Pin Factory have since morphed into finding "moments" every month throughout the year that could be celebrated or searched by the end-users. Here is the pinboard to some of the first pins created by Pin Factory. I designed The Gap pins. Also, since we're examining URLs, you'll see this pin was uploaded by one of my former Pinterest coworkers, and the URL says "Ads" in it.
So maybe Pinterest does upload the pin for the brand???? I'm still not sure. Just thinking out loud. It's presently 3 am, and I'm exhausted and possibly hallucinating. But I swear I remember Nikki writing an email saying it was being queued for upload.
What Are Pinterest Moments for Promoted Pins
Anyhoo, the bigger the "moment", the bigger the opportunity to run a promotion, and of course the bigger the budget. Moments" are essentially a fluffy name for holidays like New Year's Eve, Valentine's Day, St. Patty's Day, Easter, Cinco de Mayo, Mother's Day, Father's Day, Memorial Day (picnic time), Spring, Summer, 4th of July, Labor Day (more picnics)… If you're curious and want to see pin examples made by The Studio, here's their pinboard.
CONTENT CREATORS, TAKE NOTE OF THIS! THESE ARE THE PINS YOU'RE COMPETING AGAINST IN THE FEED.
When you think about it, every month, there is at least one celebration or event, and a user somewhere on Pinterest is searching for ideas on how to celebrate, what to cook, or a fun craft to make that "moment" even more special. (Gah, "moment." It's such a nice word Ben. Much softer than "promotional holiday".)
No matter what you call it, a moment is a jackpot money-maker…especially when you're talking about Christmas decor, holiday gifting, Thanksgiving meals, or that Big Game that is really Super where we watch football on the television while stuffing our faces. How many appetizers do you think are made that day? How many bags of chips are bought? When you shop for a party, do you shop at Sam's Club? Walmart? Target?
Now here is how I can legally talk about specifics without getting myself into too much hot water. A few years ago, I was helping a local popcorn company build its presence on Instagram and Pinterest. As soon as I added keyword descriptions to the Pinterest boards, I received an email from Pinterest's Creative Strategy Team. The account had been flagged for sudden organic growth activity. This popcorn company was fresh meat; Pinterest had me in their sights.
How Pinterest Pitches Businesses And Ad Agencies For Promoted Pins
Being curious and really wanting to hear the client side of a pitch from The Studio, I, of course, took the call. Pinterest hammered home the flat fee for creative work. They would do everything for me – strategy, copy, visuals, and even make additional creative revisions if needed. WOW! Now I spent almost 20 years of my life working for advertising agencies, and let me tell you, we never told a client we'd do all the work for $5 and a hug. Ever!
And when you look at the brands in the feed with promoted pins, they are not small businesses like the local popcorn company. The salesperson told me how we would get the same creative experience as say a Target or Walmart. Daaaayum, sounds too good to be true!
The team asked me questions about keywords and search terms I thought might work for the popcorn company. They looked up those keywords and within seconds, could tell me how many pinners searched for keywords in my niche on a monthly basis. We looked up everything from popcorn to fundraising to cheerleading (it was a team fundraising popcorn company for cheerleaders if you couldn't tell). They explained how difficult and time-consuming it was to be successful on Pinterest organically. But The Studio, oh The Studio could do it all for me.
That's when we started talking about the budget. If memory serves me right, we could hop on board for $3,000? Pretty sure it was $3,000. Anyhoo, that was a lot for the tiny popcorn company, but still manageable. It wasn't millions of dollars, plus all that creative work for one flat affordable fee. That's a deal!
What do you think Walmart's monthly budget is for promoted pins? What do you think Target spends on pins every month? What do you think Butterball pays out during a "moment" like Thanksgiving or Cadbury's budget during Easter? This is where I have to zip the lip. I've seen the budgets for moments and all the beautiful PowerPoint pitches. But if you think the above video about The Studio is slick, you should see what they produce for "carrot" reels. Yes, that's right.
Pinterest Calls Their Brand Pitches The Carrot And Yes, They Dangle That Carrot
If Pinterest were to create a platform-wide campaign pushing pins 4-6 weeks prior to the Big Game (Super Bowl), how many users are searching for appetizers…what would that ad budget look like? What do you think Walmart would pay to be included in that "moment"?What do you think Kay Jewelers spends on promoted pins around Valentine's Day? 5 figures? 6 figures? Who knows? Well, I know. And I also know that when I was almost finished with Walmart's pin creative for Q4, I received an email from Faye asking if I was available for an additional week of freelancing because Walmart had just bought an additional 26 pins to promote. But multiply that number by every single brand with a promoted pin you see in the smart feed. (oh and whatever number you have in your head is WAY too low…think about the traffic being referred back to your website from Pinterest without the help of Pinterest and a bag of cash.)
Ben is making it rain at Pinterest. No wonder PINS stock is the best social media stock pick for 2021.
Okay, now you know how the sausage is made; let's get back to Silvia's email, shall we?
As she was saying, "Pinterest does not take a cut from sales of items on the platform. However, we do want to make it possible for creators to monetize their own content which is why we allow creators to add affiliate links to their content and we're also exploring ways to integrate affiliate programs into Idea Pins."
Silvia, this is news to me. I had absolutely no idea. (And shoutout to Carly for giving me a how-to.) Let's try it out. If I click on the shopping tag icon in the upper left corner, I can add affiliate links. Well, I'll be damned. Pinterest's white dots with tagged products have vanished. Why don't you clearly state content creators can do this?
FTC Mandated Practice For Marketing Online
However, now I have an FTC dilemma. Affiliate link disclosures are an FTC-mandated practice for online creators. It must be clearly stated that I'll make money from the product I've linked to if a purchase is made. My gut tells me I should be adding a disclosure to the title or the description section of the pin. It needs to be clear because according to the FTC, this is marketing. Also, bloggers have been told by affiliate partners like Amazon that if we link from a 3rd party, like Pinterest, we can have our relationships severed?
Let's say I decide to tag the products. Silvia, are you srsly telling me that I need to MANUALLY tag (up to 25 products) on all my pins that I already manually upload to Pinterest from the posts I manually wrote and designed. That is how you are making it possible for me to monetize MY content? Oh, and one more thing, in my House Of Hipsters pinboard, I'd have to manually add these tags to over 1700 pins…and that is JUST the HOH board! Ummm, I think I'll be spending my time elsewhere, thanks. But I'm assuming Ben suspected this answer.
Idea Pins Only Benefit Pinterest
Since you brought up Idea Pins, let me take a moment, and then I promise I'll wrap this novel of a post up. Pinky swear. In the Pinterest Problems post, I mentioned organic reach is INSANE for Idea Pins. A static image pinned from my website might get 100 impressions after a month. But, when I create an Idea Pin, I'll get 1000 impressions in under 2 minutes. Here's the problem. These pins do not link back to my website. Where's the incentive for a content creator? Let's get real, Idea Pins only to benefit Pinterest.
If you think about it, why would Pinterest want users to leave their platform to read my blog post? Pinterest is making Idea Pins more appealing for organic reach, but they do nothing for the creator. Bloggers have tried to outsmart Idea Pins by adding huge text overlays that say come to my site if you'd like to get all the sources. Or come to my site to see the FULL tutorial. Pinterest does not work for bloggers. Pinterest works for Ben.
How many users do you suspect convert by opening a new browser and typing in houseofhipsters.com. Zip. Zero. Zilch. Ben ain't stupid. They want to give the end-user a feed full of beautiful Idea Pins leading nowhere with promoted brand pins sprinkled throughout so the user will never leave the platform. The same goes for videos. Since Carly shared this nugget of knowledge with me, I went into my Pinterest account and deleted every single Idea Pin I had ever created. Never again.
"If creators would like to turn off visual search dot overlays on their Pins, they can contact us through our Help Center. We'd be happy to share more with you if you'd like to discuss further."
Silvia asked that I relay this message to all creators wanting to know how to remove Pinterest's white dots with shoppable tagged products. Hands up if you've done that already! Did it work? Are you laughing? I am. I asked countless times.
"Please let me know if you have any additional questions, and be sure to let us know if you'd like the visual search overlay dots removed."
Dear Silvia,
Here are my final thoughts and questions.
Pinterest Refers To Itself As A Quiet Knit AKA Sneaky
While attending In The Making, I believe it was Evan who said, Ben and I think of ourselves as knitters. While the Facebooks and Instagrams of the world are building social empires, we're over here at Pinterest, quietly knitting.
That sentence is a lot to unpack – oh what a web we weave.
To answer my initial question in this post of are those Pinterest white dots copyright infringement? No. I don't think they are. This is bigger and more complicated than that. The more I dug in, the more shocked I became. I think this is a long hard look at the integrity and ethical practices at Pinterest. Much more needs to be disclosed about the happenings and financials from The Studio.
Julia from Cuckoo 4 Design started asking questions about the Pinterest white dots on her pins back in 2017. She received a reply from David Temple. He wrote this.
"I understand why you're frustrated. I'm a blogger myself (although just a hobbyist, there's a lot I could learn from you, here's my site) and my wife's company are super active creators on Pinterest too. I realize that Pinterest has removed a lot of the things that made it special for creators. It's a bummer. The crazy thing is that the vast majority of people on Pinterest aren't bloggers and so as the company has tried to respond to their requests, it often didn't realize it was hurting the creators in the process.
I've been here for two months now, and the one thing I can assure you of is that the company really does want to help and get better at this. The thing that's been wild to see for me is how much variety there is in the way people run and monetize their blogs. For instance, this shoppable pins feature was actually built by request from bloggers who wanted better ways to add affiliate links to their pins. I know it may not be right for you, and the way it has been tested (on your content without checking first) was wrong, and I apologize for that."
Silvia, could you remind David that he's been there for almost 4 years now? I feel like the only thing Pinterest wants to get better at is making money faster.
Another blogger friend read your email and commented, "That's a lie. I personally spoke to Enid at the Adthrive conference about this and straight-up asked her who's getting the money from these affiliate sales because it wasn't me. She responded with a guilty look and silence."
My response is, I don't think it's affiliate sales, but there's definitely something fishy happening here…it's almost as if a little white lie was told…and then another…and another…and another…until it got out of control.
One last thing Silvia. Could you also mandate that the folks at Pinterest stop replying to emails so kindly? I understand Evan wants to build a kinder social network, but it's infuriating. Pinterest apologizes. Pinterest sympathizes. Pinterest commiserates. Call it like it is. Just say it with a smug face like Zuckerberg would. Honey, you're shit outta luck. Even if we remove the Pinterest white dots, you're still screwed. I'll accept that! I might be upset at first, but I tell my children this. Lying is the worst thing you can do to someone. I have realized I am not your friend, and you are not mine.
Did you make it through the post? If you did, I'm giving you a giant virtual hug right now! I'm so freaking proud of you! I don't have any answers. In fact, I might be even more confused after unraveling this tangled web of deceit. My hope is that someone out there realizes there's no longer that warm fuzzy feeling when bloggers think of Pinterest. This is a bigger story than the Pinterest white dots.



Discover More Social Media Tips On House of Hipsters
If you want to know more about me as a home decor influencer, click the link!
So you want to know how to record a TikTok huh? Pull up a chair, and let's chat about it.
If you need some basic training before jumping right in, here is an easy TikTok tutorial.
Are those little white dots on Pinterest a copyright infringement?
And open letter to the founders of Pinterest.
Are you a brand looking for social media consultation? Well, you've come to the right spot. I was a "content creator" before content creators existed.