31 Amazon Must Haves In 2023
Last Updated on September 26, 2023
Amazon Prime Day is right around the corner, and navigating this annual sale can feel overwhelming, so to help you prepare, I'm sharing my top Amazon must haves — the best products I've purchased on Amazon and tested in my home that I cannot live without—a trustworthy go-to list of best-selling products that goes beyond five-star ratings and Facebook ads. There's no time to dilly-dally. Let's dig into the best of the best Amazon finds, shall we?
My Ride Or Die Amazon Must Haves
I'm going to begin with a bang and jump right into my fave things on Amazon. I mean, everything in this round up is a favorite purchase, but these…these are top-tier. And before I forget, if you haven't visited my Amazon Storefront, be sure to bookmark it because I'm constantly updating it with awesome finds (especially home decor, which you won't find much of in this post).
RELATED: If you want to spruce up your patio for summer, check out this round up of affordable outdoor furniture from Amazon, Walmart, Target, and more.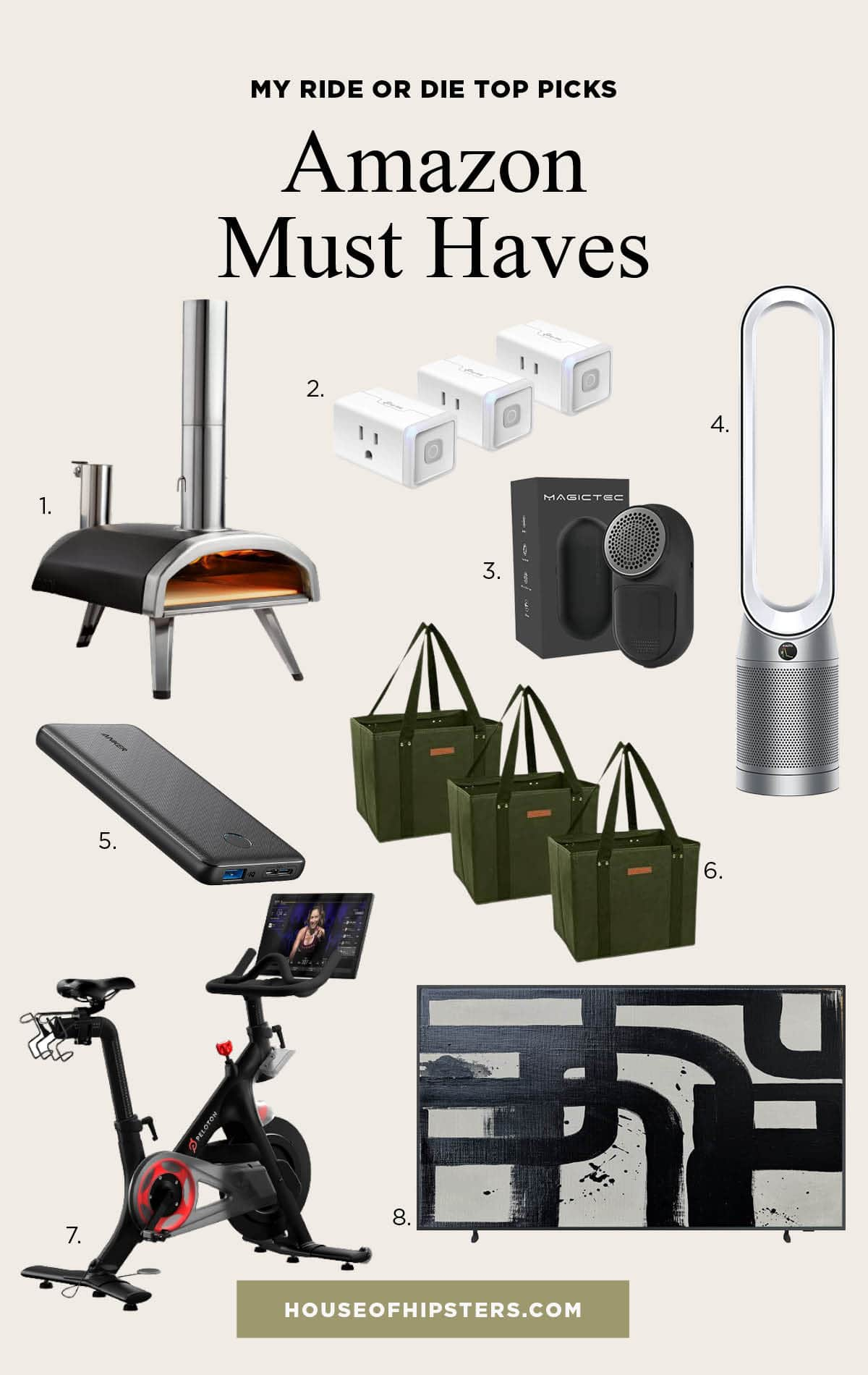 RELATED: Don't miss my Amazon Prime Day 2023 top sale picks.
One of the best things we ever bought was the Ooni pizza oven (we have the wood pellet). It's used at least twice a month to cook homemade pizzas in under 90 seconds. Yes, you read that right, seconds. The crust is pure perfection, and it's srsly, one of the most enjoyable family nights. (Hot tip: make an extra batch of dough and freeze it.) If you're looking for one of the best gifts for dad or a foodie friend, this is it!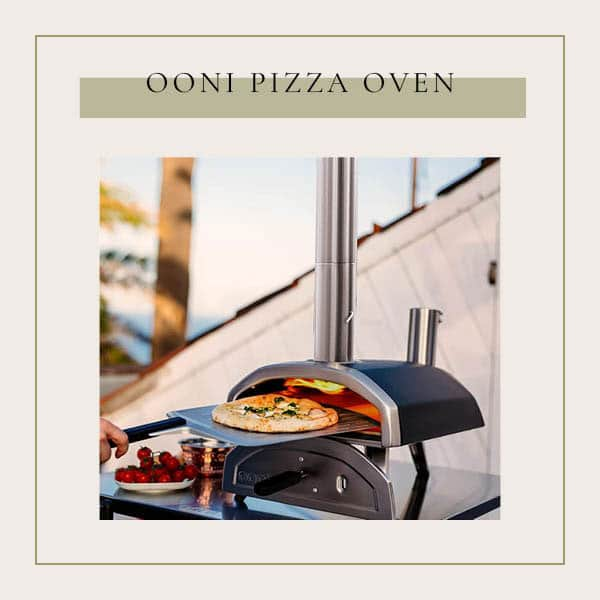 I love my Lutron Caseta, but I also love these smart plugs. They're easy to install, and all I have to say is, "Alexa, turn off bedroom lights." and magic! These are presently on sale.

This is one of those little gadgets you never knew you needed until you bought it. Not only do I use it on pilling sweaters, but I also use it on my furniture and any upholstered home decor. This one is an Amazon bestseller and is actually on sale right now!

I also own this Dyson air purifier and fan combo, which is currently on sale. This Amazon must-have lives in our bedroom because I need the white noise to sleep, and The Boy has horrendous allergies. My mind still cannot wrap its head around how this fan works, but it is a fan, and yes, it keeps me cool. The Dyson Purifier Cool Smart is presently on sale.

These affordable curtains are one of the best sellers on the blog and are presently on sale. Since they are pictured above, I figured I should include them in this round-up. These are the blackout velvet curtains in Aztec Gold.

RELATED: See the new Nate Berkus Amazon Home Collection. The bedding is divine!
While visiting New York for the Better Homes and Gardens Style Maker event, my friend Ashley pulled out this phone charger that charged all 5 of our phones and still had juice. Now that is impressive! I immediately bought two of these mini charging stations upon my return. They're perfect for travel, aren't super bulky, and fit in a smaller purse. Definitely on the Amazon must have list.

RELATED: Don't miss these affordable decor ideas from Amazon, Walmart, and Target.
These reusable shopping bags are always in the trunk of my car and keep everything upright. I take them to Trader Joe's and the flea market. They're durable, easy to carry, and they hold a lot. If something spills, these bags are also washable. Pssst, they're also on sale right now.

Now that the Peloton is available on Amazon, I'd be remiss not to mention it as an Amazon must have. I purchased one when they first came out and immediately became obsessed. Yes, I know there is a recall, and the reviewers are complaining. I also don't have the replacement seat stand, but I still use the bike. Now, if yours breaks, don't come at me. I figure the odds are low. I've never seen Peloton run a sale, but according to Forbes, the official Amazon press release mentioned that Peloton items would be included in Prime Day. That could mean anything from equipment to apparel to accessories. We gotta wait until July 11 to find out for sure.

For years, I have waxed poetic about my Samsung Frame television—a thin, wall-mounted TV that turns into art when it's not in use. Interior designers love it, especially if you hang a tv over the fireplace mantel. Say goodbye to the big black rectangle on the wall. Since purchasing our first art TV, we have purchased two additional Frames, and I can't say enough good things about them. This TV was on sale during Prime Day last year, but not the year before.  

RELATED: If you are looking for TV art for your Frame, click on that link. It's full of my favorites that you can upload to your Frame.
Amazon Vacuums And Cleaning Product Favorites
I've tested many regular and robotic vacuums, and because I have favorites, they deserve a dedicated section. Since vacuums always go on sale for Amazon Prime Day, I wanted to give you some intel on the ones I love, and which one is on a trial separation.
Okay, so the Yeedi was hands-down my favorite, that is, until mine broke in under two years, and Yeedi's customer service was less than helpful. It wasn't under warranty, and they don't offer repair services or parts. Before replacing it, I asked what the life expectancy was because my Roomba (more expensive) is over 10 years old and still going strong. Only 12-18 months, but it's cheap, so you get what you pay for. I don't hate Yeedie, but it's no longer my ride-or-die robot vacuum.

She's pricy, but I spy a coupon for $250 off on Amazon. The Roborock is a workhorse vacuum because it's also a mop, and unlike the Narwal, it detects carpet and lifts the mop head, so your rugs stay dry, and there's no need to lay down barriers. Plus, it has a self-emptying bin. As for the phone app, getting it initially connected took me a few tries, but now it works seamlessly. It's another one of those set-it-and-forget gadgets.

You can see the Roborock in action in this video.
This mini vacuum cleaner sits on my kitchen counter and is used on the daily to suck up The Boy's toast crumbs, spilled coffee grounds, and all the dust and dirt that accumulates over the day. This little handheld vacuum is perfect if you have a table with grooves in it or if you eat at your desk. It's presently on sale.

Is a mop all that special? Ummmm, yes, yes, it is! This is a TikTok made me buy it purchase, and I couldn't be happier with it; however, I do not use the Tide concoction. I use warm water and a couple of drops of floor cleaner. To work it, dunk the mop in the water, push the peddle down a few times, and mop away the dirt. Pop the mop heads in the washing machine to clean. It's presently on sale.

RELATED: Check out this round up of the best Amazon home decor curated by an interior designer.
This little power scrubber tool is high on the Amazon must-haves list, and I'm fairly certain it also made the Amazon Internet Famous post. It gets into those hard-to-reach areas and cleans grout and fixtures easily. This best-selling cleaning tool does all the scrubbing, so you don't have to. Ya, it's on sale.

If you're looking for a more powerful upright vacuum, this is it! I own two of these vacuums (one was for the old shop), and it's never let me down. I should mention that I belong to a Facebook Group of cleaning ladies, and a recent post asked which was better, the Shark or the Meile. The Meile vacuum won in a landslide, but I don't own it, so I cannot say it for sure is superior…but I do trust these ladies; however, it is pricier though.

I'm hoping and praying this sucka goes on sale for Prime Day because I want a second one. I love, love, love it! We keep ours in the kitchen and use it daily. But I'd love to relocate this one upstairs and get this one with the self-emptying bin for the kitchen. The WANDVAC can by used as a handheld for small jobs (perfect for stairs or the car) or floor vacuum for carpets, hardwood, tile, and rugs. It's the vacuum cleaner you didn't know you need. While you're at it, grab an extra pack of the filters.

We were hit with the Canadian wildfire smoke this week, and this air purifier has been working overtime. It's another one of those gadgets where you set it and forget it…until you get a phone notification that says it's time to change the filter. If you're cooking something smelly in the kitchen, own a pet, or have seasonal allergies, it effectively removes 99.97% of pollutants in the air you're breathing. BTDubs, it runs quiet unless the air is really dirty; then you might hear the fan kick in. We've owned this one for 2 years now.

Last year, this compact upholstery cleaner sold out within minutes during Amazon Prime Day because it is just that awesome. I bought one of these over 20 years ago, and the only time I had to replace it was after an epic barf episode courtesy of my son. If you have kids, pets, or a messy significant other, this is an Amazon must-have — 61,000 Amazon reviewers are not wrong. It's next level. 

The Roomba does everything the Yeedi and Roborock do, so there's not much more I can say about this robot vacuum except that it is the superior choice. In my opinion, if you don't need the mop and it fits that budget, buy the Roomba. Enough said. This one is presently on sale for 7% off, but like I said earlier, The Prime Day Sale always has vacuums on sale, so maybe wait until July 11? Fingers crossed?

Affordable Amazon Must-Have Beauty Products I Love
TikTok likes these Amazon finds, and I love them! Here are my tried and true best beauty purchases. The best part, they're all pretty affordable!

If you're looking for a sunscreen that is hydrating and doesn't leave a greasy or white residue on your skin, this is it. Its only downfall is that it's not waterproof, but it's perfect for the flea market or out on a hike. I use it on my face before putting on makeup. BTDubs, it's presently on sale and is also vegan-certified if you're into that.

Remember when Kanye West started dating that Julia Fox girl after his split with Kim? I somehow landed on her TikTok, and she said her go-to lotion (and favorite celebrity body cream) is this little $15 miracle worker. I've also seen it in the apothekas in Europe so ya, it's probably good. Ok, Julia, I'll bite. Ya, I tried it, and she's right. This stuff is freaking awesome! Even the roughest skin turns soft and smooth. It's a must have in my book.

Okay, I know eye drops sound like a weird one, but hear me out. I constantly watch makeup how-to TikToks, and every makeup artist and beauty influencer swears by these. I bought them, and they brighten and pop your eyes within minutes — an instant refresher for tired eyes. I do not use them daily, but if I've been staring at a screen all day, and I'm going out that night, I'll put a drop in each eye to make my eye bright white.

I own four pairs of these affordable yoga pants and rock them daily to walk the dog because unlike Lululemon, they have a pocket for my phone. These are mid-calf length and come in 27 different colors. If you're looking for leggings, add these to your shopping list. They are an Amazon must have. 

I found this bathroom trash can during last year's Amazon Prime Day sale. I needed a small garbage for the home gym, and this worked perfectly, plus it's pretty to look at. Simply wave your hand over the lid, and presto, it opens! If you buy it, purchase the 2 gallon size. The smaller one is too small.

This is another Amazon internet famous beauty product that TikTok made me buy. Is it worth the hype? Ya, I think so. I use it every night, and it's especially wonderful during the winter months. It's a thinker lip balm that moisturizes your lips during the night.

This eyelash serum has over 14,000 positive reviews, and for good reason. It works. I've tried them all, and this is the best bang for your buck. Highly recommend especially if you're trying to regrow stubby lashes after months of lash extensions. 

While having lunch with my friend Ashley, I noticed her nails. They looked so good! She let me in on the best beauty secret ever! Press-on nails from Amazon!!! Wait wut? These nails are a game changer because take 5 minutes to apply and can last a full week. Most importantly, they do not damage your nails because they adhere with a sticker, not glue, so they are super easy to remove. The only downside is the limited colors available. But I love that they are short, natural-looking, and easy breezy to put on. Hot tip: put the thumbnails on last, and wash your hands with soap before sticking them on to remove the oils.

Amazon Must Have Kitchen Gadgets And Small Appliances
Here are a few affordable kitchen gadgets and a few bougie small appliances as well cuz you know I had to include that nugget ice machine! I freaking love it! Obviously, these gadgets are not life-changing picks, but they do make my life easier…and nicer. To save you some decision-making anxiety, here's a quick review of the items I think are worth spending money on.

I found these handy dandy bag organizers during last year's Prime Day, and I also grabbed the 3 in 1 wrap organizer, but I don't love that one. The cutter is fussy. Yes, I know plastic baggies are bad for the environment, but sometimes we use them. This is perfect for organizing the inside of your cabinet to keep the bags from falling out of the boxes. Side note, I'm a big fan of these bamboo drawer dividers. Use them to organize your kitchen drawers. Oh, and I just noticed, this organizer is presently on sale.

This is one of those gadgets I didn't know I needed until I bought it. It was on sale last year during Prime Day for like half off, so I added to cart. I use it ALL THE TIME, as does my son. We are both fans of Waterloo and Bubly, but the child legit will drink 8 cans of sparkling water a day, so to keep him hydrated and not go broke, the SodaStream works perfectly. You can buy the Bubly flavors to add a little sumthin sumthin extra — we like the blackberry and mango the best, but I'm also known to mix the lime and cherry flavors. As far as the carbonation canisters, we order refills directly through SodaStream. Once delivered, we send our empty canisters back.

Check out these silicone reusable food bags if you want earth-friendly baggies. Oh, the best part, they are dishwasher-safe and presently on sale.

Years ago, I bought my Vitamix blender, and The Boy scoffed at me. He thought I was insane for buying a $500 blender, but let me tell you, that thing makes the smoothest smoothies. It has so much power and is the superior blender. BTDubs, it self-cleans. Just turn the dial, add warm water, and a couple of drops of dishwashing soap. Yup, that's it! Once you use it, you will ask yourself why it took so long to buy it. 

When it comes to happy hour, I prefer to sip bubbles, but how do you keep it sparkly? My mom bought this champagne stopper for me, and it'll keep an open bottle of bubbly sparkling for 10 days. No more wasting a bottle or spending extra on mini splits.

When the ice machine on our refrigerator stopped working, I invested in a nugget ice machine and have zero regrets. We use it daily, and I drink more water because of it. But there are a few things you should know about this little guy. Many Amazon reviews complain about the noise level; yes, it can be loud. However, for me, the crunch of the nugget ice is worth it, so I moved ours from the kitchen to the laundry room.
Use the side water tank. Having it full will help keep the noise level down because the water reservoir will not run empty. Also, always use distilled water. If you don't, the hard water build-up will cause the motor to grind loudly. You must clean it regularly and buy new filters.

Check out this video of my GE Opal Nugget Ice Machine in action.
Phew! That's it! Sorry for the novel, but I want you to be prepared with Prime Day around the corner. The sale is huge, and it can be overwhelming unless you know exactly what you're looking for.
There is a Prime Day Early Deal on the viral Caraway Cookware set. I do not own these pans, but I'm presently in the market for cookware since my set of Scanpans is starting to peel. These are on my wishlist.

RELATED: Arched cabinets are a home furnishing favorite. Not only are they stylish, but they are also functional. Check out the curated list of top picks for you home.
What Day Is Amazon Prime Day?
The Amazon Prime Day sale starts on July 11 and ends July 12. It's usually held once a year, but for the first time ever, they held a second one last year called Prime 2. Prime Day is the year's biggest event, so mark your calendars.
Are There Any Early Deals Happening Now?
Yes and no. There are a ton of items on sale. Hop on over to the Amazon Sales page to see every item that is currently discounted. Amazon also has its Prime Day Hub — bookmark it if you haven't already. You'll also find Lighting Deals here. These are limited-supply items that sell out quickly.
What Is Amazon Prime Day?
Prime Day is a 2-day sales event exclusively for Prime members. This is the day I do my holiday shopping and get the biggest bang for my buck. If you do your research, there are serious deals to be had.
What is Amazon Prime Big Deals Day?
The Prime Big Deals Day is the second big Prime Day of the year and will happen on October 10-11. The sale includes exclusive deals for Prime members with discounts on brands like Peloton, Shark, Dyson, Bissell, and more!



Get Inspired By These Home Decor Ideas
The brick fireplace makeover before and after is finally live. You won't believe the transformation!
Looking for a gift for a home decor lover? Check out the best interior design books that I own and love.
Get inspired by these mantel decor ideas and styling tips.
Are you a hot sleeper? Love linen sheets? Check out this round up of the best sheets and bedding of 2023.
The bedroom closet remodel went viral on social media. You've gotta check out this transformation.
Before you head up to the lake house, check out these lakeside must-haves to make life on the water easier.