Best Flea Market Shopping Tips
Last Updated on January 27, 2023
Well, this is exciting! I've been selected as one of Chicago's top editors and interior designers and will be awarding best-in-show ribbons to vendors at the next Randolph Street Market. If you're a newbie to vintage shopping, don't worry, I've included my best flea marketing shopping tips below.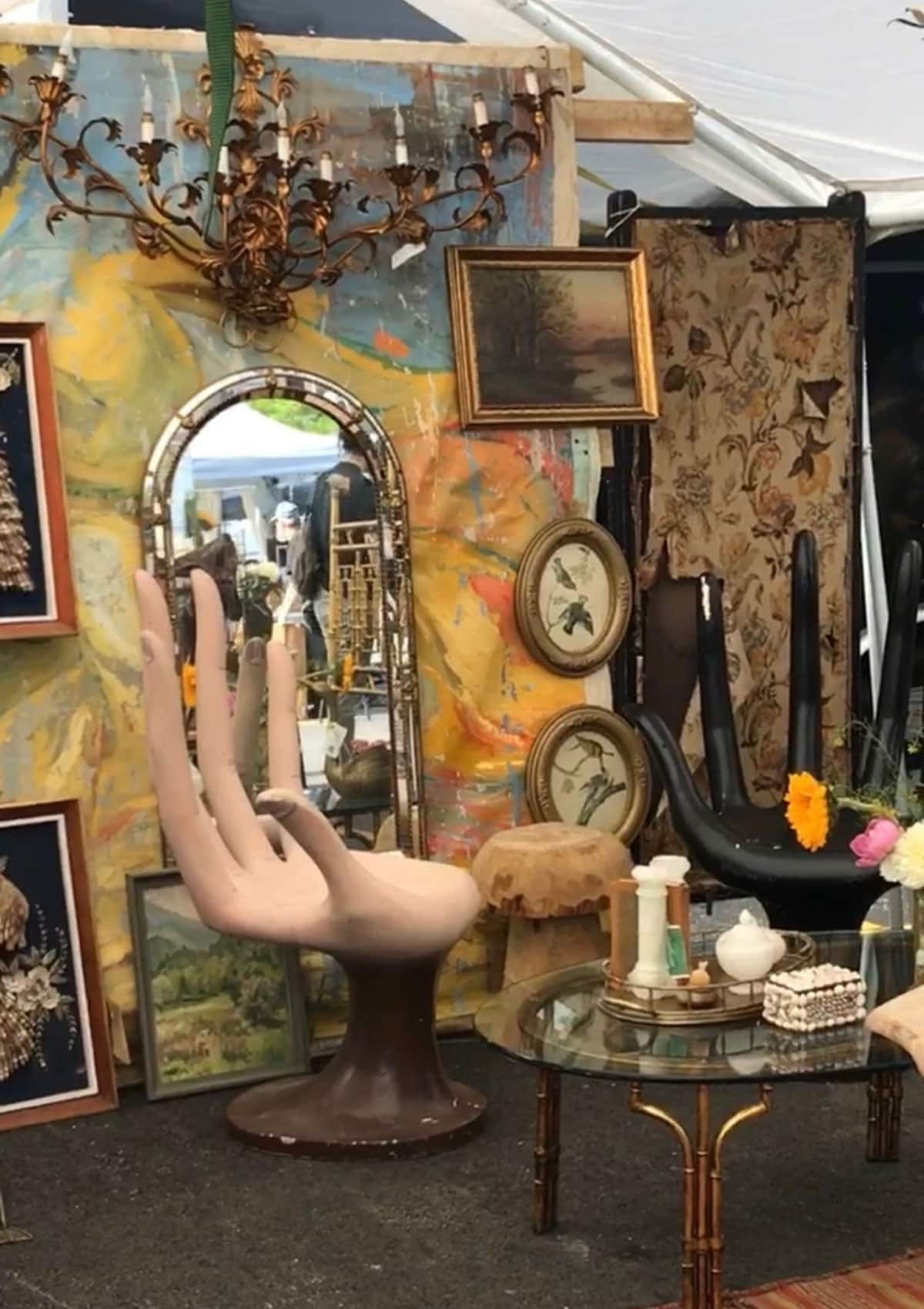 Come on out and join me at my personal favorite and Chicago's famous indoor-outdoor flea market to shop for vintage decor, clothing, and jewelry. This flea only happens a few times a year and is a hidden gem known as the mecca of cool and the hot spot for antiquing in the city.
This Expert's Best Tips On Shopping At A Flea Market
If you have never been to a flea and feel a bit nervous, here are my best flea market shopping tips for first-timers and a few good reminders for experts. Shopping at a flea market in real life is unlike what you see on HGTV shows like Flea Market Flip. Always be nice, gracious, and respectful. Don't call anything junk. If it's not to your taste, just thank the vendor and walk away.
1. Bring Cash To The Flea Market
Cash is king, and don't forget small bills. To avoid that awkward moment when you bargain your way from $27 to $8…keep small bills in different locations. Don't pull out a huge wad of $20s in front of the vendor. I use my jeans, wallet, and purse pockets.
2. Can You Haggle At A Flea Market?
Don't be afraid to negotiate the price. I was a vintage dealer myself, and my pricing was always based on what I originally paid and what I thought the item was worth. More often than not, flea market vendors are willing to haggle, especially if it's the last day of the market. Instead of lowballing, ask if they are firm on the price. What's the worst they can say? No?
If they do say no, accept their answer and politely thank them. If their offer is still higher than the number in your head, respond with, "What about (insert price here) and a hug?" Sometimes making the vendor laugh and being genuine will do the trick.
HOT TIP: When it comes to negotiating at a flea maret, bundle, bundle, bundle. If you're buying more than one item from a vendor, chances are you'll get a better deal.
If you really like a vendor, ask if their business is on social media. It's a great way to be notified about sales and new arrivals. Plus, you may get a discount on future vintage purchases. The biggest takeaway here is to remember your manners.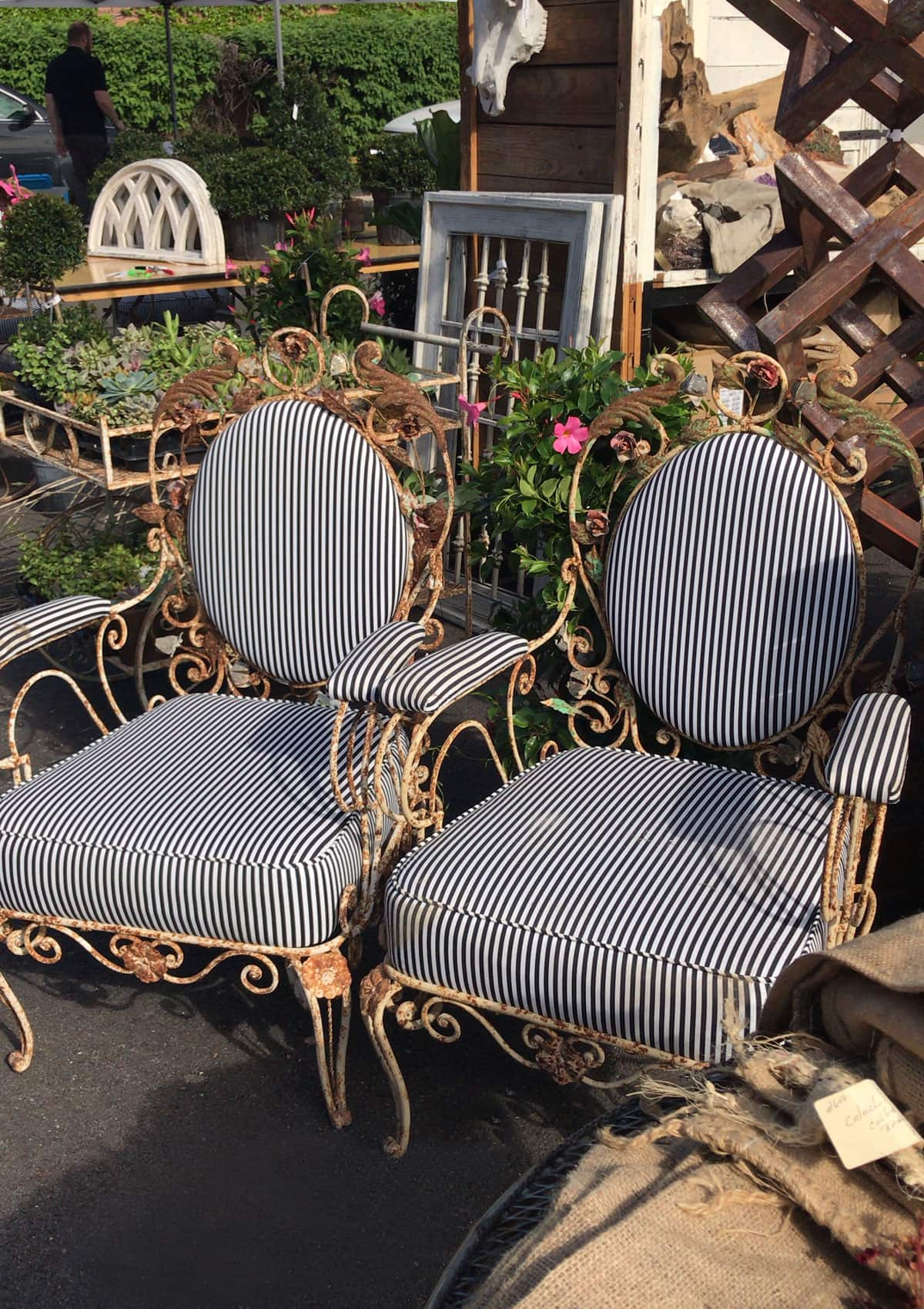 3. Inspect Vintage Items Carefully
When shopping for vintage decor at a flea market, it's important to inspect the items you are considering thoroughly. Look for any signs of damage, wear, or repairs, as this can affect the value, which is essential when negotiating. Also, beware of reproductions…they're getting really good these days. Details like how a vintage item was constructed will help determine the age. Hex screws did not exist during the Mid-Century Modern period. Drawers that have dovetail joints are of higher quality than staples and glue.

4. Measure Before You Shop
Not only should you bring a tape measure to the flea market, but you should also measure your space before leaving the house. For example, know the width and length of your foyer if you're looking for the perfect vintage bench. BTDubs, if you need one and see me, I always have a tape measure, especially when shopping at estate sales.
If you're purchasing a large or heavy item, ask if it's possible to leave your purchase at the booth while you continue to shop. But a word to the wise, don't forget where the vendor is located (most of the time, the vendor has a booth number…write it down or text it to yourself). The last time I shopped at the Elkhorn Flea Market, I completely forgot where I purchased a large painting and walked around an extra hour searching for it.

5. Know What You're Looking For
Before you go to the flea market, have a good idea of what types of vintage decor you are interested in. If you are prone to impulse buys, make a list. This will help you focus your search and make it easier to find items that fit your style and budget. If there's something in particular that you're searching for, ask a vendor if they've seen it (they may have it in storage or at their shop. They shop each other's booths while setting up and always know who has what.

6. Arrive To The Flea Market Prepared
Bring a reusable shopping bag or a roller cart. You'll want to shop without fumbling with bags and dropping your vintage treasures. Plus, not using plastic is more sustainable and better for the environment. Also, be sure to wear comfortable shoes. I cannot tell you how often I go to the Randolph Antique Market in Chicago and see fellow shoppers dressed in heels and cute skirts. Speaking of clothes, if you arrive early in the morning, dress in layers because once the sun is beating down on you, you're going to wish you were wearing a tank top.

7. Do Your Research
Familiarize yourself with the different styles and periods of vintage decor and their value. This will help you recognize good deals and avoid paying too much for items. The last time I shopped at the Randolph Flea Market, there was this tramp art cabinet that caught the eye of every single shopper, but the price was outta this world and not in a good way. I mean, yes, it was beautiful, but there was a nearly identical cabinet on eBay for a fraction of the price.
Also, remember that reupholstering a chair will add to the price and your budget. Does the fabric smell? Do the cushions need new foam? Is the fabric stained?

8. Wear Your Patience Pants
Flea markets are getting increasingly popular, so expect a crowd with a side of chaos. People can be rude and pushy. Be patient and take your time while shopping at a flea market. Don't be afraid to leave an item behind if you're unsure; trust your gut. Oh, and don't just stick to one stall. Before you drop all your money, check out as many booths as possible to get a good sense of the selection and prices. You never know what hidden treasures you might find! But keep in mind, if you walk away, your vintage treasure could be gone in a flash.

But wait, Kyla, you didn't explain what the ribbons were for? Well, in short, it's my job to hunt down the best-in-show items at the flea market so you can easily find them. Look for ribbons hanging outside a booth or on a sweet vintage item.
My charity of choice is the Jackson Chance Foundation, an organization that helps NICU parents pay for daily parking at Lurie's Children's Hospital in Chicago. It was founded by my dear friend Carrie and her husband Terry, whose son Jackson was born premature and spent his short life in NICU. If you purchase an item I've chosen, proceeds from that sale are donated to the charity.

Are you ready to flea with me? I'll be there when the gates open until mid-afternoon. Come out and say for a great cause, snatch up some great vintage treasures, and don't forget to partake in a cocktail.



Discover More Eclectic Home Decor Ideas
Holy moly! I was chosen to be one of the One Room Challenge Featured Designers! I'm gearing up to give my home office a makeover, and I'm also going to create a space for a home gym!
I attended High Point Furniture Market to check out all the new furniture that would be debuting. Here are the interior design trends to look for this year.
Looking to decorate on a budget? Check out these clever ideas.
Wanna make your home look expensive when you don't have the luxury of a high budget? Try this!
If you're looking to replace your ceiling lights, here are a few boob light alternatives.
Bobby Berk told me he has always invested in quality bedding. Here's the ultimate guide to the best sheets and bedding.
The Primrose mirror is still trending hard, but the price tag crushes my soul. If you're looking for an Anthropologie mirror dupe that doesn't break the break. This one is for you.
Find affordable velvet curtains to cozy up your space and soften your windows.
Let's style up the vintage Dorothy Draper Dresser with Randal Ford.