One Room Challenge Featured Designer
Last Updated on September 27, 2023
In case you haven't heard the news, it was just announced that I will be one of the One Room Challenge Spring 2020 featured designers! Holy scream emoji! Exciting right!?!?!? When I first discovered the One Room Challenge, six some years ago, I was in the middle of the guest bedroom makeover in our old house and completely befuddled why every blogger on the planet wanted to steal my home decor thunder. Since that time, I've participated in this intense 6 week home decor makeover challenge as a guest participant a couple of times and had so much fun. A lot of work, but fun all the same.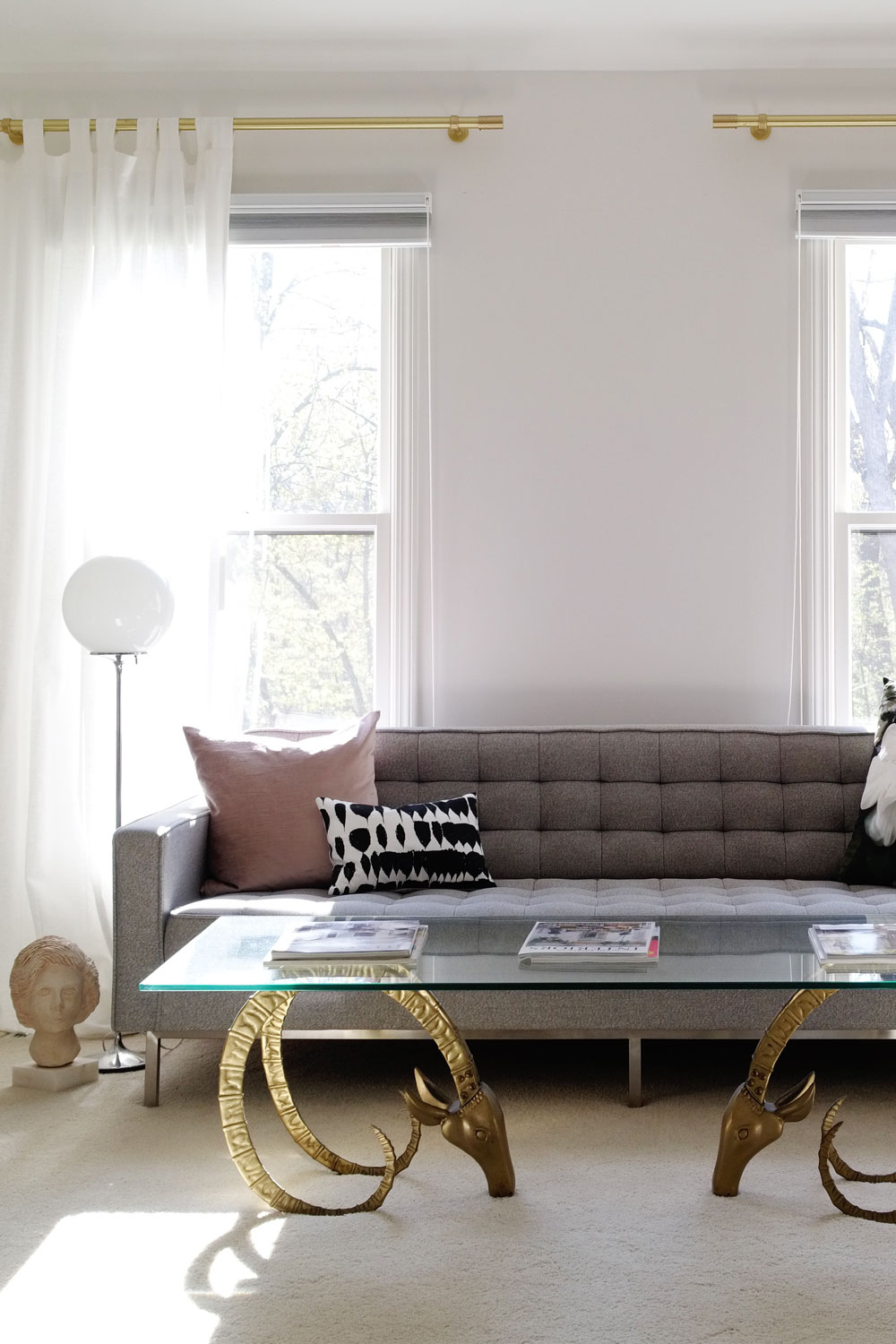 Normally the One Room Challenge would have started April 1, but due to Covid-19 and the world sheltering in place, the ORC start date has been pushed back to May 7…and THAT my friend is the day I can reveal mood boards and makeover plans…but I've been given the go-ahead to give a sneaky peek. My first thought after receiving the email from Linda asking if I wanted to be a featured designer, was I'll makeover the guest bedroom. But after a bit of contemplation, I changed my mind. Being a featured designer is a once-in-a-lifetime opportunity, and whatever room I chose had to be epic. I switched gears and started critiquing my home office — a space that has never seemed quite right. It's almost always a complete and utter mess…especially since I moved everything of importance out of the adjacent storage room and into the vintage shop.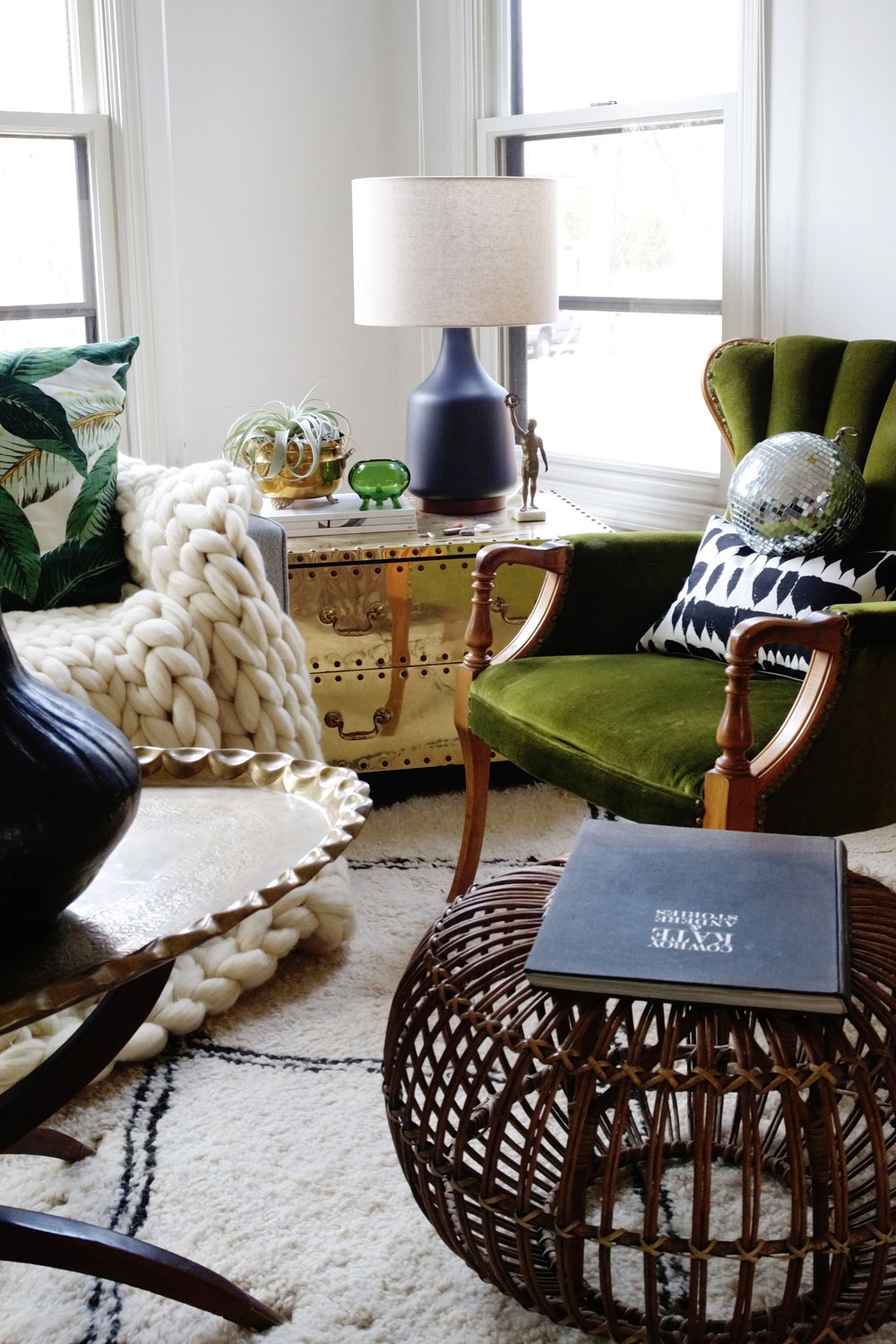 You're gonna look at these photos and say, you lie, but it's true. I get something I love…maybe a chair or table…and it gets styled in my office. Fast forward a couple of months, it finds a new forever home or I decide I hate it. It's been boho bonkers complete with Beni Ourain rug (presently on sale for 20% off), Albini ottoman, chunky knit blankie, and brass table. Then it went eclectic with this Enrique Garcel cabinet mixed with Mid-Century Modern.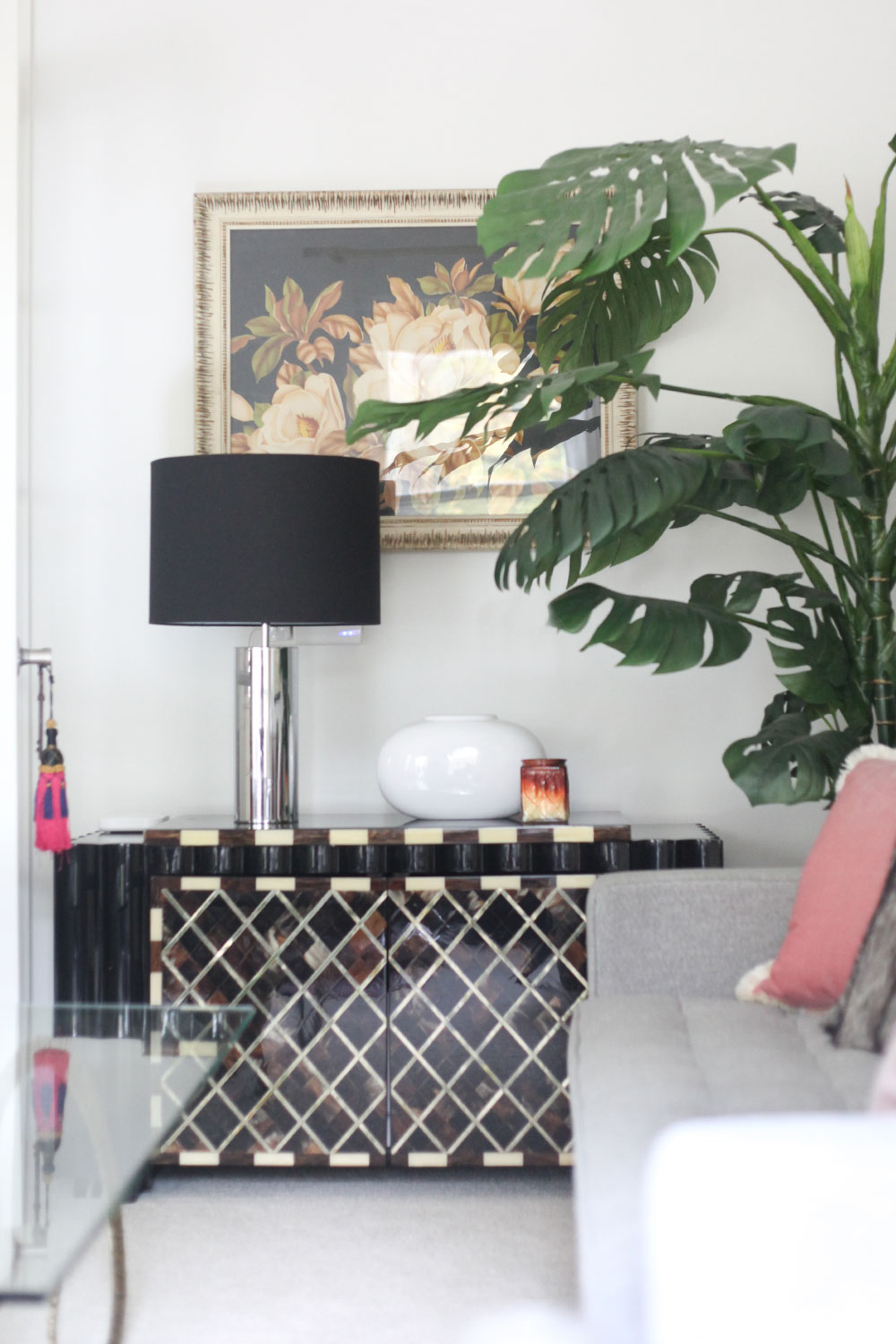 I added in an antique medical cabinet (which I have since whitewashed) and reupholstered this chair in a funky snakeskin fabric. The ibex rams head table swapped out for the wheat table (which has since been swapped back), and I hung these pendant lamps…which by the grace of god still live in the same spot.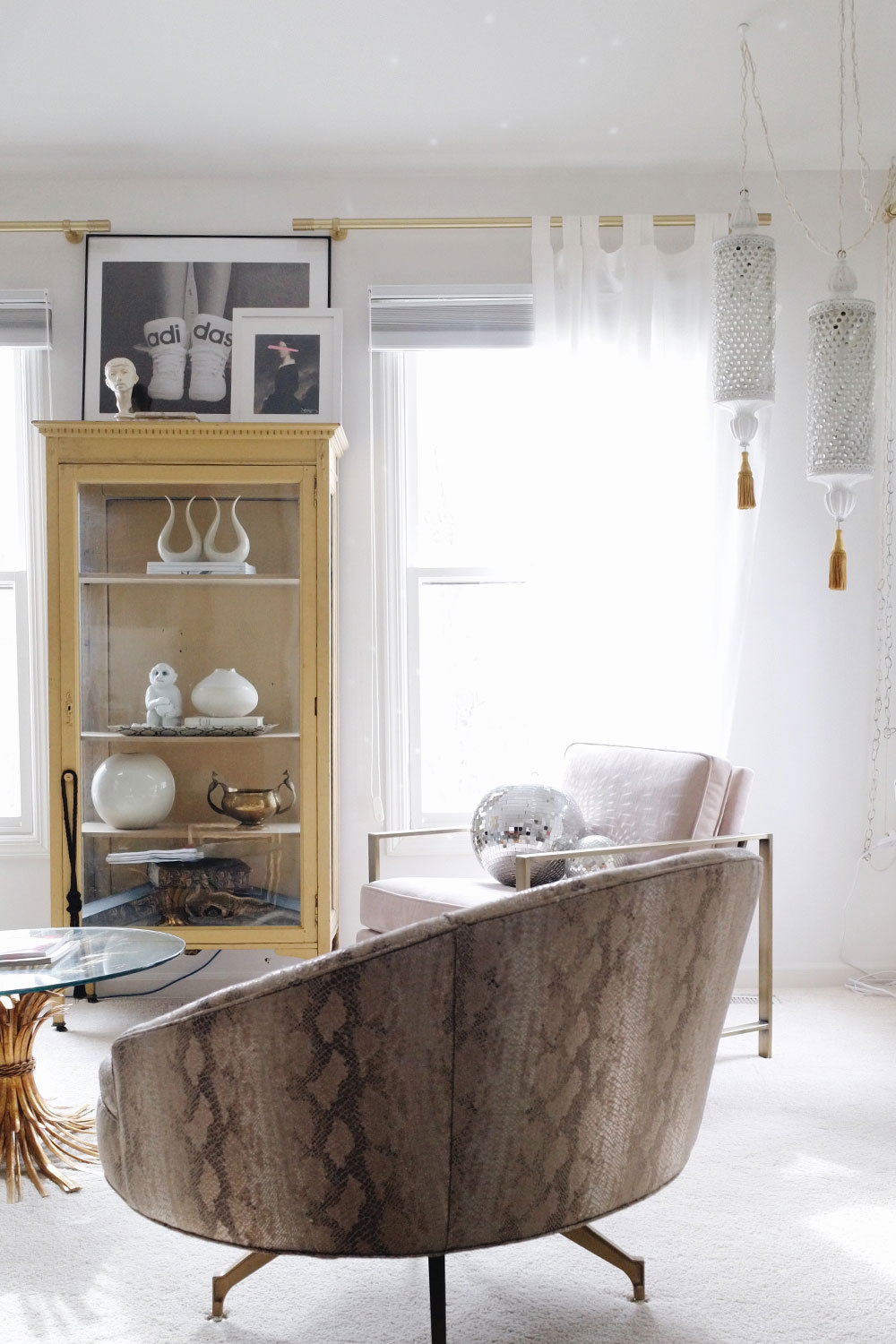 When the house was first built, my office was originally the master bedroom. The former homeowners added on and created a huge master suite. The original master became a sitting room, and they converted the walk-in closet into a home gym. After we purchased the house 4 years ago, I made this space my home office and converted the walk-in closet turned home gym into a large storage space for my online shop. However, it's never been properly designed. The Boy flooded the basement, so we fixed that mess up and renovated the basement bathroom. Other projects just seemed to take precedence over my office.
Now that the shop merchandise has been moved out of the house, it's time to give my office the makeover it deserves. But I'm going to take it a step further and convert that storage room back into a home gym. This One Room Challenge is going to be all about me, and I'm going to give myself the beautiful space I deserve…I mean, srsly, I spend most of my time in this space, so it should be a room that I love, am I right?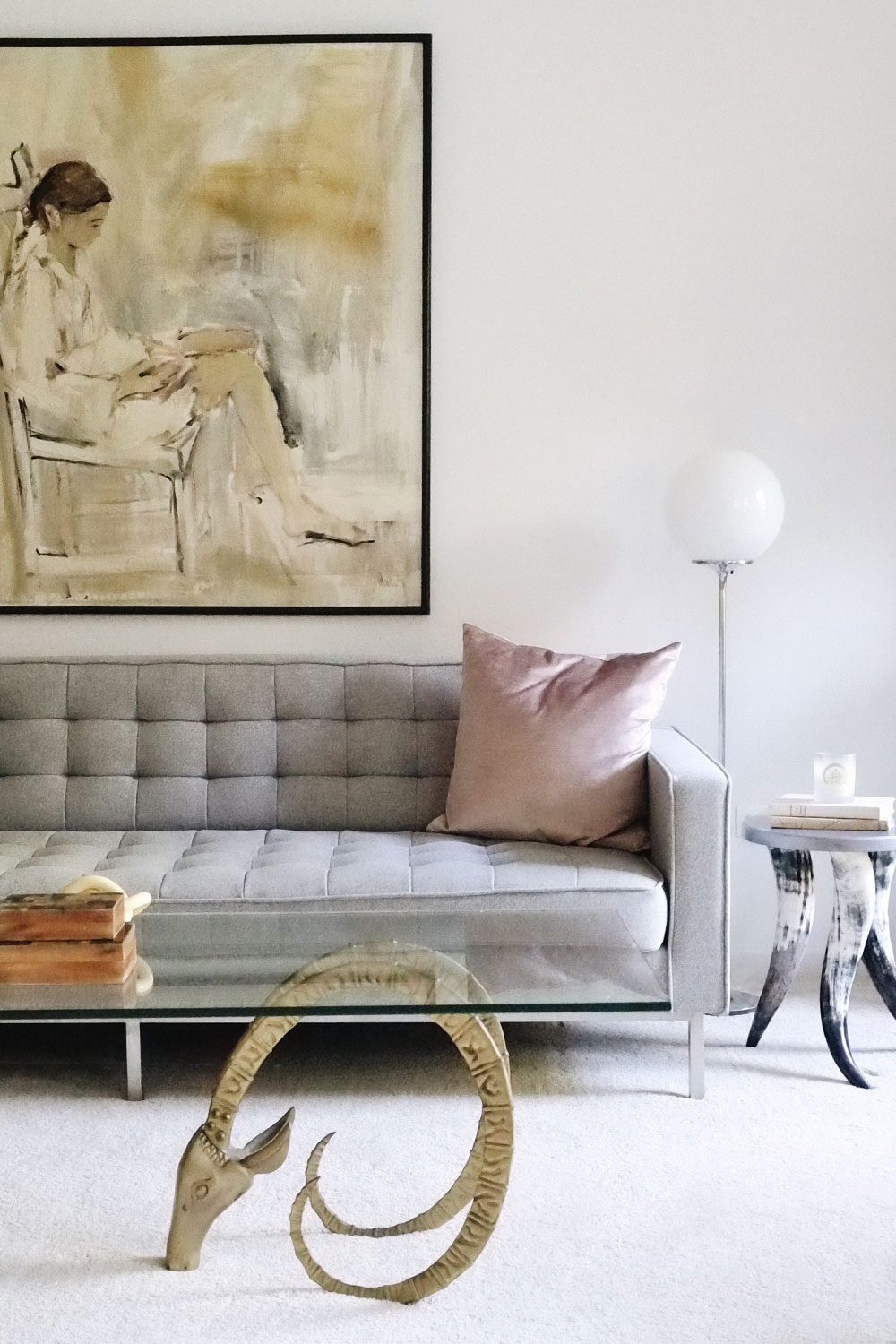 This was probably my most favorite rendition, but I shopped my home and moved the painting and horn table downstairs to the front room. That painting is a Gino Hollander original that I scored at an estate sale and is probably one of my most prized possessions.
Now the question is what the heck do I do in here? What stays? What goes? Do I add color? This carpet is ok but it doesn't match the storage room. Maybe hardwood? Tile? And OMG, now I finally have an excuse to hire an electrician to figure out how the main overhead light turns on and off. The chandelier I have hanging in here now is merely for show…and you can make bet that that vintage lucite beauty will be headed to the shop and replaced with something from this post. for pendant lighting ideas.
My wants for the One Room Challenge are
— New seating
— New coffee table and side table
— Storage of some sort…shelving, cabinet or armoire?
— Wallpaper or paint
— New flooring (wood or tile)
— New rug to soften the new flooring
— New lighting
— Painting the French doors black (maybe…is that dated now?)
— New hardware for the doors
I'd love to replace the gray Gus Modern sofa with something completely different. Don't get me wrong, this is a great sofa, but I've had it for 10 years and am just ready for a change. The same goes for the coffee table. The ibex rams heads are insanely gorgeous, but change is calling my name.
Once I get all this figured out, it's time for the home gym. I have a Peloton bike tucked away in there now, but it's surrounded by random junk and doesn't feel inviting. Gearing up to work out is difficult enough…let alone in a sad storage room filled with castaways. I want this space to feel zen. So what do you think? Did I pick a good room to makeover? Have any suggestions? Have you done the One Room Challenge? Have some advice? I'd love to hear what you have to say in the comment section below!



Discover More Modern Eclectic Home Decor Ideas
Check out these top affordable home decor picks from Amazon must haves, Walmart, and Target to spruce up your room.
When I style my coffee table and bookshelves, I have an abundance of decorative coffee table books on hand. Check out my list of go-tos.
If you're struggling to arrange your living room layout with a fireplace, here are five furniture layout options with expert interior design tips.
If you're looking for fireplace mantel ideas, I've got ya covered.
If you're on a tight budget, check out these cheap outdoor furniture and decor picks to jazz up your backyard.
If you're looking for affordable original art, here are my super secret sources. Read now and tell no one.
Wanna know how to make your home look expensive? Get my top 8 tips!