Yep, you read that right. Maybe you've already caught a few glimpses of the chaos on my Instagram Stories, but in case you haven't heard, The Boy flooded the basement in new house. Yep, the one we JUST bought. He filled the sink in our laundry room and walked away to get coffee with the water running. I love a man who likes whites bright, and God bless him for being one of those guys who can do their own laundry, but he made one giant mistake. After filling his coffee cup, the sink wasn't totally full, so he decided to check his work email…just really quick. I mean, how many times have you done that, right? Fast forward 30 minutes later, and my phone was ringing.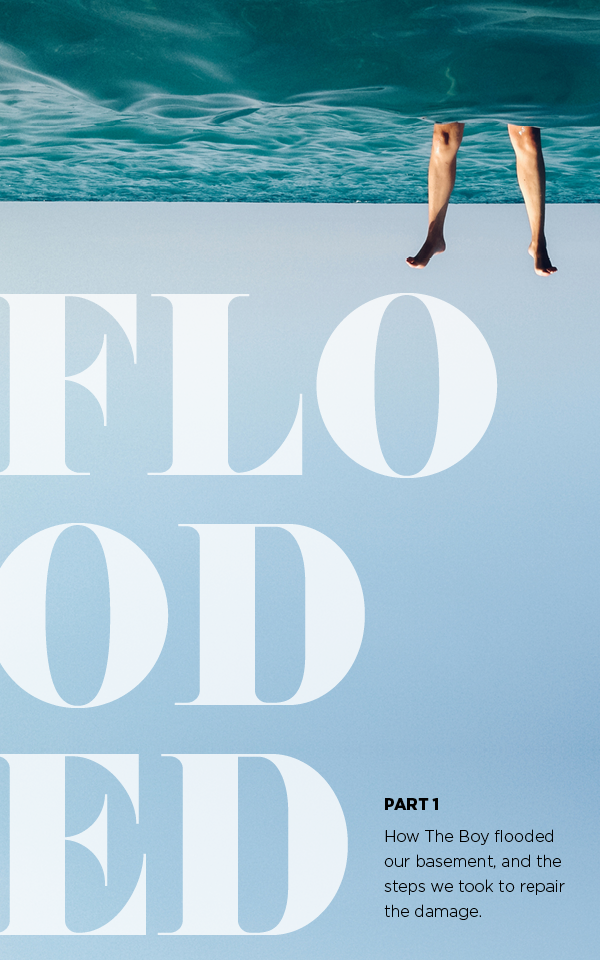 MORE AFTER THE JUMP…
It was early morning and I was half asleep, sitting on a Metra train bound for Chicago:
"Please don't hate me; it was an accident." Oh crap, the last time I heard this is was followed up with, "I totaled the truck." I immediately woke up.
"Are you okay?!?! Are the kids okay?!?!"
"I'm okay, but I broke the basement."
"Huh? What do you mean you broke the basement? Oh shit…how bad?"
He explained what happened, and in my head I was like, well how horrible could it be, right? It's a sink, not a burst pipe. He said probably some new drywall. Meh, that's totally doable. In my head I quickly did the math and thought under a grand for sure.
He said, "Momma, it presently sounds like it's raining in our basement," and he was waiting for Serv-Pro (whoever that was) to assess the damage.
"Ummmm, okay? Can you send me a picture?"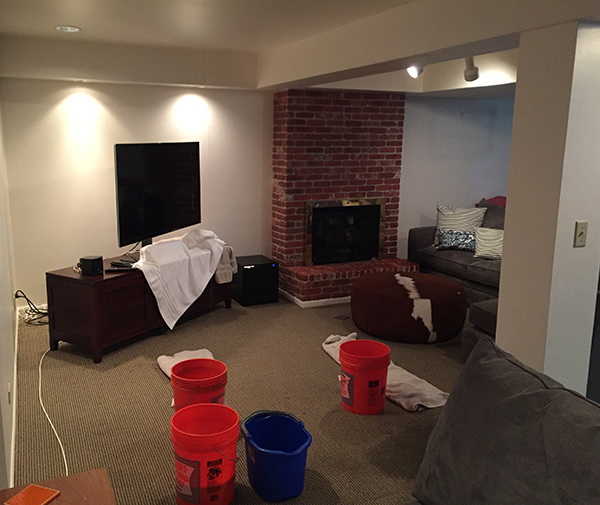 Not too bad, right? Lots of orange buckets, but it didn't look like it was pouring in like a waterfall with huge gaping holes or anything. I felt a sigh of relief and the feeling of sheer panic left my body. He had this under control. My train was pulling into the station which meant I was about to lose cell reception…besides the disaster clean-up guys were at the door. He had to go too.
When I got to my office, The Boy had texted me a few more pictures. Hmmmmm.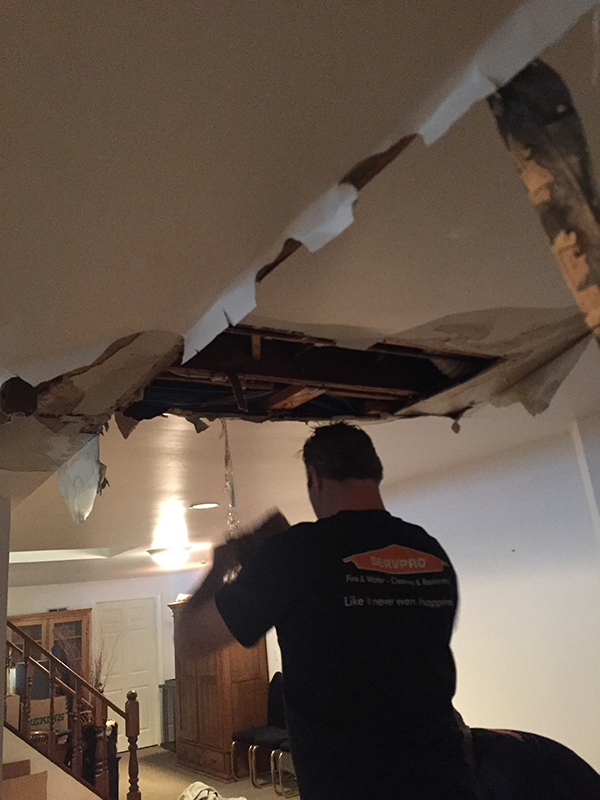 There were 2 guys in my basement ripping open the ceiling…well that's not good. Wonder if they'd have to rip out that really ugly fake fireplace? PLEASE have to rip out the really ugly fireplace. 1970s called and it REALLY wants its fireplace back. Besides the stinky, dirty carpet, the fireplace was like the numero uno thing I wanted outta there. It's one of those unvented things and the home inspector scared us silly by telling us how dangerous it was. But no dice. The sucka was bone dry. It wasn't going anywhere.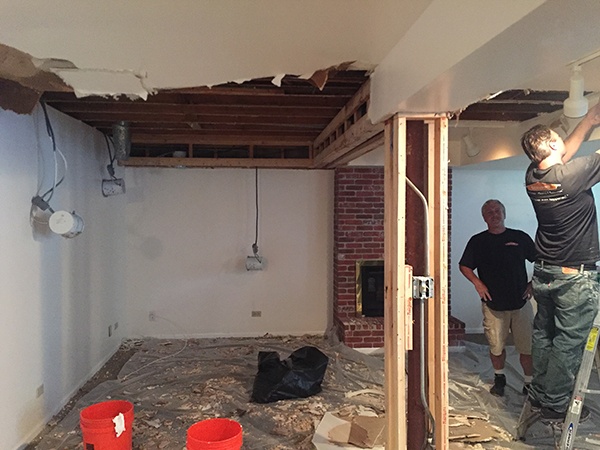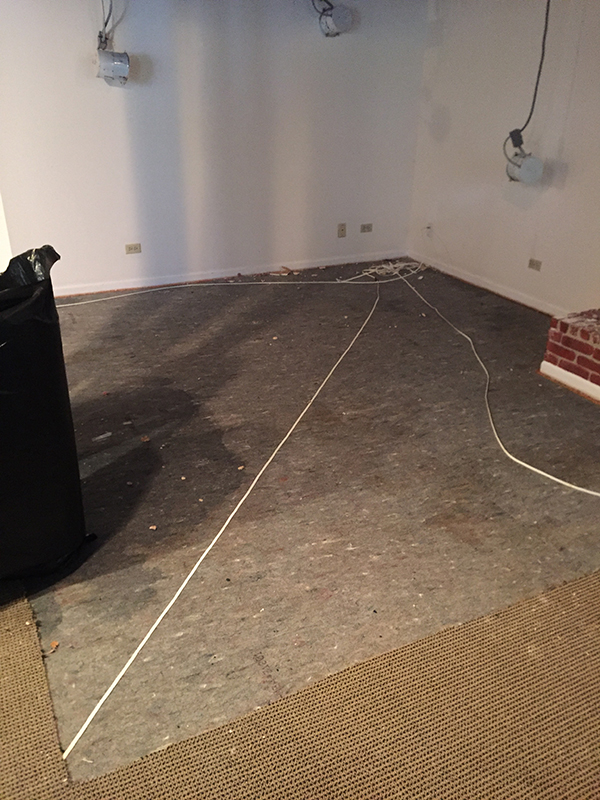 A couple hours later I received a few more pictures. Wow, the ceiling was completely gutted…pot light strung out on conduit hanging from wood beams…wait, where's my stinky carpet? This was a sink that overflowed! Could the damage really be this bad? What is happening over there? I went to lunch, and I sat in silence.
BTDubs, scroll back up and tell me if you think the one guy in the back is enjoying ripping my basement to shreds by the looks of his smile. LOL. Seriously though, I got to meet these two guys and they were sincere and super helpful. They might have had a group hug with The Boy.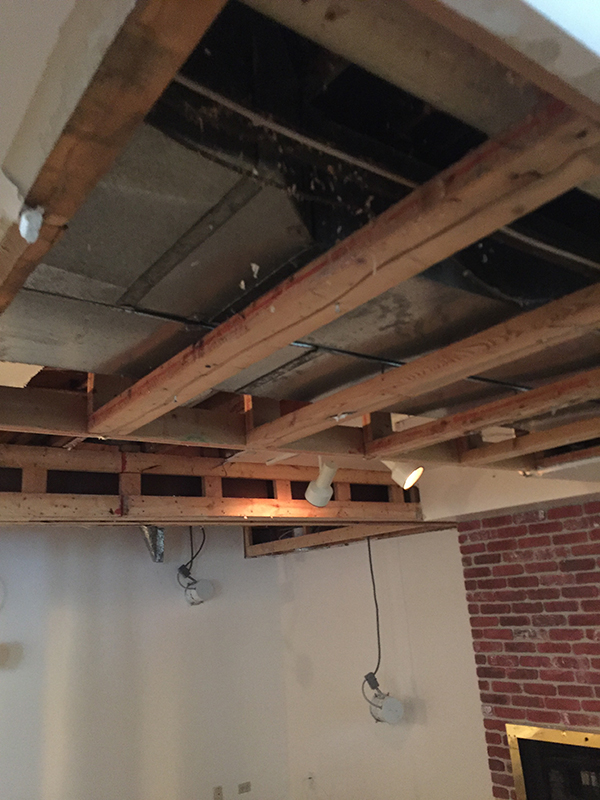 Once I got home, I got to see the damage in person. That's when it really sunk in. OOOF. This was bad…like really, really bad. Imma get me a big ol' glass of wine. The Boy apologized over and over again, but I was too stunned to think. We just sat there hoping our insurance covered the immense damage. I mean, we just bought this house. At the time we hadn't even sold the old house. We had two mortgages and renovating a basement was NOT in the cards.