Broken Basement and Luxury Vinyl Flooring
Last Updated on November 29, 2022
The other week you got to read the doozy of a story about how The Boy broke the basement. Many of you sent me sweet messages saying, I'm so sorry…oh that darn deductible. How much will that cost to fix? Can it be repaired? Chin up. This is just so awful. How on earth did a sink do this much damage? You guys, these are all the same words we've been saying to each other. Thank you for all the encouragement. So what do you do when you flood the home you just bought 6 weeks prior? You get yourself some luxury vinyl flooring!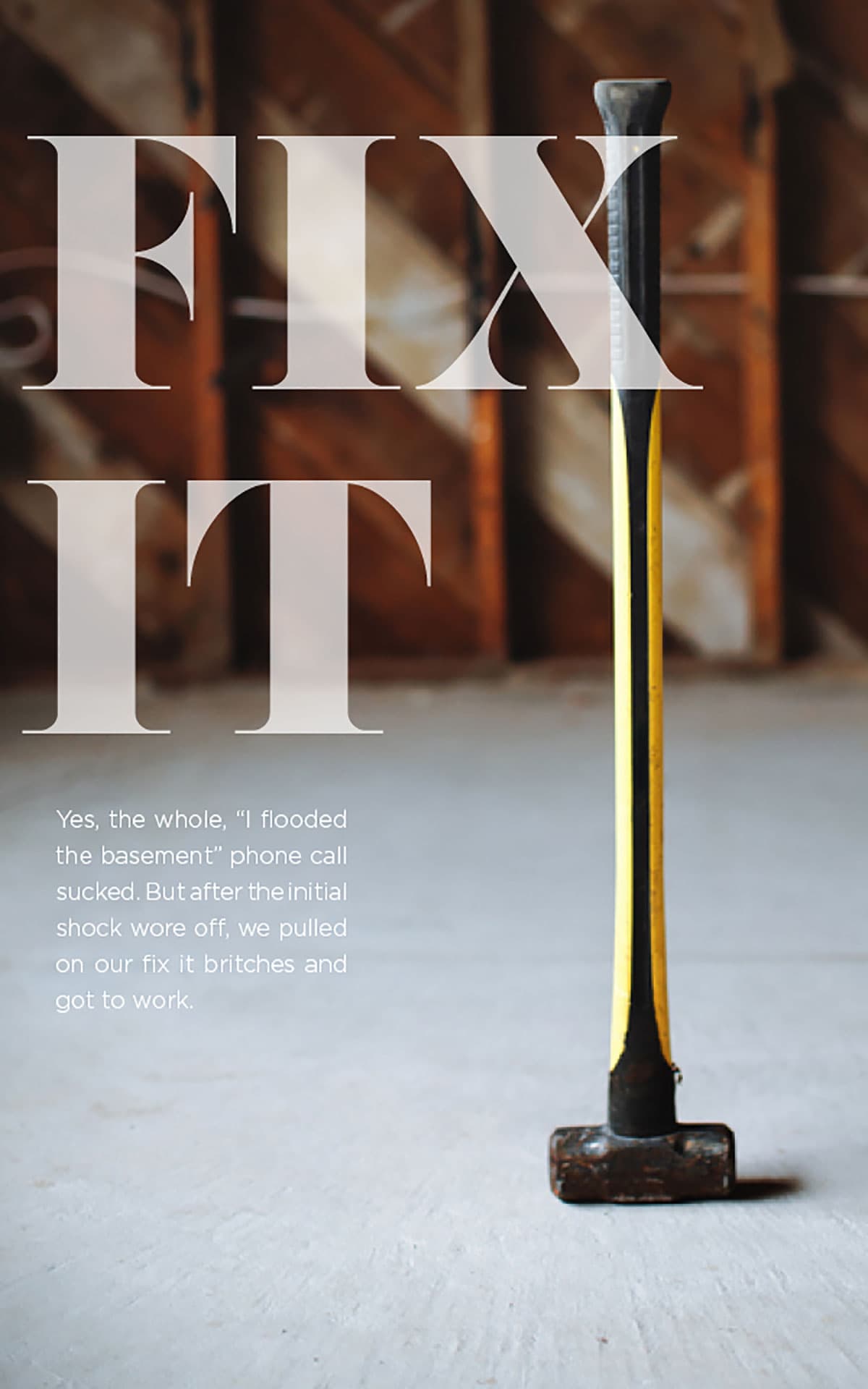 Well, to begin with, you hope to God you included basement coverage in your insurance policy…which thankfully we did. We also, unbeknownst to us, added an inclusion for depreciation. Phew. So my advice to all you homeowners out there, please go check your insurance policy…seriously, go now, I'll wait. This is important. See what is covered and what's not. If you have something precious, is it protected? What is the extra cost? Most of the time, it's not much more. Also, and this should be mentioned, this was not a slow leak. A slow leak like the one in the main floor bathroom would not have been covered. This was sudden water damage… a very different scenario.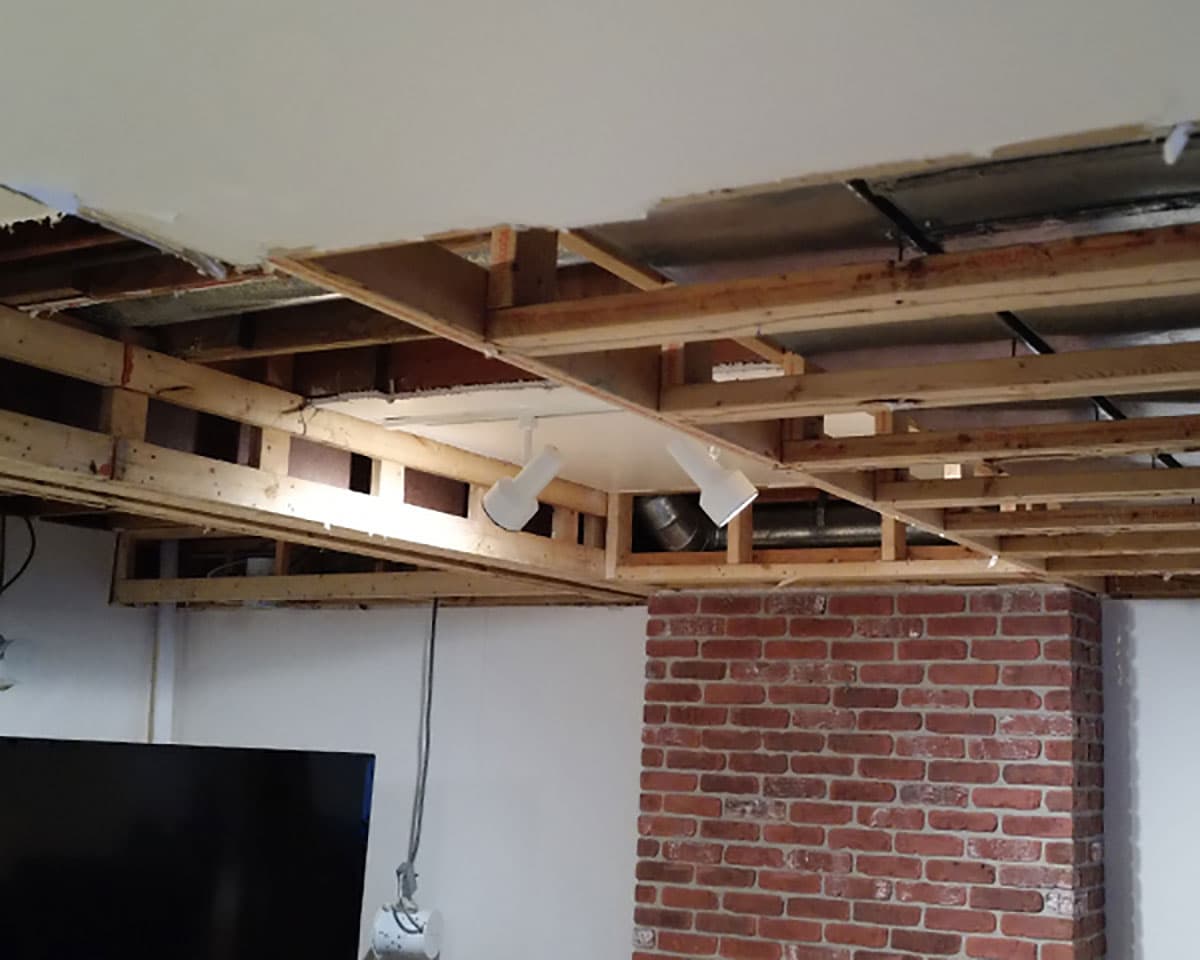 After a couple of phone calls with our agent, an insurance adjuster came to the house to assess the damage. He made a lot of notes and took a sample of our old wet carpet. Serv-Pro returned to check up on the drying process to determine if additional drywall needed to be removed. Also, the reason why there was soooooo much damage was that the water drained into the dryer vent on the main floor and found every single piece of conduit to flow into. It spread and basically, for lack of a better word, burst through the ceiling when the drywall seams split.
Here's the scene of the crime. Doesn't look like that big of a deal, right? To the left is the dryer…

The Flooded Basement
There was one big surprise for me. Ha, yes, bigger than the, "I flooded the basement", phone call. On the other side, behind that plumbing, is the dining room. The Boy didn't think it necessary to tell me that the water had also seeped under the wall and potentially ruined the hardwood floors. Hardwood floors that ran through the entire main floor. Oh boy Boy! Black mats with tiny vacuums needed to be placed on the flooring, and they slowly suck out the moisture to prevent cracking and peeling. Oy! This was a lot to absorb…literally. The precious dining room that I loved. The insurance adjuster explained if the hardwood was ruined, the main floor hardwood would have to be removed unless I was okay with a patch. Head in hands.

That flooring situation is exactly what happened in the basement. Since the space was an open floor plan, there were no doors or rooms to place an unnoticeable seam, all the carpet would need to be removed. I was not okay with a patch. The adjuster and Serv-Pro advised us to add humidifiers to the moisture removal process to be sure we thoroughly dried the subfloor and prevented molding. Every single piece of equipment that was brought in cost money; I could literally hear a cha-ching. Not only that, I couldn't hear myself think with all those fans. It was like I was living in a giant beehive.

On the plus side, when we first toured the house, it was wintertime. Cold and dry here in Chicago. The basement had a bit of an odor, but it was a basement, after all. Most have a funky smell. All that changed when we moved in during summer…hot and humid and dank…our basement stunk to high heaven. Think frat house after bar party with a tinge of vomit and maybe some eau de cat. Yuckers, where's the nose plug? We heard a few rumors that our home might have been the party house during the high school years of the boys that lived here prior. That explained a lot.
Why We Chose Luxury Vinyl Flooring
Before the insurance adjuster left, we talked about flooring. Yes, we had a depreciation clause in our homeowner's policy, but that didn't mean I could go all balls out on Italian marble harvested by virgin gypsies who bathed in glitter. No sir-e-bob. We would be reimbursed for flooring that would be comparable to the existing carpet if we purchased that same exact carpet today. Which wasn't much. That carpet was crap. I posed this question to the adjuster: I'm obviously going to be renovating the basement. Most people who reno install better quality. I can do that right? He gave me the answer I wanted to hear. You betcha. My mind started to race…new flooring, new project, new fun. SHINY!!!!! HEART EYES!!!!!
BTDubs, once the carpet was removed from the premises, the basement no longer made me want to gag. So that was a small win for The Boy…he's one foot outta the doghouse.
I asked Mr. Adjuster what he thought of laminate hardwood. His answer was, "Well ma'am. If you by chance have another water incident, laminate has only a paper-thin layer of wood on the surface. More often than not, that will lift and peel. You will probably have to replace it if there is another water incident."
I asked him what he thought of tile. His answer was, "Well ma'am. I have small children like yourself. If my kids had a pool table like you, with my luck, they would drop a ball and crack the newly installed tile. Just sayin".
Ok, dude, hardwood is off-limits. Do you have any suggestions? "I'm sorry ma'am, but I'm not allowed to make suggestions."
Tricky little guy. Ok, let me ask this another way. If you had to renovate your basement and could install any flooring your little heart desired, what would you shop for? "Well ma'am, I'd look at vinyl." VINYL????? I crinkled up my nose big time. Woof. Ummmm, ya no. Forget I asked. And I'm sure you'd buy an Uncle Buck couch with a beer cooler and cup holders in the armrests. Sorry, buddy. All I see is that barf green cracked linoleum when you say vinyl…not my style.
Later that night my mom and dad called to check in on the status. I filled them in on everything that had happened while simultaneously googling vinyl flooring. I couldn't help myself. So, uh, did you know there was a new LUXURY vinyl? Ya, I'm not kidding. We're talkin' luxury vinyl flooring that has been featured in Elle Decor. Vinyl that pretty much looked just like hardwood! Holy put both hands on your cheeks emoji and shut that front door! You've gotta be kidding me? Forgive me Mr. Insurance Adjuster for totally judging you and saying you had Uncle Buck furniture. Mrs. Snarky McSnarkerson just got schooled.
My mom was a seamstress back in the day at a local interior design and home decor store called McGann's Furniture. She trusts their opinion, and since we were both unfamiliar with luxury vinyl, we needed some edumacation on it. She drove across town the following day and after a bunch of questions and photos being texted to me, the owner of McGann's helped me narrow our flooring down to two companies. The one I ultimately fell in love with was Karndean. I stalked them on Instagram and basically drooled all over my phone.

Beautiful flooring inspired by both stone and wood. Ya, they weren't helping me narrow my choices. Flooring that was durable, looked realistic, easy to clean, and most important, water-resistant. Bring it Karndean. Boom!
Vinyl Flooring That Looks Like Hardwood
I've been really drawn to the more on-trend gray hardwoods, so I ordered up some samples. The first pick was Opus Grano. A gorgeous light gray timber look, very modern. Then there was Knight Tile in Lime Washed Oak. This was more sun-bleached driftwood in planks that looked worn. Swoon. We picked out a few more and lastly, I found Da Vinci Limed Silk Oak. Slim wood-like-looking planks that made a statement with the grain. BTDubs, another I adored was the black parquet oak but because it was all black in the basement, I was slightly hesitant; however, I soooooooo want to see someone do this in their home! It's rad.
Karndean has an online gallery, so you can kinda gauge how the luxury vinyl will look when installed, but I still needed samples. I can't make a decision like this, without seeing the product in person. Ya know? Too big of a commitment not to touch and feel it.
So what's the next step? Well, everything that was wet is now gone. We are gonna hope and pray the hardwood in the dining room dries out. I'm so not prepared to tackle 2 floors of flooring repairs so wish me luck there. I'm calling up Gerry (the contractor who did the ORC bathroom) for drywall installation and to fix the pot lights, and the painters will repaint the walls while I'm waiting on the samples to be delivered. Stay tuned and wish me luck!