Karndean Vinyl Flooring Install
Last Updated on November 29, 2022
We are going strong here in renovation land, and I gotta say, install day is quickly becoming the Kyla's really happy day. It's when everything comes together, and the vision that's resided inside my head transforms into reality. AHHHHH! Last Monday, I shared the tile install in the basement bathroom, and today I'm sharing the Karndean vinyl flooring install. It looks incredible, and I'm so excited to share it with you. Somebody better PINCH ME!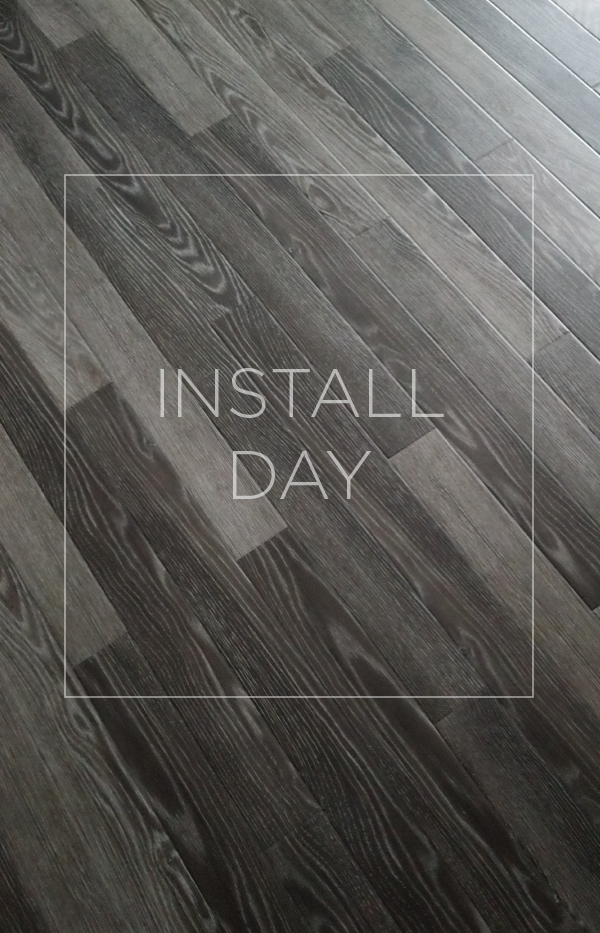 Drywall and dust, that's where the basement reno update left off last week. After the mudding dried, Gerry could sand and smooth out the seams.  We also brought in our sound guys to install all of The Boy's gizmos and gadgets. Being German, he needs order, and you mustn't have cords laying about willy nilly. Thanks to his OCD, all cords are neatly tucked behind drywall and the TV and speakers have been hung. Don't ask me how any of them work though. I'm completely clueless and have since requested a remote where all I have to do is press "ON" or "OFF".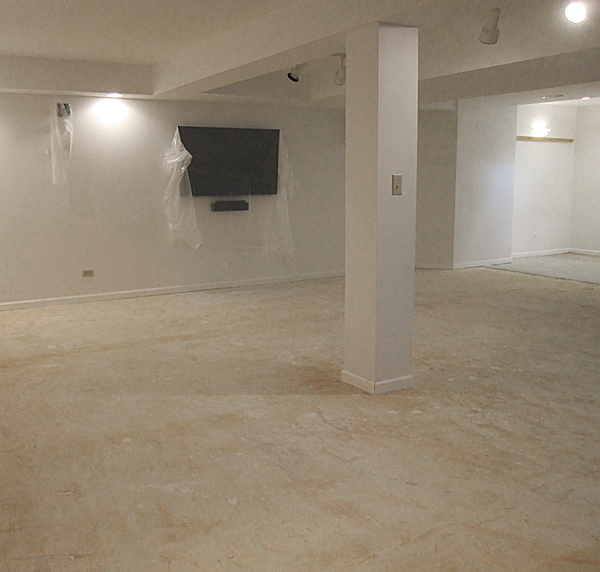 The painter knocked out the entire space in Sherwin Williams Snowbound, and just like that, the dark, dingy, frat house smelling basement is singing Outkast, "So Fresh and So Clean". To get ready for the vinyl flooring installation, we moved everything that was shrink-wrapped to one side of the room. Skim coat time! Picture me wildly excited…oh BTDubs, moving furniture means moving the vintage photo booth and having professionals disassemble the pool table. Did you know you're not supposed to lift a pool table for fear that you'll crack the slate? Ya, neither did I. Oh, and if your felt is full of tiny rips from the pool cue (or little hands), it also has to be recovered with new felt. High five for spending more money…blerg, but that's where we're at.
If you missed last week's post, we ordered a few different samples and wound up choosing a gray wood-designed vinyl flooring by Karndean in a color called Limed Silk Oak. Out of all the samples, it was the only option available in a narrow plank…and that was purely for personal preference. The new home feels more formal, and I associate narrow planks with being a bit more polished. Wide plank feels more casual to me. Anyhoo, back to install day…let's skim coat, shall we?
Let's Lay The Karndean Vinyl Flooring
Oh, and see those stairs down there…hmmm…I need a plan. Runner? Paint them black? White railing? Decisions, decisions.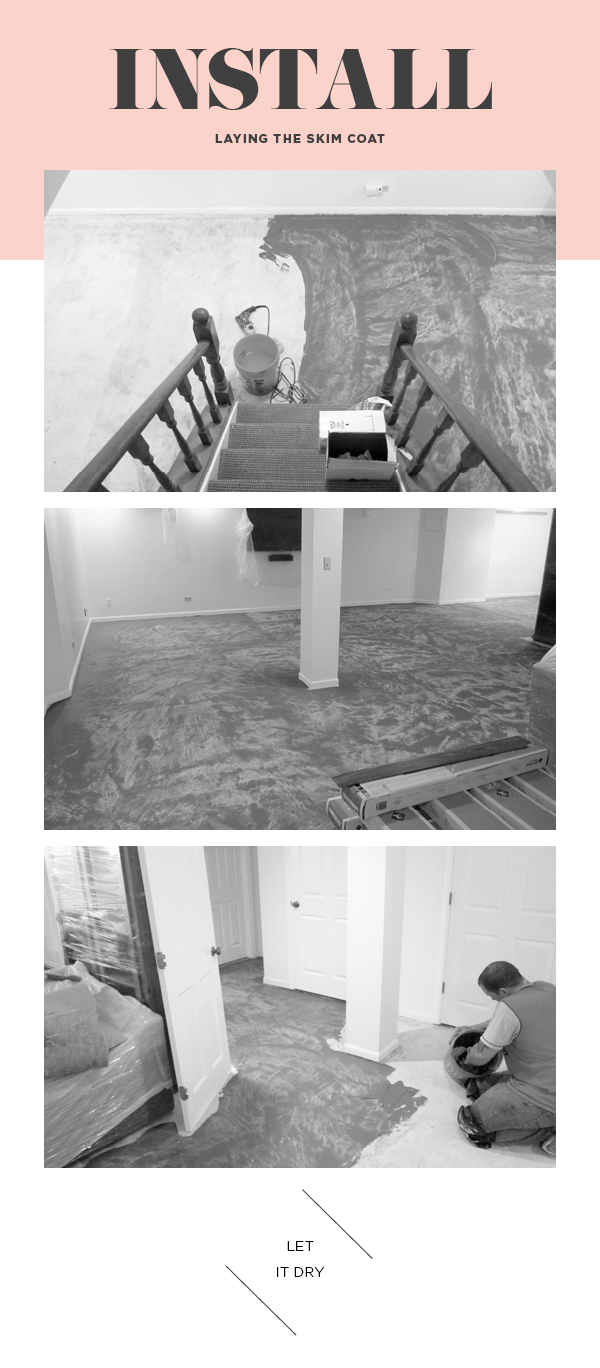 Okay, get ready for me to become wildly excited. DO YOU KNOW WHAT'S NEXT? Bet your bottom dollar that it's finally floor time which means get your house back to normal time! This means OMG, my kids can have their play area back. Which means less stress, less chaos, less madness. Serenity now!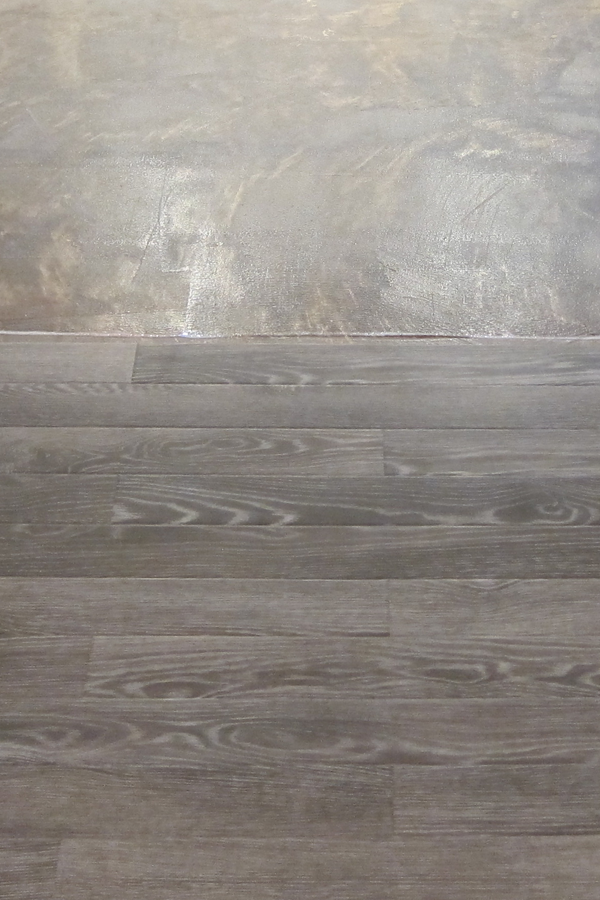 SRSLY, if you told me this was real wood, I might believe ya. Just sayin'. Wanna see more? Let's have a looksy. I'm dying from impatience!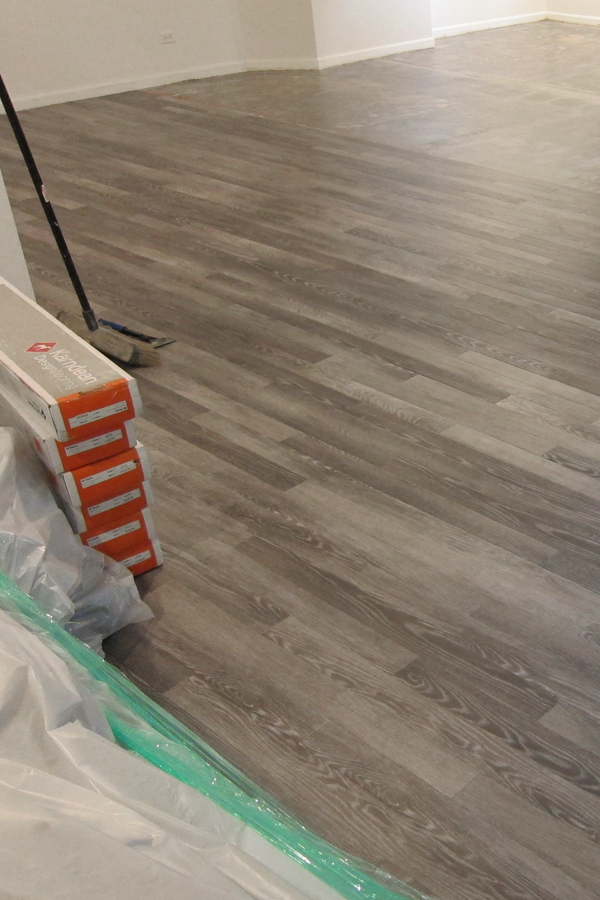 Almost done!!!!! Want one more sneak peek before the final reveal? Okay good, cuz I can't hold it in anymore. This is the moment I've been waiting for…and just so you know, I'm shakin' it like a polaroid picture…shake it, shake it.

Ta-da!!!!! What do you think? Do you like the gray? What about the narrow planks? Good decision? Stay tuned for a final reveal. TTFN!
More Home Improvement and Renovation Projects
The Broken Basement and Luxury Vinyl Plank Flooring
How To Install A Ceiling Medallion