Home Tour – Ashley Redmond's Tiny Treehouse
Last Updated on December 2, 2022
A couple of years ago, I virtually met Ashley Redmond when we worked with Decorist to redesign my guest bedroom. I must admit, I had a tiny girl crush on her when I checked out her portfolio. She's this super cool interior design chick, who has killer style and practices yoga…and she was going to help me design a room in my house. Eeeep! Yup, right then and there I pretty much want to be Ashley when I grew up. Just sayin'.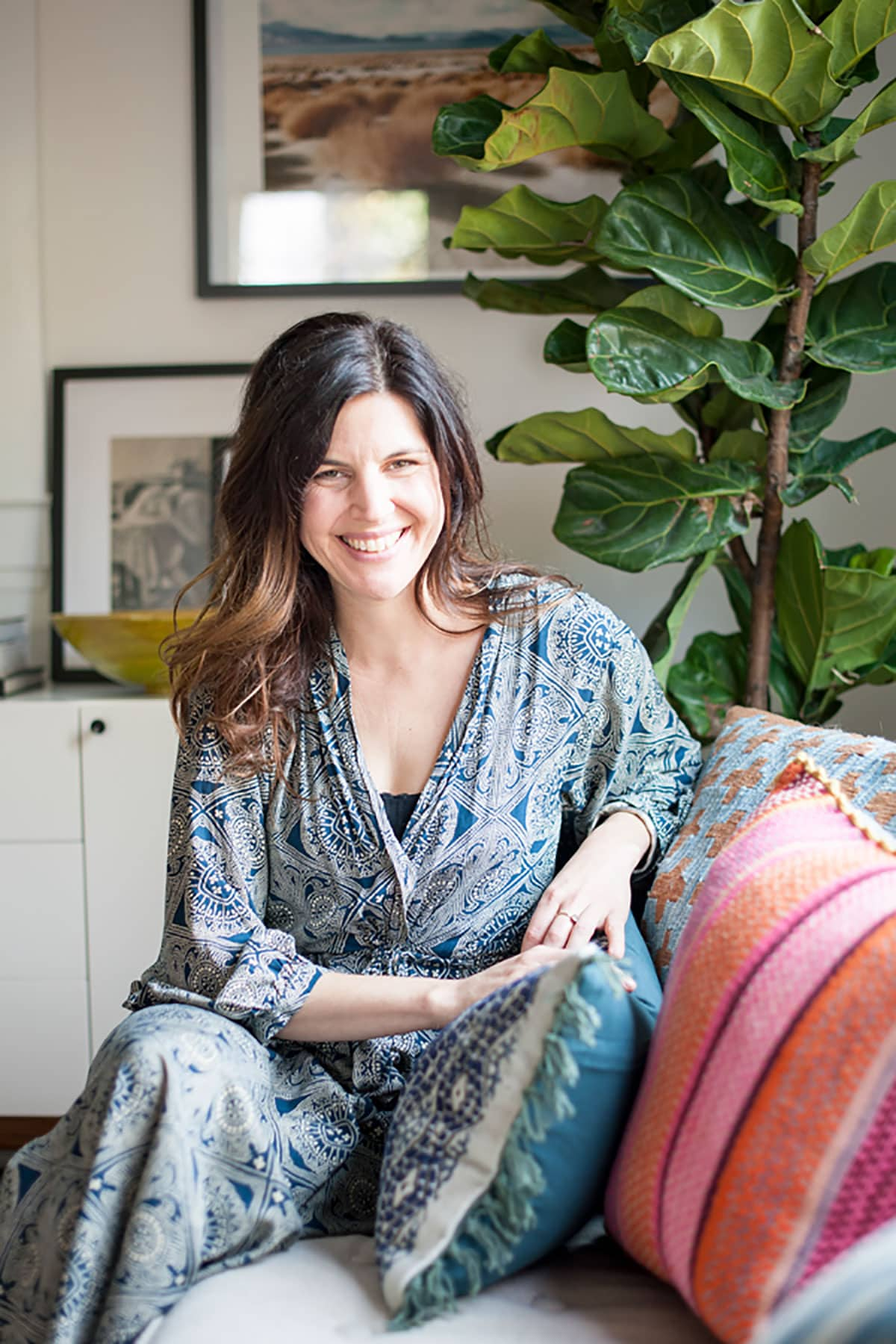 All photography by Julia Sperling.
We were a great match up too because her design aesthetic is right in line with mine. A little mid-century modern, a touch glam, and oh what the heck, let's mix in a funky touch of boho shall we? SRSLY, mixing rattan with some brass shazam is the bomb dot com.
I got to meet her in person at The Seattle Showhouse…for me, that's kinda like meetin' The Beibs. She's the designer behind the incredibly gorgeous dining room, kitchen, and seating area.
Most recently, we teamed up for the Decorist DesignOff, and that's when she spilled the beans on The Tiny Treehouse. I'm sorry, what? Ya, you read that right, she owns a gorgeous 500-square foot "treehouse" in the woods of Larkspur, California in Marin County. I was chomping at the bit to see the photos, but she said, "girl, you've gotta wait for Apartment Therapy to give the first reveal". Darn it! I kept checking, is it live yet? Is it live yet? Is it live yet?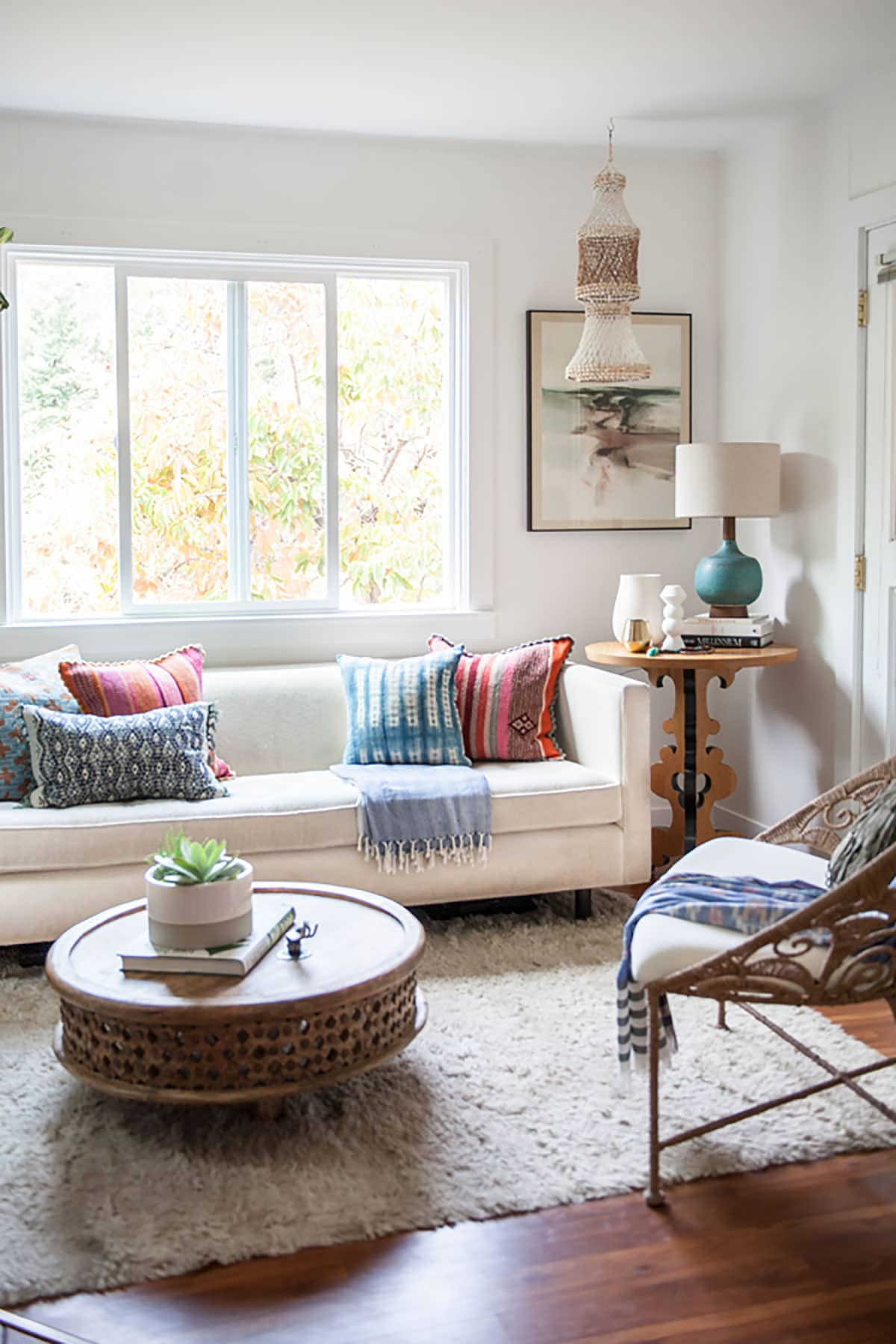 Finally, my wait was over, and let me tell you, it was worth it. Every nook and cranny is styled to perfection. The design – intentional, but completely laid back and chill…just like Ashley. Please, pretty please, let me showcase the treehouse and share your space with my readers on House of Hipsters??? Much to my surprise, she said, "Heck ya!!!!" So welcome to the very first Home Tour on HOH, featuring my sweet friend Ashley and her Tiny Treehouse.
Interview With Interior Designer Ashley Redmond

Can you tell me about where you live and what inspired the look of your home?
Ashley Redmond: I live in Larkspur, Ca. in beautiful Marin County, right over the Golden Gate Bridge from San Francisco. I call my house The Tiny Treehouse! It is up 47 stairs in a canyon of redwood trees with nothing but views of Mount Tamalpais and leafy treetops from every window. It's pretty magical!


The theme of the house was definitely a bohemian, rustic, laid-back vibe. The living room has a 70s design style wood-burning fireplace that is on every night in the winter and completely guided the design of the space. There are so many windows in the house that I really wanted to keep the lightness and brightness that naturally exist.
Before I moved in I had the whole house painted Benjamin Moore Super White which was the backdrop for the design. I wanted the light to just bounce around everywhere!


And bounce it does. The entire space is so fresh and so clean. Sometimes white can be sterile, but not here. The Tiny Treehouse seems to be bursting with color. When we worked on the guest bedroom, I remember I asked you about paint. You suggested white. I can't thank you enough for that advice. 
What would you consider the style of your home to be?
Ashley Redmond: My personal style is hard to define. As is probably true for most interior designers. You are inspired and attracted to so many different aesthetics that sometimes it is hard to pin one down for yourself.
I completely understand that! I have never been able to explain mine either and feel like it's ever-changing. 


Ashley Redmond: I really wanted this space to feel very bohemian. The space naturally felt that way to me. Living in the treetops, enjoying the indoor/ outdoor space – rustic bohemian with a lot of white just felt right!

What is it that reflects your personality in the space?
Ashley Redmond: All of it! The space is very me. It's laid back, it's not fussy. It's bright, it's comfortable. I love that there is a lot of white, with pops of bright pattern and color. I love all the texture in the space, in the furniture, and in the textiles. I hope it's welcoming! I love to create a space that people feel good to hang out in.
I think not fussy, bright, and comfy is the perfect description of your home. I would totally feel comfortable putting my feet up…that is, as long as I took my shoes off after that 47-stair trek.
One of my personal favorite design elements in your space is the denim jeans on the walls. Can you tell me what inspired that?

Ashley Redmond: The intense need for more storage space! I am a jeans-aholic and my jeans were piling up everywhere — I remember at some point I saw some display at a retail store of jeans hung casually on the wall and I really loved that look. I love the color of jeans, I love the durability and rawness of them so for me it's as much art as a utility. Plus like I said, storage is at a premium at the tiny treehouse!

Ashley! This might be one of my favorite small space solutions ever. Incredibly clever m'lady. BTDubs, I'm crushing on your rattan headboard and how you mixed the boho style with those modern brass sconces. It's pure perfection. 
Out of everything in The Tiny Treehouse, what is your favorite piece?

Ashley Redmond: I love the rattan light over my kitchen table. It was one of the first things I bought for the space. I love how it defines the space without being too big and gives you something to look at right when you enter.
I'll bet ya the light just dances like a disco ball outta that baby at night. It truly is gorgeous, and I can see why it's a favorite. 
Where do you find yourself spending most of your time?
Ashley Redmond: I am always at my kitchen table. I spend a lot of time designing there. I cook there. I eat there. I love to sit there because I have a great view of the mountains and the treetops and it feels very inspiring to me.

What is your favorite meal to cook? 

Ashley Redmond: I love to cook vegan food – these days I am constantly running out the door, so I don't get to spend as much time on the weekdays in the kitchen as I would like. Daily I make a very green smoothie filled with spinach and kale and superfoods as my second breakfast. My other favorite meal is any kind of grain bowl – it's simple, doesn't take too long, and is really nutritious and delicious. You can easily change up the dressings to give it a Mexican flavor, middle east tilt, etc… Simple, quick, and healthy are my favorites!

And the million-dollar question that we are all dying to know. Where is your favorite place to shop for home decor? 
Ashley Redmond: I think an easier question may be where do you not like to shop! I can usually find good stuff EVERYWHERE! I love vintage so I am constantly scouring Chairish, eBay, and Etsy for finds. OKL, Urban Outfitters, and CB2 are some of my more mainstream go-to's. There are a couple of shops in the Bay area I am constantly shopping for. Bay Home Consignment in Berkeley and Stuff in San Francisco are favorites. I love me a good flea market – the Alameda Flea Market here in the Bay and the Rose Bowl in LA are favorites!

Girl, I'd love to go to a flea with you! And Stuff! Clutch the pearls…you gotta take me there. One of these days we gotta make it happen. Thank you so much for sharing your home with us, my dear. I can't wait to see what you design in 2017.  
Love Ashley's decor style as much as I do? Want to work with this talented lady? Check out her portfolio here.
All photography by Julia Sperling.
Check Out More Home Tours and Decor Inspiration
I have this home tour that I like to host called the No Makeup Home Tour. It's where I and a bunch of my decor friends share a real glimpse of our homes. The good, bad, and the ugly.
Here's the very first No Makeup Home Tour I ever hosted.
Check out this mid-century modern minimal home in Denver – Marianne Brown's Home Tour
OMG, what a surprise! House Of Hipsters Home Tour is live on Refinery29!
Looking for some Holiday Decorating Ideas? I've got you.
My friend Carrie has the most amazing style and her home is no different. Tour her 80s Modern Home In Chicago.