Rattan Lighting
Last Updated on June 28, 2023
After sharing my 2022 interior design trends predictions, I was asked over and over, where can I find can and rattan lighting like what you shared? Ah, good question! And since my best cane furniture post is trending, I figured I should get right on that. Besides, shopping is what I do best, so today, I'm sharing my favorite rattan lighting for every budget, including some beautiful rattan pendant lighting.
Shop Petal Pendant Above
RELATED: Cane furniture is trending hard in the interior design world, Check out my top picks.
Affordable Rattan Ceiling Lights
I absolutely love decorating with rattan and cane lighting in my home. The natural materials add texture and depth to a design. Most everything rounded up below is affordable, but if not, I tried to call it out in the links.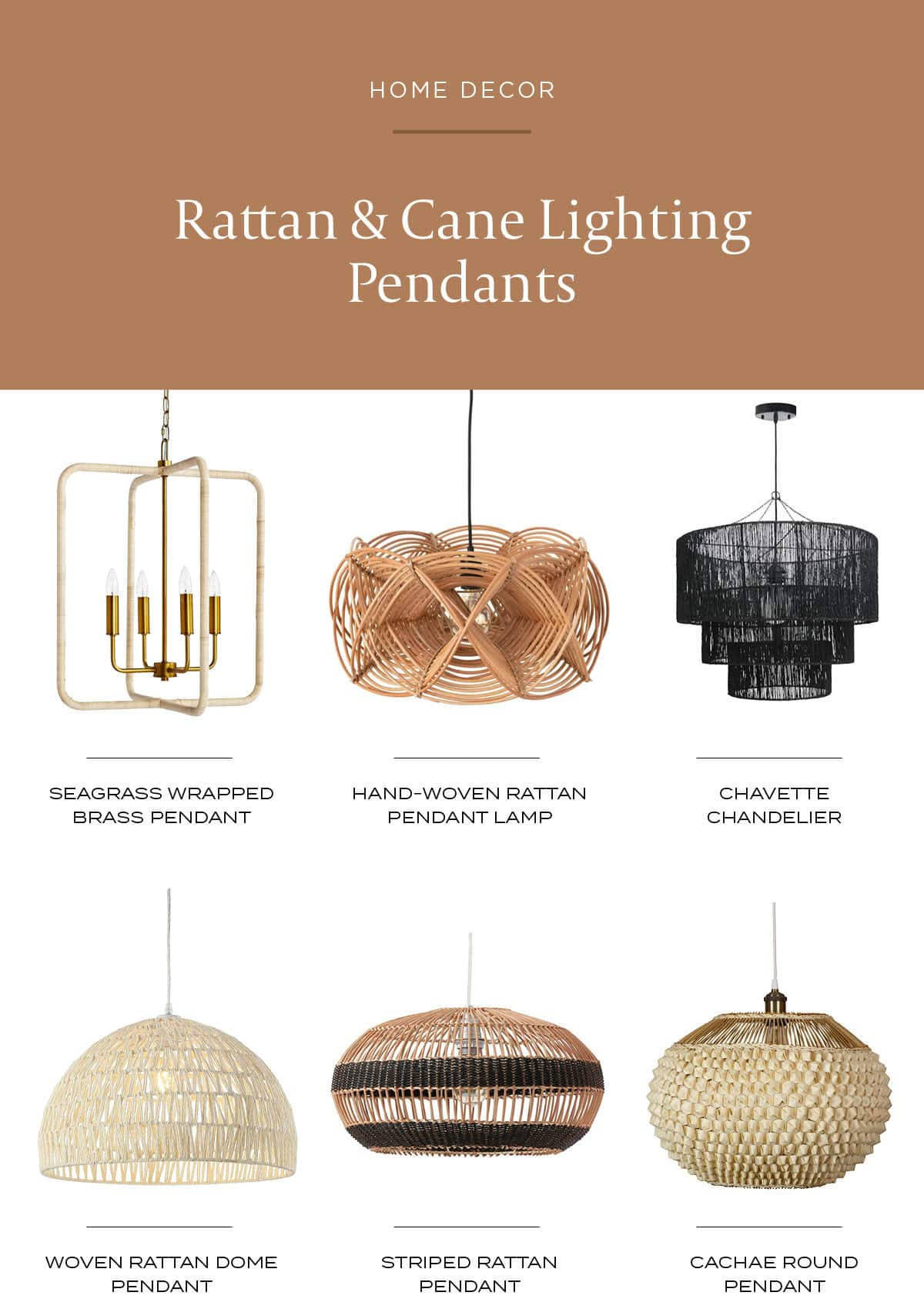 Seagrass Wrapped Pendant Lighting – a steal at $200
Hand-Woven Rattan Pendant Light – NO LONGER AVAILABLE
Chavette Chandelier in Black– one of Lulu and Georgia's best sellers
Woven Rattan Dome Pendant – under $80
Striped Rattan Pendant – a steal of a deal for lighting under $30
Cachae Round Pendant Light -under $150 – I love the unique texture of this light


DO IT YOURSELF! Learn how to change a light fixture with this simple tutorial.
The best way for rattan and cane lighting to stay modern and not lean too bohemian is to stick with clean lines or have the shape be more sculptural. I found this affordable sculptural light which is a great example.
Rattan Pendant Lighting For The Kitchen

Black Rattan Pendant Light – NO LONGER AVAILABLE
Lilou Split Reed Pendant Light I love the look of split reed, but if you live in a dry climate, you may have to condition it to keep it from separating.
Large Seagrass Dome Pendant – how perfect would this rattan pendant lighting be over a breakfast table?
Jude Pendant – this striped rattan pendant light is pricey but beautiful
Wicker Nest Pendant – under $150 and has amazing texture, which is perfect when decorating with neutrals
Rope Wrapped Rattan Pendant – just a smidge over $100
RELATED: Elevate your hallway with these boob light replacements.
Unique Rattan Table Lamps

Black Woven Rattan Table Lamp has that boho nautical look.
Brass and Rattan Lamp – NO LONGER AVAILABLE, which is a bummer because this might be my favorite, with its glam brass base and unique rattan-wrapped shade.
Rattan Rope Table Lamp – I love the nautical look of this lamp.
Split Reed Table Lamp – a steal of a deal coming in under $100 and reminds me of the vintage rattan light I had in the shop that I regret selling.
Brass Wrapped Brass Lamp – reminds me of the floor lamp in my home office with the rattan wrapping around the base.
Natural Rattan Table Lamp – this affordable rattan light rings in under $60.
I did manage to find an almost exact dupe to the aforementioned floor lamp, but unfortunately, it's the same price point. However, the wicker shade is quite magical in the evening. Speaking of floor lamps, this petal lamp is so beautiful. However, if you want the look without the rattan wrapping, here is an affordable brass dupe.
RELATED: If you're looking for unique lighting, you must check out these page full of light fixtures.
Rattan Floor Lamp With Cane Wrapping

After searching high and low to find a dupe for this Celerie Kemble rattan table lamp from Arteriors Home, the closest I could find was this one. However, it's still pricey, and I feel like you could find a dupe of this dupe at a second-hand store.
RELATED: I teamed up with Lamps Plus to share my favorite bedroom lighting.
Wall Sconces With Cane And Rattan Shades

Since purchasing these Serena and Lily rattan shade wall sconces for the guest room makeover, I've spied similar for less. I should have shopped around to save a few pennies.
Modern Brass And Rattan Wrapped Wall Sconce – this does require hardwiring.
Cane Wall Sconce – when this bad boy is on, it throws the most beautiful glow
Plug-In Swing Arm Wall Sconce – yup, you read that right! This is a plug-in sconce. No hardwiring required.
Iron Wall Sconce – NO LONGER AVAILABLE
Bronze Plug-In Wall Lamp – another plug-in. No wonder it's one of the popular picks.
Wrapped Brass Wall Sconce – pricier, but Hudson Valley Lighting's quality can't be matched.
Favorite Modern Rattan Ceiling Lighting
Couldn't help myself. I had more pendant lighting and a couple of chandeliers that were too good not to include. I promise these are the last few.

Rattan And Cane Branch Lighting – now, this is what I call statement lighting.
Georgia Chandelier – shown in my interior design trend report
Natural Rattan Chandelier – a pricey pretty kitty but when it comes to rattan lighting, Arteriors Home is always on point
Three Light Pendant – I was shocked when I saw this rattan pendant light was under $325!



Discover More Home Decor Ideas and Inspiration
Have an empty corner you want to fill? A faux plant that looks real works perfectly, but if you can't keep them alive, check out my post on Best Faux Olive Trees that look real! There's also a round-up of the best faux fiddle leaf fig trees if you're looking for something a bit fuller.
It's so important to layer your lighting. In the post How To Choose The Best Bedroom Lighting, I share ideas on ceiling lights, table lamps, nightstand sconces, and floor lamps. If you're looking for boob light alternatives, check out that round-up of modern ceiling lights. Want more? Find all of my lighting and light fixture ideas on the blog.
Every year I make a Home Improvement Projects List so I know exactly what I'd like to do around the house.
The guest room closet only stored junk, so I DIY'd a Closet Reading Nook to use the space better.