Home Improvement Project List 2022
Last Updated on September 19, 2023
Back in the day, I used to publish a home to-do list. No matter how big or small the project, it was written down on the list to hopefully be checked off. Those posts basically held me accountable and gave me a visual of what needed to get completed around the house. This year I thought, why not give it a twist, set some renovation goals, and list out every home improvement project I'd like to either begin or finish working on for 2022. I must have taken my Vyvanse today because I am focused!
With Spring right around the corner, my sights are set on the backyard. Since Biltmore Country Club said, "You can't sit with us," I'm bound and determined to build a mini country club in the backyard. The deck is on the verge of a porch collapse; we have one of those portable metal fireplaces we drag around and blow up kiddie pool.
Home Improvement Project List
Call The Pool Company
Yep, you read that right. I'm going all in and looking at the possibility of building a pool. If the country club doesn't let me use theirs, Imma build my own – fingers crossed. We have a septic system in the backyard and will need to take a close look at the Plat along with work with the health department.
While perusing Pinterest, I found some srsly gorgeous pool pinspiration, but the one image that really stopped me in my tracks was this capture by Allie M. Taylor.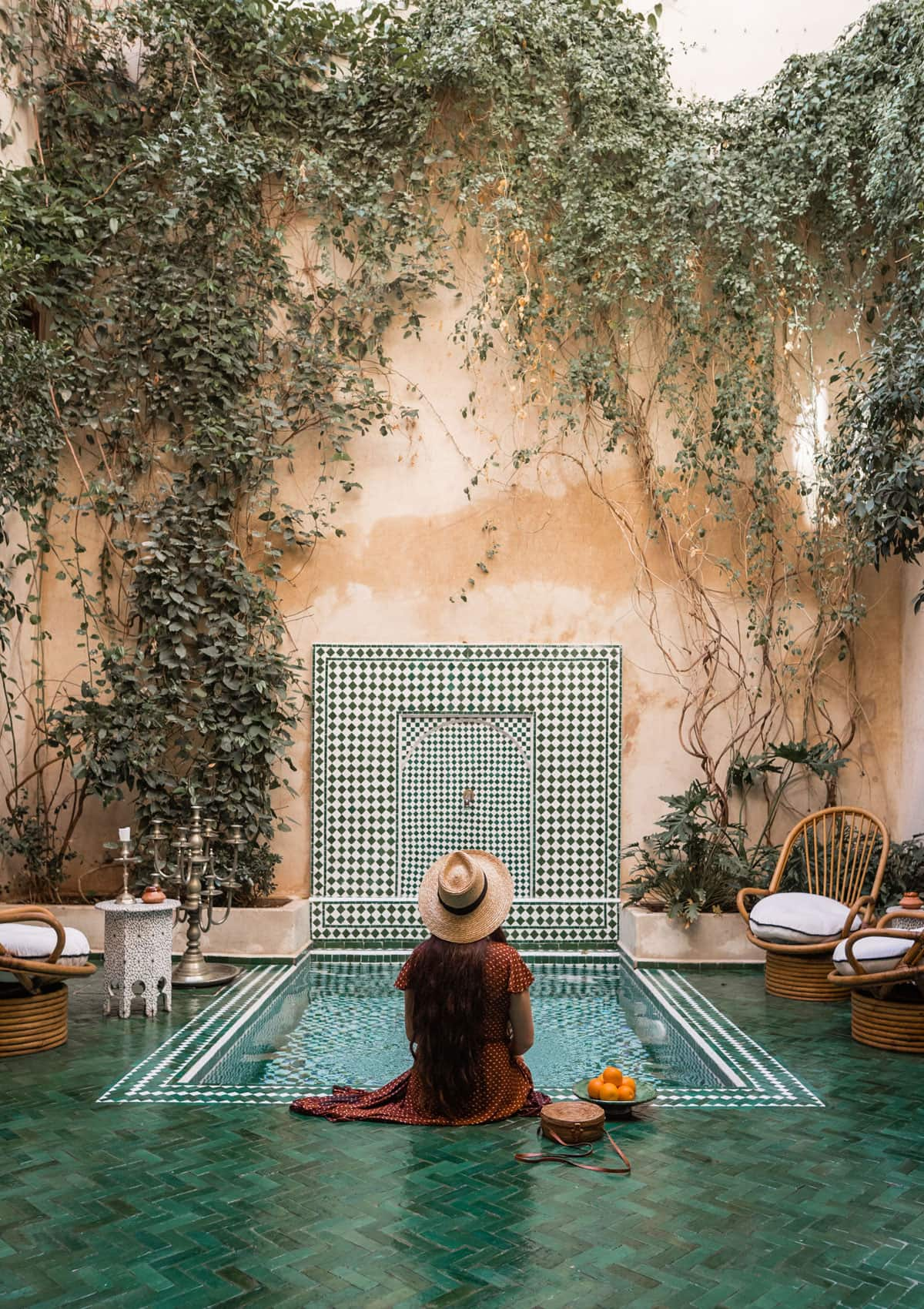 Her entire trip to Marrakesh is awe-inspiring (click over and check it out), but this harlequin tile pool. I want to transport this pool into my backyard. While I'm at it, I'm going to squeak in a patio and firepit into the budget. BTDubs, this will probably take a couple of years to finish (and pay for). Just saying.
Repaint The Living Room
Officially admitting defeat with the De Nimes paint in the living room. It's cold, depressing, and sad. I'm over it and the space needs to be lightened up. At first, I thought, let's just lighten the blue, but not I may say screw it, we're going back to neutrals. When sitting in this room, I feel like I'm living with the Purple Pig again. Next time I say, "White walls be gone! Let's play with color!", please just smack me upside the head.
The paint looks beautiful online and on my phone, but in person, it's god-awful. Peace out blue.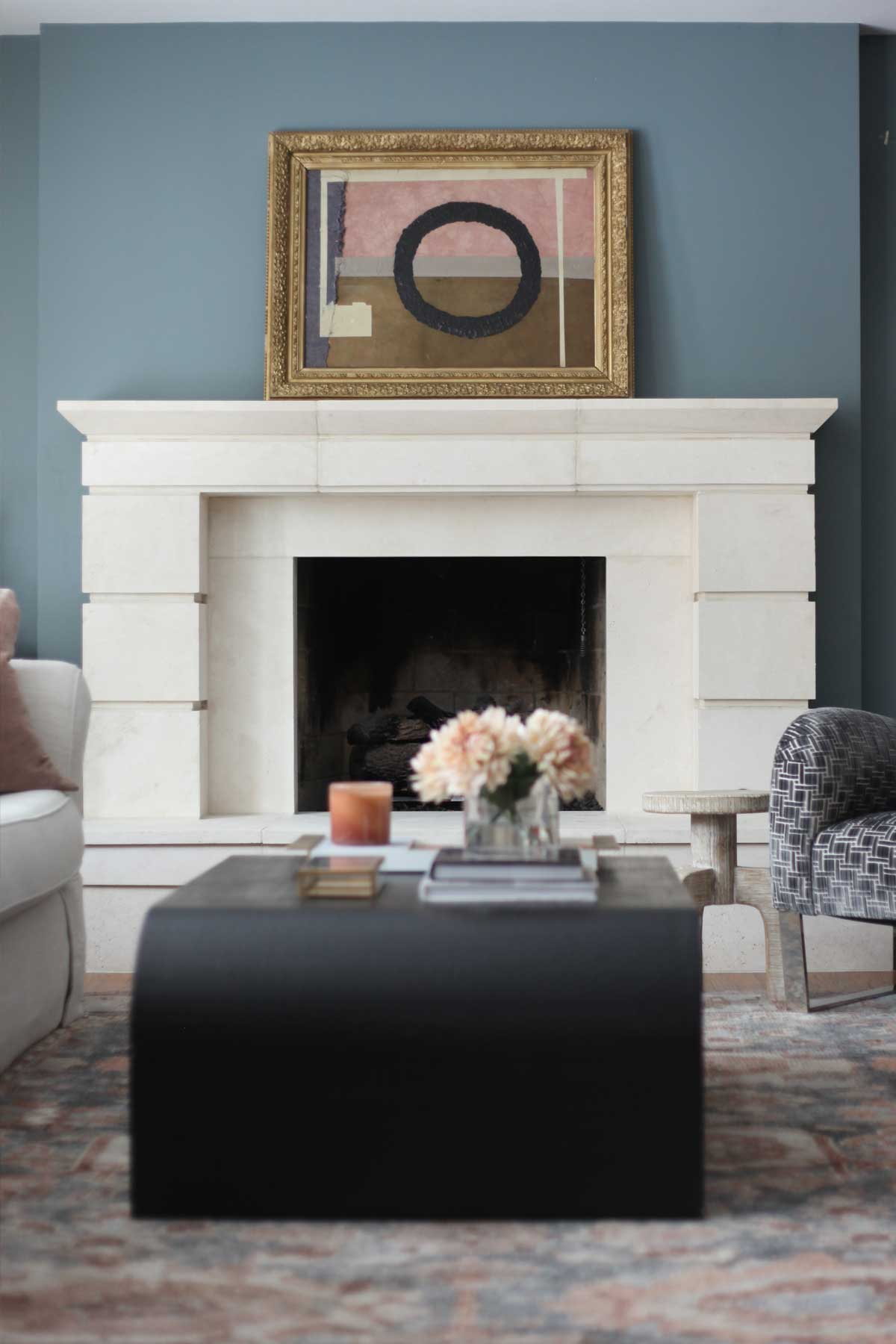 IKEA Hack The Basement
Since closing the shop, the basement is no longer a holding space for vintage junk. Slowly but sure I'm prettying it up, but I'd like to add some shelving behind the sofa sectional, and I'm thinking one of those IKEA built-in hacks will do the trick!

See what I mean? It needs something back there to add height. And ya, I think that faux plant might need to be updated.
Soundproof The Basement
Since joining School Of Rock, my kids have been rocking out in the basement. Zozo is on keys and drums, Cooper is on bass and vocals. They may invite a friend over to mask up and join them on guitar. While this momma is super proud of her kiddos for rocking out, hours of this one goes to 11, is a bit much.

RELATED: After The Boy flooded the basement, we jumped into an unexpected basement renovation.
Forgive the crappy iPhone photo; it's all I have at the moment. This acoustically sound artwork caught my attention, as did these geometrical 3D sound panels.
Add Wallpaper, Wainscotting, and Millwork
Have I shown you what I did in the dining room? I moved my great grandmother's hutch outta there, replaced it with a new hutch from the thrift store, and found a linen-wrapped credenza at the CB2 Outlet. And where are the pink now green reupholstered chairs? Well, those were moved to storage because I found these Barbara Barry for McGuire rattan chairs at an estate sale for a steal. However, while playing musical chairs in here, I've somehow taken my color dining room and made it kinda boring. Oh, and we also need to finish that puzzle on the table.

I'd like to remove the chair rail in here and add wainscotting with wallpaper on the top portion of the wall – I think? Maybe? I've also toyed with the idea of adding some architectural millwork. Let me know in the comments what you think.

This antique hutch is what I replaced great grandma's china cabinet with. You may gasp and throw your phone across the room at this question, but could I paint it? Would that be a travesty? Also, the ivory taffeta lining on the back came with this piece, but I think it needs to be lined with something really fun! A crazy pattern wallpaper to really pop it.
Bathroom Makeovers On A Budget
I have 2 bathrooms in the house — well technically 3 — but I have 2 that I'd like to challenge myself to give them a DIY refresh. I'm going to be hopping on over to my friend Ashley's Budget-Friendly Bathroom Makeover post for some tips.


Walk-In Closet Renovation
The walk-in closet could really use an upgrade. I love the idea of having a washer and dryer in here, but it's a dusty mess. There's a reason why the former owner has plastic coverings on her clothes. I'd love to either enclose the washer and dryer or add doors with glass to keep the dust away. Also, the cabinet hardware and carpet need to hit the road.

RELATED: Check out the walk in closet remodel final reveal!
Finish The Home Gym
When renovating the work from home office and home gym, I didn't have the time or budget to finish the walls in the gym. I'd love to add some crazy wallpaper in there and frame out the mirrors. Just spruce it up a bit because it feels like more of an afterthought. I also want that fireplace outta there. It doesn't serve a purpose, so it'll be listed in my Chairish shop soon.


What do you think? Can I complete this entire home improvement project list in a year, or am I crazy? I probably need to check myself, but I'm going to give it my best shot, and I'm so happy you're here and along for the ride! Let's do this!



More Home Decor Ideas and Interior Design Inspiration
Spruce up your backyard with this round-up of the best outdoor patio furniture.
Refresh your closet with these top 9 fall fashion trends for women in 2023. From a splash of red to the olive green bomber jacket.
Faux plants are trending in the interior design world, and my favorite is the olive tree. Check out the best faux olive trees for indoors and spruce up that empty corner in your living room or bedroom with one of these greenies.
Are you a brand looking for digital media consultation? Well, you've come to the right spot. I was a digital content creator before content creators existed. Let's chat about how I can help you stop that scroll.
If you want to know more about me as a social media influencer, click the link!