To De Nimes Or Not To De Nimes
Last Updated on July 2, 2023
It's been a hot minute since I've written a fireplace renovation update. Yes, I could blame it on being busy and the holidays, but really, my lack of enthusiasm was due to my choice of paint. That deep saturated blue-gray Farrow & Ball DeNimes paint paired with the honed limestone fireplace reminded me of prison walls or better yet, an insane asylum. That's right, my living room refresh had become my pit of despair. The Boy hated it. I hated it. Instead of cutting my losses and just repainting, I decided to sit in my DeNimes dilemma to see what the design process had in store for me.
Living Room Refresh and Fireplace Makeover Mood Boards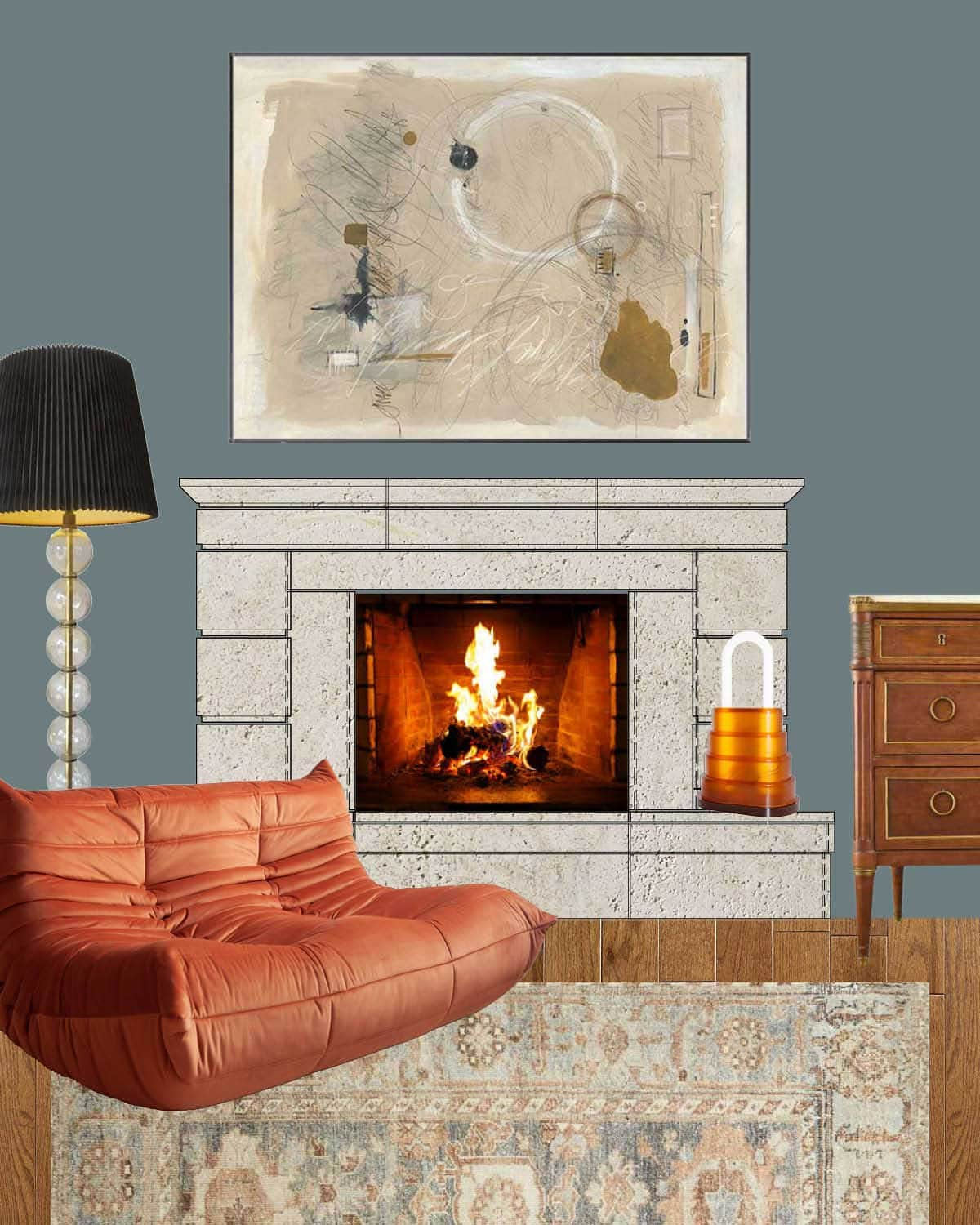 So that's what the initial living room design mood board looked like, and here is what the space wound up looking like after it was painted. But how did we get to this point?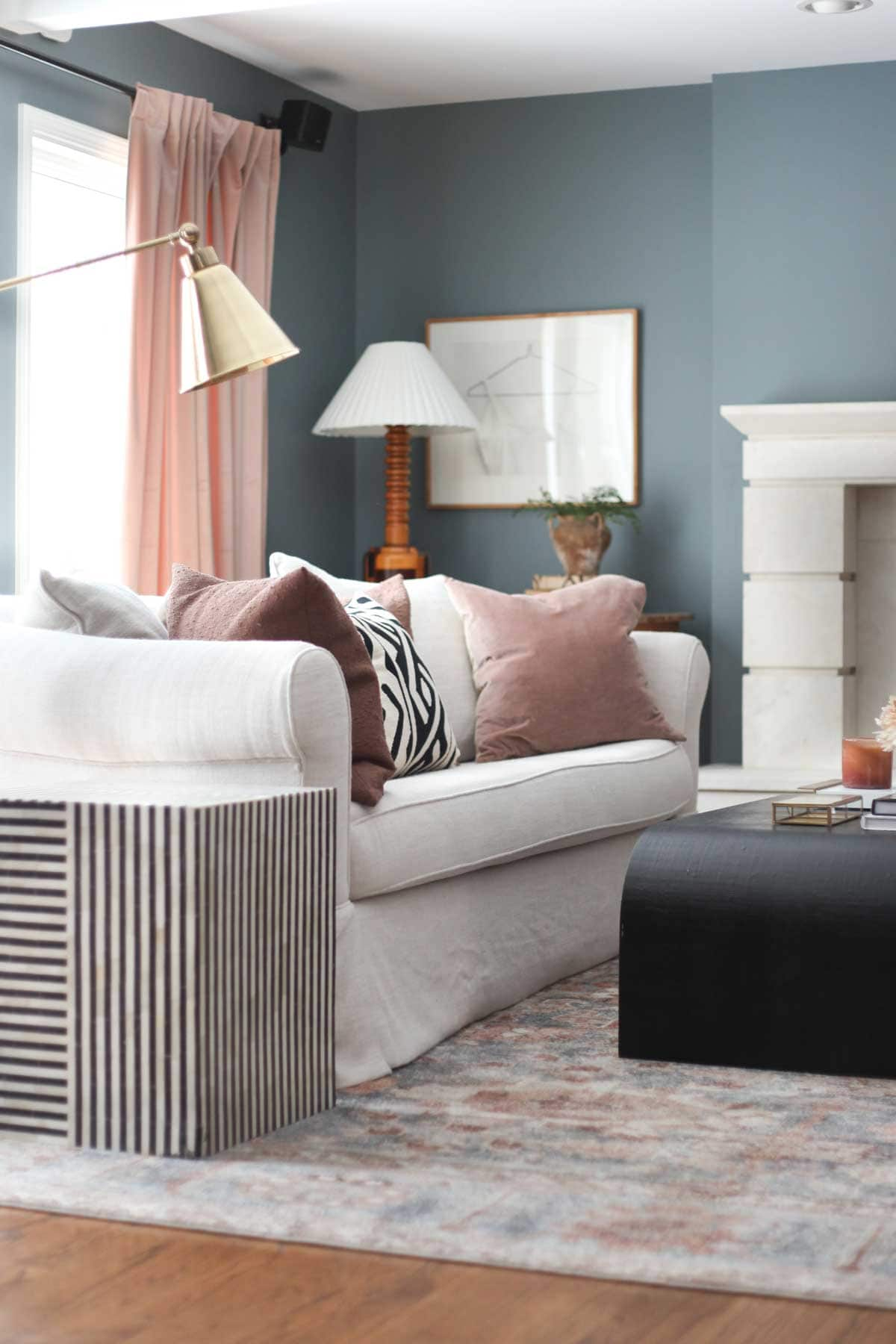 When it was initially painted, I popped a few videos on TikTok and Instagram and took a poll. Did you hate the color as much as I did? My friend Gillian Bryce said, "do the opposite of what the majority tells you to do," but it was a 50/50 tie every single time. Some said don't change a thing, others told me it was awful, and a handful said if you hate it now, it'll never grow on ya; change it up!
Sitting In The Pit Of De Nimes Despair
Determined to force myself to fall in love De Nimes come hell or high water, I sat and stared at my walls from hell. Dark and moody is what I wanted. Damnit, dark and moody is what I'm going to like. The Boy and I would stand in the kitchen and gaze at the personal prison I willfully built us. One day he cocked his head to the side and said, "well, I don't hate it anymore". The Boy's parents arrived from Germany, and my mother-in-law said, "KYLA! I LOVE THE BLUE! DON'T EVER CHANGE IT!" Oh boy, the longer I sat in my pit of despair, the more difficult it was becoming to repaint.
Fast forward two months, I was like, "meh, it's not so bad," but then I'd take a sip of coffee and promptly hated it again. Marianne suggested hanging some art. Adding a plant or two. You have to warm it up, she'd say. Your living room is not a cozy space. It's too cold. It was comforting to know I wasn't the only one who was underwhelmed with the prison walls paint job. And this was coming from a gal who loves bold paint colors.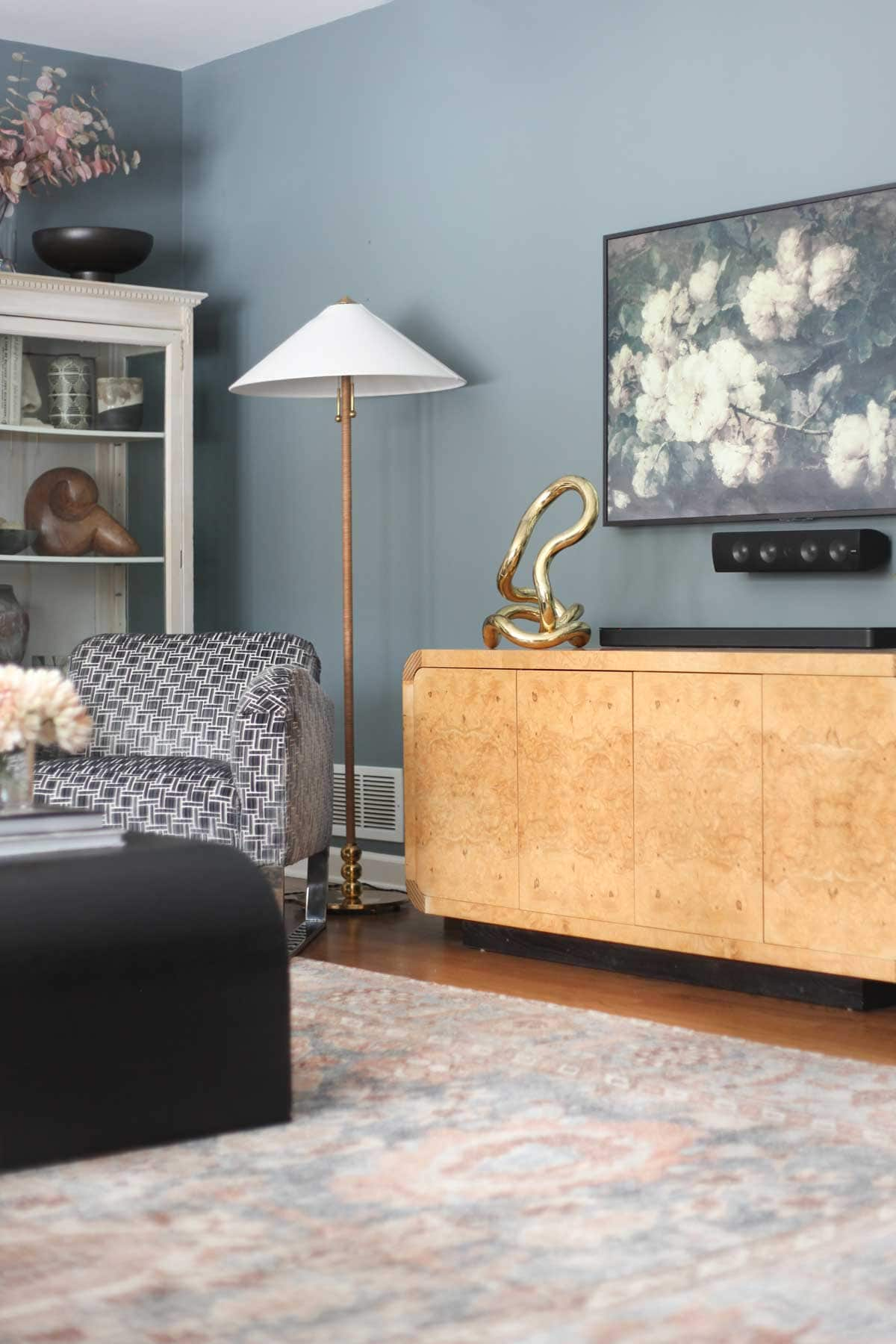 One thing that helped warm the space was updating the Frame TV artwork. This downloadable floral art was only $1.20 and was super easy to upload. Definitely cozier than the black-and-white abstract originally displayed.
To get my mind off my misery, my friend Gosia invited me down to tour Alma, Art and Interiors Gallery, and while I was there, I peeked into her studio Architectural Anarchy. If you missed the Alma popup, here's a quick video tour — rumor has it there shall be another show popping up around May.
When you're on the prowl for original artwork, go see Gosia. There is a reason why Architectural Anarchy (Instagram) is one of Kelly Wearstler's secret shops. I found some pieces displayed on the floor, but then she pulled a rabbit out of a hat, or rather, the back room. Ooh, la la! The color palette was a perfect match to the color palette of the living room.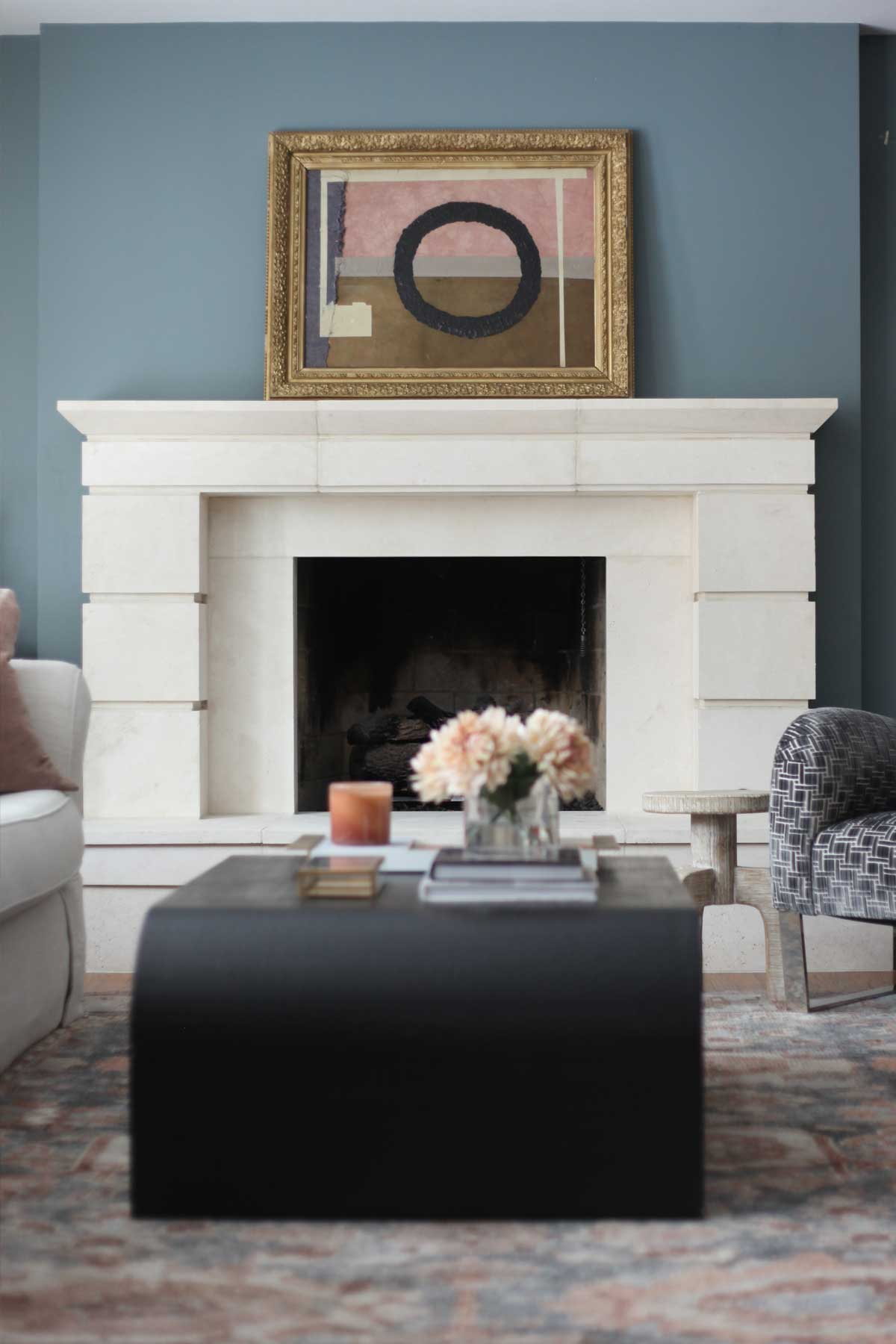 Don't worry; I will get back to that alarmingly big ram momentarily. There's no way I'm skipping over that behemoth.
One Thing I Learned — De Nimes Paint Needs Warmth
The small dresser that The Boy's Opa made and trekked here from Germany was placed on one side of the fireplace. We hauled the antique pharmacy cabinet on the other side. While moving decor out of the way for paint touchups, I randomly chucked a faux olive tree by the TV. Ooh, that looked pretty good!

Recognize the white tank top artwork? Man, that is a story that went down in infamy and a lesson in auction bidding I'll never forget.
Anyhoo, Marianne was right, more faux plants were needed. This affordable bird of paradise was perfect, and while I was shopping, this rug might have also fallen into my shopping cart. I spied it in the Loloi Rugs showroom during my last trip to High Point Market. It checked all the design boxes: the rust and blue color palette were perfect for the living room, it was incredibly affordable ($500 for a 9′ X 12′ area rug was almost unheard of), and super soft. BTDubs, if the larger area rugs are out of stock on that first link, check here instead.

I do need to find a better solution to that white plate behind the thermostat. The former homeowner mangled the drywall, and this was a quick fix at the time — but it needs to blend into the DeNimes paint.
This view of the wet bar is what I've probably stared at the most. Sometimes I love it and other times I think the blue just doesn't go with the quartz. It feels still feels so cold. I'm not even sure I like it with the snake mirror and that sucka goes with everything,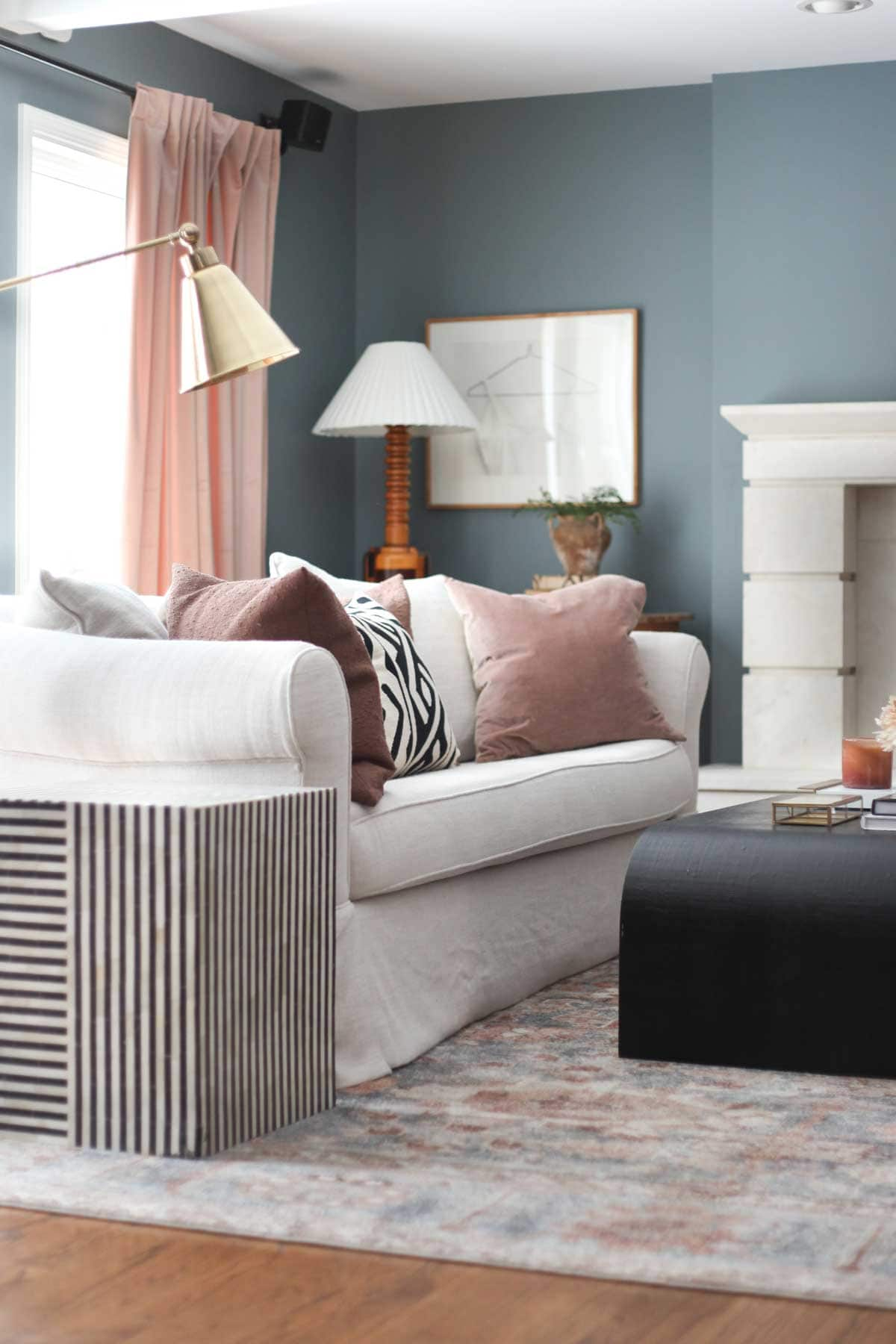 Once everything arrived, I thought, "well, well, well, this isn't too bad." These nubby bouclé mocha pillows (sold out) and velvet blush pillows (sold out) popped onto the sofa, and the living room began to give me all the feels. To add a bit of spice, I added this black and cream pillow (sold out). I found them all at the CB2 Outlet store in Naperville, along with that black linen-wrapped coffee table (sold out), which may or may not stay.

Cozy Up A Space With Curtains
Wait, I bought a set of cheap curtains in a beige blush color for the bedroom and haven't hung them yet. Okay, uh-huh. This was all working! The living room makeover was feeling less insane asylum and more like a cozy, warm hug. They're actually a bit more taupe than the pinkie look here. They can be found here.

My artificial flower arrangement in resin made it into the design too. It's perfect here and still my favorite DIY from 2021.

To add one more design dilemma into the mix, I purchased this alarmingly large ram sculpture at auction. In my defense, I didn't know she was such a big gal because my ADHD brain didn't read the description. This ram is a rare vintage piece by Edna Cataldo, and although I'll never part with her, I'm not sure if she will live in this room forever.

Legit had a palm to forehead moment when trying to fit her into the car, and then the frightening OMG, The Boy is gonna kill me thoughts kicked in. I had created a prison and now I was putting a freaking oversized llama in there to boot. Even if I got it out of the car by myself, there was no way I could possibly sneak this thick lady in without The Boy noticing. When I arrived home, I fessed up immediately, and we went outside to assess the damage. He laughed so hard that I thought he was going to pee. We've since tried to name her / him. I say Edna, but The Boy says Gordon Ramsey, which I have to admit is pretty clever.

Fast forward to today — in a perfect world, I'd probably paint the walls at 50% De Nimes. But for now, well, I don't hate it. The blue prison wall paint is growing on me, and by leaning into the design process, I've taught myself oh so many ways to warm up a cold room. The moral of the story, is if you create a space that you wind up hating, don't jump to change it immediately. Everyone makes design missteps. Sit with that mistake first and let it soak in. Examine what is not appealing and challenge yourself to improve upon it.


Discover More Eclectic Modern Home Decorating Ideas
Now that the 80s fireplace brick is gone, I've been playing with mantel decor ideas and sharing them here with you!
In case you wanted to know more about the limestone fireplace surround that I custom designed with Materials Bespoke Stone and Tile.
I'm obsessed with this vintage-inspired modern striped chair and trying to figure out ways to make it appear in my living room.
Wanna hang art like a pro? Here are a few clever ways plus my secret formula for how high to hang pictures.