Interior Design Trends
Last Updated on August 25, 2023
As we push toward the end of the year, you might wonder what the new interior design trends are for this year. Well, my friend, I have that answer for you. After attending High Point Furniture Market the other week with my friend Carrie (you may remember her '80s modern home tour, or maybe you follow her Instagram Neon Fringey – ya, that's her too) and am here to report back on what I think will be trending in home decor.
8 Interior Design Trends To Watch For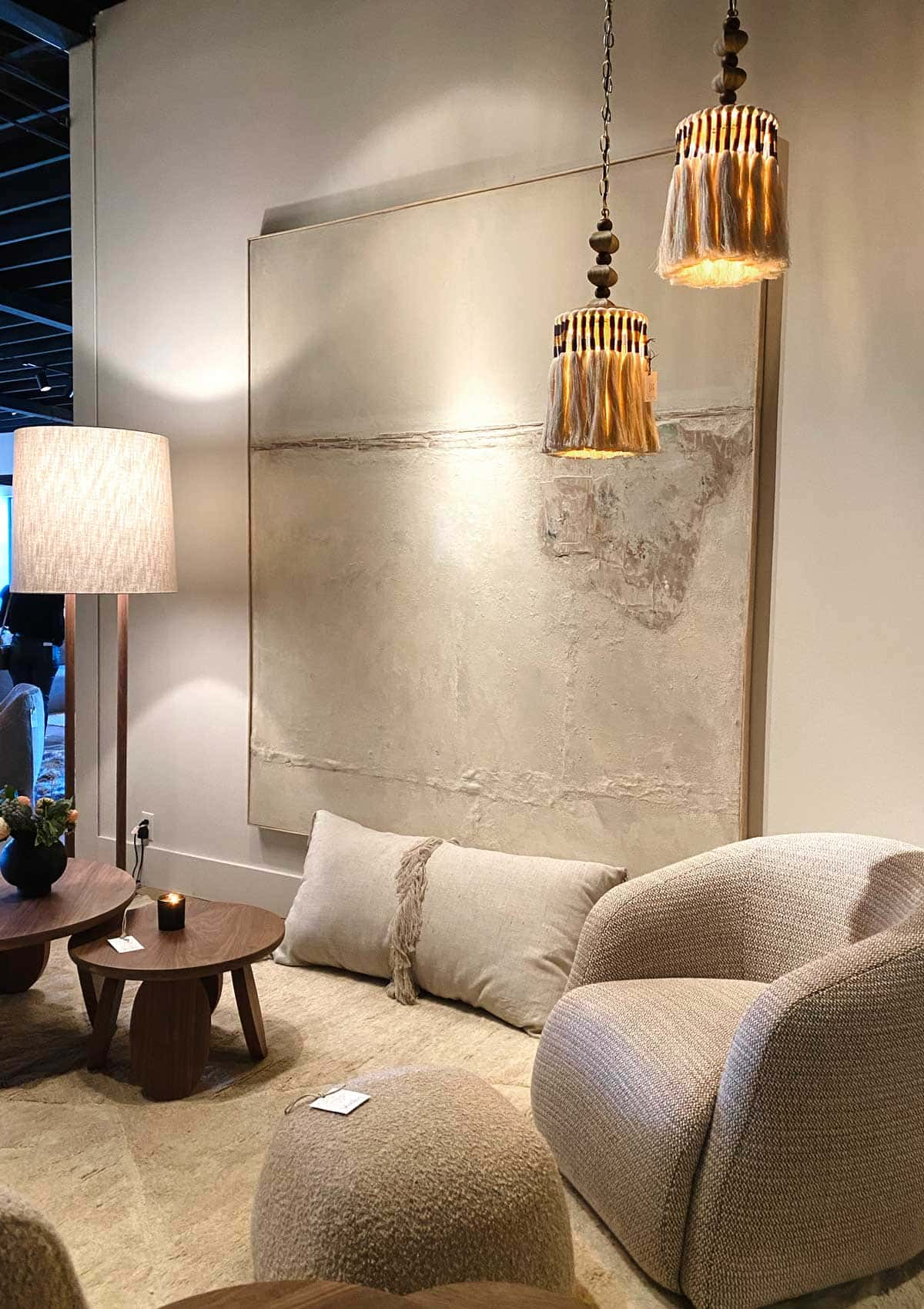 Verellen Home Showroom    Fringe Pillow By Dawn Sweitzer Studio   Tassel Pendant Lights
Breaking Down The New Interior Design Trends I'm Loving
1. Interior Design Trend: Natural Materials
When someone mentions fringe, rattan, and macramé, I immediately time-travel back to 2014 and the boho explosion, but these are not your momma's woven fibers. The Verellen showroom featured organic fringe on ombré dyed pillows, rope-wrapped lighting, woven wall art, tassel lighting, and leather-wrapped armrests.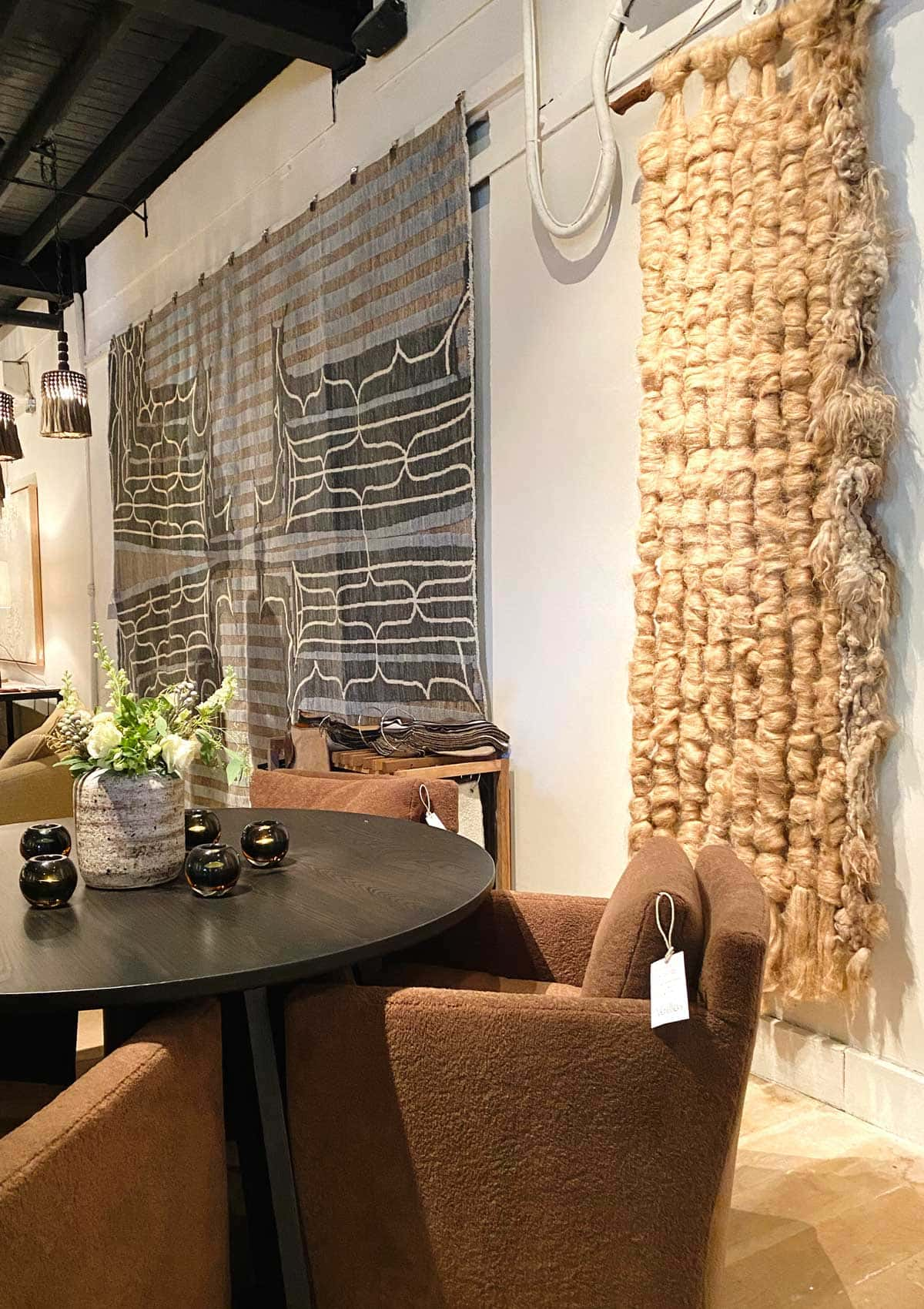 Did you catch my best of the best cane furniture round-up I posted a few weeks ago? Caning was everywhere at market — Hudson Valley Lighting was showing off their rattan lighting, and this curvy desk from Union Home was a beauty. Definitely wouldn't mind if a tiny desk elf delivered one to my doorstep while I was sleeping. It would be so perfect for my home office…just saying.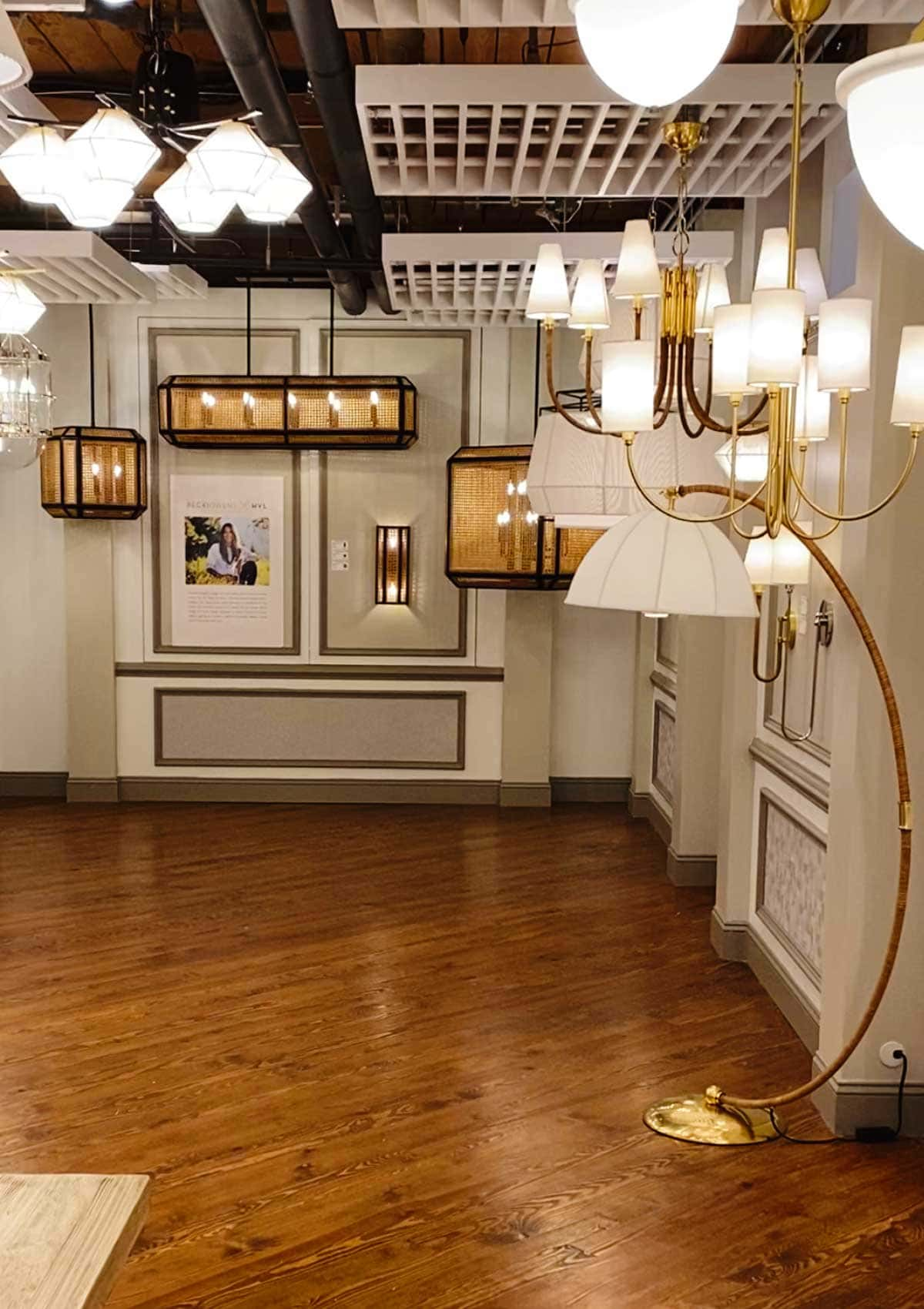 This corner of rattan, rope, and warm woods caught my eye in the Jamie Young Co. showroom. How good is that oversized wood floor lamp — it looks like a giant chess piece.

Arteriors had this spectacular natural fiber pendant light that Carrie and I were immediately drawn to, and Theodore Alexander had gorgeous textural art.

2. Interior Design Trend: Chrome
We will not be saying farewell to brass, but we will be saying welcome back to chrome finishes. Every showroom featured chrome in one way or another. Some mixed metals and others full-on embraced the silver shine from coffee tables to dining tables to shelving to vases and other accessories. If you want to add a touch of trending decor, I highly suggest sprinkling a couple of chrome pieces in your space.

These oversized pendant globe lights stopped me in my tracks at the Theodore Alexander showroom. Note the chrome hardware. It's a minimal amount of metal, but still some silver sparkle. The same goes for the sideboard below. Tiny detail of chrome that makes a big impact.

3. Interior Design Trend: Geometric Shapes
The brands went all-in on geometric shapes. How many circles do you spy in this corner of Noir Furniture? I have to apologize to whoever cleaned up my drool on the Lego Sideboard shown below. I mean, get in my house already!

This mirror from Mr. Brown Home also caught my attention. Circles, squares, and what is that other one…not a rhombus…wait, no, TRAPEZOID! Srsly reaching way into the depths of my middle school brain for that reference. Anyhoo, below is the perfect example of white and neutral decor.

Jamie Young Co. (a new to me brand) had sculptural shapes tucked away in every corner. Side note, this is a new to me brand that is a furniture company to watch. Have you heard of them, or has it been just me living under a rock?

Made Goods brought it home with this pendant lighting – tiny coco beads add texture to this trapezoid-shaped lighting!

A way to begin incorporating this interior design trend is with smalls like these geometric candle holders.

4. Interior Design Trend: Tassels and Beading
Tassels are not new to interior design, but this home decor trend will be a bit more modern and chic. Say goodbye to granny, vintage tassels. Verellen's showroom really embraced them will these fabulous textile wall tassels. They put my DIY modern dreamcatcher to shame, LOL.

This Mr. Brown Home pendant light not only has the beading embellishment but also note the geometric shape — P.S. it also has a couple of chrome options, wink, wink.

5. Interior Design Trend: Animal Hides
Hide rugs were scarce, but hide was still everywhere. Just not as you'd expect. Bungalow 5 showcased armoires wrapped in animal hides and Verellen had coffee tables with a hide surface – definitely not the most practical decor especially if you're a red wine drinker. Chic all the same. It was almost as if hides took over where shagreen left off.

6. Interior Design Trend: Texture
When you blend all these new home decor trends together, the end result is a copious amount of luscious texture, and I'm here for it. Ngala Trading Co. has always carried fringe on their chairs and lighting, but these sconces are having a serious moment. All I wanted to do was run my hand back and forth against this wall.

Lighting was having a moment with texture. Check out these beaded pendant lights from Made Goods. The different size wood beads strung together made the light filter through perfectly.

While walking by Feizy Rugs, this textural beauty designed by Thom Felicia blew our minds.

Grasscloth of every color was everywhere I looked. Definitely will be looking at Phillip Jeffries wallpaper for the dining room and living room.

Julian Chichester Showroom

Arteriors Showroom

Bungalow 5 Showroom
Also, note the pillow fabric – recognize it? If you guessed my newly reupholstered Alky chair, then you guessed right! This pattern was everywhere, and I was definitely having a proud of me moment for being so on-trend.
Adding Texture Will Be A Big Interior Design Trend
This pendant light in the Noir Furniture showroom reminded me of those jelly bracelets from the '80s – although this is made of glass. It definitely caught my eye for its unique factor and I'm obsessed with the texture.

7. Interior Design Trend: Sustainable Design
Repurposing, recycling, and eco-friendly — sustainability is definitely a buzzword all over the news these days, and going green was a hot topic at High Point Market. Look for eco-friendly materials like cork, bamboo, reclaimed wood, recycled metals, natural fibers (see first home decor trend), bio-glass, and recycled plastics.
This chandelier by Ngala Trading Co. was a showstopper made from wood and recycled glass.

8. Interior Design Trend: Minimal Decor
Minimalism back in the day was cold and very black and white, but this new minimalism is cozy and warm. Maybe I should call it refined versus minimalism. Less is more when the less is sculptural. Look for the above all those textures come into play with geometric shapes like beautiful lighting with texture or unique shapes. Feel free to ditch the tchotchkes and opt for one large piece of statement art.

How good is that sofa (above) from Four Hands? This one also caught my eye. The shape is bonkers good and kinda reminds me of Chiclets – remember those?
Below is the entrance to the Verellen showroom. It's warm, cozy, minimal — legit the trifecta of all the trends to watch for. Raise your hand if you'd like to hang out on this sectional with me.

The wavy oversized mirror (below) from Four Hands Furniture is a statement maker yet completely minimal in its own way. Also, note the warm wood tones again. It was everywhere.

So what do you think of these new home decor trends? Are you all in? I sure am, and I'm trying to figure out how to incorporate them into my home interiors today. I'm definitely here for the minimalism now that we've ripped out the built-ins in the living room. Leave your opinions in the comment section below. I'd love to hear your thoughts!



More Home Decorating Ideas and Interior Design Tips
Cane furniture is trending. Here's a round-up of my favorites.
Cozy up your windows with these affordable velvet curtains – oh, and they're all available online.
A round-up of affordable modern decor – decorate your home with these on-trend budget-friendly finds.
I live in jeans and a t-shirt. Find Trending Jeans – Best Denim Styles for everyday wear.