Black Luxury Wallpaper From Phillip Jefferies
Last Updated on March 8, 2023
When I gave the primary bedroom a makeover, the ivory headboard didn't pop as I wanted. And that's sad because it's a damn good headboard that should shine. How did I want to proceed with the bedroom makeover? Yes, I could paint, but I wanted something more luxurious. Limewash? Venetian plaster? How about some black luxury wallpaper from Phillip Jefferies.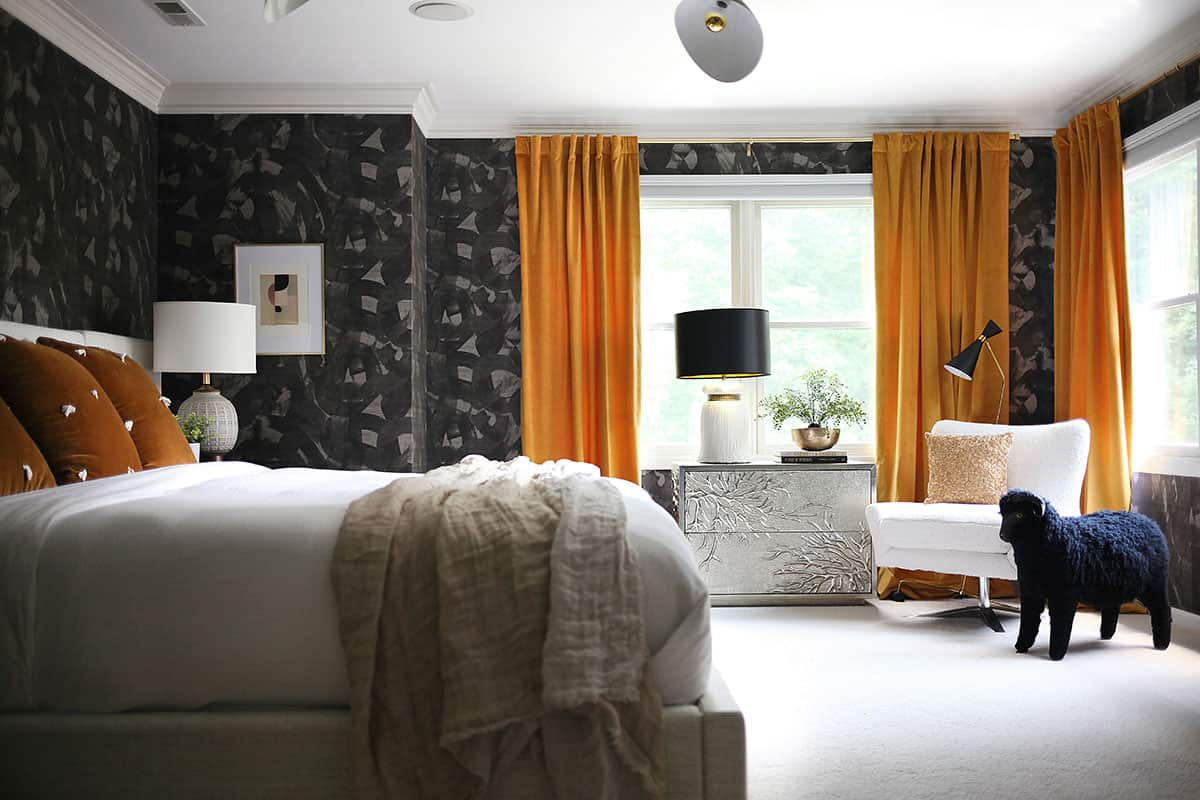 After black luxury wallpaper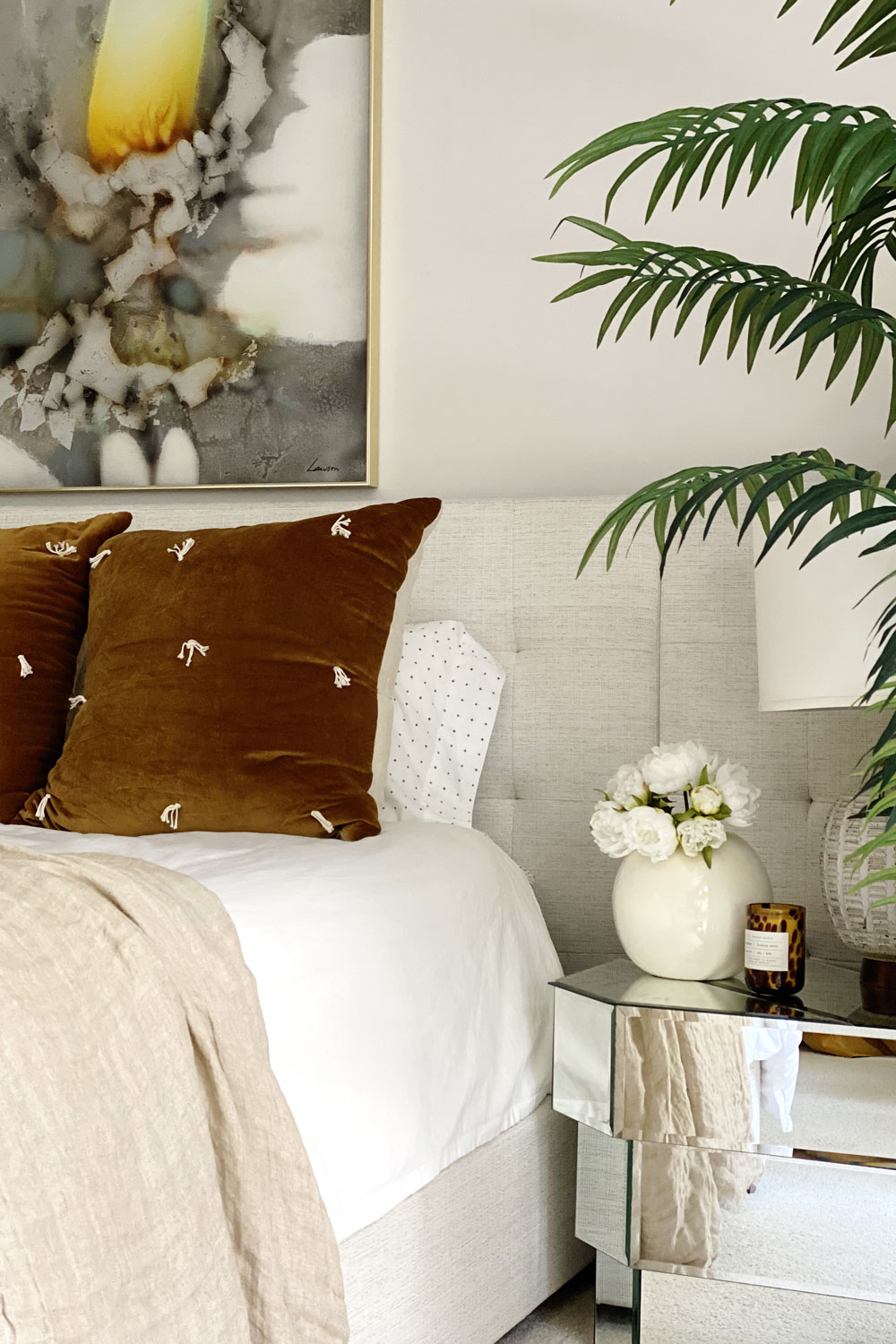 Broad Strokes – Black Luxury Wallpaper For The Bedroom
First things first, I knew I wanted a Phillip Jeffries wallcovering in this space. This is a room I spend half my life in. I wanted luxury. I ordered samples of grasscloth, cork, and vinyl in all colors. Once they arrived, I stuck each sample behind the headboard and stepped back. The grasscloth was beautiful, but I was drawn to Broad Strokes in Scraffido Shadow.
Since Phillip Jeffries is the Rolls Royce of handcrafted wallpaper products, I knew I had to be 100% on board with this decision. A luxury wallpaper like this is an investment. I went to work in Photoshop mocking it up. Holy moly she's sexy AF. This bold, dramatic, black textured wallpaper was drop-dead gorgeous…hello lover. But I think the mirror over the bed has got to go bye-bye.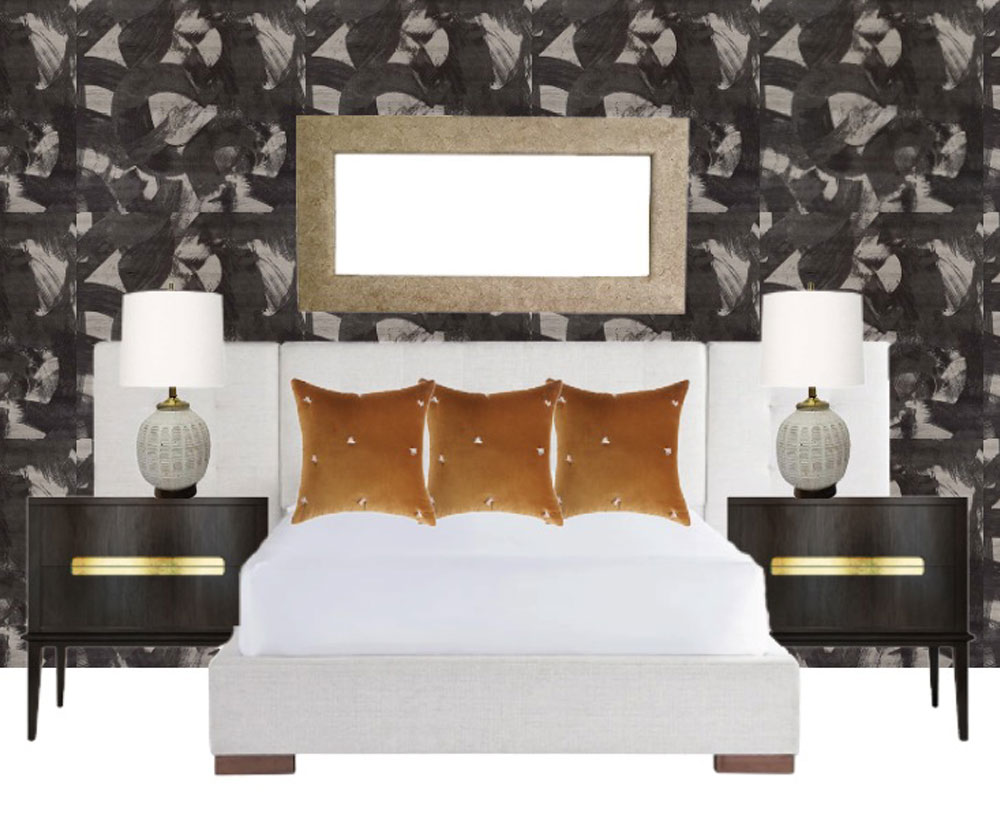 I had one more HUGE decision to make. Did I want to wallpaper just the one wall behind the headboard, or did I want to wallpaper the entire space? If I chose one wall only, I needed to decide if the inset should pop or not. This room was an addition that the former owners built in the 90s when TVs were a highlight of the space. If you have a TV inset on your wall, you feel my pain. The snake mirror moved downstairs, but it may slither back up to the bedroom.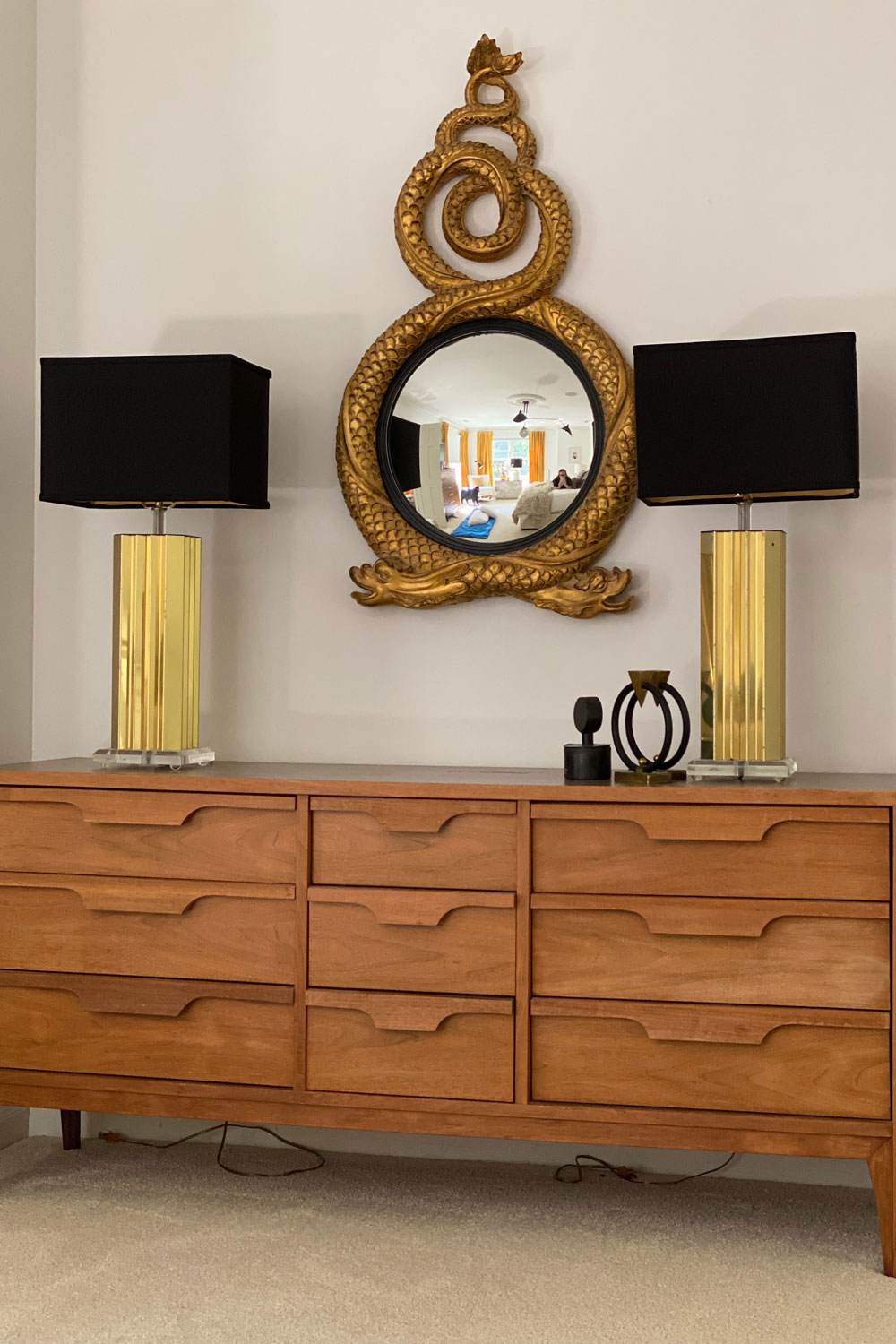 The black textured wallpaper arrived. We hired Steven Kaye of Paper Craft Interiors again. He wallpapered my home office last year. If you are in the Chicagoland area, Steven is your man. He works with many of the local interior designers here and is a master wallpaper hanger…and I'm not saying that in a joking manner. He's literally the regional director of the National Guild of Professional Paperhangers.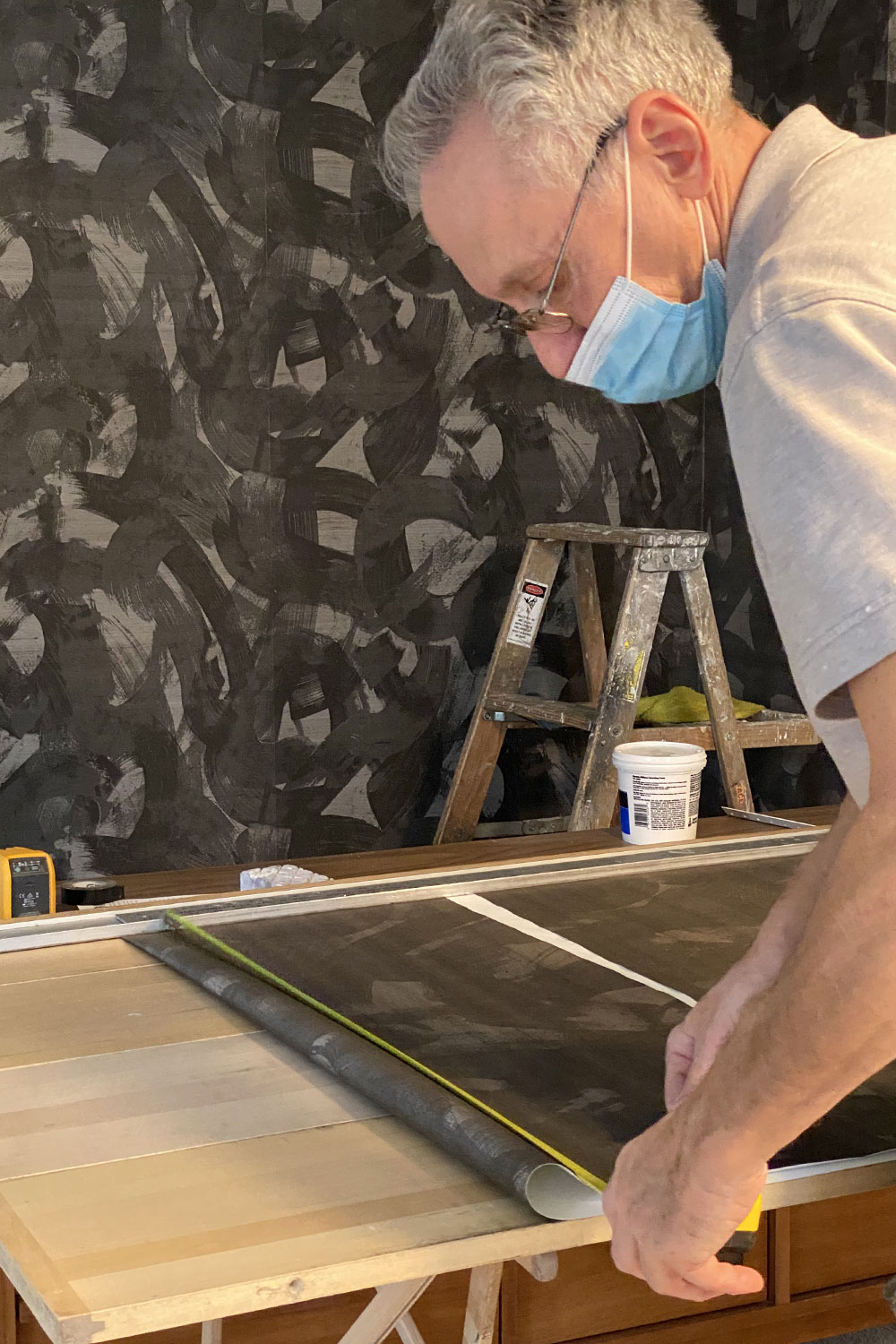 I highly advise hiring someone familiar with Phillip Jeffries to hang your wallpaper because each collection is made of a different material which can make the installation a bit tricky. Since luxury wallpaper is an investment, you don't want this to be your first time.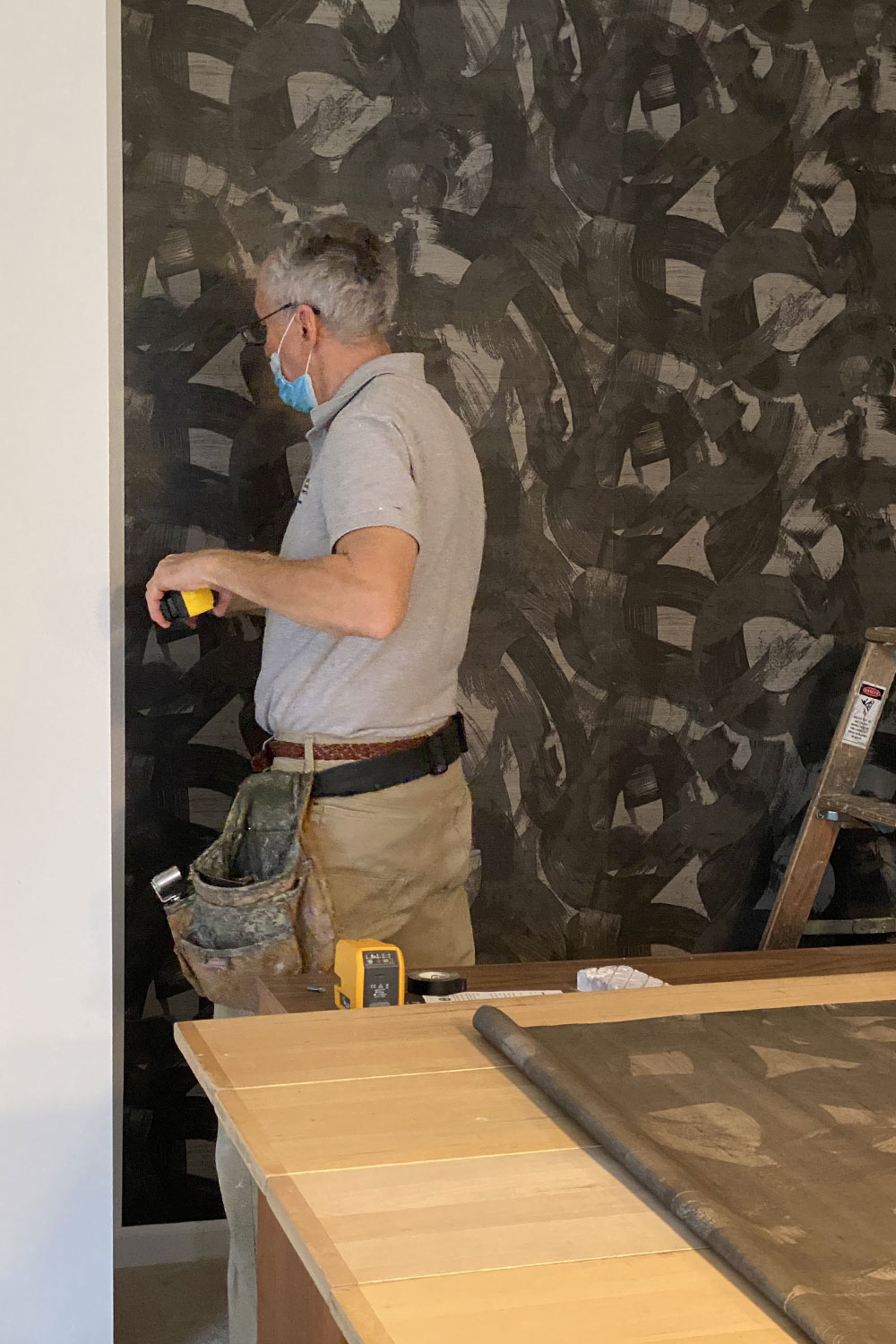 Steven was able to knock out the wallpaper install in 2 days. He was a bit nervous, thinking that I may not have ordered enough. It was going to be tight. I used this yardage calculator, and let me tell you, it was right on the nuts. Because he's a master at his craft, we had about 8′ leftover, but there was enough to finish the entire room and cover the switchplates and vents.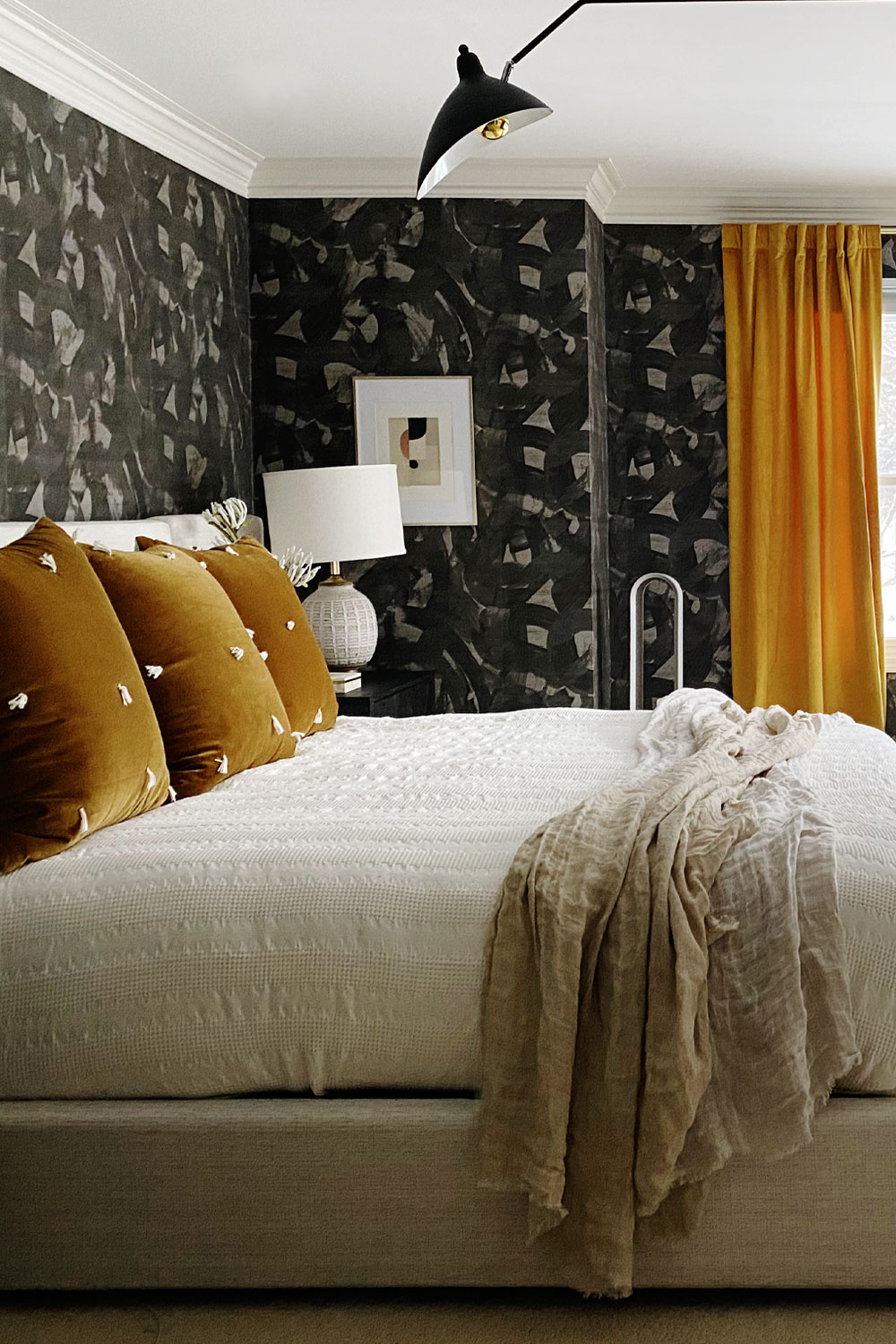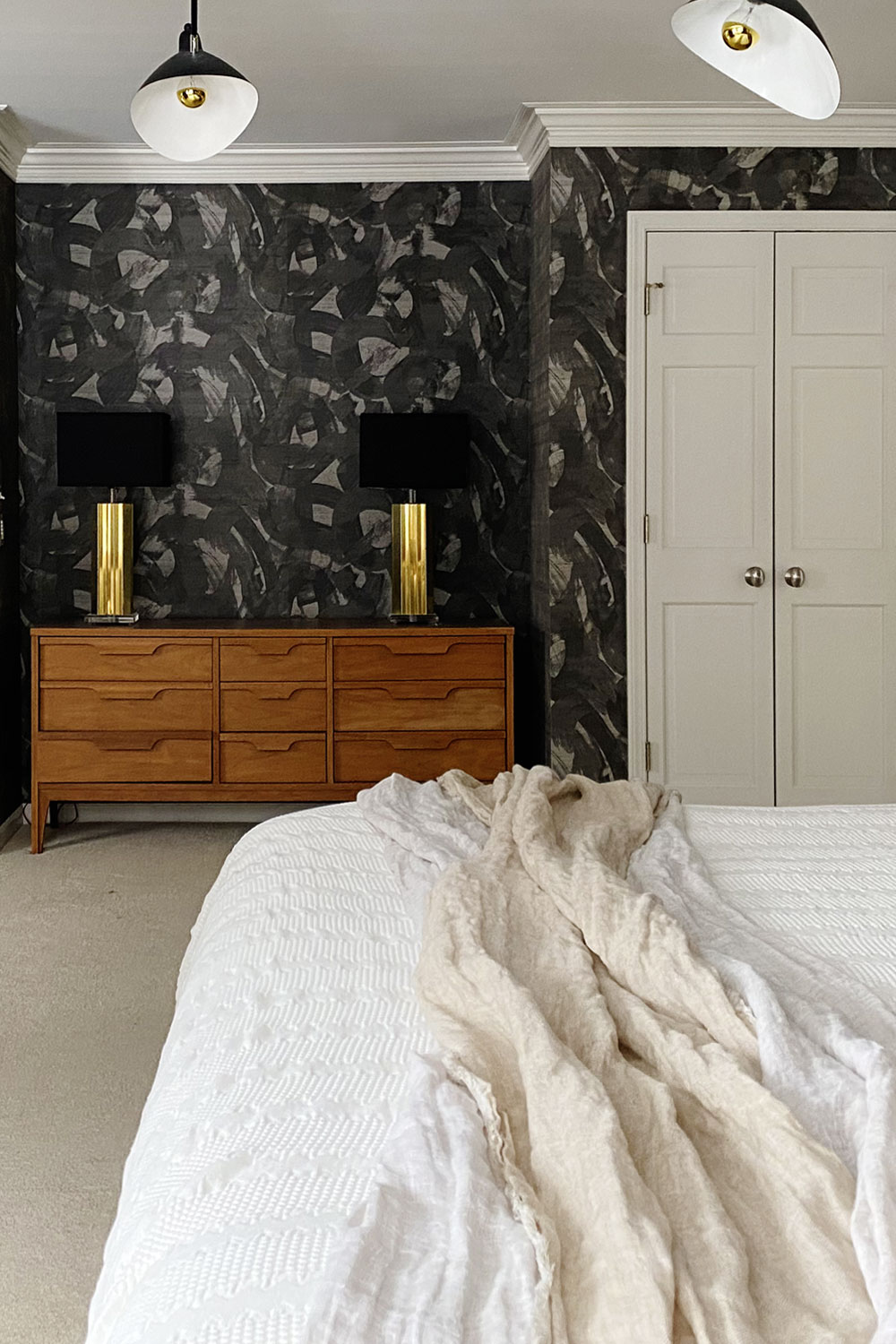 After The Luxury Black Textured Wallpaper Install
Now that the black textured wallpaper is installed, it's time to put the room back together. But a few decor decisions must be made.
There is white trim around a hidden door that leads to the jacuzzi tub on the other side of the wall. It's tucked away in a corner, but definitely should not be white. In retrospect, I probably should have removed the trim making the entrance invisible. Lessons learned and not a big deal. I'll be taking my Broad Strokes swatch into the paint store for a matchy-match shade of black and no one will notice.
You'll notice there are a lot of white doors in this space…which I don't mind. I think it keeps the room more light and airy, but that brushed nickel hardware needs to go. I'd like to source something more modern…Emtek, I'm looking at you!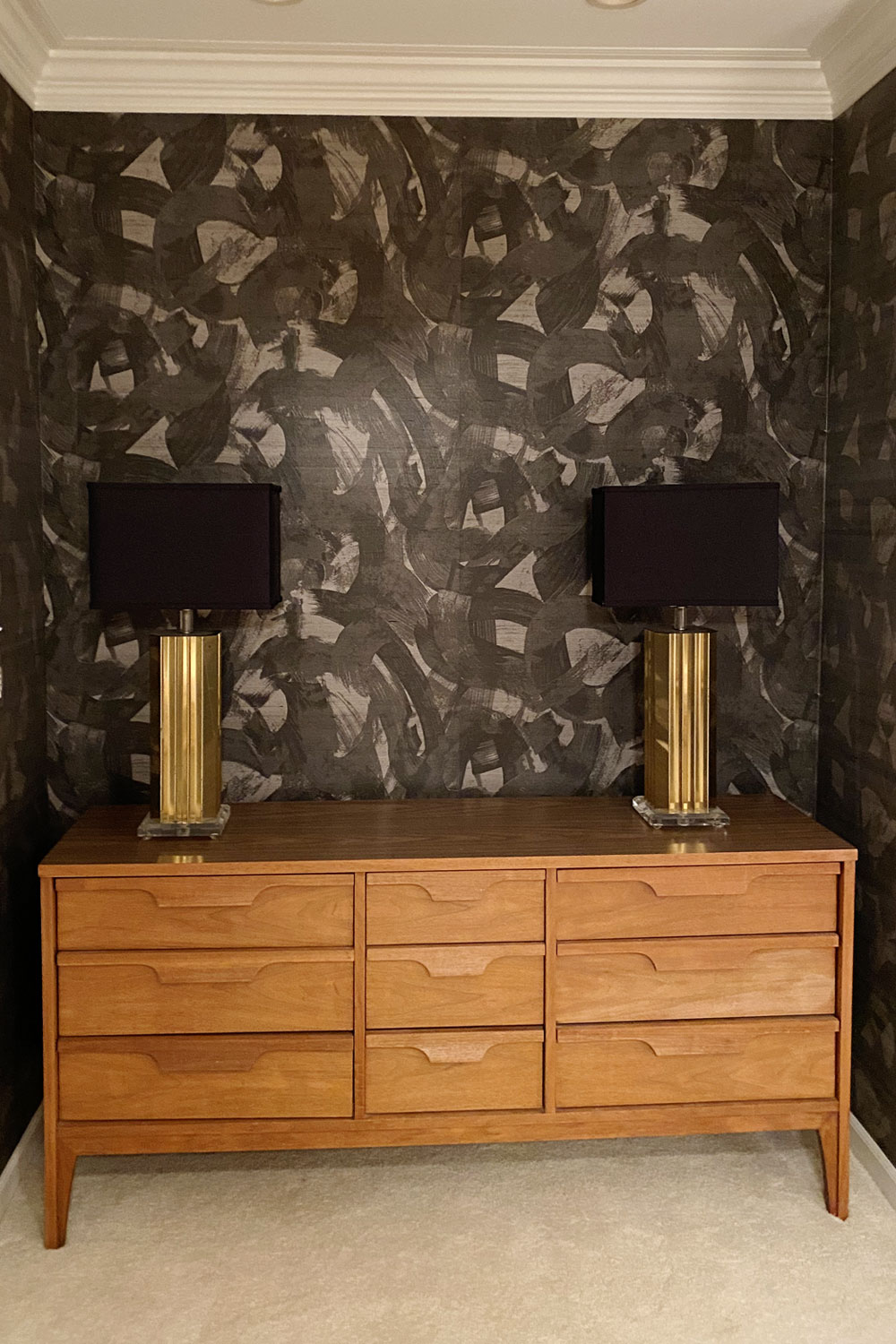 3. Artwork! I have one piece hung…that small piece in the corner, but I need to figure out artwork over the bed and the inset. I found a piece at the South Loop Loft warehouse sale, but the existing frame is janky and definitely needs to be replaced. I also need to sit with this art for a bit before drilling a hole through my precious luxury black textured wallpaper. The search is on for the inset.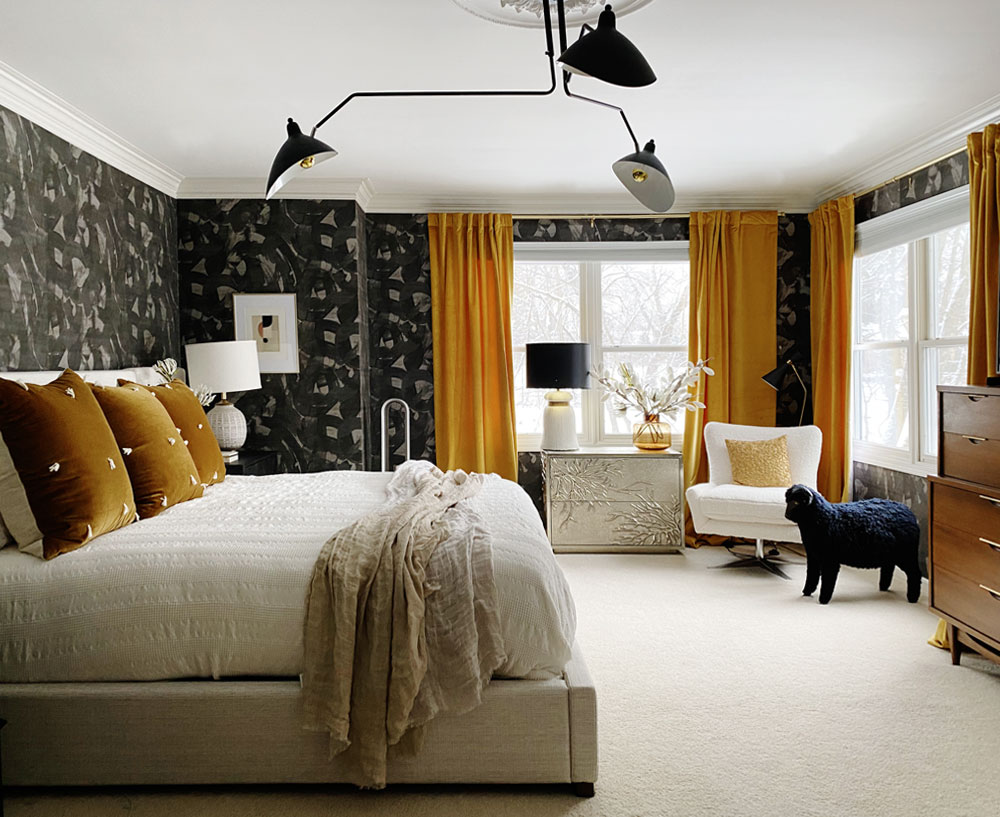 4. I'm leaning towards possibly replacing the Johnson Carper dresser living in the inset. Yes, it does the job, but I've had this piece for almost 10 years and it might be time for something new. This will probably not be an immediate change, but definitely something I'm saving my pennies for. Stay tuned for the dressers I'm eyeing. I'll be sharing those in the future.
5. The original St. Frank duvet cover I still adore, but it doesn't exactly work in this space anymore. All that pattern is fighting with the black textured wallpaper. You may have noticed, that I popped on a coverlet I found at Plankroak Home Outlet but will be looking for some new linens before giving you the final reveal. Nicholas Cage was looking very judgy at that pattern clash. Also, that sconce in the bathroom has got to go!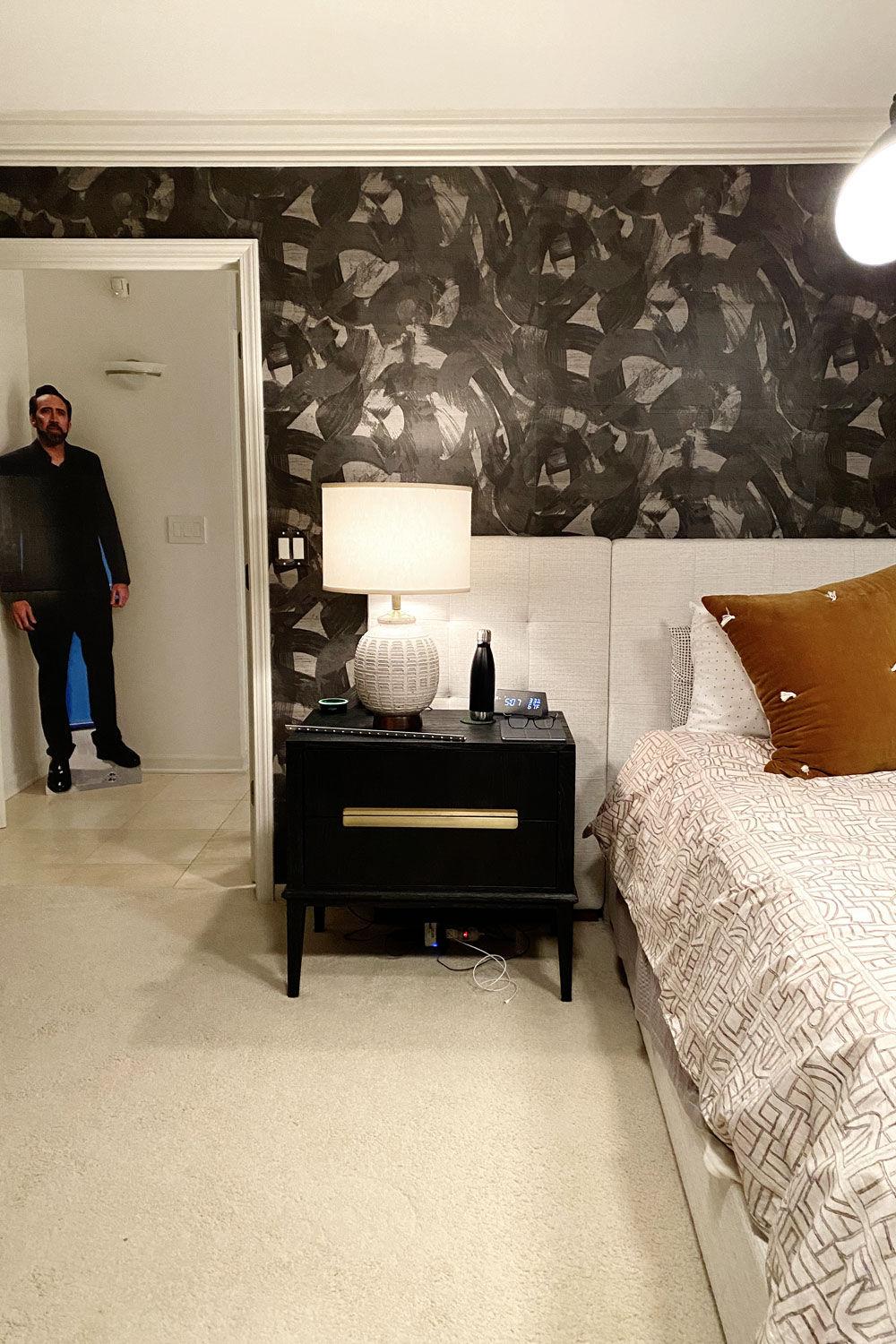 6. The vintage brass lamps in the inset will need to be changed out. I really like the brass lamps with the black shades, but they get lost against the black textured wallpaper, and I don't like white shades on these brass beauties. Instead, I'm thinking maybe my pink marble lamps would look beautiful here.
Last Look Broad Strokes Black Luxury Wallpaper
One more thing before signing off. You may have noticed from the first photo to this one, the nightstands changed out. The mirror tables were flashy and fun, but they had no drawers. We needed something more practical. I found these nightstands at an estate sale out in Highland Park. They're by Brownstone Furniture, and I'm over the moon that I found them. There's no way I could have afforded them at retail price. They fit the space perfectly. You can also see in the photo below my white trim. Gah!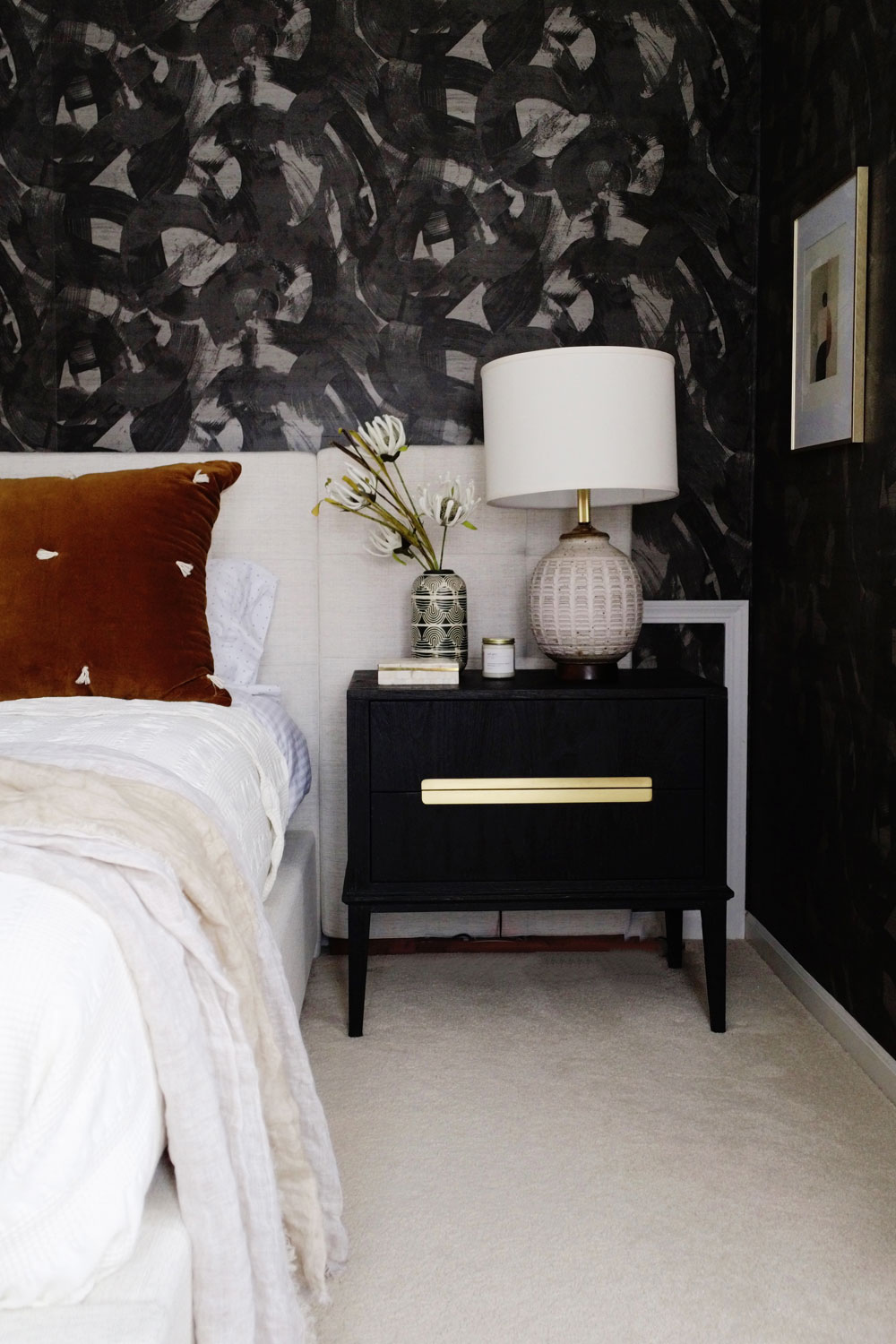 So, what do you think? Would you go this bold and dramatic in your bedroom? Do you have any opinions on the inset art or lampshades? Would love to hear what you have to say.
SHOP THE POST


Discover More Beautiful Wallpaper Ideas For The Home
If you have a fear of commitment but love wallpaper, check out this round-up of the Best Peel And Stick Wallpaper
If you've never wallpapered before, check out this How To Wallpaper 101 tutorial.
Wallpaper can get pricey, so I'm sharing my secret ways to Cut The Cost Of Wallpaper.
I got some weird comments when I started to Wallpaper A Closet, but here is how it turned out.
One Room Challenge Home Office Makeover Progress
Bathroom Makeover Reveal – Potty Paradise

Discover More Eclectic Modern Home Decor Ideas And Interior Design Tips
Want to add a little magic to your room? Try adding some disco ball decor with these sparkly ideas.
Love the Primrose mirror but hate the price tag? I got you! Here's a full round-up of affordable Anthropologie mirror dupes.
Do you have a rug that is too small or too big? Not sure? Here's how to choose the best size rug for a living room.
Cane furniture is trending, and so is rattan and cane lighting. If cane isn't your jam but you want more lighting ideas, check out this round-up of boob lighting alternatives.
Storage bins and other organization ideas to keep your home clutter-free. From the pantry to the kitchen to the bathroom to drawers, I've got you covered! And check out the decorative boxes post if you're looking for ways to corral your remotes on your coffee table.
I've been playing around with some living room design concepts. Check out the latest mood board I came up with.
12 cute, stylish backpacks that fit a laptop and are perfect for work, travel, and back to school!
Wait, skinny jeans are out of style? Yup, and here are the trending jeans I would wear instead.
Have you noticed that mushroom decor is trending? Here's what I'm eyeing.
Nothing elevates a ceiling light like a ceiling medallion. Check out that round-up to shop for the best of the best, and be sure to check out my how to install a ceiling medallion tutorial for some secret tips!
Pairing pendant lighting for the kitchen can be a tough design decision. Here are my favorites.
Sharing stylish home decor favorites from Serena and Lily.
Spruce up your backyard with this outdoor patio furniture and decor round-up.