Wallpaper — Are You Brave Enough?
Last Updated on November 29, 2022
2018 is going to be the year wallpaper shines. I can't tell you how many estate sales I attended where it was the star. Time capsule homes with wallpaper in the bathroom, master bedroom, living room, and even on the ceiling. I'd snap a picture, post it to Instagram Stories and the response was bonkers. From then to now, one thing's for sure — it's a great way to show off your personality.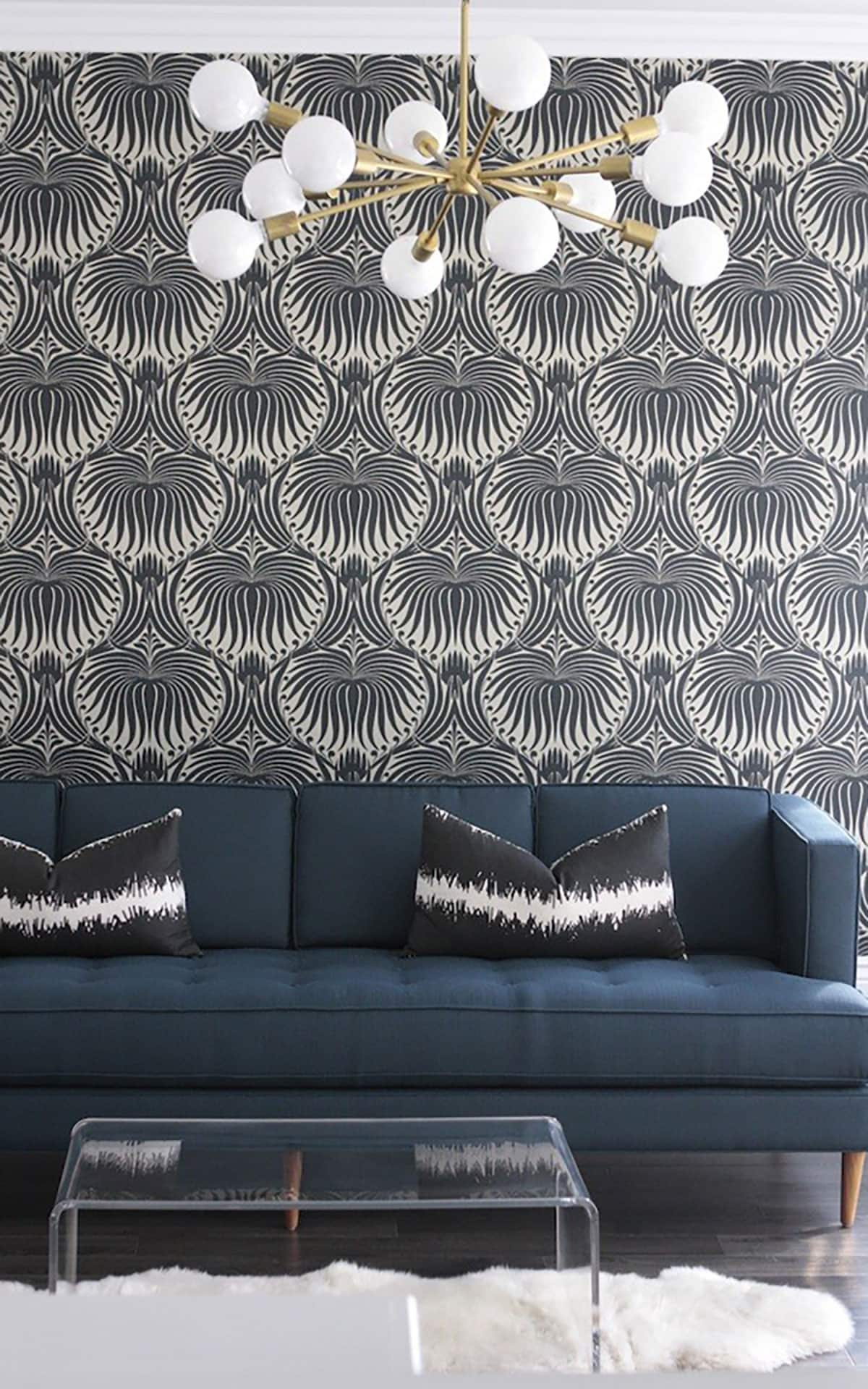 Becki Owens used Farrow and Ball in a modern playroom.
If you compare the Farrow and Ball Lotus wallpaper Becki Owens used above, to the retro patterns below, you can see the '70s and '80s are back but with a twist. The palette is toned down with a more modern colorway.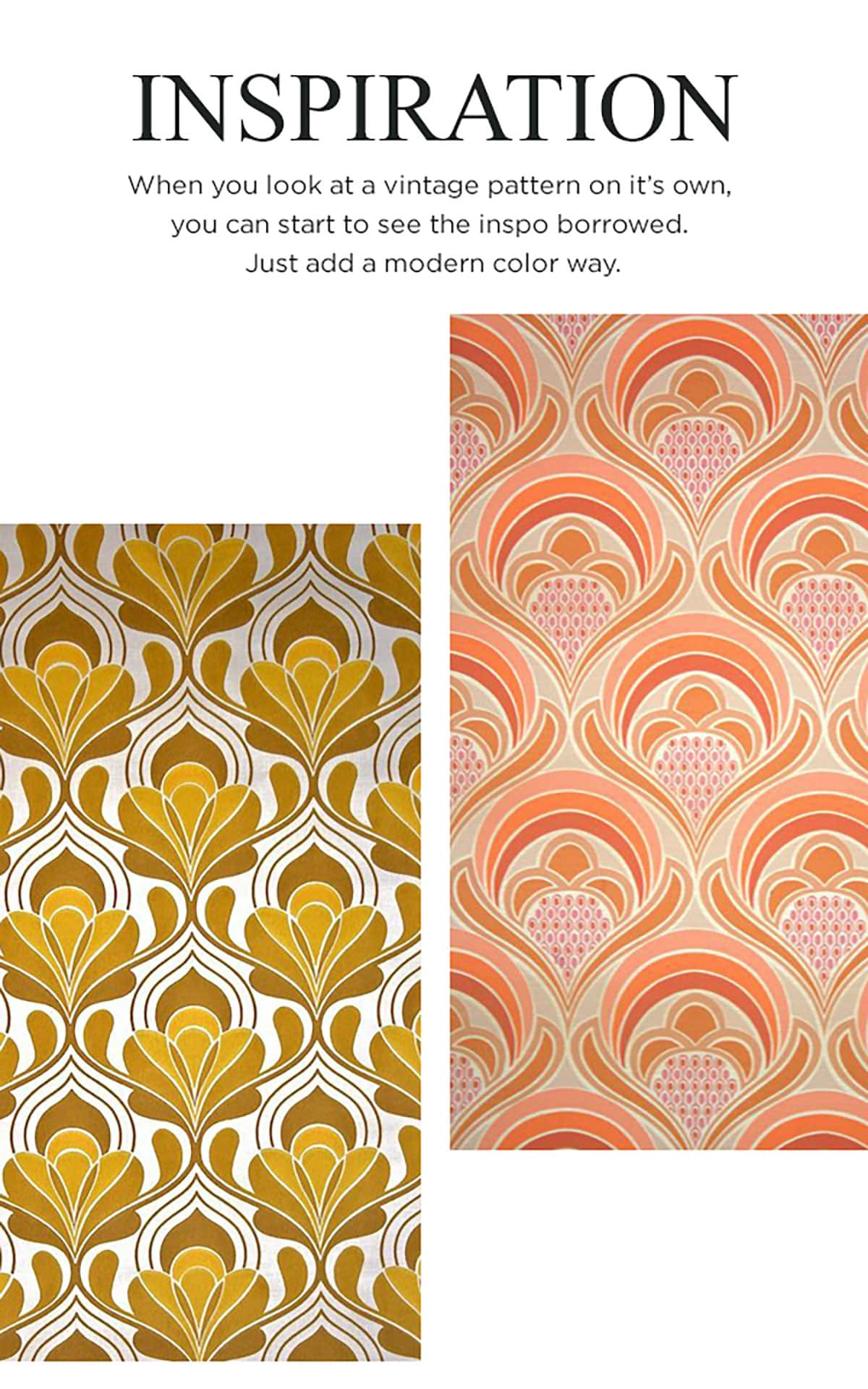 But this trend doesn't stop with a funky geometric pattern. Nicole from Making It Lovely took her love of all things bugs, birds, and Victorian to another level with this Milton & King wallpaper. She used this bold pattern…floor to ceiling…as an accent piece in her "rainbow room" office. What makes it modern is the oversized print. If you haven't seen her latest One Room Challenge, go check it out. It gives me all heart eyes.

Making It Lovely's One Room Challenge Office Space
I've used wallpaper a couple of times in my own home…both times in the bathroom.


Potty Paradise used an incredibly bold, dark, animal print. My vision was for it to be a jewelry box when you opened the door. Basically, you'd forget you'd have to pee. The basement bathroom took a safer direction with a black and white palm leaf print. I was happy with both room designs without the wallpaper which made installing it that much more terrifying. But I gotta say, once up, both bathrooms screamed Yahtzee. It pushed the boundaries and made both spaces stand out.
As I look around my home these days, I try to imagine where I'd install more wallpaper. The dining room, master bedroom, up the staircase, my office. All possibilities. Here's one space in particular that stopped me in my tracks mid-scroll.

Miles Redd Manhattan-based interior design   |   Trevor Tondo photographer
Miles Redd used Gracie Studio's hand-painted wallpaper for a home he designed, and it was recently featured in Architectural Digest. Can you imagine how different this space would look without the wallpaper?  The entire home tour can be seen here. It's phenomenal. I would kill to have this wallpaper up my staircase.
Another favorite print is Limerence by House of Hackney.

I love the same pattern on pattern on pattern look with the fabric, wallpaper, and lampshade. It's such an interesting way to be bold yet not overpowering. The Ink colorway might look pretty shnazzy in my master bedroom behind the navy headboard. Just thinking out loud.

So now that you know what I'm thinking, what do you think? Are you brave enough to install wallpaper in your own home? Do you already have it? What are your favorite patterns?
Discover More Wallpaper Inspiration
5 Ways To Cut the Cost Of Wallpaper