Brick Fireplace Makeover Before And After
Last Updated on July 25, 2023
Last weekend I posted the 80s brick fireplace makeover before and after on social media, and I realized I never properly shared the process on the blog. Shame on me. Because this was a fireplace, there was no DIYing this renovation. We needed professional help. My neighbor shared the name of a mantel company with me — Material Bespoke Stone and Tile, and they conveniently had a showroom located in Chicago. What seemed like an overwhelming project turned out to be smooth sailing. Here's a looksy at the living room fireplace makeover before and after.
80s Brick Fireplace Before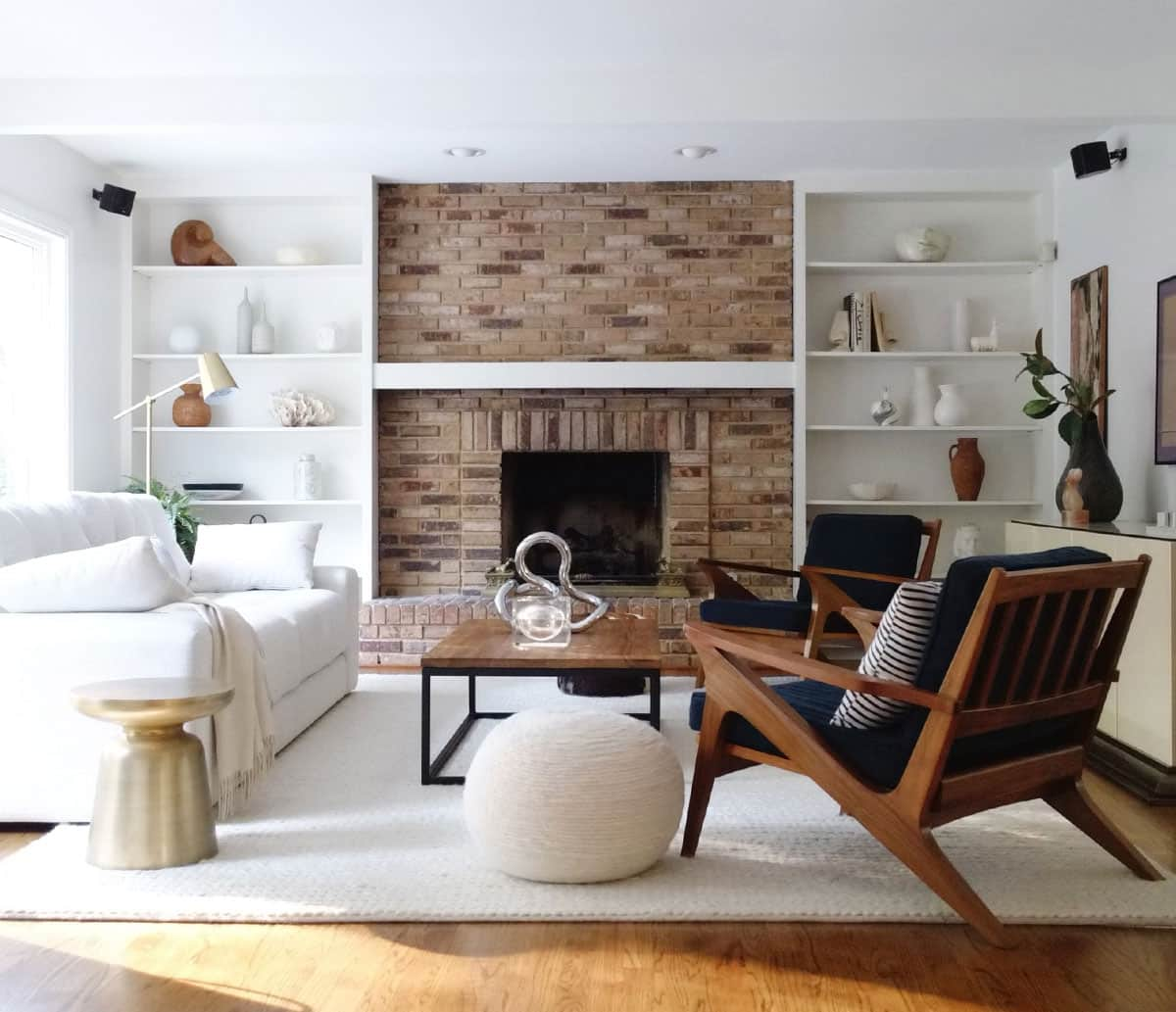 When we first looked at this house, the built-ins immediately caught my eye, but the 80s brick fireplace itself with a random piece of wood as the mantel was dated. I stared at this wall for years, contemplating ways to update the fireplace and built-ins.
Thankfully for me, the brick was brown, unlike the red brick fireplace my parents had in their home (and yes, they also had wood paneling.) My mom painted her fireplace in a cream color to match the white walls, and 20-plus years later, the paint still looks great.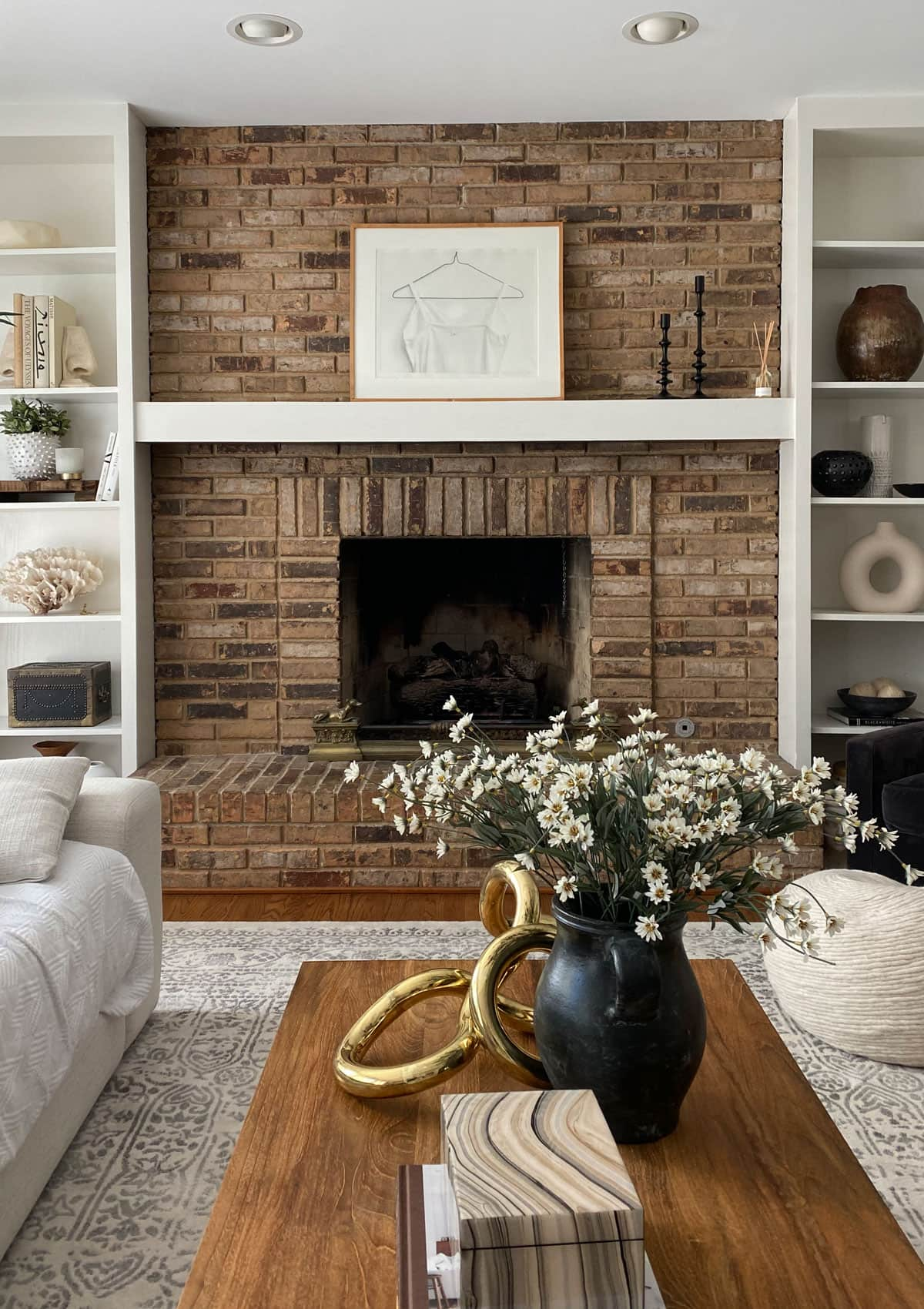 So why not paint the brick since I liked my mom's? It's definitely the cheapest way to give it a fresh look. Even though I loved the built-ins, the shelves felt off. The wood planks were thin, bowing, and not very deep. Meanwhile, the wood mantel was cheap plywood painted white. There was nothing horribly wrong, but I wasn't quite right. I couldn't put my finger on it. Rather than slowly fix the design, I just wanted to press the restart button…a whole new look!
RELATED: Get more details on the custom fireplace design and how we chose the stone.
Working With Material Bespoke Stone + Tile For The Fireplace Makeover
Initially, I thought about lowering the firebox to give more height above the mantel — that is until I found out that it would require bringing in a structural engineer. There was mention of support beams and dollar signs. Hold up. You know what this is…that serious. It is not that serious. I"m not going to alter the house's integrity. The old brick fireplace surround will remain untouched. Let's just wrap it in a stone facade.

Material Bespoke Stone came over to check out the situation and brought their CAD designer, who took exact measurements of the existing brick fireplace, hearth, and mantel. Meanwhile, I pursued their surround and mantel designs in their library, along with stone samples. I immediately gravitated towards Riviera Beige Limestone, one of their most popular stones, because of its versatility. It was also, surprisingly, one of the most cost-effective stones. I say surprisingly because normally pick the most expensive.
CAD Drawing Of New Modern Fireplace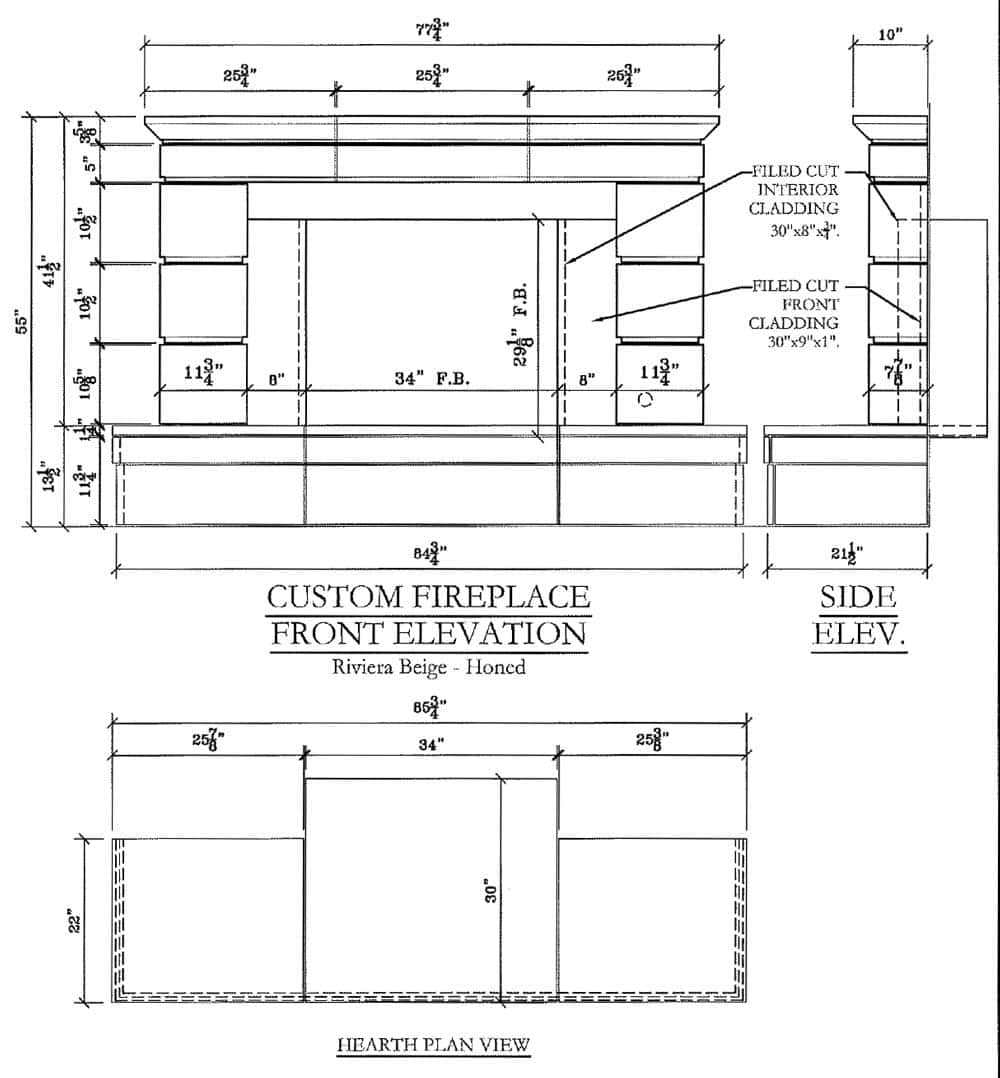 A week later, I received a CAD markup of the proposed new limestone custom fireplace design in my inbox. After a few minor tweaks, the design was sent to their fabricator, and I was told the finished stone pieces would be trucked to my home for delivery.

There's one thing you should know if you choose to go this route, Material Bespoke Stone + Tile does not provide trade workers for the installation. You must find masons yourself. This was not a surprise, though, because it was similar to the countertop install in the kitchen makeover. Thankfully they had a few suggestions that were reasonable and available to work.

The stone arrived on time, and the masons unpacked the box within a week after its delivery. A couple of pieces arrived broken, and that can happen. The stone traveled from Texas to Illinois on a semi and went through different climate changes along the journey. I let my contact at Material Bespoke Stone know, and she had replacement pieces ordered and on the way.

Each piece is labeled with a number corresponding to a map of the fireplace. You're basically putting together a heavy jigsaw puzzle. The masons laid the stone on blankets and foam and placed them in order of assembly. Can you see why we did not DIY this?
Demolition Day And The New Stone Installation
The plastic sheeting went up, and demolition began. The built-ins were ripped out first, along with the existing mantel. In total, it took about 10 minutes. Cement board was attached with mortar to the brick wall above the mantel.
Two masons carried each block of stone, piece by piece, into the house, methodically applied mortar, stacked a block, and ensured it was level. In the video below, notice their diligence and craftsmanship. It took two days for the masons to get to this place. Now we had to wait until the replacement stone arrived.


As far as architectural features go, this finished fireplace would be the showpiece in this living space. I couldn't wait for the new mantel to be installed.

During that time, I began to look at paint colors. Feeling bold, I painted the walls Farrow & Ball De Nimes a cool, highly saturated blue-gray. This was my design mistake. In photos and online, this paint looks incredible. In real life, paired with limestone blocks, it felt like prison walls. OMG, I suddenly hated my new fireplace and wanted the dated brick back. The Boy voiced his opinion, but instead of agreeing, I told him it was great! I love it! It's fabulous. Ya, I was in deep denial.

The masons returned to install the final stone pieces, but this awful prison paint ruined my beautiful focal point. It threw me into a deep depression. Finally, I couldn't handle it anymore. We had to repaint. I went through swatch after swatch to find just the right neutral paint and finally landed on Sherwin Williams Natural Linen. Like the limestone, it has a warm undertone and would make the room feel cozy and not like a boys' locker room.
The fresh new look gave me a whole new perspective on the room. It's amazing what a fresh coat of paint can do! The whole living room felt like a breath of fresh air, and the old fireplace brick was no longer missed. The design lesson to be learned here: be cautious with real stone and gray paint.
80s Brick Fireplace Makeover After
Are you ready for the after?!?!?! I've made you wait long enough…here it is!

Check it out; even Comet fainted in its full beauty! I found those cabinets on Facebook Marketplace for $200. I'll write more on that later.

What a difference paint can make! Sherwin Williams Natural Linen for the win! It subdues the monumental feel of the stone and helps it not overpower the living room…don't you think?

One last time…do I miss the old brick fireplace? Nope, not one bit! What do you think? Do you love it as much as I do?

More Affordable DIY Brick Fireplace Makeovers
So this renovation was a bit pricy, so what happens when you want to DIY the brick on your fireplace? Proceed with caution when giving your fireplace a makeover. You're dealing with combustibles, so be sure to keep fire safety top of mind. Simply drywalling over the surround is not the way to do this. You'll want to use cement board that is fire rated. Also, be sure to follow mantel codes for height and materials. Our old mantel was not to code and could have easily started on fire because it was wood. Yikes! Thankfully that is fixed.
Now that I covered liabilities, here are a few ways to update your stone fireplace on a budget.
Paint it the brick — I would make sure you use a high heat paint, especially if it is wood burning.
Limewash or whitewash it to keep a subtle brick look.
German shmear the brick. Stucco is also an option.
Roman Clay for a modern plaster look.
Tile the surround.
Replace only the mantel.
RELATED: Layout options to arrange your living room furniture with a fireplace and TV.
Examples Of Modernized Brick Fireplace Makeovers
How To Paint Brick The Right Way
My friend Ashley painted brick on her interior sunroom, which made a huge difference! She used a paint sprayer since white paint would finish the entire room. I know this isn't a painted brick fireplace, but she shares awesome tips on painting brick.

Lime Wash Brick Fireplace
My friend Anne Sage limewashed the brick fireplace in her new home using Portola Paint. She started with a more watered-down solution and worked up to this. You can see more photos of her beautiful living room in her Designing An Awkward Space blog post (she has some lever tips).

German Smear Technique On Brick Fireplace
This technique has more of a modern farmhouse meets country meets industrial decor look. You can still detect the brick, but a layer of mortar has been dragged across the surface. A&X Masonry has some great tips and tricks on the German Schmear technique here.

DIY Roman Clay Fireplace Makeover
My friend Bre had a black glossy tile on her fireplace but wanted an earthy, organic plaster look. Seriously, this fireplace makeover is a stunner! Get her DIY Roman Clay fireplace tutorial here.

RELATED: Check out these gorgeous mantel decor ideas.



Discover More Interior Design Inspiration and Ideas
I put AI to the test and asked ChatGPT to design a living room. The description was intriguing; I had to add visuals. Here are the mood boards and virtual design.
What size rug for a living room — ever wondered what size is best? Here's a complete guide to nailing it like a pro and never returning a rug again.
We got a new brown leather couch from Joybird, and OMG, it has electric footrests! I'm obsessed.
Looking for a sofa? Here is a full round-up of modern sofas for your living room that I love.
Here are my secret decorating ideas on a budget. Guess what? Some won't even cost a nickel!
Want more affordable home decor ideas? Check out how to make your home look expensive without spending a lot of money.
If you're looking for cheap curtains and drapes, you must check out this roundup of faves!