Modern Sofas For The Living Room
Last Updated on October 14, 2022
Before we get into this roundup of modern sofas, I'd like to ask a question. Do you call it a sofa or a couch? Or maybe if you're from Wisconsin, you call it a davenport? Whatever you call it, I'll bet you have one in your living room. And if you're on a quest for a beautiful new sofa like me, you've come to the right spot because I've rounded up the most beautiful modern sofas for the living room. Let's get comfy and check out these pieces for your living space that your buns are gonna love.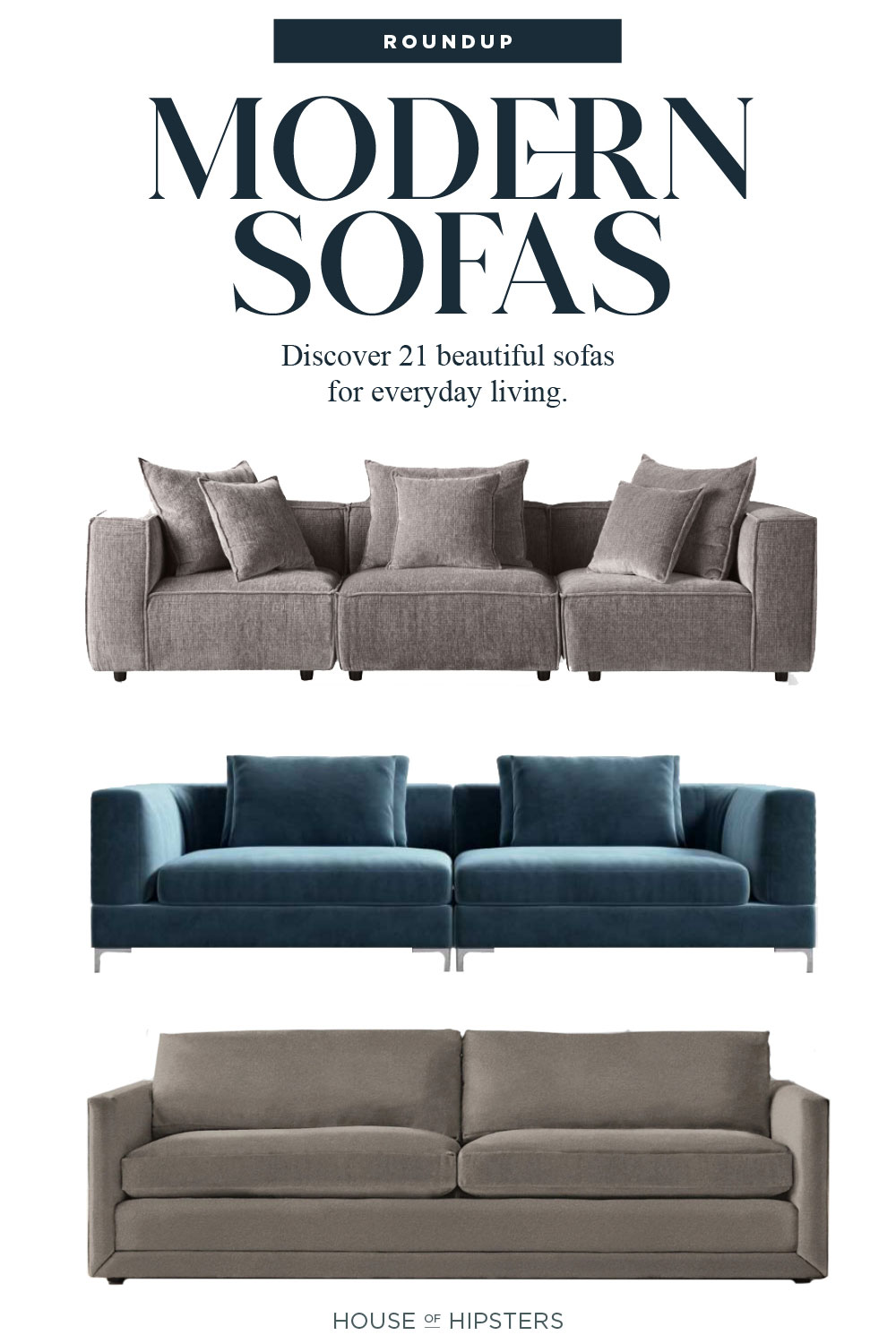 Cobern Three Piece Sofa Sectional – I like the Crypton Nomad Hemp – SHOP IT HERE
Solstice Vintage Velvet Modern Sofa – featured in this living room mood board – SHOP IT HERE
Luxe Mohair Mink Modern Sofa – SHOP IT HERE
First off, pretty much every house needs a sofa, right? But you need to choose the right size sofa for your living room. When we moved into this house, we learned that our existing couch that looked perfect in our former open-concept house did not necessarily fit into our new, more traditional style home. When we moved this modern sectional into our tv room, it overtook the entire space. That couch legit ate the entire room. No matter how we configured it, this was a sofa king situation. Almost every piece I've rounded up will be a modern sofa for a smaller space living room design.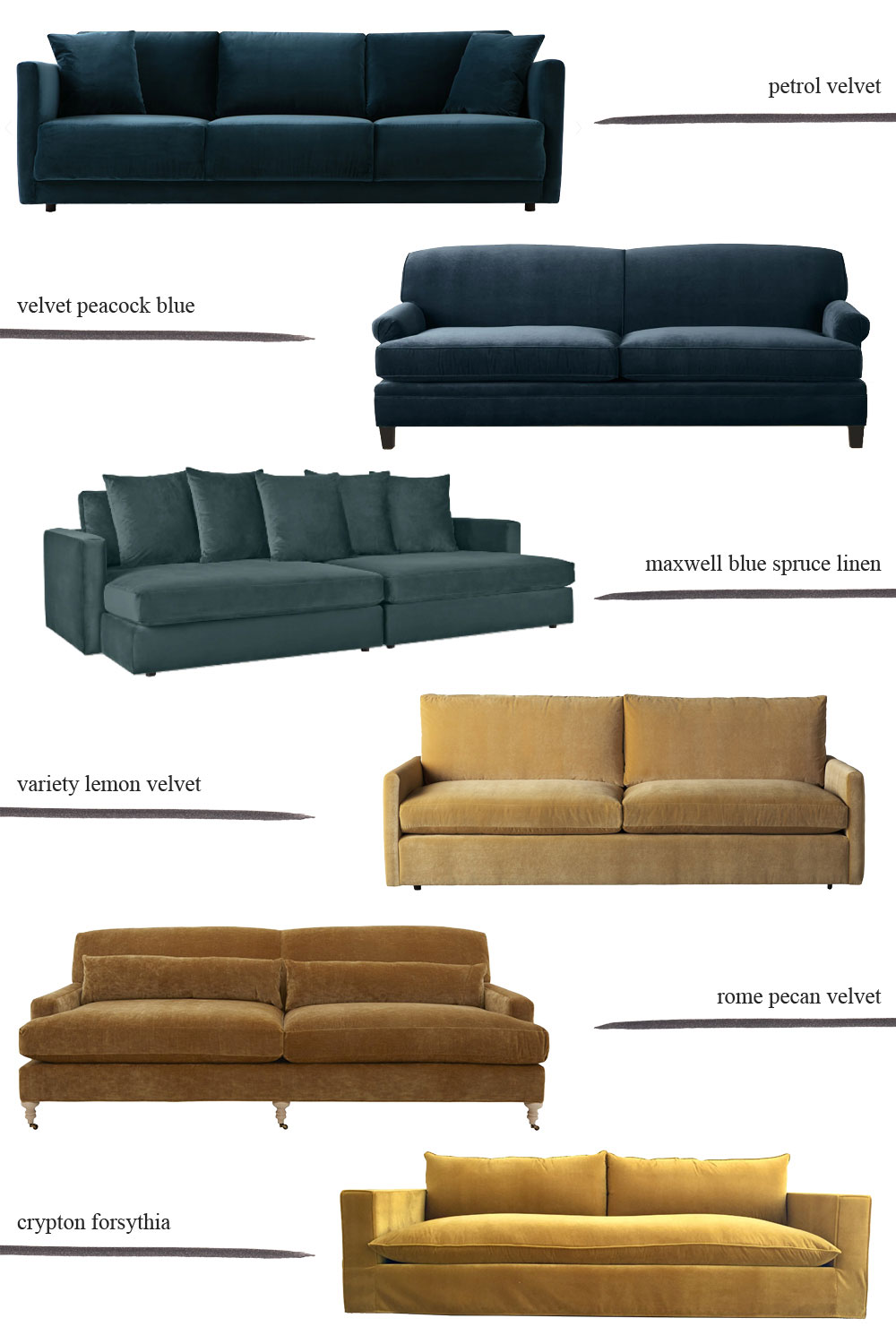 Modern Sofas For The Living Room
Hardwood Frame Blue Velvet Modern Sofa – SHOP IT HERE
Lagoon Performance Fabric Velvet Couch – SHOP IT HERE
Extra Deep 2-Piece Modern Sofa – SHOP IT HERE
Clean Line Modern Couch – made in North Carolina and on sale now – SHOP IT HERE
Casual Yet Classic Sofa on antique brass casters – SHOP IT HERE
Crypton High-Performance Fabric in Forsythia – A Sarah Sherman Samuels favorite – SHOP IT HERE
You may notice I mentioned Crypton a few times. I first discovered Crypton at High Point Furniture Market a few years ago. It's one of the best high-performance fabrics on the market…a smart fabric, if you will. Spill a glass of red wine? No worries, it beads on the fabric. It's also resistant to odors and moisture. Crypton fabric is also earth-friendy, and comes in a ton of colors and patterns, AND if you missed that spilled red wine only to find a dried and set in stain, all you need is a little warm soapy water to remove it. If you have kids or pets, this upholstery is a must-have when looking for any furniture.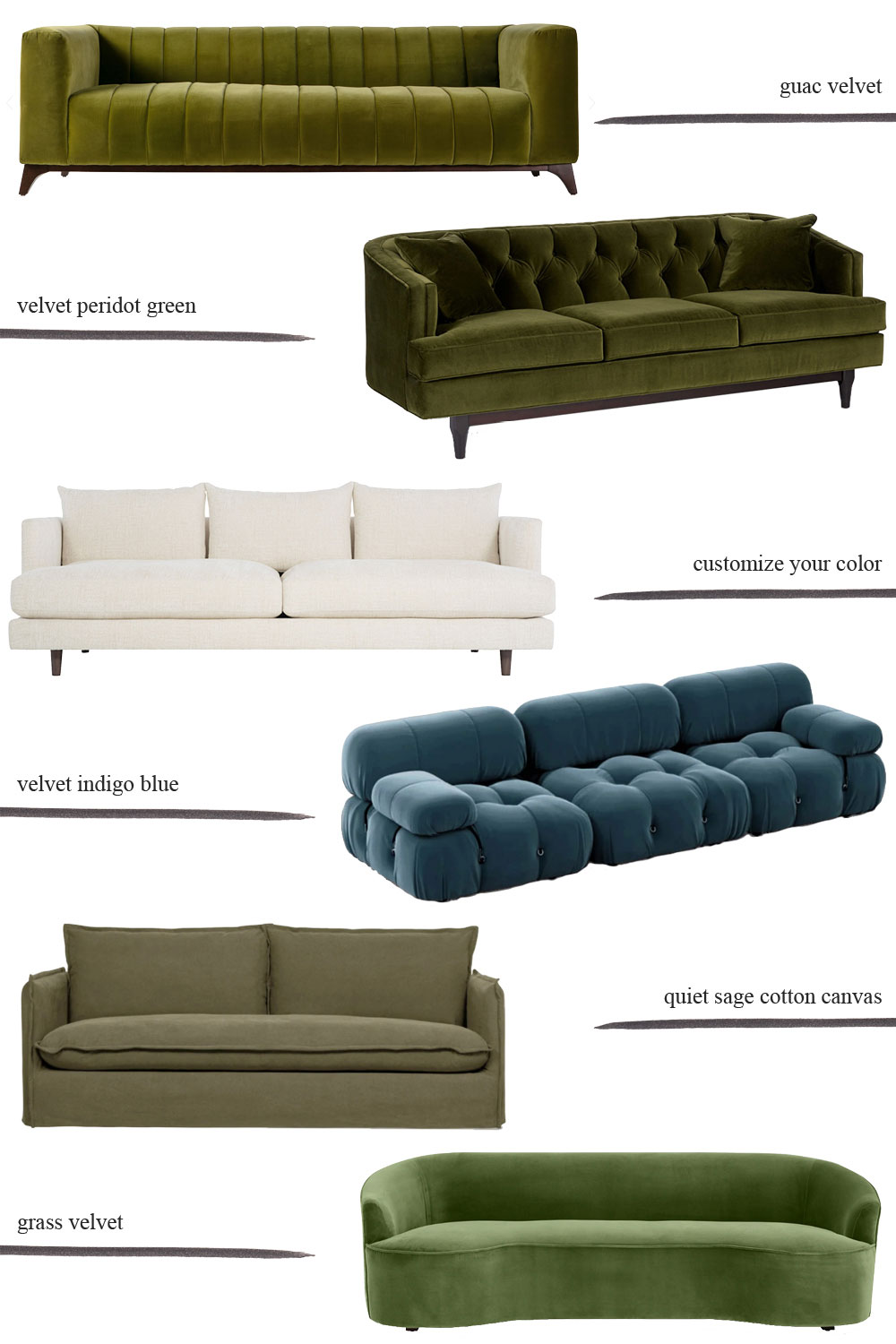 Modern Sofas For The Living Room
Mid-Century Modern Inspired Channel Back Velvet Modern Couch – SOLD OUT
Green Velvet Sofa with Curved Tufted Back – SHOP IT HERE
Customizable Mid-Century Modern Inspired Sofa – all available fabrics – SHOP IT HERE
Mario Bellini Camaleonda Sofa – a Kelly Wearstler favorite – SHOP IT HERE
Army Green Cotton Canvas Casual Sofa – SHOP IT HERE
Hardwood Curved Vintage Inspired Sofa – I also love the navy and black – SHOP IT HERE
Imma sign off with this. If you're shopping for a sofa, measure not once, not twice, but three times a lady. Tape out the measurements on the floor. Measure hallways and doors it might have to travel through to get to the living room. And be sure to find a style that fits your decor style. Look for features like a sofa bed or high-performance fabric or plugins for tech. It's the main seating for your home, so triple-check that you love it and that it'll work hard for you and your family's needs.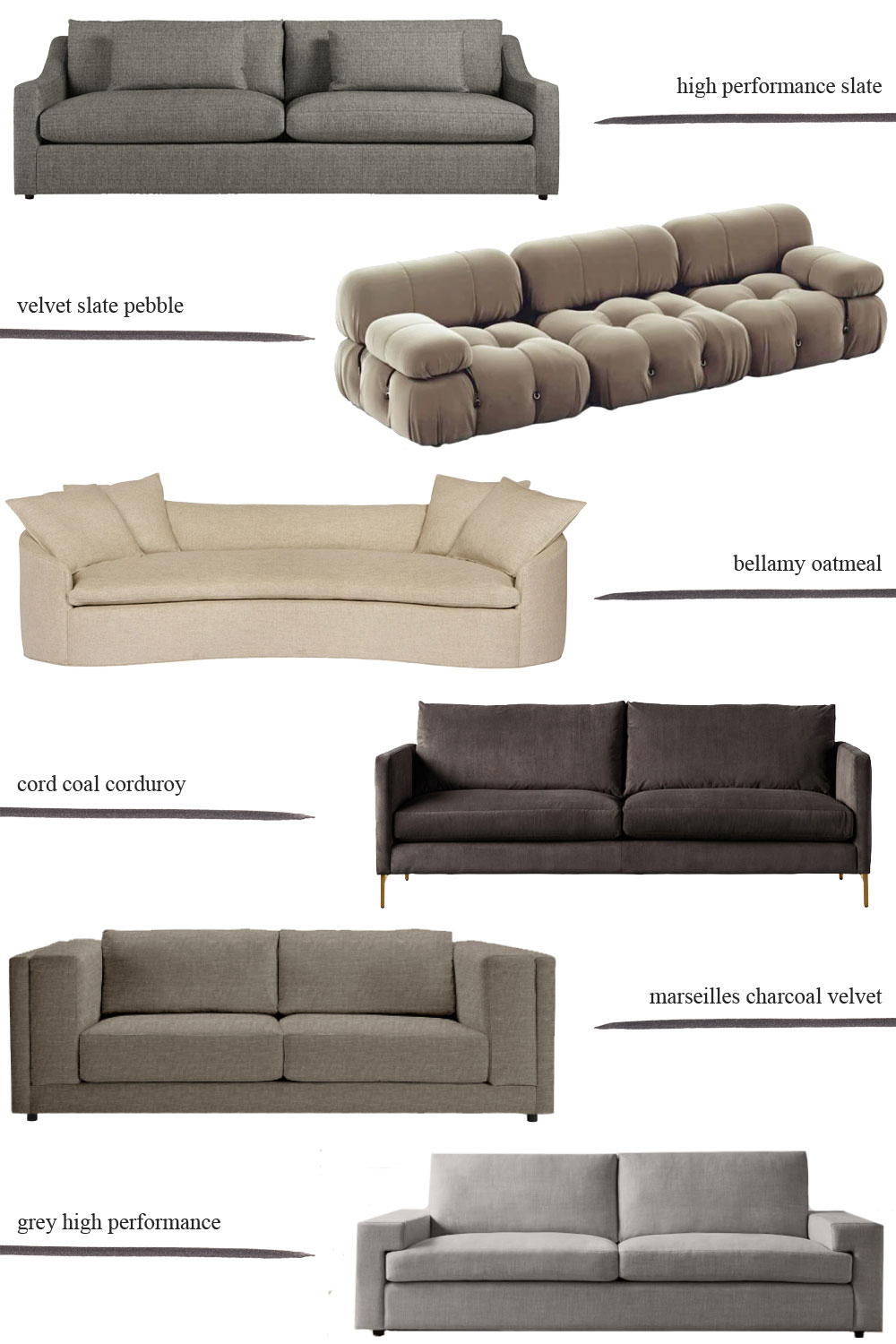 Sofas For The Living Room
Mid-Century Inspired Sofa with High-Performance Fabric – highly durable and virtually sustainable – SHOP IT HERE
Mario Bellini Camaleonda Sofa – yes, I featured it in blue as well – SHOP IT HERE
Certified Hard Wood Curved Back Bench Seat Sofa – SHOP IT HERE
A Couch with Clean Lines in menswear-inspired corduroy upholstery – SHOP IT HERE
Charcoal Velvet Couch with Hardwood Frame – SHOP IT HERE
Williams Grey High-Performance Fabric Couch – SHOP IT HERE
And for those of you who answered davenport, Imma take a wild guess and say you're from the midwest like me. For everyone else scratching their heads asking, "What the heck is a davenport?" you obviously need a Midwest Voice Translator. Enjoy yer week and tell yer folks I say hi. The Wisconsin accent is in full effect today. I predict some form of creamed soup casserole will be made in the near future.