Redesigning The Redesign – Living Room
Last Updated on December 27, 2022
If there's one thing I've learned about designing a room, it's never one and done. There will be a second, third, and probably ninety-seventh iteration. Since publishing the living room makeover last week, I have been redesigning the redesign and wanted to share it here to get your thoughts.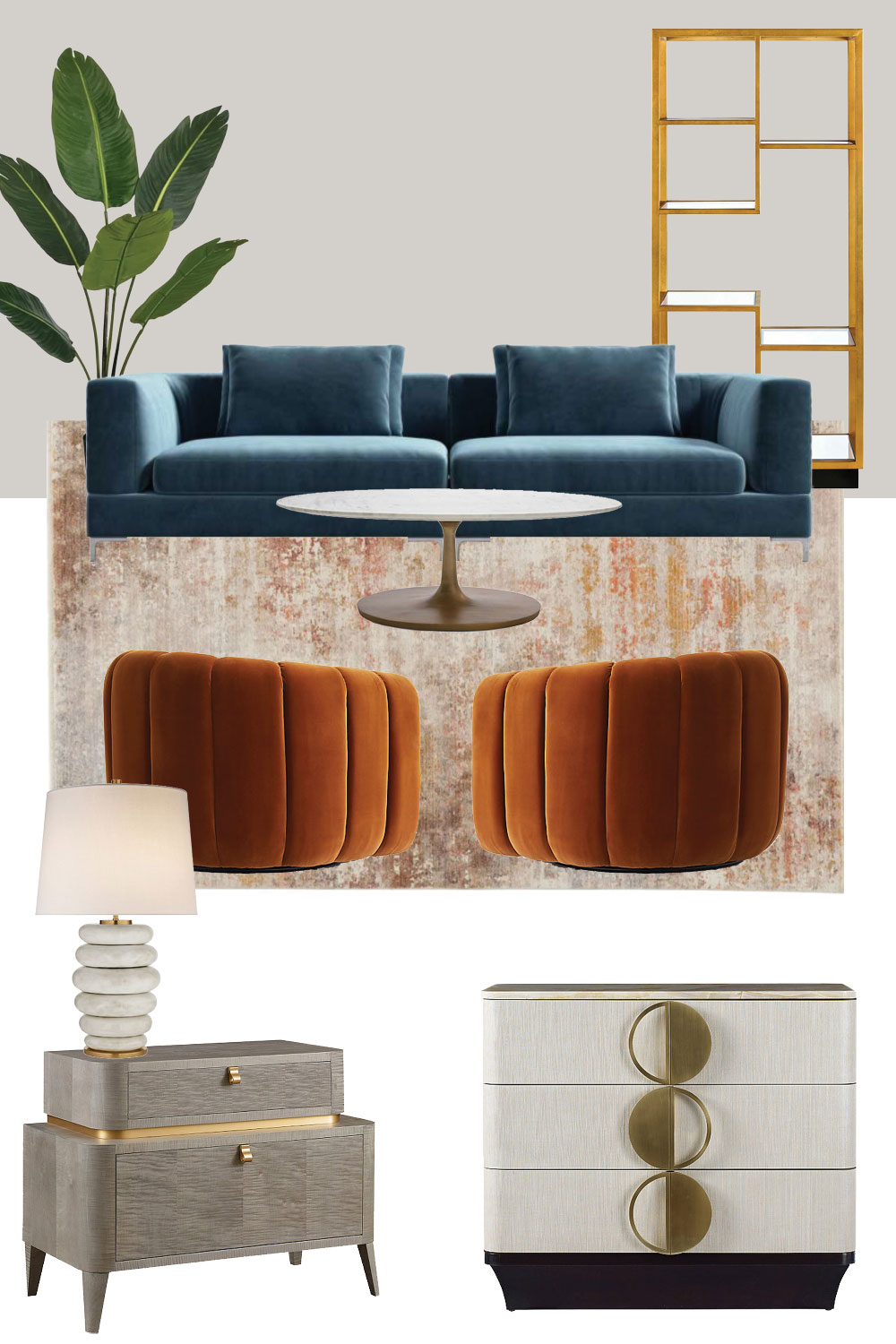 Abstract Terra Cotta Rug – obsessed
MCM Style Oval Tulip Coffee Table
2 Drawer Chest – from Baker no longer available
3 Drawer Dresser – from Baker no longer available
Do me a favor, if you haven't yet, go back to last week's design iteration. Tell me what you think. For me, the navy walls are dramatically dope, but going that dark and moody with both the walls and furniture makes me nervous. It feels heavy compared to this redesign of the redesign. Although I was proud of myself for jumping into the deep end, part of me says, "Kyla, dip your toes in the water." Plus, my french doors are painted black…will that look odd with navy walls? I'm questioning all the things. AAAAAAAANNNNNNDDD, this room would be the only room without white walls on the main floor. Will it stick out like a sore thumb? Will I have to paint more walls? Gahhhhh!
Discover More Eclectic Home Decor Ideas
I'm at it again with a few modern living room decor ideas, but this time on a zero budget. Yup, that's right, I'm only using what I have in the house to refresh this space.
The Boy is doing a jig because we got a new brown leather couch with motion footrests!
If you're looking for an area rug, read my guide on how to choose the best size rug for the living room.
Playing pretend and creating some virtual designs for a living room makeover. Check out the dark, moody walls. Are you brave enough?