What Is The Best Rug Size For A Living Room
Last Updated on January 27, 2023
One of the biggest design mistakes — decorating your room with a rug that is too small, but what is a good rug size for a living room? You want to find a big enough rug for all your furniture to rest on (at least all the front legs, for sure). When it comes to rugs, size matters, so if you're looking for a new rug for your living room, grab a cup of coffee and let's figure out what rug size you need. Oh, and before you head out, be sure to check out more of my living room decor ideas.
Quick Layout Guide To Rug Sizes For A Living Room
With rugs available in every shape and size, it's not easy to instinctively know the perfect rug size for your living room. Take a look at this simple placement guide for your furniture layout, and then scroll for a rule of thumb room-to-rug ratio.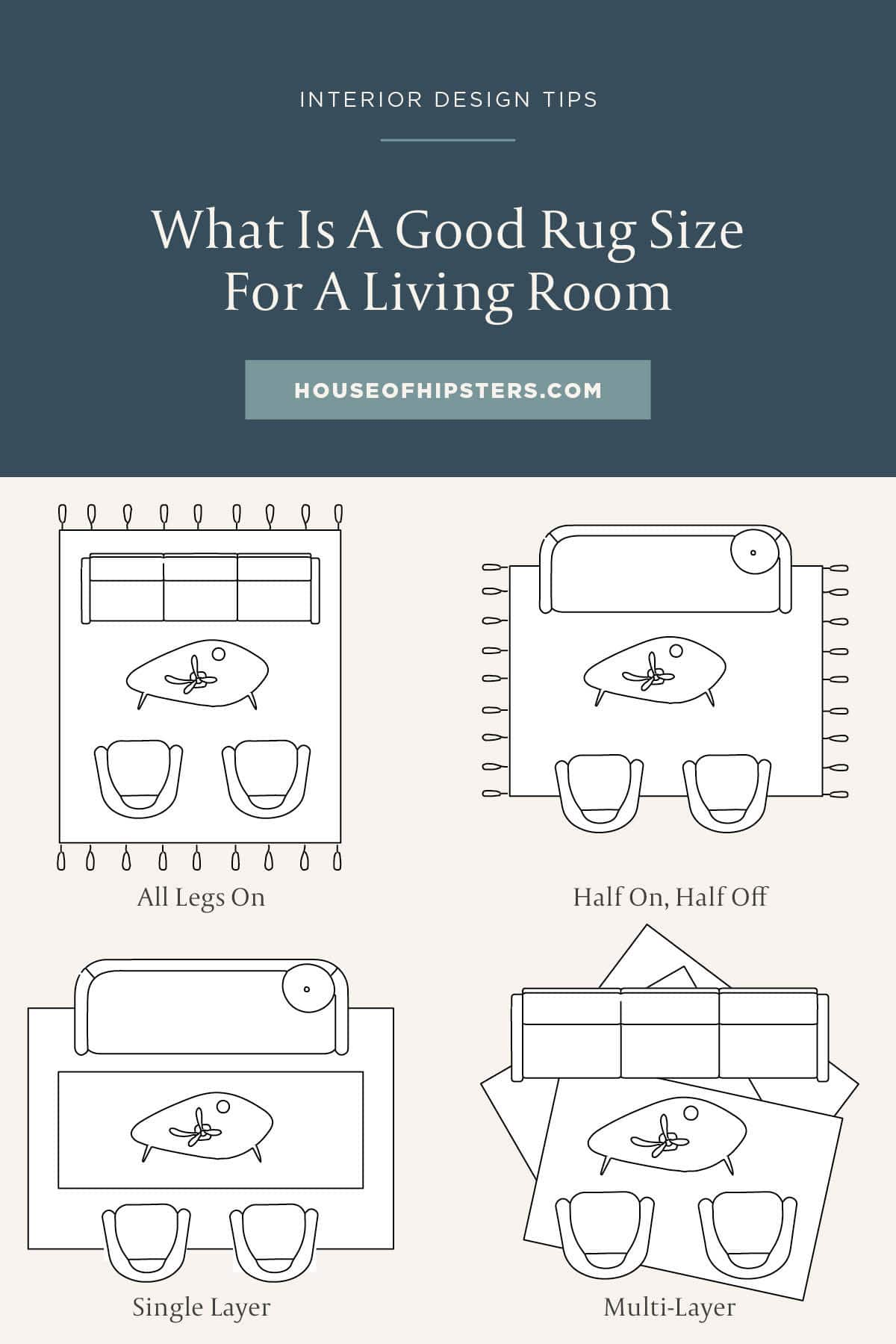 Measure The Room To Determine The Right Size Rug For Your Living Room
Living Room Size For A 9′ x 12′ Area Rug
If your living room is 12′ x 18′ or larger, a 9′ x 12′ area rug should be the perfect sized rug. Yes, I know, an area rug of this size can be an investment, but a big room equals a big rug.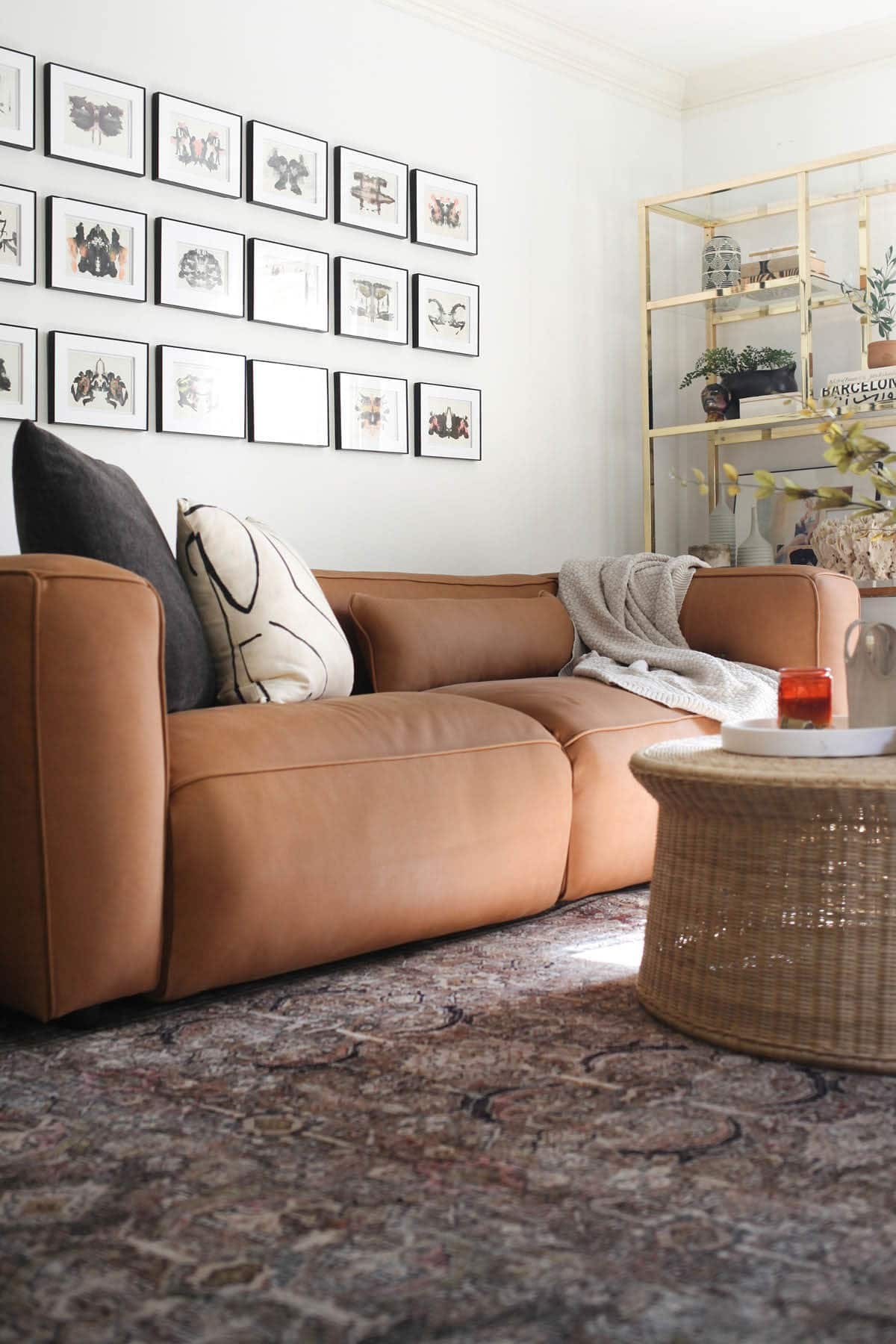 Living Room Size For A 8′ x 10′ Area Rug
If your living room is 11′ x 13′ or larger, the best size rug is probably 8′ x 10′. This is also an ideal size rug if you live in an apartment or are part of the small space squad. This size rug is often the perfect option for the Half On, Half Off furniture arrangement.

HOT TIP! Orient the rug the right way for the room. If you are second-guessing yourself about this rug size for your living room, always try turning it 90° before you size up.
Living Room Size For A 6′ x 9′ Area Rug
If your living room is smaller than 11′ x 13′, this could be a good size rug for your space; however, I would encourage you to use painter's tape to measure and place furniture because rarely will a 6′ x 9′ be large enough. A good rule of thumb here is to measure your sofa to determine if the rug is longer on both sides. I've learned that you want around an extra 8″ on either side of the sofa.
HOT TIP! Always measure your living room before you buy a rug, and make sure the rug is porportionate to the room because no one likes returning a rug. They're big and bulky, and return shipping can be pricey.
If you have a small rug that you absolutely love but it's too small, it's not a complete design crime. You can always float it. If you love it, that's all that matters. Just keep it as close to the sofa as possible.

3 Ways To Arrange Furniture On A Living Room Rug
Consider the layout of your living room and your furniture placement. If your rug is too small can make a room feel disjointed, while a rug that is too large can make the room feel cluttered. The goal is to find a rug that gives your living room a foundation but does not cover the entire floor.
1. Half On, Half Off The Rug
The most common way to arrange furniture on a living room rug is to have the front two legs rest on the rug and the back two legs off the rug. I prefer this because my home is a more traditional design with smaller rooms. This option is also perfect if you have a small space or if you're living in an apartment. It might also be the perfect solution if the larger rug size does not fit your budget.
2. All Furniture Legs On The Rug
This may be the best option if you have an open-concept home. A larger rug size will define a large open space, dictate a conversation area, and give your living room a foundation. It will also accommodate all four legs of your furniture, and you're living room will feel pulled together and cozy. It's a very elegant look, but you must have the space for it, or your living room will feel like an awkward version of almost but not quite wall-to-wall carpet.
The key is to be consistent. If your legs are half off, make sure they're all half off. If your legs are all on, make sure all pieces have all four legs on the rug.

3. The Layered Look
I found a killer black and white striped vintage kilim rug at the most amazing price on Etsy, but the size was wonky and overall too small for my living room. To achieve the look of the perfectly sized living room rug, I layered the too-small kilim rug over an affordable jute rug. Problem solved!
There is an affordable, larger jute rug on Amazon for $312 — ya, it's a 9′ x 12′. I've also seen multiple IKEA jute rugs overlap asymmetrically for a laid-back, relaxed John Derian meets Leanne Ford look.
FAQs — How Do You Determine A Good Rug Size For The Living Room?
Before buying a rug, is there a foolproof way to measure the perfect rug size for a living room?
Yes, there sure is! If you want to make sure you nail the perfect rug size for your living room before making a purchase, measure out the space with painter's tape. You'll get a sense of how the rug will feel in the room, and you'll know if all of your furniture fits around the area rug.
Can you have too large of a rug size in the living room?
Yup, you sure can. I like to give myself around 24″ from each wall, but as a rule of thumb, you'll want at least a foot of space between the wall and the rug. If you decide not to follow this design rule, you risk having an awkward I shrunk the wall-to-wall carpet look.
However, you can break this rule when your couch sits against a wall. Bump the rug closer to the wall (under the sofa) to give yourself additional space.
Are there any low-budget, affordable living room rugs you can suggest?
Oh, you know I got you! Hand-knotted or handwoven wool rugs will be pricier than, say, the printed living room rugs by Loloi II. If you're choosing a rug based on price and you're considering downsizing an 8′ x 10′ area rug to a 5′ x 7′ rug to stay within budget, DON'T DO IT! Downsize your quality before purchasing a smaller living room rug. Trust me. You may not like the idea, but in the end, you'll thank me. Here are a few affordable rugs I've owned and loved!
Shop Area Rugs For The Living Room


8. Liora Manne Madison Shadow Area Rug
9. Francis Jane Power Loomed Rug
10. Jaipur Living Syntax Scalene Area Rug
11. Hogan Handknotted Mocha Viscose Area Rug
12. Surya Queens 26207 Area Rug
13. Hugo Hand Knotted Rug you might recognize this rug from my dining room
14. Sway Neutral Tufted Area Rug my friend Lauren has this rug in her living room, and it's so soft underfoot!
15. Loloi II Bowery Collection BOW-02 Slate / Taupe you might recognize this from my living room
Affordable Area Rugs Under $500

For the price, these affordable area rugs are "chef's kiss"!
16. Billie BIL-03 Area Rug from Amber Lewis x Loloi
17. Margot feat. CloudPile – MAT-03 Area Rug I had this Loloi II Rug in my living room when the walls were painted DeNimes blue. The rug is one of the softest I've ever felt.
18. Layla Printed LAY-03 Area Rug you can see this rug in the room with the new brown leather couch.
19. Amber Lewis x Loloi Georgie GER-06 Area Rug
20. Georgie – GER-02 Area Rug also by Amber Lewis x Loloi – this rug was one of the top sellers from my Amazon Prime Sale post.
21. Morgan feat. CloudPile – MOG-01 Area Rug when you see Cloupile, you know it will be super soft.
If that out-of-budget rug design is what you're heart truly desires, use the layering multiple rugs workaround! You're taking up the foundation space you need with a large jute rug, and the smaller rug will not look like a bath mat. It's a win-win.
Do I really need to purchase a rug pad?
Yes, you always need a rug pad. They protect you from falling and the rug from slipping. Plus, they protect your flooring from color transfer, scratches, and indentations from heavy furniture. Think of it as a protective barrier. Most importantly, this is key when purchasing a more budget-friendly rug because they're usually on the thinner side; a rug pad will give you that extra layer of cushion underfoot.
Can I put a washable rug in my living room?
Heck ya, you can! If you have pets or kids, a washable rug might just become your best friend, although will say anything larger than an 8′ x 10′ rug might be too large for your home washing machine. I prefer washable rugs as runners in the kitchen and foyer because they're not as bulky in the wash. BTDubs, I have a full round-up of outdoor washable rugs in case you want to spruce up your outdoor patio.
Can I have a rug that fits just my coffee table?
When your rug only fits the size of the coffee table, it winds up looking really dinky and small. You don't want your living room to look like you've styled it with a bath mat. Go with the layered look. Although it's not a design crime, my advice is never to purchase a 5′ x 7′ rug or smaller unless it's for the foyer, kitchen, or hallway.

Should my rug be wider than my sofa?
Yes! More often than not, your rug will run the length of your sofa. Ideally, your living room rug should be at least 6″ wider than your sofa on both sides. I actually prefer 8″, but no more than 10″. If you're adding a side table to the couch, you'll want that rug to extend 8″ beyond the table.




Find More Eclectic Home Decor Ideas
7 tips to decorating a bedroom like a pro. My tips and tricks to making your bedroom a cozy retreat.
If you're looking for an Anthropologie Mirror Dupe, then this is the round-up for you. I have 15 of my vintage-inspired gold mirror favorites for you.
Rounding up the best faux olive trees that look real. I also have a full post dedicated to faux fiddle leaf fig trees and more faux plants that will fool just about anyone!
The bedroom closet remodel has wrapped. Check out the before and after.
Discover Where To Buy Affordable Curtains online with this awesome round-up of favorites. If you're specifically looking for velvet, I just published a round-up of affordable velvet curtains.
Getting rid of the brick fireplace in our living room and jumping into a Modern Fireplace Makeover. Check out the progress.