Coffee Table Decor Ideas
Last Updated on August 25, 2023
Over the years I've been styling and restyling my coffee table decor. No matter the table shape, there always seems to be 5 vital ingredients to nailing the look every single time. To help you style your coffee table decor like a pro, I'm going to share my secret design tips to help you pop each item with the best decorative accents.
Top 5 Styling Tips For Your Coffee Table Decor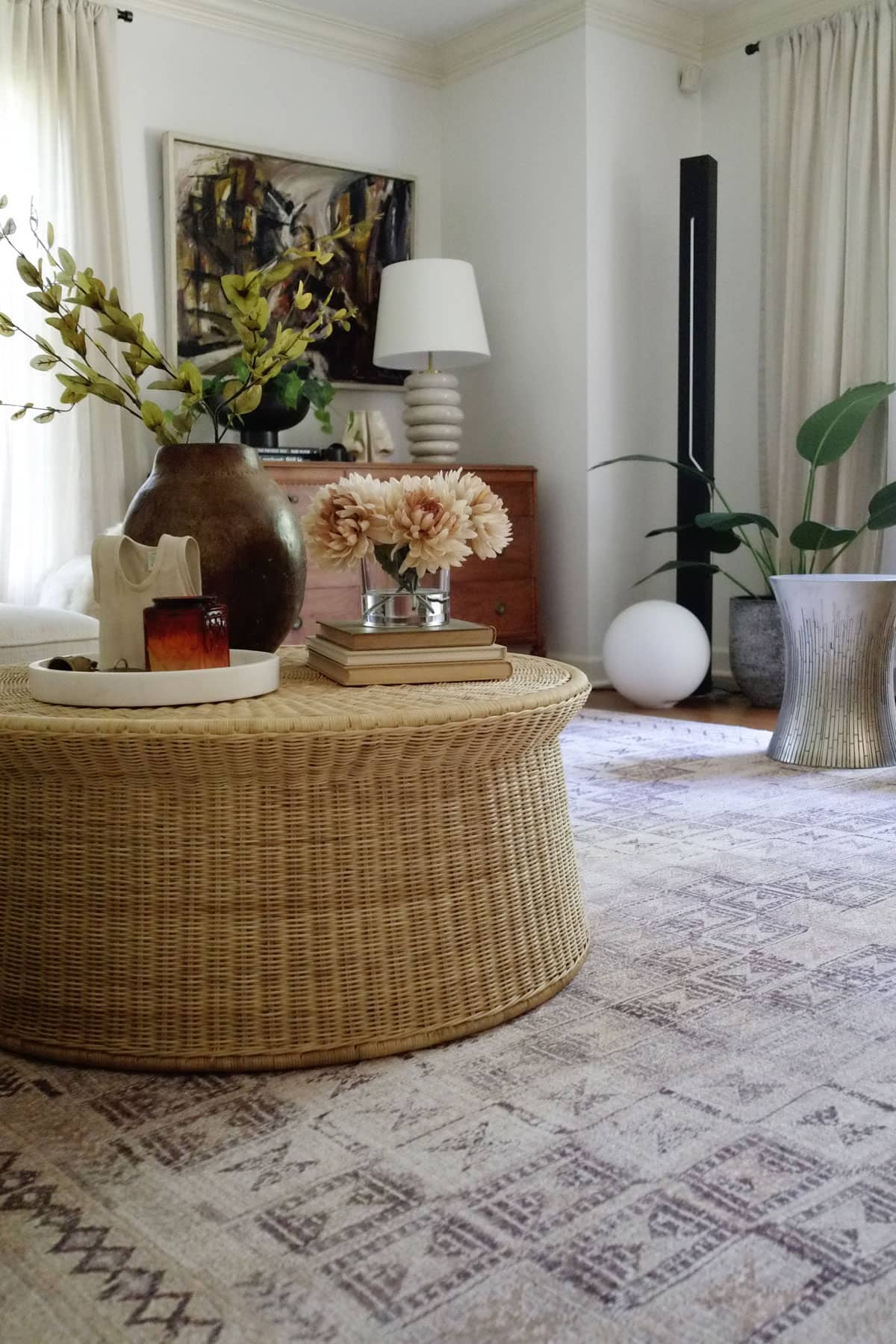 1. Add Weight To Your Coffee Table Decor
Anything that is visually heavy will do here, and please keep in mind, that a lot of these pieces can overlap depending on how many you decide to use. For my coffee table vignette, I began by using a marble tray and a large modern vase. Both have that look and feel of heaviness and as you'll soon see, double as additional styling accents. To keep these two weighted pieces in the same vignette, notice that the proportions and scale are different.
2. Use Objects With Horizontal Lines
Books that are stacked flat are an excellent and easy way to add horizontal lines to your coffee table decor. I like to stack my books in threes since odd numbers are dynamic and more visually appealing to the eye. If you look at my vignettes, you'll notice a lot of interior design books because not only are they pretty to look at, I learn from them as well. Additional decorative objects that can be used as horizontal lines are trays — yes that round marble tray is doing double duty by acting as a horizontal line and adding weight. Decorative boxes can also be used, and are fantastic for wrangling remotes.
3. Add A Point Of Height
The large striking pot adds height to my coffee table, but to give it extra oomph, I added a few faux olive tree branches. These branches add tall, vertical lines giving the vignette movement and keeping the eye moving. One thing to ask yourself while adding height is, "Can you see through it when having a conversation?" It can be awkward if you move your head around branches to make eye contact with the person sitting on the opposite side.
4. Bring The Inside Out
A touch of nature brings an organic element to your coffee table decor. If you're not a fan of fresh florals or even fake plants, look at something sculptural. This flower arrangement in resin happens to be one of my favorite DIYs, so I like to keep it front and center on my coffee table. It's not technically a natural organic, but it sure looks like it is. You'll notice I've stacked the glass vase on books (horizontal lines) to add height, but that height does not compete with the branches in the pot. Rather the flowers act as a dynamic middle ground to help encourage eye movement.
5. Something Fun Or Personal
This fun, the personal object is your talking point when entertaining. It should also make you quietly smile when you're alone, enjoying a cup of coffee. For me, I display a few of my vintage hotel keys (if you watch this tutorial on TikTok, you'll notice one is also a bell).
My kids play with them, and guests tend to pick them up and ask how I acquired them. This small quirky item can be anything as simple as a shell brought back from vacation to a small craft made by your child. No matter what it is, make it a small personal detail that has a story.



Step-By-Step Guide To Arranging Your Coffee Table Decor
Now that you have your decorative elements gathered, you'll want to group and sort. Be sure to choose a variety of shapes, sizes, and materials. Remember that if every piece is uniform, you'll lose that dynamic design aspect and have a forced, stale display rather than a casual "I just threw this together" shazam vignette worthy of Pinterest.
Follow the Rule Of Thirds by dividing your coffee table into 3s. Working in odd numbers is more pleasing to the eye, helps guide you toward perfect positioning, and avoids the mistake of centering.



I always begin with my weight, so in this case, it's the marble tray. It sets the foundation for my coffee table decor. A tray is a hard-working piece because it wrangles everything and creates a nice focal point. Rarely do I place the tray in the middle unless it takes up the entire space on the coffee table — see the Rule Of Thirds above.
Side note. You'll notice in the living room, I placed a large rattan tray in the center of the black coffee table. I did this to break up the solid square of black that seemed to be grabbing the room's attention. To avoid the mistake of centering, I divided the tray into 3s and styled it rather than the table.



To anchor the weight on the opposite third of my coffee table, I'm going to add height. You'll notice the proportions of the tray and pot are completely different. This is the beginning of creating eye movement; however, it's still a bit extreme.
The horizontal lines and faux florals balance out the low tray and the height of the branches in the pot. My eye is now slowly going up and down and also right to left with the stack of coffee table books. You've created a triangle or three-point thinking, which is something interior designers and stylists use in their work over and over again.
Did you notice you created a triangle when you divided your coffee table into thirds? The tray, large pot, and books created a triangle. You're three-point thinking like a pro and didn't even realize it!
Check out this crazy house for sale in Ohio and a few other things that caught my eye.
Heated flooring in the walk-in closet renovation? Ummmm, yes, and you need to see it.
If you're looking for boob light alternatives, this round-up of ceiling lights is for you.
Shop My Coffee Table Decor Sources
Large Brown Pot – similar, mine is vintage
Marble Tray – similar and less expensive
Favorite Candle Hot House Peony – candle hopefully coming back soon
Rattan Tray – Entire Serena and Lily Summer Sale Round-Up
Large Pottery Vase – similar, mine is vintage



More Eclectic Home Decor Ideas and Interior Design Tips
Wanna make your home look expensive when you don't have the luxury of a high budget? Try this!
Let these expert tips on how to shop a flea market like a pro.
Bobby Berk told me he has always invested in quality bedding. Here's the ultimate guide to the best sheets and bedding.
Have you seen the viral ironic boat and totes that have been trending on TikTok?
Cozy up your living room with these affordable velvet curtains.
If you're looking to replace your ceiling lights, here are a few boob light alternatives.
Looking to decorate on a budget? Check out these clever ideas.
If you're looking to spruce your backyard, check out this round up of the best outdoor patio furniture.
Want to add a little magic to your room? Try adding some disco ball decor with these sparkly ideas.
Ever second guess yourself on what rug size to buy for a living room? Here lie the answers you desire.
Rounding up the best interior design books – if you're looking for gift idea inspiration for a home decor obsessed loved one, this post is for you!
Love plants as decor but have a black thumb? No worries! I have a rounds ups of the best faux olive trees, my favorite faux fiddle leaf fig trees, and a huge round-up of faux plants that look real.
Thinking about joining a country club? Before doing so, read my review of the Biltmore Country Club. You may rethink that decision.