How To Make Your Home Look Expensive
Last Updated on February 1, 2023
Today I'm spilling the tea on how to make your home look expensive. I am by no means rich, but when I first began posting home decor on TikTok, one comment I received over and over again was hello #RichTok. Yes, there are times I splurge here and there, but more often than not, I'm looking for budget-friendly home decor. It's all about finding a good mix and finding the right decor pieces to create a more expensive look. Here are my top 7 design tips to get the look for less.
7 Design Tips To Make Your Home Look Expensive
1. A Rug Can Make Your Home Look Expensive
A rug sets the foundation for your room, and in my opinion, it might just be the most important piece of decor in any room. Now, I realize area rugs can get pricey, but if you know where to look, you can find some budget-friendly options. First things first, determine your rug size. Unless you're decorating a small foyer, you will rarely need a 5′ x 7′ rug, and almost every rug in my home is at least 9′ x 12′. So, what are some budget-friendly options that look expensive?
RELATED: Learn all the ins and outs of how to find the best rug size for your living room with this guide.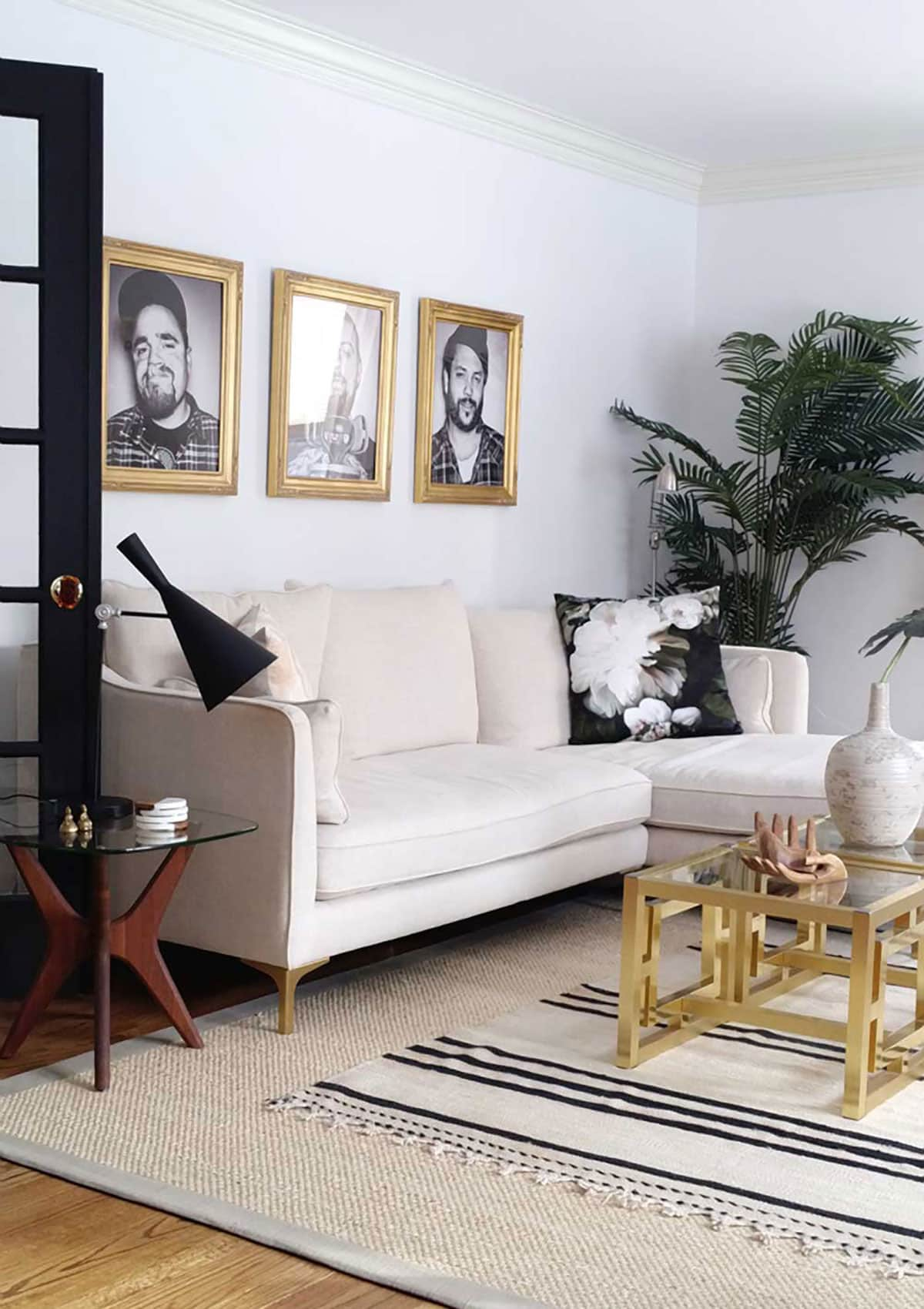 Vintage Striped Kilim Rug — Ivory Sofa — Glass Top Tables (similar)
Shop vintage rugs — my favorite source is Etsy, BTDubs that shopping board is updated monthly so you'll want to bookmark that page. A vintage rug will elevate your room design, plus, it's a one-of-a-kind piece that will make your home unique. However, many times they're on the smaller side, but I have a solution for that. Layer it over an inexpensive jute rug like this one or this one. Layering your rugs will give your home texture and added dimension.
You can find great deals on Amazon and Rugs Direct when it comes to rugs. Both my front room and living room rugs are 9′ x 12′ area rugs that were under $500. BTDubs, you can now shop my home here. Everything is sourced, and I pinkie swear to try my best to keep it updated.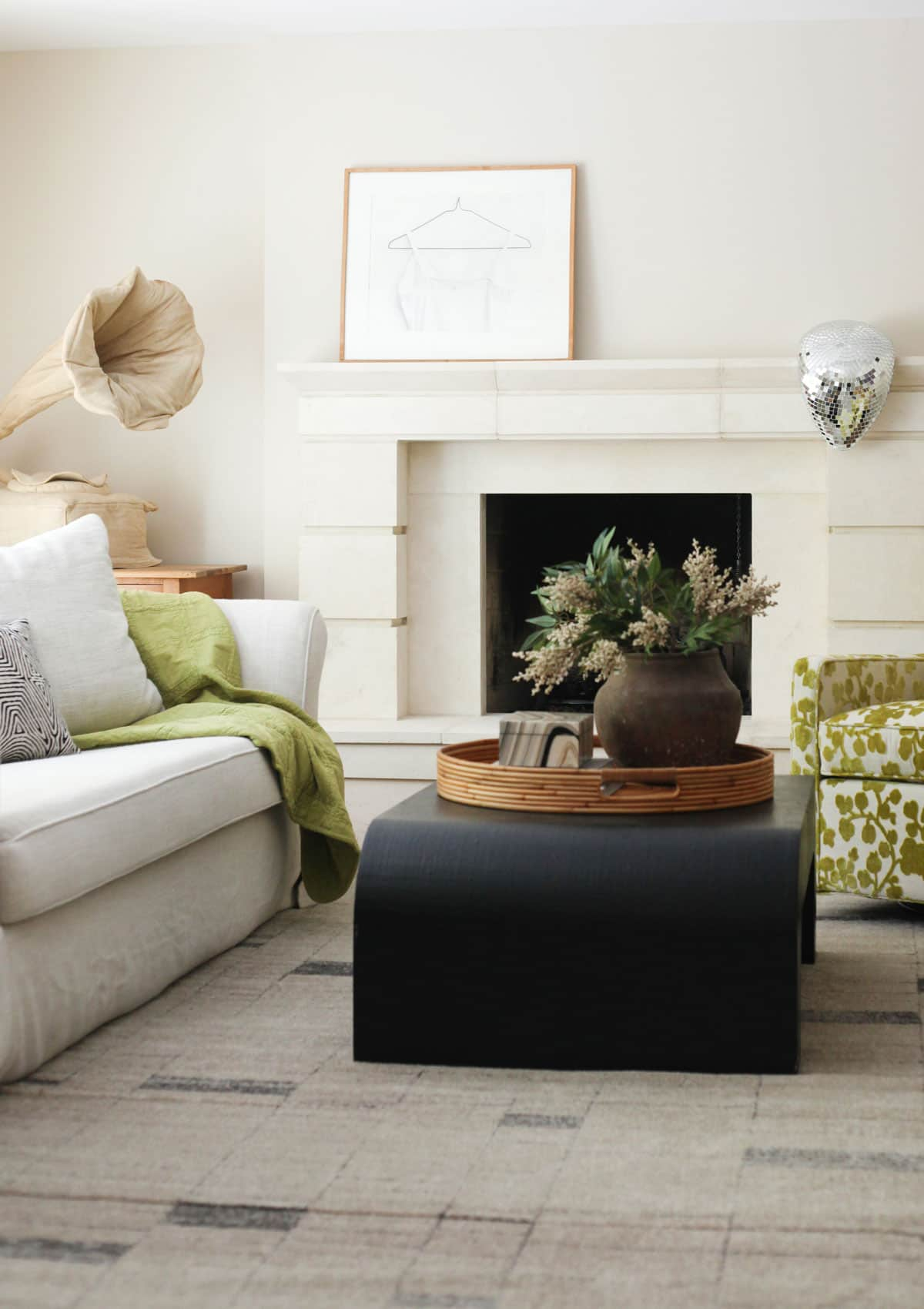 Graphic Area Rug — Ralph Lauren Sofa (estate sale) — Green Chair from a Barrington consignment shop — Black Coffee Table (CB2 outlet store)
2. Repaint The Walls Or Add Wallpaper
If you need evidence on how paint can transform a room, peep the photo of my living room above and compare it to the Farrow & Ball DeNimes living room below. Yes, it really is the same room. Can you believe it? Repainting your walls can make your space feel fresh and newly renovated.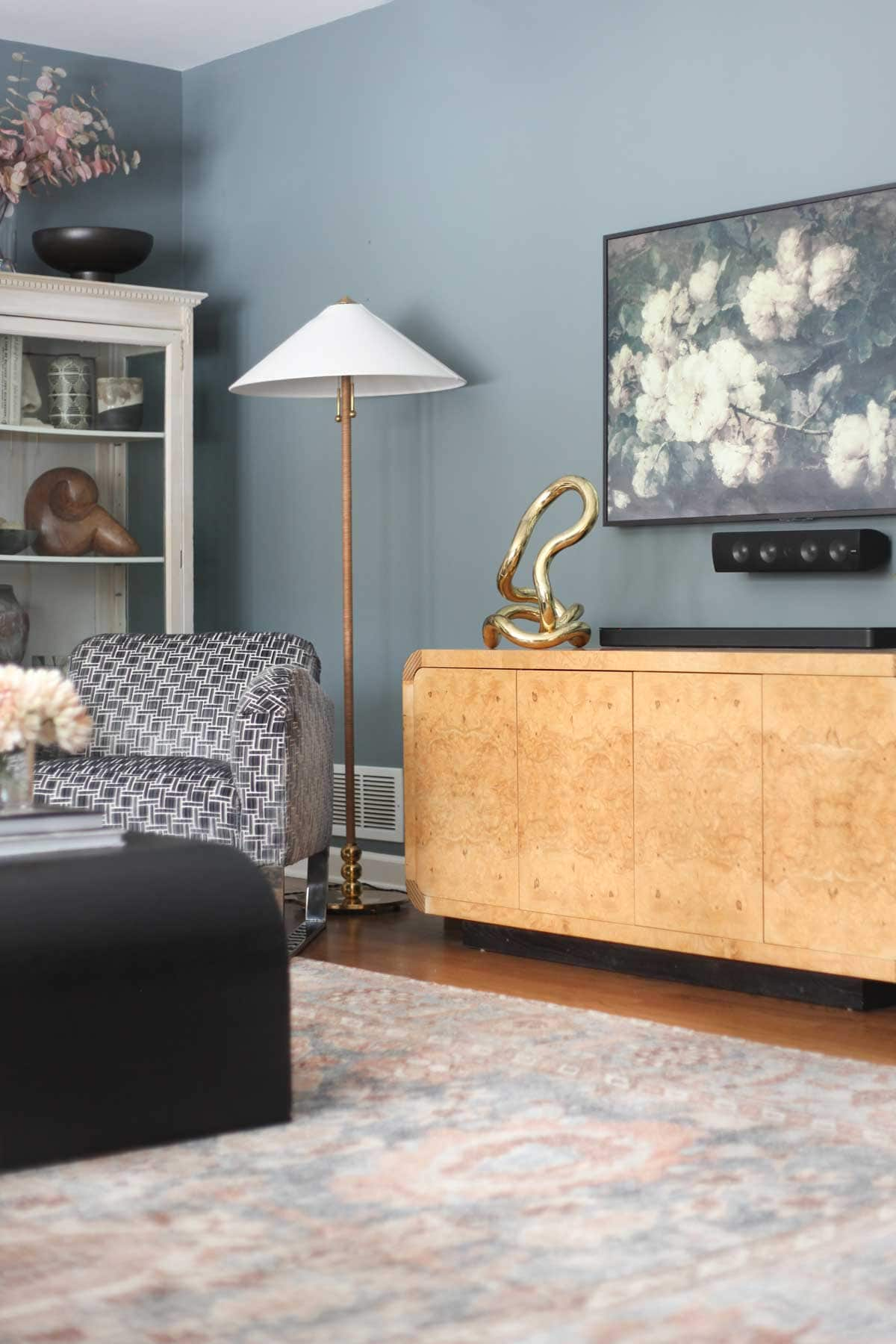 Floor Lamp — Burl Wood Credenza — Frame TV Art — Softest Rug Ever
Wallpaper adds a punch of major personality to your room. If it makes you nervous, start small. I wallpapered the closet in the foyer and my both powder rooms in bold, bright patterns. Let me just say, it took those spaces to god tier. If you're a renter, there are plenty of removable peel and stick wallpaper designs on the market too! In fact, unbeknownst to me, the black and white palm frond wallpaper in our basement bathroom is temporary.

Black & White Wallpaper — Round Wooden Mirror
On a budget? There are plenty of ways to cut the cost of wallpaper. Ask yourself if it can be used as a half wall, accent wall, or maybe simply backing a bookshelf. You do not need to wallpaper an entire room to make your home look expensive. If you really want that luxe designer look, think about your fifth wall. Yes, you have one in every room — I'm talking about the ceiling. Give that room a fresh coat of paint, and shazam wallpaper on the ceiling is *chefs kiss*!
RELATED: Learn how to hang a picture like a pro with these 7 genius hacks.
3. Consider Adding Curtains Or Window Treatments
Always, always, always hang curtains. Not only does it give you privacy, but it also helps soften the space, and when hung properly, it can make your room appear larger, and the ceilings look higher. If you missed my round-up of inexpensive curtains you can buy online and you're in the market for new window treatments, don't sleep on that post. There are some juicy details hidden over there.
When hanging curtains, always hang them high and wide for a more custom, designer look. In the photo below, I hung 2 sets of panels on both sides. The fuller look gives the room a more luxe look. Would you believe me if I told you these gold velvet curtains were from Amazon? Again, yes, I splurged on the black luxury wallpaper but saved on other decor items. It's all about finding that balance and mixing things up.

4. Replace Those Builder Grade Boob Lights For Statement Makers
If I had a nickel for every time I said lighting is the jewelry of your room. If you have plain jane ceiling light fixtures, swap them out with one of these boob light replacements.  If you really want to make your home look expensive, add a statement maker pendant light in the foyer, hallway, or dining room — trust me, it's worth the investment. Every single time I post the chandelier in my dining room I'm asked, "Where is that light from?". Again, if you're a renter, take down the boring light, save it in a box, hang a beautiful light, and swap it back out before you move. Easy peasy.
If money is tight and you're looking for a more affordable option, check out this flush mount conversion kit. Simply remove the glass cover to your old ceiling light and replace it with a drum shade and diffuser — boom — stylish lighting.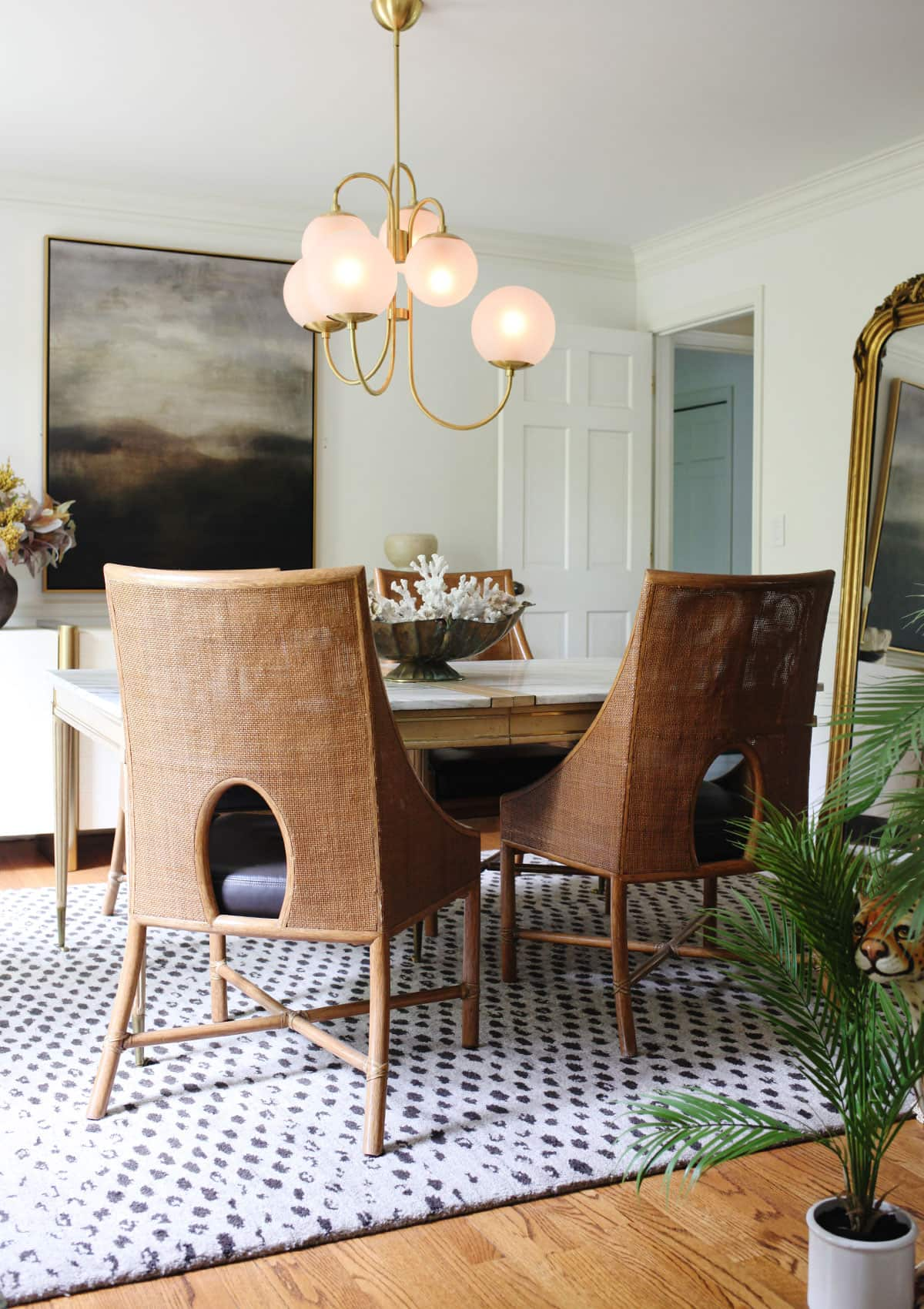 RELATED: See how I layered lighting in the guest room makeover and find bedroom lighting ideas you can use in your home!.
5. Create More Natural Light
No, I don't mean taking a sledgehammer to a wall to make way for another window. There's a much simpler way to create more natural light. Take another look at the photo of my dining room above. That mirror sits opposite two windows and bounces the light coming into the room. Genius design hack huh? A well-placed mirror can also create the illusion that your room is larger than it actually is. Although I'm fond of using an extra-large floor mirror like this, really any decorative mirror will do the job. If you're looking for affordable decor, this arched mirror is a great way to get that designer look for less. If you want the look of this vintage mirror for less, take a looksy at this one.
6. Add Texture To Your Decor
Mix and match textures in your room decor to create a luxe interior designer look. Leather, wood, vintage, metal, linen, velvet…you get the picture. Nate Berkus is the king of layering different textures and his rooms give off this casual, eclectic, I'm not trying but I'm trying french girl chic look. The photo below has a lot of texture with the nubby blanket, linen sofa, cable knit rug, and brass table. Even though it's a neutral color palette, there's movement. What you can't see are the wood coffee table and vintage pottery. This space was definitely a vibe.

7. Decluttering Is The Easiest Way To Make Your Home Look Expensive
Not only is decluttering free of charge, making it the cheapest way to make your home look expensive, but it also makes your room feel airy and bright. The concept is simple but true. Think about it, while flipping through magazines and catalogs, you'll notice all the "stuff" is missing. Over the last few years, I've slowly minimized the number of things in my home, helping to make unique pieces stand out. To help keep a tidy space, invest in baskets and decorative boxes to wrangle in the blankets and remotes.
RELATED: Get my Declutter Your Home Checklist and get my 7 Easy Decluttering Tips.
One More Way To Make Your Home Look Expensive
There is nothing like old school charm of a ceiling medallion. This is an architectural detail that will immediately elevate your room design. Shop my favorites and learn how to install a ceiling medallion here.




Discover More Home Decor Ideas
It's finished! Well, kinda. Sharing the before and after look at my bedroom closet remodel.
I put together four virtual modern living room designs just for you – oh, and bonus, you can shop them all.
Did you know that mushroom decor is trending? I've rounded up all my favorites.
Does electrical scare you? Samsies, until I learned how to change a light fixture. Check out the full tutorial.