Luxury Vinyl Flooring
Last Updated on June 28, 2023
Let's get a closet makeover progress report, shall we? A flooring decision has been made! We chose luxury vinyl flooring from NovaFloor and narrowed it down to the Dansbee French Oak Pearl, French Oak Pebble, and White Ash Sand Dune. And since we like to keep it sporty, we asked TikTok and Instagram to weigh in and help make a decision. I thought for sure there would be a clear-cut winner, but it was pretty even. In the end, I chose French Oak Pearl, and am so excited to show you the progress we've made. Let's dig in.
Luxury Vinyl Flooring From Nova Floor
The DansbeeTM collection was inspired by Southern California living. It's very clean and chic with its blond wood-like tones. This luxury vinyl flooring is a rigid core HDC floating floor with the NovaClic® locking system – which The Boy says claimed to be one of the easiest floors he's ever installed. Normally I pick really complicated decor, so he was pleasantly surprised. Each plank has an attached foam underlayment and is soft underfoot. If you watched the videos I've posted, you'll see that the planks click in like a puzzle piece, and you give it a tap with a hammer and a shwack with a tapping block.
RELATED: The final reveal of the luxury closet remodel is live! Hope on over to check it out.
My son, Cooper, even learned how to install the luxury vinyl planks. It was awesome how well he worked together with his dad. This momma was proud.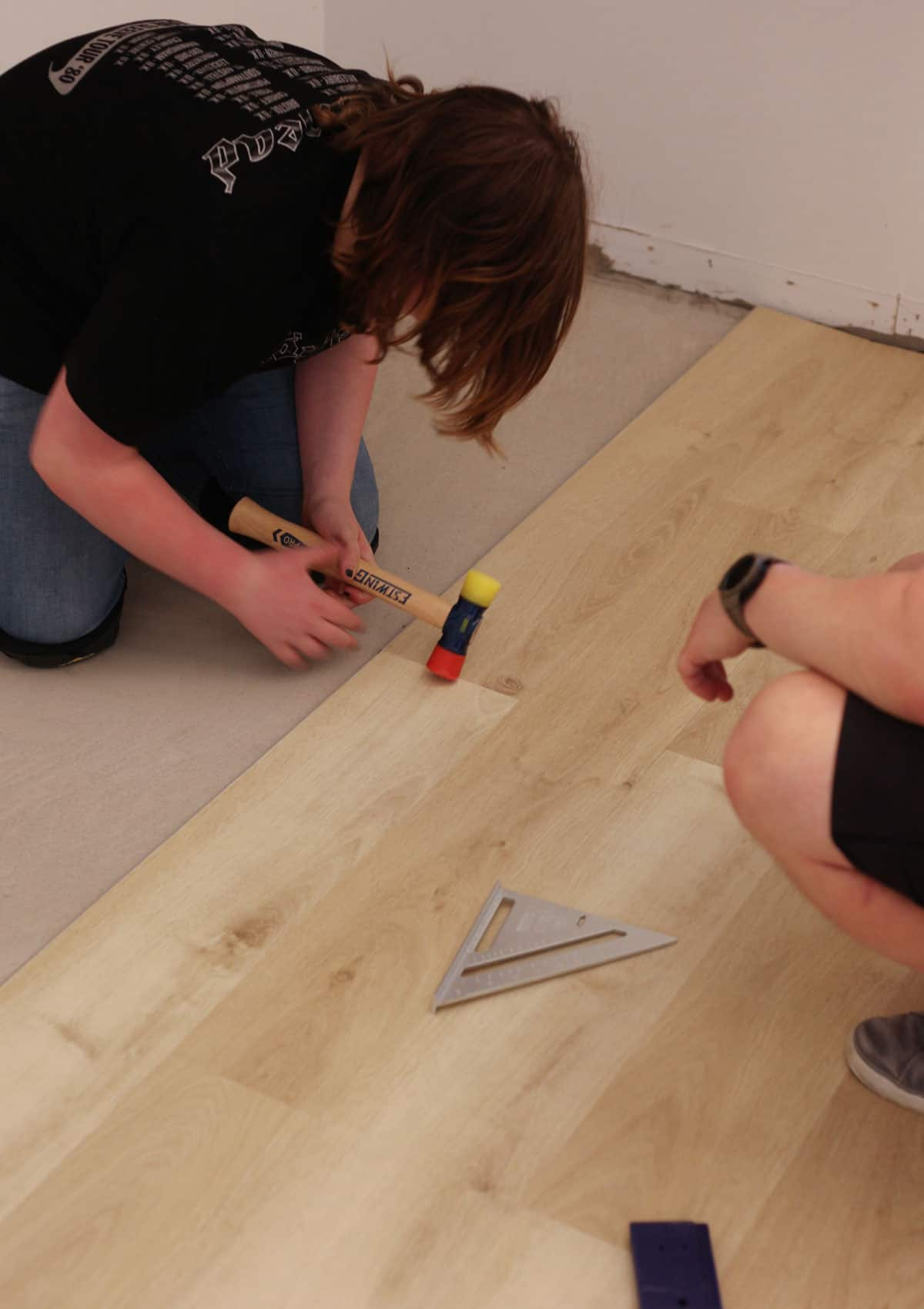 What we loved most about the luxury vinyl flooring from NovaFloor was that cutting it was a breeze. All you need to do is cut the plank with a utility knife to score it and crack it over your knee. It was a clean break 99% of the time. The best part was no one was running up and down the stairs to cut with a saw, and that saved us a lot of time.

Can You Install Radiant Heat Under Luxury Vinyl Floor
The answer to this can vary on the brand, but for Nova Floor, yes you can install radiant heat over LVF as long as you set your thermostat no higher than 80°. We double-checked this with both WarmlyYours and NovaFloor customer service. The last thing we wanted to do was melt or warp our new beautiful floor. Here's what lays beneath the self-leveling cement.

The radiant heat will be turned on during the winter months, and the closet sits over the garage. Ya, it's an incredibly cold room, so next November, this will be our happiest moment…take that back, finishing the closet will be our happiest moment, and laying on a warm floor during a polar vortex will be our second happiest moment.
Can Luxury Vinyl Flooring Get Wet?
The Dansbee flooring from NovaFloor is waterproof, and since we have a washer and dryer in our closet, this was a huge sticking point. If you remember, we flooded our basement when we first moved into our home because The Boy left the faucet run in our downstairs laundry room. Not that I'm planning to flood the closet — but it does give me peace of mind to know if a little water drips here and there while doing laundry, I won't have permanent watermarks.

Is Luxury Vinyl Flooring Sustainable?
One thing I hear over and over again in the interior design field is, "Is this product sustainable?" (Especially at High Point Furniture Market)From indoor air quality to the environment as a whole, sustainability and the environment is a high priority at NovaFloor. Also, the LVT and rigid core are sustainable because they can be repurposed or recycled at the end of their life span. In fact, the factory reused and diverted over 18,000 tons of luxury vinyl flooring scrap from landfills. You can read more about that here.

NovaFloor Gets The HOH Stamp Of Approval
The old carpet attracted dust from the dryer, and in a closet, you want to keep the dust to a minimum. The luxury vinyl flooring will help keep this space clean. NovaFloor definitely gets the HOH stamp of approval. Their luxury vinyl flooring is not only beautiful and durable but also eco-friendly flooring in today's day and age that is not easy to find.

It's soft underfoot and can be installed with radiant heat. If you'd like to check NovaFloor out yourself, click here to find a retail location near you. And BTDubs, if you're a commercial interior designer reading this, they do offer a commercial product page.
Closet Makeover To-Do List
The final reveal is approaching, but there are a few more to-dos left on the docket before I can officially say this makeover is dunzo. Here's what's next.
Paint the walls.
Finish baseboards and quarter-round.
Move the old closet system back into the space. Right now we only have the large island moved in.
Change out the chrome closet rods to brass.
Change out the hardware on the drawers.
Find new ceiling lights.
Pared down my wardrobe because let me tell you if I could keep this closet looking just like this, I would.
This post is sponsored by NovaFloor. All words and opinions are my own.



Discover More Modern Eclectic Home Decorating Ideas
Check out these easy ways to add smart lighting to your home.
Here's a full round-up of some of the best smart home devices I've been using in my house.
If you want to add a splash of green decor to your home, check out this round-up of decorating ideas.
I've got my favorite striped chair in this recent Beautiful Distractions.
The final reveal of the kitchen remodel on a budget is live!
Before starting your next home improvement project, download this free whole-house renovation checklist to stay on budget,