Walk-In Closet Renovation Progress
Last Updated on July 2, 2023
Remember that walk-in closet renovation? Well, after publishing the before closet makeover tour, I came down with a case of covid. Everything came to a screeching halt for a week while I was quarantined in the bedroom. But as soon as my time was up, all systems were a go. We hauled out all the clothes, the old closet system including that huge island, and the washer and dryer. Licketty split, it was time to demo and install cable for the heated floor. Here's the progress report!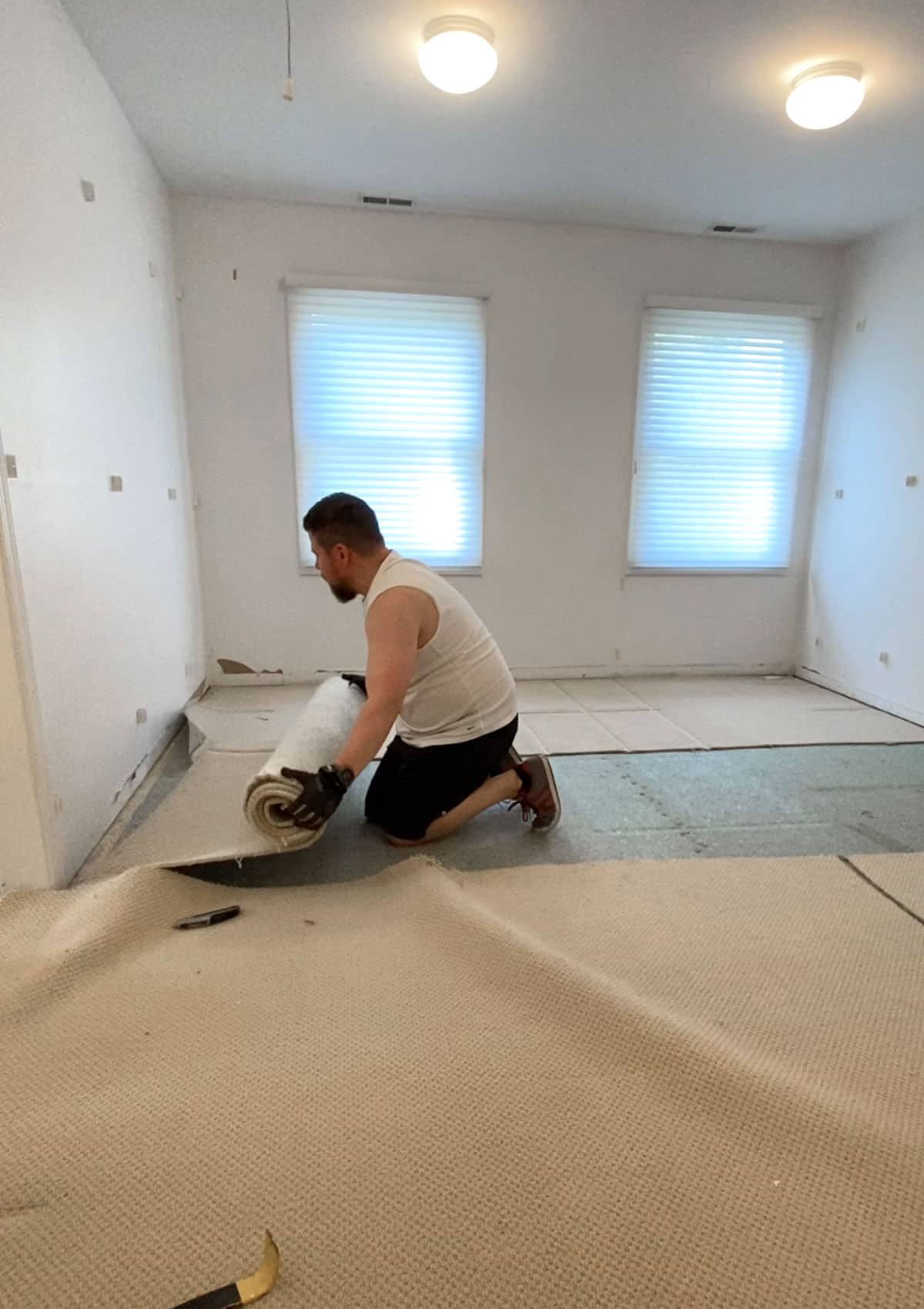 We were not planning to DIY this closet renovation, but as luck would have it, every contractor on the planet was crazy backed up with existing jobs. I was telepathically willing Gerry to come to our rescue, but ultimately it was just me and The Boy — oh boy. I was the cheerleader while he thought through everything that could go wrong. I would Google and watch YouTube videos and say, "Oh you're being dramatic. It's not that bad." But in my head I was like OMG, we're so screwed, but please don't tell him that.
RELATED: This renovation is complete! Check out the bedroom closet remodel final reveal.
Closet Renovation Demo Day
We rolled up the old carpet and removed the baseboards. To my surprise, my son Cooper even volunteered to join us in the destruction, and he enjoyed himself. Next up in the closet renovation was to fill every nail hole and seam in the plywood, and fill in gaps between the walls and floors with foam. If this wasn't done properly prior to pouring the self-leveler, would find all the cracks and holes and pour cement onto the cars in the garage below. No pressure right?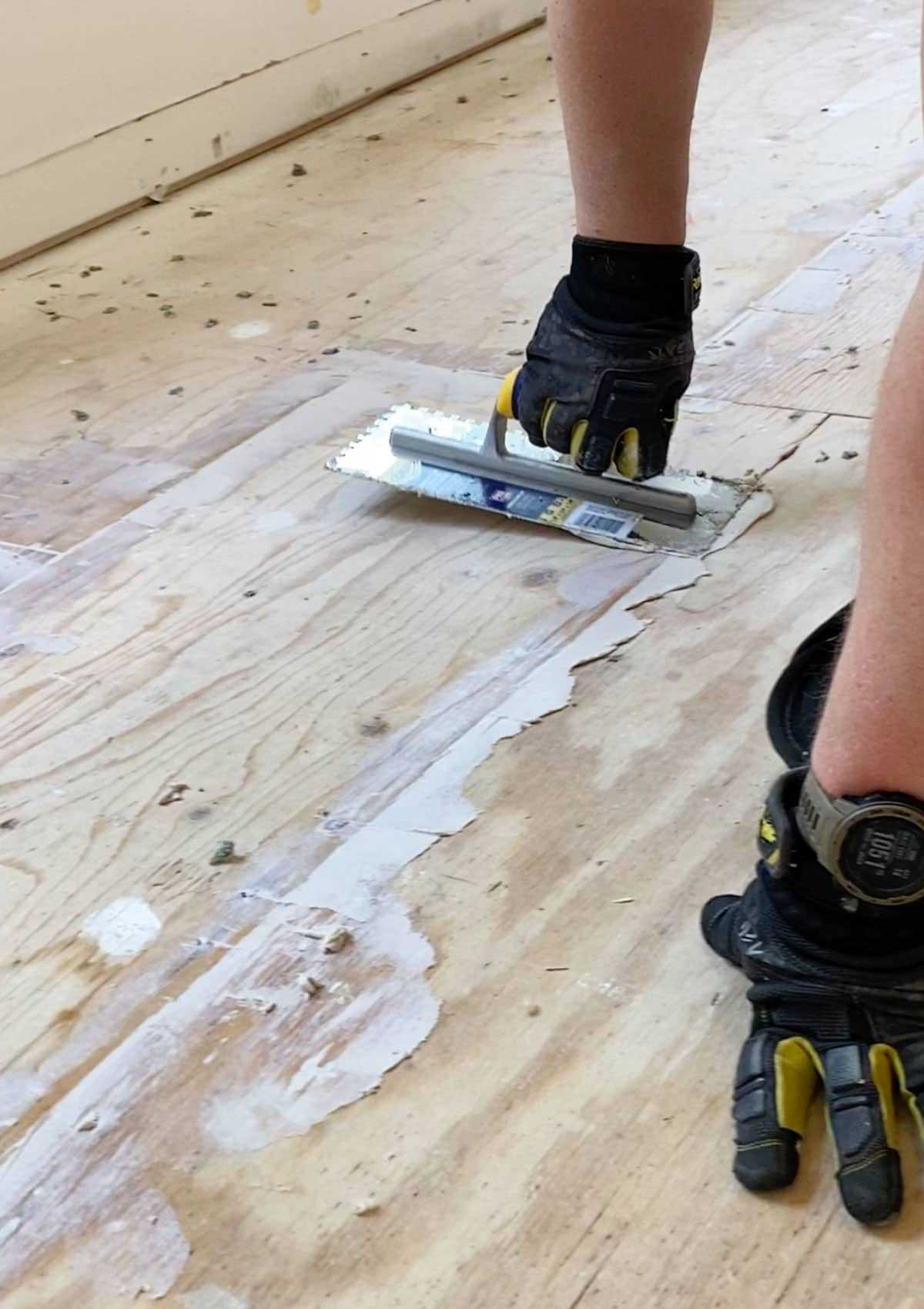 But before we poured cement, we needed to install the radiant heat from WarmlyYours. Wait, heated floors in a closet? What kind of walk-in closet renovation is happening over there Kyla? Apparently, a bougie one? Srsly though, remember how this room sits over the garage? We live in Chicago, and it gets cold AF come January.

The adjoining bathroom has heated floors, and it really helps keep the space warm and your feet from freezing. In fact, if I could do it over, I'd install electric floor heating in my home office because the tile floor is like ice in the winter. This walk-in closet is almost 600 sq ft, so it's kinda like a small apartment in and of itself.
5 Things I Did Not Know About Heated Flooring Prior To Install
There were a few things I did not know about heated floors, so I figured I'd share that insight with you.
Electric floor heating is not as expensive as I thought it would be and although it's a luxury, in the long run, it will save us on our electrical bill.
You should not have radiant heat under large cabinets (like the storage island in this closet renovation) because it will get hotter than the rest of the open flooring. BTDubs, WarmlyYours will give you a SmartPlan that maps out the installation with the heating area. It makes life so much easier.
Test the resistance on the heating cable both before and after laying the wiring. The last thing you want is to realize something went wrong after you pour cement.
After laying the cable, you need to encase it in self-leveling cement.
Check the voltage. Ours needed 240-volt power which meant hiring an electrician. Unbeknownst to us, the company we hired was a WarmlyYours preferred installer. The stars had aligned.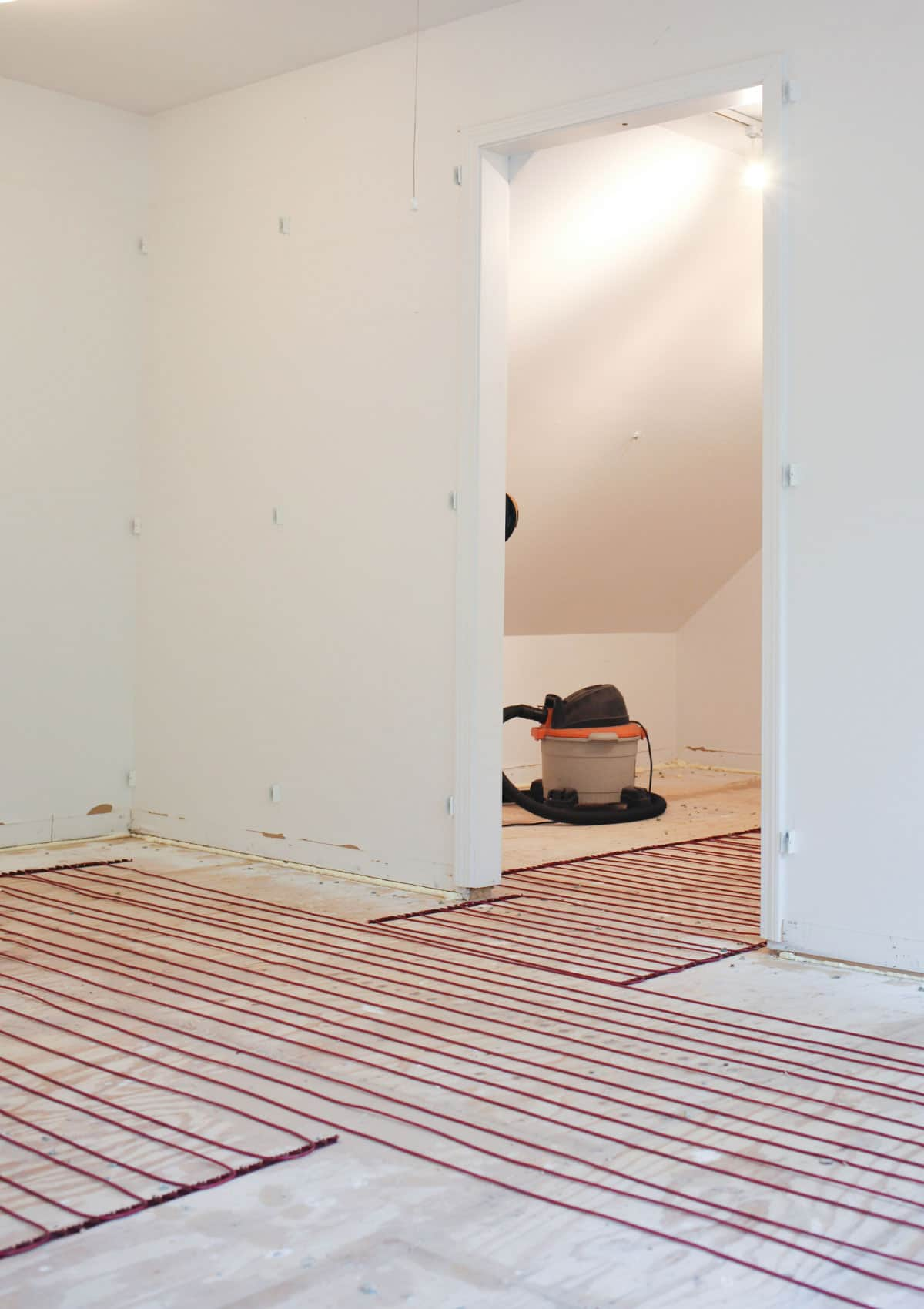 Knowing Your Limits During A Renovation
The Boy was really worked up and in a tizzy over the self-leveling cement especially after he found out we needed almost 100 bags, YES ONE HUNDRED, 50 lbs bags! That whole, you're being dramatic cheerleader bit was no longer working. He was literally dreaming of a mixing truck backing into the driveway and pouring cement all over his home. I've said it before, The Boy needs an I Married A Blogger support group.

Anyhoo, we needed to find a professional. Gerry gave me a morning pep talk and said we could totally DIY it but carrying 100 bags of cement upstairs was not high on my to-do list. If my husband was this concerned, I was concerned. After a few snafoos, we found Alex (who was wonderful god tier). He and his crew knocked the entire room out the following day. Phew! The part that was most concerning was finished. We both breathed a sigh of relief.

Like The Boy's don't even think about walking in this room booby trap contraption? Halina was coming to clean, and he didn't want her to accidentally walk on the curing cement, especially since she had no idea we were planning a walk-in closet renovation. And even though the kiddos are older, they still get curious. There was no mistaking that no one was allowed in the walk-in closet.
Luxury Vinyl Flooring In The Closet Renovation
Now that the heated flooring has been installed and the cement has cured, we can finally lay the luxury vinyl flooring from NovaFloor. We chose an LVF plank from the Dansbee collection that has blond wood tones with a chic Southern California living look and feel. The old carpet really absorbed the lint and dust from the dryer and clothes. Between it and our robotic vacuum (now on sale for $130 off), my hope is the room will feel more clean and fresh. Stay tuned for more!




Discover More Interior Design Inspiration
Have you seen The Topanga Airbnb in Dallas? If you loved the 80s show Boy Meets World, you definitely need to see this place.
The all-new Jake Arnold Crate and Barrel furniture collection recently caught my eye. Here are all the pieces I love.
In this Beautiful Distractions, I am sharing a Kelly Wearstler lamp dupe that will blow your mind.
We are chatting about home decor dupes and Kim Kardashian's new home accessory line.
I just discovered Grandpa's Pool House in Minnesota, and I cannot wait to book my next weekend getaway there.
Have you seen the Ceramicah Lamp? It's one of the most eye-catching lamps I've seen!