DIY Closet Reading Nook
Last Updated on June 28, 2023
The guest bedroom closet turned into a catchall for junk. While painting, I kept staring at those white sliding doors, wondering if I could purge all the boxes to create a cozy closet reading nook…minus the work of building a built-in bench. Girlfriend ain't got time for that kinda DIY right now. We're gonna keep this closet makeover quick and easy.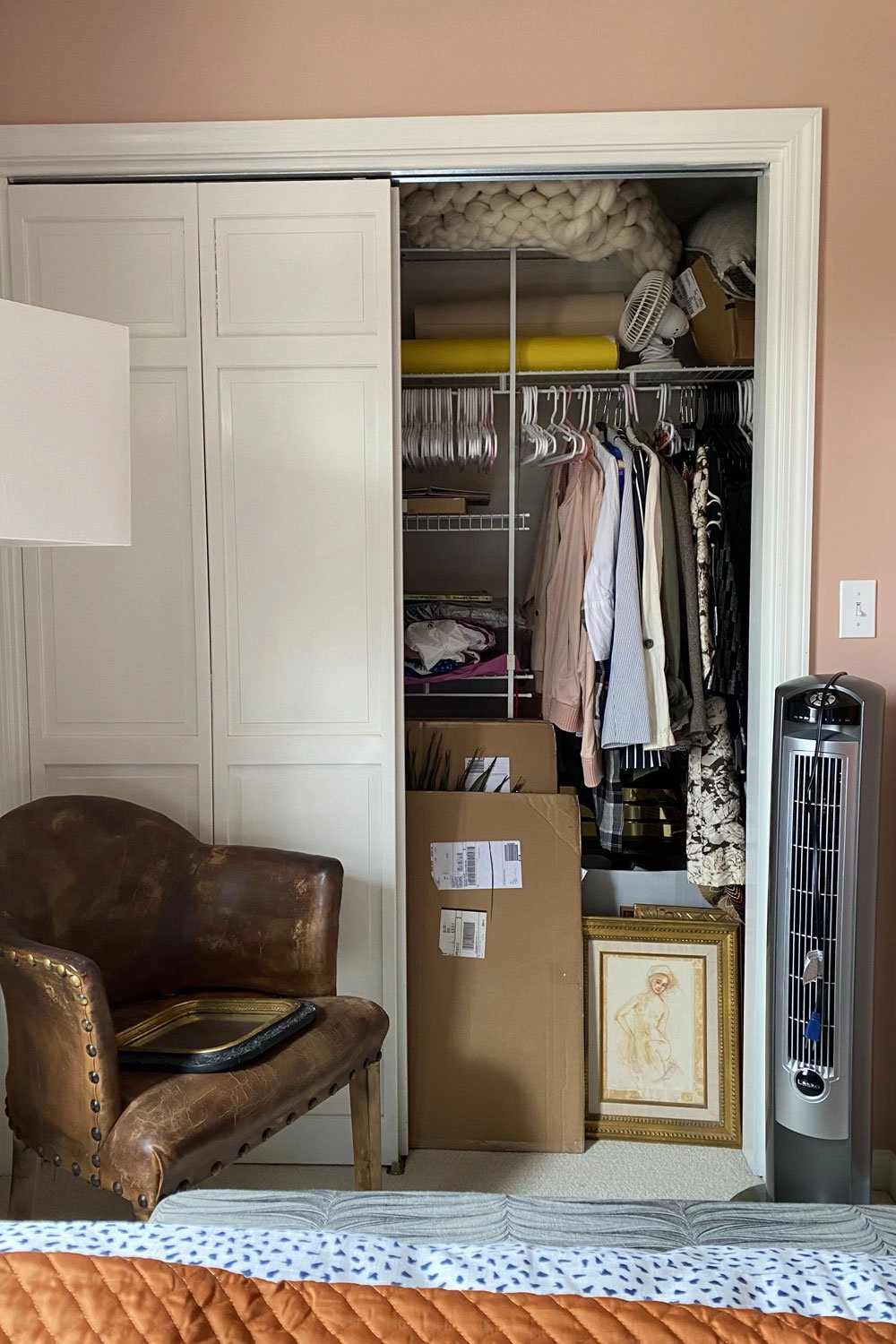 The bedroom itself sits empty most of the time and is pint-sized in comparison to the other rooms in the house. If cleaned out, this small space would gain an extra 2′, and the bench originally planned for the end of the bed would fit perfectly inside. Let's figure out how to turn this closet into a reading nook already and get some extra seating up in here!
How To DIY A Closet Reading Nook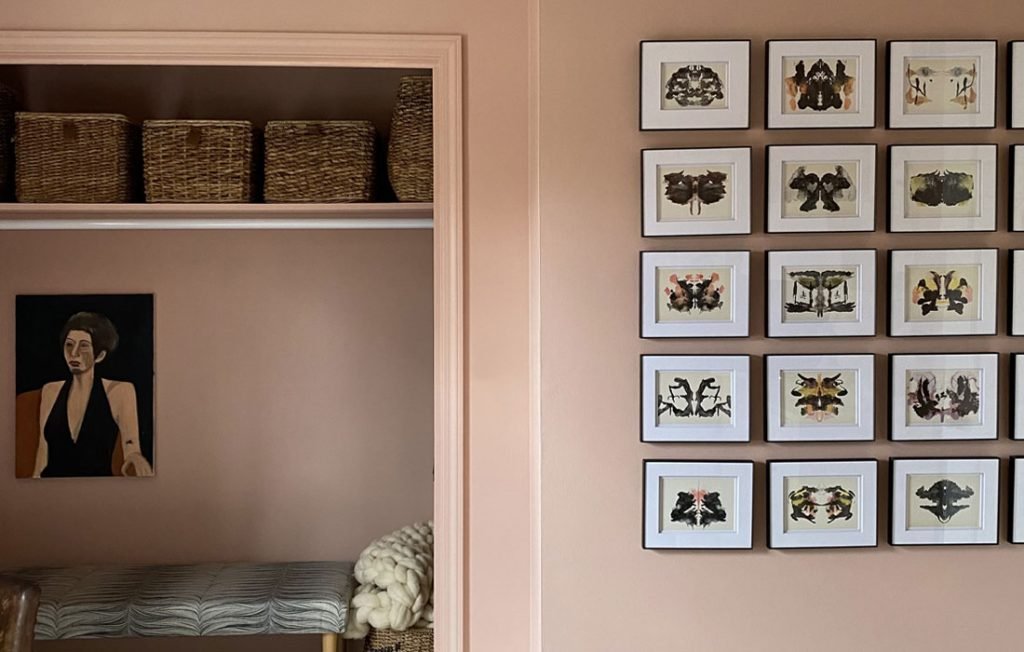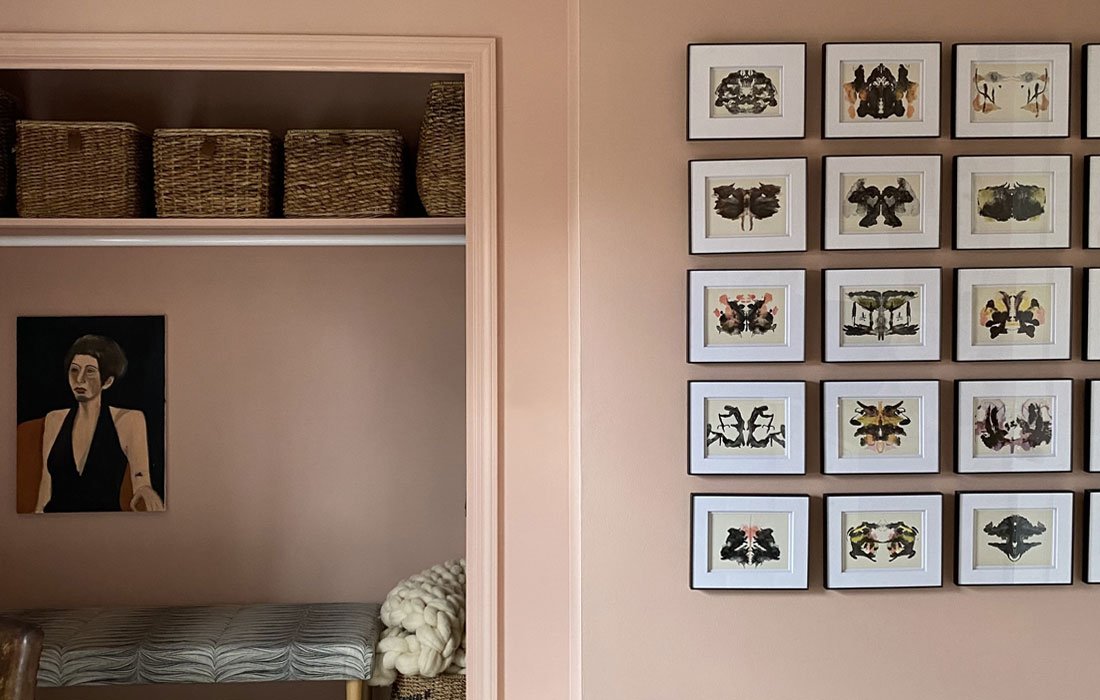 While struggling with the door removal, I received a text from The Boy, "is that you making noise upstairs?" Uh, ya, could use a little help friend. Of course, the extra pair of hands required me to explain what the heck I was trying to accomplish, and I thoroughly confused him by saying his dad could sit in the cozy closet if I cleaned it out. Try saying that 5 times fast.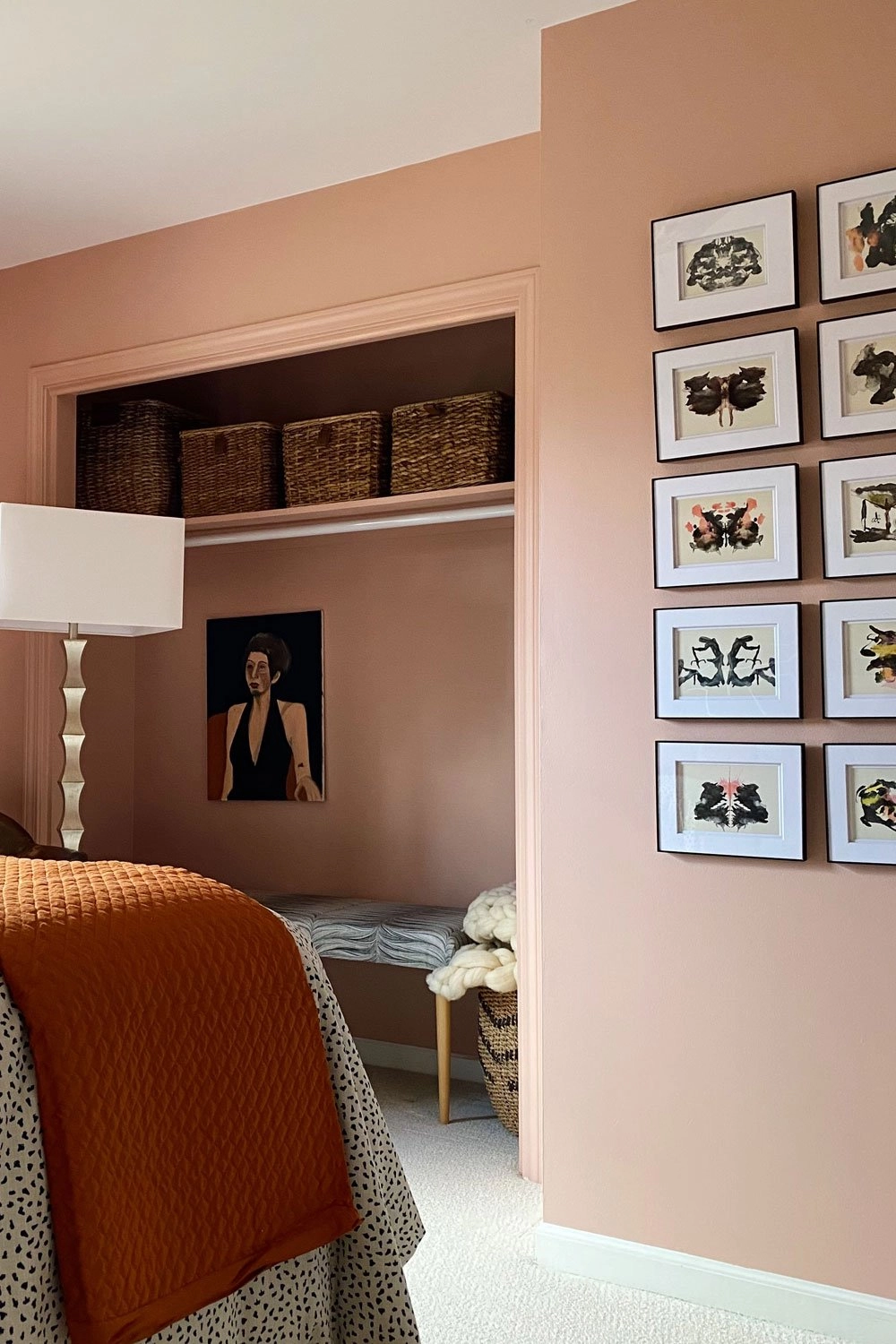 Let the purging begin! First up was a box of frames I had packed away from our first move back in 2011. Srsly, I lugged these around for not one but two moves.
The box of random office supplies and bulletin board decor I lugged home on the train from the day I was laid off, and a lot of outdated pre-baby clothes. Ultimately, almost everything photographed in that photo above was donated.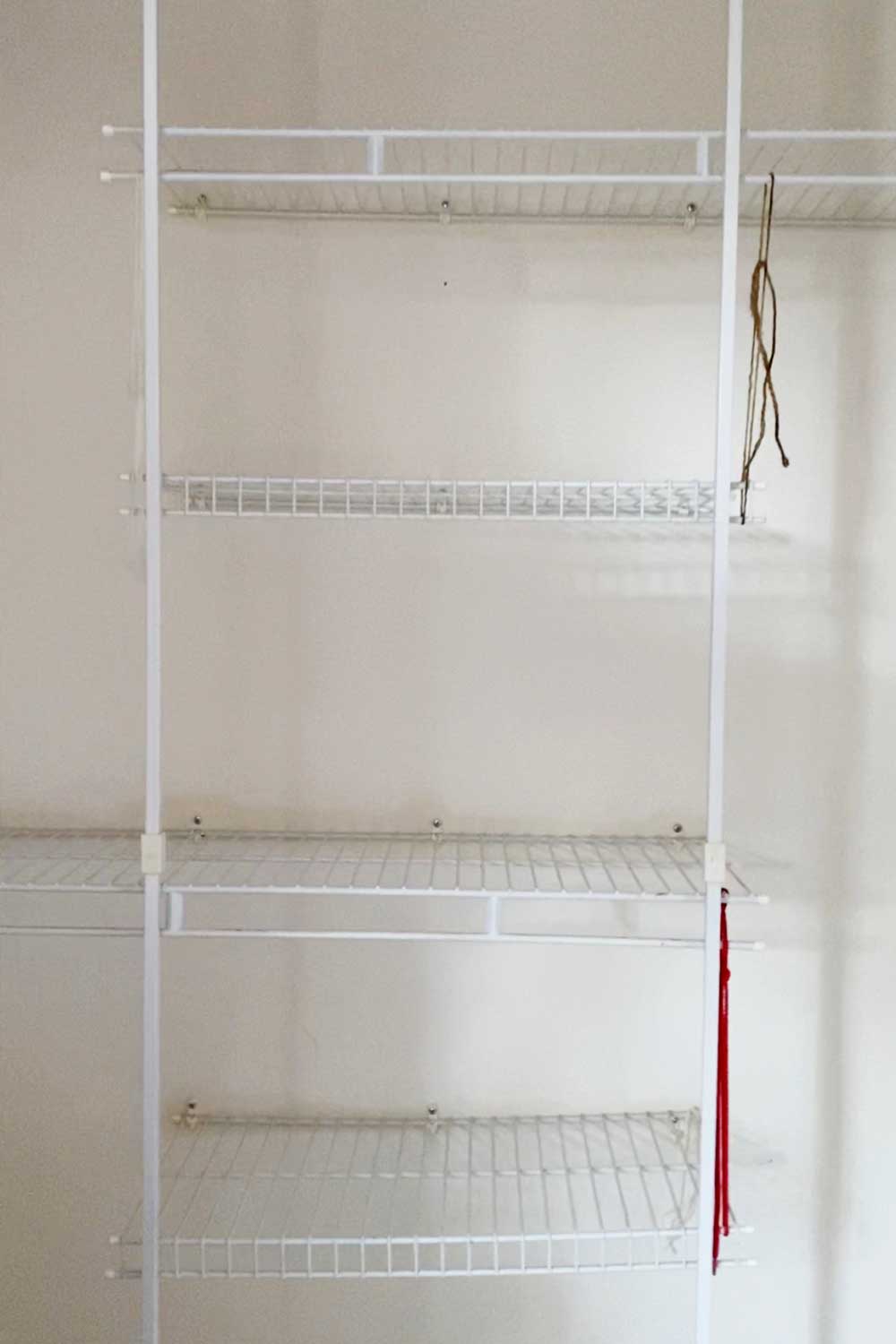 On the surface, the existing shelving seemed silly to replace, but a closer look will illustrate that it was literally held together with twine and shoelaces. Gotta love the messes surprises previous homeowners leave behind. I debated hard on whether or not to purchase a new closet organizer system or add a dresser. In the end, I opted for a plain white closet rod and simple wooden shelf which left more room for the bench.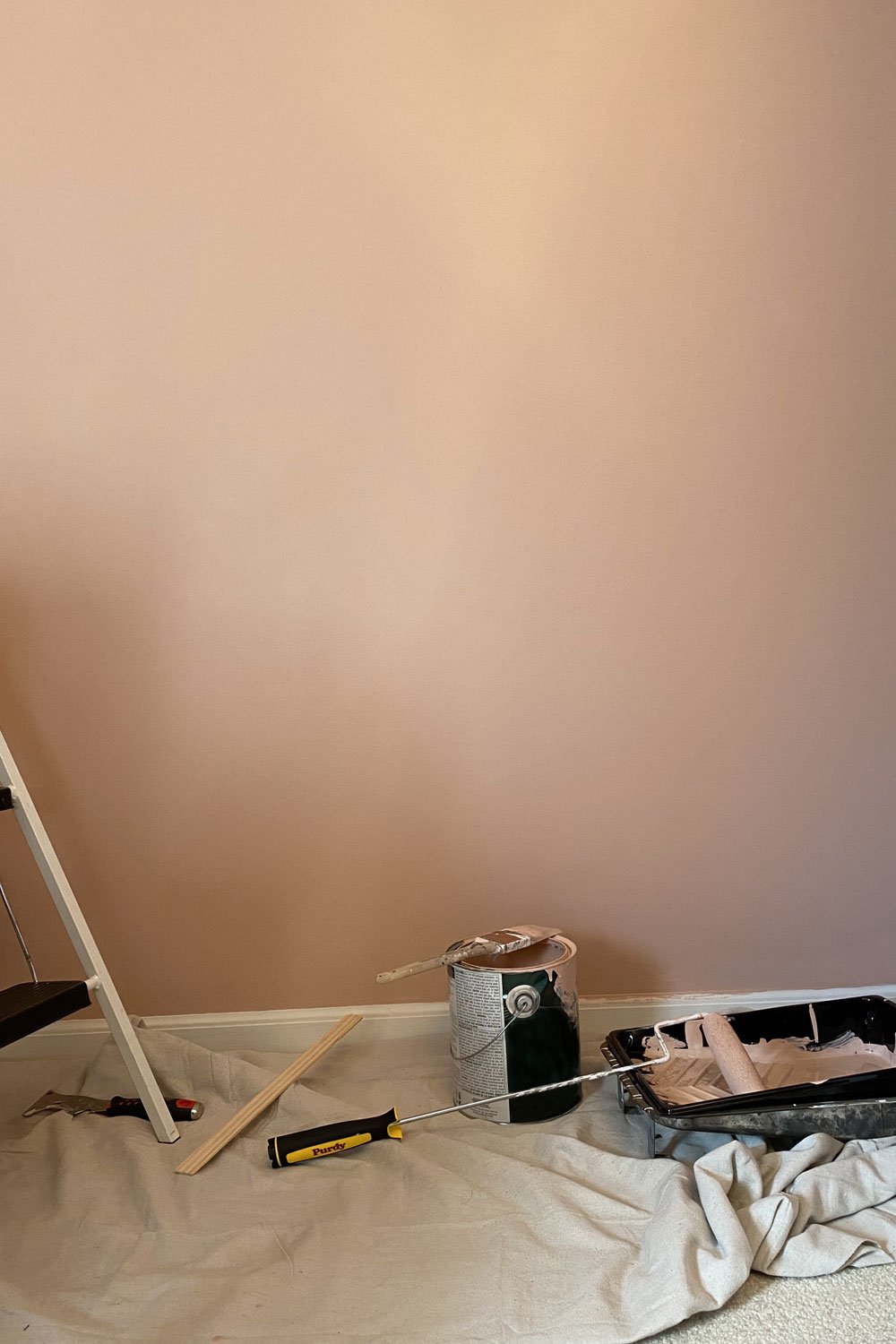 This shade of putty pink is perfection, although I did toy with the idea of wallpapering the closet. But since the bedroom was already bold AF, I decided not to add yet another color or pattern into the mix. Plus, paint was an easy option. Don't examine my brush skills too closely because I was too lazy to tape the edges. I wound up painting the ceiling and trim as well to hide fix my mistakes.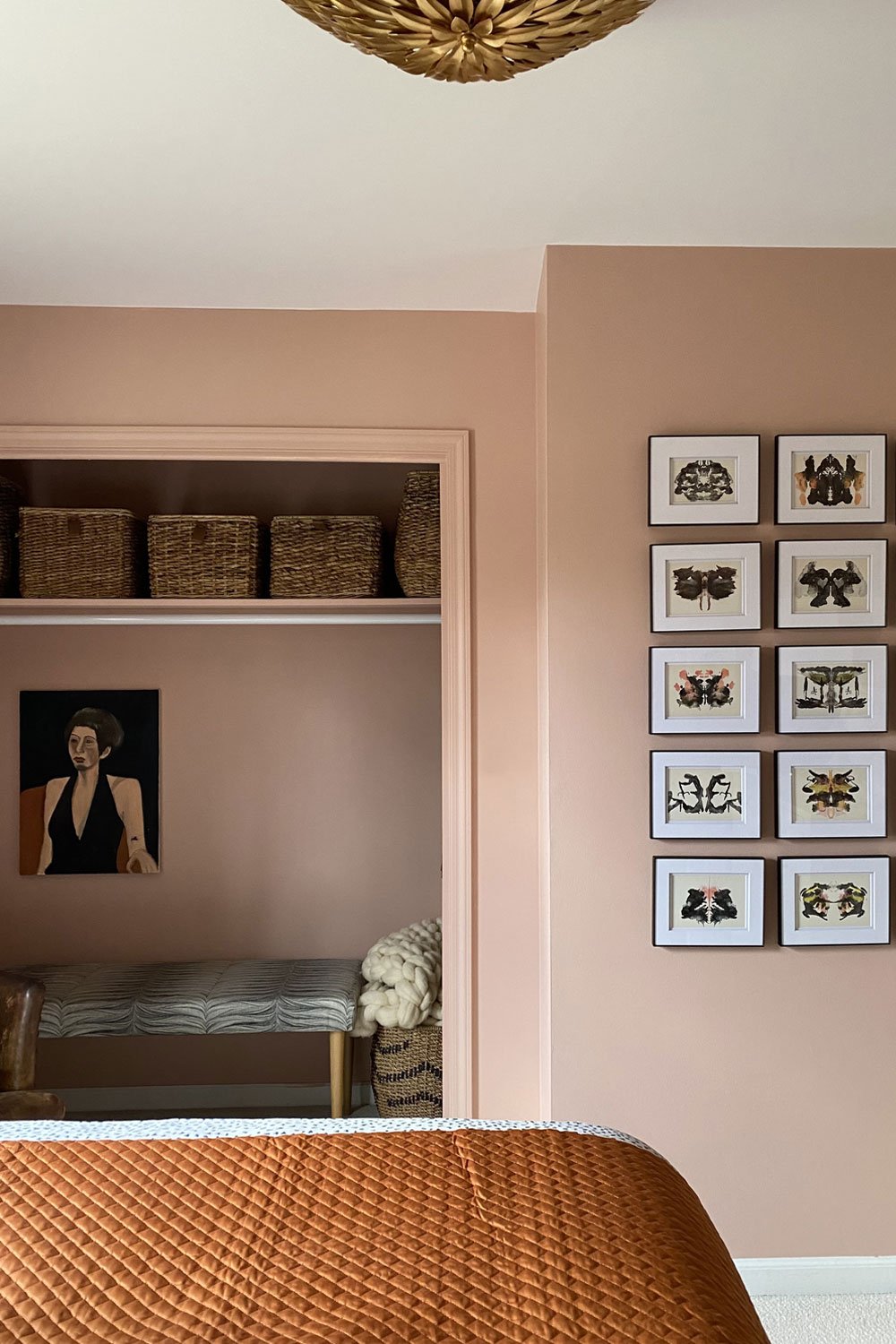 Next time The Boy hears me making noise upstairs, he can find peace and quiet by sitting in this cozy DIY closet reading nook.
I added wicker baskets (these and these) on the shelf for the junk I kept, and guests (ie my parents or The Boy's parents) can store a suitcase or two under the bench. This is especially useful when Frans and Monika fly in from Germany They need a place to hang clothes and store bags. Now they have plenty of room.
A Couple Of Extra Shopping Sources
The vintage Rorschach test inkblot cards date back to the 1950s and were found at the Elkhorn Flea a couple of summers ago. I framed in my favorite black metal frames.
The bedding is from my secret squirrel spot for home decor shopping in Chicago.
Check out the guide for bedroom lighting.
See the full guest bedroom makeover.