Home Decor On A Budget – Clever Decorating Ideas
Last Updated on August 25, 2023
When decorating a room, I love to splurge, but more often than not, I have to buy home decor on a budget. But pinching pennies doesn't mean you skimp on the luxury decor look. You just have to think outside of the box. Here are some clever, budget-friendly decorating ideas to help you freshen up a room that won't break the bank, and before you leave, be sure to read my post on how to make your home more expensive.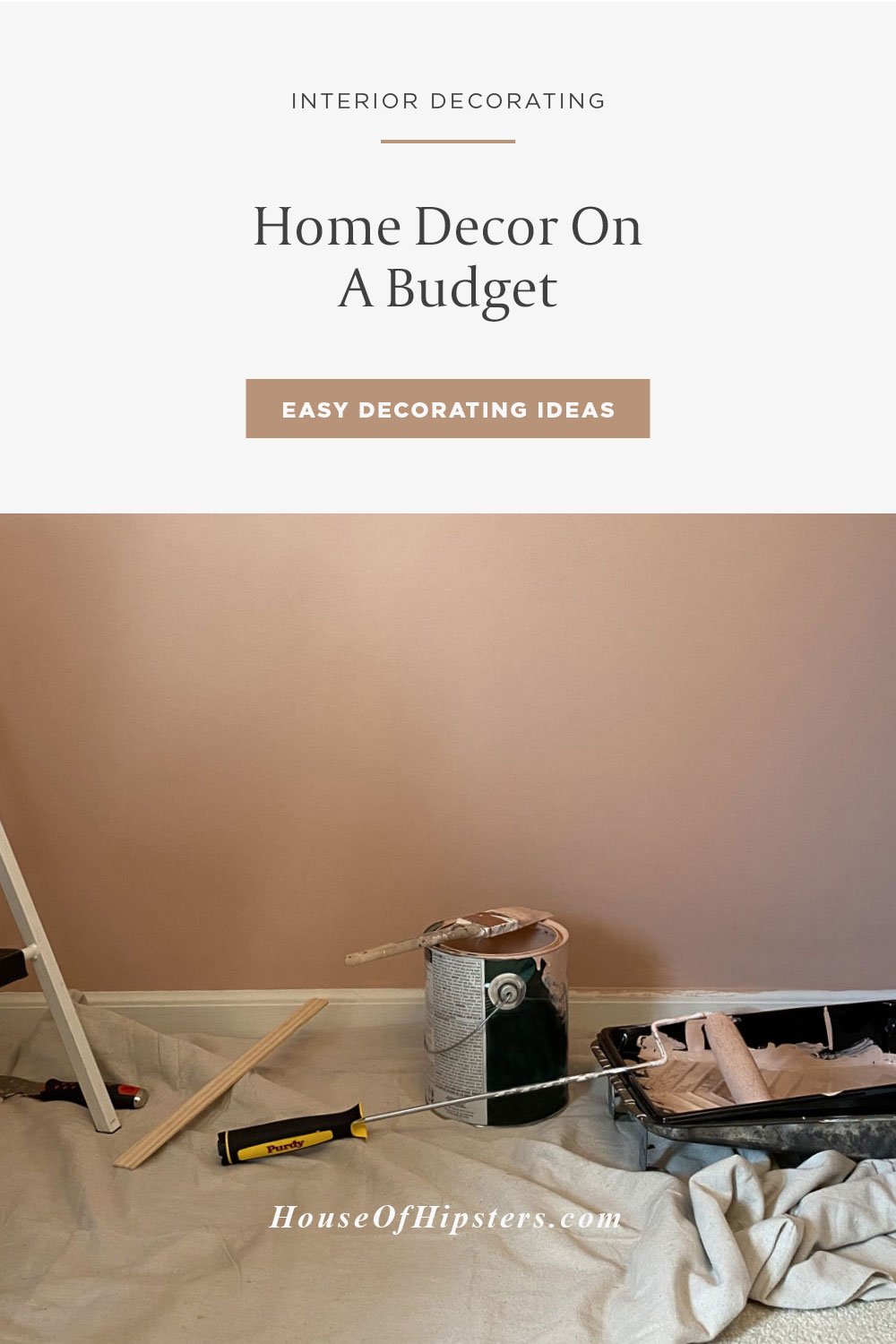 9 Ideas For Home Decor On A Budget
1. A Fresh Coat Of Paint
If you can't afford wallpaper, paint is always an option. If you want to kick it up another notch, an inexpensive home decor idea would be to take a look at wall stencils and murals as an alternative. Paint doesn't apply just to walls. You can stencil anything from tile to stairs to furniture. My friend Erin just stenciled this rug, and I'm obsessed with Banyan Bridges's colorful wall murals. If you're looking for modern stencil patterns, check out Cutting Edge Stencils or Royal Design Studio. Also, be sure to check out my post on 5 tips to cut the cost of wallpaper. It has some ingenious ideas to stay on budget even with pricey luxury wallpaper.
2. Add Architectural Details and Trim
Millwork and molding can make your home look 1000 times more expensive than it is, but when it comes to using power tools, I'm a nervous nelly. I'm good with quarter-round, but crown molding is a hard pass for me. All the math and angles trip me up. My friend Sarah however, is an expert and recently shared her thoughts on millwork and architectural details. She also shared a few rookie mistakes to avoid, so if you are looking to install panel molding like I am, definitely check out Sarah's posts. She has some excellent inexpensive home decor ideas as well.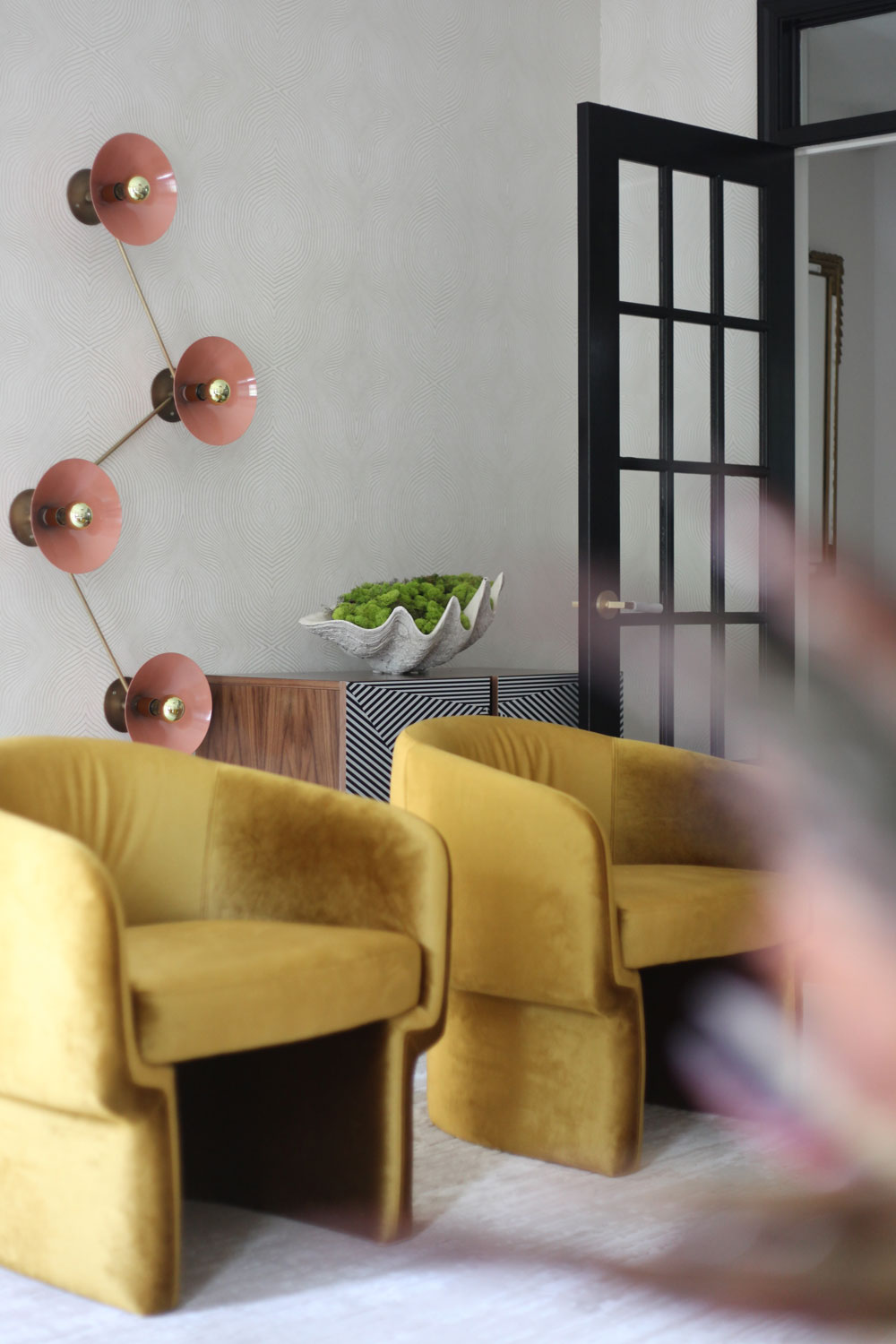 3. Paint Your Doors
When I painted the french doors black, it transformed my living room. Because it's one of the cheapest decorating ideas ever, I also painted the french doors in my work from home office. Even if you're giving them a fresh coat of white, you're still fixing the dings, scratches, and dirt. I also swapped out the dated-looking hardware for these brass and marble lever pulls.

Affordable Home Decor Alert!
I recently posted a rounded-up of some of the most beautiful, yet affordable home decor I've ever seen. And yes, I bought almost everything myself.
4. Design Is In The Details
Say goodbye to builder-grade white vents and hello to luxury decorating on a budget with these floor registers and wall vents — an affordable upgrade that will keep you on a budget because luxury heat registers like these can add up quickly. Plus, because they simply drop into the floor and wall, they are an easy DIY that anyone can do. Definitely check it out if you're decorating on a budget but have champagne taste like me.
5. Add A Ceiling Medallion
A ceiling medallion dresses up any room and will add style to your lighting. They come in every size and shape and start as low as $10. Even though it's quite possibly the most luxurious addition to any room, it might be the cheapest decor item on the list…besides shopping your home. Styles range from modern and sleek to classic and traditional. The perfect way to infuse personality into your home. My how to install a ceiling medallion guide can be found here. In my opinion, this luxe look is one of the best inexpensive home decor ideas ever!
RELATED: Get bedroom lighting ideas with this round up of floor lamps, ceiling lights, table lamps, and more!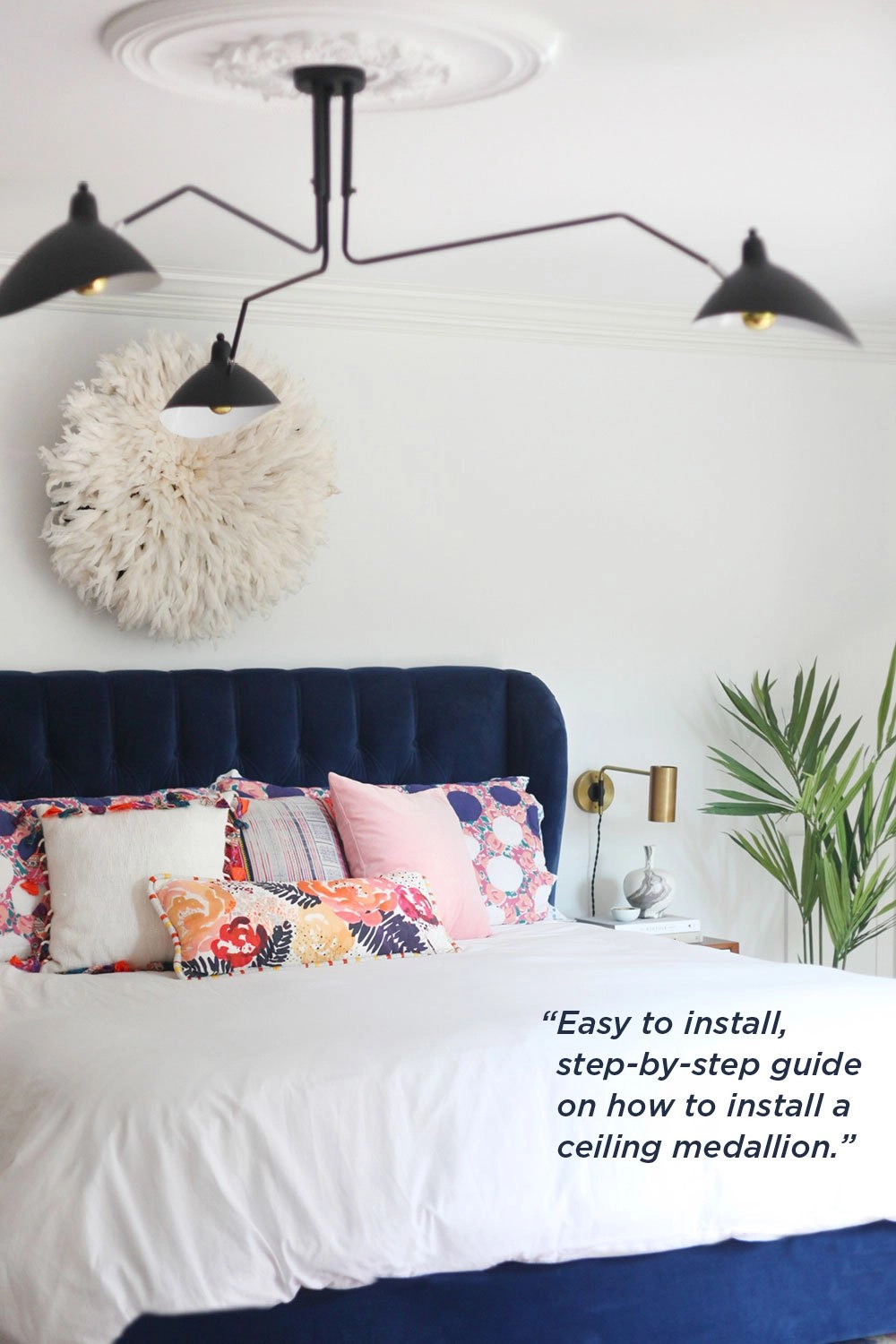 RELATED: Shop this full round up of ceiling medallions for your next home project.
6. Shop Secondhand
It starts with the flea market and quickly expands to estate sales (if you've never attended one, check out my guide on how to find estate sales), thrift shops, and now there's Facebook Marketplace. There's nothing like the thrill of the hunt for hidden gems, and some of my favorite pieces are vintage decor items. Not only is buying preloved decor sustainable and better for our planet, but antiques add personality to your space. They tell a story and give your room soul. This option can take time to curate unique pieces, but I guarantee each item will come with a story. My most treasured piece constantly changes, but for right now, it's this dresser in the front room.
RELATED: Read these expert tips on how to shop a flea market like a pro.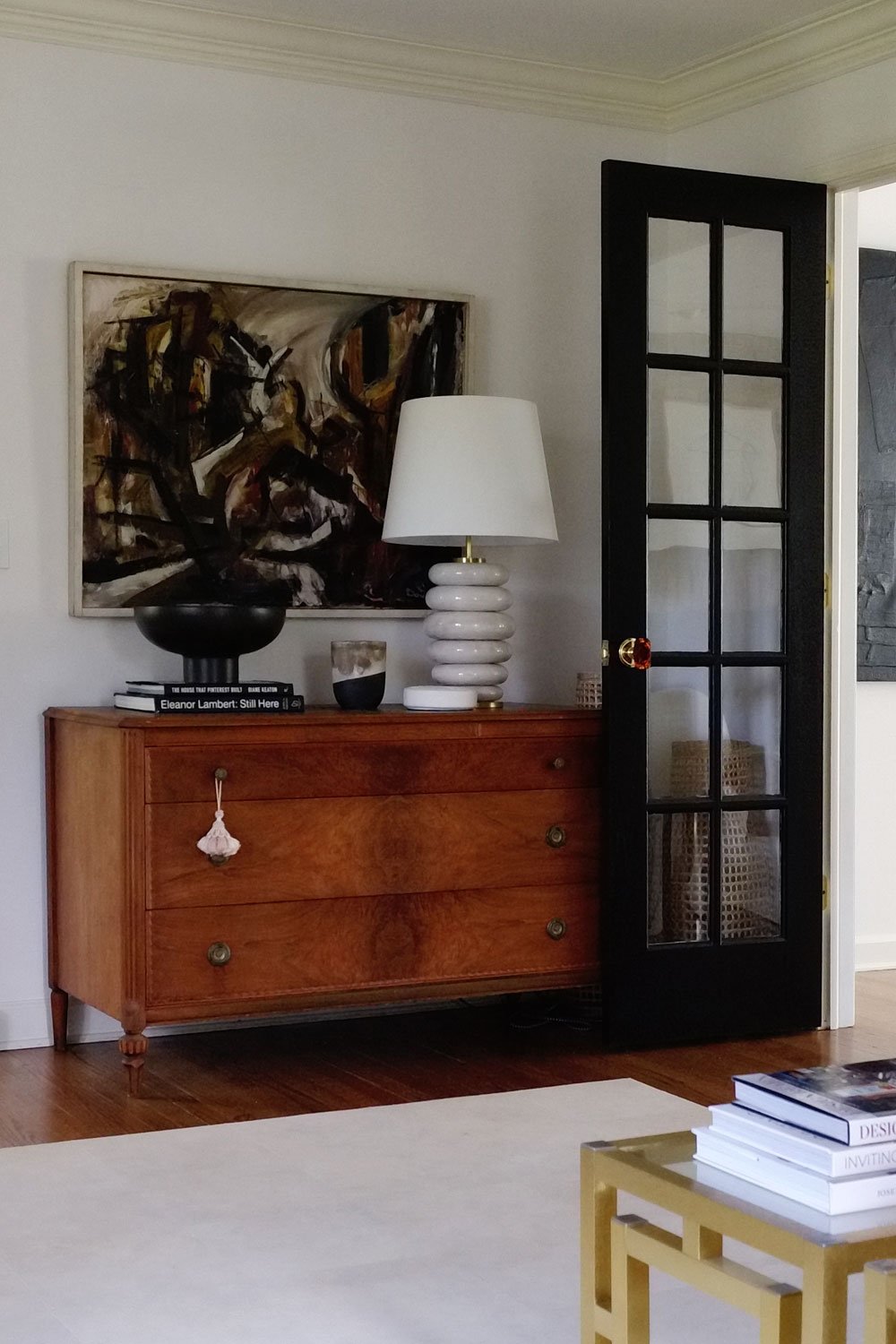 7. Shop Your House and Rearrange
If you're on the tightest of home decor budgets, try shopping your home. If you're like me, you're constantly moving furniture around the house, and with all that zhushing you might just have an extra vase or two lying around. Maybe swap a chair from one room to the other. Change up the layout of the space, and voila, the cheapest of cheap decorating ideas. All it cost you was some sweat equity.
8. Clean and Organize
Simply picking up and room and organizing clutter into bins and baskets can make a huge difference. The other weekend I posted my DIY closet reading nook. Since the closet in the guest room was only storing boxes of unused junk, I purchased a few inexpensive baskets and used the power of paint tip from up above. The baskets added some texture and warmth, and the space is free of clutter. Also, you can check out how I decorated this bedroom on a budget here…I also reveal my super-secret home decor outlet shop in Chicago.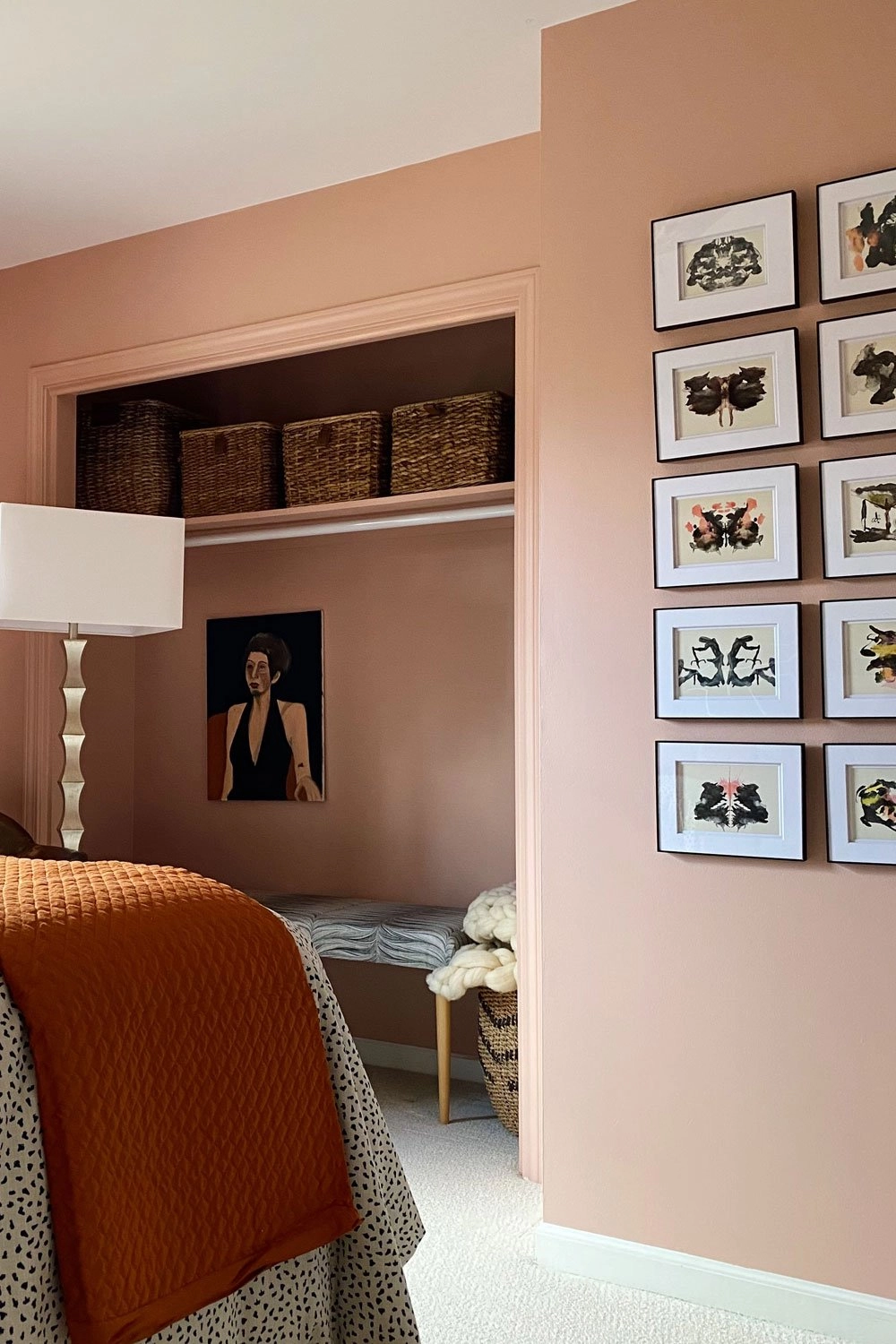 RELATED: Download the free declutter your home checklist and 7 easy tips to decluttering your home. We can do this together,
9. Mirror, Mirror On The Wall
Want to renovate a bathroom on a budget? Swap out a plain mirror glued to the wall for something with more personality. This will give it a custom look. The mirror in Potty Paradise cost $20 at the flea market and leveled up the design of the room.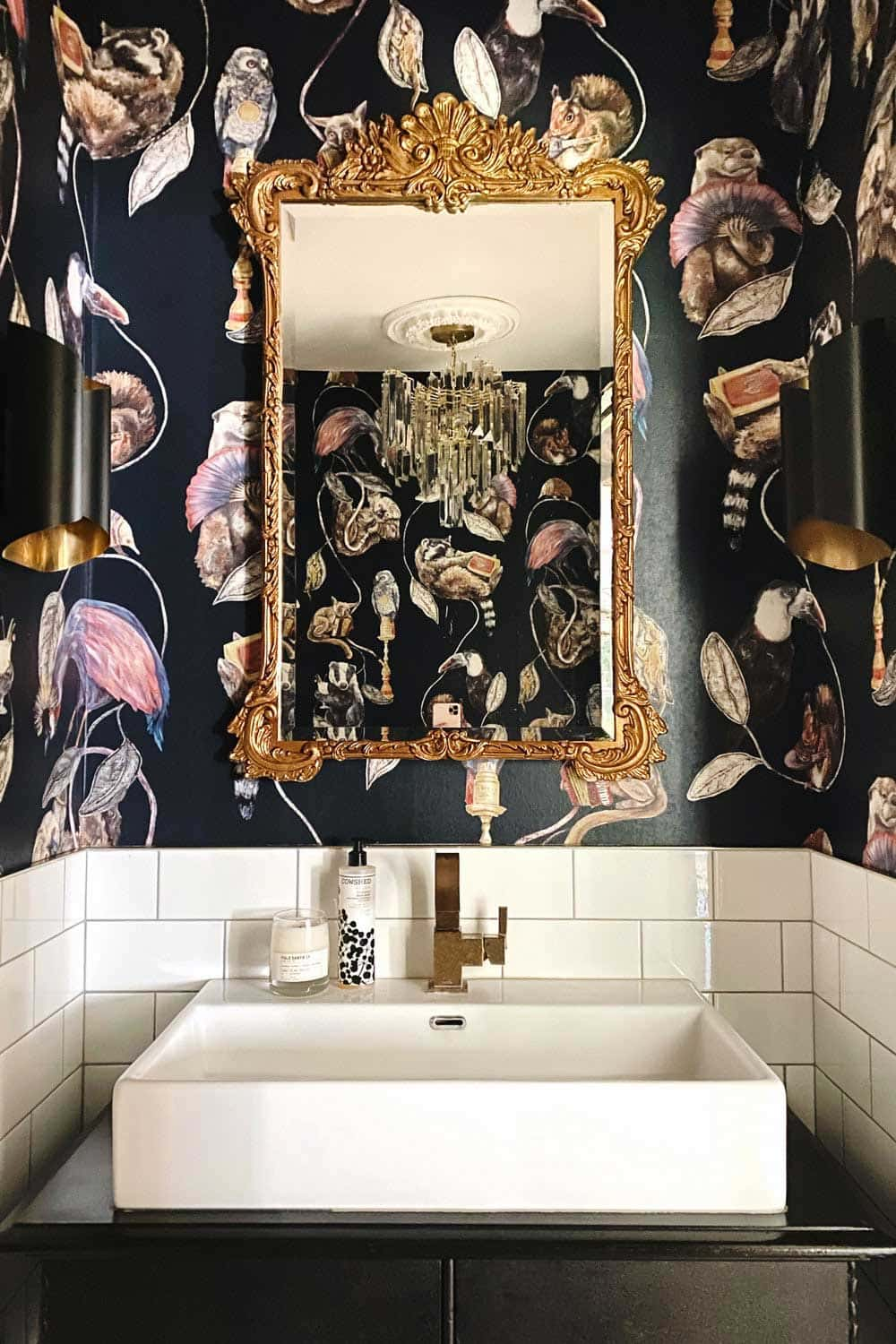 Decorating on a budget isn't always easy, but sprucing up your living room, bedroom, or bathroom with a couple of easy DIY projects and decorating with items you already own, doesn't have to be frustrating. I hope you found some inspiring and affordable decorating ideas that looks high-end. If you have more ideas for decorating on a budget, drop them in the comments below.
Have a larger renovation? Feeling stressed? Stay on budget with my free renovation checklist. Download it now before demo day.
Discover More Modern Home Decoration Ideas
If you're looking for affordable home decor that won't break the bank, this shopping round-up of budget-friendly finds is exactly what you need.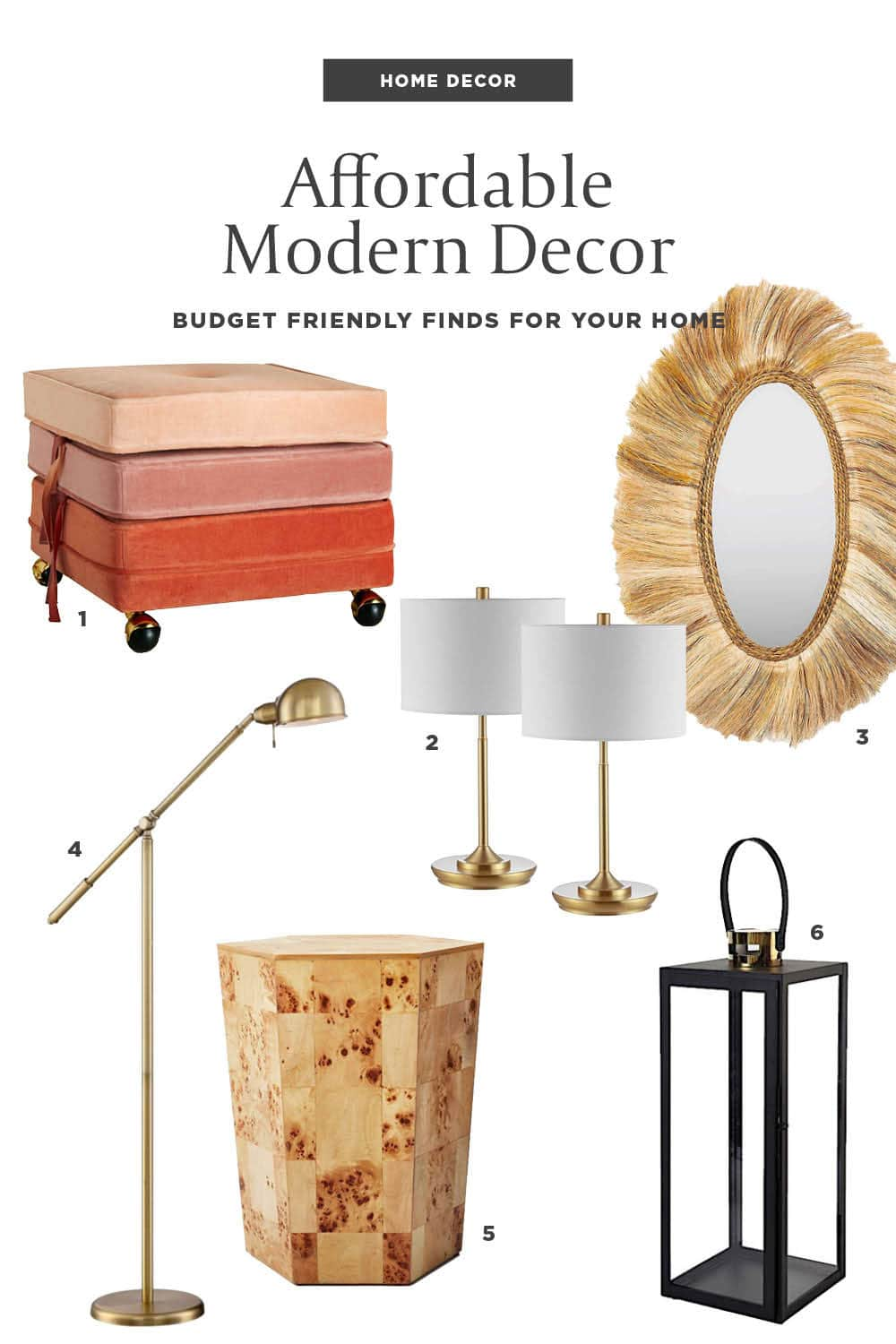 Have you noticed that Amazon has leveled up its home decor? I've found my favorite Amazon Prime Day deals on decor, furniture, and gadgets that you must check out.

If you're afraid to install wallpaper because you're always changing your mind, you need to hop on the peel and stick wallpaper bandwagon. I've rounded up beautiful removable options for every room.




More Eclectic Home Decor Ideas and Interior Design Tips
If you're looking to replace your ceiling lights, here are a few boob light replacements.
Rounding up the best interior design books – if you're looking for gift idea inspiration for a home decor obsessed loved one, this post is for you!
Wanna make your home look expensive when you don't have the luxury of a high budget? Try this!
Bobby Berk told me he has always invested in quality bedding. Here's the ultimate guide to the best sheets and bedding.
The Primrose mirror is still trending hard, but the price tag crushes my soul. If you're looking for an Anthropologie mirror dupe that doesn't break the break. This one is for you.
If you're looking to spruce your backyard, check out this round-up of the best outdoor patio furniture.
Want to add a little magic to your room? Try adding some disco ball decor with these sparkly ideas.
Ever second guess yourself on what rug size to buy for a living room? Here lie the answers you desire.
Find affordable velvet curtains to cozy up your space and soften your windows.
Ever wonder how high to hang art? Here is my golden rule number and also 7 genius ways to hang a picture.
Love plants as decor but have a black thumb? No worries! I have a rounds ups of the best faux olive trees, my favorite faux fiddle leaf fig trees, and a huge round-up of faux plants that look real.
Thinking about joining a country club? Before doing so, read my review of the Biltmore Country Club. You may rethink that decision.