Trendy Dorm Room Decorating Ideas — College Decor 2023
Last Updated on September 27, 2023
College dorm room decor has come a long way since I graduated high school. Since it's time for back to school shopping (BTDubs, where did summer go?), I thought, let's go beyond the college girl papasan chair and explore creative dorm room decorating ideas like peel and stick wallpaper, colorful wall decor, and multifunctional storage ottomans and more small items to help college students transform the dull dorm room and create a beautiful living space.
Dorm Room Essentials and Dorm Decor Ideas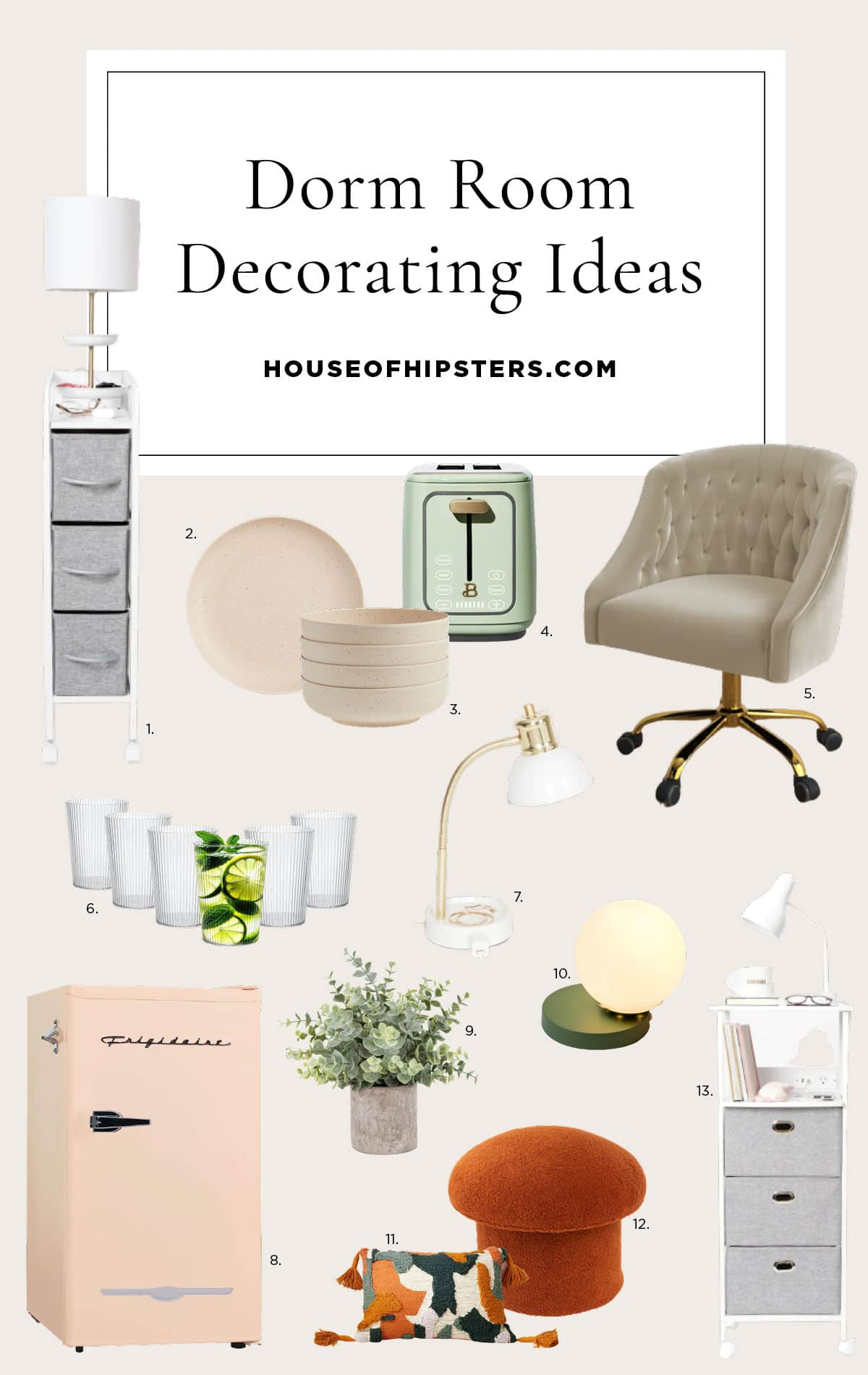 Dorm Decor – Quick Shopping Links
There's no need to let this small space cramp your style, so let's get creative and think of your new space as a blank canvas with these dorm room decorating ideas.
1. Choose Your Color Scheme
Decorating your new dorm room is no different than designing any other space. The best way to start is by choosing a color scheme. Choose 1-2 colors. If you love the beach, think beyond shells and anchors and channel beachy coastal with a light blue and beige color palette.
2. Jazz Up Your Dorm Room With Wall Art
But Kyla, I can't drill holes into my walls. No problemo! All you need are Command Strips! With these bad boys, you can decorate your dorm room walls any way you want without worrying about damage. They're genius!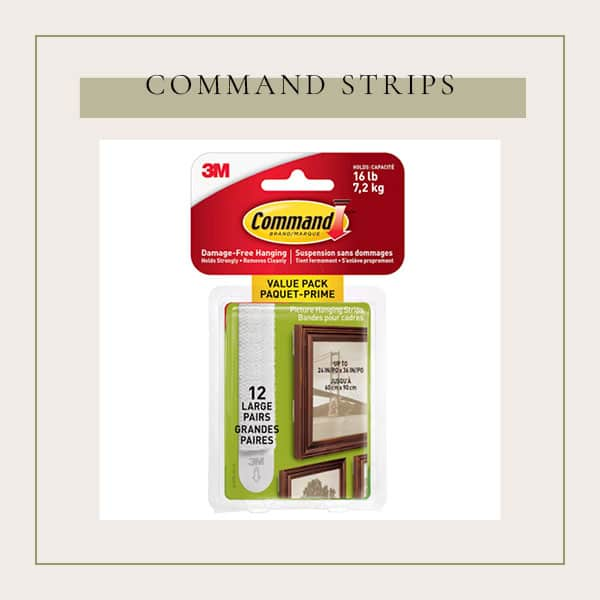 RELATED: Don't miss these 7 genius picture hanging hacks.
But Kyla, I don't have the budget for wall art! Well, let's think outside the box with one of my favorite dorm room decor ideas, shall we? Grab an embroidery hoop, spray paint it black or gold, hang it on the wall, and tape your favorite photos inside. Cut a few out of a magazine if you don't have photos.

This easy DIY will cost less than $4 for one hoop…but how cute would it be to create a photo wall with three hoops or more? It's all about adding little items to level up boring blank walls and show off your unique personal style.
RELATED: Check out these gallery wall ideas filled with affordable art from Desenio.
3. Dress Your Bed With Sheets and Throw Pillows
Now that your color scheme has been chosen, it's time to choose a bedspread—a foundational piece in your small space's color palette. Since your dorm bed will serve as additional seating, I wouldn't invest much money into fancy bedding. Instead, shop for an affordable quilt and jazz it up with a couple of decorative pillows for that extra pop of color.

This sage green textured twin-sized quilt shown above was found at Marshalls for only $39. Ummm, now that's a steal! If you don't like sage green, try this gray velvet quilt or this one by Rachel Zoe in white. Both of these twin-size quilts are also $39.

BTDubs, that sage green quilt would pair beautifully with this Jungalow throw pillow that is currently on sale at Target for $12.50. Or make that twin bed look like a day bed with this long, colorful bolster pillow.
How To DIY A College Dorm Room Headboard
Another great way to add personal style is to DIY a headboard!
Grab some foam core, cardboard, or a piece of plywood.
Cut your shape (the arch is trending in the interior design world right now), glue the batting to one side, and cover it with foam for extra padding.
Wrap the foam side with fabric and secure it to the back with a staple gun.
Hang it on the wall with Command Strips—and yes, I'd hang one on that wall for a loft bed if you have the height.
Badda bing, badda boom! You've got yourself a custom-made headboard!
RELATED: Bobby Berk told me never to buy uncomfortable bedding. Here's the best sheets for a great night's sleep that I've tried and loved.
4. Dorm Room Lighting Ideas
I love a small desk lamp on or near your desk area. It's the perfect amount of light if you're cramming for exams or having a late-night study session when your roommate is sleeping.

This vintage-inspired gold gooseneck lamp is adjustable and comes with a catchall tray, and the modern sage globe lamp (shown below) fits right in with today's design trends.

Create some extra ambiance with this customizable neon LED light strip. Bend into your desired shape on the wall and sync it with music or backlight your desk or bed. The best part about these, you can control it from your phone, plus it's voice-activated with an Alexa.
I also love a fun neon light hung on the wall (with Command Strips of course), cute string lights, or fairy lights.

Before we move on to the next cute dorm room decor idea, can we take a moment to think outside the small space cement box? What if I suggested that you hang a pendant light? Think I'm crazy? Listen up!
If you have a loft bed or shelf in your dorm room, grab a plug-in pendant light and hang it by the cord under the lofted area to create a cozy study nook. Add a bean bag chair for additional seating.
How about a chandelier in the center of your room? It's not impossible. All you need is a removable hook, a battery-operated puck light, and a bit of creativity when it comes to the shade. A traditional lampshade could work, but so does a rattan basket. Just turn it upside down.
RELATED: Don't miss this round up of cute backpacks that fit a laptop for back to school.
5. College Kitchen Essentials
A (colorful) mini fridge is still necessary even if you are on a college meal plan (if only my mom understood that during my freshman year). Pop it on a small shelf for extra storage below, and if you really want to get fancy, buy a plain fridge and stick some removable wallpaper to the door for a fun pop of color. Keep it inexpensive by ordering a sample.

One thing that has changed since my college days is small appliances. Back then, the colors were black, white, or metal. This affordable toaster is available in different colors and is a great way to give your dorm room that personal touch. Other small appliance brands available in multiple colors are SMEG (pricier) and Drew Barrymore's line at Walmart (shown below).

Right now is the perfect time to look in the outdoor decor section because it will all be on clearance soon. Wait, Kyla, we're supposed to be decorating my dorm room, not a patio. I know; trust the process and follow me to the outdoor dining aisle. Let's check out the shatterproof plates, bowls, and glassware. Melamine is a great option for dorm life because if you drop a bowl, it probably will not break. Which is perfect if you have to wash your dishes in the bathroom sink like I did.

6. Smart Storage Solutions
When decorating a dorm room, square footage is a premium, so small space storage solutions are a must.
If you're lucky enough to have the extra space for a small nightstand, this 3-drawer cart on wheels is perfect for keeping all your school supplies in one place plus, it also has a charging station. Yup, there is a built-in USB port and outlet—there is limited stock, though, so hurry.

If it's sold out, try this one instead and grab this charging station with USB ports.

Under-the-bed storage containers can easily be tucked away under the bed. I love this affordable option from Dormify because it is also collapsible, folding completely flat when unused. The front is also transparent, so you can easily find what you want.

On move-in day, my college roommate built herself a loft bed out of 2x4s. Some residence halls have a suite-style dorm room design (separate bedrooms with a joined community space), so you may not need a loft bed, but you still may want to consider bed risers.

Adding 3″ – 8″ to the height of your bed frame will give you extra storage space to hide storage containers and easy access to suitcases. And, of course, they make a bed skirt to accommodate the additional height. What a great dorm room idea! I wish they had these when I was in college!

7. Hide The Clutter
When shopping for dorm room decor, ask yourself, is this multifunctional? Can storage boxes be used as an ottoman for extra seating during movie night? This non-slip bedside caddy keeps your phone and glasses handy and has an extension cord holder with USB ports to charge all your devices while you sleep.

The storage ottoman pricing has gone up—thanks inflation—so this boucle mushroom storage ottoman was the most affordable that I found. It is available in ivory and terracotta.

Also available in terracotta as shown above.
When looking at laundry baskets, look for something tall, slim, and maybe even a hamper with rollers. Tall and slim will save on the usable space in your closet, and the rollers make life easier.

8. Dress Your Windows
Does your dorm room have a heavy curtain panel with a plastic pull? Mine did. Can it be any more hospital-like? If you've taken my advice for the closet curtain, do the same on the window, using a tension rod or removable stick-on hooks. The curtains soften the cold cement walls, making your dorm room feel cozy.

This Frog Toile window panel is adorable and is only $39/panel. I also love these sheer vine window panels. These start at $25 and go up depending on the length needed for your room.
Use the same window panel pattern as a room divider for your closet space. My dorm room closet door was a vinyl accordion folding door from the 1960s that was ugly AF. My affordable decor hack is hang a curtain panel from a tension rod to hide the clutter. You can pop your suitcase and laundry basket in there, and the mess will be out of sight, out of mind.
RELATED: If you want more affordable curtain options, check out the round up.
9. Add Some Floor Flair
Every dorm room I've visited has been decorated with sterile carpet or clinical tile. An easy way to disguise that dull flooring is to lay down a rug. In my How To Make Your Home Look Expensive post, my first design tip was to add a rug. It's a simple way to create a focal point and make your space feel pulled together.
This distressed boho pattern rug is not only affordable, but it's also washable! Yup! You read that right. If it gets dirty, take it for a spin in the washing machine.

If you're not worried about your rug being washable, check out the Loloi II rugs here. These are thinner with printed patterns rather than handwoven—keeping the price lower. If you get the Loloi II rug with CloudPile, it'll be the softest rug you've ever felt! I had the Margot rug in my Farrow and Ball De Nimes living room.
RELATED: Be sure to check out my entire round up of the best affordable washable rugs. There are some gems in there!
10. Swap Out That Chair
Every dorm room comes with a desk chair. I guarantee you'll be spending a lot of time in this chair with at least one cramming session, so swap out that standard issue chair for something more comfortable, and while you're at it, let's make it a stylish office chair, shall we? Turn that drab dorm room into a cozy home. Make it functional and stylish.

This velvet barrel back chair is an untraditional version of a desk chair and also functions as extra seating for hanging out with friends. But if you love wheels on your desk chair, how about this velvet tufted task chair from Kelly Clarkson Home? Both are available in different colors.

Adding personal style makes a huge difference.
11. A Touch Of Nature
Every dorm room initially feels sterile, so bring in a touch of nature to lighten the mood…but probably fake nature because natural light is not abundant in a dorm room. However, even a faux plant can be a mood booster and stress reliever. Grab a pretty planter, and bring a touch of greenery into your college life. If you're on a tight budget, check out this 3 pack of faux plants I found on Amazon.




Discover More On House Of Hipsters Interior Design Blog
The arched cabinet is not only stylish and functional, but it is trending hard in the interior design world. Check out my curated top picks.
If you are struggling with how to arrange a living room with a fireplace and TV, check out these 5 layout options.
The outdated brick fireplace makeover before and after went viral! Some love it, while others hate it. What do you think?
Faux plants are my jam, and the faux olive tree is at the top of my list when it comes to decor! Here are my favorites.
Another good faux plant is the faux fiddle leaf fig tree. Interior designers have long loved them.
Jazz up your hallway with these boob light replacement ideas.