12 Cute Backpacks
Last Updated on August 24, 2023
When this leather backpack caught my eye, the Boy just shook his head and asked, "do you really need another bag?" Dude, I always NEED another backpack, and yes, definitely this one. Besides, this isn't just a backpack, it's a rucksack, and everyone needs a stylish rucksack. What if I spontaneously decide to go on a bougie hiking adventure? It would be adorable to say, "Hey, could you hand me my rucksack?" (Especially if I had a fancy accent.)
RELATED: Check out these updated dorm room decorating ideas to jazz up your college space.
Cute Backpacks For Work, Travel, and School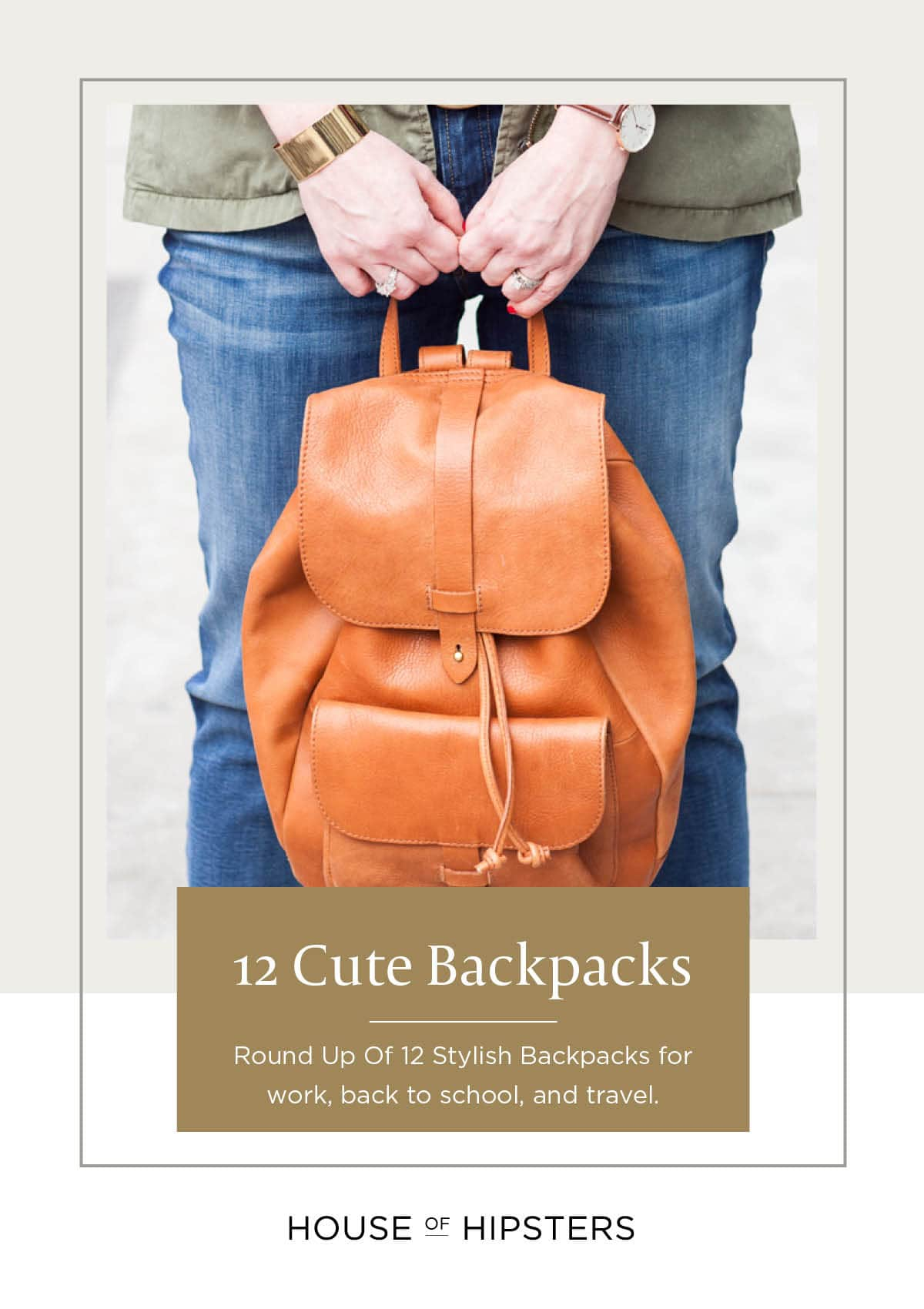 A daily work commute and college trek from classroom to dorm room can take its toll on a stylish backpack. They're overstuffed and loaded with cute school supplies, books, laptops, papers, and, if you're me, a toy dinosaur and batman figurine. You name it; I probably have it tucked away in my backpack. After scouring interwebs for cute school backpacks (and laptop backpacks), I rounded up the best of the bunch to share them with you today. Which of these cute backpacks below would you choose?
RELATED: The 90s are back baby, so don't miss this epic round up of the best denim skirts to elevate your closet.
Collection Of Cute Backpacks, Including My Favorite Travel Bag That Fits A Laptop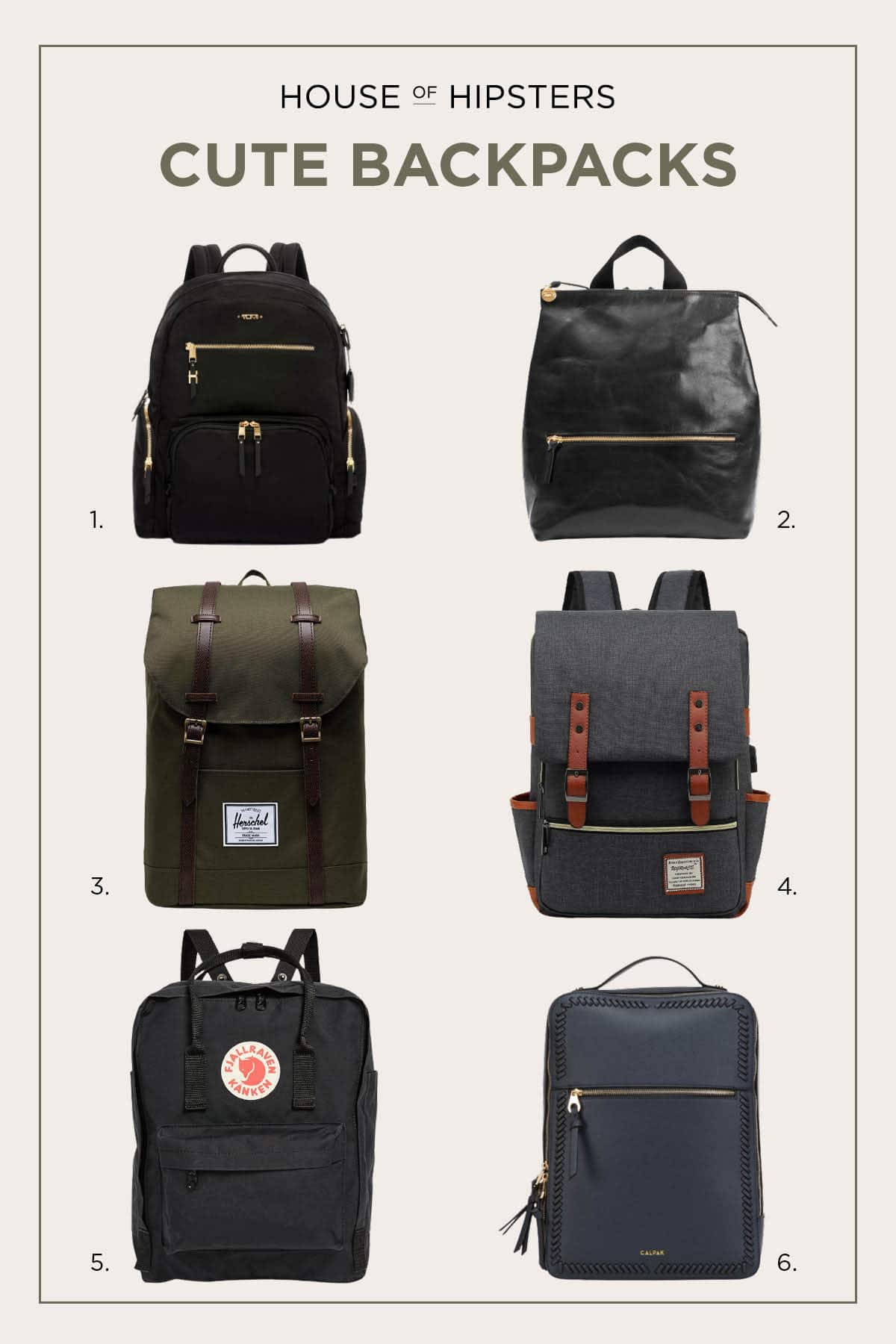 More Cute Backpacks For Everyday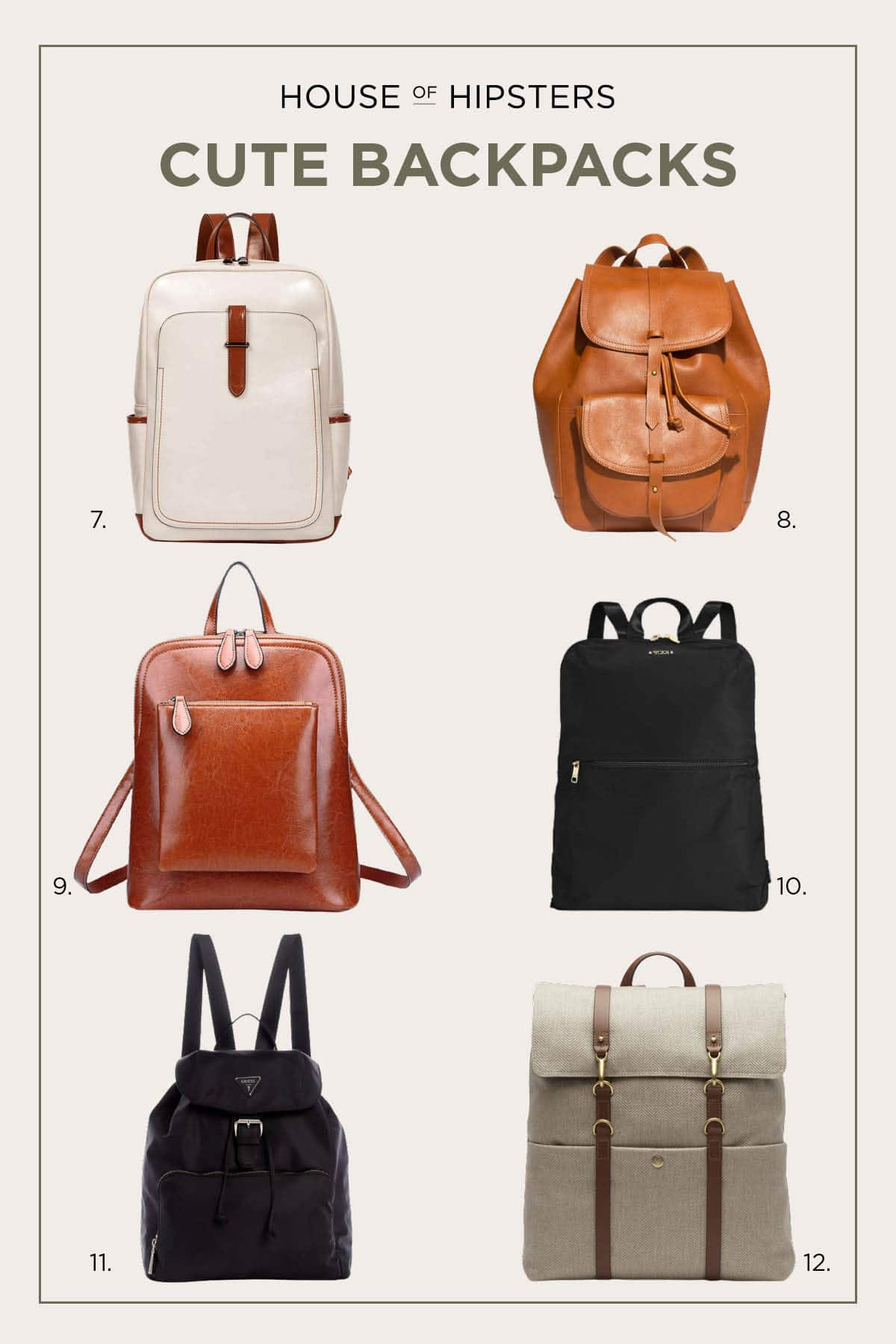 Vegan Leather Laptop Backpack – This backpack is made of vegan leather and has a special laptop compartment that will totally hold a 15-inch laptop with plenty of exterior pockets. It comes in 11 different colors (I think beige is my favorite, but I also love the navy backpack with brown straps.) The structured look of this bag elevates the look.
8. Madewell Leather Rucksack – This leather backpack is one of my all-time favorite cute backpacks and has been for over 10 years, so Imma call it a classic. It's available in black and brown, and yes, I have owned this bag. It doesn't have a special laptop pocket, but if you feel comfortable carrying it, this backpack will fit a 14-inch laptop in its roomy main compartment. It also has a front pouch. You can also customize it with a fun bag strap.
9. Hesche Leather Backpack – This bag reminds me of the Tumi Just In Case Bag (and they are about the same price), except this one is leather and comes in 4 different colors. This aesthetic backpack has an elegant design so it's a great daypack for a shopping adventure, but don't expect this to hold a laptop. It's not a mini backpack, but it is a smaller bag.
10. Tumi Voyageur Just In Case Travel Backpack – If I'm venturing down to Chicago or at the flea market, again, it's Tumi for me. This was gifted to me when I went to the Cambria creative workshop in Minneapolis. Legit, is the best swag gift ever. Much like the larger version listed above, it has a ton of interior pockets, enough room for all your must haves, and is lightweight. I would carry this more like a purse than a backpack, though. So if you're headed back to school, get the larger backpack. Again, it's not a mini backpack, but it is too small to be a work backpack.
11. Guess Large Nylon Backpack – The Prada nylon backpack is still trending in the world of fashion, but if you don't have $2k to shell out and be a purist, this Guess nylon backpack will give you the look for less. It even has a triangular patch!
12. Mismo Canvas Backpack — If you're an OG reader, you may recognize this cute backpack because, technically, this is an old post from 2013, way back when I first started blogging, and I finally updated it with what you see above. All these years later, this cute backpack is still a fashion statement with its leather straps is still a favorite and comes in multiple colors and small front slip pockets. Just be sure to toggle to USD, or you'll be paying in Euros upon checkout.
.



Discover More Eclectic Home Decor
The Primrose mirror has been trending, and finally, I've been able to source some great Anthropologie mirror dupes.
A round-up of 16 modern sofas I Love and would totally style in my living room.
Wait, skinny jeans are out of style? Yup, and here are the trending jeans I would wear instead.
Make this artificial flower arrangement in resin DIY with this easy tutorial.
Discover Where To Buy Affordable Curtains online with this awesome round-up of favorites. If you're specifically looking for velvet, I just published a round-up of affordable velvet curtains.
Getting rid of the brick fireplace in our living room and jumping into a Modern Fireplace Makeover. Check out the progress and then hop over for some mantel decor ideas.
Looking for something out of the ordinary? Check out these unique modern vases that add a touch of artistry and elegance to your home decor.
Cane and rattan are trending hard in the interior design world. Find the Best Cane Furniture online shopping sources.
Discover the best outdoor rugs for your patio and deck that are also washable. Looking for an indoor rug? Before you buy, get my tips on calculating the right rug size for a living room.
Have you noticed the cute mushroom decor that is popping up everywhere? Jump on this trend with my top decor picks!
Learn my genius ways on how to hang art and nail the height like a pro.
Add a bit of sparkle to your room with a melted disco ball.