DIY Home – Decorating On A Budget
Decorating on a budget can be difficult when you have champagne taste, but if you follow these budget-friendly DIY home decorating ideas, you'll be making over every room in your home for $5 and a hug in no time. The other week I shared my top tips on how to make your home look expensive, but today I wanted to take it a step further. What if you have a $100 limit? Or maybe no money at all. Let's sharpen that pencil and dig into my top 5 ideas for DIY home decorating on a budget to create a unique and beautiful home.
9 Ideas For Decorating On A Budget
DIY Home Decorating 1 – Rearrange Your Room
This may sound silly, but it actually works, and it's a zero-cost decorating idea. Sit in your room and think about how it should function. Does the existing furniture work? Examine the decor and ask yourself, "Does this belong here?" Ask yourself, "Can I improve this?"
Before you move any furniture, brainstorm other ways you might want to use the room. For example, say you are rearranging a dining room. Do you actually eat in that room? How is it presently used? Are the chairs comfortable? Is the table the right size? Really think about how the space functions and if that room could be improved.
DIY Home Decorating 2 – The Power Of Paint
The power of paint should not be underestimated, and a couple gallons of paint usually costs less than $100. A fresh coat of paint is an affordable way to transform the look and feel of a room, and if you don't believe me, look at the difference between the blue DeNimes living room and the Natural Linen. Totally different mood, right?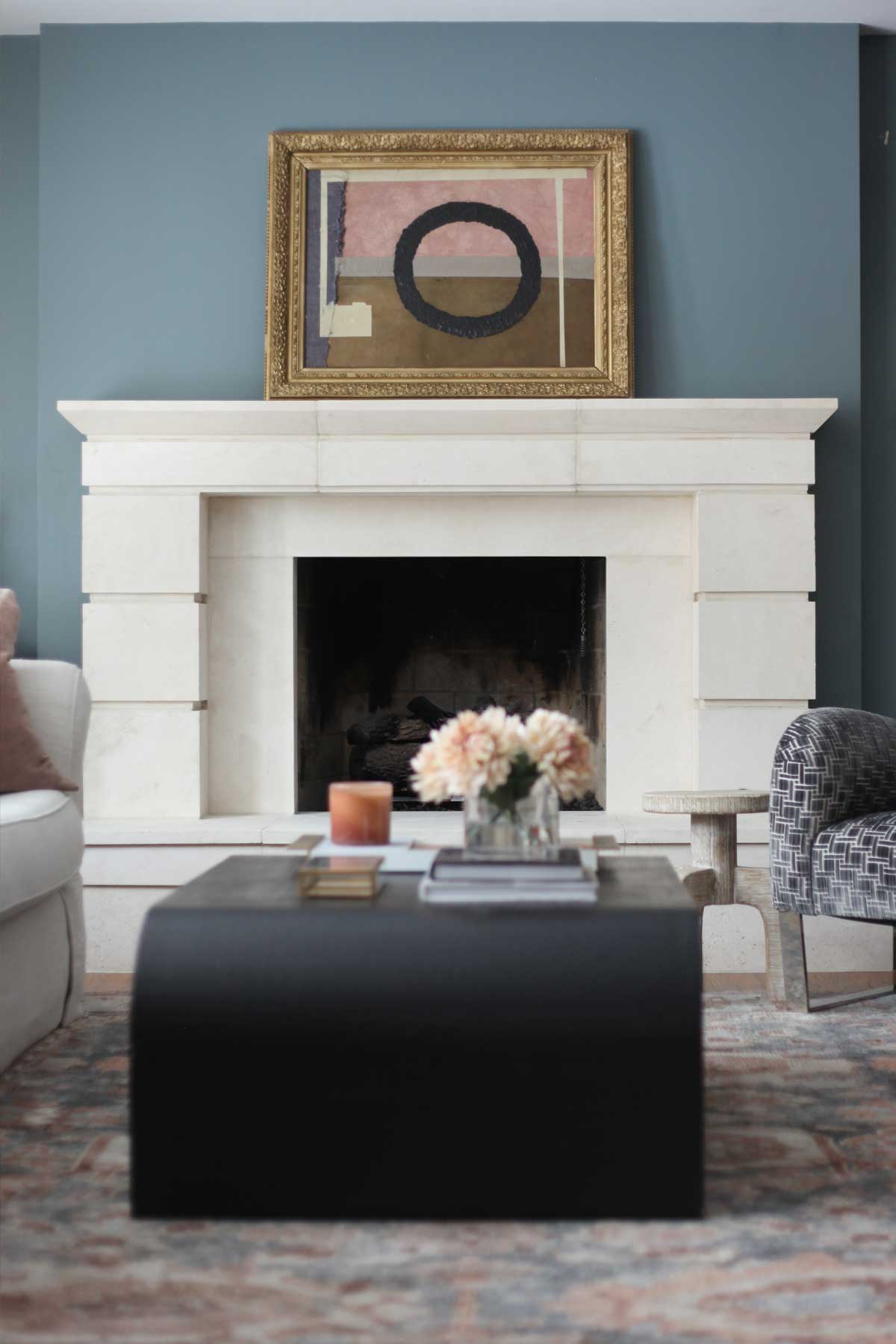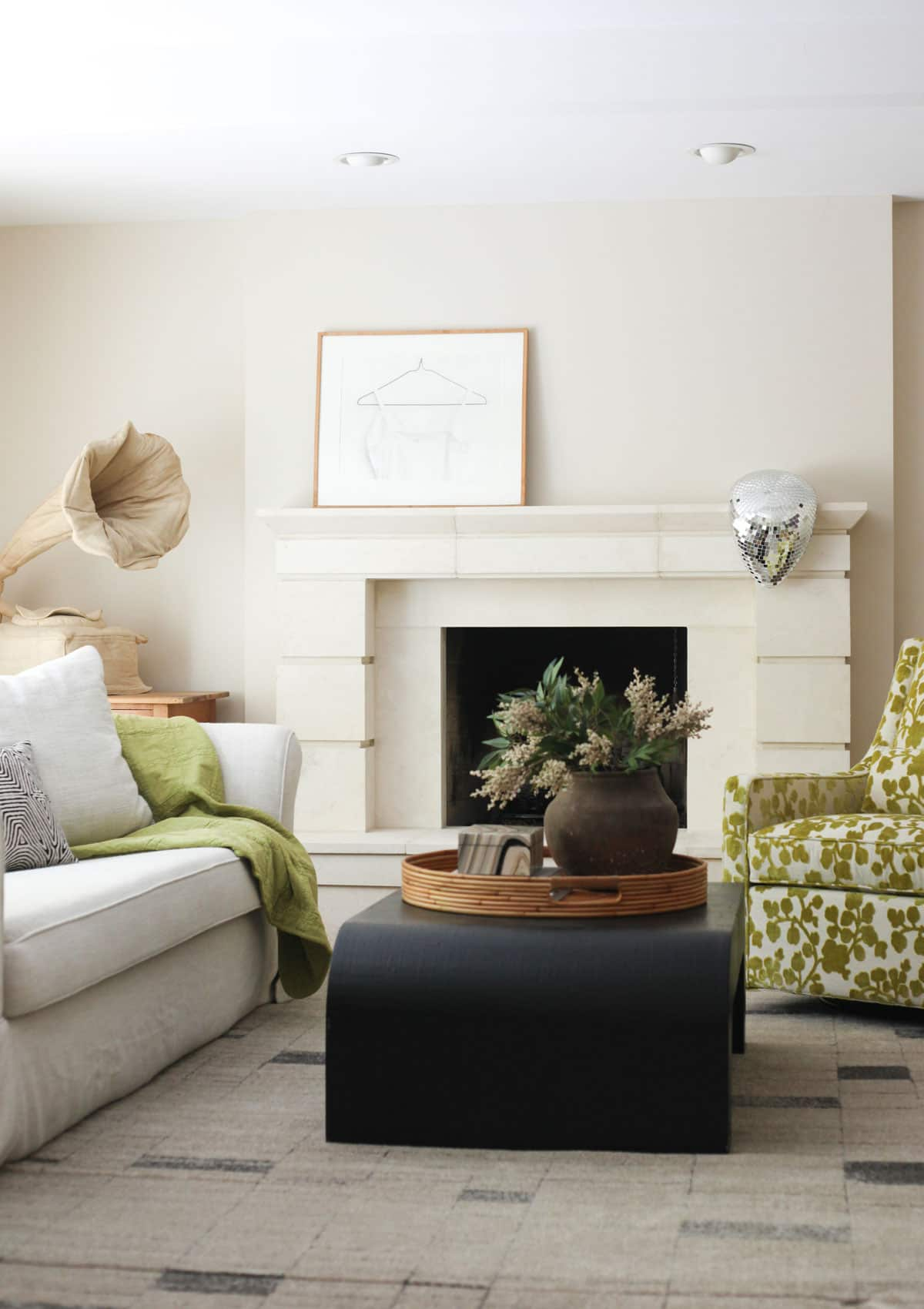 If you're not fully committed to painting the walls, think outside the box by painting a mural. Think graphic stripes in a beautiful color palette, an arch, or try your hand at a scalloped wall like my friend Bre did in her daughter's bedroom. You can also paint the doors, trim, or maybe the 5th wall…ya, you have one. It's called the ceiling. Maybe you just need to repaint a dresser for a pop of color.
DIY Home Decorating 3 – Resell The Items You're No Longer Using
If cash is what you need, resell the items you are no longer using on Facebook Marketplace and search for the new affordable decor in a secondhand store. Ain't no shame in thrifting. In fact, it's what I do best. Some folks like Target but I prefer the church resale shop down the street. I rarely walk out empty-handed. Everything is priced to sell, and all the proceeds help needy families in my area.
Reselling unused items might be the best idea ever when decorating on a budget. Yes, it might take a bit longer, and immediate gratification isn't always possible, but it's a great way to fund your DIY home project. Just be patient with the process, and don't rush into making decisions. Good things come to those who wait. Plus, reselling is a great way to declutter your space.

This vintage LaBarge mirror was found while I was on a thrifting adventure. It's presently on Chairish for over $1000!  
Other places to shop for secondhand items are Facebook Garage Sale Groups (I like to join the hoity-toity town groups), estate sales, flea markets, and don't forget about Craigslist. Yes, it's still around, and it's still filled with gems. Turning on notifications is one helpful tip to finding the right piece on Marketplace (and many other sites). Enter your keyword and be notified when the hidden gem you're searching for is listed. Also, don't be afraid to ask. Publish an ISO (in search of) post on Facebook, Nextdoor, or Poshmark (that link will take you to my closet). Never underestimate the powers of the Law Of Attraction.
DIY Home Decorating 4 – Shop Your Home
Who doesn't love shopping for new home decor? No one…at least no one who's reading this post. However, most people do not have an endless supply of cash. Shopping your home for decor is a great way to refresh a space and is also the primary reason everything is constantly rotating over here.
DIY Home Decorating 5 – Add A Touch Of Nature
Bring the outdoors in and breathe life into your space with some fresh greenery. No, shrubbery will not fully makeover a room, but it is still an idea for decorating on a budget. And who knows, maybe you'll find the perfect vase for your stems while shopping for your home. If you're like me and you have a few dollars to spend, grab a few faux olive branches and pop them in a vase. Voila!

DIY Home Decorating 6 – Shop Outlet Stores and Open Box Deals
My secret squirrel shopping destination is the CB2 and Crate & Barrel outlet shop in Naperville (there are other locations across the US). Yes, there are a lot of pieces that are beyond salvageable, but then there are others that are the score of the century. If you don't have money to spend, use your time wisely.
Did you know online sites like Amazon have warehouse deals? I mean, in general, Amazon has affordable decor, but the warehouse is where you'll find open box items – you know, the things people return. BTDubs, check Best Buy's open box items if you're looking for electronics. There's a beverage cooler I'm eyeballin' over there. It's all about knowing where to look.

The rug, coffee table, bowl, and maiden hair fern were all found on Amazon. 
DIY Home Decorating 7 – Repurpose It
Peruse TikTok, and you'll find a ton of Dollar Store hacks (you'll also find incredible IKEA hacks too). Walk down the aisles of a discount store and get a bit creative. You wouldn't believe all the things you can do with pool noodles!
This vase dupe floored me! I mean, it looks just like a Jonathan Adler vase or something you'd find at CB2. I mean, it's a plastic squirt bottle! Whoa, right? I was not expecting that.
@nifty $200 vs $1(ish) Dollar Store dupe! CW: box cutter
Talk about decorating on a budget. A $1 spray bottle and a $5 bottle of spray paint. You can't go wrong.
DIY Home Decorating 8 – Change Out Your Accent Decor
If you want to give your bathroom or kitchen a makeover, upgrade your handles and knobs. A hardware swap-out is an easy way to refresh your space. Looking to redecorate your living room? Who says a makeover needs all new furniture? Dress up your seating with new throw pillows, or give your lighting a makeover with updated lampshades.
DIY Home Decorating 9 – Declutter And Reorganize
I know using "clean your room" as a suggestion for decorating on a budget sounds like a silly answer, but it's true. Take everything off your shelves, coffee table, and countertops and sort through everything. Are you finding things you didn't realize were there? Now rearrange that bookshelf, add some art, pop a new vase on your table, and pop in some fresh flowers from Trader Joe's. Presto chango. It's really all about keeping your surface space neat and organized.
Before signing off, I wanted to mention the Thank with Google feature you might have noticed in multiple places on the site. As a content creator, I'm participating in a pilot program with Google called, Thank with Google. The experimental feature is a creative way for you to connect with me by allowing you to purchase a virtual sticker. So far, it's been really fun to learn what posts are helpful to readers and what you want to read more about.
If you find a particular post helpful, you can purchase a sticker (anything from free balloons to a $1 dinosaur to $12 flowers and more), plus you can send me a personal message (when you send a paid sticker)…and let me tell you, every time I receive a Thank with Google notification, it warms my heart. So many times, I press publish and have no idea if you enjoyed the post. If you try out this new feature, please let me know your thoughts, and as always, thank you for supporting House Of Hipsters.