How To Choose The Best Bedroom Lighting
Last Updated on June 28, 2023
When it comes to decorating a bedroom, lighting is everything. So to elevate the design of the guest room makeover, I headed over to my one-stop shop for lighting and more, Lamps Plus. Because they carry multiple brands and decor styles, they make shopping for bedroom lighting easy. Below is a roundup of all the lighting options that caught my eye: ceiling lighting, flush mount lighting, table lamps for the dresser, and floor lamps. It's all about layering and creating a mood. Let's dig into this bedroom lighting guide for some beautiful ideas.
Bedroom Ceiling Light Fixture Ideas
Although I'd love to install pendant lighting over the bed, the room is just too small, and the ceilings are not high enough. Any guest would most definitely bonk their head. While scoping out flush mount lighting, I stumbled upon semi-flush mount lighting. Hmmmmm, this could be the fix I need.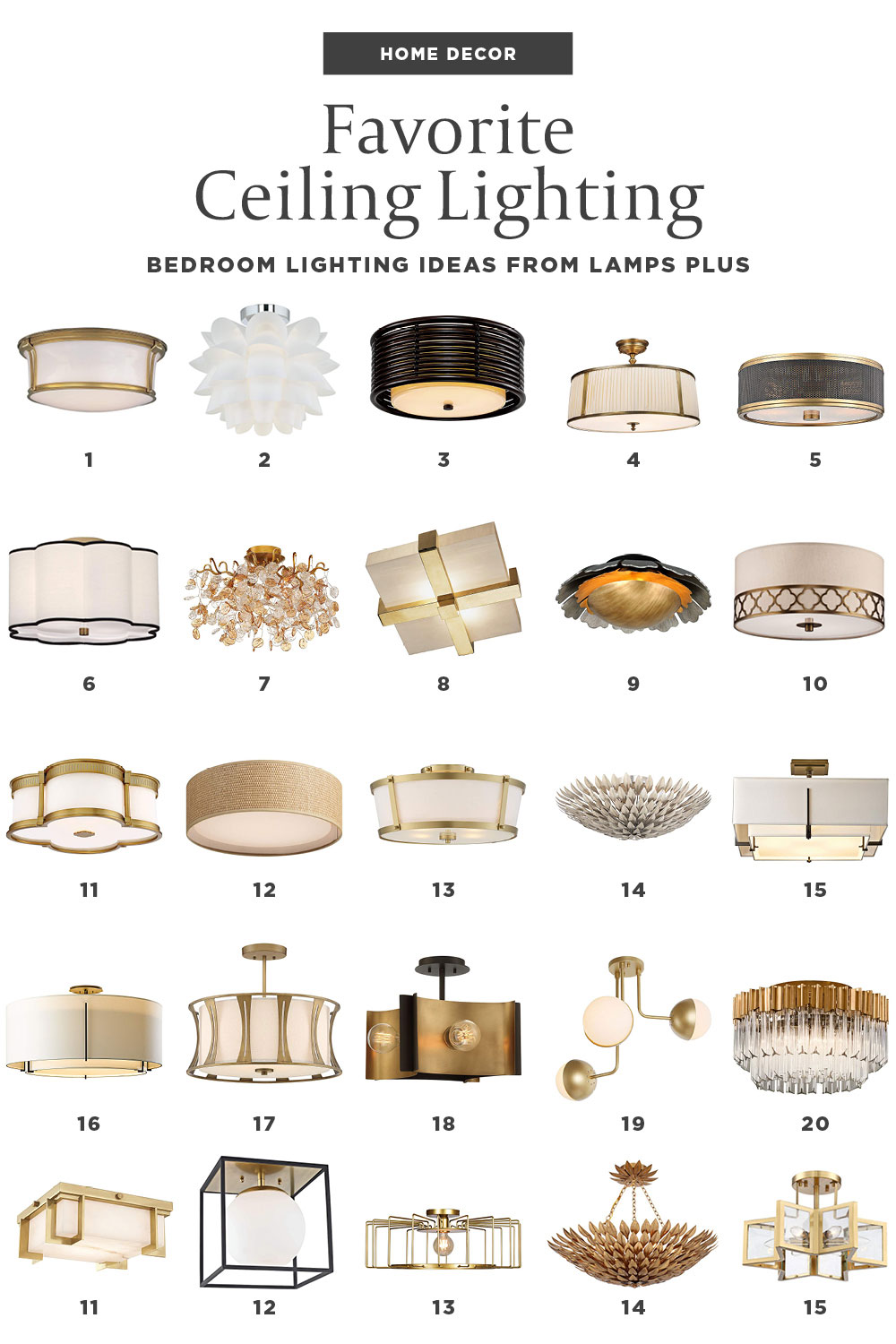 15″ Wide Angle Brass Ceiling Lamp – only available in silver
White Flower Ceiling Lamp – no longer available
Key West Flush Mount Light – no longer available
14″ Black and Brass Ceiling Light – no longer available
Wide Tapered Gold Ceiling Light – only available in bronze
No Longer Available
29-1/4″ Wide Drum Dark Smoke – only available in bronze
20″ Wide Gold Drum Ceiling Light – no longer available
Gold Metal 3 Globe Ceiling Light – under $250
No Longer Available
10-1/4″ Square Aged Brass LED Light – only available in bronze
Black Cube With Globe – under $250 and one of my favorites
16″ Star Shaped Warm Brass Ceiling Light – no longer available
HOT TIP: To ensure your ceiling light fixture fits the size of the room, add the width and length of your room in feet. That total will determine the diameter of the best-fitting light. For example, if your room is 11″ x 11″, a 22″ diameter light will work best in your bedroom. Betcha didn't know that little trick!
Ultimately, this is what I chose for the lighting over the bed…are you ready for this because it's literally the first time I've shown this much of the space! EEEEEK, so exciting! I say that because I used a bold color palette and really pushed myself to design outside of the box.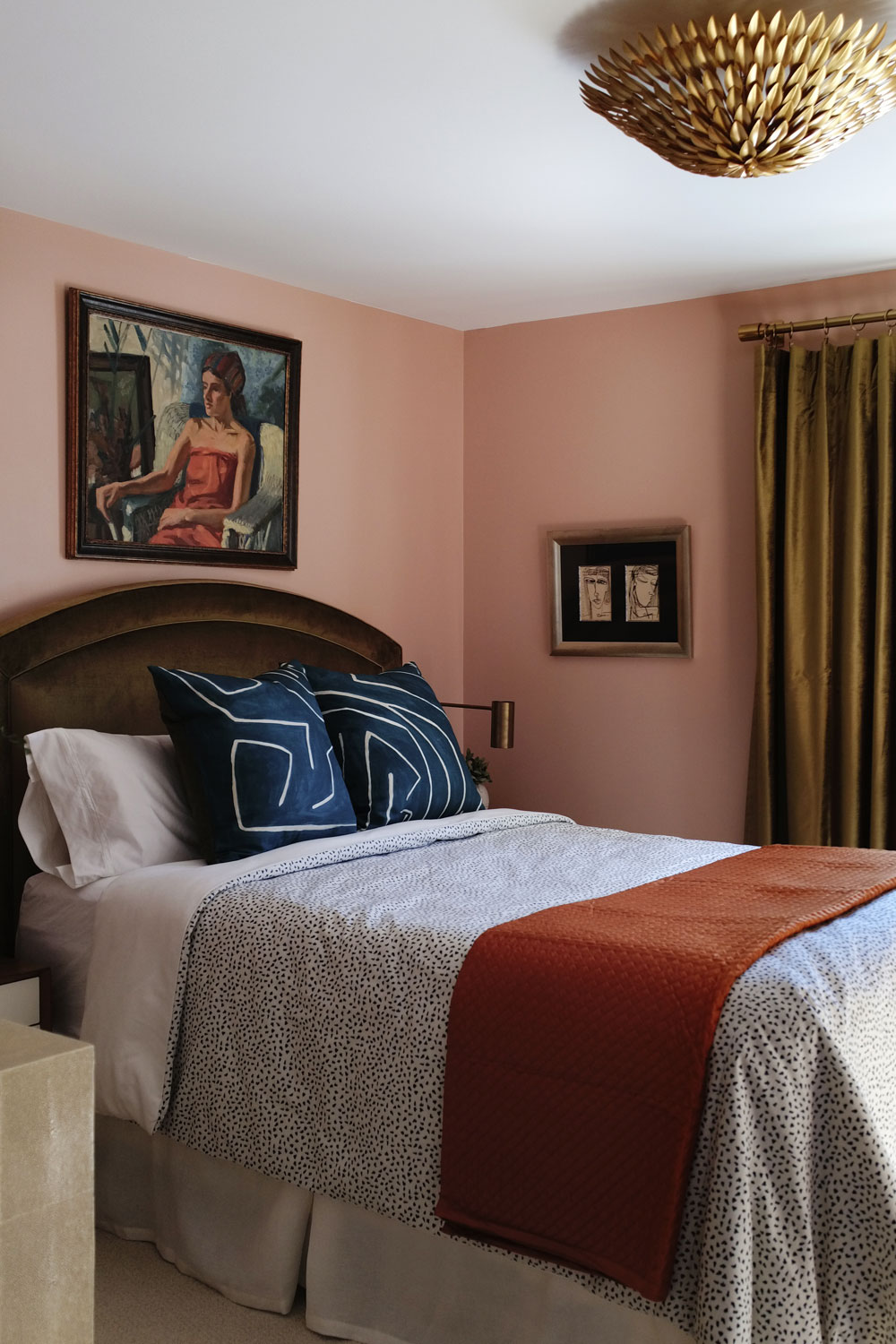 The sconces over the small nightstands saved valuable space, so those stayed original to the room, but the rest of the bedroom light fixtures were new to the space.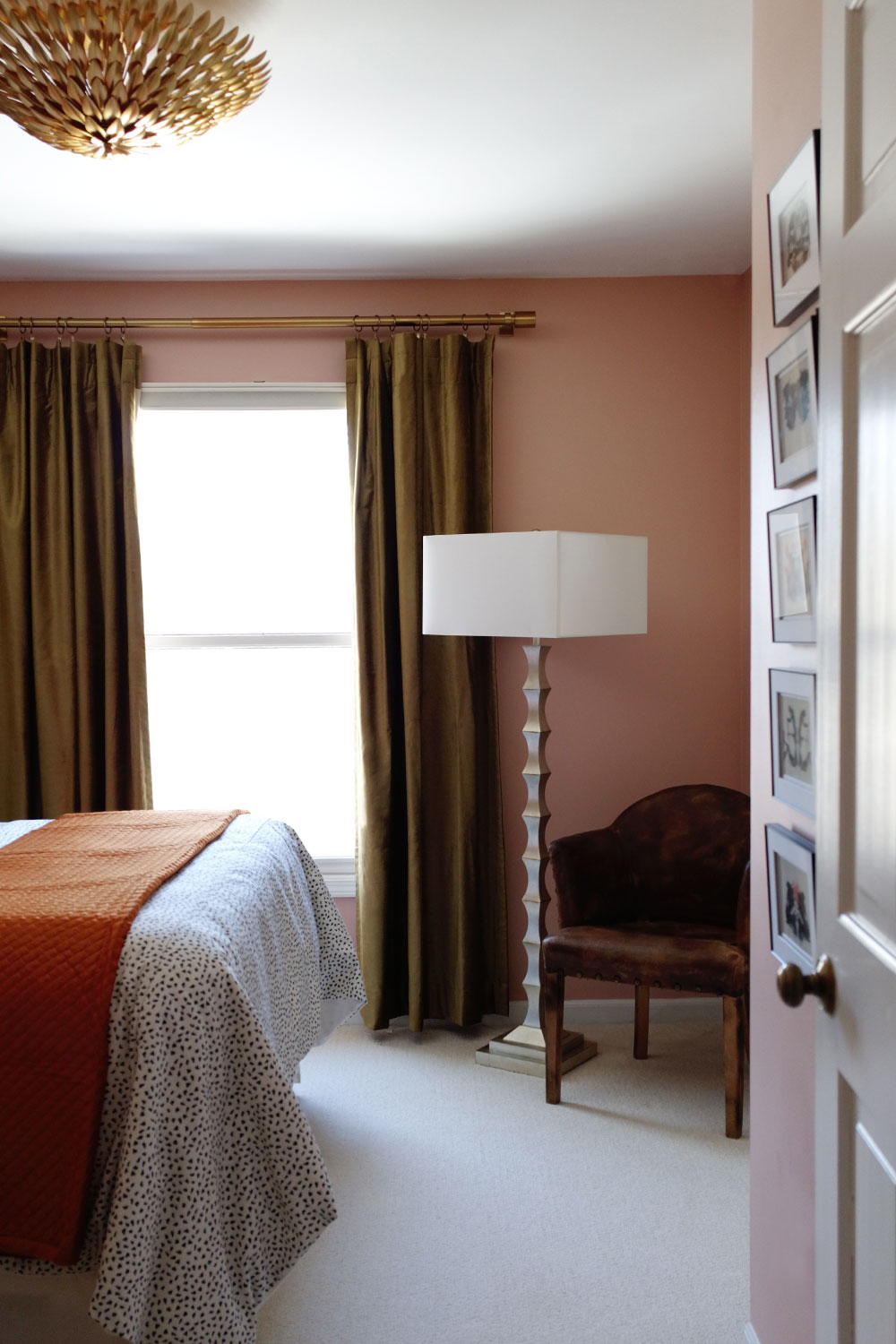 The Boy thought installing the ceiling light would be a rough ride, but he only got poked by a leaf once, so Imma call that a win! Here's the quick video detailing how we swapped this beauty out for the boring old boob light. If electrical intimidates you, hopefully, this video documenting the installation will convince you to give it a go and not get zapped.
HOW TO TUTORIAL: If you want more details on how to change out a ceiling light, click that link for the instructions, and don't miss this round up of boob light replacements.
More Bedroom Lighting Ideas — Table Lamps
Shopping for ceiling light fixtures gave me the inspiration to layer in more bedroom lighting ideas. Yes, a beautiful table lamp on the dresser was a no-brainer, but a floor lamp could be layered into the mix as well. In other words, you can never have too much lighting. It's the sparkly jewelry of home decor, and it gives you the ability to illuminate your bedroom in multiple ways.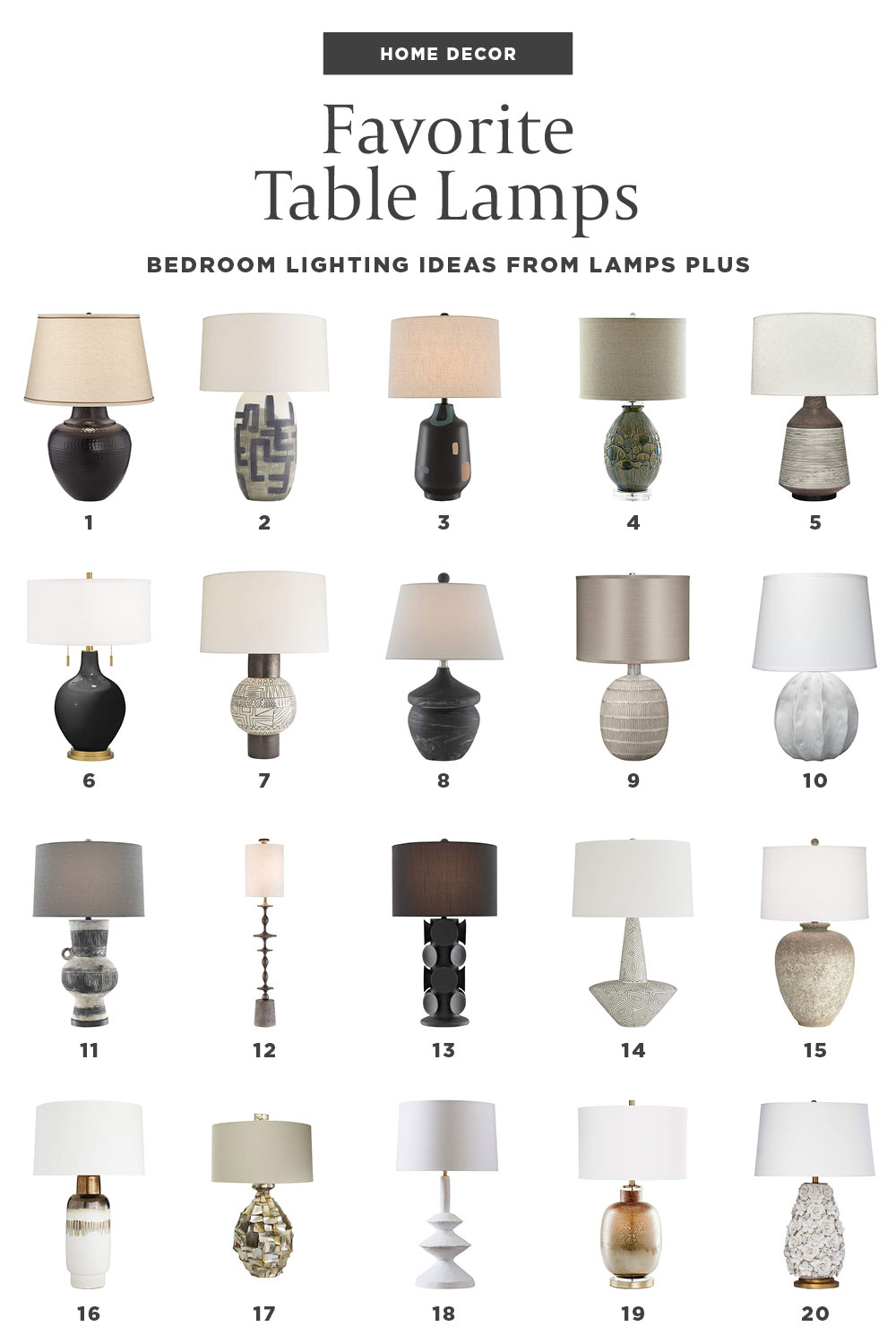 Black Hammered Pot Bronze Table Lamp – no longer available in black
Indigo and Gray Brushstrokes Table Lamp – no longer available
Matte Black and Terracotta Table Lamp – no longer available
Blue Green Ocean Life Table Lamp – no longer available
Walnut and Cream Table Lamp – no longer available
Black Jar Accent Table Lamp – no longer available
Crumble Cream and Black Table Lamp – no longer available
Matte Black Candlestick Table Lamp – no longer available
Black Terracotta Table Lamp – no longer available
Rustic Jar Table Lamp – no longer available
Shell Table Lamp
So many pretty kitties to choose from. Ultimately, I chose this oversized black vintage-inspired jar lamp (no longer available).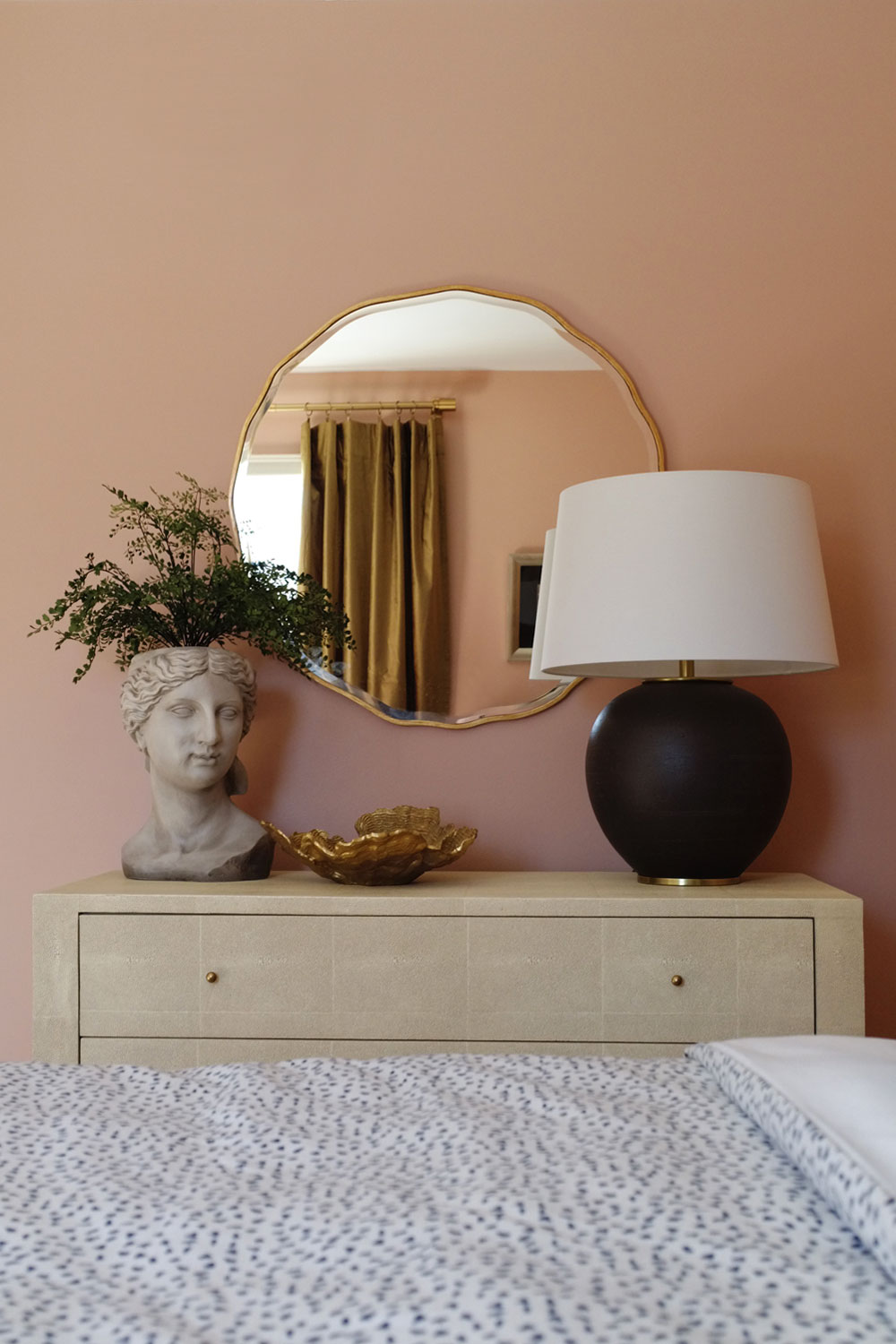 Floor Lamps For The Bedroom
Now let's really start to layer lighting by adding in accent lighting like a floor lamp. Accent lighting helps illuminate the bedroom in conjunction with the ceiling lighting and will help brighten dark corners. Here are a few that caught my eye.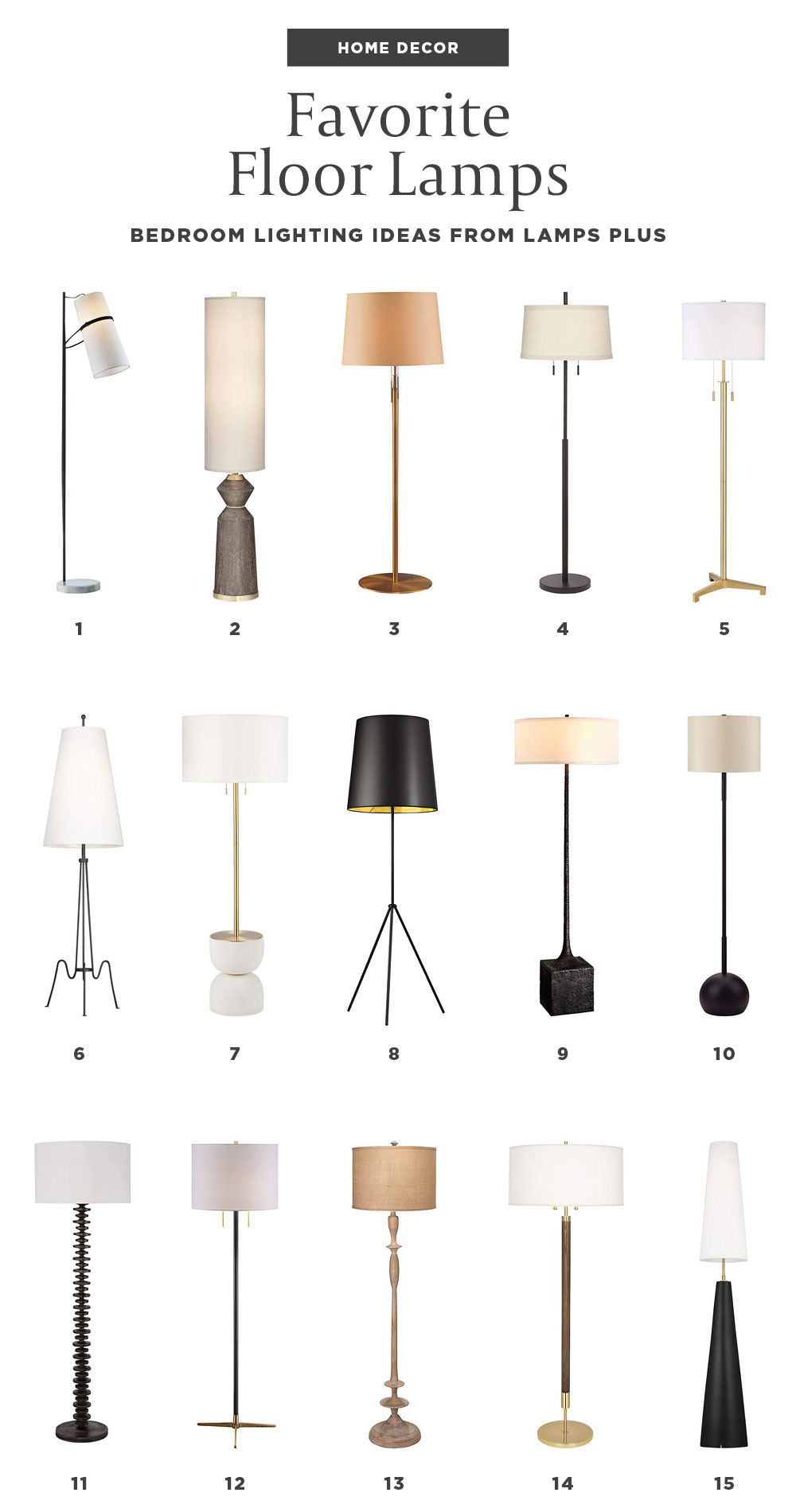 Antique Brass Floor Lamp – no longer available
Bronze Finish Floor Lamp – under $200 and most popular
Brass Modern Tripod Floor Lamp – under $250 and most popular
Thin Metal Framed Aged Iron Floor Lamp – sold out
Bronze Cast Floor Lamp – on sale
Bronze Column Floor Lamp with Dome Base Floor Lamp – sold out
Contemporary Metal Floor Lamp – best seller and under $300
This one (sold out) is holding residence in my heart, but in the end, I chose this silver leaf floor lamp. Mixing metals is trending hard in home decor right now, and this one ticked all the boxes. The distressed silver leaf is even better in person. And yes, you read that right, it's silver! Not brass or gold…again pushing myself out of the norm.
HOT TIP: Mixing metals helps make your room not look so matchy-matchy, and a metallic finish helps move the eye around the space.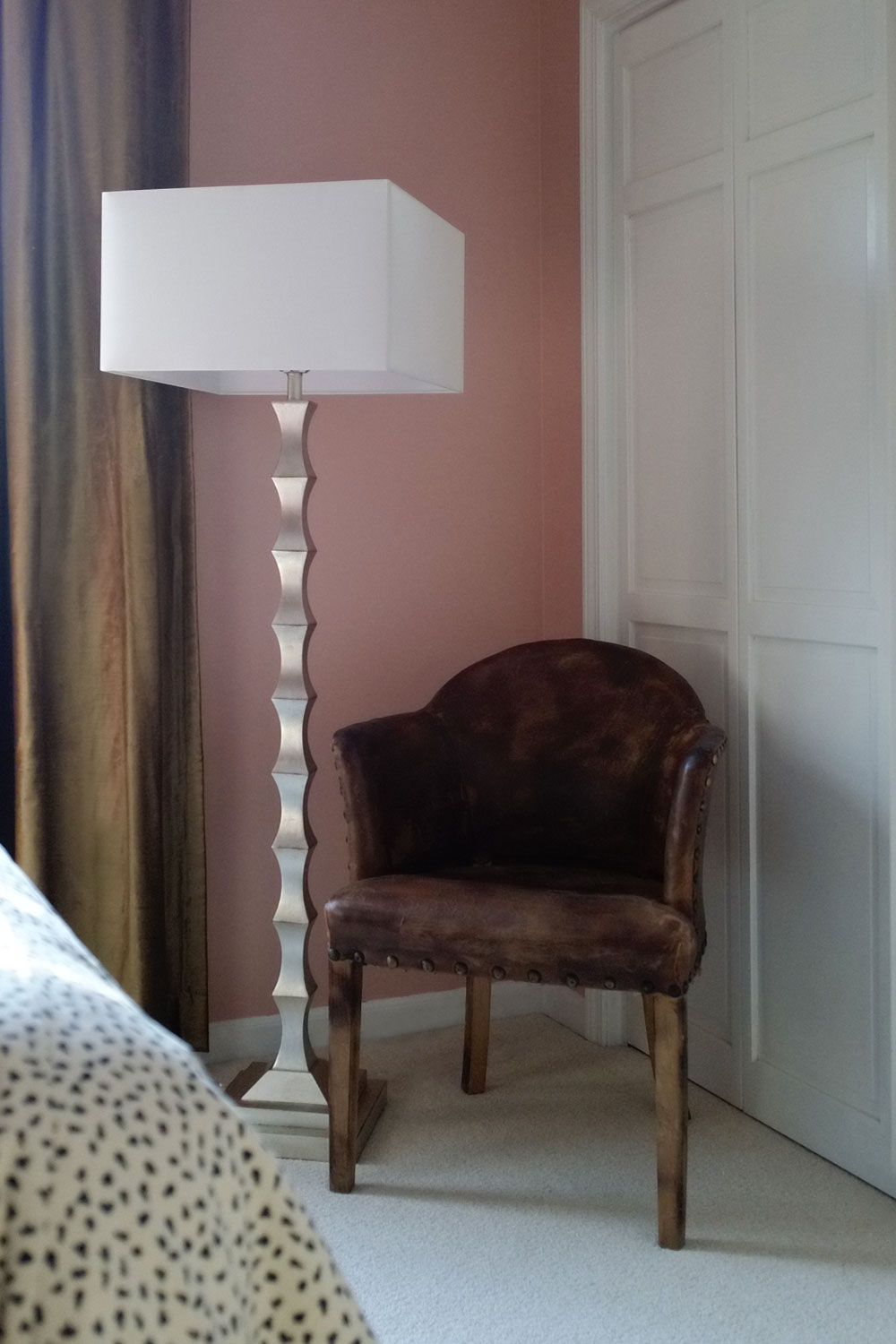 In addition to lighting, Lamps Plus also stocks decorative items for the home. Everything you see styled on the dresser below — the scalloped brass framed mirror, the lady's head flower pot (faux plant not included but oh so fun), and the gold coral-shaped bowl (sold out) are all available on their site.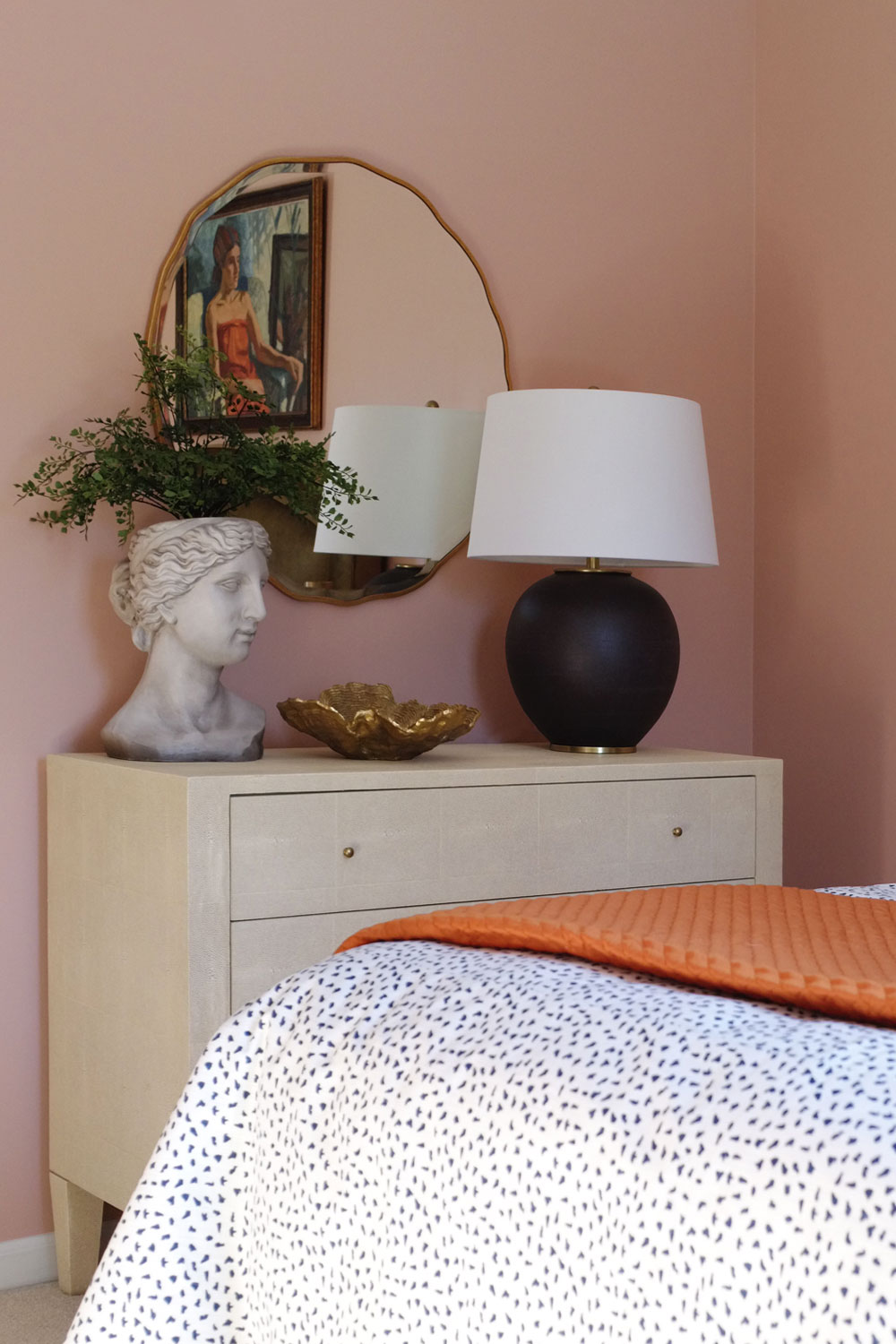 This post is sponsored by Lamps Plus. All words, thoughts, and photos are my own.
If you liked this post, be sure to hop on over to the ultimate guide to the best sheets for your bedroom.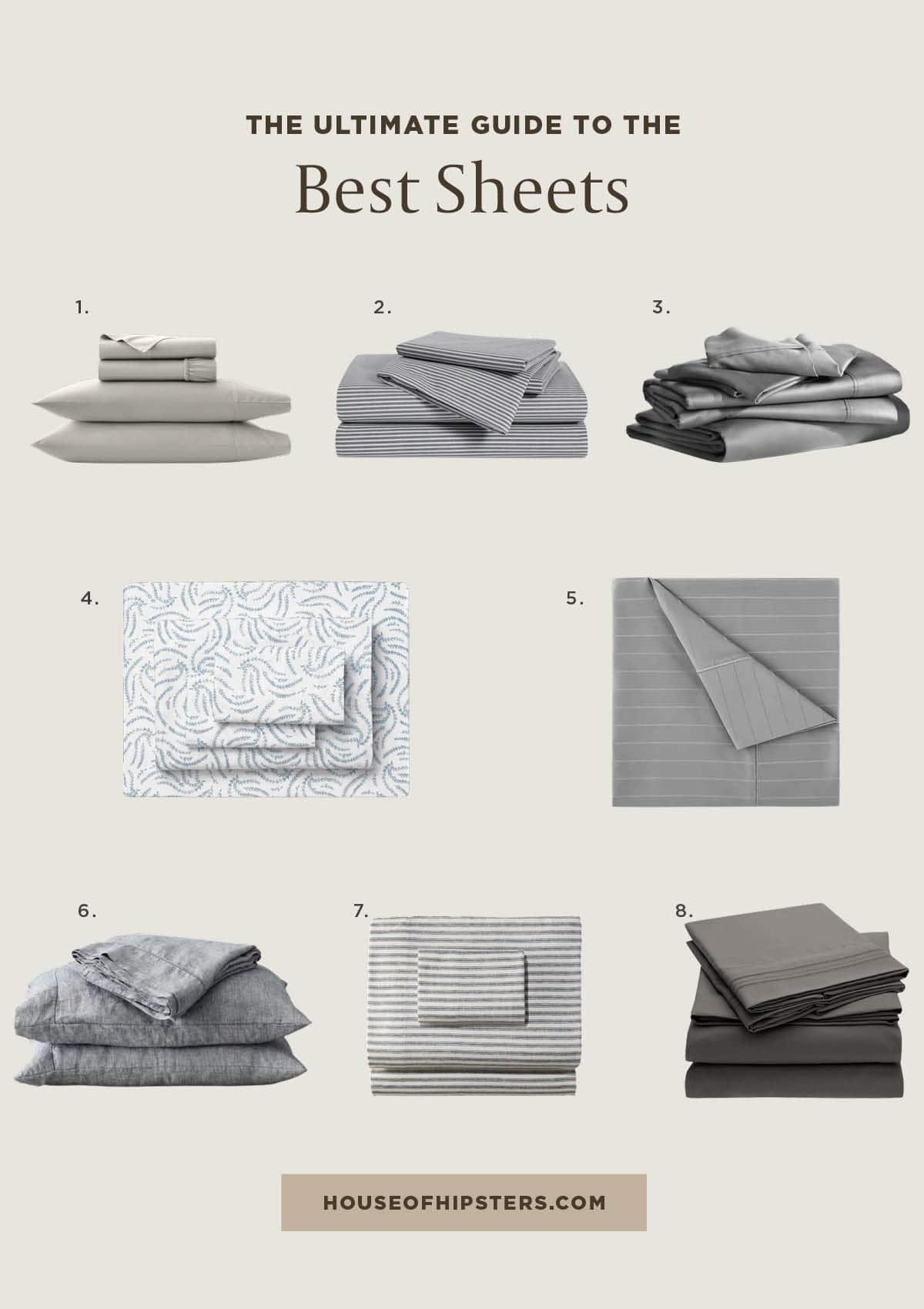 Find More Interior Design Inspiration
Looking for 5 minutes of entertainment? Check out Beautiful Distractions No. 32.
I teamed up with Philip Jefferies to wallpaper my bedroom with Broadstrokes, a Black Textured Wallpaper that is so luxurious.
Check out this post to inject a bit of violet, lavender, and lilac decor into your home.
I put together 2 living room virtual design mood boards filled with my favorites from the new Jake Arnold furniture collection.
If you're looking for a filigree floor mirror, this is the round-up for you. I have 15 of the best Anthropologie mirror look for less options for you.
Ever wonder what the best size rug for a living room? I'm answering all your burning questions.
The bedroom closet remodel has wrapped. Check out the before and after.
Getting rid of the brick fireplace in our living room and jumping into a Modern Fireplace Makeover. Check out the progress, and don't miss these fabulous mantel decor ideas!
Looking for the perfect gift for the decor lover in your life? Check out this round-up of the best home decorating books.
With spring right around the corner, it's time to spruce up your backyard! Here is a full round-up of the best outdoor patio furniture,
Did you know you can upload your own tv art for the Samsung Frame TV? Check out my favorites.