Jake Arnold's New Furniture Collection Plus, More Beautiful Distractions
Last Updated on September 27, 2023
It's almost spring which means new spring decor is dropping, and let me tell you, there are some gems right now! Here's what caught my eye this week. The Jake Arnold Collection just dropped at Crate & Barrel, and it is lit! But then again, I would expect nothing less. from Jake. His style runs deep through every detail. The lighting is especially beautiful. Here are a few living room designs using what is on my wishlist.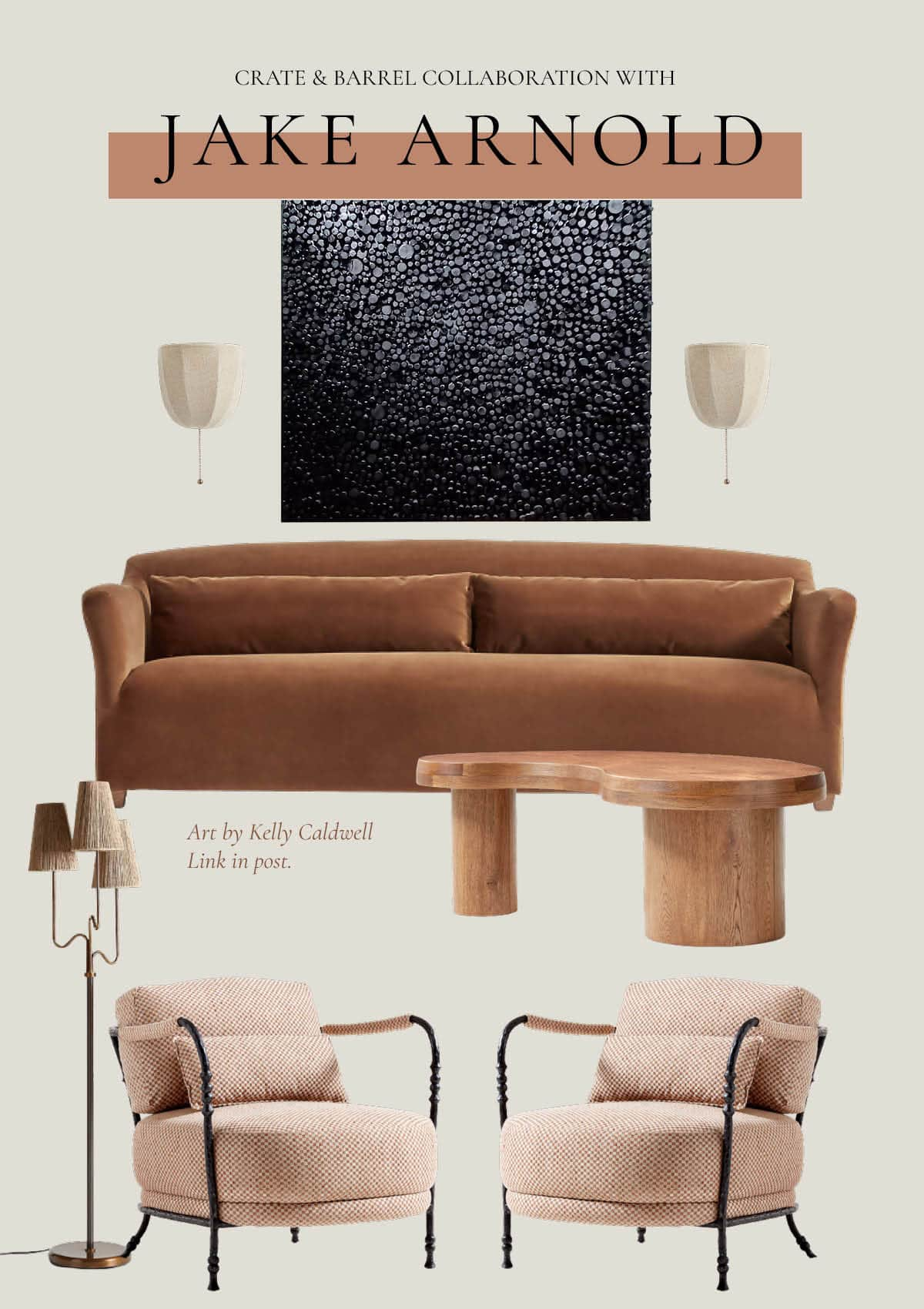 SHOP IT ON MY LTK OR CLICK ON THE LINKS BELOW
Velvet Sofa In Congac (not available yet, but coming soon)
Sculptural Metal Accent Chair (mark my words, this chair will love in my home one day)
ART BY KELLY CALDWELL – FIND HIM ON INSTAGRAM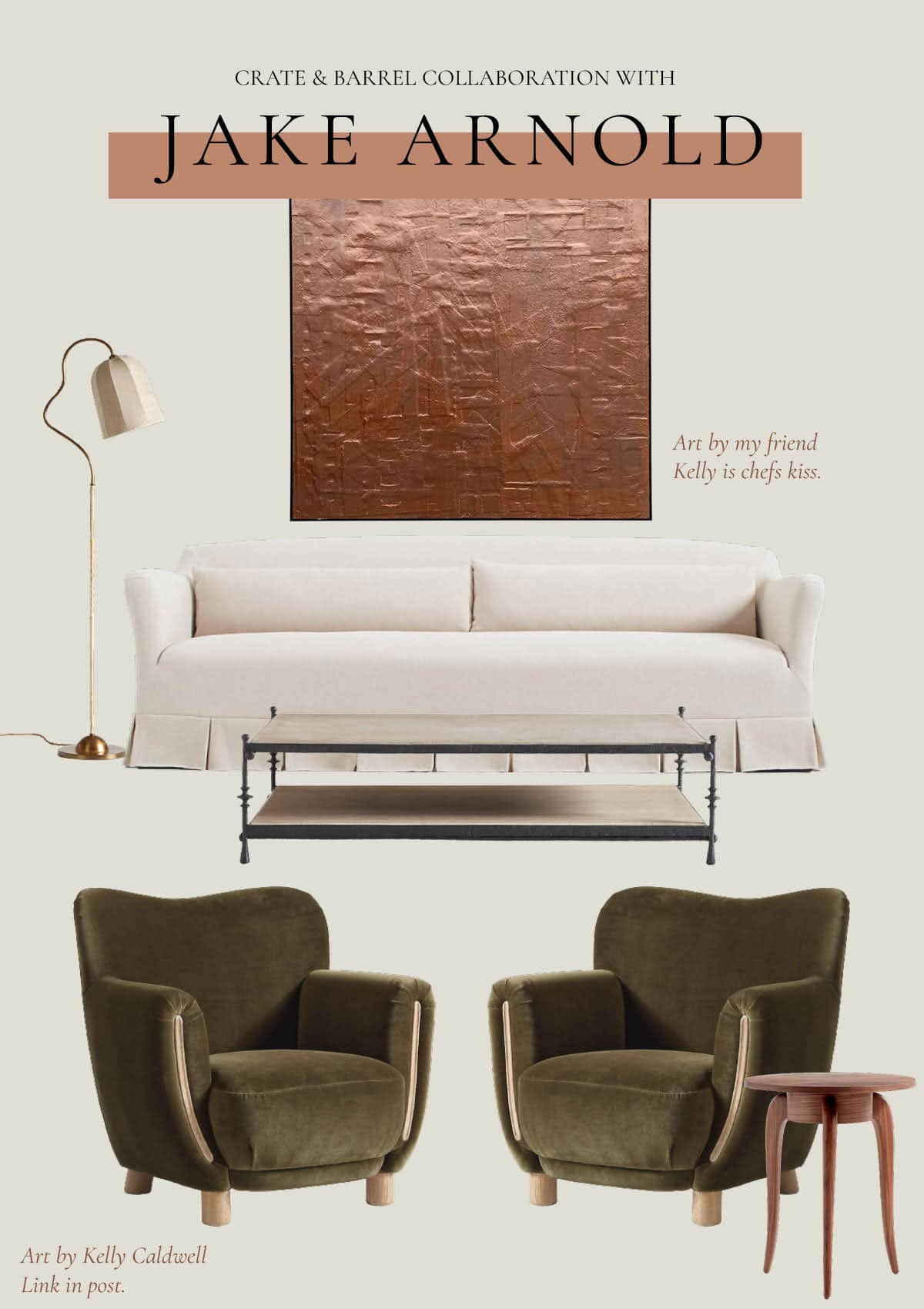 SHOP IT ON MY LTK OR CLICK ON THE LINKS BELOW
Slipcovered Sofa With Pleated Skirt
Travertine and Metal Coffee Table
Walnut Wood Side Table With Curvy Legs
ART BY KELLY CALDWELL – FIND HIM ON INSTAGRAM
RELATED: In case you missed it, new on Amazon is a Nate Berkus Home Collection that just dropped and the bedding is GORGEOUS!
Have you watched Poker Face? It's on Peacock, which I never knew that channel existed until The Boy showed me how to find the app on the TV.
I've professed my love for Natasha Lyonne in Russian Doll (please drop a third season), but Poker Face takes binge-watching to another level. I will never get sick of her acting or her amazing hair. She is at the pinnacle of girls who are cool AF and knocks it out of the park, and it helps that the cast is fire too. Natasha is the perfect modern-day Columbo. This is a must-watch if you have Peacock.
While waiting for another episode to drop, I also got sucked into The Resort on Peacock. Good show. Entertaining. Made me laugh. The ending was a bit strange and far-fetched, but overall, I liked it. I'd totally watch another season.
RELATED: If you own a Frame TV, check out this post for TV art, and I also have free TV art you can download as well!
What's For Dinner?
This may sound like a weird mention on a home decor blog, but that's what Beautiful Distractions are all about. I found a new place to shop for meat—specifically beef. I grew up in a rural town in Wisconsin, and two of my high school classmates, Tim and Shana, got married and now own Cedar View Farms. They recently started working with BetterFed Beef to help shake up the industry and bring a sustainable option directly to US consumers.

The beef is processed by BetterFed in Minnesota, and the cattle are US-bred, born and raised by families and farmers across the Midwest. I was curious, so I bought a box of ground beef and a chuck roast. After cooking the ground beef for tacos, I can officially say, yes, there's a huge difference in the taste, color, tenderness, and quality of BetterFed beef versus grocery store beef. Even the kids noticed the difference. Best part—I placed my order on a Monday afternoon, and the box was delivered to my door two days later.
If you're looking to support Midwest farmers and you happen to eat red meat, definitely check these guys out. The price point is slightly higher than the grocery store, but the taste and quality make up for it. (No, I wasn't paid to write this. I just really like this company's values.)
RELATED: Get the recipe for my Stuffed Shells in Meat Sauce. It's one meal both my kids LOVE!
Book Of The Month
I just finished reading the book Lessons In Chemistry, and it might be my new all-time favorite. It's a heartwarming and, at times, heartbreaking story about Elizabeth Zott, a woman living in the 50s and 60s who doesn't fit the housewife mold. There's a reason why this book has a 4.5-star rating on Amazon with over 104,000 reviews.

This is Bonnie Garmus's debut book, and I can't wait until she writes something new—although I'm unsure how she could top Lessons In Chemistry.
RELATED: If you're looking for more recommendations like this, check out my round up of best books to read.
Sneakers That Caught My Eye
My love for sneakers runs deep, and I have 2 pairs sitting in my cart. Both are giving me all the vintage feels, especially the LA Gear sneakers. Yes, you read that right — The same LA Gear you remember from the 80s and 90s, and yes, they are hot pink and neon yellow. A totally different vibe are these New Balance sneakers in white with terra cotta accent.

Home Scents
Have you heard of a candle warmer? It's my newfound obsession and trending on TikTok. It's basically a heat lamp that warms your candle enough to melt the wax and doubles the life of your candle's scent. Not only is it safer (yes, I have forgotten to blow out a candle more than once), but it also eliminates smoke and soot. I've been warming my Maison Souquet candle that I bought in Paris. It's ALMOST gone, but the candle warmer has prolonged its life.

Affordable Modern Lighting
IKEA seems to be making the new Sabine Marcelis collection, VARMBLIXT, available slowly but surely. It launched on the website in late January, but purchasing has proven difficult. I'm pining away for the donut-shaped light, but alas, it's still unavailable. They're estimating late February – early March. I"ve got myself on the notification list. However, the round bronze mirror wall light is finally available for delivery!

That's all for now. Hope you're having a great weekend!



Discover More Eclectic Home Decor Ideas and Interior Design Inspiration
One thing I do spend money on is bedding. Here are the best sheets that will help give you a better night's sleep.
Love plants as decor but have a black thumb? No worries! I have a rounds ups of the best faux olive trees, my favorite faux fiddle leaf fig trees, and a huge round-up of faux plants that look real.
Want to add a little sparkle to your room? Try adding a melted disco ball to your decor!
Do you have a rug that is too small or too big? Not sure? Here's how to choose the best size rug for a living room.
If you're looking to spruce your backyard, check out this round-up of the best modern outdoor furniture.
Storage bins and other organization ideas to keep your home clutter-free. From the pantry to the kitchen to the bathroom to drawers, I've got you covered! And check out the decorative boxes post if you're looking for ways to corral your remotes on your coffee table.
Getting rid of the 80s brick fireplace in our living room and jumping into a Modern Fireplace Makeover. Check out the progress and then hop over for some mantel decor ideas.
Looking for something out of the ordinary? Check out these unique modern vases that add a touch of artistry and elegance to your home decor.
If you wanna know how to make your home look expensive but decorate on a budget, check out both of those posts! There's some seriously good advice in both.
Learn how to hang art at the perfect height, plus get my 7 genius hacks to hang a picture like a pro.