Purple Decor, Lilac and More
Last Updated on August 24, 2023
While walking around High Point Market scoping out the latest interior design trends, my friend Carrie declared that purple decor would be big in 2023, and boy was she right! All the shades of purple have started to trend hard – lilac decor, lavender, and even mauve! It's one of those 80s modern colors that is making a comeback. Below you'll find a full round-up of all the purple decor I'm currently crushing on, along with a few clothing options in case you're not quite ready to take the lilac leap into pillows.
Purple, Lavender, Lilac Decor, and Fashion Favorites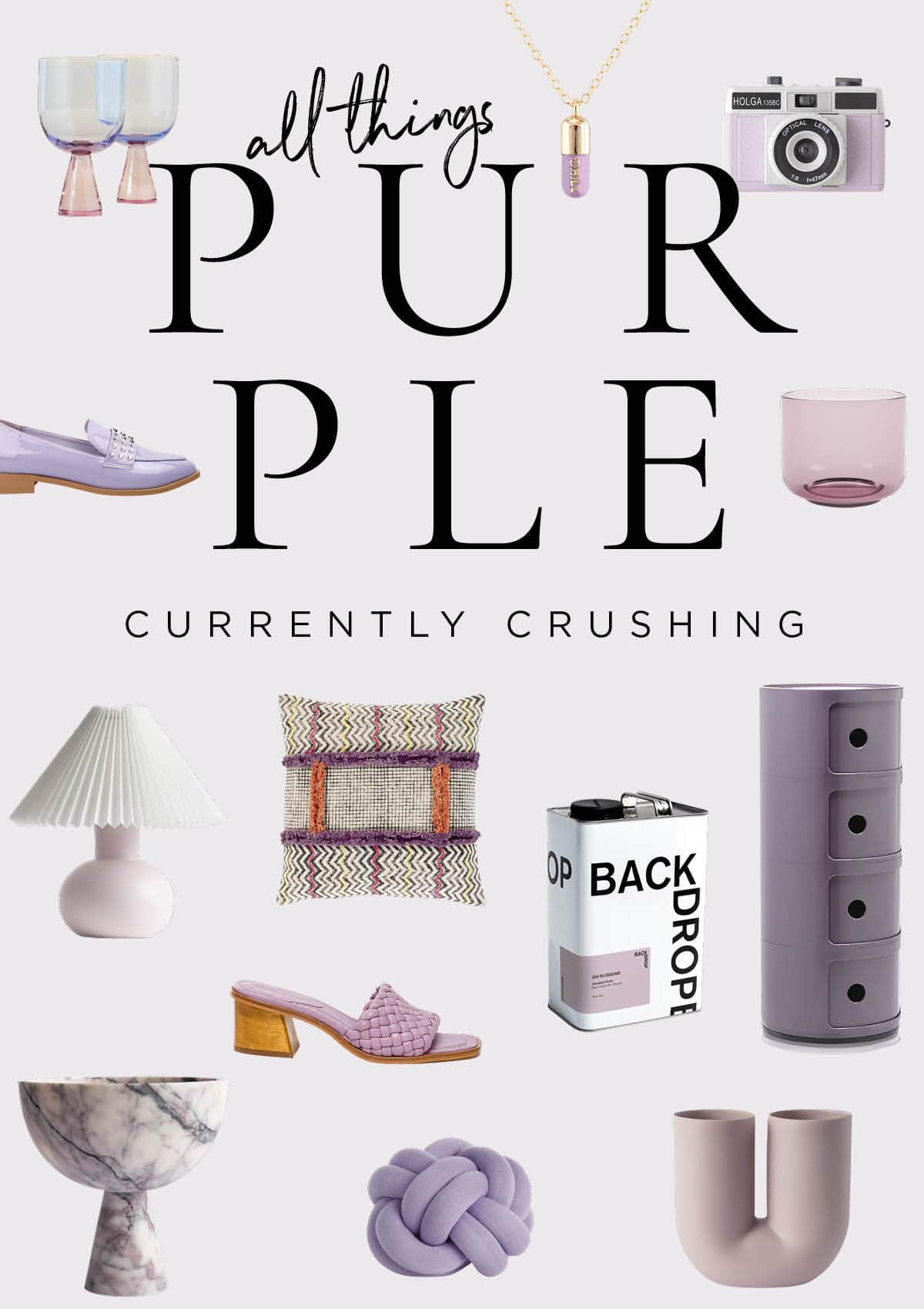 Before getting into it, I'm curious how you feel about this shift from millennial pink to purple decor. As you know, I Have This Thing With Pink, but it was a bit overdone. I'm ready for a shift to something different. Here's what I've been eyeing — and yes, I included some fashion and jewelry picks as well. Cuz you know, why not, right?
RELATED: If you love to shop for decor by color, check out my round up of green decor for spring.
Currently Crushing On This Trending Purple Decor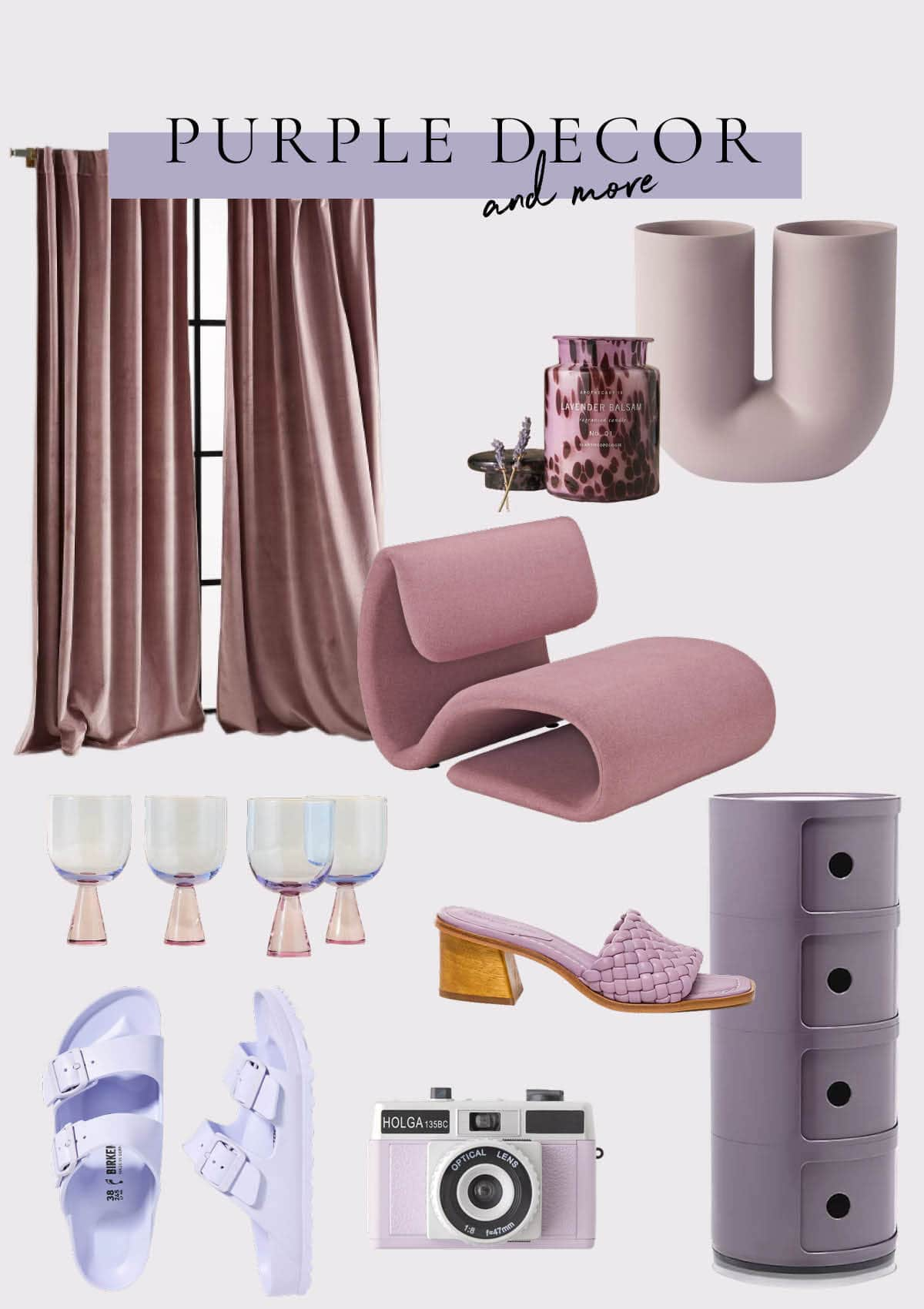 Dusty Mauve Velvet Curtains – BTDubs, there's an affordable velvet curtains round-up here.
Funky Modern Chair – fun little sculptural piece for your modern living room decor, and this chair may not look it, but it's oddly comfortable.
Modern U Shaped Kink Vase in Lilac
Lilac Woven Sandal – these are giving Bottega Veneta vibes without the price tag.
Kartell Purple Storage Shelf – this is the perfect storage bin for the bathroom. Think toilet paper and toiletries.
Lilac Birkenstocks – I'd rock these poolside any day.
Lavender Holga 35mm Film Camera – if you've never played with a Holga camera and you like photography, it's time to get your hands on one of these. I have a few vintage Holga cameras that shoot 120mm film, but finding a place to develop my shots has become impossible. 35mm is a simple Walgreens dropoff.
TO SHOP, CLICK ON THE LINKS ABOVE OR CLICK ON A THUMBNAIL BELOW


RELATED: Recently heart sweaters have caught my attention! Check out the round up of favorites.

More Modern Purple Decor Ideas — Add This Trend To Your Home

Lavender Floral Sweater – by the brand Maeve which always seems to fit me nicely. I also love these fancy pants, also by Maeve.
Lilac Suede Clogs – I'm obsessed with all the clog trend happening right now. Might have to put together a round-up.
Purple Mirror – pricey but pretty. Reminds me of an amethyst gemstone.
Our Place Always Pan in Purple – the viral non-stick ceramic pan on Oprah's Favorites list.
Lavender Chill Pill Acrylic Sculpture – it's fun and quirky, and so Jonathan Adler.
Modern Abstract Art Print – I"m a sucker for anything in a gold gilt frame.
Purple Glass Cloche – I'd ditch the florals and pop a candle in this bad boy instead.
Purple Tray – pop it on a bathroom vanity with some fancy soaps.
Purple Drum Table – not as big of a commitment as the purple couch below.
TO SHOP, CLICK ON THE LINKS ABOVE OR CLICK ON A THUMBNAIL BELOW



Add Some Purple Magic to Your Home

Oversized Lilac Heart Sweatshirt
Affordable Decorative Glass Vase – I spied this beauty on Amazon and had to include it.
Modern Lilac Mirror – this is pricey, but I love that it looks like those skinny balloons. It's super fun.
2 Affordable Lavender Vases – sold separately
Funky Gold Graphic Necklace – love all the shapes in this piece.
Backdrop Paint In Gin Blossom – I'm obsessed with this color for a dining room. Here me out—add some molding to the walls and paint it in a darker shade of purple for a tone-on-tone monochrome look and add a table with a light warm honey wood tone.
Modern Purple Couch – This is a fun modern sofa, but it's definitely a commitment.
Lilac Rag & Bone Sneakers – if you're looking for more sneakers, check out my 2 top picks in the latest post, which also included the new Jake Arnold furniture collection at Crate & Barrel.
TO SHOP, CLICK ON THE LINKS ABOVE OR CLICK ON A THUMBNAIL BELOW



Discover the Full Range of Purple Possibilities in Home Decor

Purple Stone Compote Pedestal Bowl – I save the best purple decor for last here. Srsly, obsessed. In case you missed it, I have a complete round-up of over 60 modern vases here.
Purple Chill Pill Necklace – this is just fun. I had to include it. BTDubs, there's also a bracelet.
Modern Lilac Lamp with Pleated Shade – find more lighting ideas and light fixtures here.
Lilac Loafers with Studs – how cute with a pair of cropped jeans?
Woven Purple and Orange Pillow – currently on sale and incredibly budget-friendly decor.
Purple Floral Pants – the reviews on these pants are mixed, but again, these are by Maeve, which tends to run a bit on the large size. Size down, so they don't slip.
Modern Glass Vase – I love the oversized handles on this funky vase.
Purple, Orange and White Scallop Tray – perfect catchall tray for a nightstand.
Lilac and Orange Graphic Pillow – there are more colors and sizes if you click the link.
Lilac Handbag – the viral Amazon famous TikTok bag.
TO SHOP, CLICK ON THE LINKS ABOVE OR CLICK ON A THUMBNAIL BELOW


Find More Eclectic Modern Decor Ideas On House Of Hipsters
I put together 2 living room virtual design mood boards filled with my favorites from the new Jake Arnold furniture collection.
If you're looking for a filigree floor mirror, this is the round-up for you. I have 15 of the best Anthropologie mirror look for less options for you.
Ever wonder what the best size rug for a living room? I'm answering all your burning questions.
The bedroom closet remodel has wrapped. Check out the before and after.
Discover Where To Buy Affordable Curtains online with this awesome round-up of favorites.
Getting rid of the brick fireplace in our living room and jumping into a Modern Fireplace Makeover. Check out the progress, and don't miss these fabulous mantel decor ideas!
Looking for the perfect gift for the decor lover in your life? Check out this round-up of the best home decorating books.
With spring right around the corner, it's time to spruce up your backyard! Here is a full round-up of the best outdoor patio furniture,
Did you know you can upload your own tv art for the Samsung Frame TV? Check out my favorites.
Looking for more affordable modern decor? Check out my round-up of small decorative boxes with lids and these 66 modern vases and footed bowls.