TV Art For Samsung Frame
A few years ago, I shared my excitement for the arrival of our Samsung Frame TV and since writing that review, I have invested in 2 more. One for our primary bedroom and another for the home gym. Yes, they are that special. If you're unfamiliar, The Frame is a TV that looks like art – an interior designer's dream come true. And although The Frame comes with preloaded stock art, I got a bit bored with what Samsung provided. Today I'm sharing my secret sources on where I buy beautiful TV art and most of the digital downloads are under $5 bucks.
UPDATE: There's a new post with a free art download – well 5 to be exact – of beautiful poppy flowers. No strings attached. Be sure to check them out.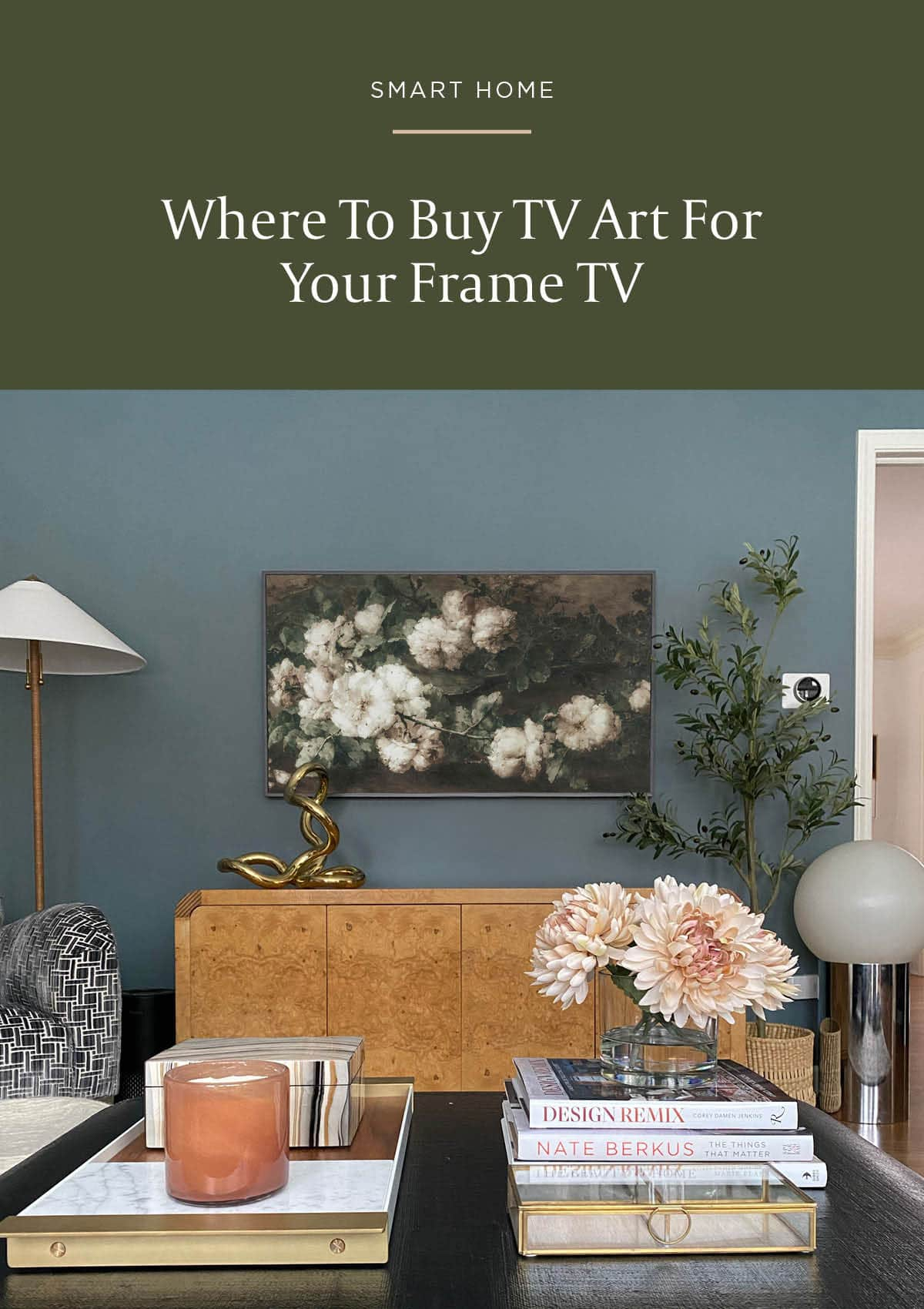 Where To Buy TV Art For The Frame
Yes, you can purchase an art subscription for your Frame TV through Samsung for $5.99/month, but I'm not a fan of monthly subscriptions. I prefer the one and done. My hands-down favorite place to buy digital TV art is Etsy (favorite shops listed below) with Juniper Print Shop being a close second…I dinged it because it's pricier at $20 a pop. From landscapes to abstracts to portraits to florals, there's so much artwork to choose from.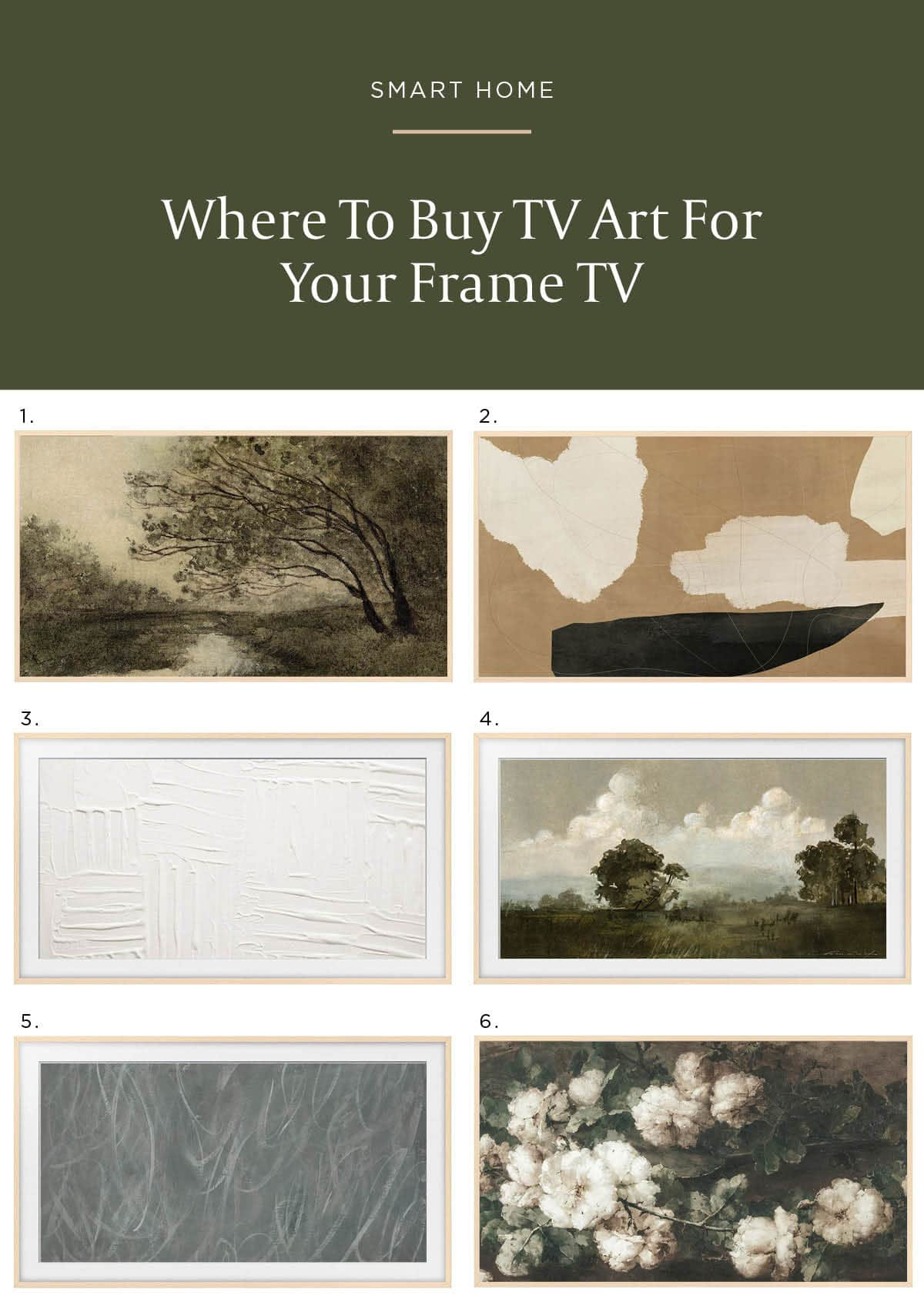 7. Landscape With Woman Walking (Etsy shop is offering buy 3 get 2 free)
11. Pink Florals On Black Background
12. Calming River Bed Landscape Digital Art
Free TV Art For Samsung The Frame
Basically, any digital image can be used as TV art if you have it sized properly and saved as a JPG. You can use any photo on your phone, or there are a few places I like to search for free TV art. Bring on the slide show of family photos!  Unsplash is a great resource to search for royalty-free digital art, and there are also public domain art websites to search like: The Getty Museum, The Met, and The Smithsonian to name a few.
I use Photoshop, but if you don't have that software, you can use Canva.
Using a desktop, right-click on an image and "save as".
In your browser go to Canva.
Click "Create A Design" and click on the + button to choose "custom size.
The image size should be 3840 x 2160 pixels (width x height).
Click "Create New Design".
Upload any image and drag it to your Canva canvas.
Once finished, click "Download" and save it as a JPG.

This modern abstract TV art can be found in this Etsy shop – I'm obsessed with the muted colors. BTDubs, I've saved all of my top picks here in this favorites folder.
How To Display Digital Art On TV
You'll need to download the Smart Things app to your phone and connect it with your Frame TV. To easily find my TV art, I created a new album (folder) on my phone and and named it "Frame TV Art". Download the purchased images and add them to the album.
Connect the app to your Frame TV and choose "Art Mode" and "Add Your Photos". Use the drop down to choose "Frame TV Art".
Select the image and click "Save on The Frame". If you have large image files, the photos may not sync immediately.
Use the TV remote to navigate to the "Art" icon and select "My Collection/My Photos" to select the art you'd like to display on your Frame TV. Voila!

Photo Via IICON
This black and white abstract is definitely one of my favorites. The digital download is available from IICONS's Etsy Shop for $5.93. Yup, it's less than $6 bucks! Be sure to poke around because there is a reason they are a Star Seller on Etsy. Their shop is lit. Right now I have this same abstract as above except in a different colorway and this terra cotta abstract tv art in my cart.

This Mid-Century Modern TV art can be found here.
How To Remove The Matting On You Frame TV
Once the digital art is displayed on your television, click up to select "Options" and scroll to choose your mat preference. You may decide your TV art looks best with the matting removed like mine.
Word of warning, the Smart Things app is a bit clunky and there were a few curse words involved, but after repeating the process a few times, I successfully removed the mat.