23 Best Faux Plants That Look Real 2022
If you're looking to buy the best faux plants that look real –  you've hit the jackpot. Time and time again I'm asked, "Is that plant real? How did you care for it?" Each and every time I can't help but chuckle. As soon as I reveal they're fake, I get a, "SHUT UP!" which I love because it wasn't too long ago that designers would crinkle their noses at me. But I'm happy to declare that fake plants are no longer faux pas. But, before we jump in, head here if you're specifically looking for faux olive trees for your home decor. Now buckle up and let's start shopping this epic roundup of my favorite fake plants for your home.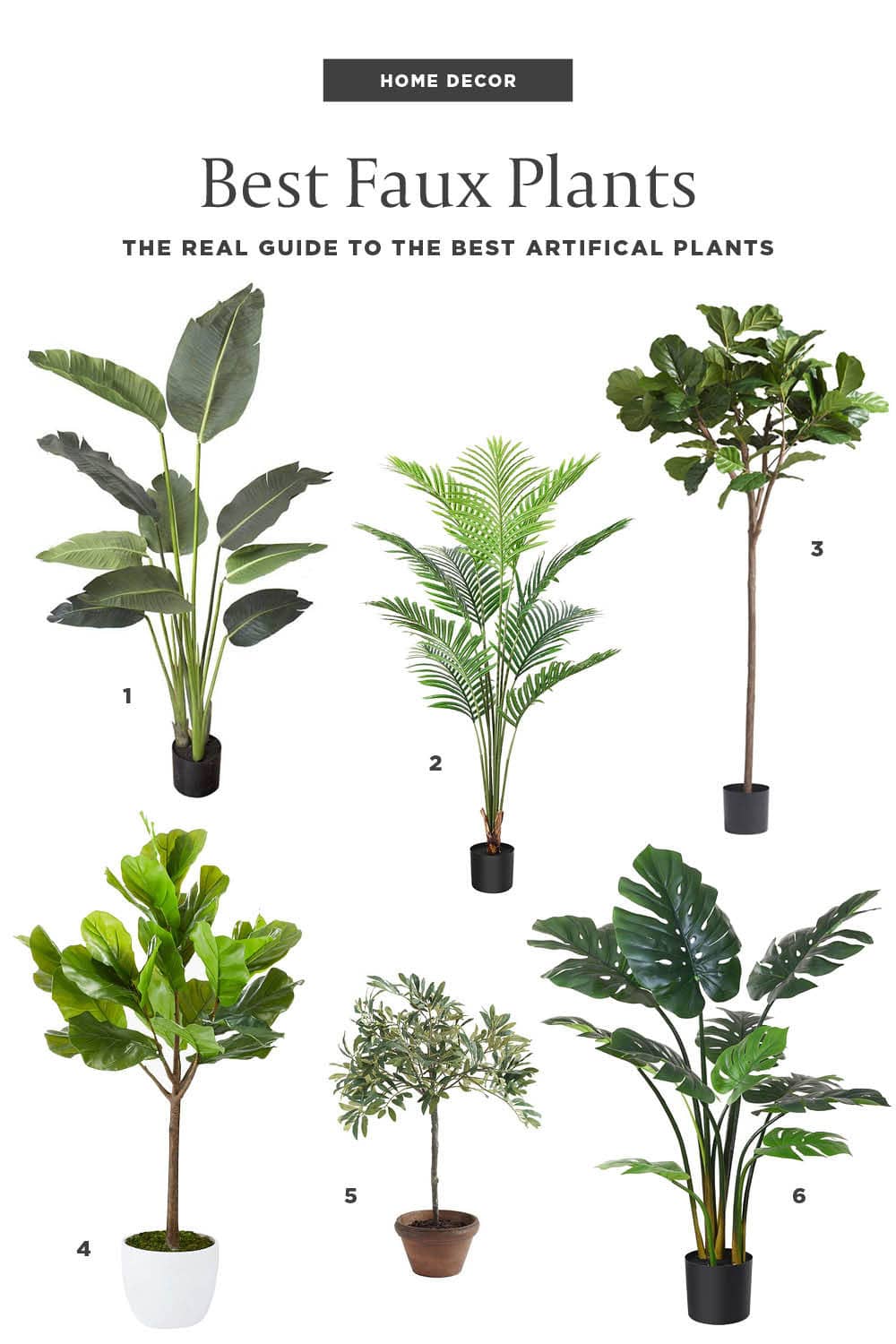 Shop For The Best Faux Plants And Trees
Decorating with faux plants for me is a personal preference, but there are so many reasons all things fake are necessary. Be it kids, pets, allergies, time — no one is here to judge you. A few years back, bought a real snake plant. It's basically the easiest plant to keep alive, and I can attest to that. Give it some water, set it in a corner, and forget it. However, I plopped it on the hardwood floor near a window and the condensation from the ceramic pot ruined my hardwood floors…and that is how the only real plant I owned met its death by curbside. Since then, plants silently scream when I near them.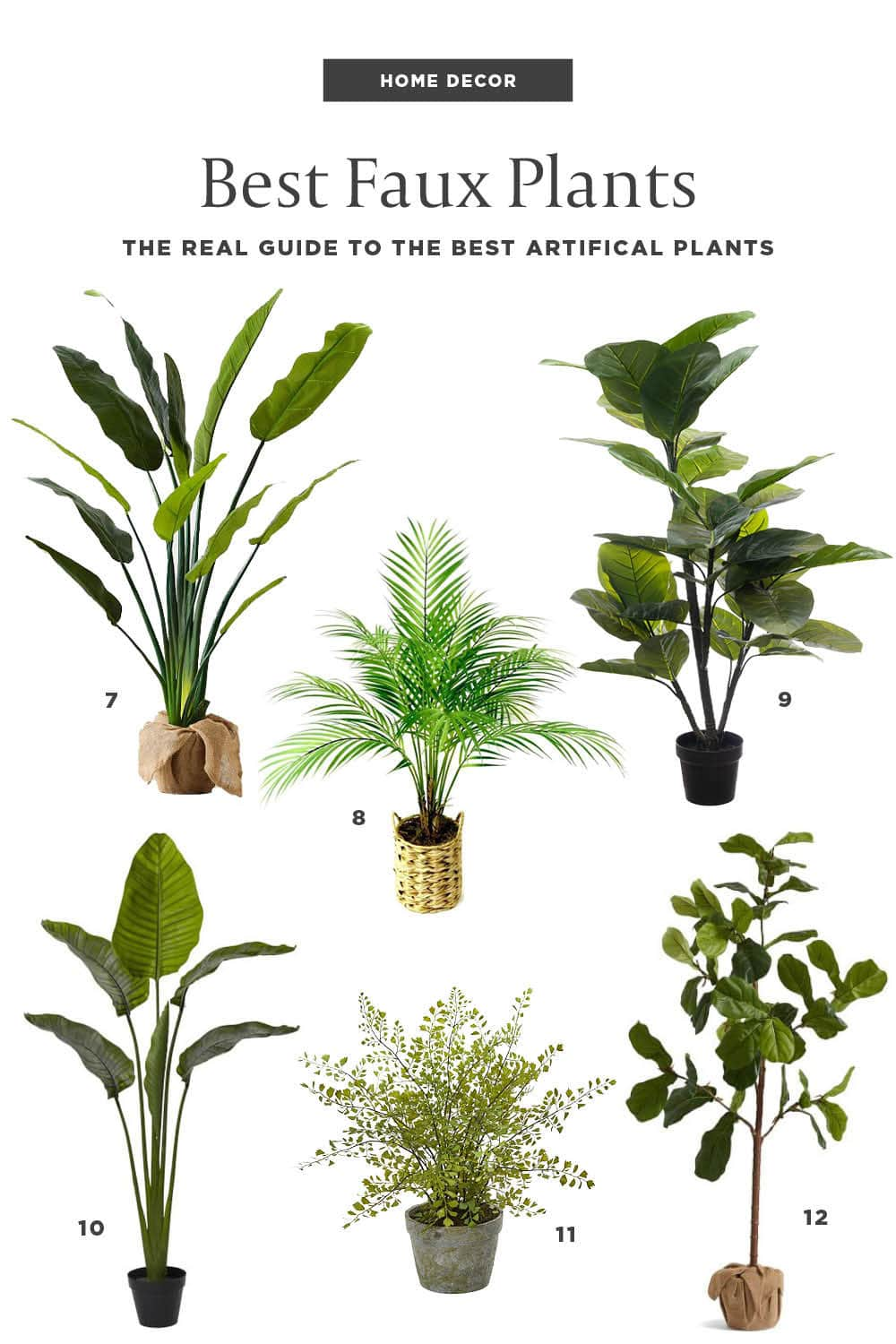 Adding fake plants to your decor elevates the look without fuss and maintenance. Like I said earlier, years ago, after declaring my love of faux plants on Instagram, I was shunned by interior designers. Back then, any and all faux greenery was a home decor no-no, but these days lovers of all things home decor seem to be singing a different tune. These faux plants are not your momma's old-school silk foliage. Besides, who has the time and energy to haul plants to the bathtub, water, drain, and haul them back. Not this lady.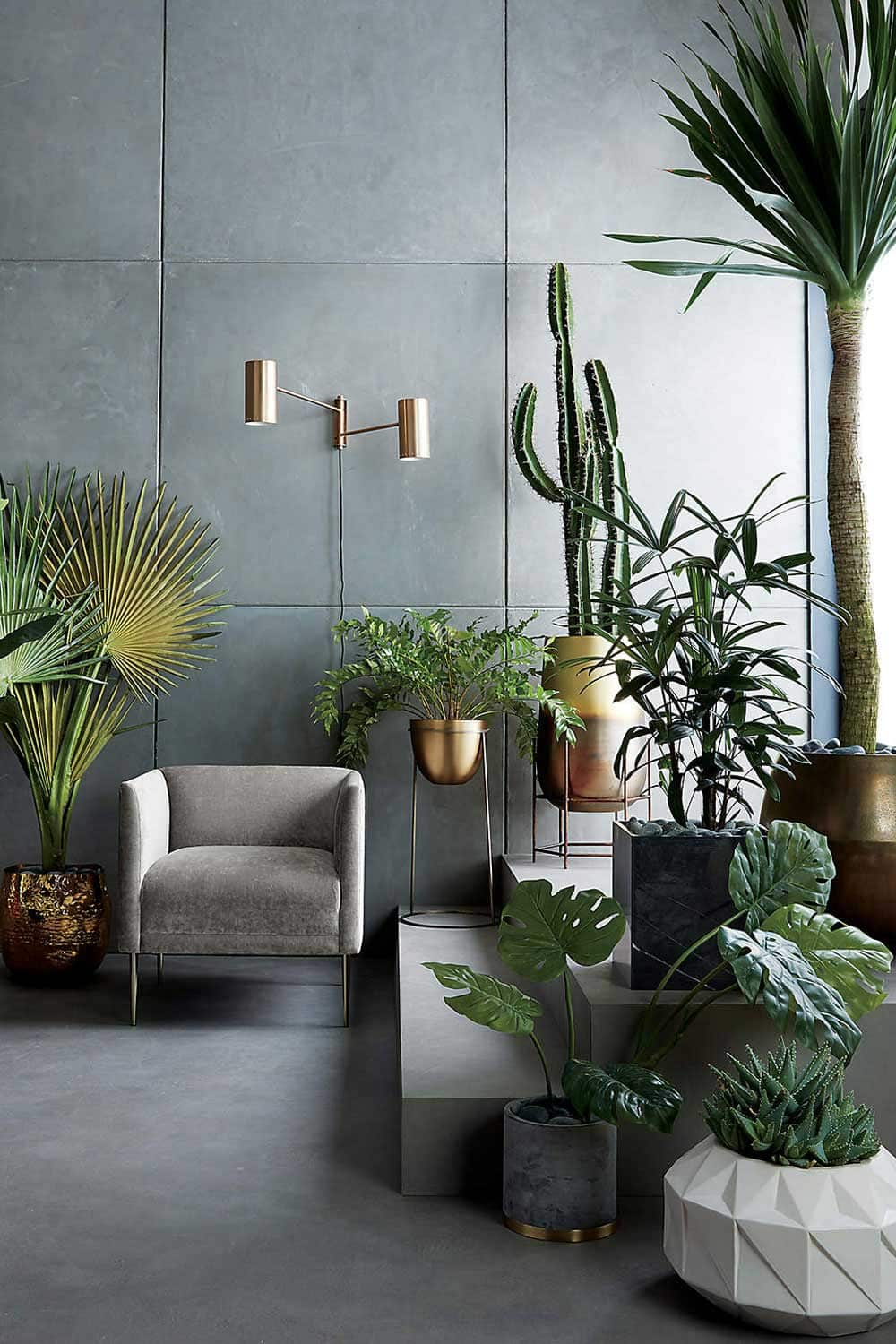 This photo from CB2 makes my heart sing! Check out those modern planters.
I tend to steer clear of anything too decorative when shopping for fake plants. Let's be honest, you're not fooling anyone with those glued-on fake raindrops, and yes, the berries with the plastic seams look, well, plastic-y. That grassy hay in the pot? Tread lightly my friend and keep it simple.

Guide To The Best Faux Plants That Look Real
14. Pretty Small 16″ potted faux plant
15. Faux Soft Fern Drop-In Plant – 2 sizes
16. Potted Faux Maiden Hair Fern
17. Set Of 3 Mini Potted Faux Plants – I love to pop these on my built-ins
18. Set of 2 Small Faux Olive Trees
19. Beautiful 29″ Faux Monstera Plant – no longer available
20. Artificial Potted Bird Of Paradise Plant
As you can see from this roundup, I gravitate towards faux palm trees, potted olive trees, and the bird of paradise plants. That being said, this little bundle of 3 fake boxwoods will literally knock your socks off, and it's tough to argue with $20.
A touch of greenery gives a room life, so I only decorate with beautiful faux plants. When I find them, I buy them immediately. My first fake plant purchase was the ever-trending faux fiddle leaf fig tree that lived in the dining room. It's a tall fake tree that doesn't look plastic or cost a million dollars. Hands down, my favorite is this one, but the second and third runner-up is this 5′ tall faux potted plant and these 2 fake trees that look real. It's now the moment of truth…have I swayed you towards the greener side of the artificial plant bandwagon?
Faux Plant FAQs
Do fake plants collect dust?
Just like anything else in your home, yes, faux plants collect dust, but if you take them outside once every couple of weeks and give them a shake, they shouldn't become a dust factory. If it has large leaves, feel free to give them a wipe with a microfiber towel or Swiffer Duster.
Kyla, I didn't shake my faux plant and now I have layers of dust. How do I clean it?
This one I learned from my mom. She introduced me to Nu-Leaf Artificial Plant Cleaner. Take your plant outside, spray, and let it drip dry. All that dust and dirt will melt right off.
My faux plant looks symmetrical and plain. Help!
Don't skimp when it comes to placing your plant or tree in a basket or planter. More often than not, you'll want to rehome your new greenery in something a bit more special. You can also add in a bit of Spanish moss to hide the original plain plastic vessel.
Also, be sure to carefully adjust the branches. Giving an extra bend or curve helps create a more realistic look.

Discover More Home Decor Ideas and Shopping Guides
Resin is trending and this DIY Resin Faux Floral Arrangement might be my favorite craft turned decor ever!
With a recession looming, I'm paying a lot more attention to the budget. Here are a few Affordable Modern Home Decor finds that caught my eye.
When I went to High Point Furniture Market, cane and rattan were everywhere. Here's the Best Cane Furniture I've found.
One of the most popular posts here is my round-up of the Best Interior Design Books – it's especially hot during the holidays.
Love wallpaper but you're afraid to commit…or maybe you rent and are in need of something temporary. Check out my Peel And Stick Removable Wallpaper round-up.