Today I'm sharing where to buy 20 best faux plants that look real. Adding a bit of greenery to your vignettes elevates your home decor without fuss and maintenance. And no crinkling up your nose because I'm happy to declare that fake plants are no longer faux pas. Decorating with artificial plants brings nature inside which for some, be it kids, pets, allergies, or personal preference (it me), all things faux are necessary. Before we discover the best faux plants, head here if you're specifically looking for faux olive trees for your home decor.
updated August 25, 2021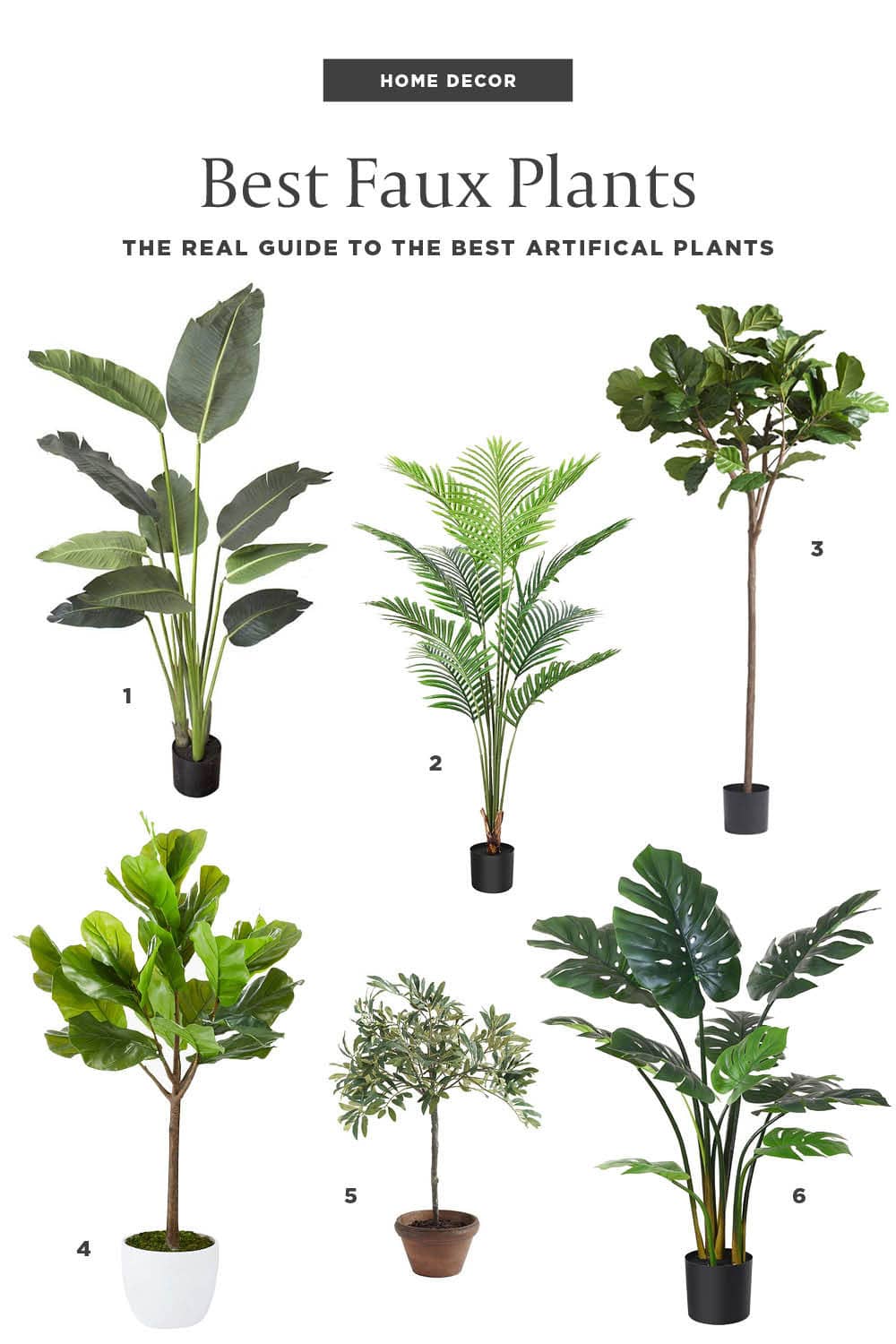 Shop The Best Faux Plants
1 – Bird Of Paradise Faux Plant
3 – Large Fiddle Leaf Fig Artificial Tree
4 – Tall Potted Faux Fiddle Leaf Fig Plant
5 – Small Artificial Olive Tree (totally look real) – 2 sizes
I was not born with a green thumb. In fact, plants silently scream when I near them. So now, I decorate with faux plants. The only maintenance that needs to be done is to give them a little shake outside to banish the dust. Time and time again I'm asked where I find my little fake greenies, so today I decided to create an epic roundup of the best faux plants for home decor.
A few years back, bought a real snake plant (that link leads to a great faux plant that looks like a real plant). Yes, it's basically the easiest plant to keep alive, and that I can attest to that. Give it some water, set it in a corner, and forget it. However, I plopped it on the hardwood floor near a window and the condensation from the ceramic pot ruined my hardwood floors…and that is how the only real plant I owned met its death by curbside. The faux plant is the only solution to my greenery woes.
Greenery really adds life to a room, so I find beautiful faux plants, I buy them immediately. My first purchase was the trending faux fiddle leaf fig tree that lives in the dining room. This silk plant doesn't look plastic or cost a million dollars. Hands down, my favorite is this one, but the second and third runner-up is this 5′ faux plant and these 2 faux trees that look real.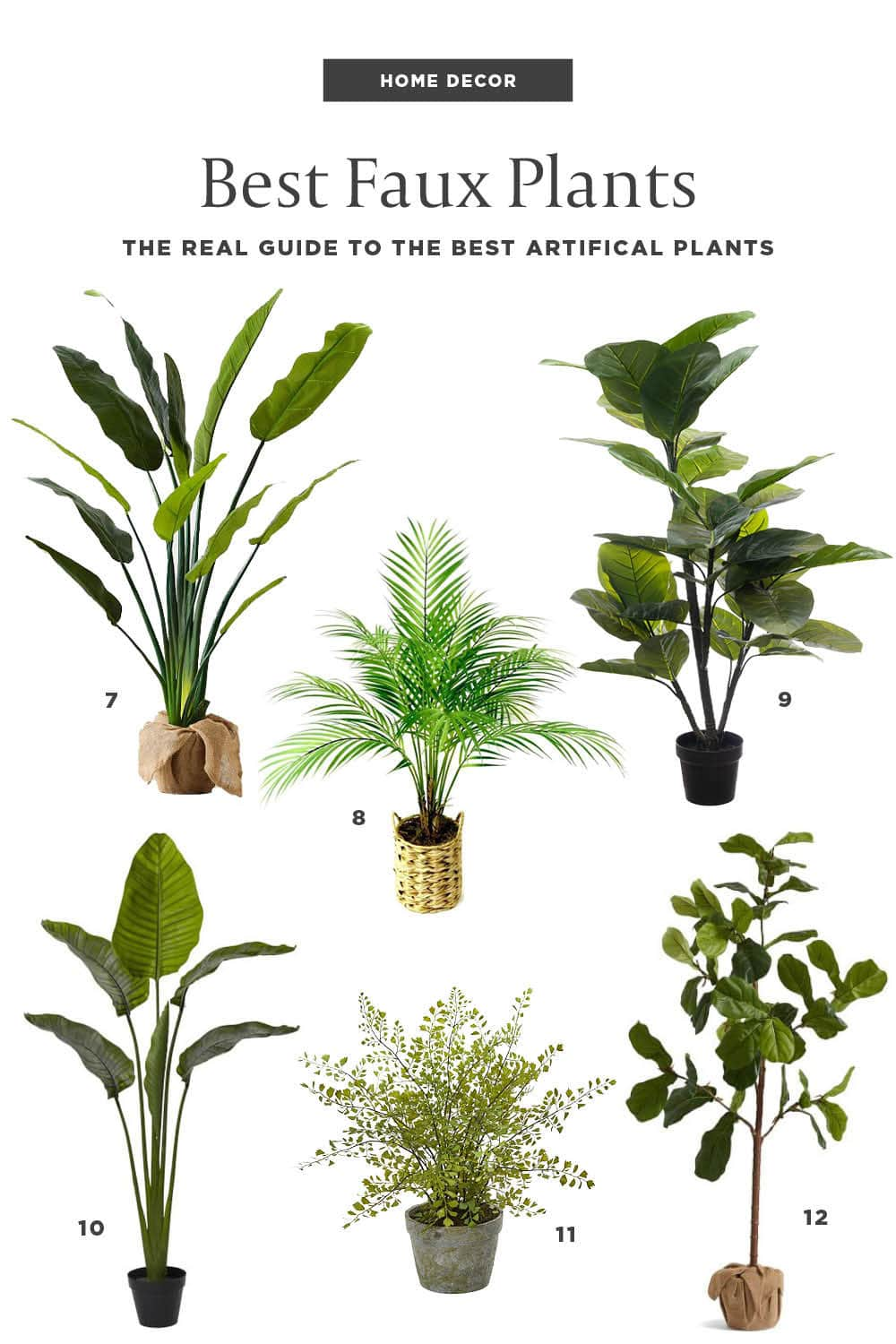 Shop More of the Best Artificial Plants
7 – This artificial Bird Of Paradise Palm Tree looks incredibly real!
8 – Small Faux Palm Tree in a woven basket
9 – Faux Large Leaf Rubber Tree
10 – Potted Travellers Palm – this might be the best faux plant that looks real outta this whole list
11 – Faux Maiden Hair Fern comes in planter
12 – Burlap Wrapped Artificial Fiddle Leaf Fig Tree – 2 sizes
Years ago, after declaring my love of faux plants on Instagram, I was shunned by interior designers. Back then, any and all faux greenery was a home decor no-no, but these days lovers of all things home decor seem to be singing a different tune. These plants are not your momma's faux foliage.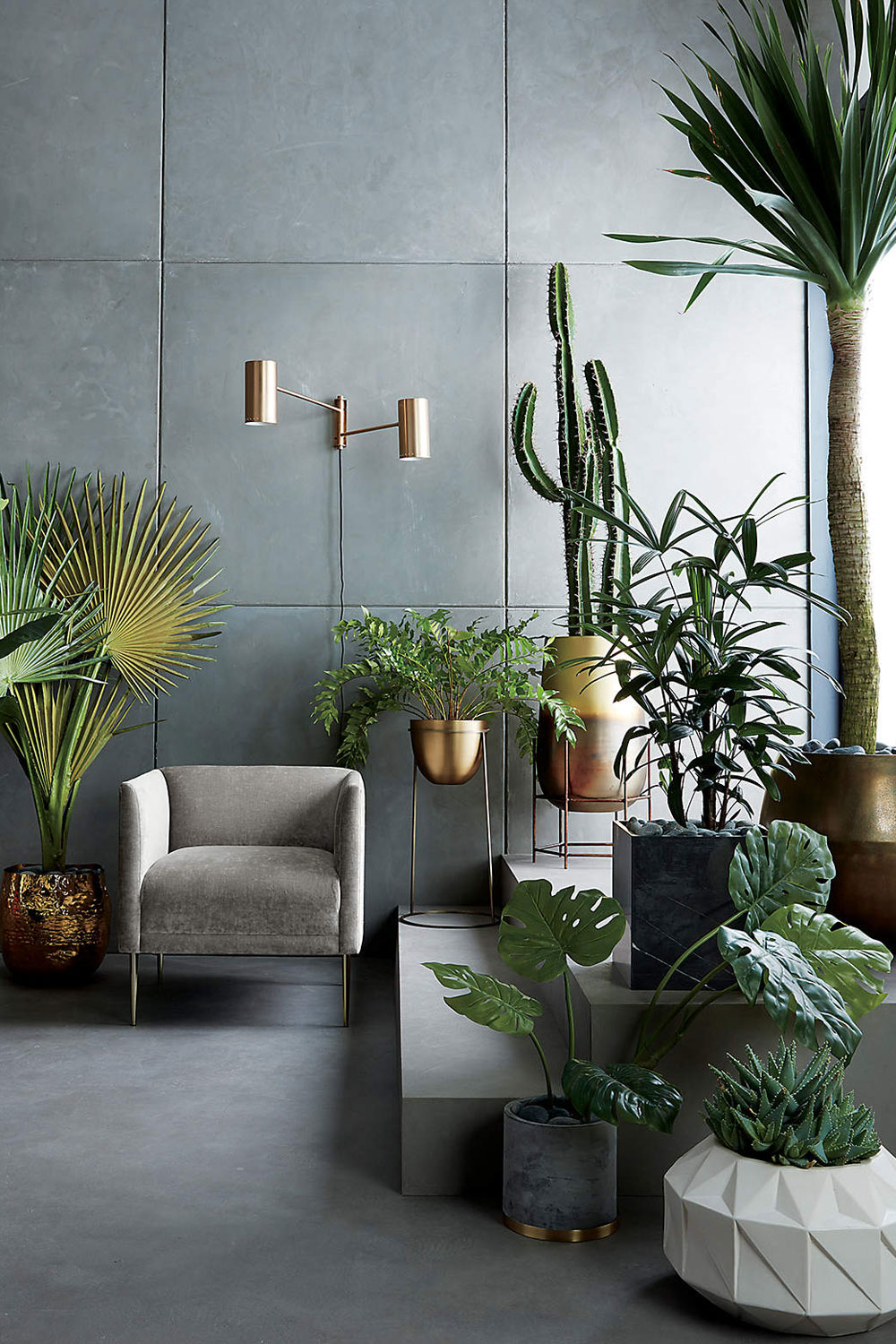 This shot found on CB2 makes my heart sing! You've gotta check out this brass planter. The patina is perfection.
I tend to steer clear of anything too decorative when shopping for faux plants. Let's be honest, you're not fooling anyone with those glue raindrops, and yes, the berries with the plastic seams look, well, plastic-y. And that grassy hay in the pot? Tread lightly my friend and keep it simple.

Shop The Best Faux Plants That Look Real
13 – Potted Boston Faux Fern Plant
14 – Pretty Little 16″ Faux Plant comes in planter
15 – Faux Soft Fern Drop-In – 2 sizes
16 – Faux Potted Maiden Hair Fern
17 – Set Of 3 Mini Potted Fake Plants – I love to pop these on my built-ins
18 – Set of 2 Small Decorative Olive Trees
19 – Beautiful 29″ Faux Monstera Plant
20 – Artificial Potted Bird Of Paradise Plant
As you can see from this roundup, I gravitate towards faux palms, rubber plants, and paradise bird plants. That being said, this little bundle of 3 fake boxwoods will literally knock your socks off, and it's tough to argue with $20.
It's now the moment of truth…have I swayed you towards the greener side of the faux plant bandwagon?
Find More Home Decorating Ideas
Top 30 Best Cane Furniture For Your Home
Home Decor On A Budget – Clever Decorating Ideas
The 10 Best Interior Design Books
Tour This Gorgeous 80s Modern Home
Summer Living Room Decor Ideas