Affordable Outdoor Furniture – Spruce Up Your Patio
Last Updated on October 19, 2023
As soon as March 15 hits, I know Spring is right around the corner, and sunny days are ahead. With the summer season upon us, I'm itching to spruce up my patio with some new affordable outdoor furniture and decor. There are a few projects I'd like to tackle in the backyard, and I wish I could say the deck was it, but I feel like I need to plan it out before digging into the deck. Where's Yardzen when I need them?
Ultimate Guide To The Best Patio Furniture At The Lowest Prices
Last year, I was all hyped up about building a pool due to the Biltmore Country Club debacle. Well, my personal backyard country club dreams were squashed when I dug into the details. Supply chain and workforce shortages, septic logistics, giant oak trees, and a shagbark hickory tree all stood in my way. Whomp, whomp.
Before we get into it, be sure to check out, here are a couple of helpful posts about outdoor decor that you might want to check out:
Since the pool is out of the question, I'm off and running on sprucing up our outdoor space and patio in other ways. Here's a full round-up of affordable outdoor furniture that has caught my eye for patio season.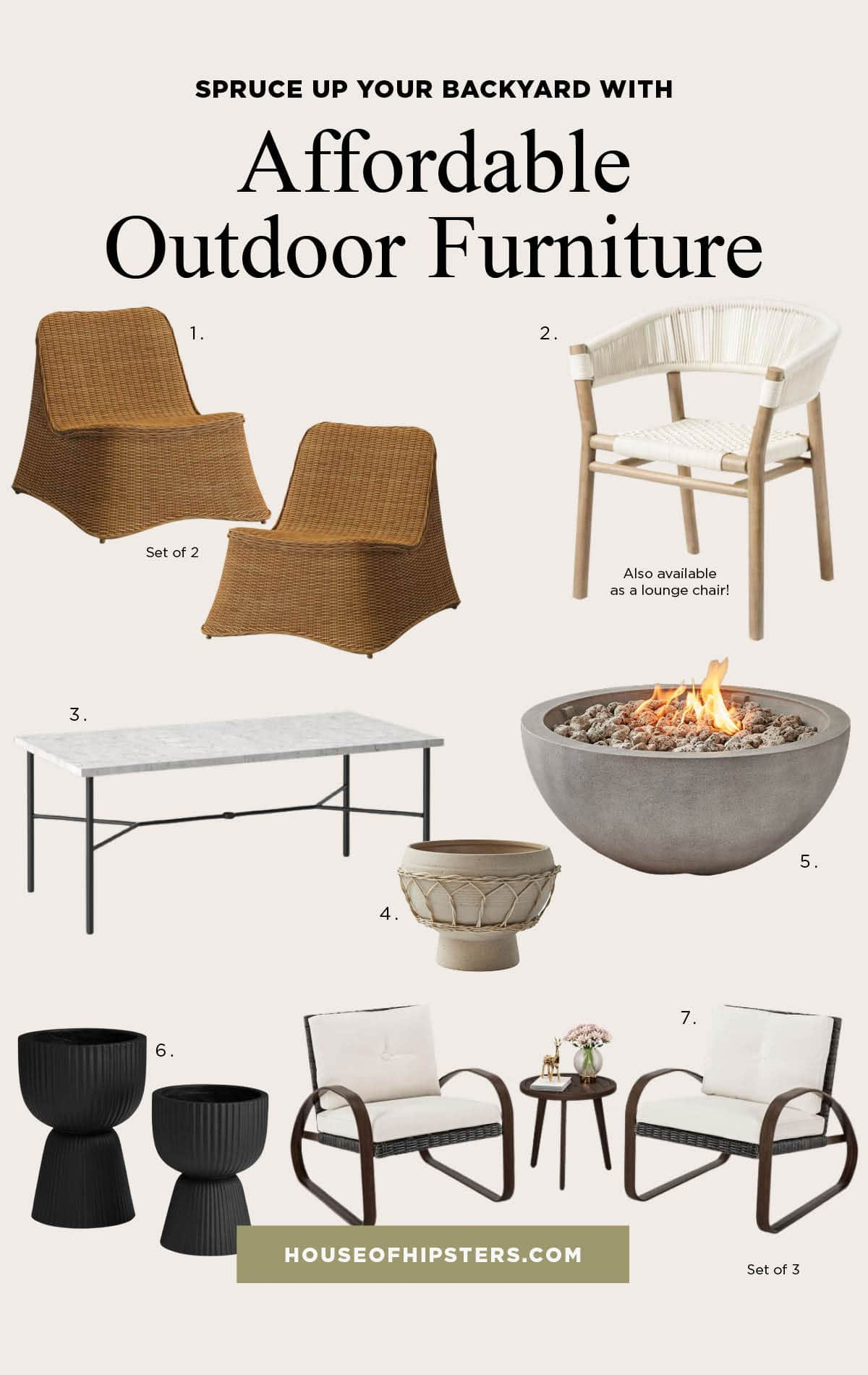 Shop this affordable outdoor furniture collage, or scroll to take a closer look below.
SCROLL THROUGH THE THUMBNAILS TO SHOP THIS OUTDOOR LIVING TOP PICKS



Shop this affordable outdoor furniture collage, or scroll to take a closer look below.
8. Set Of 2 Teak Finish Outdoor Club Chairs – these are a steal of a deal
9. 20″ Lightweight Concrete Modern Planter – round concrete planters with affordable prices; count me in!
10. Outdoor Mid-Century Modern Style Planter
11. Purple Embossed Planter – the perfect place to plant some lavender or rosemary
12. Set of 2 Outdoor Rocking Chairs – Better Homes and Gardens is killing it with their Walmart collection. And yes, they're swivel chairs!
13. Oversized Outdoor Lumbar Pillow With Fringe
14. Wicker Statement Chair With Ottoman – the modern design is what caught my eye first
15. The Infamous Patio Egg Chair – this comfortable outdoor chair was the best addition to our nation, and it's on sale today for $300.
RELATED: Don't miss this epic round up of the best affordable decor from Amazon, Walmart, and Target.
SCROLL THROUGH THE THUMBNAILS TO SHOP


RELATED: Don't miss this epic round up of the best affordable decor from Amazon, Walmart, and Target.
Closer Look At Each Affordable Outdoor Furniture Pick
Set Of 2 Affordable Wicker Patio Chairs
When I say run, don't walk and grab this pair of modern wicker patio chairs. Srsly, go now, I'll wait. They are presently on sale, and I'm obsessed! And yes, they are sold as a set of 2 for that price! WUT????

Wood And Rope Outdoor Dining Chairs
These wood dining chairs are made with nautical rope and are sharp looking'BTDubs, how good would they look paired with the dining table above? If you're concerned about the white, they are available in other colors.

If you like the look of the chair above but would prefer it as a lounge chair, I've got ya! I almost did not include it because it's a bit pricier than the other chairs included in this round-up coming in at a whopping $550 for one patio chair. But that's still a great price when it comes to outdoor furniture sets.

Here are few genius ways to decorate your home on a budget that I'll bet you've never thought of!
6-Person Outdoor Dining Table
This 6-person outdoor patio table is gorgeous, and it looks like you can add an outdoor patio umbrella to this beauty. This black umbrella with fringe is presently out of stock, but keep checking in on it or sign up to be notified when it's restocked. Pair it with the outdoor dining chairs above to create the perfect modern patio dining set.

Braided Ceramic Pedestal Planter
This modern pedestal planter is perfect for both your indoor and outdoor decor. I love the braided detailing. Style it on the patio or front porch.

Modern Faux Stone Outdoor Fire Pit With Hideaway Tank
If you've been looking for a modern gas fire pit that is on the affordable side, this is the one to check out. Typically these average about $3000, but this one is just under $500, and it comes with the hideaway box that doubles as a side table. Perfect for roasting s'mores, and you won't smell like a campfire. Just pop it in an outdoor seating area of Adirondack chairs.

Black (Or White) Modern Outdoor Planters – Reader Top Picks
Ribbed hourglass beauties from World Market! These outdoor planters are an immediate add to cart. They're pricier than the other planters in this round-up, but would be tripled the cost anywhere else. Don't sleep on these. PS, they are also available in white (shown below).

This round up of outdoor rugs will help you elevate your patio decor.
One Of The Best Affordable Patio Furniture Sets — Best Deal Alert!
Patio furniture sets are not usually cheap, but this incredibly affordable outdoor furniture set caught my eye a couple of months ago, and I haven't shaken it from my brain. This 3-piece furniture set includes the outdoor lounge chairs (how comfy do these look), the cushions, and the small table. They're giving me Under The Tuscan Sun vibes. Oh, and I should mention they're made of aluminum, so no rust or cracks.

Set Of 2 Teak Finish Outdoor Chairs
This set of 2 club chairs are made of acacia wood and have a teak finish. Yes, they come with outdoor cushions, and I'm drooling over them. The modern clean lines caught my eye first, but the affordable price tag is what made me go, WOW! This set is $450, and there's an additional 5% off box you can click with no strings attached, PLUS, if you're an Amazon Prime member, you'll get free shipping. If I haven't convinced you, check out the 4.5-star rating.

RELATED: Here are my secrets to home decorating on a budget!
Large, Lightweight Concrete Modern Planter
I love the look of a concrete planter, but the ones I purchased from Crate & Barrel are so heavy, I can't move them. Not only is this an affordable outdoor planter, but it's also lightweight. To keep it lightweight, don't fill it with rocks, instead, pick up a riser like this one. Now you don't have to fill the pot with soil. If your plant needs the room, use cut-up pool noodles to fill some of the space.

Outdoor Mid-Century Modern Style Planter
I was on the fence about including this MCM-style planter, but because it would look slammin' indoors, too, it stays. Again, not quite as affordable as the other planters, but for the size and style, this definitely counts as affordable patio furniture.

RELATED: I challenged my friend Joanna to a Design Off. Here is the before and after modern boho patio makeover!
Purple Embossed Planter
f you didn't know, purple decor is trending right now, and if you'd like to dip your toes into the trend, this purple embossed planter is perfect. But if you haven't embraced purple, it is also available in ivory and a beautiful mossy green.

RELATED: Purple is trending hard in fashion and home decor. Check out this round up of the best lilac decor.
Set of 2 Outdoor Swivel Chairs
If you're a bargain shopper, this is the deal of the century! Outdoor chairs like these at major retailers like Pottery Barn will cost three times as much as ONE chair. Here are two lounge chairs that swivel and glide for under $600. Srsly, Walmart is quickly becoming one of the best outdoor furniture stores.

RELATED: Here are all my secret sources for buying affordable original art.
Oversized Outdoor Lumbar Pillow With Fringe
Sometimes you need that extra little something to support your back on your outdoor sofa, and this fringey striped lumbar pillow has it going on!

Outdoor Armless Chair With Ottoman
How comfortable does this armless wicker lounge chair and ottoman look? And yes, you read that right, it comes with the ottoman AND it's on sale for $250! This beauty is from Target and comes with free delivery.

The Infamous Egg Chair For Those Who Love Modern Statement Designs
I bought the viral patio egg chair a couple of years ago, and I should do a full review of how it held up (in a nutshell, really well, no complaints). In fact, I love it so much that I'm contemplating buying another. The only thing that is holding me back is the sheer size of it. Our deck is pretty small. However, when we host, this is the chair everyone wants to curl up in. This comfortable chair fits my personal style, so it's definitely a House Of Hipsters favorite—also, it's on sale right now for 50% off!
RELATED: This chair was featured in my Best Outdoor Patio Furniture round-up along with the most comfortable outdoor furniture on the market. Don't sleep on that post.

Got any secret stores you like to shop for affordable decor? Share them in the comments below. I'd love to check them out!



Discover More Modern Eclectic Home Decor Ideas
Get ready for spring with this Easter table decor for your family gathering.
After purchasing a Ruggable for the deck, I rounded up the best outdoor rugs for your patio.
Cane furniture is still trending hard but have you seen the latest in rattan lighting? GORGEOUS!
I asked ChatGPT to design a living room. Here's what happened.
Here are the latest viral TikTok Made Me Buy It products. I've tried them out and giving you my full review.
Rounding up some of the most beautiful TV art for your Samsung Frame TV.
Here are all my secret sources for affordable curtains and affordable velvet curtains.
Storage bins and other organization ideas to keep your home clutter-free. I've got you covered from the pantry to the kitchen to the bathroom to the drawers! And check out the decorative boxes post if you're looking for ways to corral your remotes on your coffee table. And don't miss the round-up of unique modern vases.
Learn to layer lighting like a pro with this guide to the best bedroom lighting.
Bobby Berk told me he has always invested in quality bedding. Here's the ultimate guide to the best sheets and bedding.
Wanna know how we made that modern floating stone shelf over the wet bar? Here are all the deets.
Rounding up the best interior design books – if you're looking for gift idea inspiration for a home decor obsessed loved one, this post is for you! And don't miss my latest round-up of the best new home decor book releases!