How To Choose The Best Upholstery Fabric
Last Updated on October 4, 2023
Reupholstering furniture is trending right now because new furniture purchases have been taking 9 – 12 weeks for delivery. Why you ask – no, it's not Covid, but rather a major foam shortage. So if you want a change now, reupholstering chairs or a sofa could be your best option, but it can be an investment, so let's chat about how to choose the best upholstery fabric.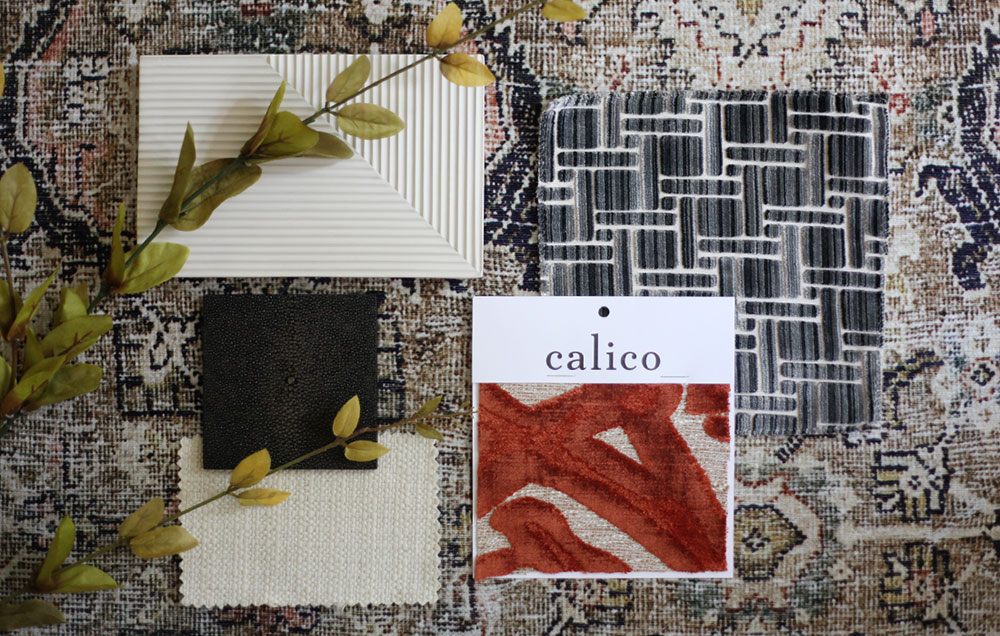 When picking the perfect upholstery fabric, your mind probably goes straight to color, right? Yes, if you make a mistake with color, it could affect the entire room. But while color and pattern play a major design decision, other factors come into play. Let's dig in.
How To Pick The Best Upholstery Fabric
1. Durability And High-Performance Fabrics
I don't care what color you pick, if you have kids or pets or a chair you sit in every night, that fabric best be durable. Before picking an upholstery fabric, consider where and how the furniture will be used in your home.
The sustainability of a fabric is measured in double rubs – or the back and forth motion that mimics everyday usage. I'm suddenly taken back to my cheer days – lean to the left, lean to the right, stand up, sit down, fight, fight, fight. I digress.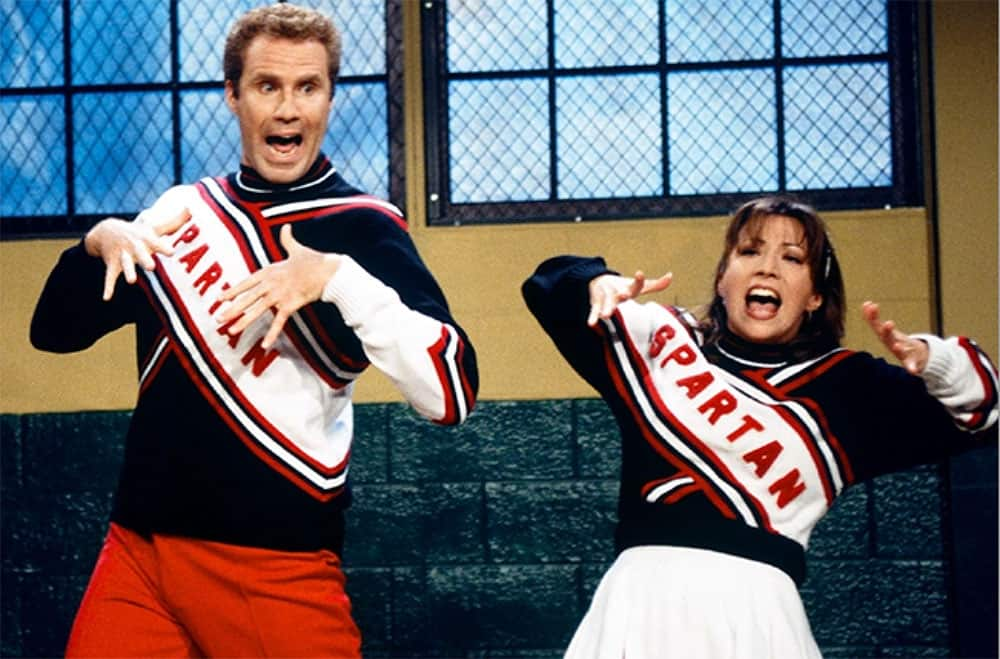 If the sample doesn't state double rubs, it will state the end-use. If it reads drapes and bedding, that's a hard pass when reupholstering a chair. What you're looking for should state furniture, upholstery, or cushions.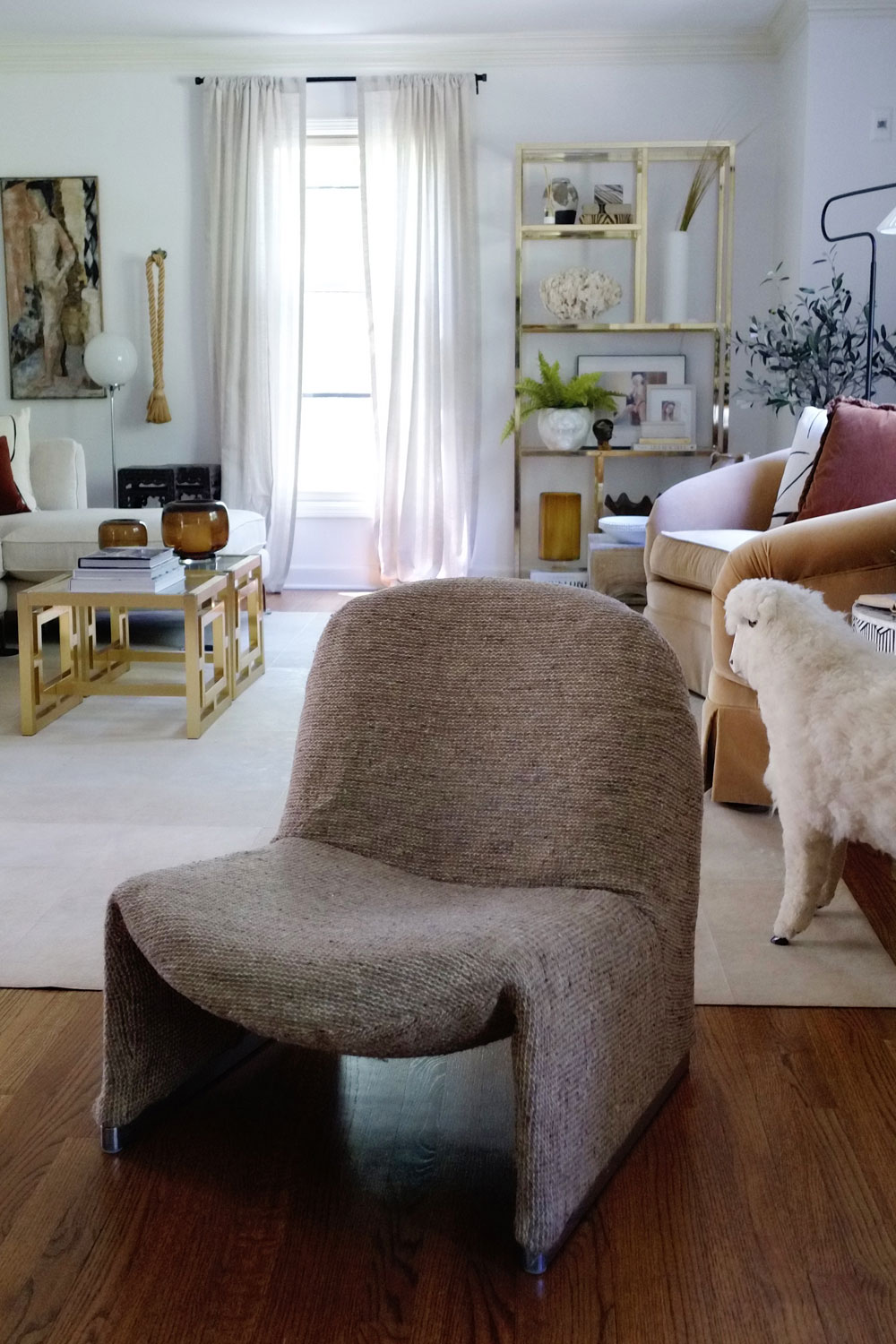 If you have furry friends and tiny chocolate-covered hands, I highly suggest looking at a high-performance fabric.

If your upholstery project will be used daily, choose a heavier fabric. When it comes to a bedroom accent chair or headboard, feel free to choose a more delicate or luxurious fabric.
RELATED: The interior designer's secret weapon is decorative boxes. Check that link for my favorites.
2. Coordinate Color And Pattern
When it comes to reupholstering a chair, I tend to shake things up and add color or pattern. But if you're reupholstering a couch, and you choose a bold color or pattern, it's gonna dominate the room. Stay neutral, and look at solid colors. You can always add custom pillows to liven things up.

I prefer a sofa in a classic color so it will stand the test of time. But again, consider the lifestyle of your home. Do you eat on your couch? Does your pet sit on it? Maybe a dark, rich color is the ticket.

find the club chair fabric here
3. Fabric Swatches
Don't rely on onscreen colors. It's best to get your hands on a physical sample. To ensure the colors and patterns work well together, take a few sample swatches home and drape them over existing pieces. Watch how the sunlight hits them. Does the color change with the light throughout the day?

This art deco style fabric is drop-dead gorgeous, but after putting the swatch against the gold kidney sofa, the combo of tan and ochre just didn't vibe. I also placed the sample over the back of the vintage Donghia chair. The pattern just barely fits the back cushion.

4. Furniture Shape
Consider the shape when choosing an upholstery fabric with a pattern. This vintage curvy Alky chair really pushed the limits, but because it's such an abstract pattern, I knew it would look like a million bucks.

If you're looking at a perfect pattern match-up at the seams, watch the repeat and be sure to chat with the upholsterer prior to purchasing. You want to make sure you are ordering enough yardage to accommodate a repeat, especially if it's a large one.
RELATED: Don't miss this round up of unique modern vases to jazz up your shelfie decor.

Because I have kids and a dog, I did explore high-performance fabrics like this one by Crypton but in the end, chose to push out of my comfort zone of ivory and white.

5. All About The Details
There are some pretty cool embellishments you can add to your upholstery project. Adding a decorative trim can really make your piece stand out. If you saw my friend Carrie's 80s modern home tour, you might remember the hot pink piping on her blue sectional. Also, she used 2 different color blues – lighter on the front, and darker on the back.
A double welt (one piece of trim that looks like two pieces of piping) is a great way to finish a chair or settee with visible staples or a raw edge. For the vintage Alky chair, the upholsterer had to add a zipped because the entire frame is made of steel.

Consider adding fringe along the base of a sofa or chair – you know, just to give it that je ne sais quoi.
RELATED: From the bathroom to the kitchen to the living room, and more, spruce up your rooms, cabinets, and drawers with the free Declutter Your Home Checklist full of decluttering tips.
6. Get A Second Opinion
The cool thing about Calico is that they have in-store and in-home designers available to answer questions and guide you to bring your style to life. The best part – is that design help is free. Just be sure to book to appointment.

Christine, from the Calico location in Deerfield, IL store, was there for me when I was trying to force the art deco style fabric on the Donghia chair. She marched right over to the Groove Anthracite sample and said, "Just take a peek at this one". We walked around the store and pulled a few others but in the end, the fabric she selected was perfect.

7. Upholstery Cost, Budget, And Estimates
Now that you've learned all the ins and outs of how to pick the perfect upholstery fabric, it's important to get a quote. Do this before dropping off your chair or having your sofa picked up. Figure out the yardage needed and don't look at fabrics out of your price range. Falling in love with a pattern you cannot afford is heartbreaking. Ask me how I know. And keep in mind that piping and double welts can add an additional yard or two depending on the size of your project.

Choosing The Best Upholstery Fabric
As you can see, recovering old furniture can be a bit tricky, but now that you know how to choose the best upholstery fabric, you can feel confident in making the investment because picking the right fabric is just as important as finding the perfect chair to customize. Plus, reupholstering a chair is where the fun really begins when it comes to design. If you want more inspiration, be sure to check out these before and after upholstery projects over on Calico Corners.

This post is sponsored by Calico Corners



Discover More Eclectic Home Decor Ideas And Design Tips
Learn my secret styling tips for decorating with artificial plants so they look real.
Here's a round-up of my favorite new home decor book releases in 2023!
Have you ever been to a favorite things party? OMG, they are so much fun! I just updated the Favorite Things gift ideas under $25 round-up. You do not want to miss it.
Discover the best outdoor rugs for your patio and deck that are also washable. Looking for an indoor rug? Before you buy, get my tips on calculating the right rug size for a living room.
Learn my genius ways — how to hang art and nail the height like a pro.
Here's everything you need to know about How To Choose Bedroom Lighting with a little help from Lamps Plus.
Looking for a UGC creator? Well, you've hit the jackpot! Check out my portfolio and let's chat about how I can create scroll stopping videos for you!