Reupholstered Dining Chairs
Last Updated on June 28, 2023
In case you missed the news on Instagram or TikTok, I finally reupholstered my dining chairs. Yup, you heard that right, the blushing beauties are no longer pink. Today the vintage brass cantilever chairs by Pierre Cardin are now a mossy green, and I couldn't be more pleased. Ultrasuede reached out asking if I'd like to work with them and of course I leaped at the chance, but it wasn't without hesitation and a smidge of nervousness. If you remember the purple pig incident, then you know I've broken my dining room decor more than a couple of times. It's also the first room I designed in this house, and besides the One Room Challenge room makeover I just wrapped, it's my favorite room.
Before I Reupholstered The Dining Room Chairs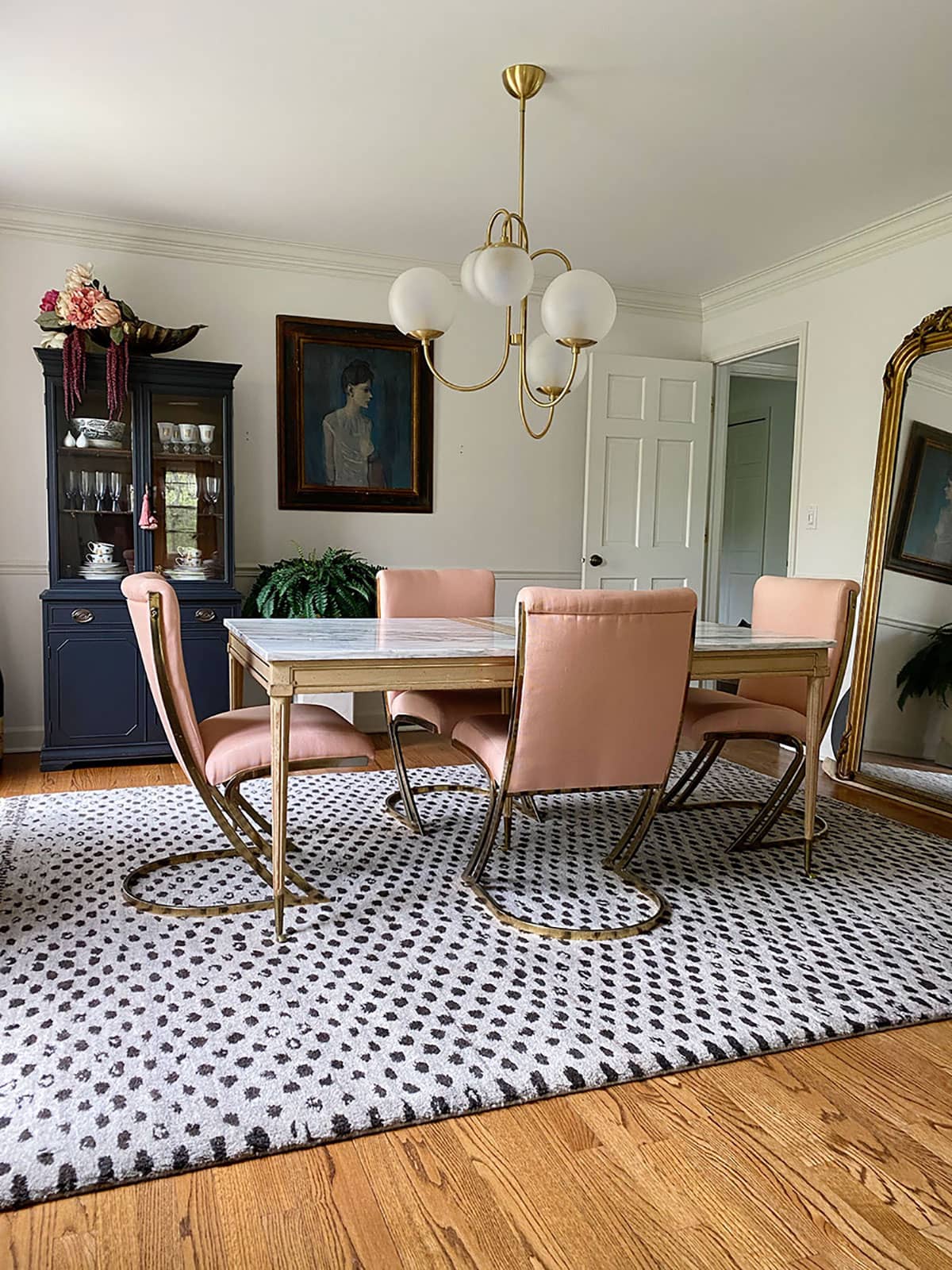 For over 4 years, I've threatened to reupholster the dining chairs. When I purchased them online, the seller did not disclose the massive amounts of staining on the pink fabric. Ugh, what a disappointment after receiving them. Thankfully they photographed well, and unless you saw them in person, you were none the wiser. On the other hand, hosting a dinner party was a bit embarrassing. "What do you think it is?" was usually part of the conversation.
I took a few polls on Instagram, and the color suggestions were all over the board. Some wanted to see a wild print, others navy or emerald. Keep the pink was voiced more than once. Gold, yellow, red, fuchsia, chartreuse, peacock blue, and more. In my head, I was pretty set on deep hunter green. The pink was pretty, but the green would add a bit more sophistication.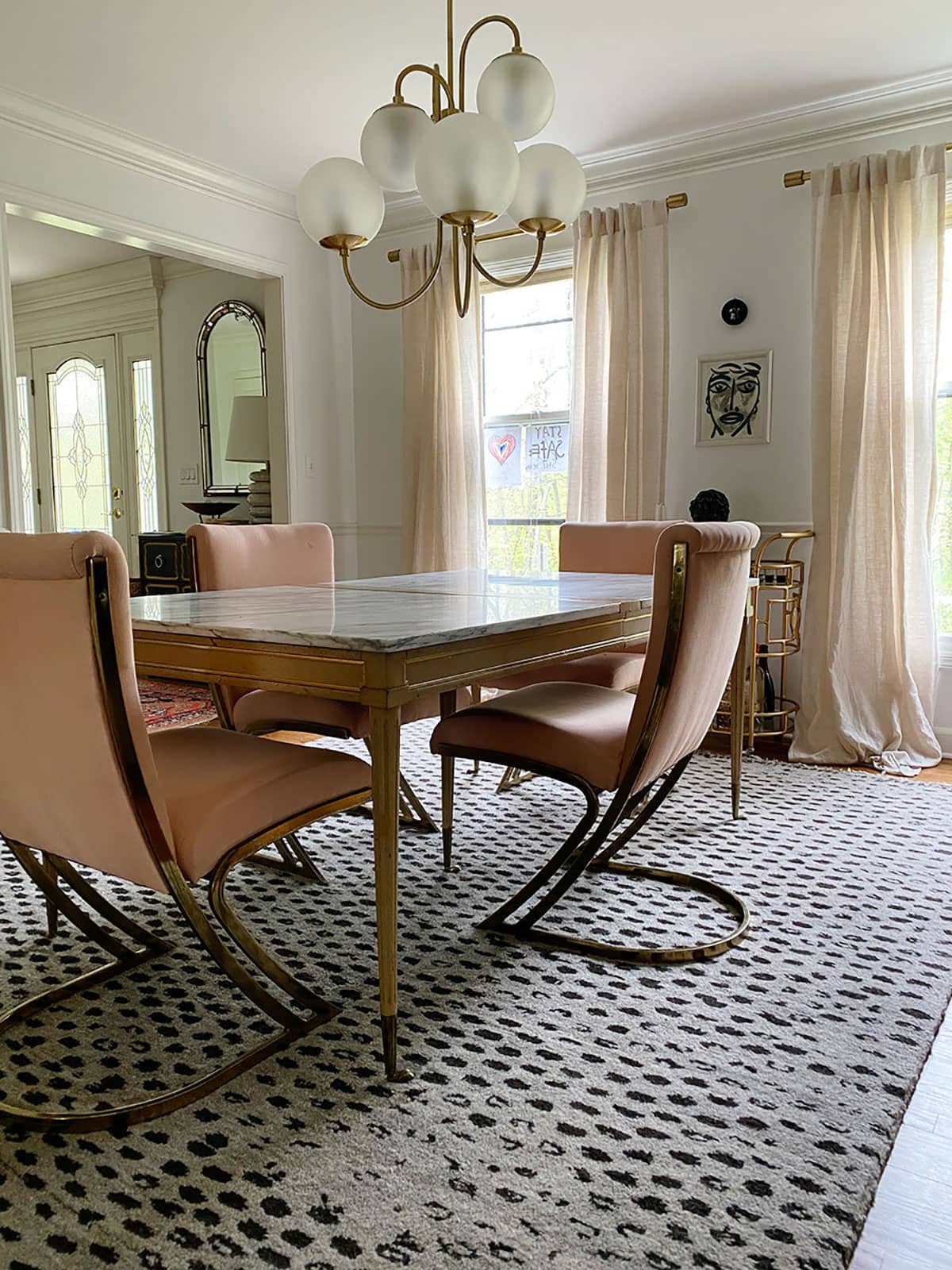 BAR CART FOUND HERE AND IS ON SALE FOR $69.00
I called up Andrew and asked him to pencil me in. He is my go-to upholstery guy, located in Fox River Grove, IL, because I know nothing about how to reupholster a chair myself. Search up AD Specialty Sewing on Google, and you'll find him. As soon as the fabric arrived, I hauled the pink chairs over…cuz I'm insane and took on yet another project during COVID, closing the shop and ripping out my home office and gym. I mean, why not? Am I right?
Dropping The Dining Room Chairs Off To Be Reupholstered

Here are a few progress report snaps that Andrew, the reupholster, sent me.

Masked up, Andrew and I unloaded the chairs and unrolled the fabric. After paying, I bid my chairs adieu and left, hoping I had made the right choice. About 3 weeks later, my phone buzzed. It was Andrew, and he sent me a photo of 1 green chair. Hello Mr. Greenie! You're a pretty thang!
After hauling them back to the house, I was so excited to share the new look online…but couldn't. No one knew I had reupholstered the dining chairs except Ultrasuede. Not sharing them immediately killed me, so I spilled the beans a bit early on TikTok…OMG, that post went viral, and I was like SHHHHHHHHHH, stop watching this. No one is supposed to know. Srsly, over 550,000 views on that 15-second video. The secret about the greenies was spreading like wildfire.
After I Reupholstered The Dining Room Chairs

You can really see the texture in this next close-up of the Ultrasuede performance fabric.


Anyhoo, this is how they turned out, and I'm absolutely over the moon with them. The pink was cute, but the green gave the dining room an elevated look. The decor is more sophisticated and formal, but it kept that cozy look and feel. And now, of course, I'm ready to reupholster something new…wandering about the house looking for my next victim. Have you reupholstered furniture? Were you nervous about the change? And hands up if you want to learn how to reupholster a chair yourself. I know I do!

I've fully embraced the new green decor in the dining room, and now I want to add more shades of this color around the house.
Discover More Home Decor Ideas
If you're looking to reupholster furniture but are unsure how to choose the best upholstery fabric, click that link. It has my top tips on what to look for!
Looking for styling inspiration? Check out the top interior design books that I go back to month after month.
Layered lighting in a room gives depth to a space and elevates the design. Check out my how to choose bedroom lighting post for my favorite ceiling lights and boob light replacements. And all my lighting ideas are grouped here.
The Primrose mirror has been a favorite for a while now, but the price tag is extreme. Here are 15 affordable Anthropologie mirror dupe options that won't break the bank.
Have you noticed that cute mushroom decor is trending? Check out my favorites.
Cane furniture is trending hard in the interior design world. I've rounded up my top picks for your home.
Make your room a bit cozier with this round-up of affordable velvet curtains you can buy online.