Dining Room Rug Debacle
Last Updated on September 19, 2023
When we bought the new house, the dining room was the first space I started decorating. In fact, the Girl in a Chemise Picasso painting (BTDubs…so not real…yes, I've been asked…I ain't that bougie) was the first piece of home decor we brought into the house on closing day, and she might just be the only thing that's never been moved to date.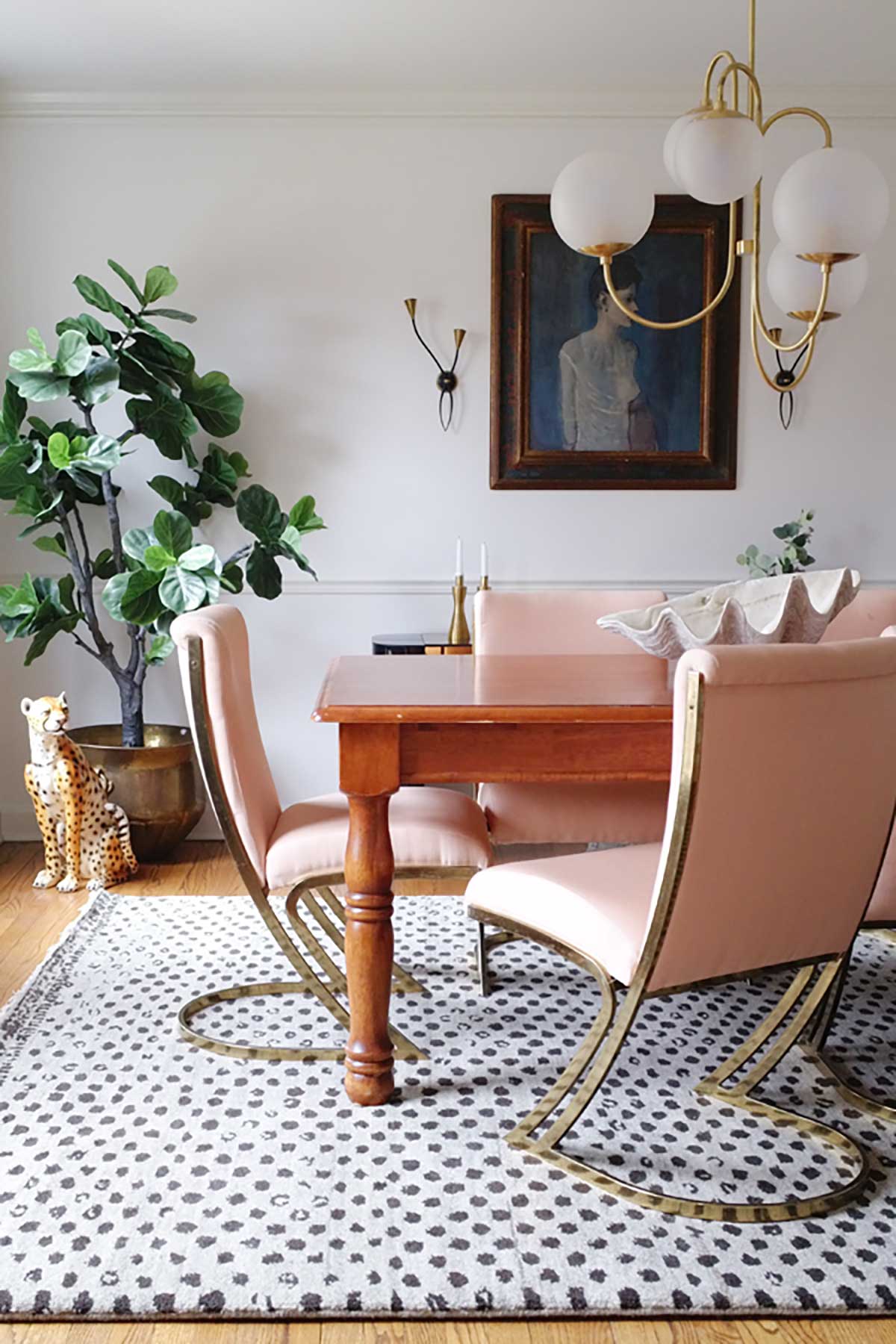 Meet The Purple Pig Dining Room Rug
Well, a few months back I was getting itchy for a change. It happens every year, but this time the shift was a bit dramatic cataclysmic. I started talking about blue lacquered walls and green velvet sofas and wallpapering the bedroom with crazy patterns and bold prints. Shazam! Color everywhere. So I did what any normal human in this situation would do…I sold my subtle blue rug and found a bright purple vintage Art Deco style Peking rug on Craigslist…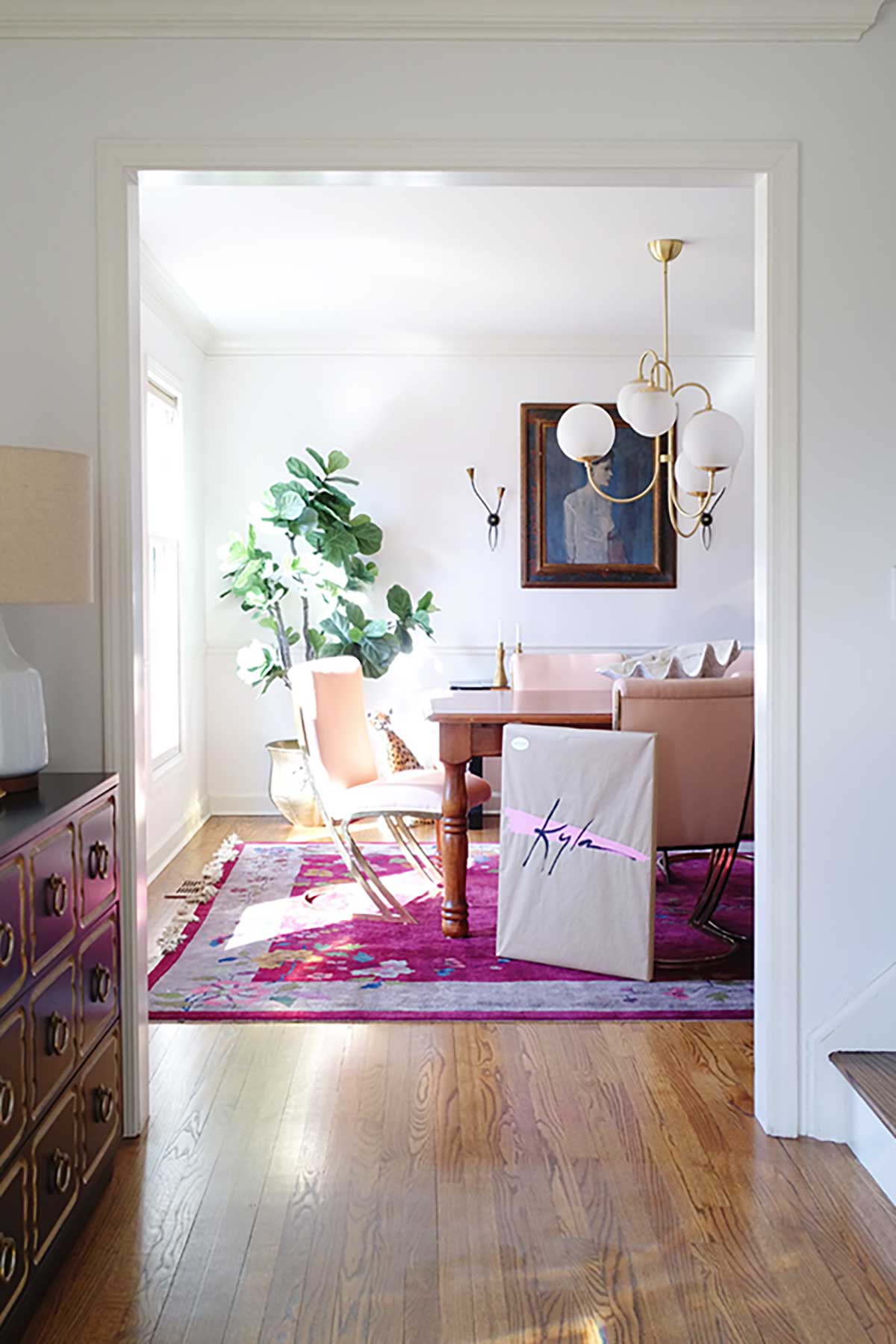 Do you know that scene in Hitch? The one where Alfred says, dance is the one thing I'm not worried about. Me playing with color is like Alfred dancing. I thought I knew exactly what I was doing. I started the fire. I had the feet goin'. I made the pizza. And then I hit 'em with a little of this. I'm just expressing myself. You cannot stop it…in under 3 days, I decided that adding color to my home was the worst idea ever and that rug became unfondly known as The Purple Pig.
I had officially wrecked my dining room in the blink of an eye. I sulked, shed a few tears, ignored the world, and basically shut down. Dramatic? Slightly, but it's amazing the effect it had on my emotions because I legit cried. All my hopes and dreams for a fabulous, colorful Miles Redd home were shattered, and now I was stuck with a pig for a rug.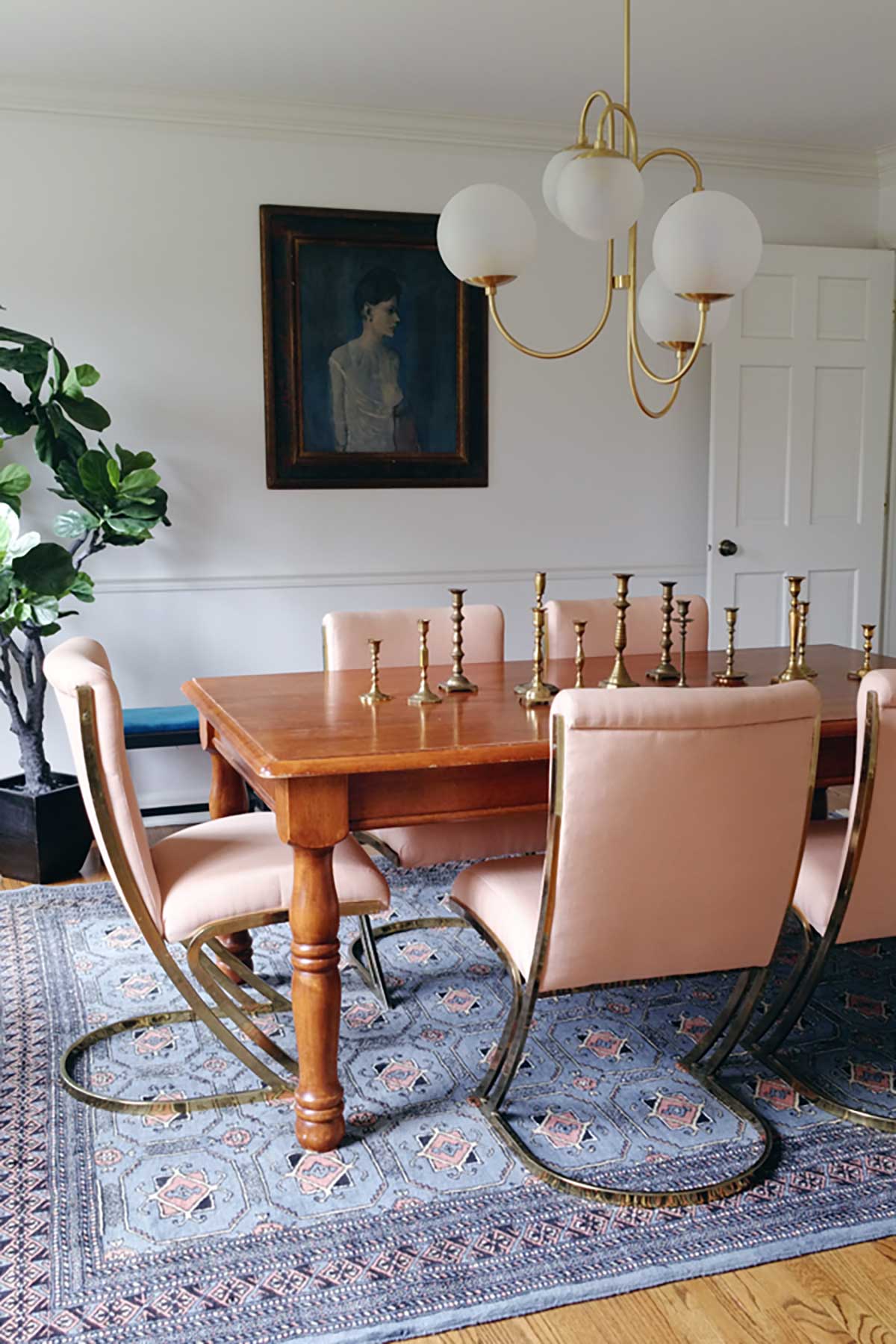 (for reference, this is what it looked like pre-pig invasion.)
The dining room needed to be fixed…immediately. Last Fall, my gal Erica Reitman coined the phrase "Skinny Makeover" during her One Room Challenge. Just like Erica, I wasn't completely starting over, and for the most part, I was keeping all the same pieces. The Purple Pig had to go. Yes, I Have This Thing With Pink, but even pink has its limits, and as a public service announcement, blinding color in your dining room can sear the retinas.

Knowing the rug had to go, I booted up the old computer and started shopping my face off. I rarely want what everyone else has, so decor shopping can be a major hurdle. Vintage Persian? Nope. Vintage Beni? Nope. Vintage anything Moroccan? Been there, seen that. Scroll, scroll, scroll, it was all so ho-hum. The dining room has been this epic space that even my idol, Emily Henderson herself loved, so this new rug had to be knock your socks off amazing. And yes, I totes save links like that and screenshot them like a dork.
After hours of shopping and scrolling, I came to the conclusion that vintage was the wrong direction…GASP! I know right! The Purple Pig had srsly made me lose my marbles. I took a walk around the vault of sources in my brain and remembered a rug design contest last year for Dash and Albert an Annie Selke Company, so I hopped on over, and hello lover, I found my rug in 2.5 seconds flat.

I ordered that puppy up and licketty split, it arrived right before I left for High Point. Much to The Boy's dismay, upon its arrival, we rolled up The Purple Pig and transformed the dining room in the blink of an eye. It legit hadn't even been in the house for 30 seconds and I started pushing furniture. My hatred towards The Purple Pig had reached its full limit.

Now, I've said before that a rug is the foundation of your space, and if this isn't proof, I don't know what is. One piece changed out, and it's suddenly calm and inviting, yet still a bit funky.

In addition to the rug, I also spied some art over on Instagram. I've been searching for black and white abstract art, so I snapped this one up immediately. GIMME! As fate would have it, the art arrived the same day at the rug…making The Boy even happier. Because when you're winding down after a hard day's work (on a Friday), who doesn't want to hang art in addition to rolling and unrolling rugs and moving tables and fancy pink dining room chairs.

The hutch moved to the other wall, making room for the massive piece of new art, and personally, I'm digging its new home. The Boy has different feelings though…he's not a fan of the hutch turned 90° which is making me second guess its placement…although, his attitude might have been skewed by the spider web he accidentally inhaled. Anyhoo, back to the hutch, yes, the thought of painting it white is still wandering around in my head. Picture a large thinking emoji floating around white paint swatches. To me, it just feels a bit heavy, but I know half of you are screaming, "Kyla! Put down that brush and slowly step away from the paint can."

So, Skinny Makeover…it's not done. the space still needs some affordable curtains and a few extra touches, but I'm back in my neutral decor box. And don't worry, I'm heeding Hitch's advice, "Don't. Ever. Do that again. You don't need no pizza."



More Home Decor Ideas and Interior Design Inspiration
Best outdoor rugs and what rug I chose for my patio.
I found the best affordable washable rugs and guess what, they are not from Ruggable!
We're loving the new living room rug.
Steal these dining room interior design ideas.
Check out the skinny makeover in the kitchen renovation.