Dining Room Interior Design Ideas
Last Updated on July 3, 2023
In case you couldn't tell from my last post about brass lighting, I want to move sooooo badly. My brain has been on home decor overload (presently dining room interior design ideas have been top of mind), and I have the storage room to show for it…insert monkey covering its eyes emoji. The closing for the new house can't come soon enough because I fear I'm nearing cut off from my phone…particularly for Pinteresting reasons.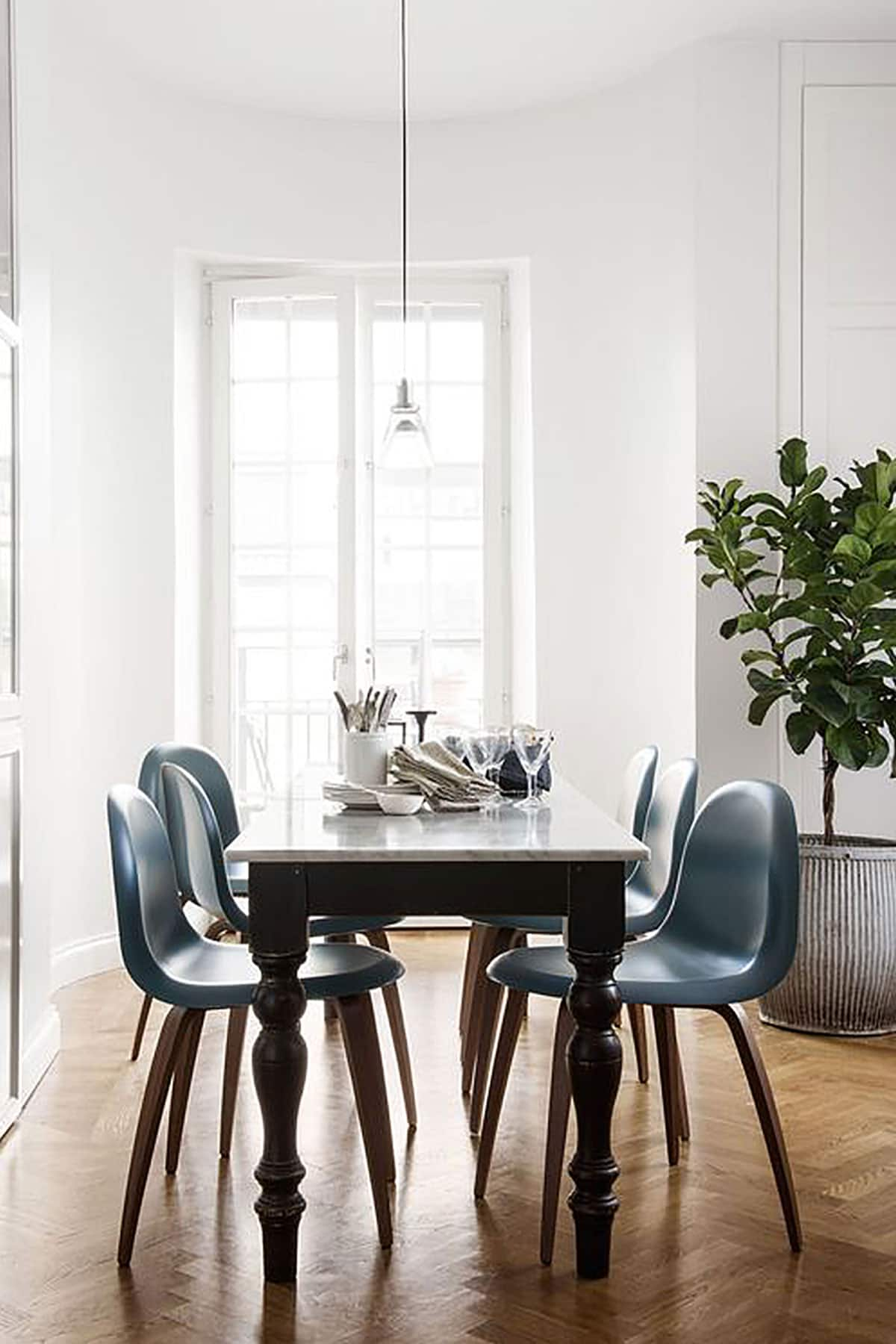 via Kristofer Johnsson / H&M Home
Craigslist, Etsy, and Chairish are perused nightly. I'm like a hamster in a wheel. I'm very quickly running out of room to stash my treasures, and the UPS man hates me more than he did during the One Room Challenge. Also, The Boy has put a halt on all things furniture. It's kinda spiraled so out of control. He has even enforced the much dreaded "One In, One Out" policy. Apparently, when one acquires 58 chairs in one's house, one successfully achieves hoarder status. Yes, I just typed 58! The new rule is one table in, one table out. One chair in, one chair out. This is presently my life.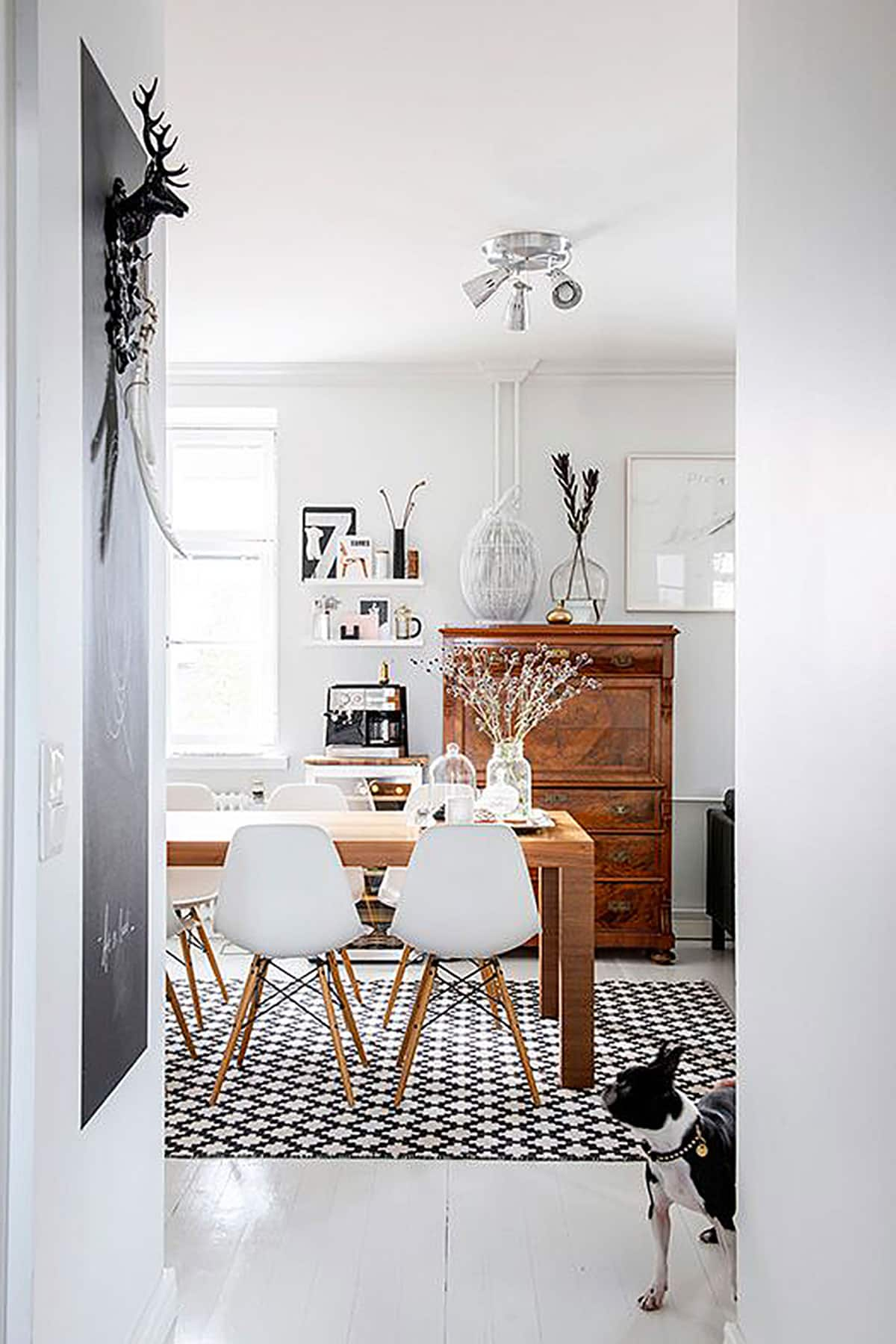 So what's all fuss about? The title of the post probably gave it away…it's the dining room interior design of course. This will be the first time I create a formal dining room, so I've been pinning away some crazy cool eclectic mix of old and new design ideas. The blue lady painting I picked up from Marianne of The Savoy Flea has been my inspiration. After the house purchase was official, I texted Beth from South Loop Loft and asked her to keep her eyes out for a chippy old barn table and a killer rug. She said she was about to put her first vintage find…which happened to be a killer blue rug that matched the painting perfectly…up for sale. Sold!

via Brittany Makes
The rug has splashes of pink, and it's incredibly gorgeous! After a 20-minute brainstorming sesh with Beth, we came up with the idea to pair the old wooden table with brass chairs…specifically vintage brass chairs with pale blush upholstery. To modernize the farm table and give the space an eclectic yet glam look, Beth suggested adding a piece of remnant marble to the top. Yes to all of the above, and the search was on.
That was back in early January. It's been 3 solid months of scrolling and sifting through image after image after estate sale after the flea market. I think I used every keyword known to man: brass chairs, 6 dining chairs, gold chairs, brass and glass, cantilever, wood table, turned leg table, farm table, rustic table, dining room table, dining table. I kept coming up with a big fat ol' zero. About 3 weeks ago, I was running about in my hamster wheel singing U2's, "I still haven't found what I'm looking for," when Beth sent me a link with the single word "CHAIRS!!!!!!!". This girl has one heck of an eye, so I knew they'd be good.

They were cantilever and brass, but black with a pointy hump top…hmmmm. The black was an easy fix, but after a bit of discussion, Beth thought maybe the upholsterer could soften out the hump. That settled it. The chairs were a done deal. I hopped in Layla, brought them home, and stashed them in storage away from The Boy.
Now let me tell you, this common old pine table alluded me. I don't know if it was because rustic chippy farm tables are out of my element, but I just couldn't seem to nail down this style. Beth sent me a couple from my secret squirrel shop that was perf, but when I drove over to make the purchase 2 days later, both tables were gone. Crap.

I finally found this unicorn on Craigslist a couple of days ago for $100. It's older, heavy, and in really good condition. I drove down to Oak Park in the freezing rain to pick it up and somehow managed to haul it out, wrapped up, and secure in the dark all on my own. By the time it was said and done, I looked like a shivering, cold, drowned rat, but the table had been procured. Completely worth it.
Wait Kyla, but you said you had all these chairs?!?!?!?!? What gives? Well, while searching for my dining room interior design decor, I of course was snapping up some other great finds! Like the tulip table I bought for the kitchen eating nook. Then while perusing the secret squirrel shop, I found another vintage tulip table and 2 Ed Wormley chairs (they are kind of a hot mess and in need of some lovin'…project chairs). Okay, so that makes 12 chairs and 3 tables, right? (not counting my existing dining room table, chairs, etc…)

So, I saved a tiny surprise for the end. A tiny surprise that put The Boy over the edge…broke the camel's back so to speak. A surprise that caused him to say, "I'm going to be the effing Oprah of chairs! You get a chair! You get a chair! And you get a chair too!" Only he didn't say effing. Whoopsies. Earmuffs.
Remember when I said I was nervous about the hump on those black chairs? Well, my brain kept saying, what if you sink all this money into reupholstering these chairs and you still aren't happy with that pointy hump? I thought back to a set of Pierre Cardin Style Brass Z Chairs. And voila, this is how you attain the title chair hoarder and get banned from bringing anything else into your home with the One In, One Out policy. But they are so freakin' pretty, don't cha think? Again, completely worth it.

The closing is only days away now, and I'll slowly be dragging chairs to the new house. I can't wait to share the dining room progress with you!
Find More Dining Room Decor Inspiration
Modern Dining Room Design Ideas
Making Your Dining Room Table Decor Holiday Ready
Summer Table Decor – Citrus Theme
Decorating With Vintage Home Decor
The Marvelous Mrs. Maisel And Her Mid-Century Modern Decor Style