Summer Lemon Table Decor Ideas
Last Updated on June 28, 2023
Remember back in the day when I informed you that Walmart's home decor is lit? Well, I'm here to tell you, it's still as strong as ever. I decided to style out my dining room with citrus theme summer table decor from Walmart Home and invite friends over for cocktails and light bites. Let's take a closer look, shall we?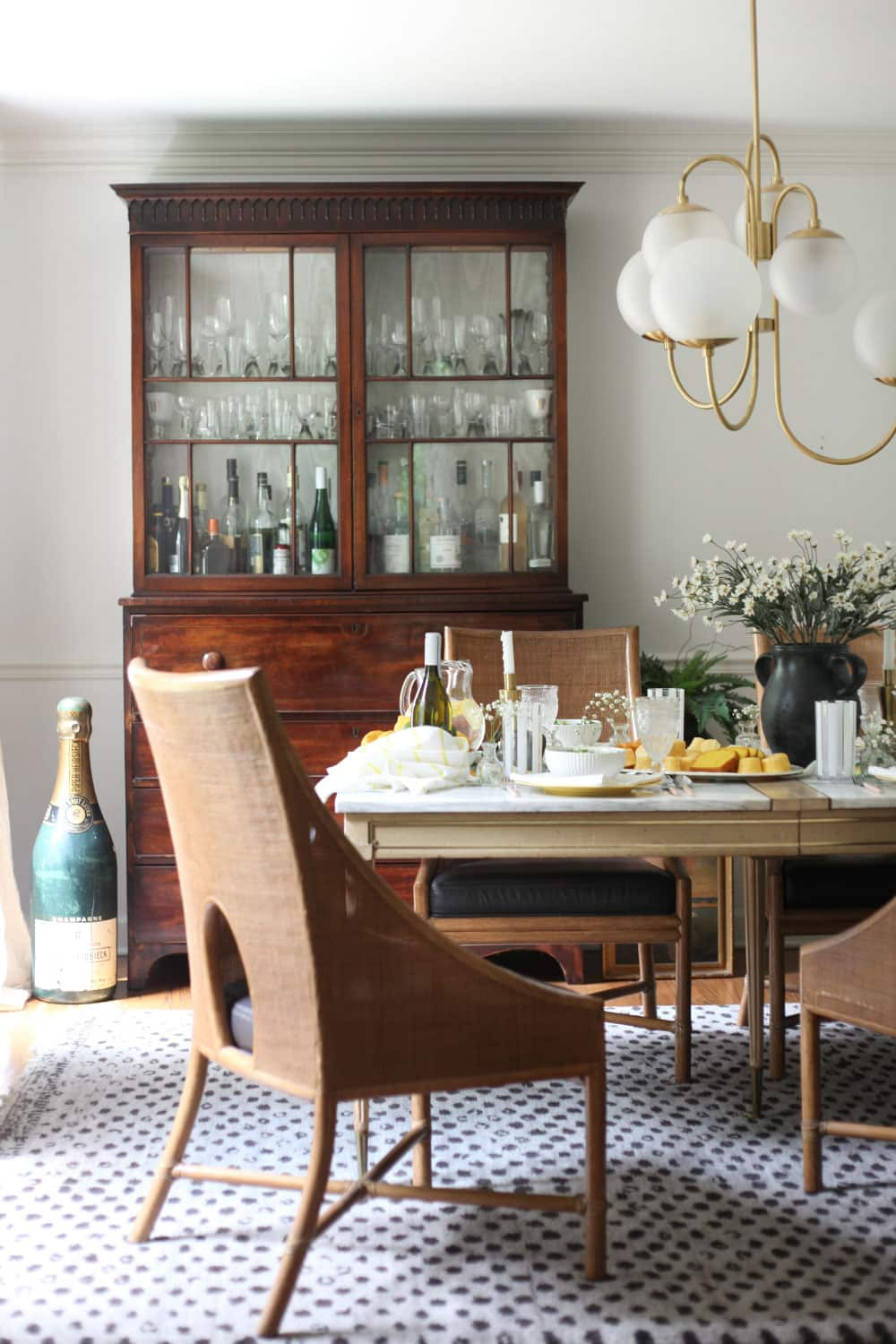 Lemon Theme Table Setting For Summer
Nothing screams summer table decor like lemons. You can almost taste the tart pucker of homemade lemonade when you see this citrus table runner — BTDubs, it's also outdoor-friendly. Because my dining room table has a beautiful Carrera marble top, I chose a runner over a full tablecloth. Can't hide that marble, ya know? The citrus pop set the tone. Bright cheerful colors with bold pops of yellow to bring fun in the sun to your home or patio.
RELATED: Learn how to fold a napkin into a bunny with this fun tutorial.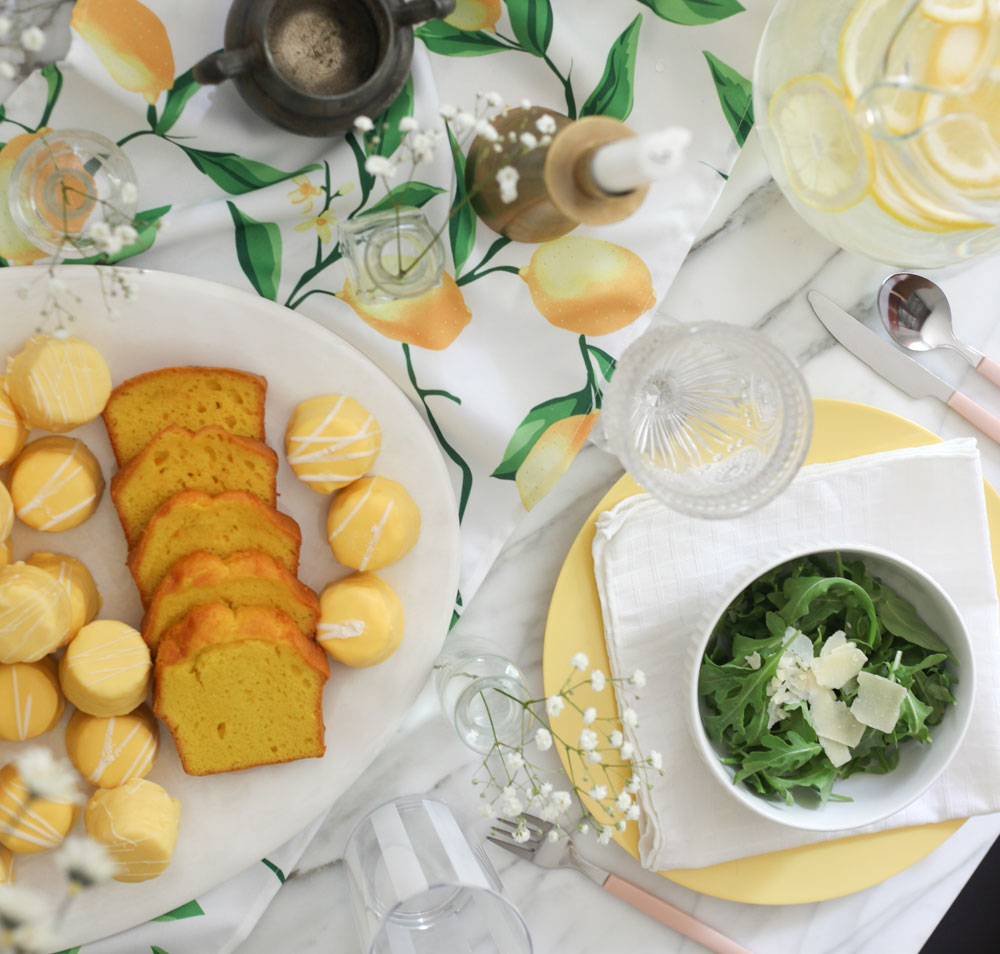 Speaking of the outdoors, the pearlescent oval platter is melamine (it is also available in blue), so it's tough enough to take a tumble, yet the beautiful finish is fancy enough for any party. No one will ever know. I used it here for my lemon tea cakes, but feel free to load it up with anything from a feast fresh off the grill to veggies to fruit.
To add in some texture, I mixed in vintage-inspired glass goblets, and yes you read that right, they are not vintage, they are vintage-inspired and available to purchase at Walmart from The Pioneer Woman collection. The vintage look brings in a bit of an eclectic homey vibe and brings the table to life.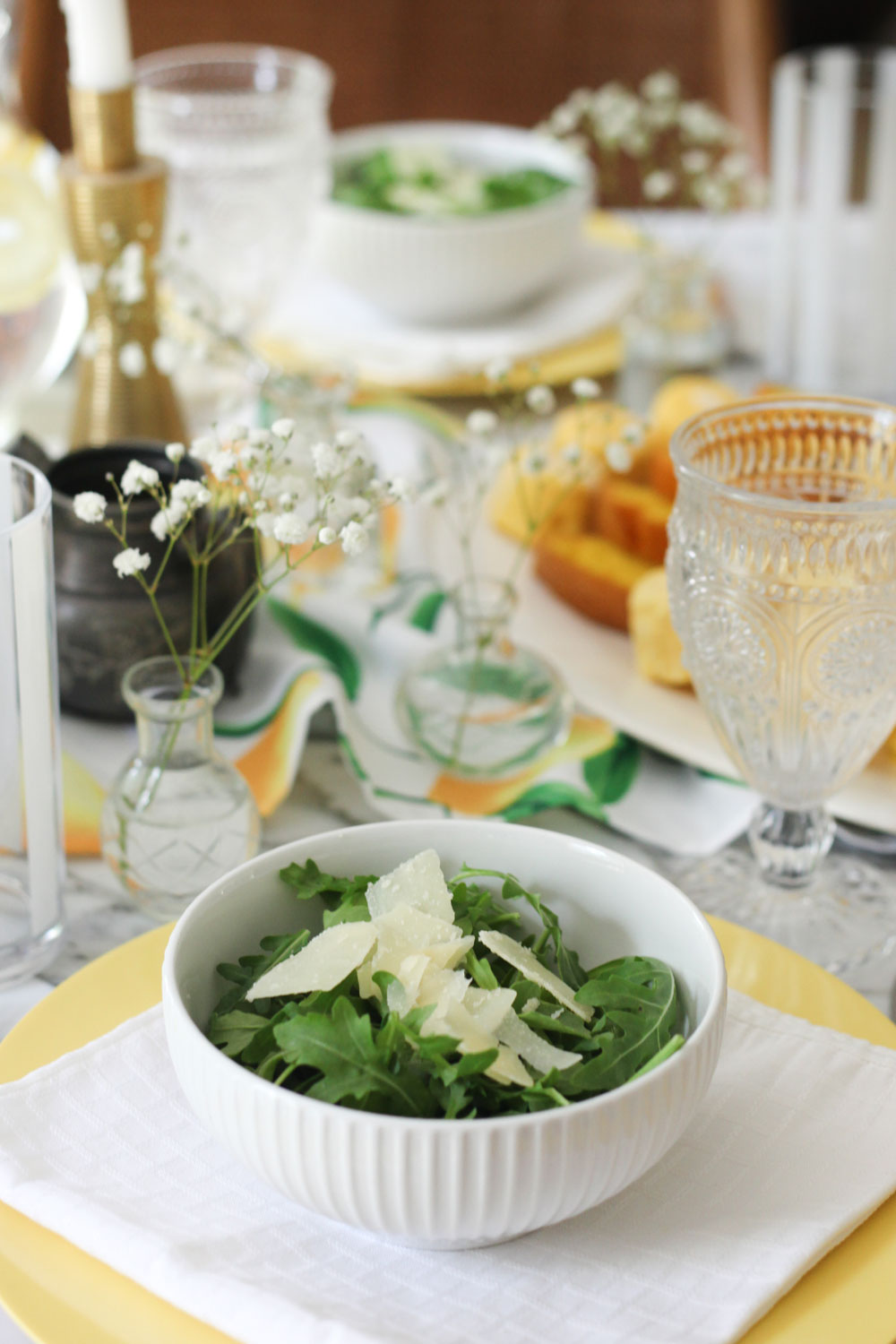 This arugula salad has been my summer go-to. My friend Donna served it one evening, and the dressing is super simple to whip up. Just emulsify oil and lemon juice in a 2 to 1 ratio and add a dash of salt and pepper. Top with freshly shaved parmesan cheese, and voila! So light, clean, and fresh tasting. Oh and these white ribbed porcelain bowls are also available at Walmart Home as are those yellow melamine dinner plates.
Summer Dining Table Decor Ideas
How cute are those tiny bud vases? (There are only 5 sets of these left in stock) Again, vintage-inspired and the perfect accent to my tablescape. Plus my guests were more than welcome to take theirs home. The clear glass bottles come in various shapes and sizes giving my summer table decor a more eclectic, relaxed look and feel. The perfect decorative touch, and if you want to kick it up a notch, you could tie a piece of twine or ribbon around the neck.

RELATED: Check out this Spring table decor idea for Easter.

See that white striped tumbler? Comes in a pack of 8 and is Tritan (BPA-free) drinkware that is dishwasher safe. Yahtzee! I gotta say, finding shatter-resistant outdoor drinkware that you can pop in the dishwasher is not easy to find.



One of my favorite pieces on this tabletop is that classic clear glass pitcher. It's one hardworking pitcher that is perfect for any occasion, plus it reminds me of the Kool-Aid guy…remember him? Next weekend both the tumblers and pitchers be filled with mojitos!


Summer Essentials For Entertaining
Creating this citrus-themed tablescape was not only simple but also incredibly affordable. Walmart's home collection made it easy to find all my summer table decor.

Summer Table Decor From Walmart Source List
White Ribbed Porcelain Dinnerware
Vintage-Inspired Glass Goblets
Cherry Blossom Flatware set of 49 pieces for under $10
Pearlescent Melamine Oval Platter
Lemon and Yellow Striped Dish Towels


More Budget-Friendly Home Decor From Walmart Home
And just because I love ya, I decided to throw together this living room mood board with more Walmart Home favorites. Texture is trending hard right now in decor as are natural fibers. What piece below is your favorite? If I had to pick just one, I think I'd choose that textured goodness ottoman. Although that rattan shade is so Celerie Kemble, don't cha think?

Antique Brass Arch Floor Lamp With Rattan Shade
Chambray Striped Pom Pom Pillow
Modern Ivory Channel Back Sofa
Mid-Century Modern Wooden Lounger



This post is sponsored by Walmart. All words, thoughts, and photos are my own.



More Interior Design and Home Decor Ideas
If you're looking to zhush up your home for the season, here are a few Summer Living Room Decor Ideas to try.
A few bloggers have gotten together to share a behind the scenes Summer Home Tour. Click that link for mine.
Have you checked out Macy's Summer Sale? Here is a round up of my favorites!
When it comes to playing favorites in home decor, I have a few. Here are my Serena and Lily Favorites.
I created this little DIY Closet Reading Nook in the guest bedroom and now I have extra seating.
Try out these Cute Summer To Fall Outfit Ideas for that transitional weather.