Cute Summer To Fall Outfit Ideas
Last Updated on September 19, 2023
Not sure if I've ever uttered these words ever before, but I'm really sick of loungewear. I'm looking for cute summer to fall outfit ideas and I want them now. Coronavirus has kept me from date nights, dining out, and adventures in Chicago. So with that, I've decided to dress up a bit more. That means, even if I'm at home with nowhere to go, Imma throw on some lipstick and dress up a bit. Heck, I might just drive into town to wander aimlessly if I actually break down and buy these shoes. They are too good not to show off. Hey, Santa…are you reading this?
Click directly on the item in the image to be directed to the source, or use the links below. 
Last week I bought these high-waisted wide-leg crop jeans, and I'm loving them. The fit is absolute perfection! So much so, I might even say they are my new favorites. If you want to channel more summer to fall outfit thoughts, swap out the jeans for cutoff shorts — yup, this makes for the perfect summer to fall transition outfit!
I love how the tortoiseshell bracelet ties in with the sunnies. The ones pictured above are sold out, but the link leads to similar pairs.


I have a pair of vintage rhinestone dangly earrings, but these are similar. They add that extra bit of fanciness and bling to any outfit…even if it's a sweatshirt and jeans. DO NOT save them only for special occasions. Rock them ALL DAY ERRY DAY!
The Celine tote bag is one of those investment pieces. The one I've linked to here has been previously loved so the price tag is lower, but if you want the look for less, try this one, this one, or even this one. I bought this bad boy year ago and have no regrets, but it is one of those pieces that I save my pennies for.
Bags and shoes are my weakness. I spend entirely too much money on them. Both the platform shoes and distressed sneakers are on my wishlist for fall. If you want the look without the price tag try these.
Similar Platforms   |   Similar Platforms   |  Similar Platforms
Similar Sneakers  |  Similar Sneakers  |  Similar Sneakers (only a few left)
And last but not least, let's dive into that tropical leaf top (no longer available but found at Trina Turk). Again, this is a higher price point, but there's one thing in particular that I love about Trina Turk's clothing…almost every piece can be washed on cold in the washing machine and when you pull it out to hang it dry… there are NO WRINKLES! How's that possible? Sorcery fo sho. I am especially thankful for this magical fabric when I travel for speaking events. After my arrival at the hotel, I can pull it out of my luggage and shazam, no ironing needed. If I can get high quality and low maintenance with a timeless look, I'm all in. But, if you want the look for less, try this cutie for $23!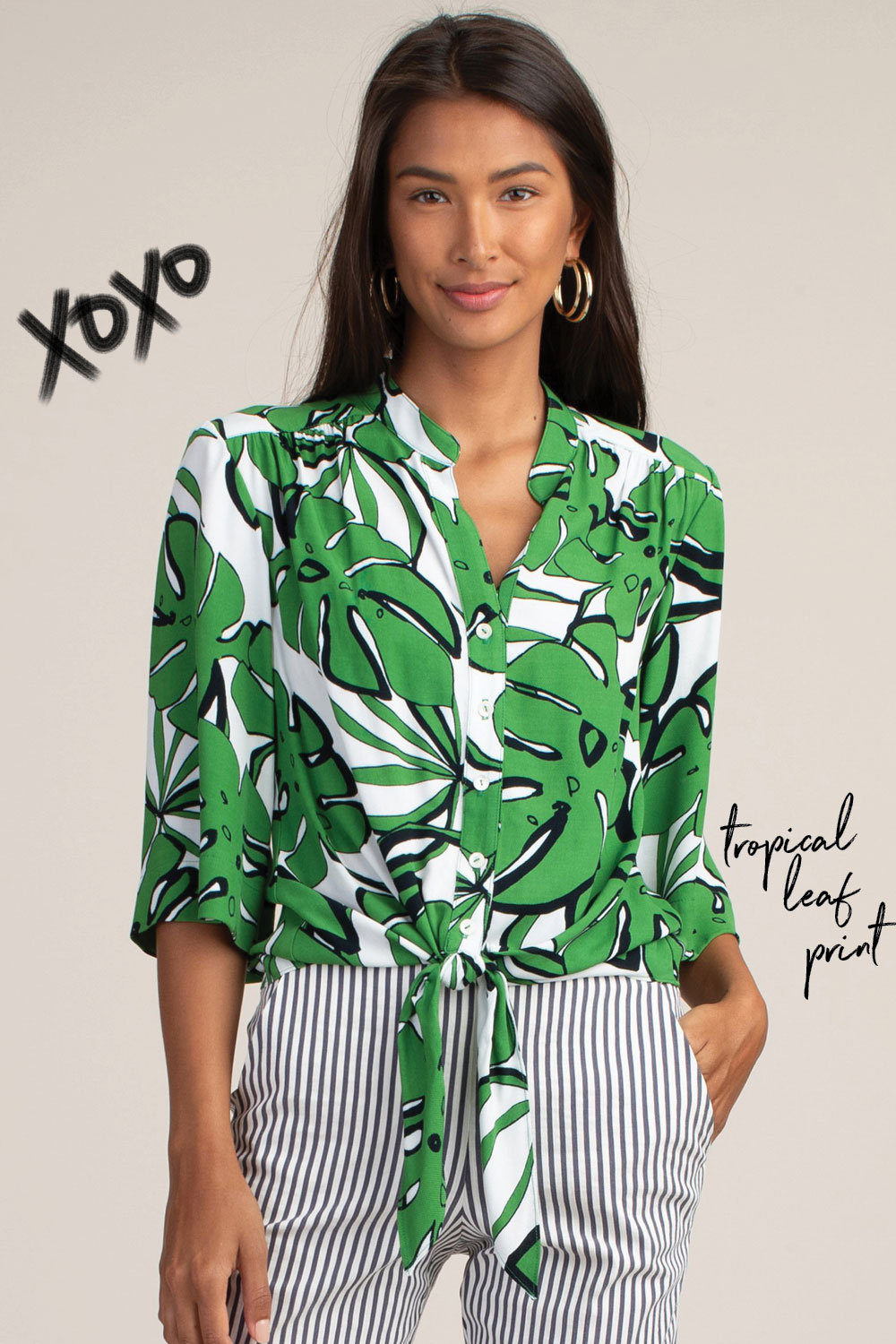 More Cute Fall Outfit Ideas & Home Decor Inspiration
Fall fashion must-haves. Find the essentials to stay on trend for fall.
A full round-up of cute backpacks for back to school, work, commuting, and travel.
Get inspired with these favorite fall home decor ideas.
Looking for Fall Porch Ideas? I got ya! Here's some outdoor inspiration.
Rattan furniture is trending hard. Find the best cane furniture for your bedroom, living room, and more.