7 Random Things About Me
Last Updated on February 21, 2023
This is a post that I like to write once or twice a year…last year can be found here. It's easy for me to forget you know more about what my house looks like and nothing about me personally. So let's get into it!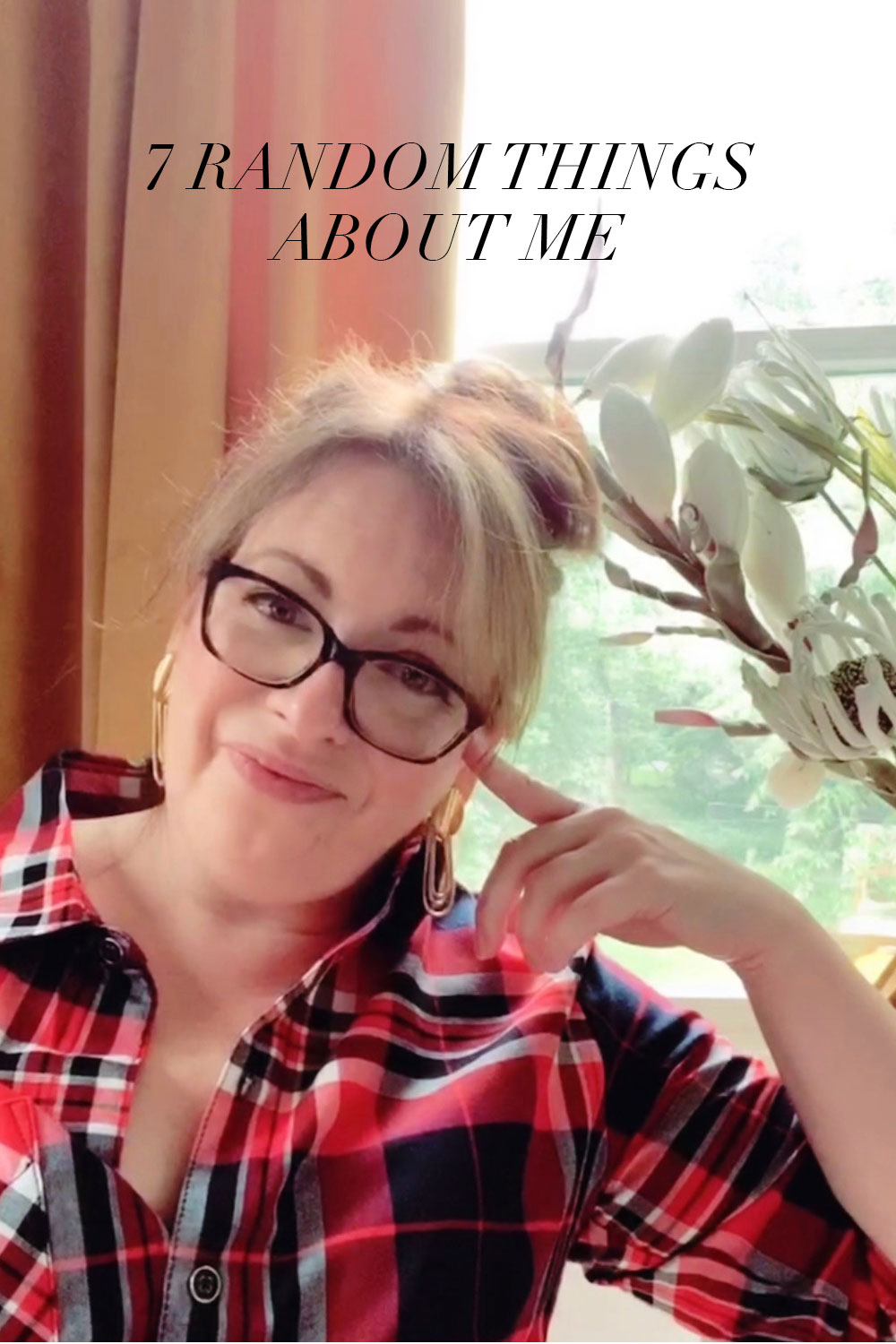 I kinda sorta believe in all that woo-woo crystal stuff and manifesting good energy during a full moon. And yes, I think that some psychics are real.
I'm sure my mother is shaking her head as she reads this since she sent me to a private parochial school for years and made me go to church every Sunday. Sorry mom, but every full moon I manifest good energies, write down my fears and things I no longer need in my life on paper, and then light on fire, focus on my goals, and ya, I'll give my crystals a moon bath to recharge. Also, when Mercury is in Retrograde, I hide under my bed and I smudge my home of bad energy at least once a year.
My home may not show it, but believe it or not, I'm messy. Not unclean, just messy. I leave tiny piles of shizzz all over the house. A little pile here. A little pile there. And those piles sit..usually because I haven't a clue as to what to do with said piles. If I'm photographing a room, I move multiple piles out of the shot and move them back *palm to forehead* Stacks of magazines, mail, clothes, unused decor. Little piles everywhere.
I'm incredibly self-conscious about my weight and aging face but trying to be more comfortable in my skin. Ever since I quit smoking (yup, I used to smoke) and had kids, my weight has been a battle. This is why you rarely see me in photos on my blog or social channels. I'm trying to get past it, but it's been challenging to say the least. TikTok has definitely helped me come out of my shell.
When given the opportunity to eat inside or outside, I'll almost always choose inside. No bugs (I hope), no humidity, no heat. However, I will say, when I went to NYC for the Better Homes & Garden StyleMakers event, I had lunch outside, by myself, the day before the conference, and it was spectacular. Which reminds me, I need to figure out the recipe for the salad I had…it was burrata and watermelon. Sounds like a weird combo, but it was AHHHHHHMAZING! If I figure it out, I'll post and share the recipe.
Speaking of cooking and recipes, I said it before, I'll say it again, I love a good casserole. Like those church cookbook hotdish recipes from the Midwest. OMG…give me a can of cream of celery and some tater tots and watch me go, baby. Side note, do you say casserole or hotdish? I say casserole, but when I go back home (Baraboo, WI), I hear hotdish. I've contemplated sharing my favorite cream of mushroom concoctions here. Is that something you'd be even remotely interested in?
I'm addicted to bags and jackets. This is quite humorous because when I leave the house, I use only one bag in particular and only one jacket. I have about 20-30 to choose from…certifiably insane.
I want to start painting again…haven't painted since college. There's a cool idea that I have, but I'm not really sure about the medium to use. Probably acrylics? If you have any tips on how to get started or the must-have supplies, I would love to hear your suggestions. At the moment I think I've narrowed the paint brands down to Liquitex and GOLDEN.
But now that you know more about me, I wanna hear more about you. Tell me a couple of things about you in the comments below. Are you messy too? Do you use the word casserole or hot dish? If you want to read more about me from a business perspective, check out the meet Kyla Herbes page.
More Personal Musings By Kyla
My honest review of the application for membership process at the Biltmore Country Club, Barrington, IL. Spoiler alert, I was rejected.
I've been helping to organize the Jackson Chance Ping Pong Ball to help NICU babies at Lurie's Children's Hospital. See how you can help too!
If you could only pick 5 words to describe yourself, what would they be?
My life 1 year ago today. How it looks one year after lockdown.