Best Gold Velvet Curtains
Last Updated on December 8, 2022
OMG, I'm a big selfish jerk. I only shared my new gold velvet curtains on Instagram and never shared them here. And let me tell you, beautiful, cheap curtains and drapes need to be shared, plus a full round up on affordable velvet curtains. I pinkie swear I wasn't trying to keep these a secret. I have no idea why this happened – let's chalk it up to ADHD.
Well, maybe I do. The kitchen renovation was happening at the same exact time, and The Boy's parents were visiting from Germany. Oh, and I was preparing to head out to High Point Furniture Market. (BTDubs, this whole quarantine slowing down thing has been life-changing for me.) But this momentous occasion of me adding a bold color in my home for the first time ever seems to have been completely overlooked. Anyhoo, when I hung these gold velvet curtains in my bedroom makeover, the pop of yellow completely transformed the room. Behold…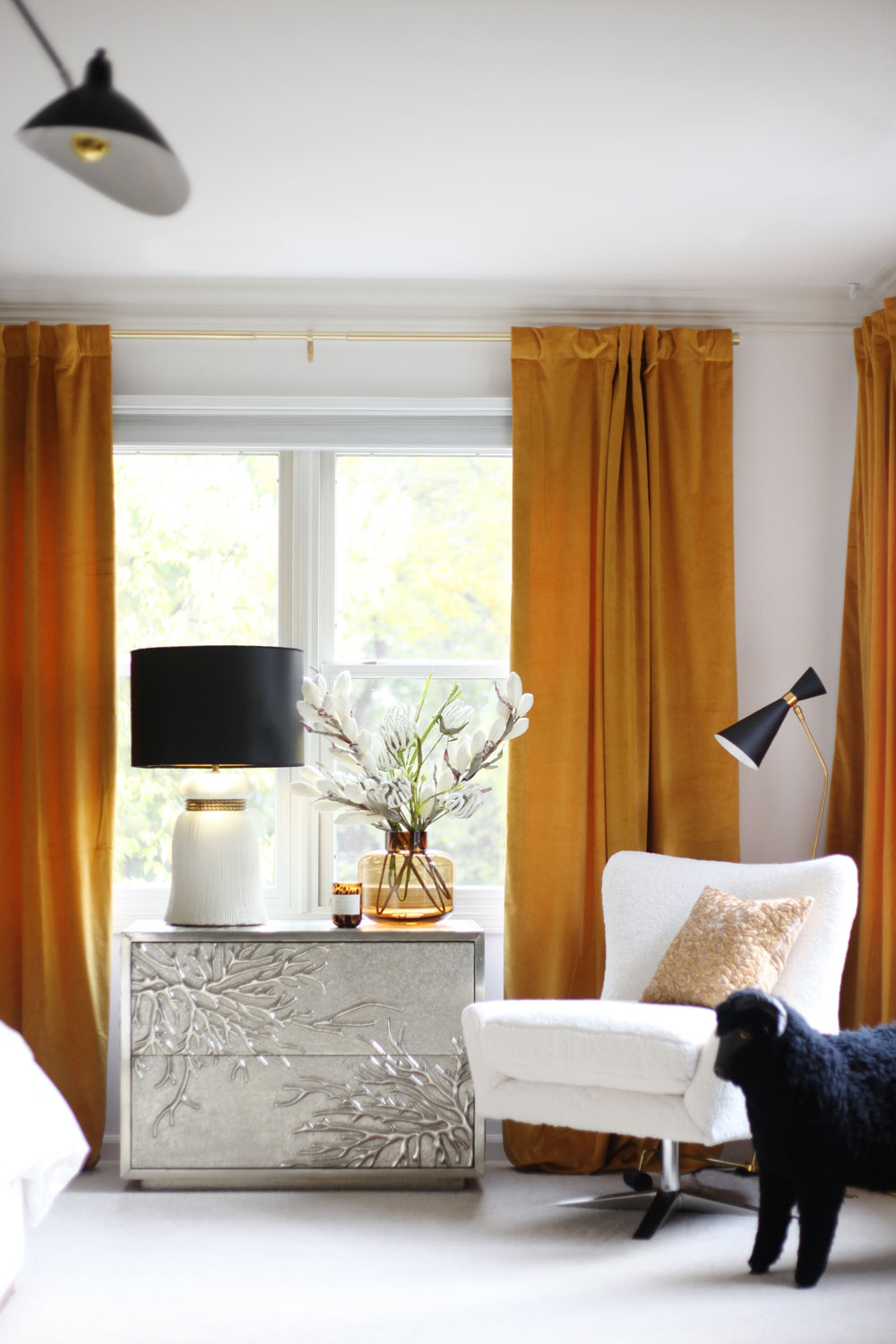 See what I mean? That pop of gold really warms up this entire corner of the bedroom. The ivory teddy bear soft swivel chair and bed frame stand out against the yellow instead of blending into the carpet. Plus they're blackout curtains which are great for sleeping in…but this is where I'll add my one and only criticism…the lining for the curtains is a bright white, and visually it's a bit harsh. Not sure how I would do it differently…but just a random observation with no solution. Helpful, right?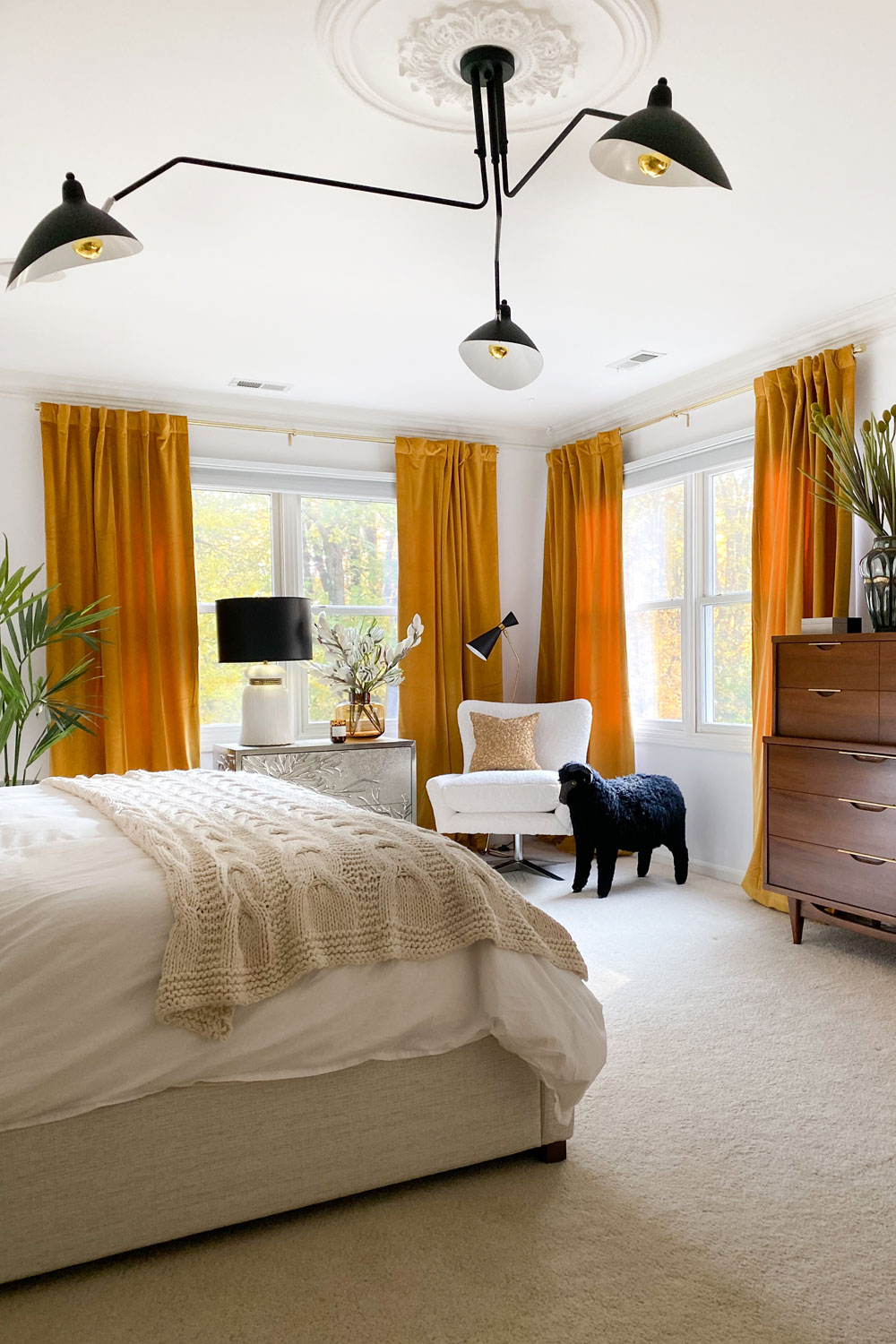 I wound up loving this pop of color in the bedroom so much, I wondered, what if I bought more of these golden beauties for the front room. Originally I had hung some simple ivory tab curtains in here (they were in the bedroom as well). I purchased them years ago, and they just traveled from house to house with us. Their look was kinda generic but functional. After installing the curtains in the bedroom, this room although beautiful seemed a bit washed out. It needed some extra oomph.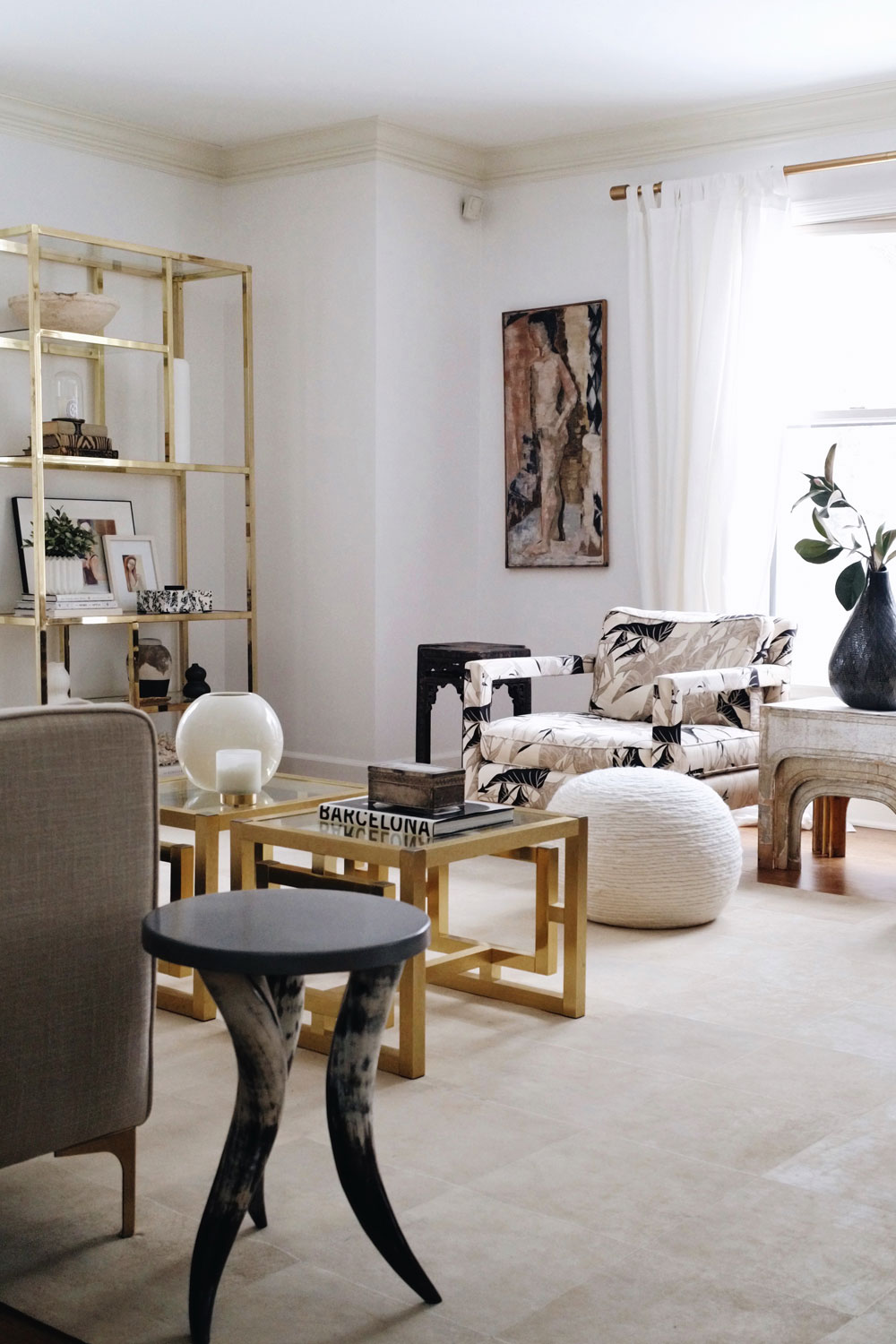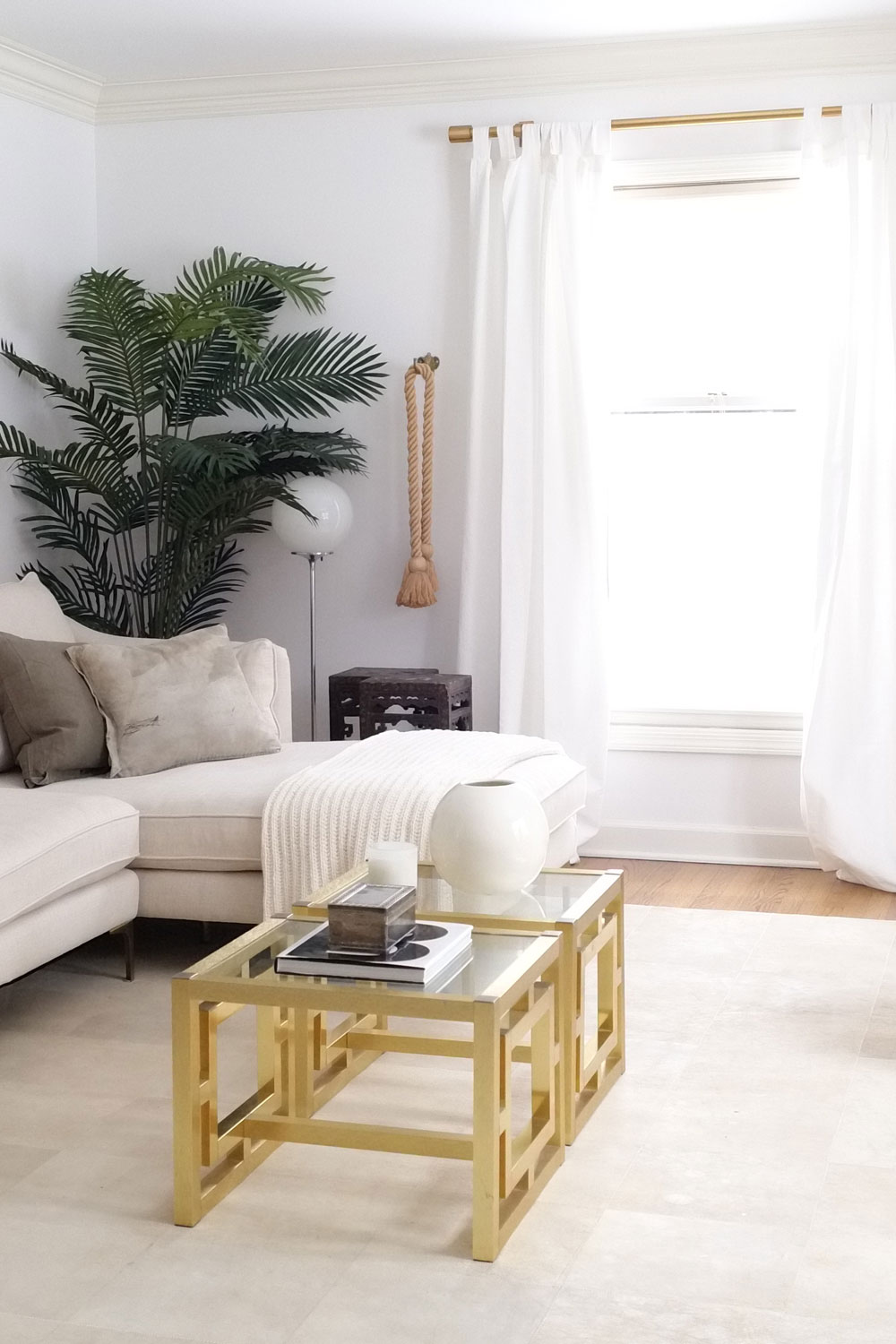 Thanks Carson, I know. It's a beautifully designed room, but take a looksy at this next photo. See how just that one set of velvet gold curtains gives my living room some serious personality?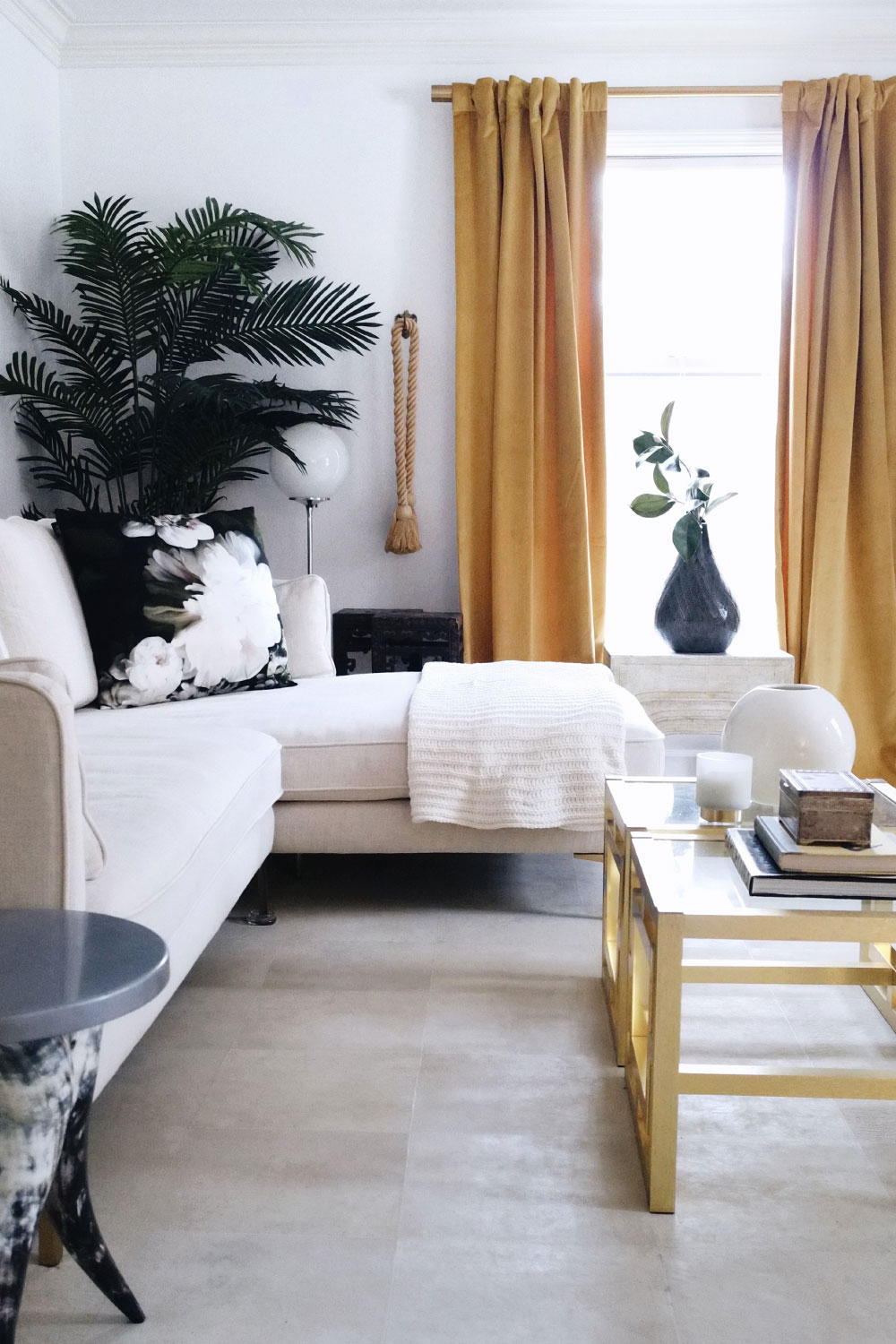 Boom. Mic drop. Am I right?
And, like I said earlier, they're blackout curtains. This is a bonus because the afternoon sun really warms up this side of the house, and the liner keeps this room from feeling like an oven. Now again, I'm so sorry I didn't share these with you sooner but better late than never. If you're looking for new window treatments and you want velvet, check them out. The price point per panel is amazing, especially considering the quality, plus they come in 12 different colors. The stock on the Aztec Gold is running low, but they do seem to restock quite often. That's it. I'm out…and probably off to add more color to my house.
Want to shop the room? Here are a few linkeroos to things like that modern black pendant chandelier in my bedroom and more.
Discover More Home Decorating Ideas
Black Textured Wallpaper Install — I created a moody dark bedroom with Philips Jefferies Broadstrokes luxury wall covering.
How To Choose The Bed Bedroom Lighting – learn how to layer lighting to create different moods.
Easy Guest Room Makeover all it took was a bit of paint and a new headboard.
These Ceiling Medallions will elevate your room design. Check out the round-up.
Colors can be confusing so I like Decorating With Neutrals. Here are my design tips and tricks.