High Point Market 2018 – Let's Play Pretend
Last Updated on January 13, 2022
Bits and bobs from High Point Market are still swimming around in my head. The chairs, the lamps, the everything…gimme all the pretty things. So I thought, why not pretend? Let's spend a fake million dollars and play imaginary decorator.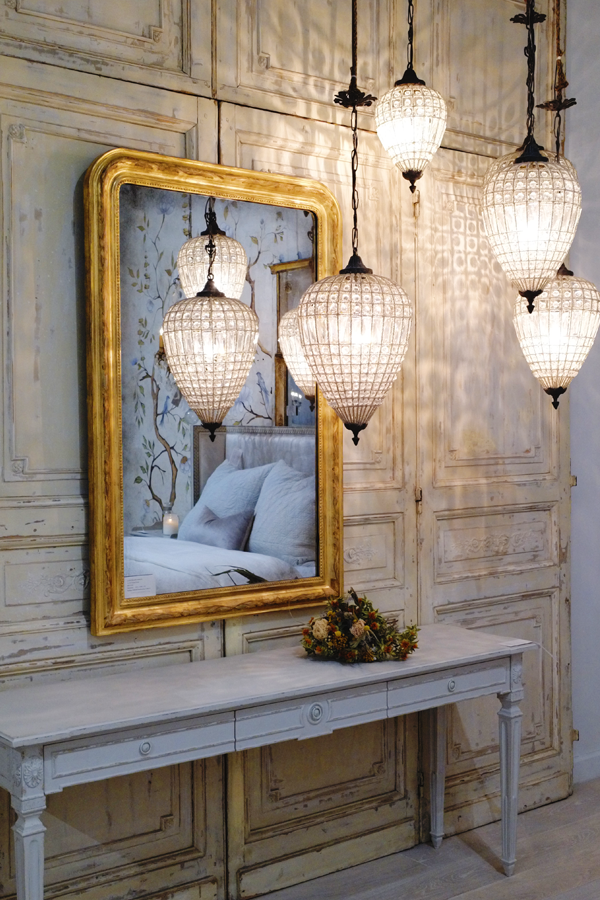 Can I just have one room dedicated…or better yet, I have a million dollars, so let's just make it a full-on home dedicated to being a beautiful old chateau in France. The chandeliers above caught my eye immediately. The teardrop shape is a fun twist on the more commonly found globe chandies.
And check out that wallpaper in the reflection of the mirror. I love this not quite farmhouse, not quite chippy shabby chic yet oh so romantically français look.
We all know about my chair obsession, so this chair would definitely have to be in the mix.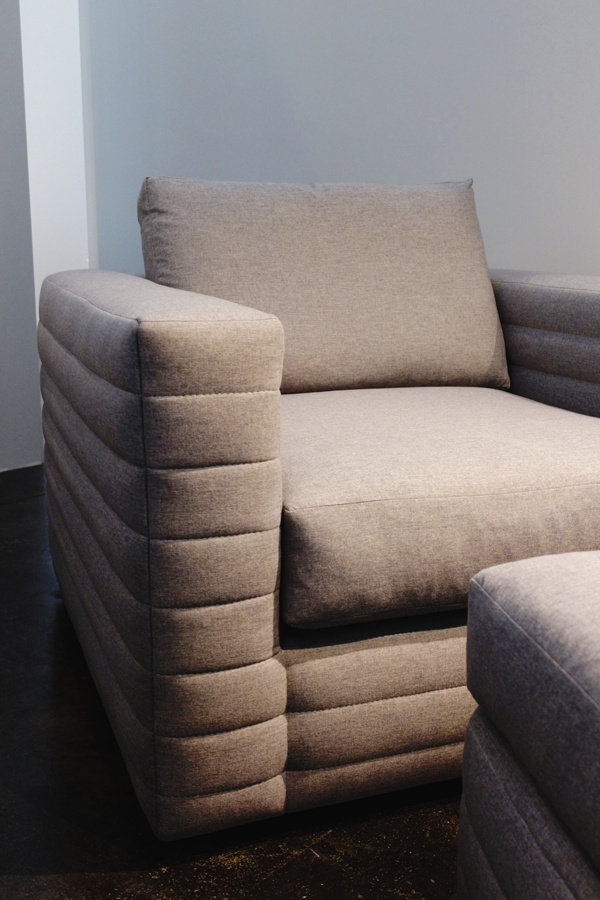 It's almost flannel-like upholstery with the channel stitching is stunning. Sitting in this bad boy felt like getting the best hug ever. Oh and this black and white beauty would also make an appearance.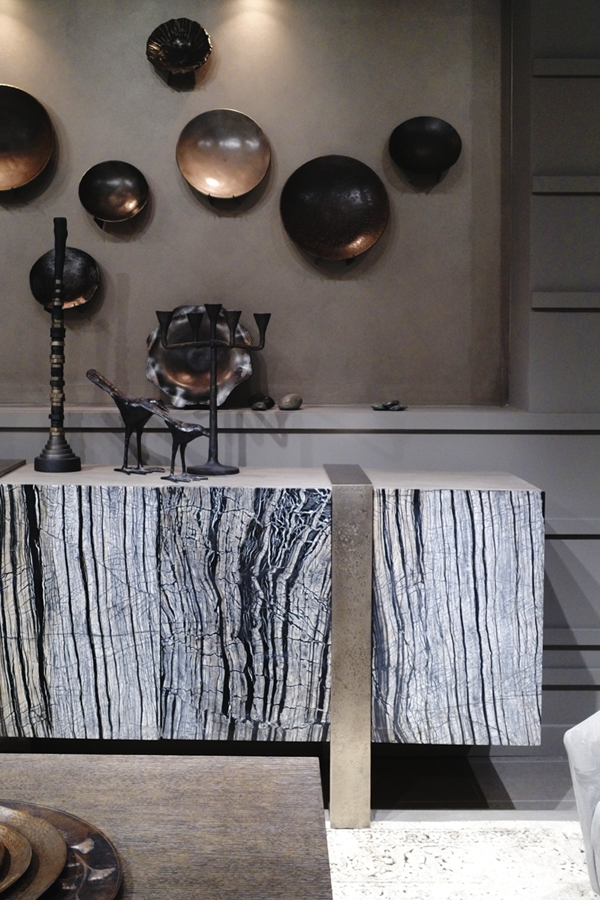 In this make-believe house, please give me anything and everything cerused. This credenza didn't fit in my purse…although I have given it a good try. P.S. Don't steal. Ha!
Did I mention anything cerused? Seriously, between that and the shagreen everywhere I looked, I was in texture heaven.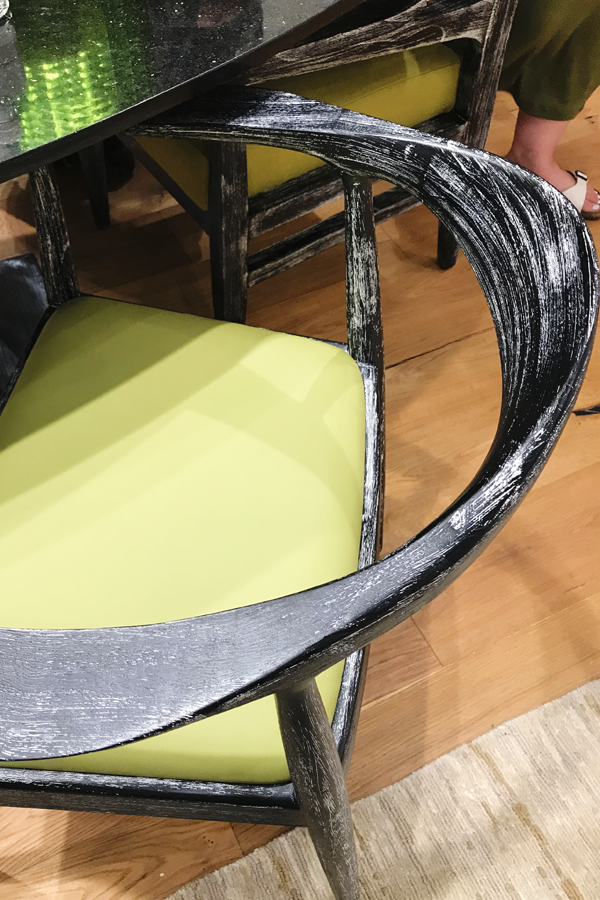 Yep, this dining room chair almost makes me want to replace my pink Pierre Cardin brass chairs. Gasp! Clutch the pearls! Kyla! You wouldn't! Ummmm, oh yes, I might be down with that. Just sayin'.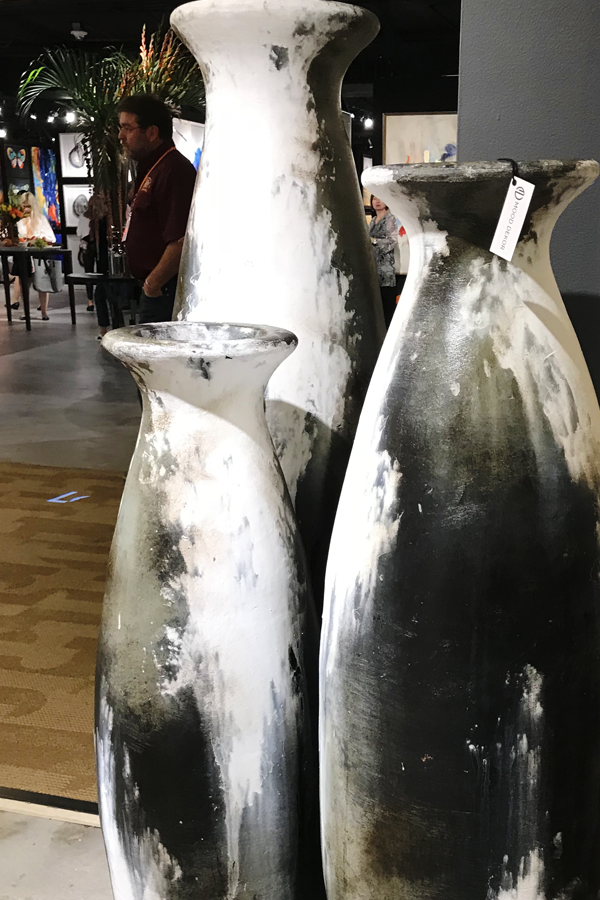 Giant pots? Gimme all three of these. I snapped these on my way to the next showroom on the tour…I think they are from here, but since I do not have an account for their site, I can't say for sure. If you know, lemme know!
I squeaked in some time to visit Jonathan Louis and fell head over heels with this dove gray velvet tufted sofa. I think it might fit in nicely at the French chateau…what do you think? Some clean lines to mix with the feminine romance? Besides, I don't think I could design any room without a bit of Mid-Century Modern.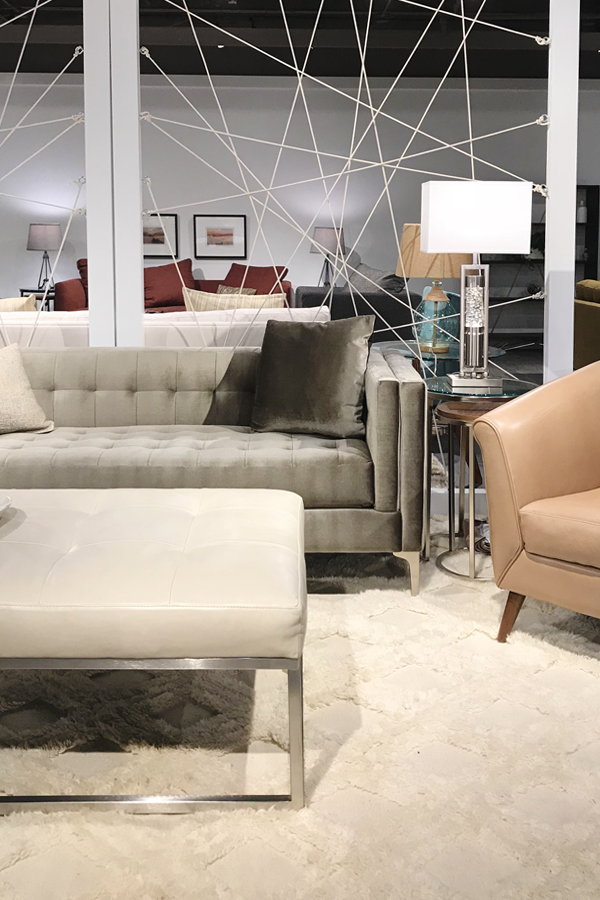 I also love the rug shown above. That texture play gives me all the heart eyes.
Speaking of rugs, yes, this one is still on my mind. It looks so cozy and reminds me of a sweater.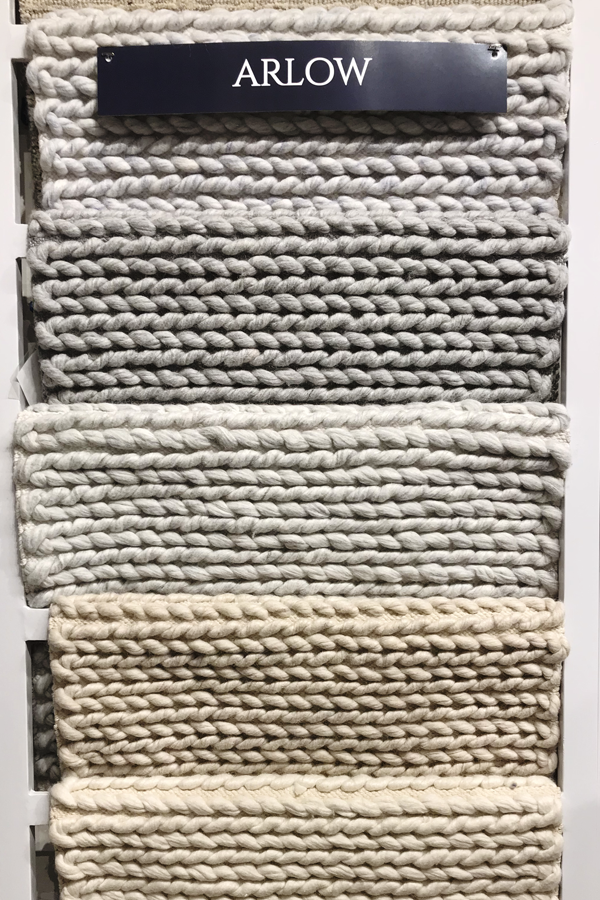 And anytime I think sweater, this bed pops into my brain. I MUST OWN THIS…we are no longer pretending…this bed shall be mine. Srsly, I went slightly bonkers over it.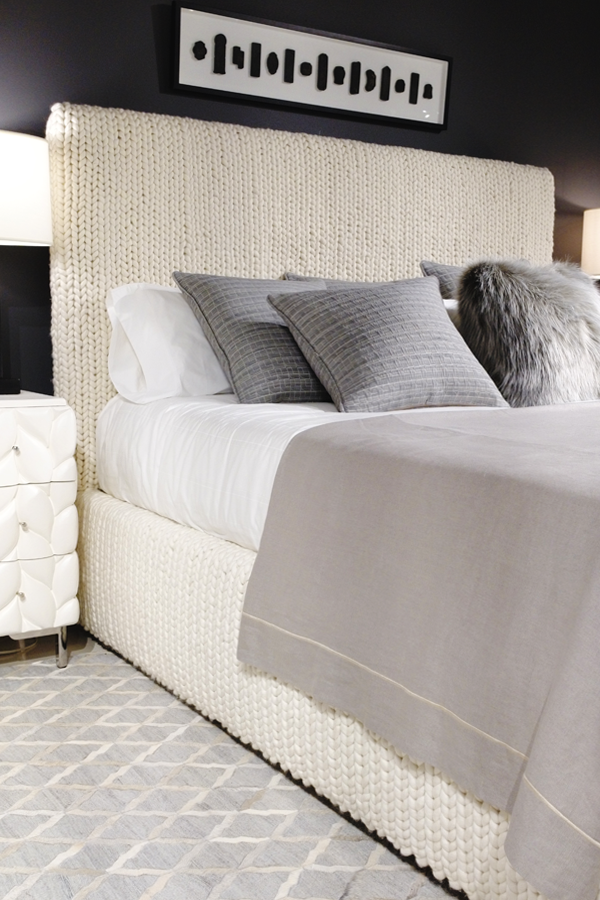 Give me all the furniture that looks like a cable knit sweater! A few of you have asked me if this bed costs a fortune. I cannot find it anywhere on their site…I'm still searching for a price.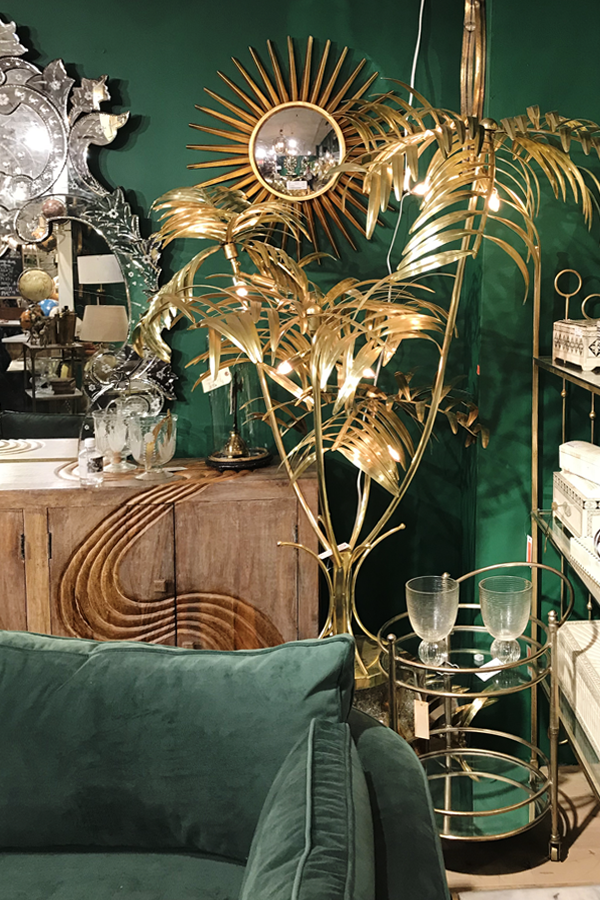 A brass palm tree lamp is my unicorn for thrifting. In all my years, I haven't found one out in the wild…but after spying this one at High Point Market…I'd be just as happy with a shiny new palm. Sadly, they too only sell to the trade and I haven't a clue the price…so even new, imaginary it shall remain.
In the same room as the brass palm, let throw in everything shown below.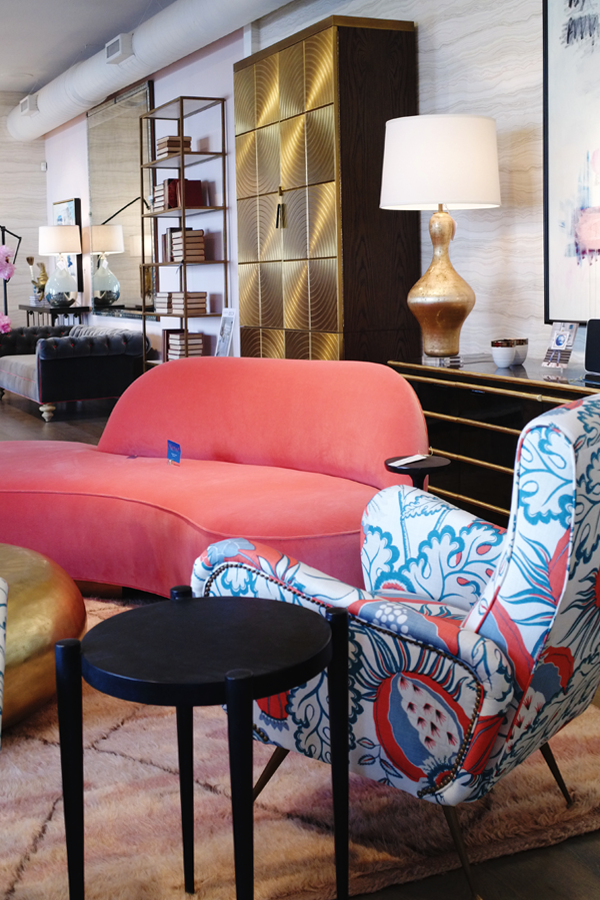 Curvy, bubblegum pink sofa, fancy shmancy patterned chairs, and that tall shiny armoire. How much money have we spent now…have we hit our million dollar ceiling?
I think we have a bit more room in the budget…and thank goodness because my friend Steph is a dealer at 214 Modern Vintage, and we haven't included any vintage pieces.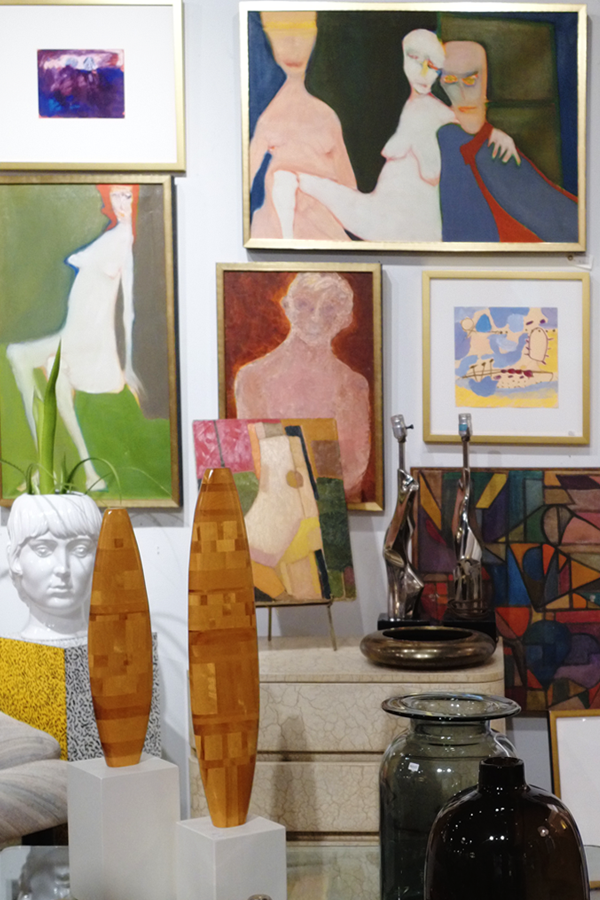 All this art…yup, let's do it. Especially that top right piece and the far left piece with the boobs.
And right under it will sit this zebra hide chaise lounger…although I might switch out the legs. I think I'm over hairpin legs.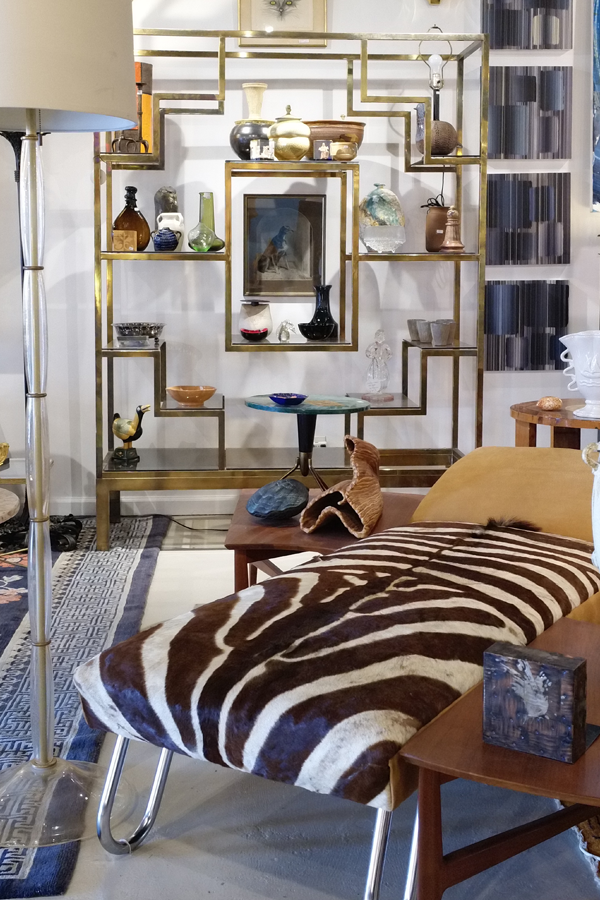 Oh and while we're loading that up, let's just throw in that etagere as well, shall we?
Phew! Ok, I think that's it! But before I sign off, I just wanna say how awesome it is to have been part of the Design Bloggers Tour. It was an in-depth look that I would not have had on my own. I saw behind the scenes and was introduced to brands I'd never heard of before.