Home Decor Trends — High Point Part 1
Last Updated on July 26, 2023
I'm not sure if there's anything that could have prepared me for the experience of High Point Market. Having been to a trade show or two in the past I figured I'd see lots of fancy-looking people wearing lanyards and a very large open space filled with booths — WRONG! High Point is basically a downtown area plus 2 massive buildings with like 8 floors each and multiple wings full of furniture. Each brand has a showroom…some small…some larger than the square footage of my house.
The Uber driver pulled up to the 2 main buildings, and he turns around and says, "Where to?". Ummmmmm, dude, you've been driving people here all week…was kinda hoping you'd know. I hopped out, looked at him, and said, "Wish me luck!"…he chuckled. This whopper of an event was 20 million times more massive than I thought it would be, and I was super thankful I flew in the day before the Design Bloggers Tour.
My first stop before the tour was Consort. An in-person meeting with co-founders Mat Sanders and Brandon Quattrone…FANGIRLING ALERT! The colors and curves of their newest collection were lit. Also, they are 2 of the sweetest guys you'll ever meet. Oh, and we also decided to make sconces out of my vintage earrings. If they ever come to fruition, mark my words, they will be in my master bathroom and hallway and dining room and well, everywhere.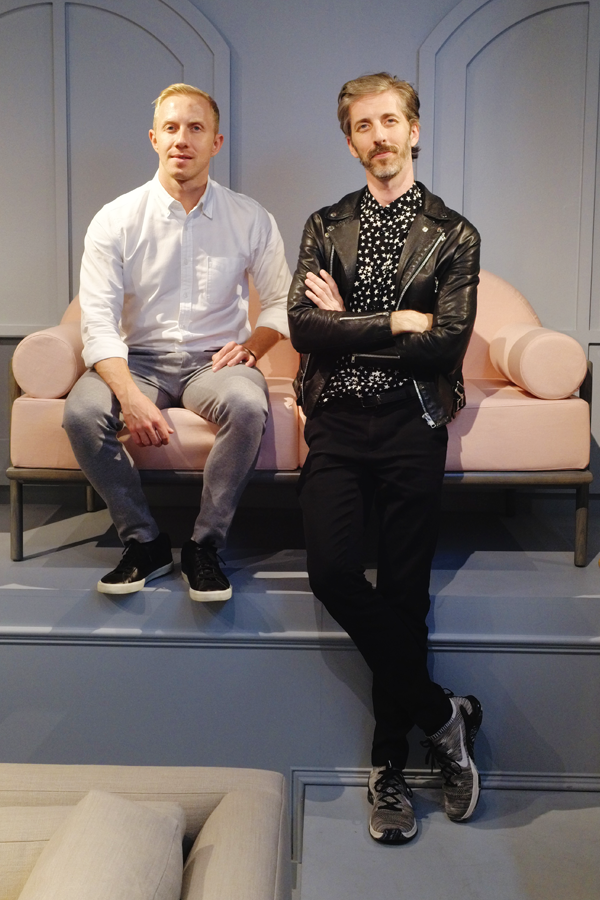 Ok, so let's talk trends and home decor eye candy. I mean, that's why you're here, right?
Every showroom…and I mean every single showroom…featured texture. Bernhardt Furniture was our first stop and the first thing I spied — these nubby poufs.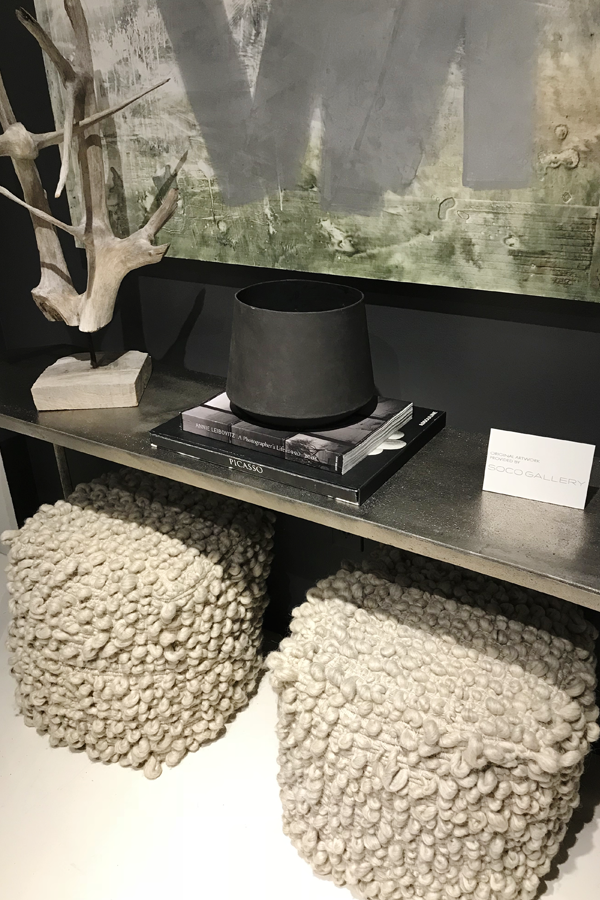 And check out the texture on this cute side table and the black marble coffee table. Clutch the pearls! At first, I thought it was cerused…but nope…marble! Veining goals.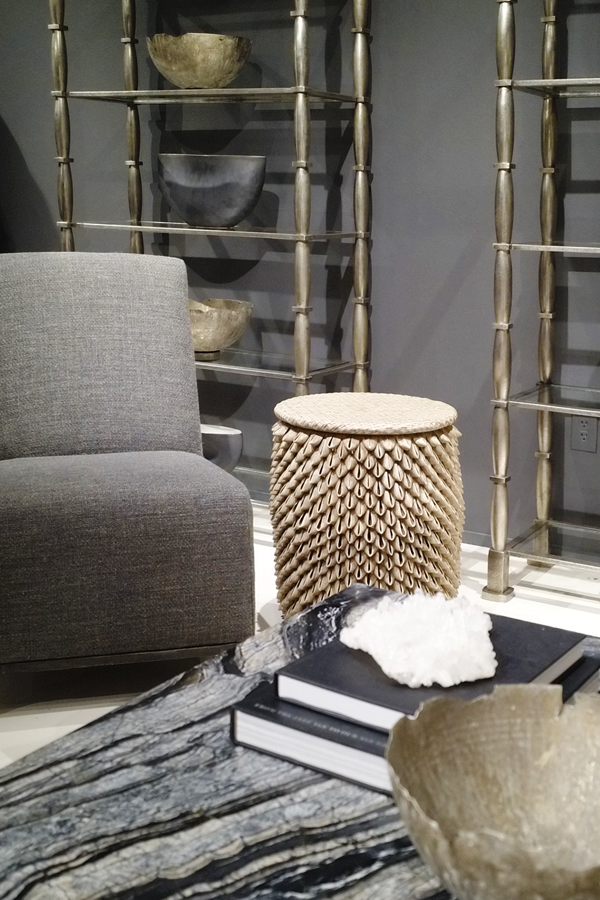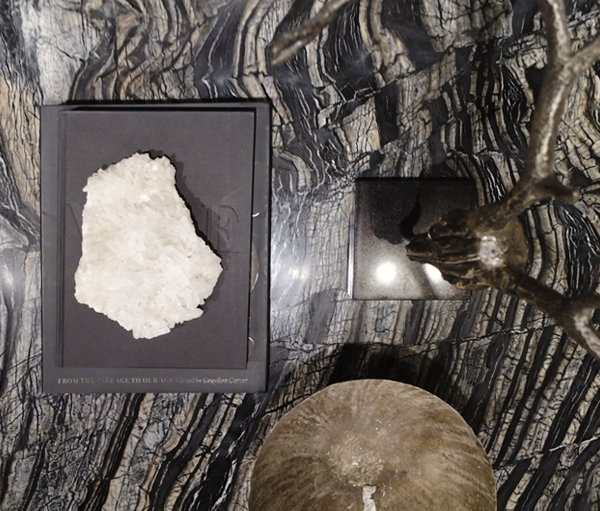 The night before The Design Bloggers Tour, I was laying in my hotel bed and scrolling through Instagram, and there was one photo that stopped me in my tracks. A bed…I called it a sweater bed…and it was also by Bernhardt. My heart skipped a beat because I knew I was going to see it in person.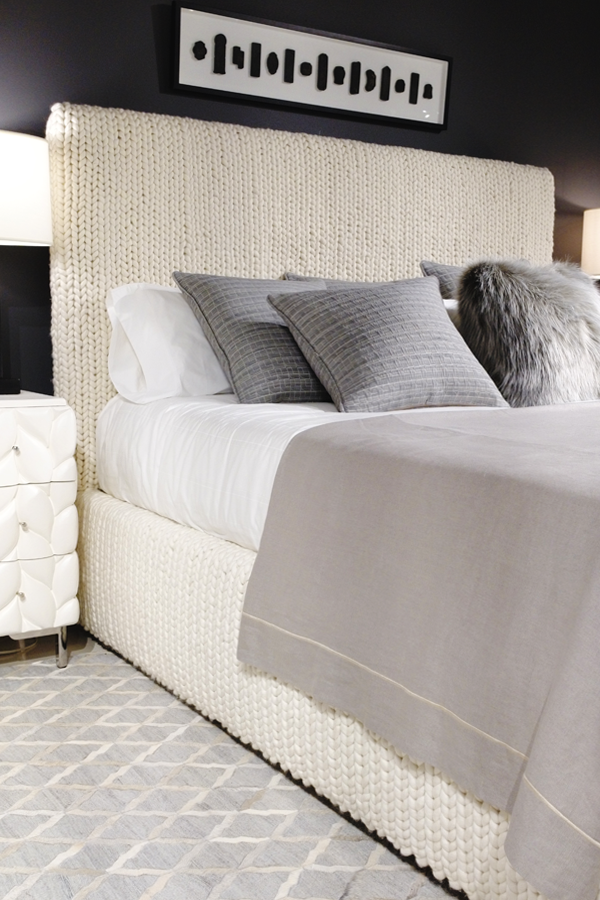 Also, take notice of the nightstands. Mark my words, THIS WILL BE IN MY BEDROOM. The photo doesn't do this bed justice. BTDubs, it's actually not a sweater…but rather the frame is wrapped in a handmade rug from Morocco…I know right!!! Gaw! So good!
Next up on the tour was Exquisite Rugs — their name — justifiably so and also full of texture. And look at the one that looks like a sweater! Eeeep! For some reason, we were all obsessed with this weave, and it was everywhere!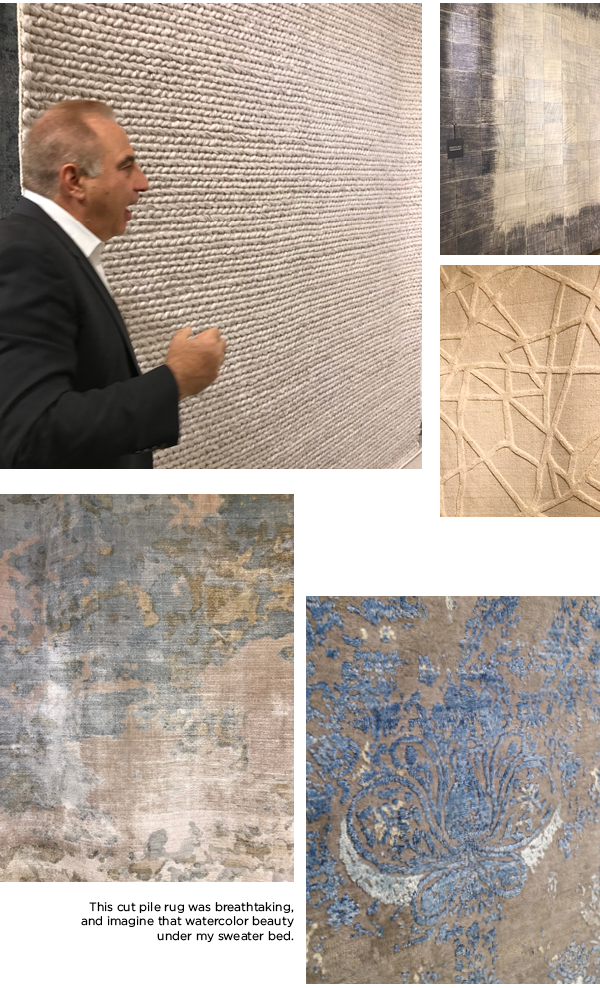 Side note, Exquisite Rugs was the first company to create hide rugs. May I have one of each, please?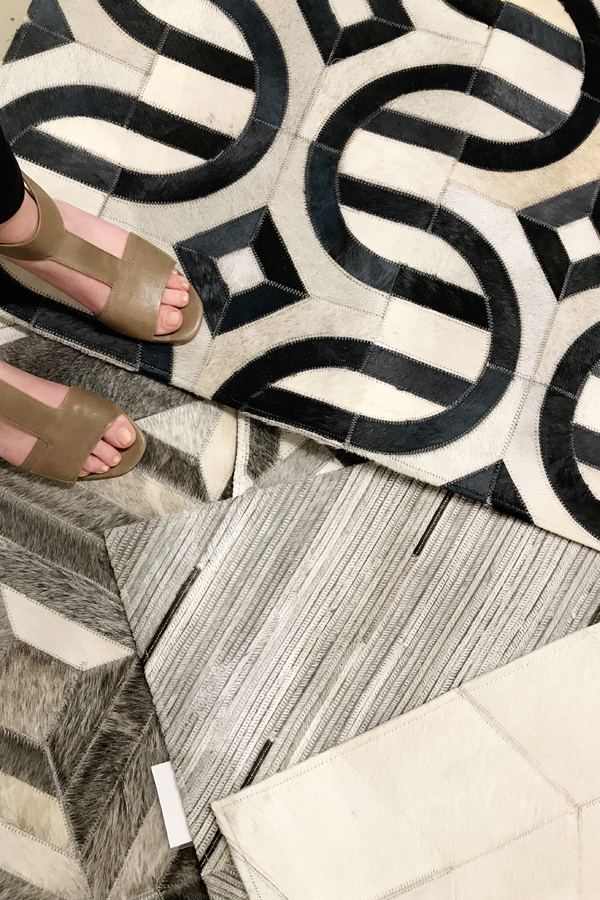 One home decor trend we were hit over the head with like a sledgehammer was performance fabric…now when I think performance fabric, I think beige, tan, green…boring. Much to my surprise, it comes in every pattern and color you can imagine over at Sunbrella. Brian Paquette gave our group a little shpeel, and introduced me to the idea of using this outdoor fabric indoors, and I gotta say it's a brilliant idea. Not only do my children spill everywhere, but the sun will fade your sofa over time. Why not have it upholstered in this killer fabric by Holly Hunt for Sunbrella?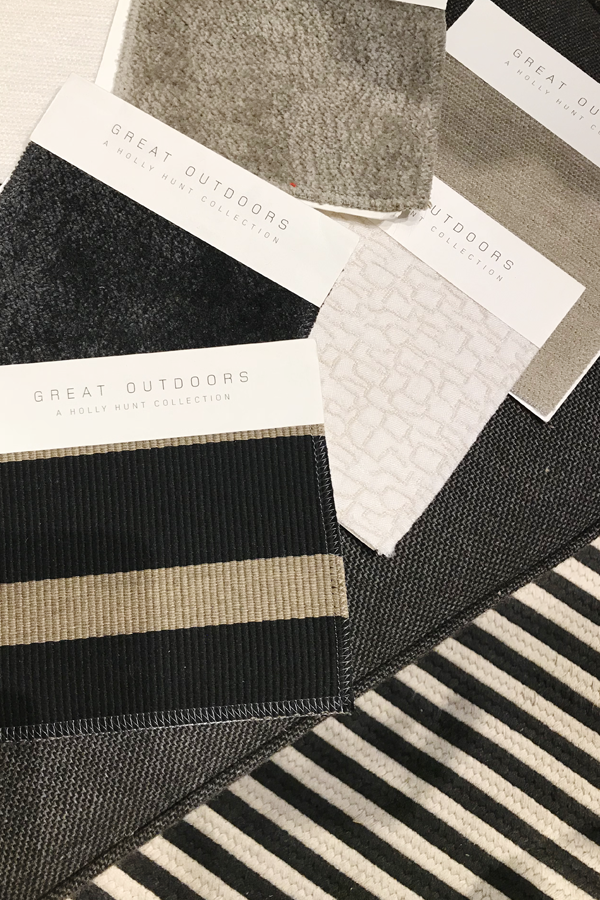 Next up on the tour were 3 quick but inspiring looks at Adriana Hoyos, Michael Dawkins Home, and Bungalow 5. My biggest takeaway…besides wanting to bring every single thing home with me…was chrome is trending big time! That's right friend. Put that brass down and back away slowly. If you want the biggest home decor trend for Spring, shiny chrome is coming back baby.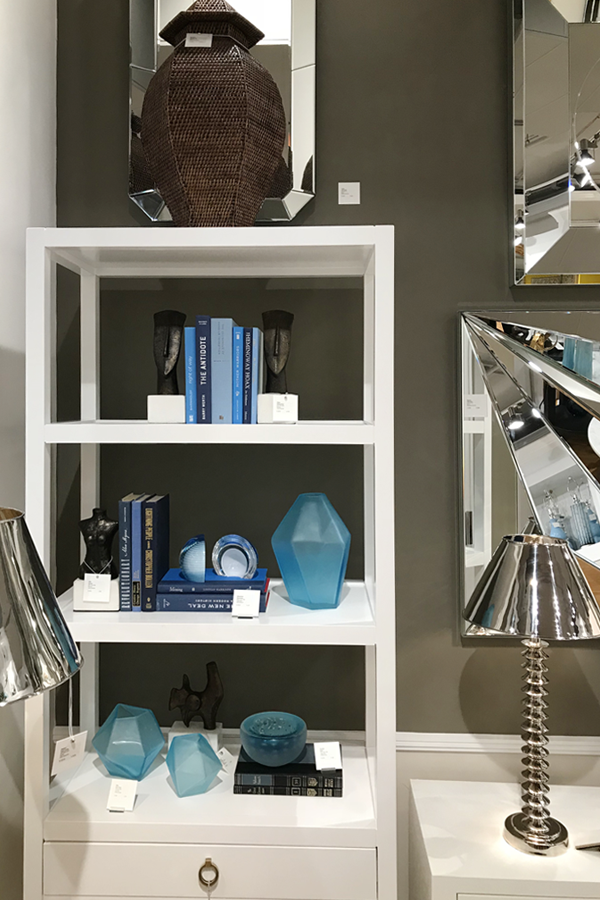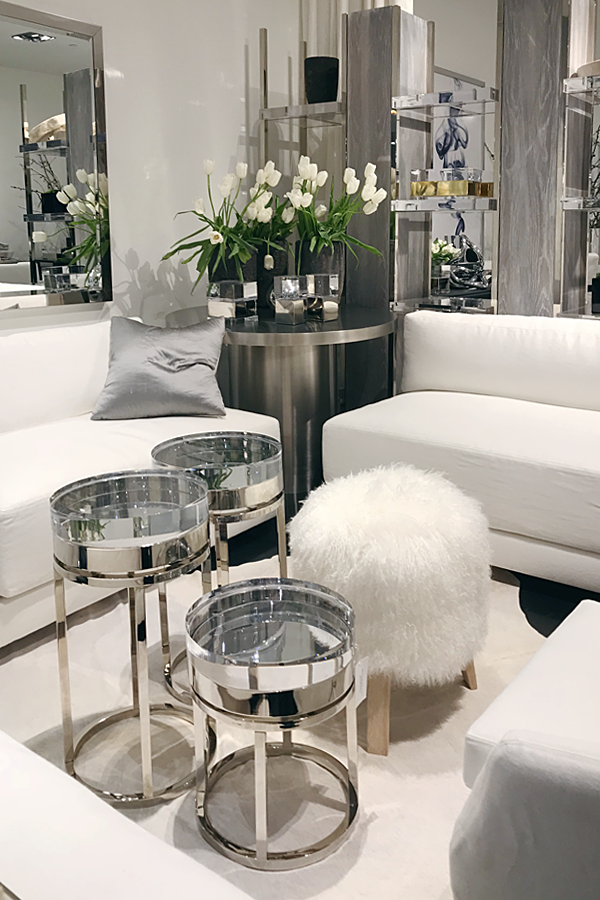 Brushed chrome. Shiny chrome. Chrome sculptures. Chrome tables. Lampshades dressed in full chrome. Everywhere we looked! Chrome is hot folks.
Adriana Hoyos did not disappoint. We were welcomed by her daughter and received a full behind-the-scenes tour of what inspired each piece. And you know when some designs say, " was inspired by a leaf" and the table is literally a leaf…this was so not that. If you look at the Rumba collection…overhead fans, tables, and the crescent sofa…you can see the movement of the dance…the skirts, the woman, the curve of an arm.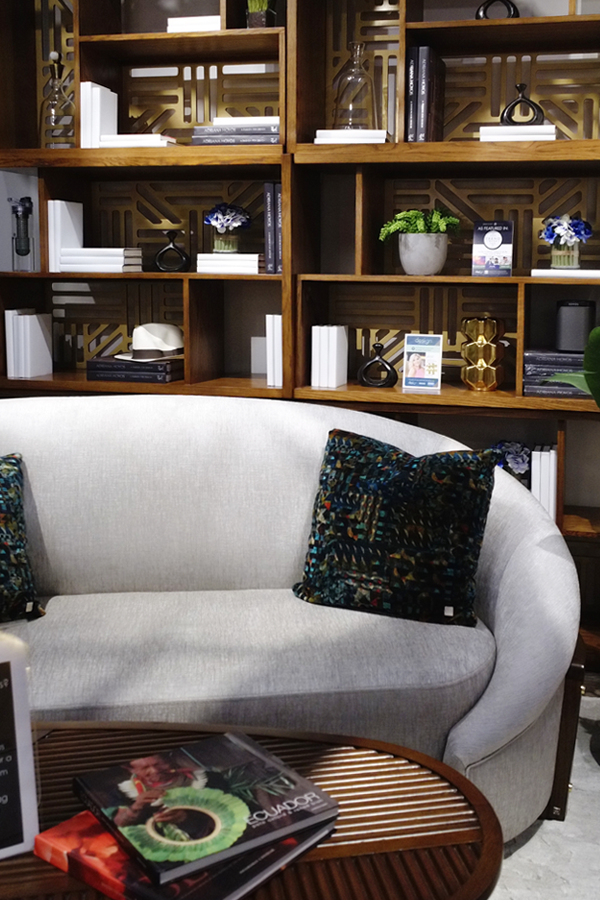 Now I know I just said chrome was back, but look at this brass detailing on this sofa.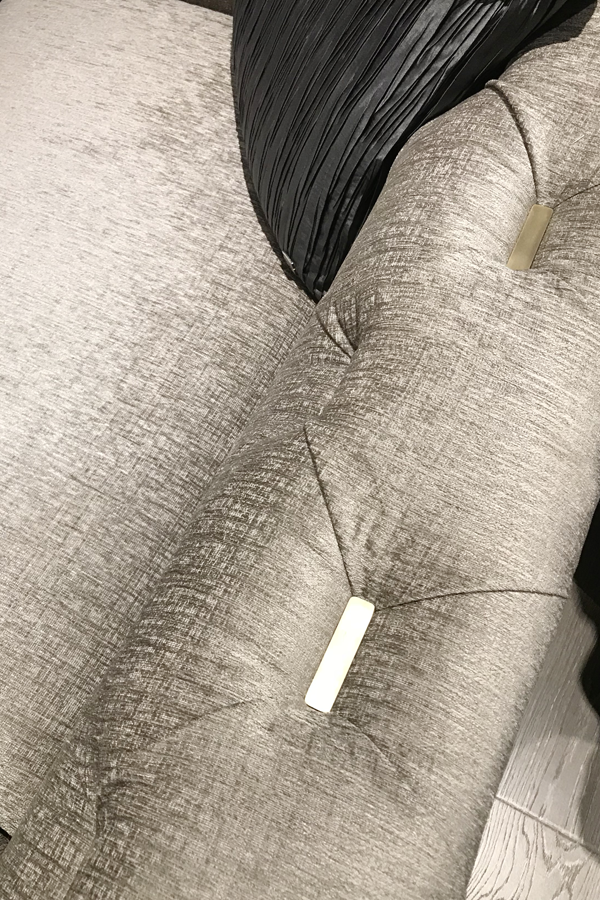 One of our last furniture stops for the day was Universal Furniture…floors upon floors upon floors of amazing inspo. Eclectic and right up my alley. This space was one of the first rooms we toured and let me just say…man cave goals right here. Touches of Mid-Century Modern mixed with a distressed leather Chesterfield. Come to momma!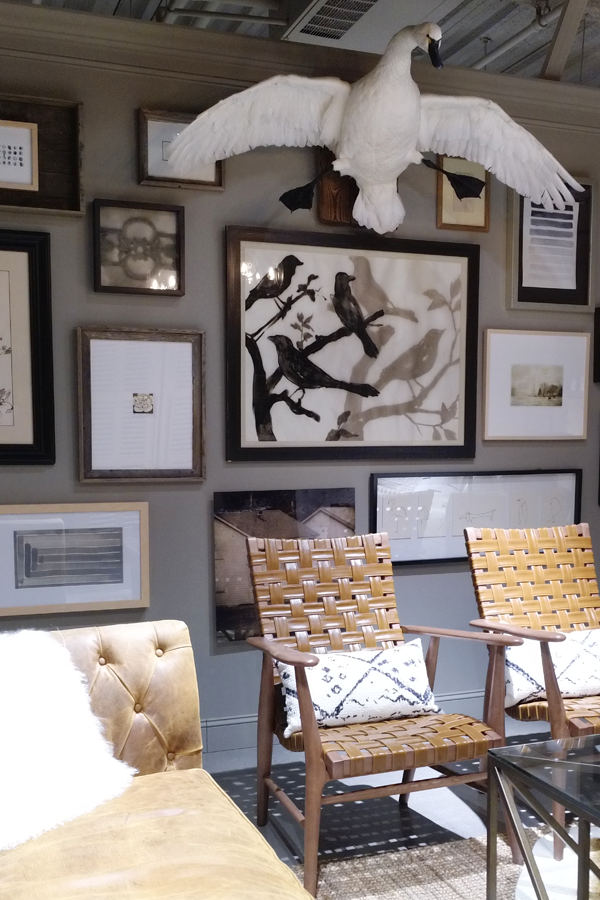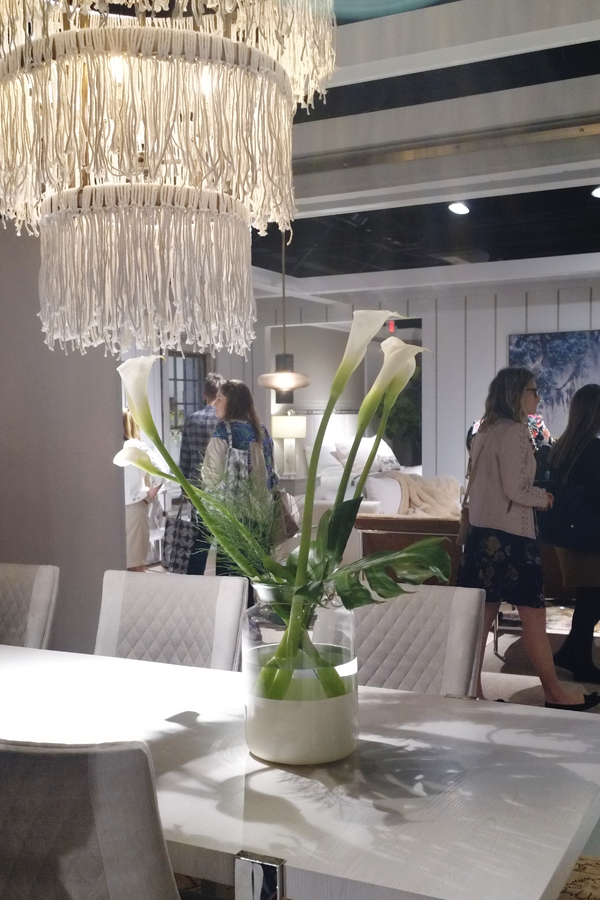 The last stop was Karastan. Wall to wall beautiful rugs and one incredible peacock. I mean, srsly…love this guy!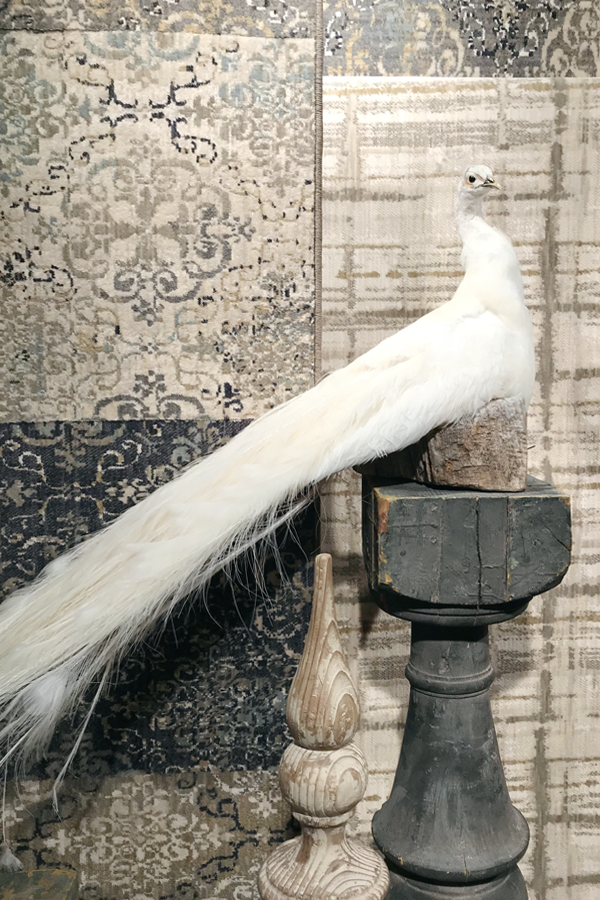 Another home decor trend was repurpose / reuse, and this was clearly evident at Karastan Rugs and Mohawk Home. Did you know that have an entire collection dedicated to eco-friendly, environmentally clean carpets? They use recycled plastic bottles to make EverStrand, and those plastic bottles create a stronger yarn than any other…ready for it…performance carpets. Stain-resistant. Wear-resistant. Environmentally conscience. Super soft.
This guy here might have been my absolute favorite. It was a showstopper.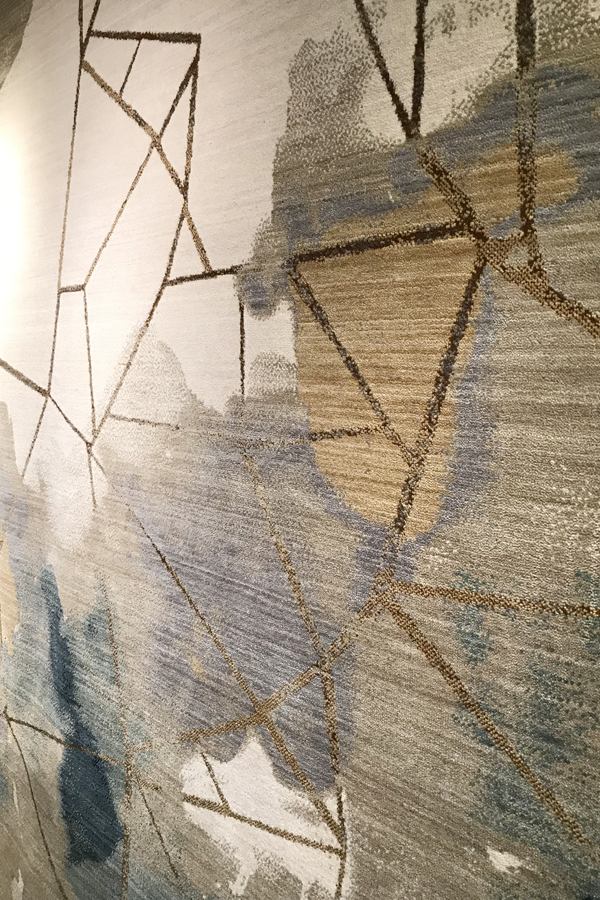 Each showroom had me designing and redesigning rooms, and I wound up leaving High Point needing a 47-room mansion. This inspiration was overwhelming, and I wound up riding back to the hotel dazed and creatively energized. I couldn't wait to return for Day 2 of the Design Bloggers Tour. Stay tuned for more High Point sharing soon!



Discover More On House Of Hipsters Interior Design Blog